Autumn, a season of falling leaves, cozy sweaters, and pumpkin-spiced everything!
So why not use its beauty to bring some coziness to your social encounters?!
Below you'll find a delightful collection of autumn pick up lines, the best ones I could find online.
Let them help you kindle a spark of romance with that special someone and make their heart flutter faster than a swirling leaf caught in the wind!
10 Best Autumn Pick Up Lines
1. I don't need a cozy sweater for warmth, your smile can do the job!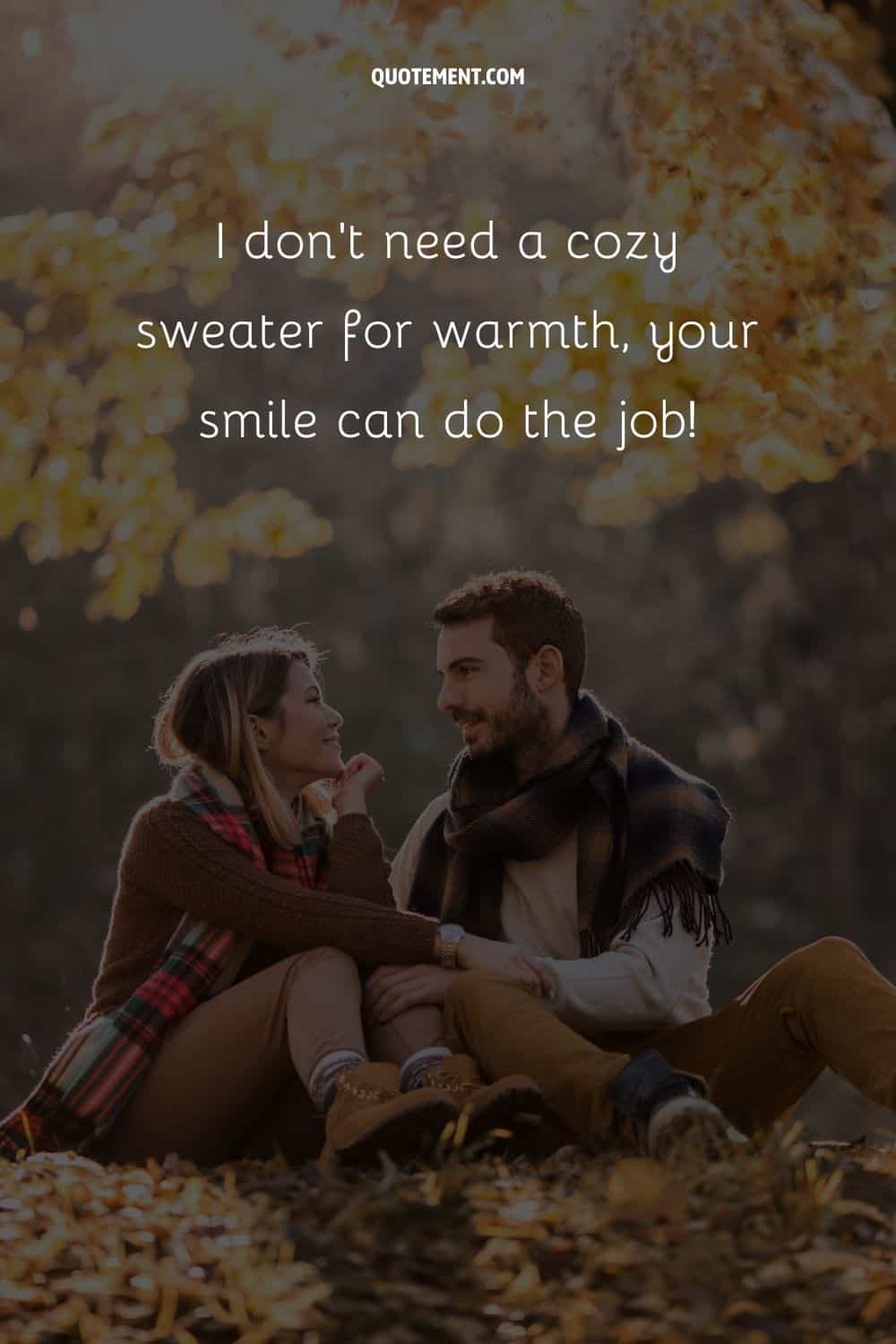 2. You're so gorgeous, I can hardly be-leaf my eyes.
3. You make my cheeks turn as red as the autumn leaves.
4. You're the only treat I need this Halloween.
5. I don't have any pumpkins this fall. Wanna be mine?
6. Let's play hide and seek. Come find me in the cornfield.
7. Are you the first of October? Because you're 1/10!
8. Pumpkin spice and everything nice, that's what you're made of.
9. Can I be the cinnamon to your apple cider?
10. Wanna go on a coffee date? Cause I like you a latte.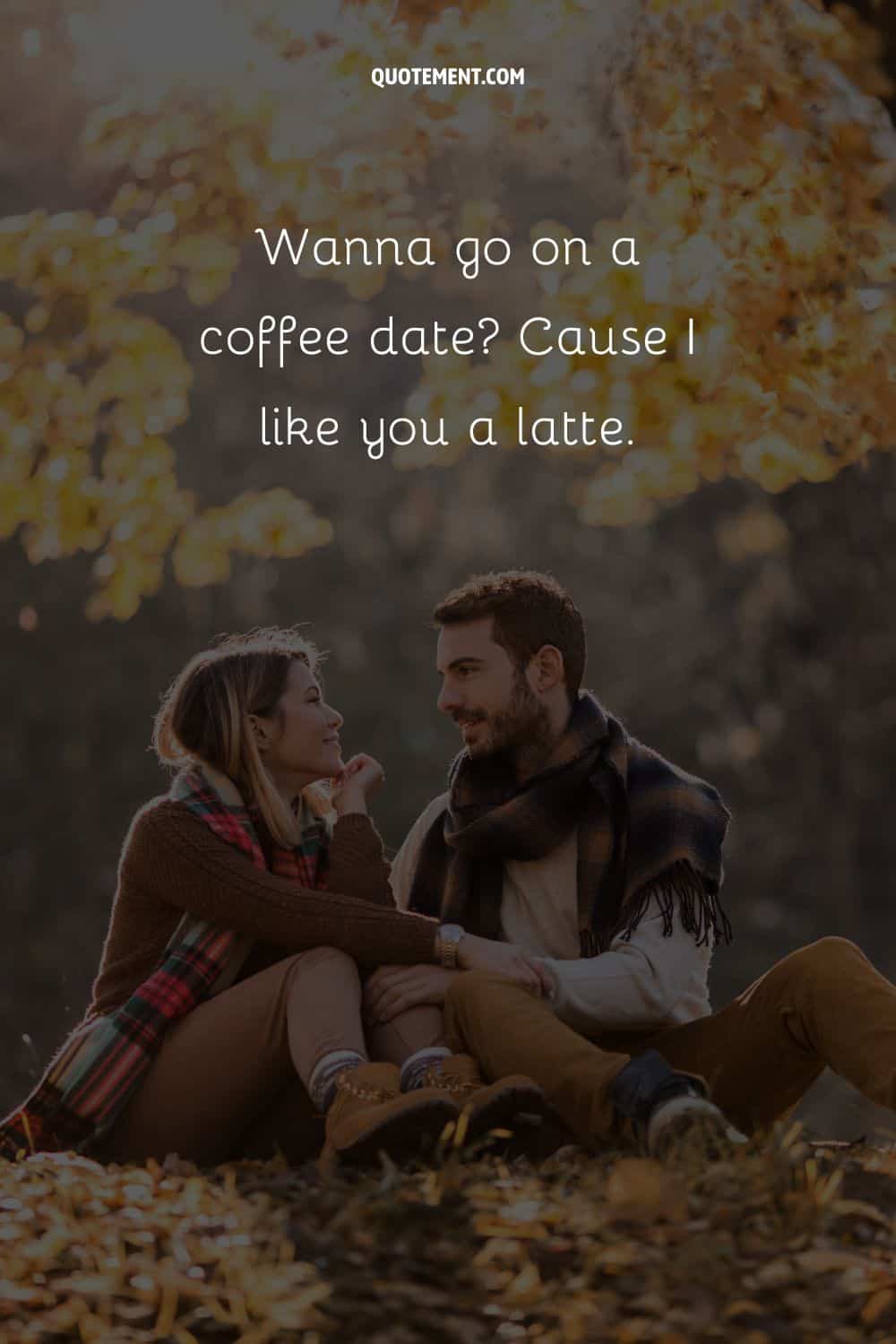 See also: 90 Genius Coffee Pick Up Lines Proven To Work Every Time!
Cute Pick Up Lines For Autumn
1. You are the marshmallow to my hot chocolate.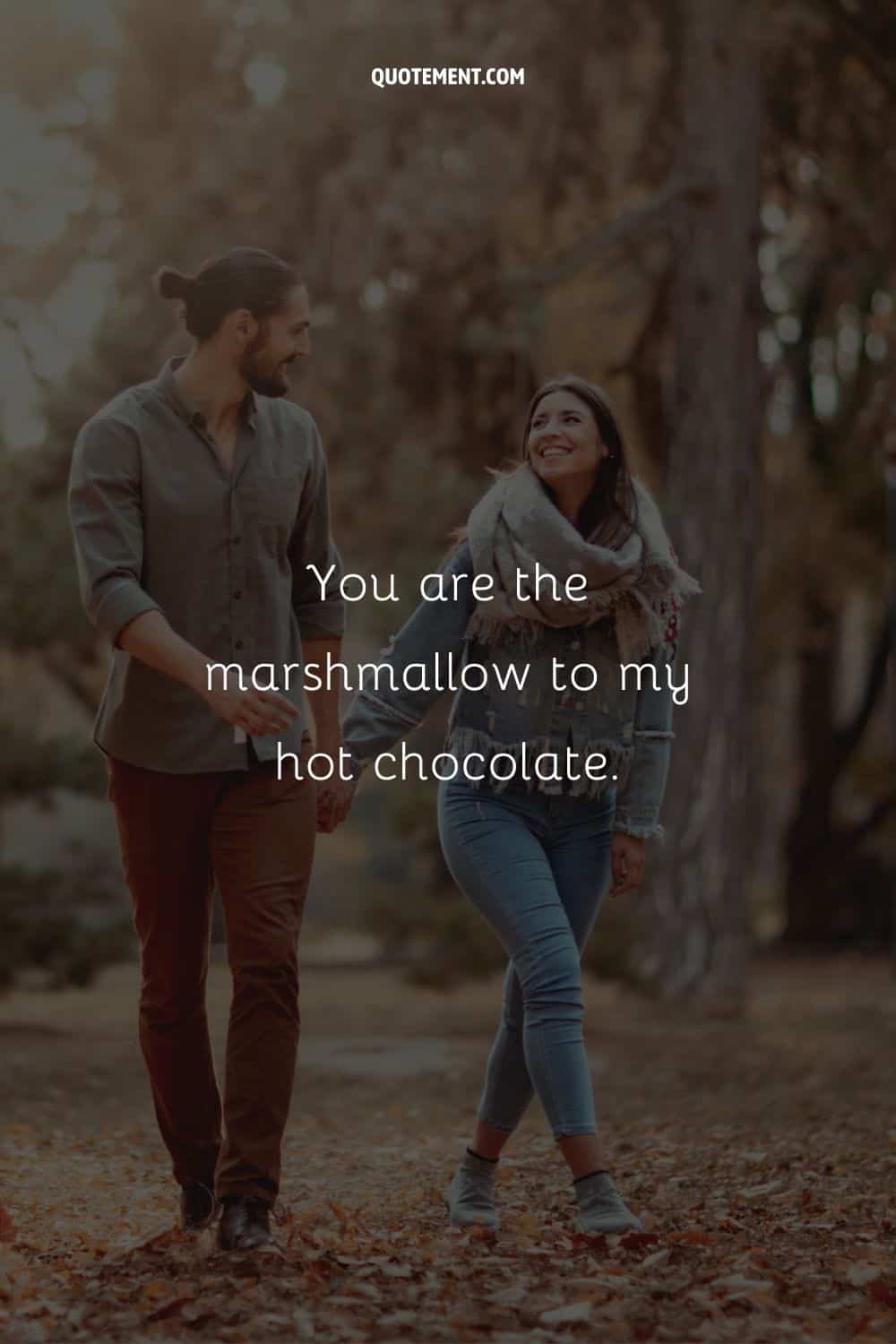 2. The only thing sweeter than cinnamon is you.
3. You make my cheeks blush more than this cold weather.
4. At the end of a long day, I want to come home to a hot marshmallow like you.
5. Babe, do you have a pumpkin? Because your beauty totally caught me off gourd.
6. Baby, it's cold outside, would you share body heat with me?
7. I know what your Halloween costume should be: my date.
8. Do you like pumpkin spice? Because we could make a pretty yummy latte.
9. Now that it's October, does that make you my boo?
10. If kisses were leaves, I'd give you an Autumn forest!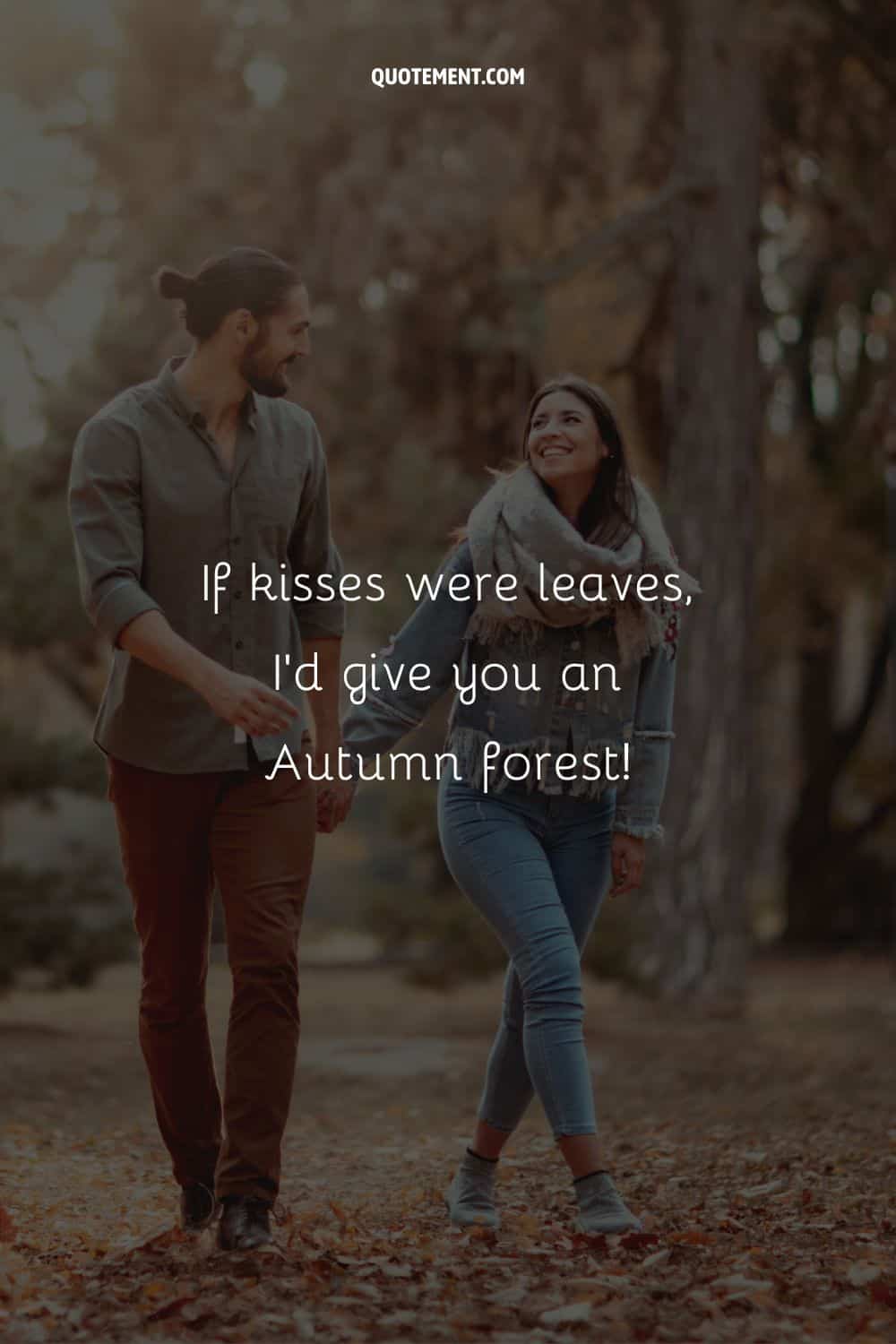 See also: 100 Awesome Kiss Pick Up Lines To Help You Get A Kiss
Clever Fall Pick Up Lines
1. In a world full of falling leaves, I'd still fall for you.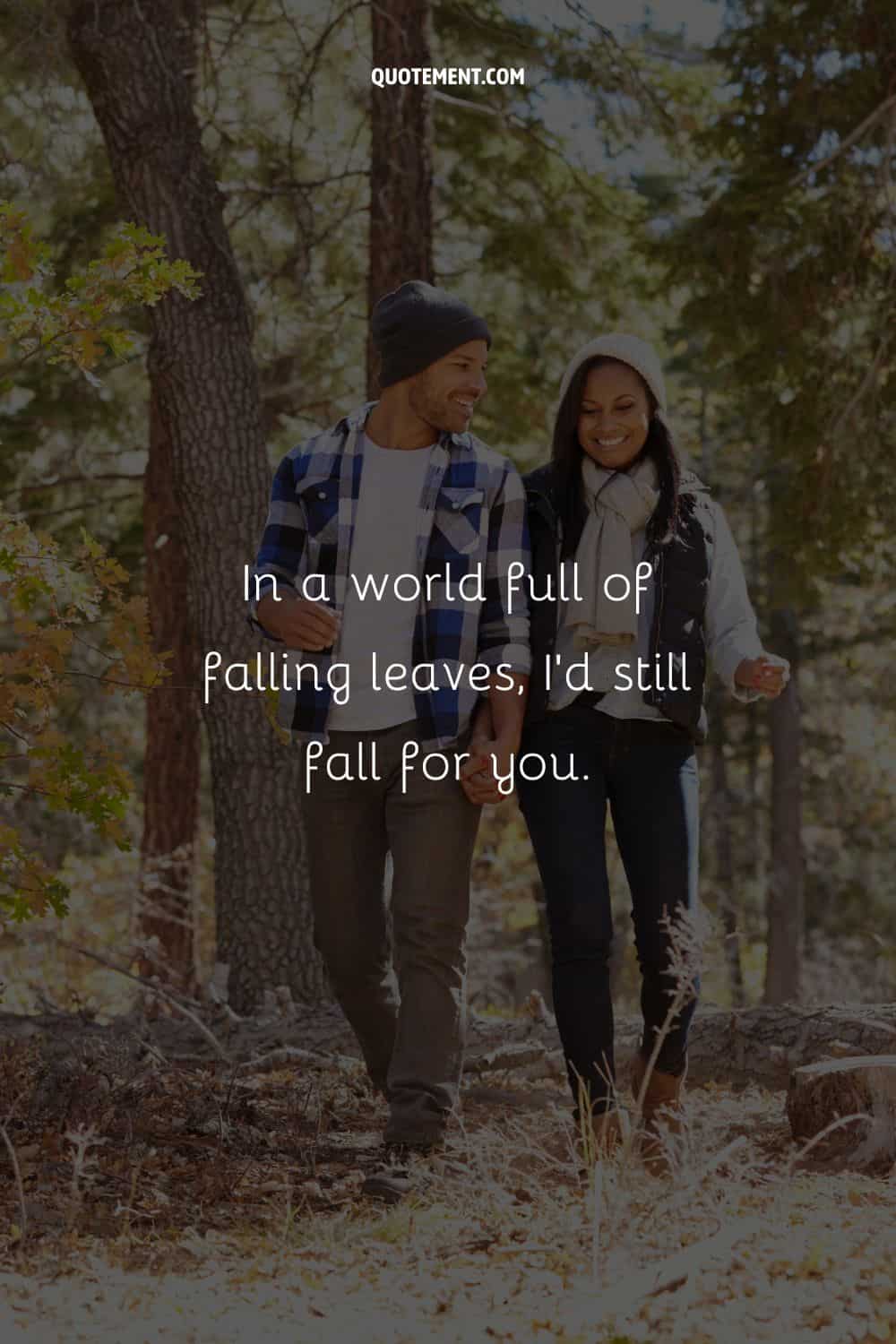 2. I might as well just change my name to Autumn Leaf, cuz I can't stop falling for you.
3. You may fall from a bicycle, you may fall from a tree….But the best way to fall……….is in love with me.
4. May I tie your shoe? Because I can't have you fall for anyone else.
5. You make me feel like a leaf. Because I'm always falling for you.
6. Do you have a Band-Aid? Because I just scraped my knee falling for you.
7. Just as the leaves fall, I'm falling for you.
8. I would say that I'm falling for you, but you already fell out of heaven for me.
9. Even if there wasn't gravity on earth, I would still fall for you.
10. Is your name Autumn? Because you're about to fall for me.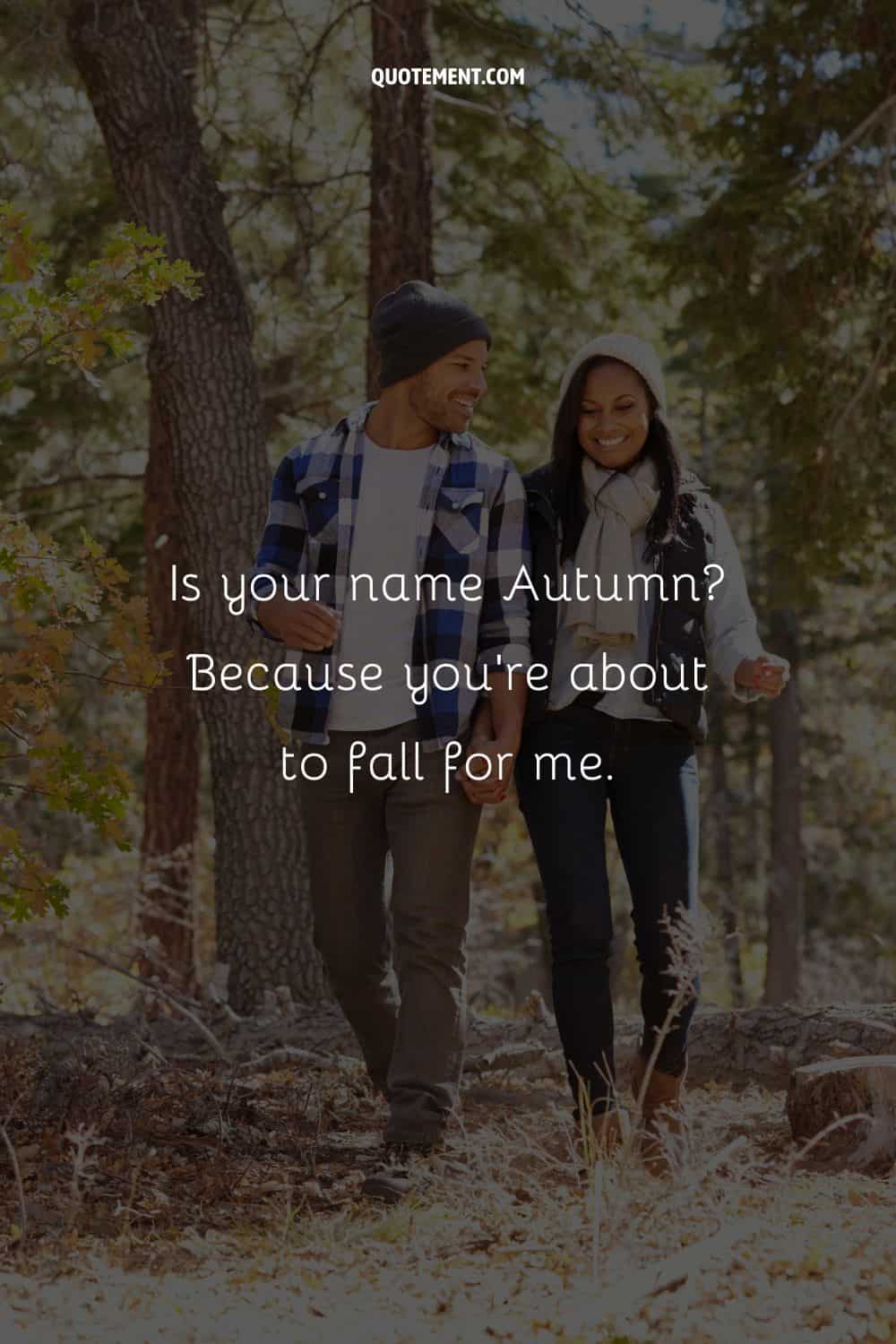 Cheesy Fall Pick Up Lines
1. Is your name Autumn? Cause I think I'm falling for you.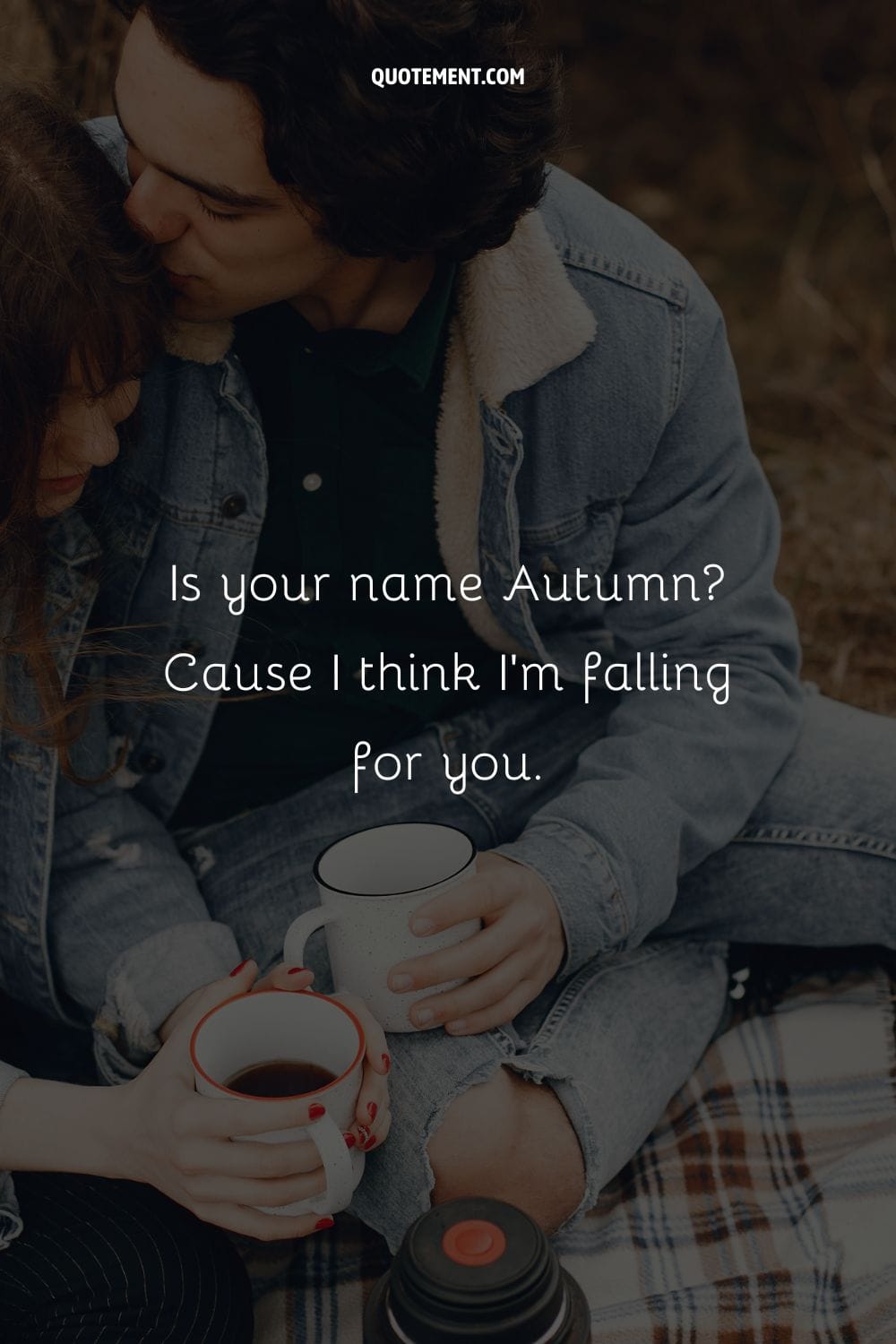 2. Are you Thanksgiving Day or am I just really excited for you to be here?
3. Forget about pumpkin, you're the only cutie pie I need.
4. I can give you a better PSL than Starbucks — pretty special lovin'.
5. Are you spicy? Because you spice up my life.
6. There are only two things I want on Thanksgiving: you and some fine yams.
7. You're the pumpkin spice to my latte.
8. Are you being a ghost for Halloween, or are you just my boo?
9. I can wrap around you tighter than a blanket.
10. Hey pumpkin sweetheart, I bet I can put a smile on your face.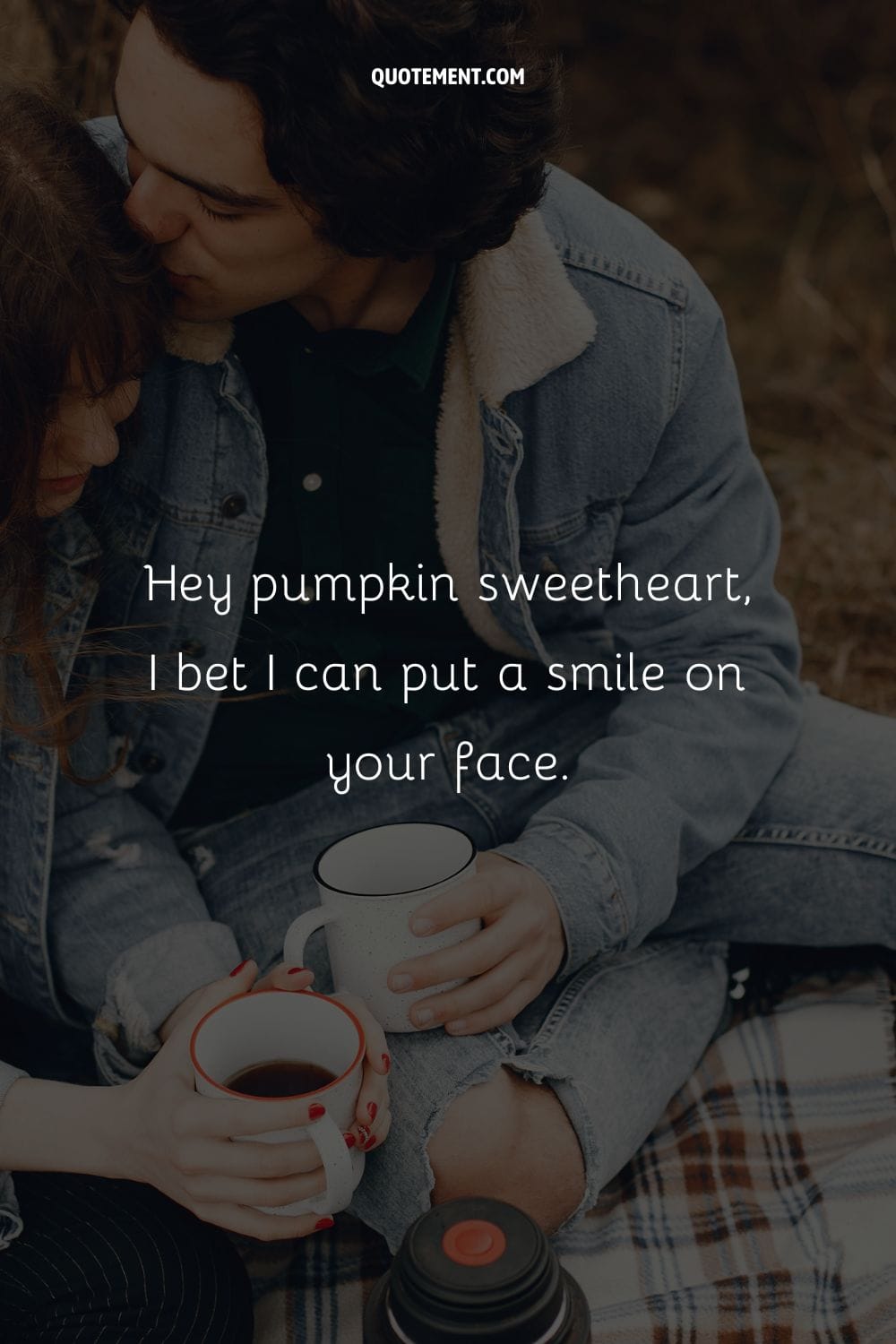 See also: 170 Fantastic Smile Pick Up Lines To Make Them Giggle
Hot Pick Up Lines For Autumn
1. It's a good thing I'm wearing gloves, you're too hot to handle.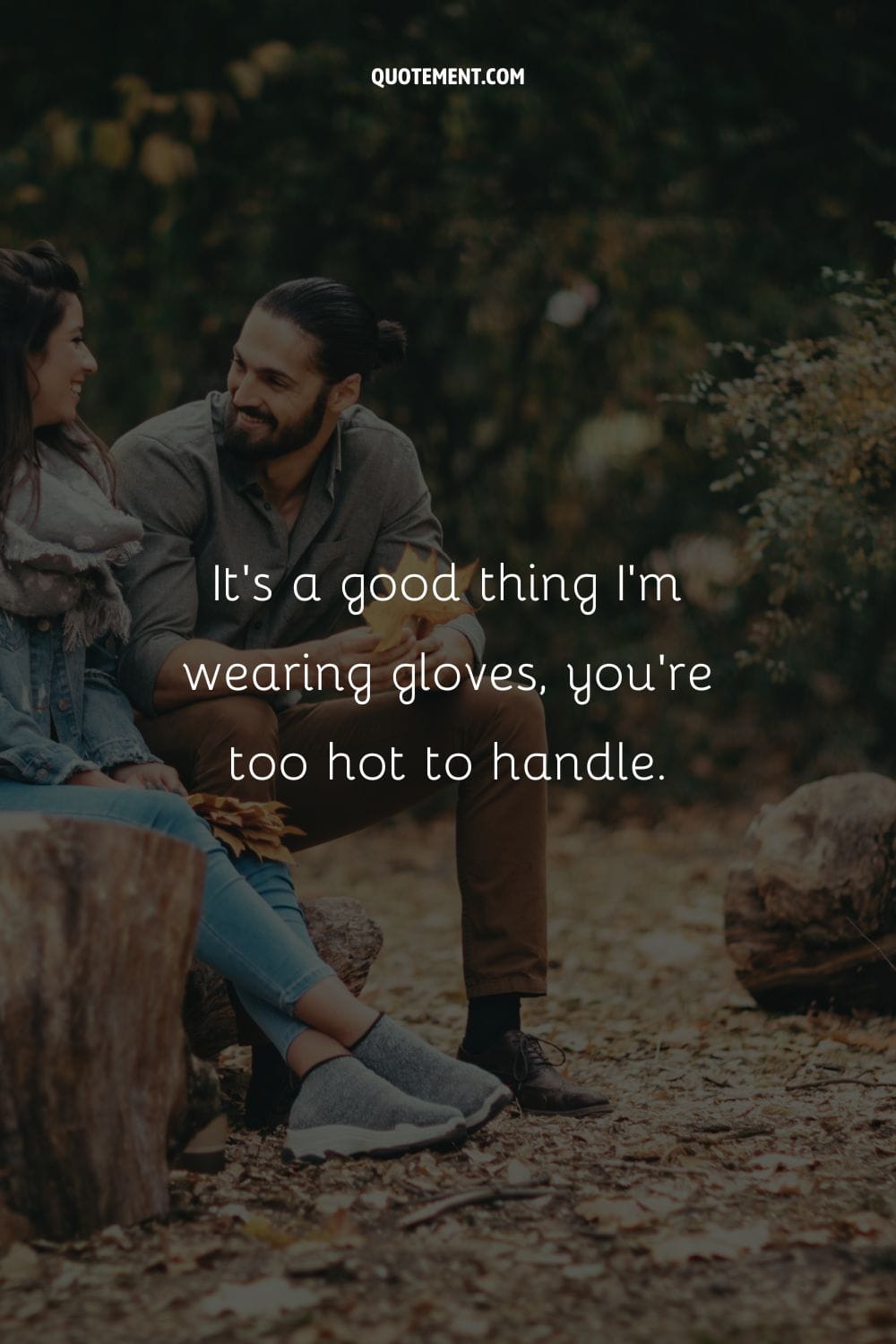 2. Are you a campfire? Because you're hot and I want s'more.
3. Do you want to come over? You can sure lower my heating bill with your hotness.
4. Do you like nutmeg? Because damn, you're spicy.
5. Sweater weather? As long as you're around, things will surely heat up.
6. Let's spice things up.
7. I thought it was the weather, but it's actually you giving me the chills.
8. You remind me of an Oktoberfest, the perfect balance of sweet and spice.
9. You're spicier than any pumpkin latte I've tried.
10. Are you a pumpkin? Because I find myself craving you for the whole season.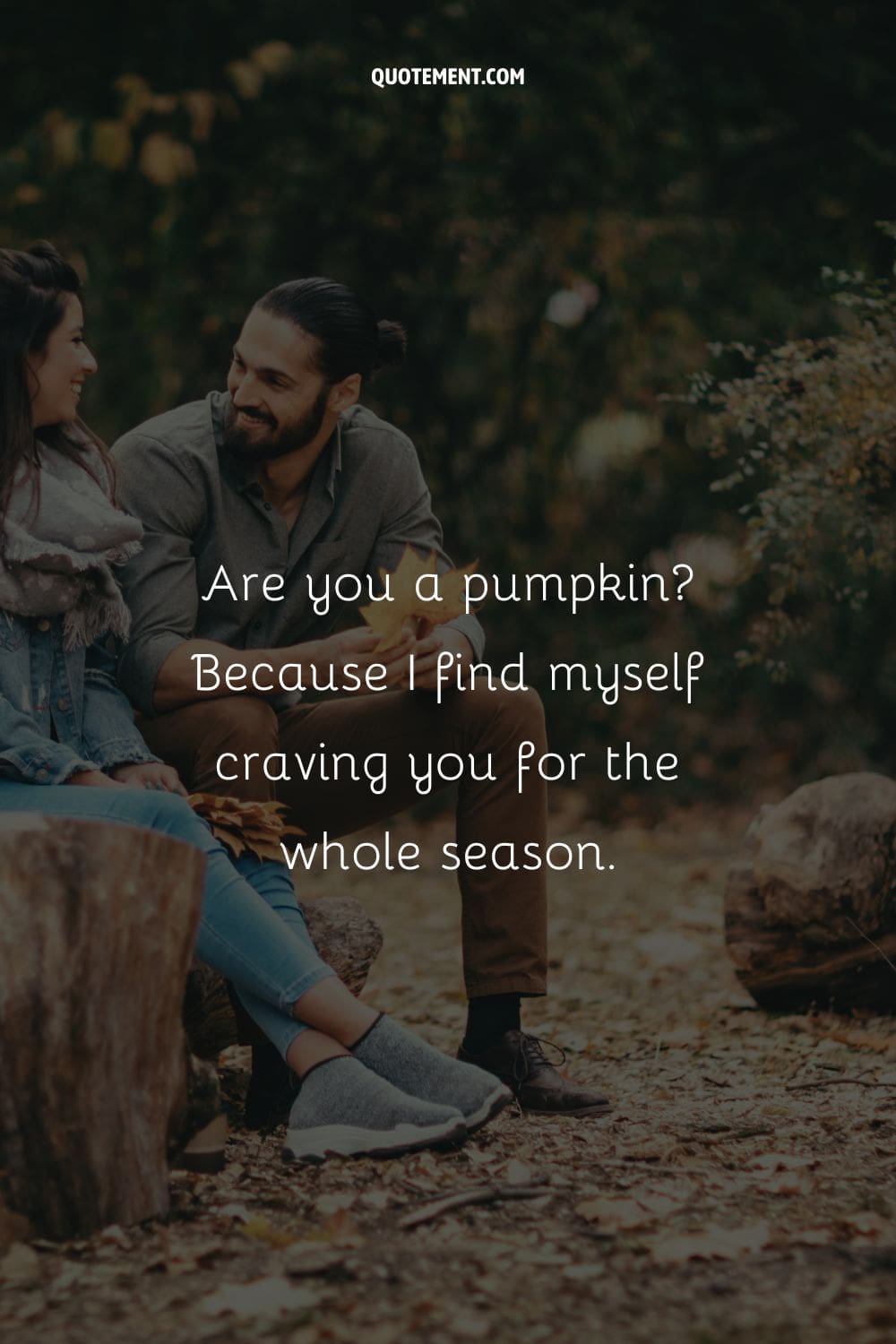 Wrapping It Up
Let these autumn pick up lines add a touch of warmth to your fall love story!
Read next: 150 Cute Fall Quotes To Welcome The Most Colorful Season