Do you want to finally approach that special someone whose smile makes you weak in the knees, but you don't know the right words to say?
Then these fabulous smile pick up lines are just what you need!
First impressions are everything! Make sure you leave a good first impression, and the rest will fall into place.
It's easier said than done, though. When in the presence of a person we have a crush on, the brain seems to stop working!
You want to say something funny, but something silly comes out of your mouth! I know the struggle.
To that end, I've made this collection of sweet pick-up lines you can use next time your crush is around. Compliment their smile, and you will sweep them off their feet!
They can be used as tinder pick-up lines as well.
There's nothing I hate more than boring and lame tinder conversations that start with "hi, wyd?". Don't be one of those people. Be smarter. Use a smooth pick-up line instead.
In this article, you'll find loads of fantastic smile pick up lines to choose from. Let's take a look!
Top 20 Smile Pick Up Lines
I'll start off with the 20 best smile pick-up lines I could find online.
1. Of all your beautiful curves, your smile is my favorite.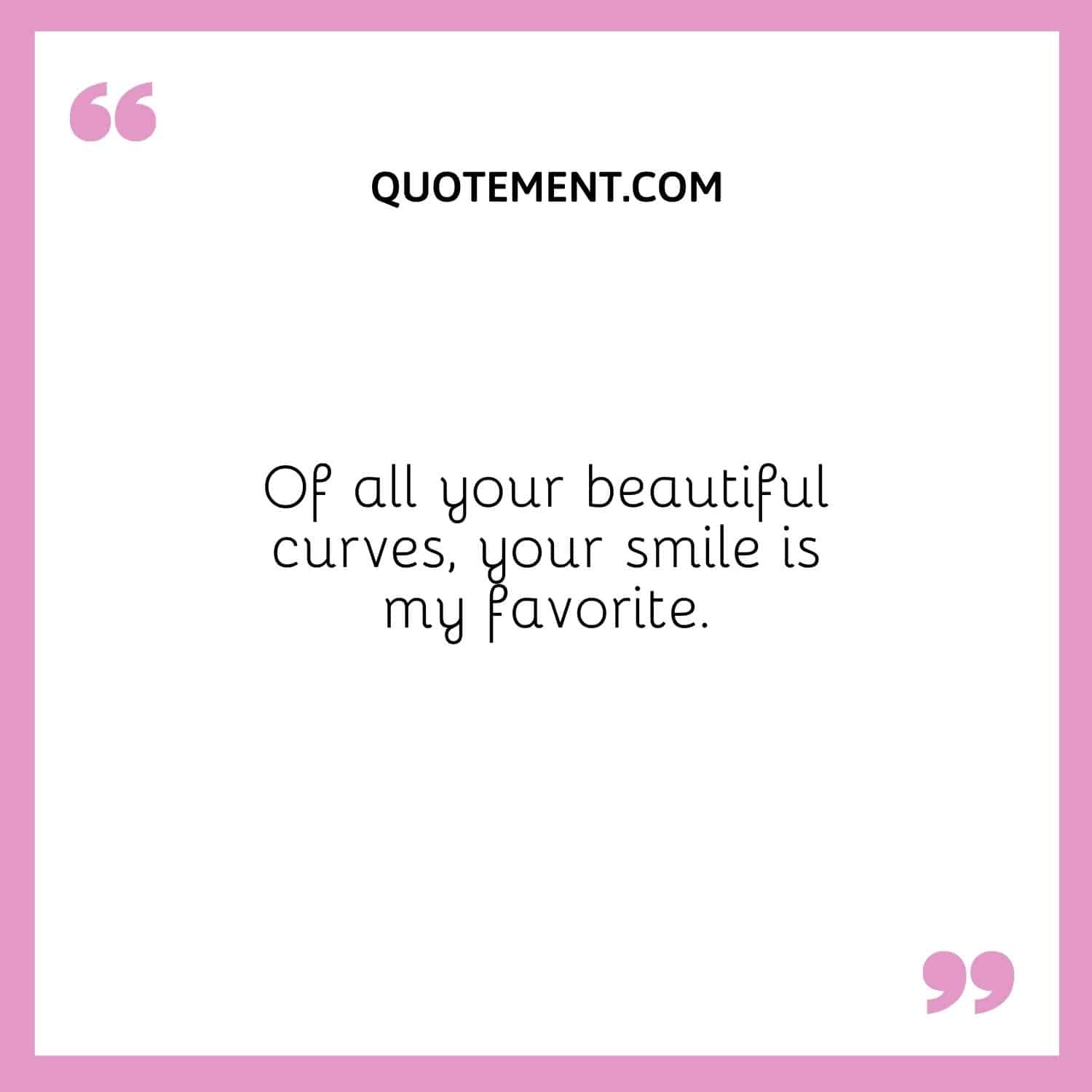 2. I'm on a smile patrol. You've exceeded the smile speed patrol.
3. I'm still wearing the smile you gave me last week.
4. Did the sun come out, or did you just smile at me?
5. Because of you, I laugh a little harder, cry a little less, and smile a lot more.
6. Don't smile. Because if you smile, then everything about you will be perfect, and I will fall in love instantly.
7. Our smiles should touch now.
8. There are 7.8 billion smiles on earth, and I'm still waiting for yours.
9. Are you a sunflower? Because you are always blossoming.
10. I can't see you right now, but I bet your smile is outstanding.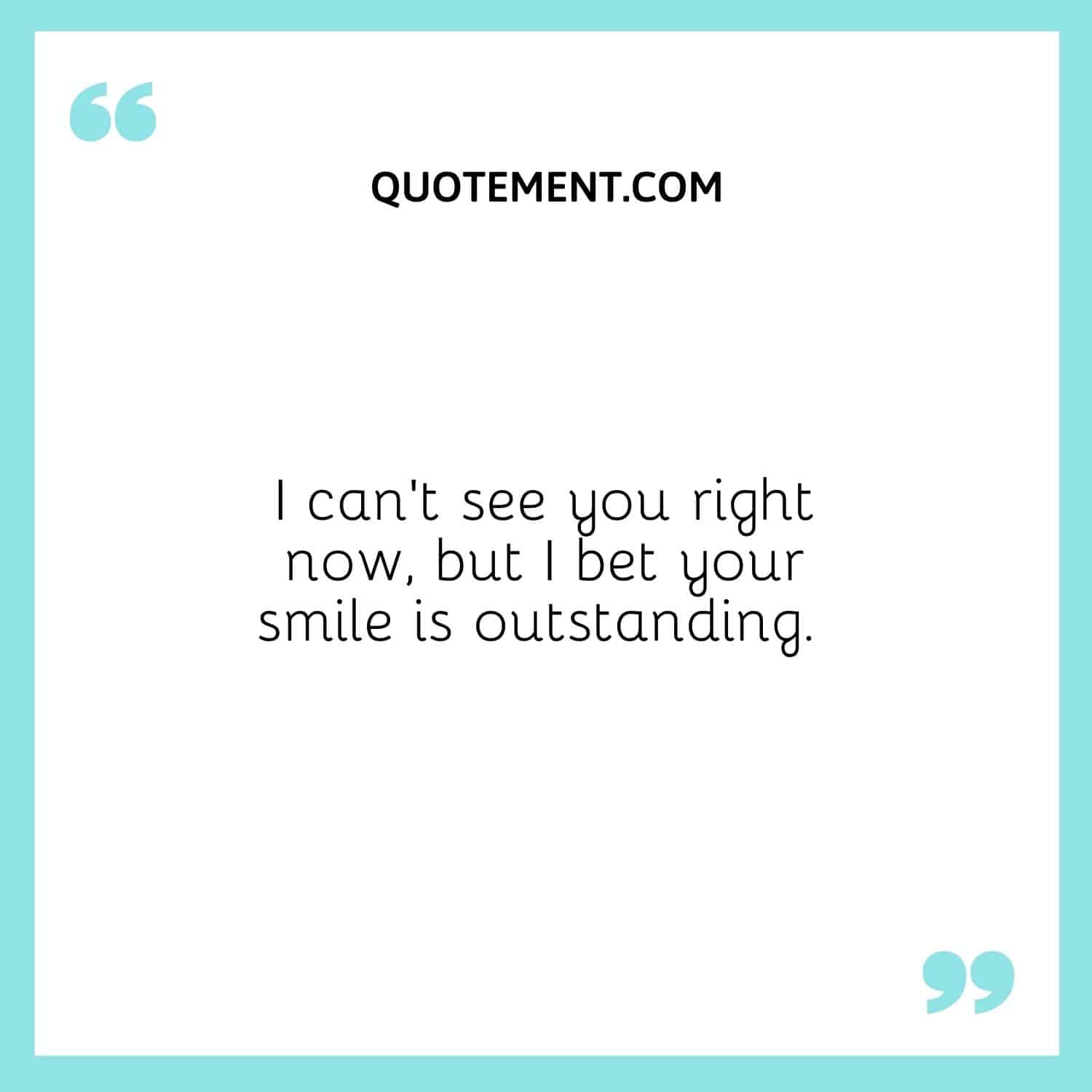 11. I've never seen a rainbow as colorful as your cheeks.
12. Do you see the moon out there? It is so beautiful and shiny, just like your smile.
13. A lightsaber glows, but your smile glows brighter.
14. Smile if you want me!
15. Your smile is my day maker.
16. Did the sun just come out, or did you just smile at me?
17. When I met you, I suddenly realized that I wanted to witness your million smiles in your life.
18. If I could reach out and hold a star for every time you've made me smile, I'd hold the sky in the palm of my hand.
19. We can go dancing in the dark and hide our cheekiness and happiness underneath our desires.
20. Your smile could sell a half-million magazine covers.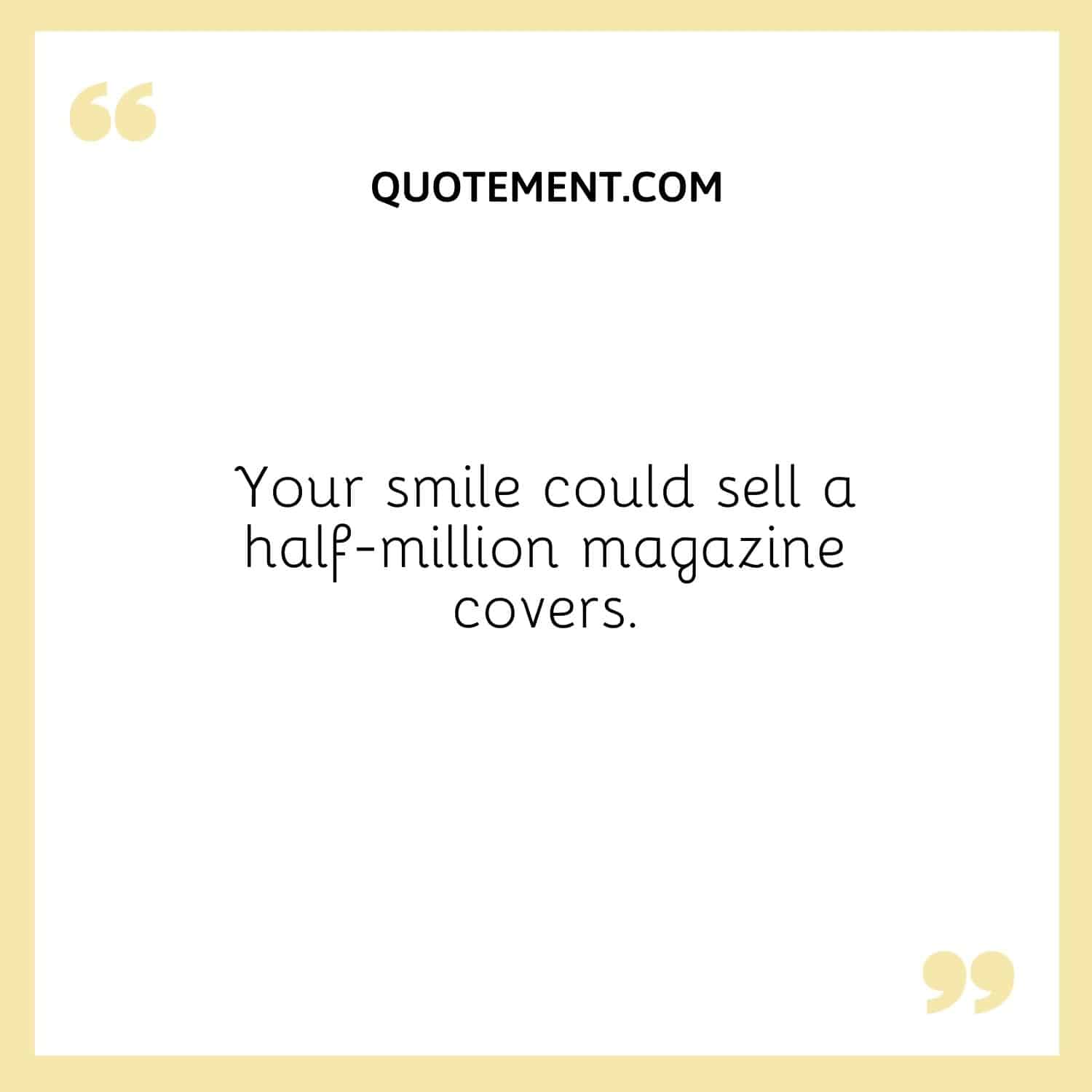 Smile Pick Up Lines For Him
If you're searching for a flirty pick-up line to seduce that boy you've been dreaming about, these smile pick-up lines are what you need.
1. Did I just see the sun, or was that your smile?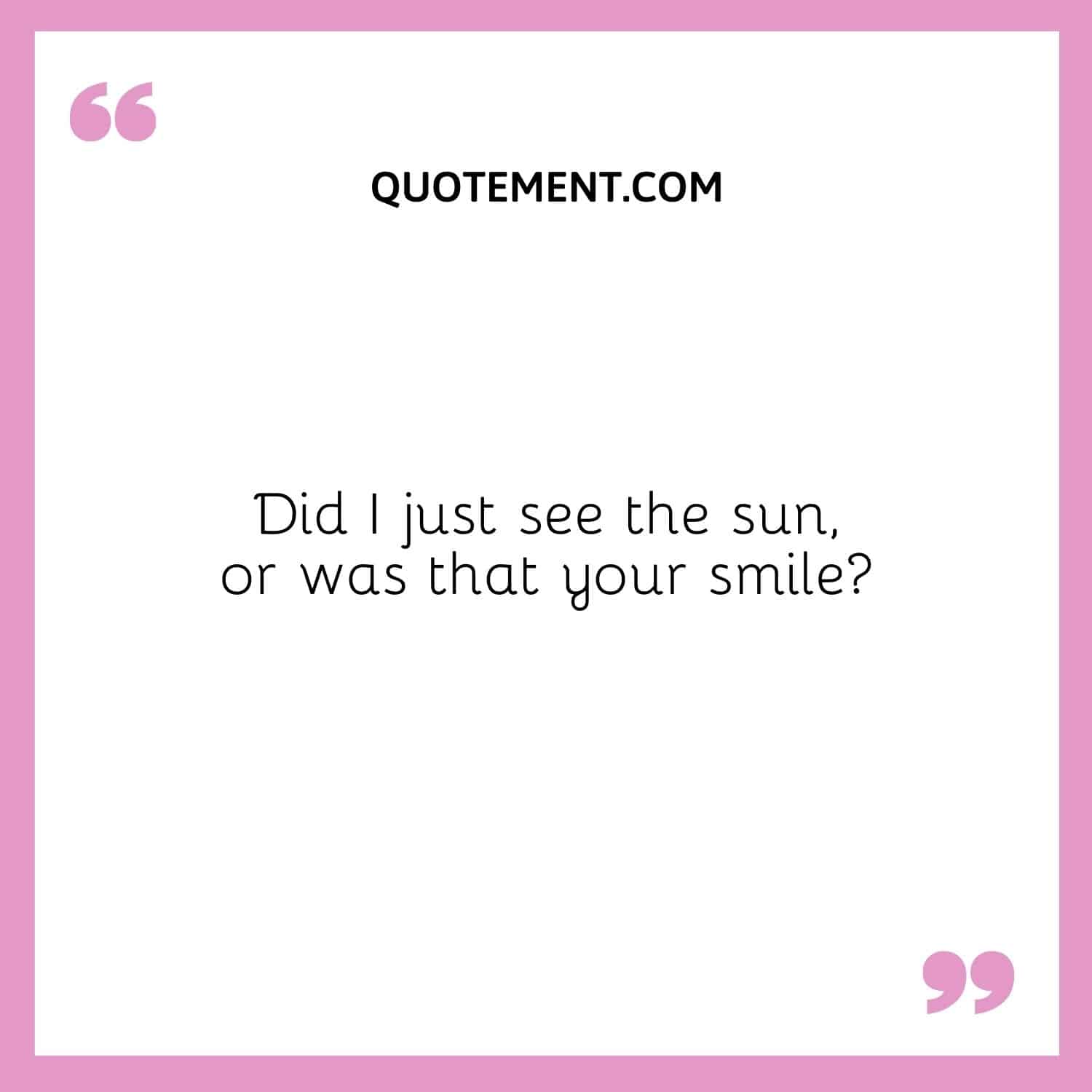 2. This is my pick-up line. How cute is your smile?
3. Hi handsome!! Are you single? Because I think I would be complete with you.
4. My heart smiles whenever I see you.
5. People say I don't smile much. Bet they haven't seen me talking to you.
6. You are on top of things, and your smile is the best that makes me barmy.
7. Nothing turns me on than finding you looking at me, and then you smile and turn away.
8. Can you send me a selfie? I just want to show my mom what my dream boy looks like.
9. Every time I see you, my heart smiles.
10. Whenever I look at you, I smile. Could you be a camera?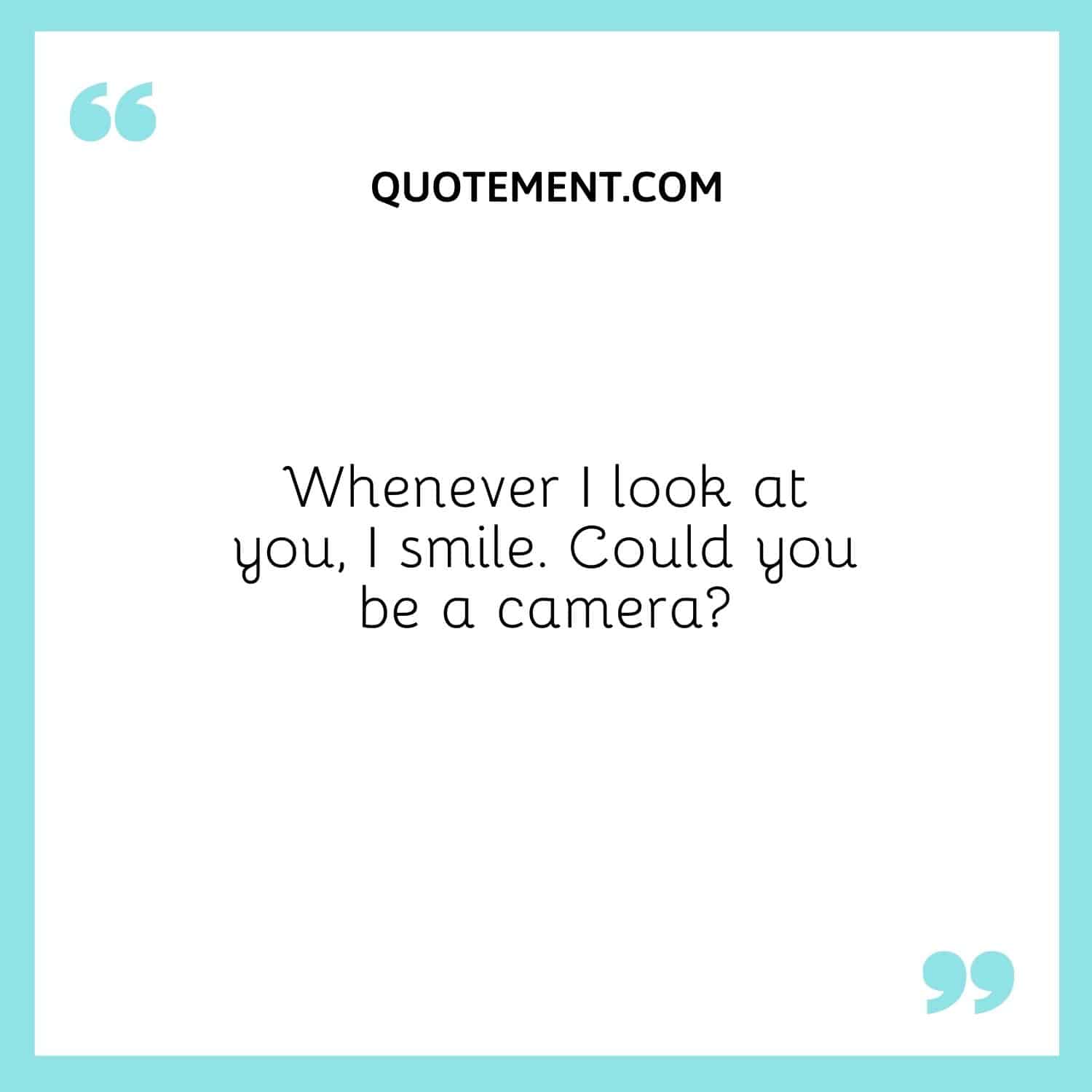 11. You are kinda, basically looking pretty.
12. Nobody is really trying to impress anyone here b'coz I'm stuck on his smile.
13. Your smile is like Tik Tok…I want to watch your curves all time.
14. Even during the pandemic, the most contagious thing is your smile.
15. Smile, it can't be that bad.
16. Are you so happy even when you are alone?
17. I was wondering if you had an extra heart, someone has just stolen my heart.
18. I'm learning about important dates in history. Wanna be one of them?
19. I'm lost in your smile, get me out of here.
20. You dropped something here! [What?] Your smile.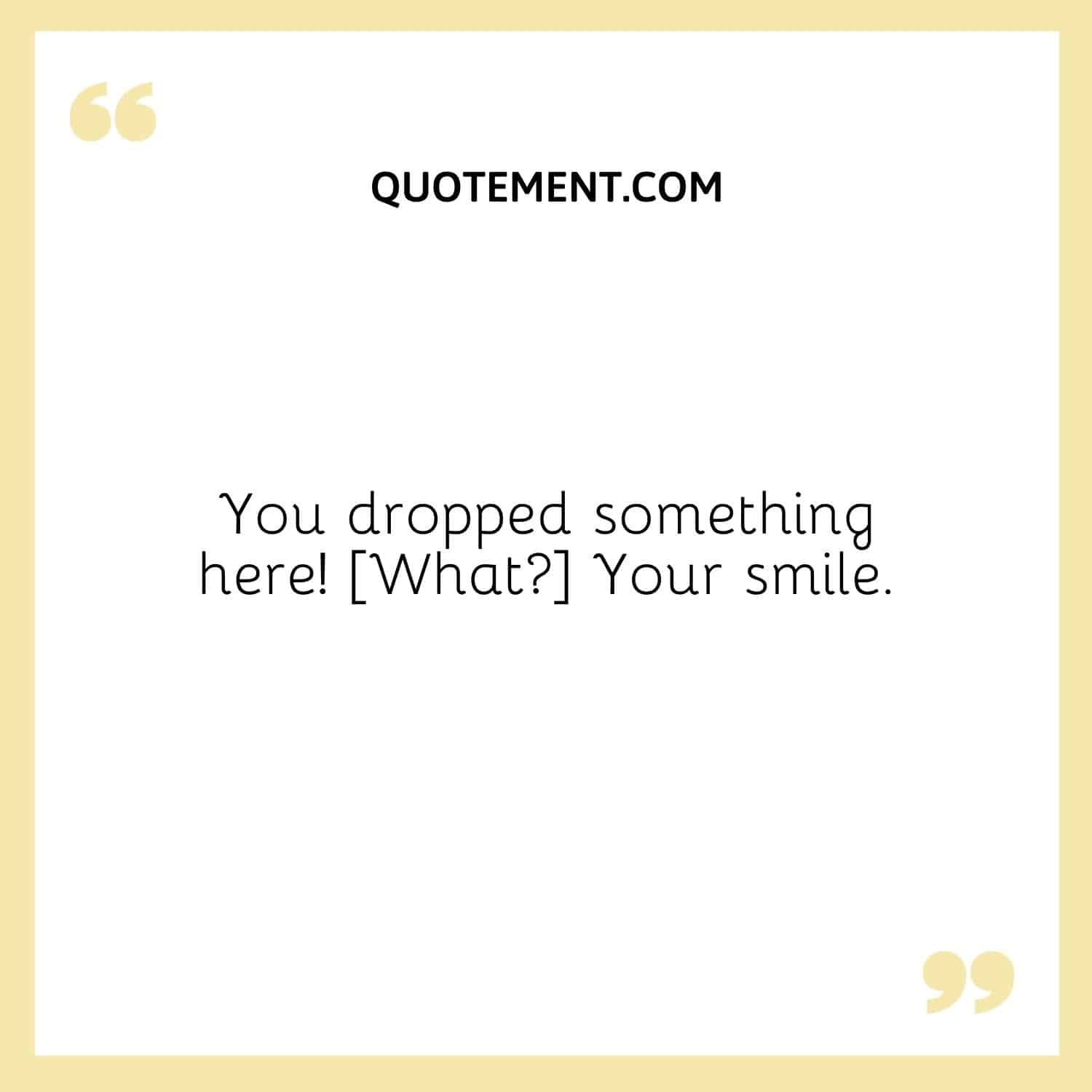 21. Your cute smile is my best therapy.
22. We can escape now and create a world where we can only be happy for the rest of our lives.
23. People say that Happiness starts with 'H'….But my Happiness starts with your cute smile.
24. I wish those smiles came with kisses.
See also: 100 Awesome Kiss Pick Up Lines To Help You Get A Kiss
Best Pick Up Lines For Her
If you need a pick-up line that will make her blush, you've come to the right place. These smile pick-up lines will do the job!
1. Wanna date me? Yes = smile. No = backflip.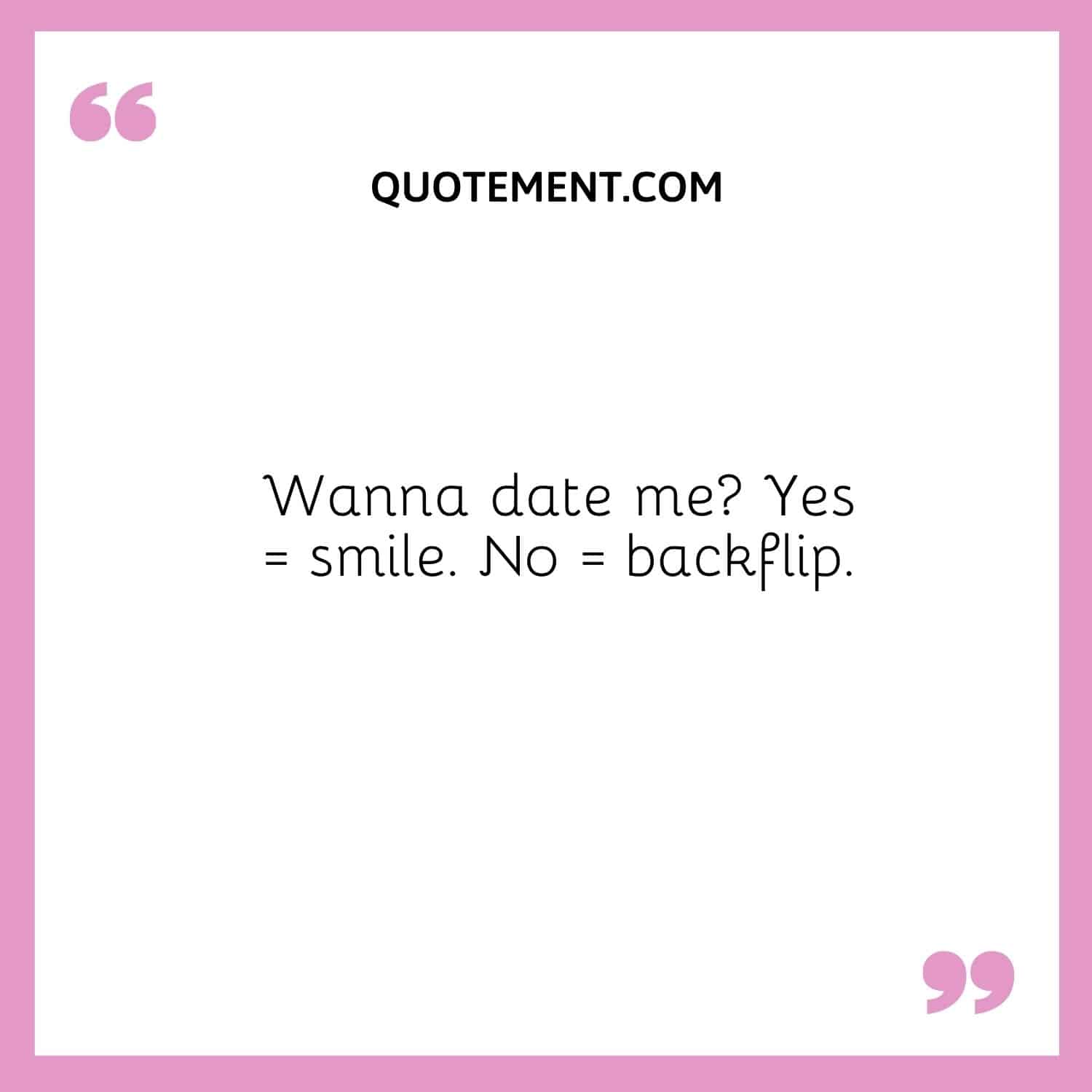 2. Ohh, baby!! You are the only girl I need cause I'm stuck with your smile.
3. If I could reach out and hold a star for every time you've made me smile, I'd hold the sky in the palm of my hand.
4. They asked me for drugs, so I told them about your smile.
5. I love your smile. It reminds me of the smile of the person I want to marry someday.
6. If I fall in love, that's not my fault because it's the magic of her smile.
7. Hey Barbie!! Why are you smiling here?
8. Go ahead, feel my shirt. It's made of boyfriend material!
9. When she smiles and laughs, both our mouths and eyes are animated.
10. Was that an earthquake, or did you just rock my world?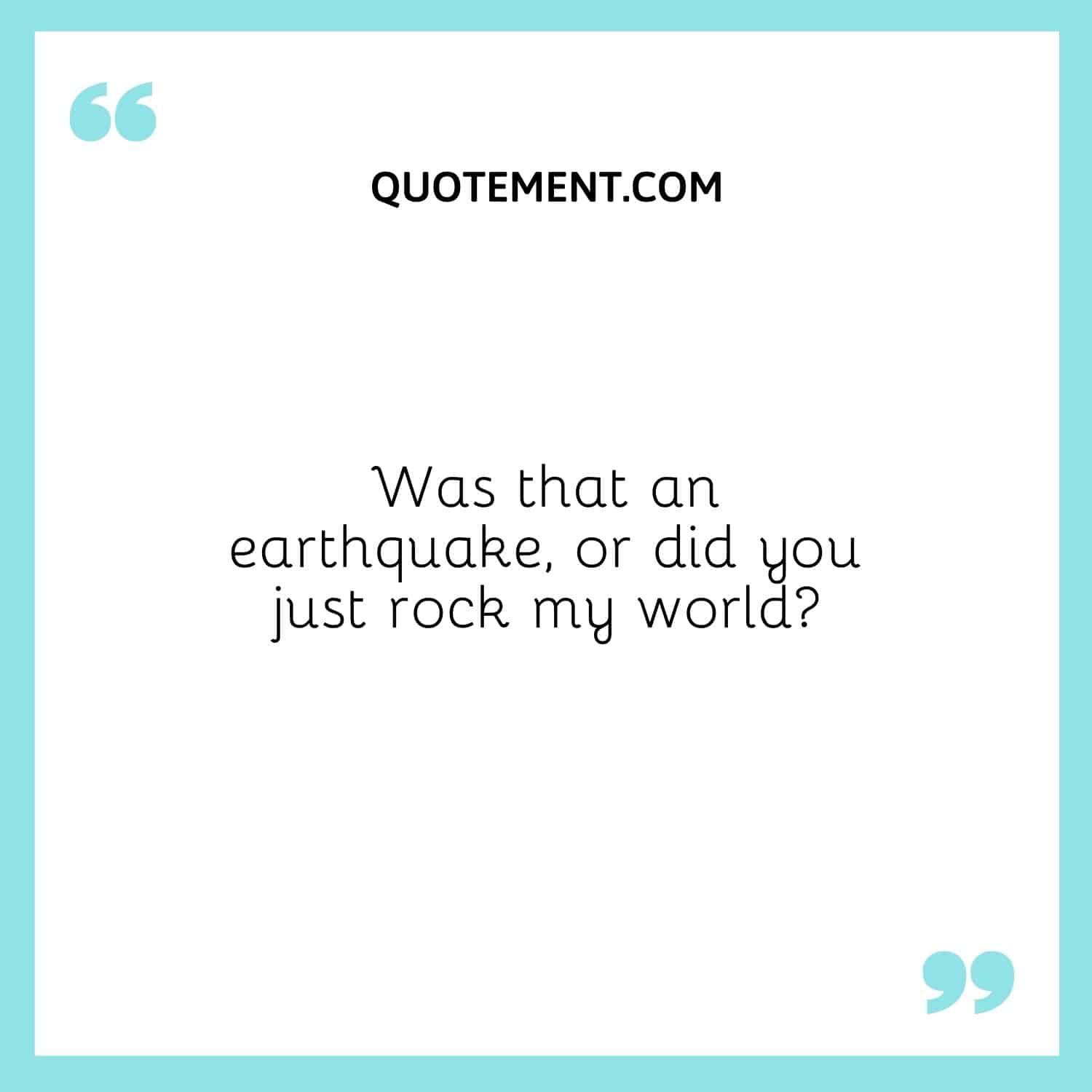 11. If you were a sweet bird, then I would keep you in my house.
12. Her smile is the key to locking my heart.
13. Can I have your picture because I love your pretty eyes and smile.
14. I felt happy just by seeing your beautiful beam that shines into this dusky and miserable place.
15. Are you a fairy? Because your voice is like a canary.
16. Whenever I'm with her, everything gets confusing seeing her smile.
17. I'd like to celebrate with you the point that you have the most beautiful smile in the world.
18. I have had a really bad day, and it always makes me feel better to see a pretty girl smile. So, would you smile for me?
19. I don't know, what's your name? But, I'm sure it will be as beautiful as your smile.
20. Without her smile, my life is broken.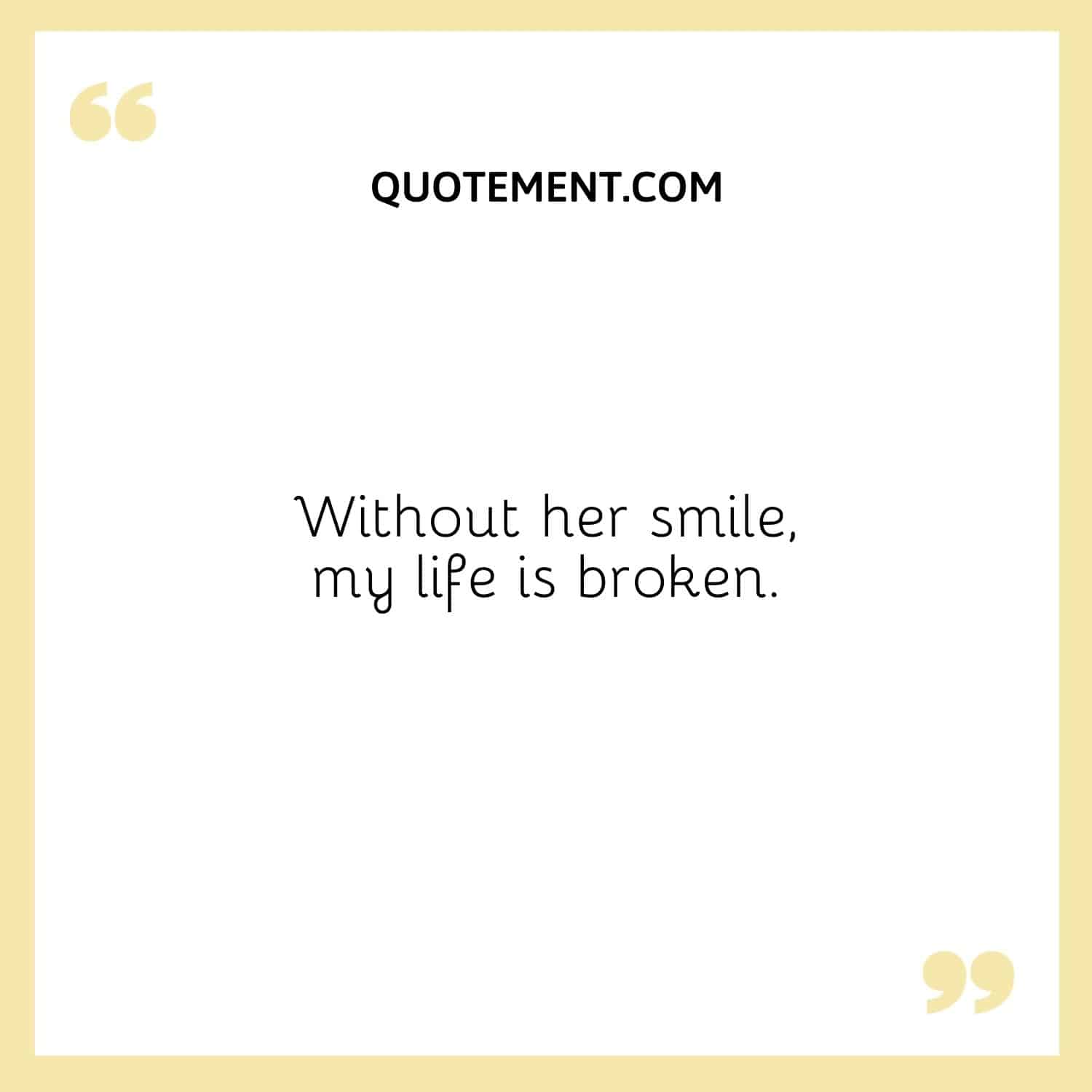 21. I hope your day is as beautiful as your smile.
22. I seem to have lost my phone number. Can I have yours?
23. I was blinded by your smiles, I need your name and number to save on my phone.
24. If you were words on a page, you'd be the fine print.
25. When I'm intrigued by the smile upon her, I feel better.
26. There is something on your face. A beautiful smile. There it is again.
27. Can I be your guardian angel who will swear to protect your life and your precious smiles?
28. You're so pretty, I forgot my pick-up line.
29. Your smile lit up the room, so I just had to come over.
30. I'm lost in your smile, girl.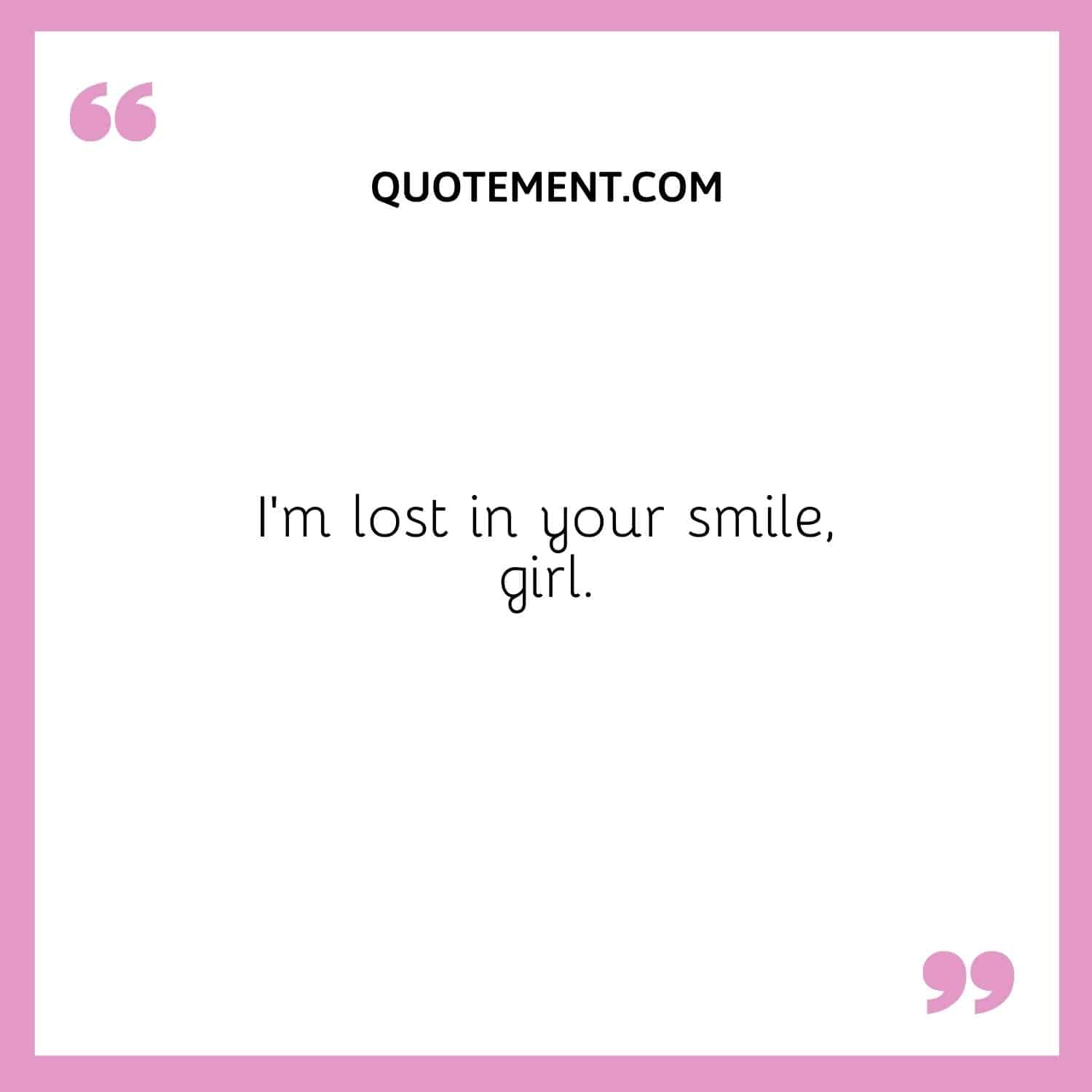 31. How come you're not on top of a Christmas tree? I thought that's where angels belonged.
32. There's only one thing I want to change about you, and that's your last name.
33. I thought your smile seemed to be the golden sunshine right here in this dark and noisy bar.
34. Roses are red, my face is too, that only happens when I'm around you.
See also: 131 Absolutely Brilliant Pick Up Lines To Make Her Blush
Cute Smile Pick Up Lines
You can never go wrong with a cute pick-up line. Choose one of these cute smile pick-up lines that work wonderfully!
1. Hey, I wanted to tell you that your smile drives me crazy.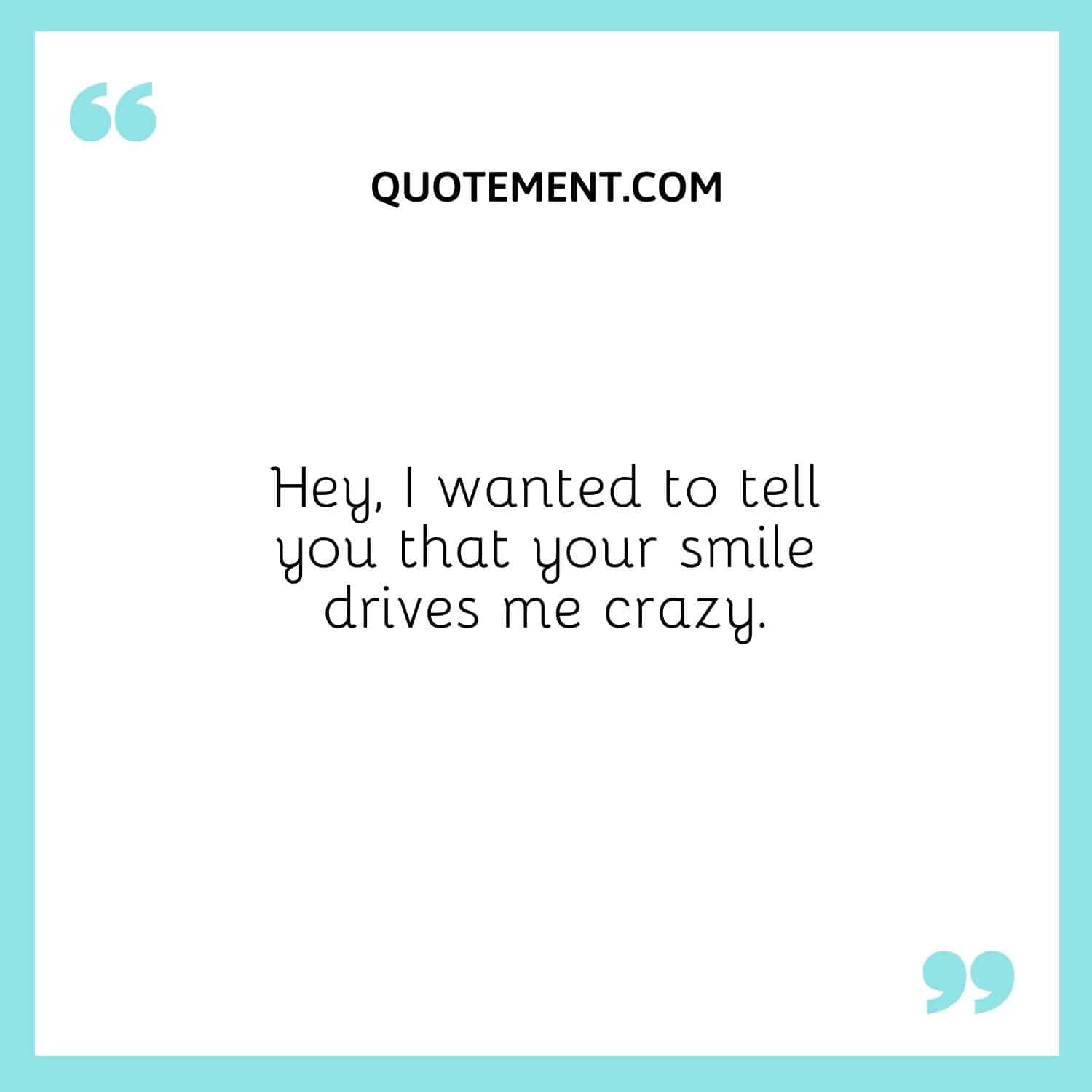 2. Do you bleach your teeth? 'Cause your smile lights up the entire room like a candle in the dark. Let's prove it.
3. I bet dentists HATE you – there's no way they could improve your smile!
4. I'm lost… Can you smile so that I could be alive?
5. Are you from space? Because you're out of this world best looking with a smile.
6. Yeah! I'm a thief, and here I'm stealing your heart.
7. Hey, where did your smile go? (Check back pocket) Here it is!
8. I don't have a library card but do you mind if I check you out?
9. There must be something wrong with my eyes, I can't take them off you.
10. You better call life alert because I've fallen for your smile, and I can't forget it.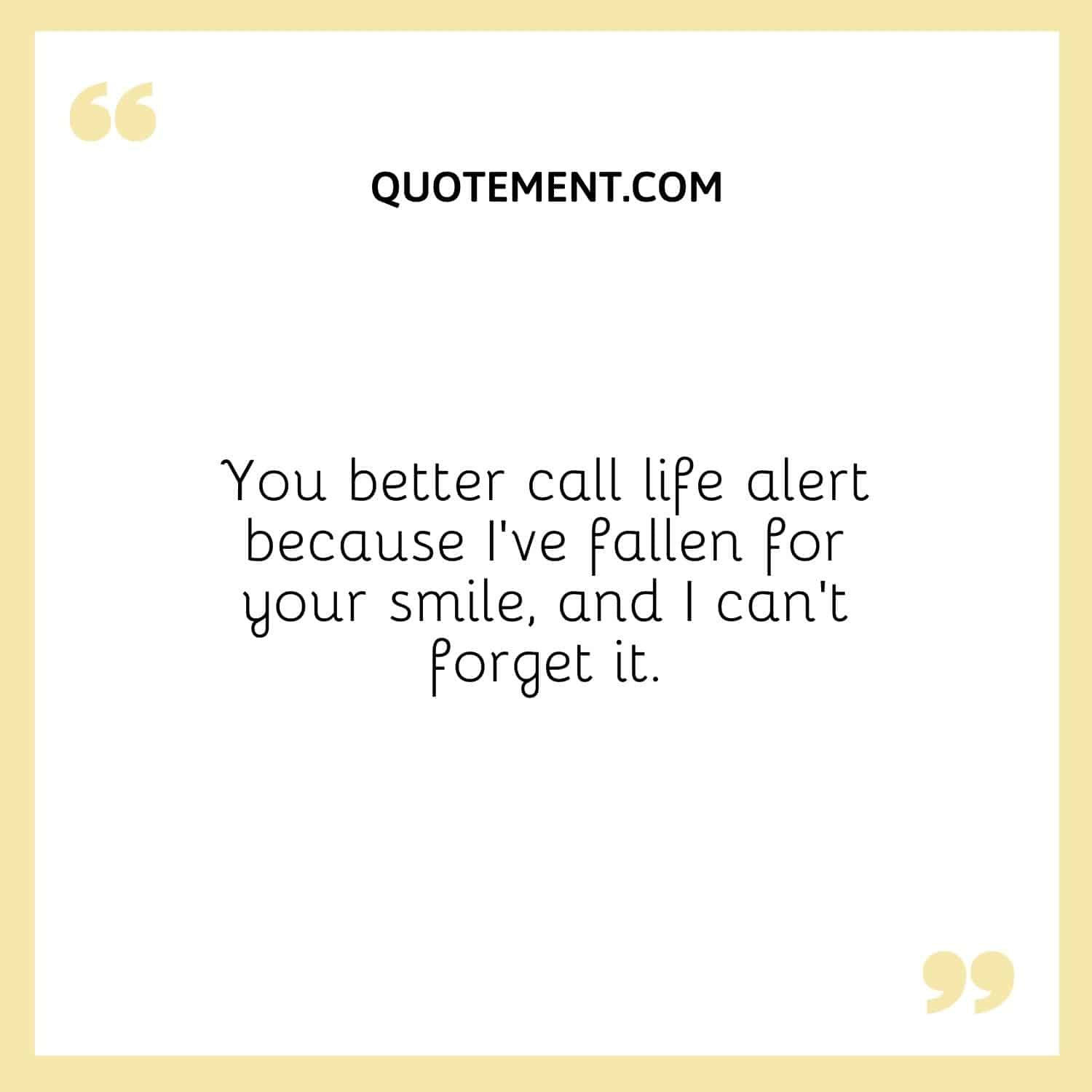 11. Worry less, smile more, without any regret, just learn and grow.
12. I've never seen any teeth as white and bright as yours.
13. Looking at her smile, the clouds thundering.
14. When things are difficult, smile by faith, don't wait until you feel better.
15. I felt like I am was a rearview mirror waiting for the reflection of your bliss and happiness in life.
16. Your smile is my favorite!
17. You are as beautiful on the inside as you are on the outside.
18. You're so beautiful I forget everything looking at you.
19. Do you believe in love at first sight, or should I walk by again?
20. Do you know? Whenever you smile, the sun shines in the sky.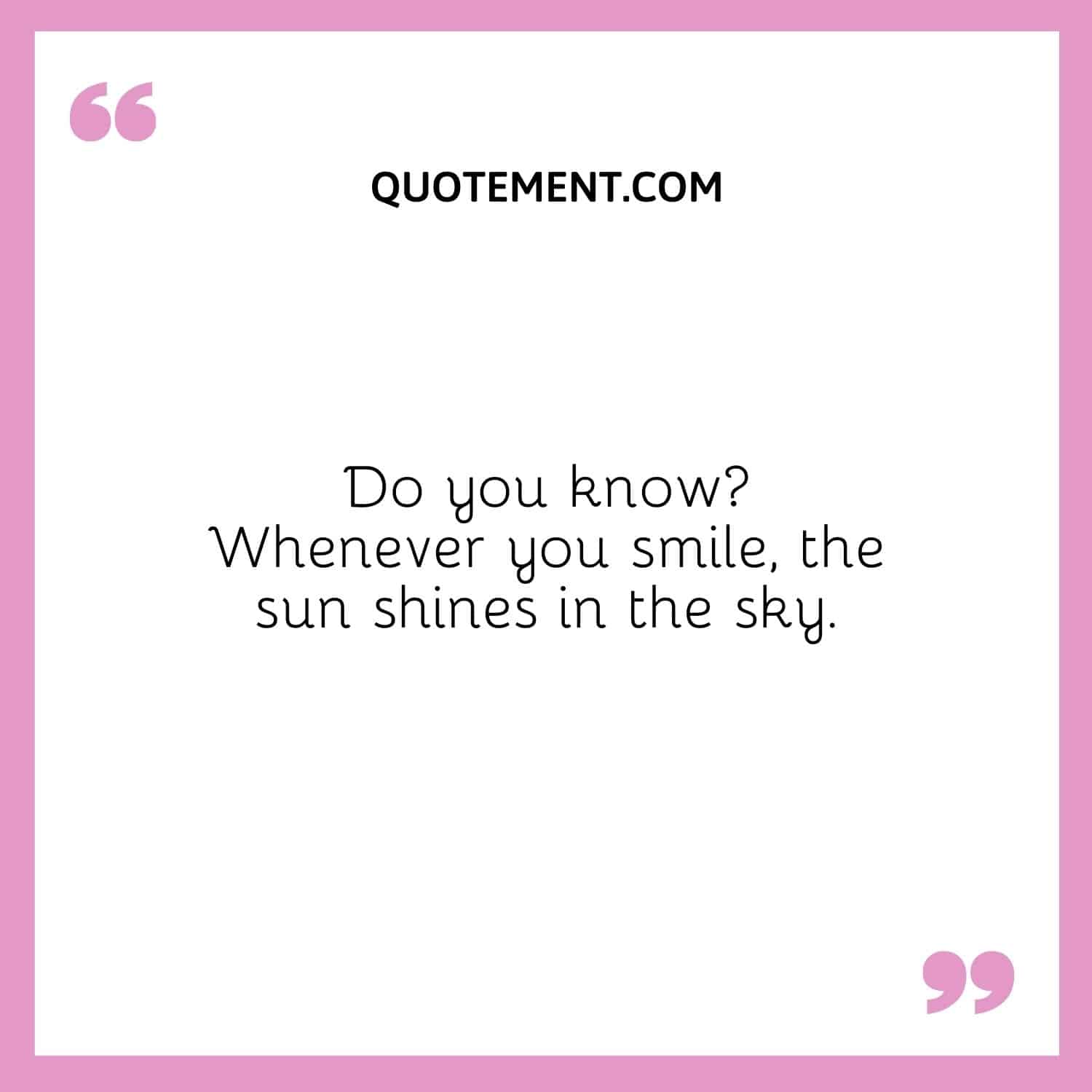 21. You know, at this angle, as the lights hit your eyes [start fixing hair], I can see myself, and I look great." Then smile and sheepishly say, "just kidding."
22. What is 999,999,999 + 1? The number of ways I wanna make you smile.
23. You have the most beautiful smile in the world, and I'd like to celebrate this point with you.
24. This dumbbell is very heavy, yet, I can hold it for your happiness.
25. I must be in a museum because you truly are a work of art.
26. I just had to come over after your smile lit the room.
27. You are my luck if I didn't look at it, my day is worthless.
28. Excuse me, I think you have something in your eye. Oh, wait, it's just a sparkle.
29. I love it when I catch you looking at me, then you smile and look away.
30. Your smile must be a black hole, nothing can escape its pull.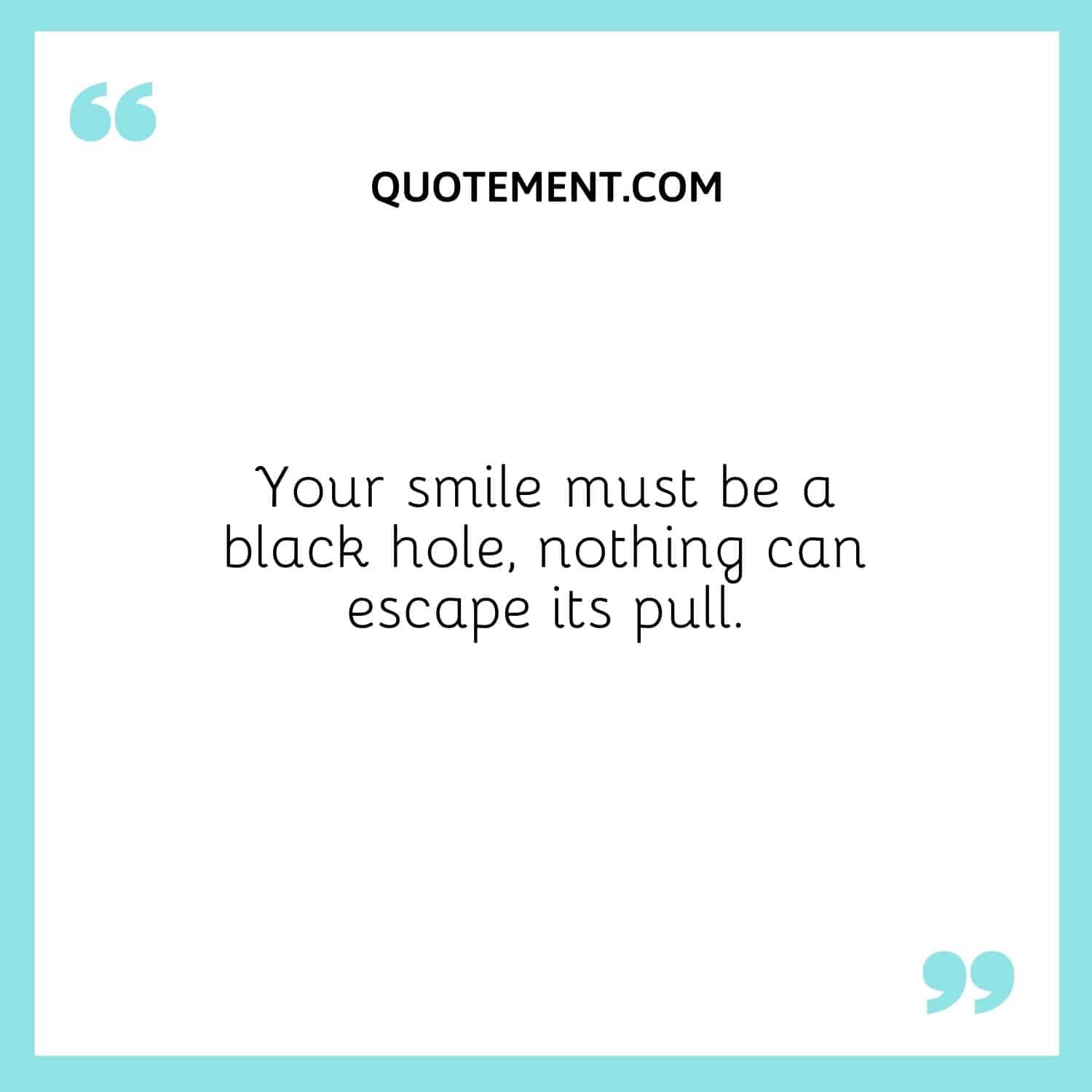 31. Hey, don't frown. You never know who might be falling in love with your smile.
32. Should I smile because we are friends or cry because I know that is what we will ever be?
33. Be yourself; there is nothing better than your smile.
34. Your smile is an image of a beautiful life.
35. Sorry, but you owe me a drink. [Why?] Because when I saw you smile, I dropped mine.
Funny Pick Up Lines About Smiles
If you want to impress someone, you need a clever pick-up line that will make them giggle.
1. Do you know Expelliarmus? Because your smile is disarming.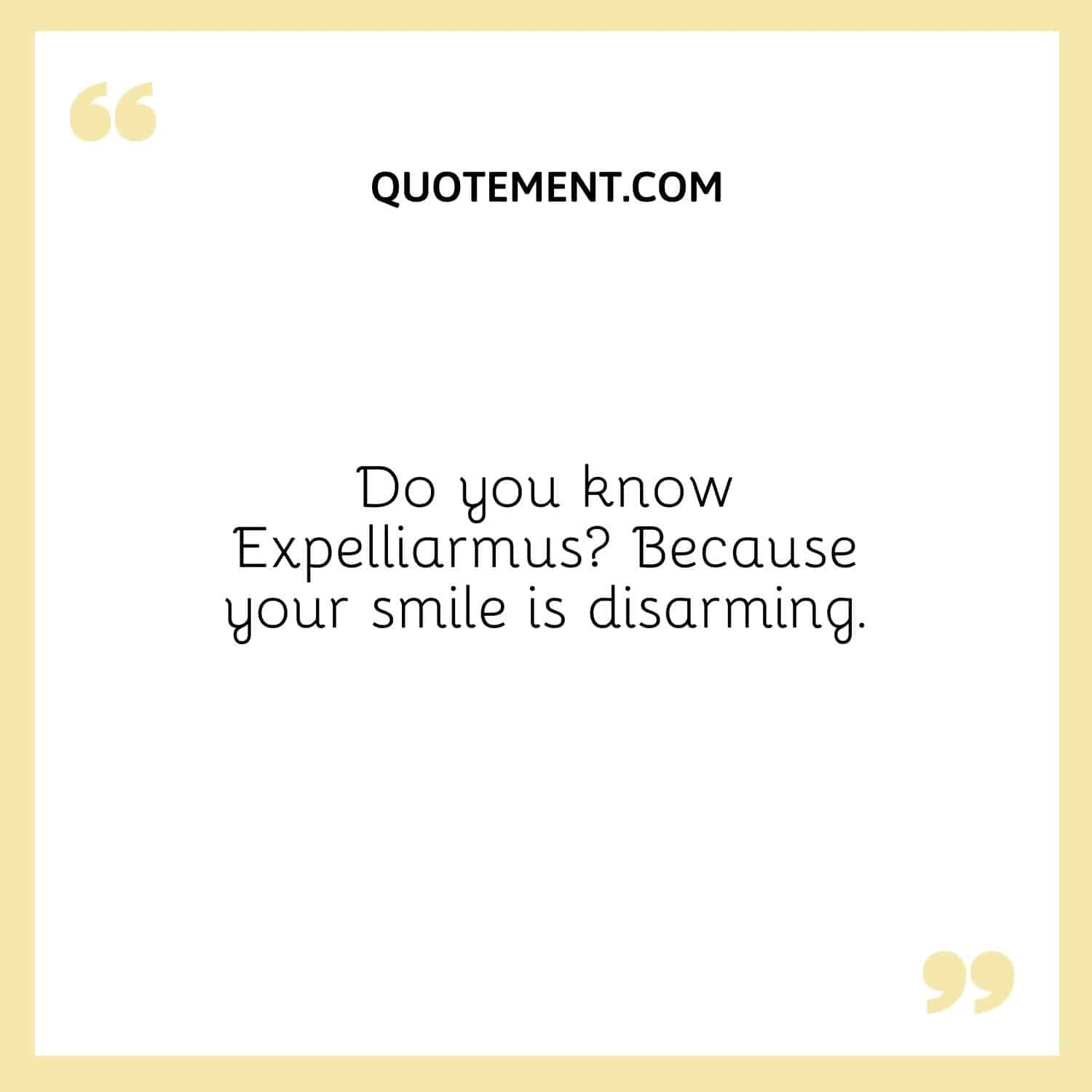 2. Hey, I think we need to go into quarantine together because your smile is contagious.
3. So, you floss!
4. You should call me toothpaste the way I'm gonna put some white in your smile
5. Do you like Star Wars? Because Yoda only one for me!
6. Are you a map? Because I'm trippy in your smile.
7. If you were a vegetable, would you be a cute-cumber?
8. Is that smile patented?
9. Are you a camera? Every time I look at you, I smile.
10. I have a PHD: a "Pretty Huge Desire" to put a smile on your beautiful face.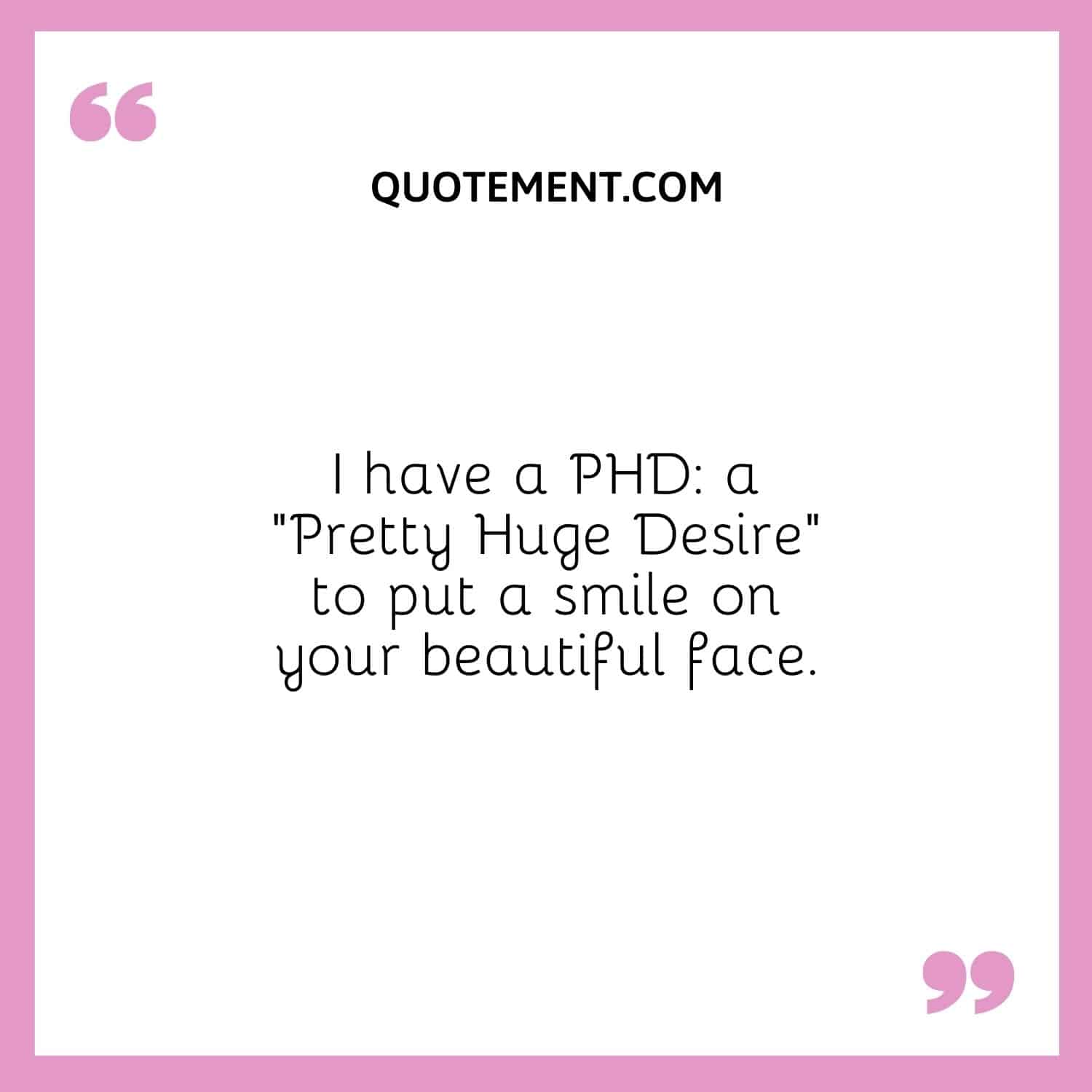 11. If you were a transformer, you'd be Optimus Fine.
12. Your smile glows brighter than a lightsaber.
13. Am I a hacker? Because someone stole your curves.
14. Are you an ice cream? Because you are a very cool person.
15. The doctor said I'm sick because I'm lacking you and your curious smile.
16. If you're a cat, I'd spend all my nine lives with you.
17. Are you a keyword? Because you are my first type of word.
18. Are you smiling at me, or do I have my contacts wrong?
19. Is your name Google? Because you have everything I've been searching for.
20. A smile from you to me is like a sock from Dobby.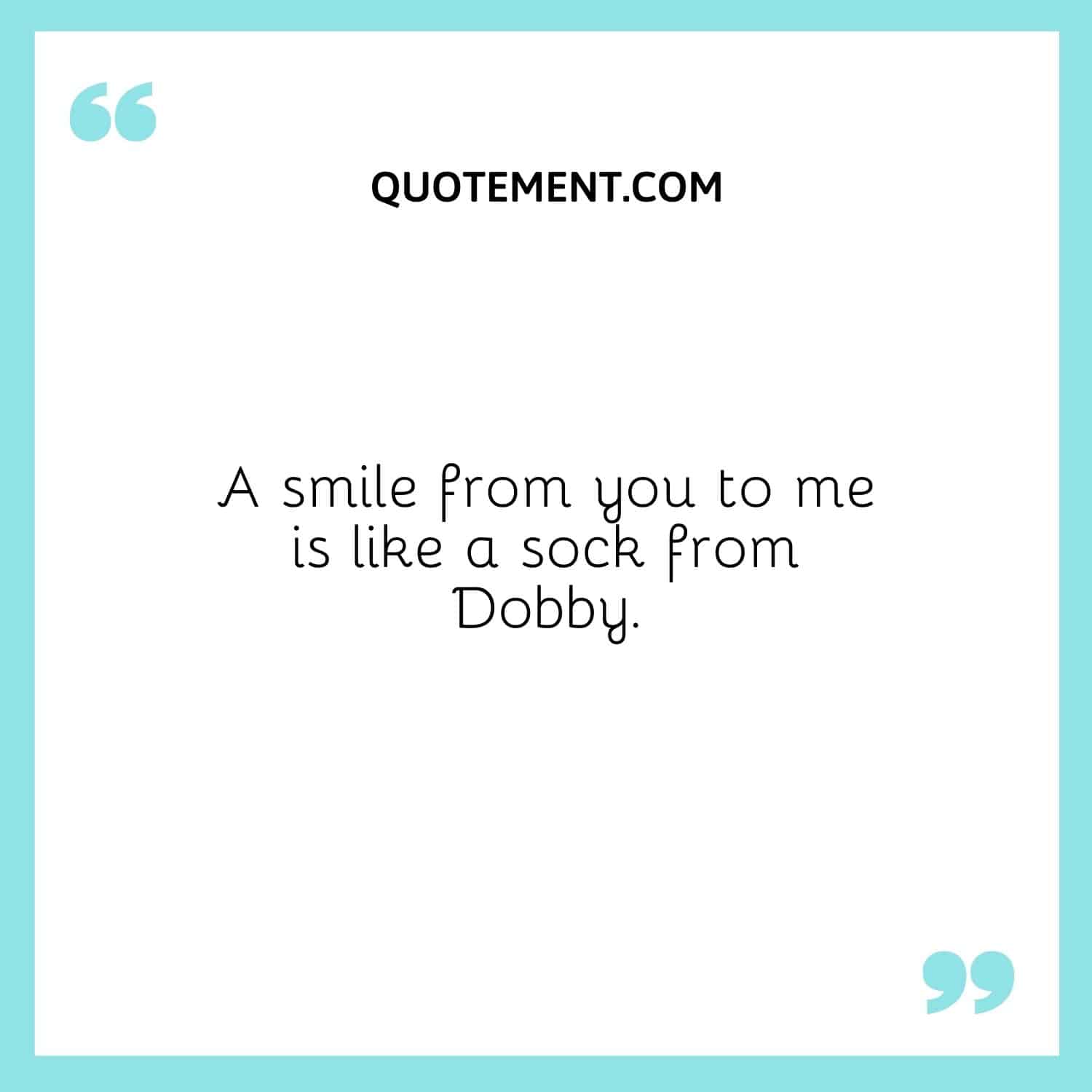 21. I can make several words from the word smile, like Slime, I Me, Mile, and Lime.
22. I'm not currently an organ donor, but I'd be happy to give you my heart.
23. May I borrow your phone? Because I want to call your mother and thank her for bringing you into this world only for me.
24. Are you a software machine? Coz, you continue working.
25. If you were a fruit, you'd be a fine-apple.
26. I think you're an alien, you just abducted my smile.
27. Is your Name Wi-Fi? Because I'm really feeling a connection.
28. If you're mine fresh vegetables, then I'll eat you.
29. If you and I were socks, we'd sure make a great pair.
30. Did you learn Flash? Your smile could light the darkest caves.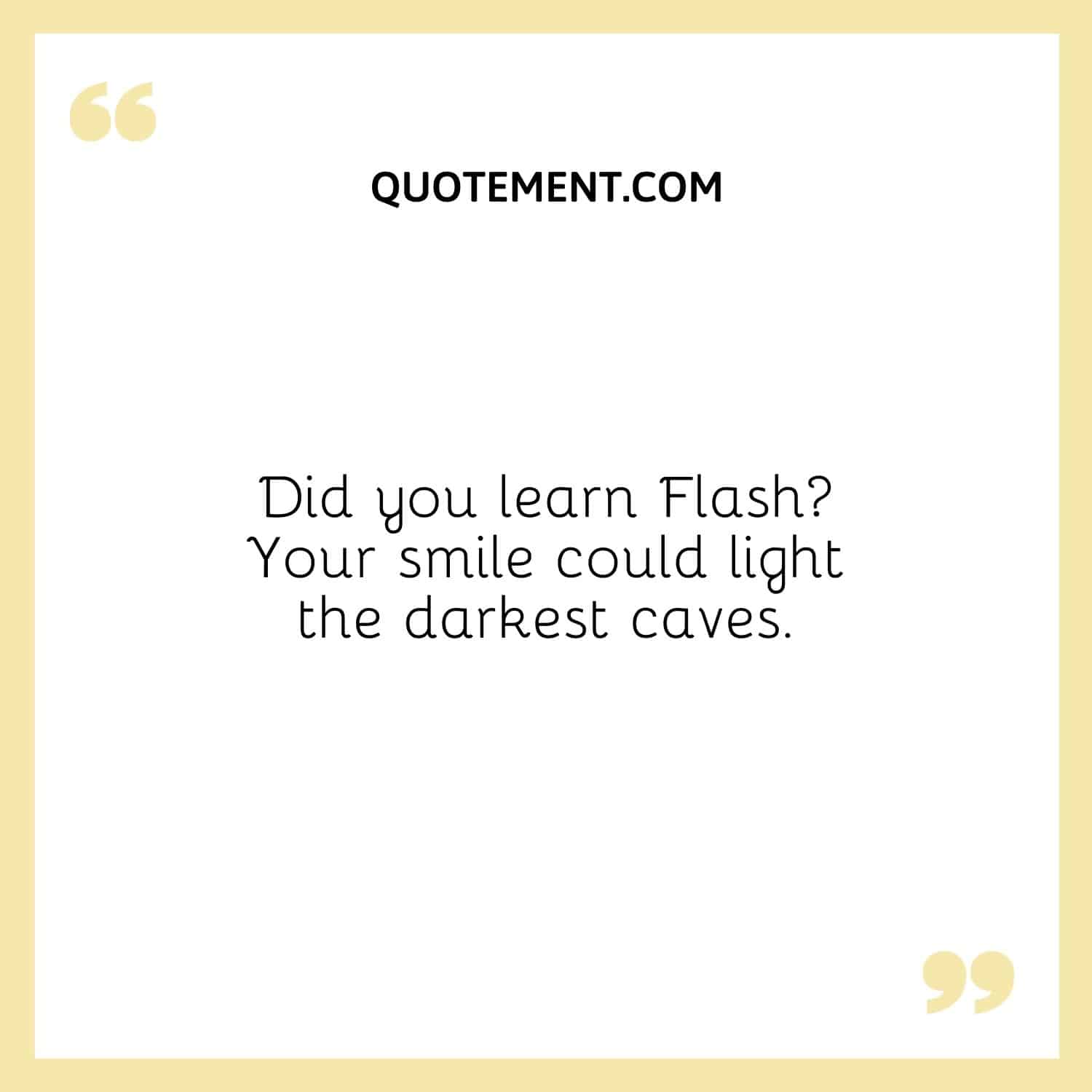 31. If you want me, smile: if you want to sleep with me, smile more.
32. What smiles, winks, is hung like a horse, and can last all night long?
33. I'll buy you a drink every time you smile at ME tonight. (Better bring your credit card).
34. I'm sorry, were you talking to me? [No] Well then, please start.
Cheesy Pick Up Lines For Your Wife
Just because you're married doesn't mean you don't have to put in work anymore. Seduce your wife each day, and she'll be eternally in love with you.
Here are some cute and catchy smile pick-up lines you can use.
1. I love your smile, but I love it more when I'm the reason behind it.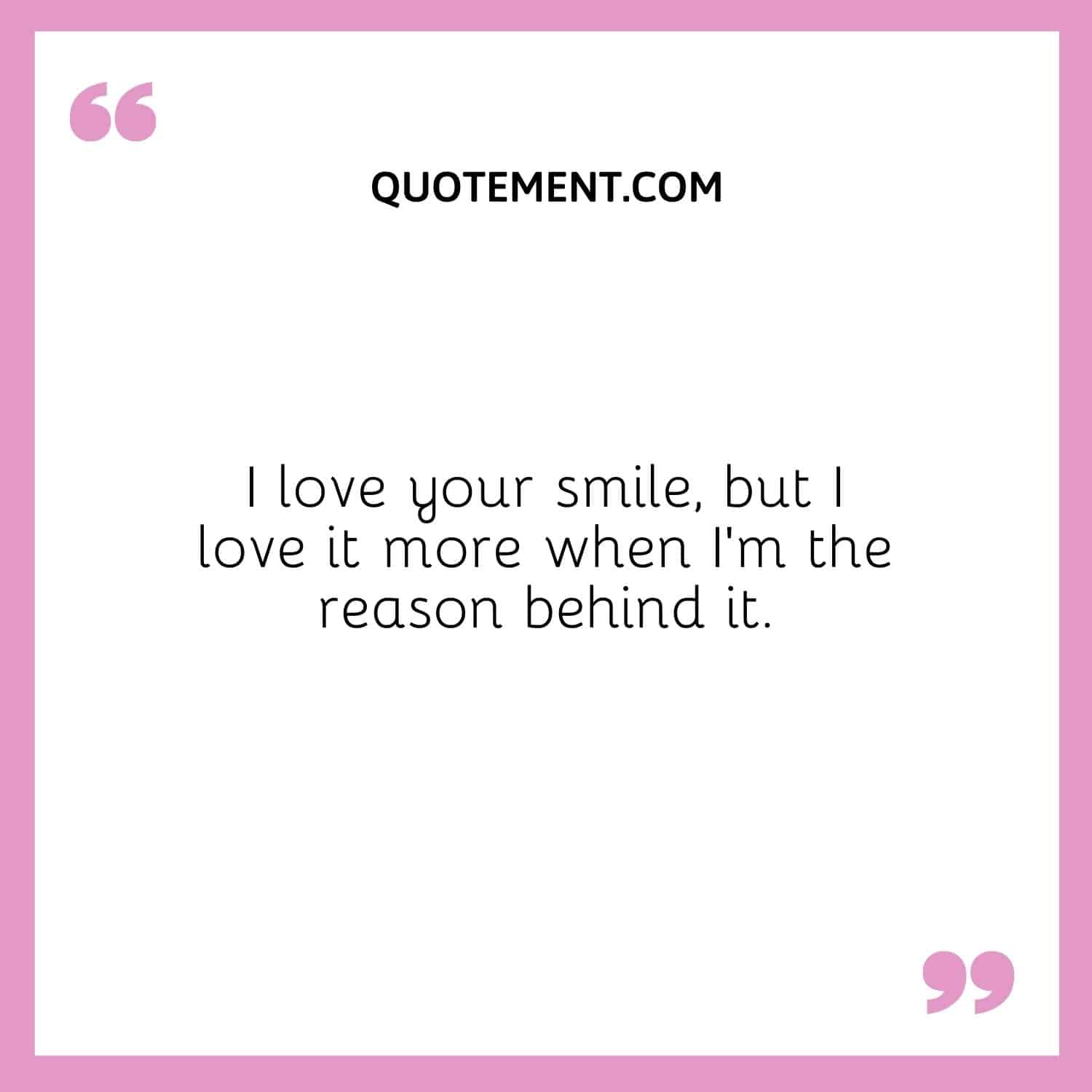 2. I want you to be the one who will be the reason for my sincere happiness and joyful world.
3. When we first met, I honestly had no idea that you would be so important to me.
4. Are you a flute? Coz, I'm just getting absorbedly lost.
5. When I look at you, I see thousands of mountains and brilliant sunsets that make me smile.
6. I can go back in time, but I will choose again to witness your happiness and enjoyment in life.
7. We can light up my world with your gorgeous smiles in your beautiful eyes and full red lips.
8. Excuse me, you have a sensuous overbite and lips.
9. The phrase 'he's holding a cat' makes me smile, but you make me smile more.
10. Are you Netflix? Because I could watch your smile for hours.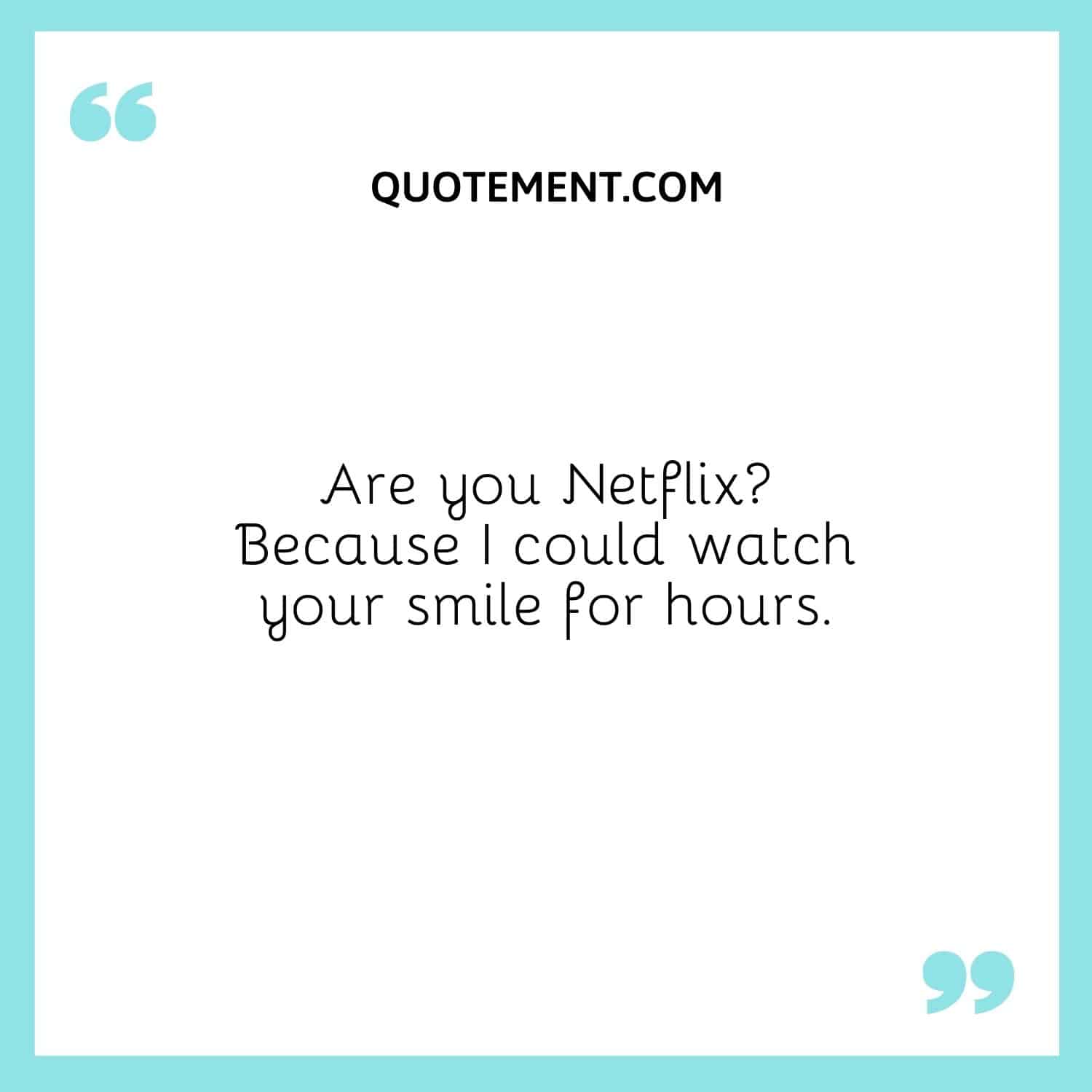 11. Hey, I know you. Yeah, you're the woman with the million-dollar smile.
12. Dear!! Your personality is like a hyperbola, and your smile is like a rose blooming.
13. I want to be a soldier who will swear to protect and to keep your sunshine beams at all costs.
14. Are you a meme? Because you make me smile.
15. I know milk does a body good, but baby, I've enough of your smile.
16. If you are a book, then I want to read you at night.
17. Your lips look lonely. Would they like to meet mine?
18. Every day I think of you, I smile, and my motion sensor picks up Sparks Flying.
19. If someone would ask me what a beautiful life means, I would lean my head on your shoulder, hold you close to me and answer with a smile, "This."
20. When I first saw you, I fell in love, and you smiled because you knew it.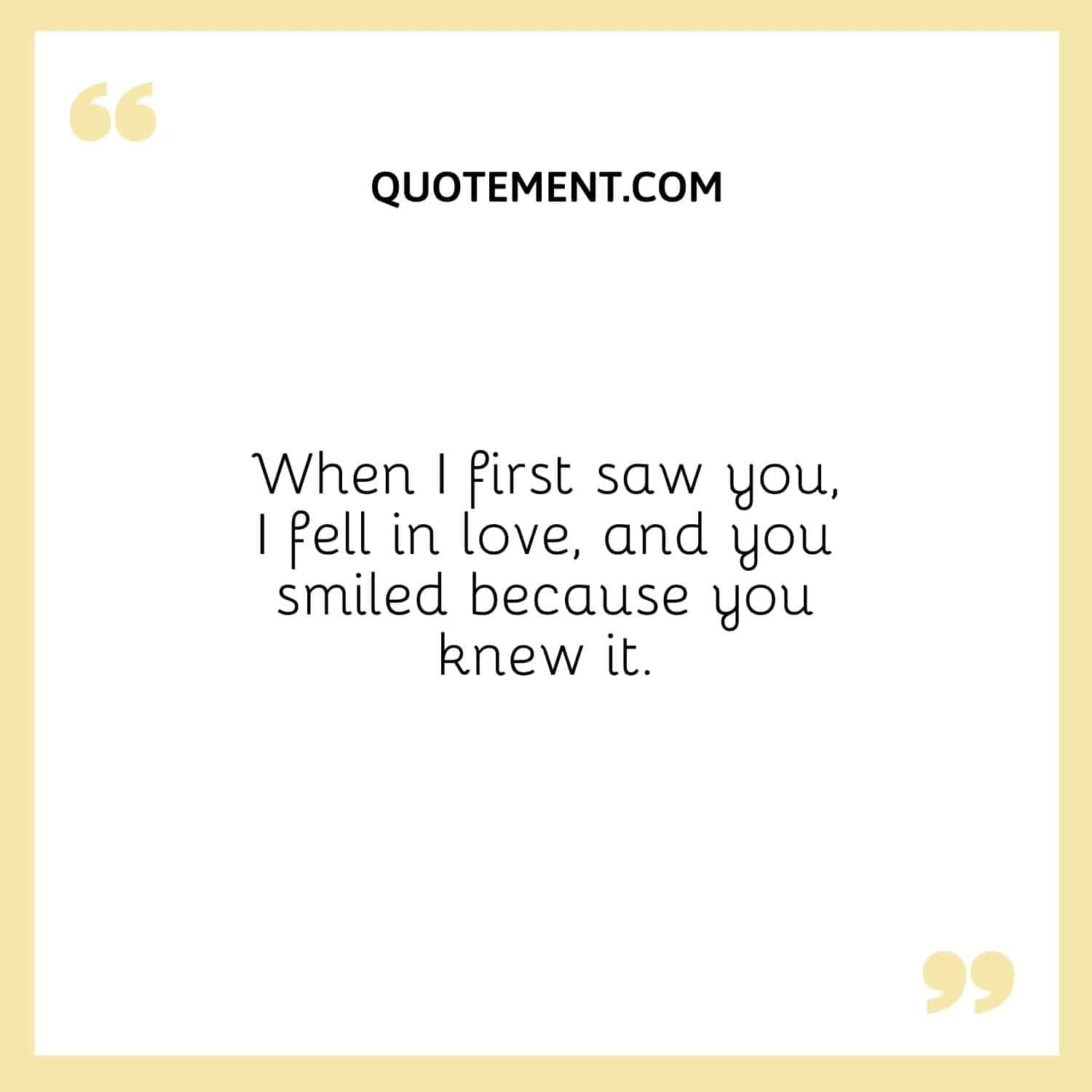 21. Well, I'm in your heart, what's your second wish?
22. People are always catching your dressing sense, but I'm always your mesmerizing smile.
23. I think I found the world where I can be happy for the rest of my life and that's on your side.
The End
With these smart and catchy smile pick up lines, you'll never be out of ideas about what to say anymore.
I hope you enjoyed this article and found it helpful.
Talk to you soon!