Beauty comes with a price, and those who have experienced waxing know it the best.
The process is unpleasant, to say the least, but having smooth silky skin is totally worth the pain.
If you're on the "hairless" team, these relatable waxing quotes are for you. Check them out!
10 Best Waxing Quotes
1. "A man will go to war, fight and die for his country. But he won't get a bikini wax." — Rita Rudner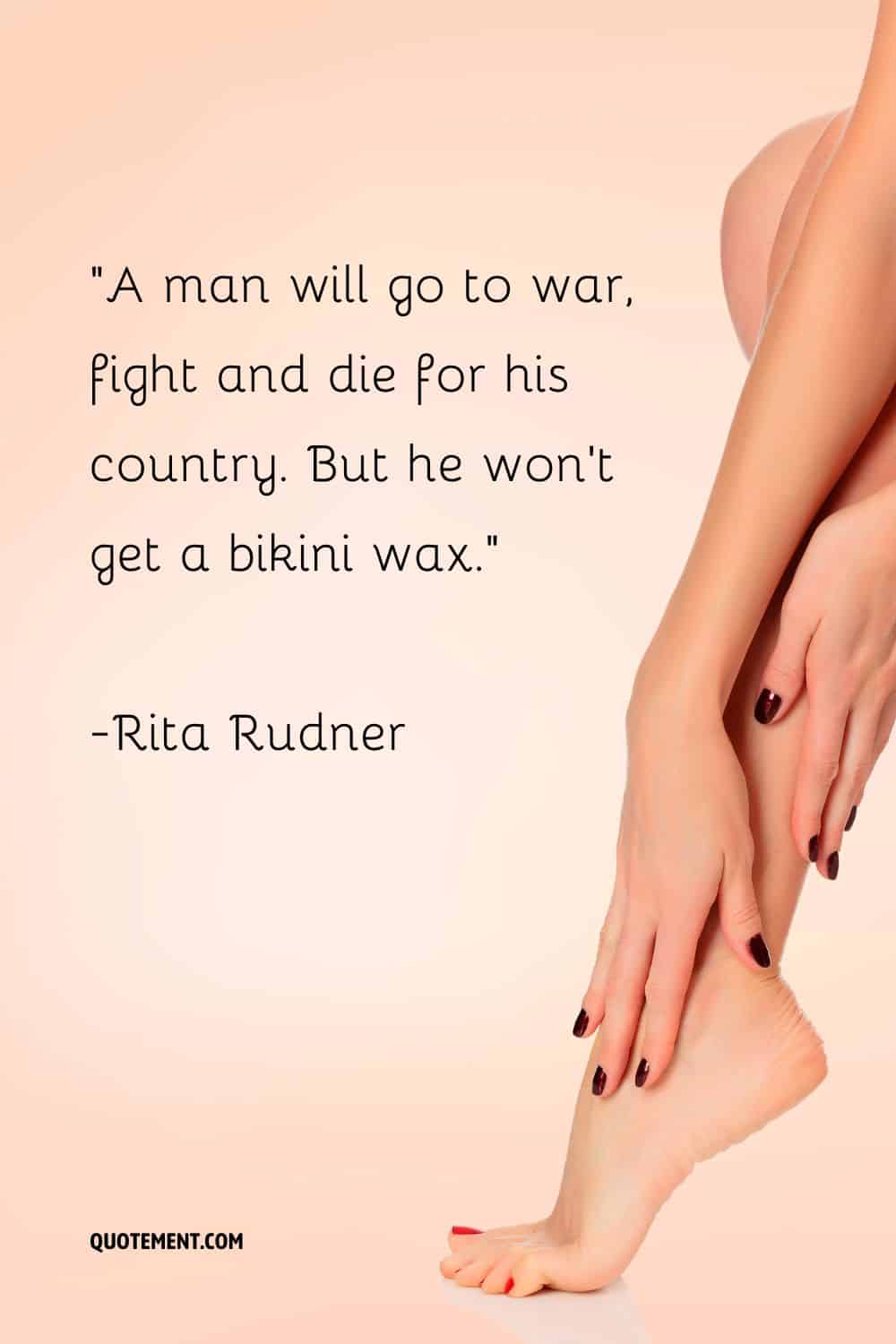 2. "It's the most important decision I've had to make since 1978 when I decided to get a bikini wax. [On his running for California Governor]" — Arnold Schwarzenegger
3. "I know I'm not going to understand women. I'll never understand how you can take boiling hot wax, pour it onto your upper thigh, rip the hair out by the root, and still be afraid of a spider." — Jerry Seinfeld
4. "I like cats, and I tried waxing once, and that hurt like a son of a gun." — C.C. Hunter
5. "A woman should try a Brazilian wax at least once." — Eva Longoria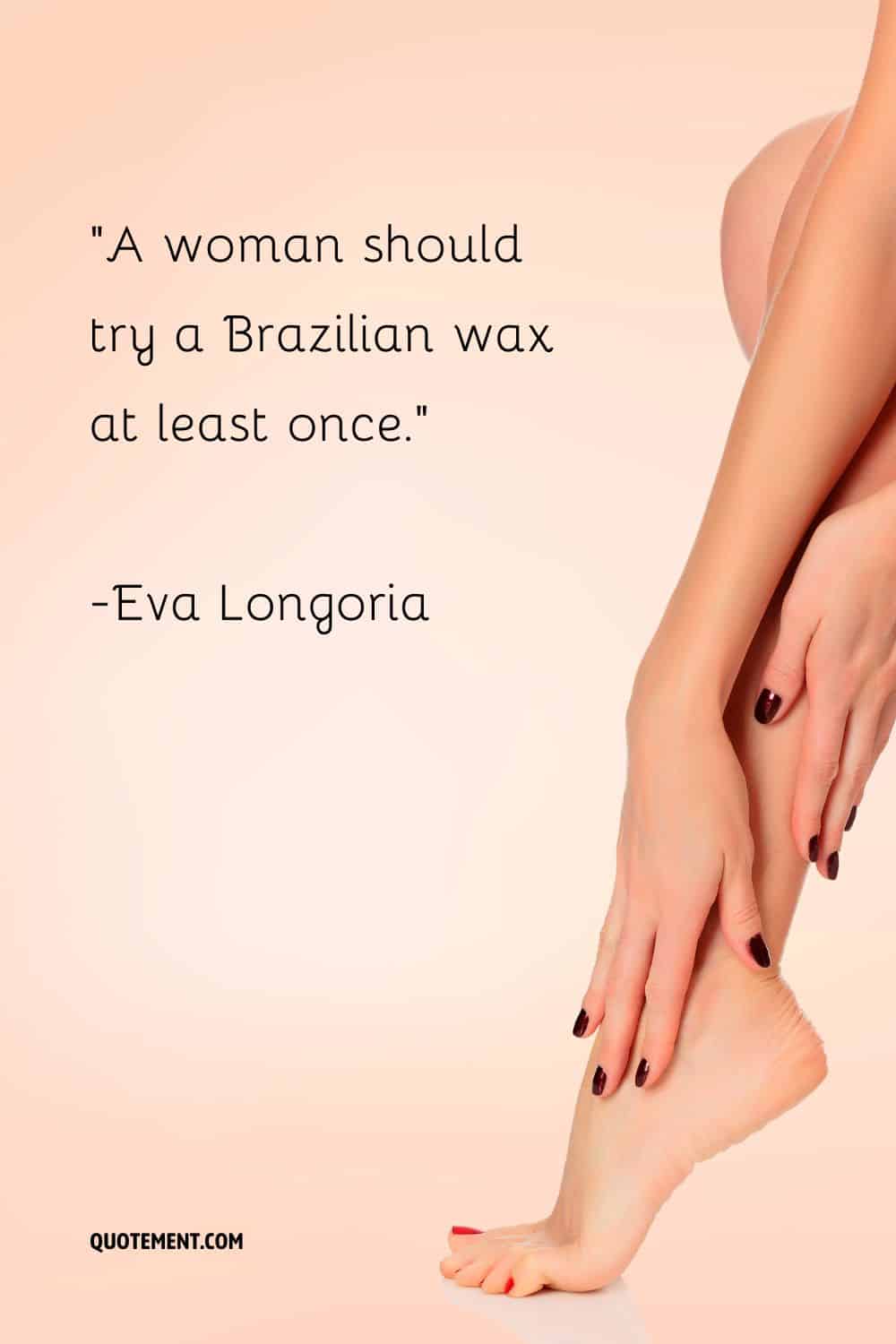 6. "I tell my girlfriends – 'Imagine if all the time you put into waxing and primping, you took all of that energy and put it into something useful.'" — Isla Fisher
7. "I don't know who thought up waxing, but it was clearly the same person who invented Vicodin." ― Chelsea Handler
8. "So this is the first time getting body wax?" — Waxing Lady, "40 Year-Old Virgin"
9. "When I first had my eyebrows waxed, I was pretty disturbed." — Chiwetel Ejiofor
10. "I could ditch makeup altogether, but let me have my two favorite beauty treatments: waxing and lashes." — Scarlett Miles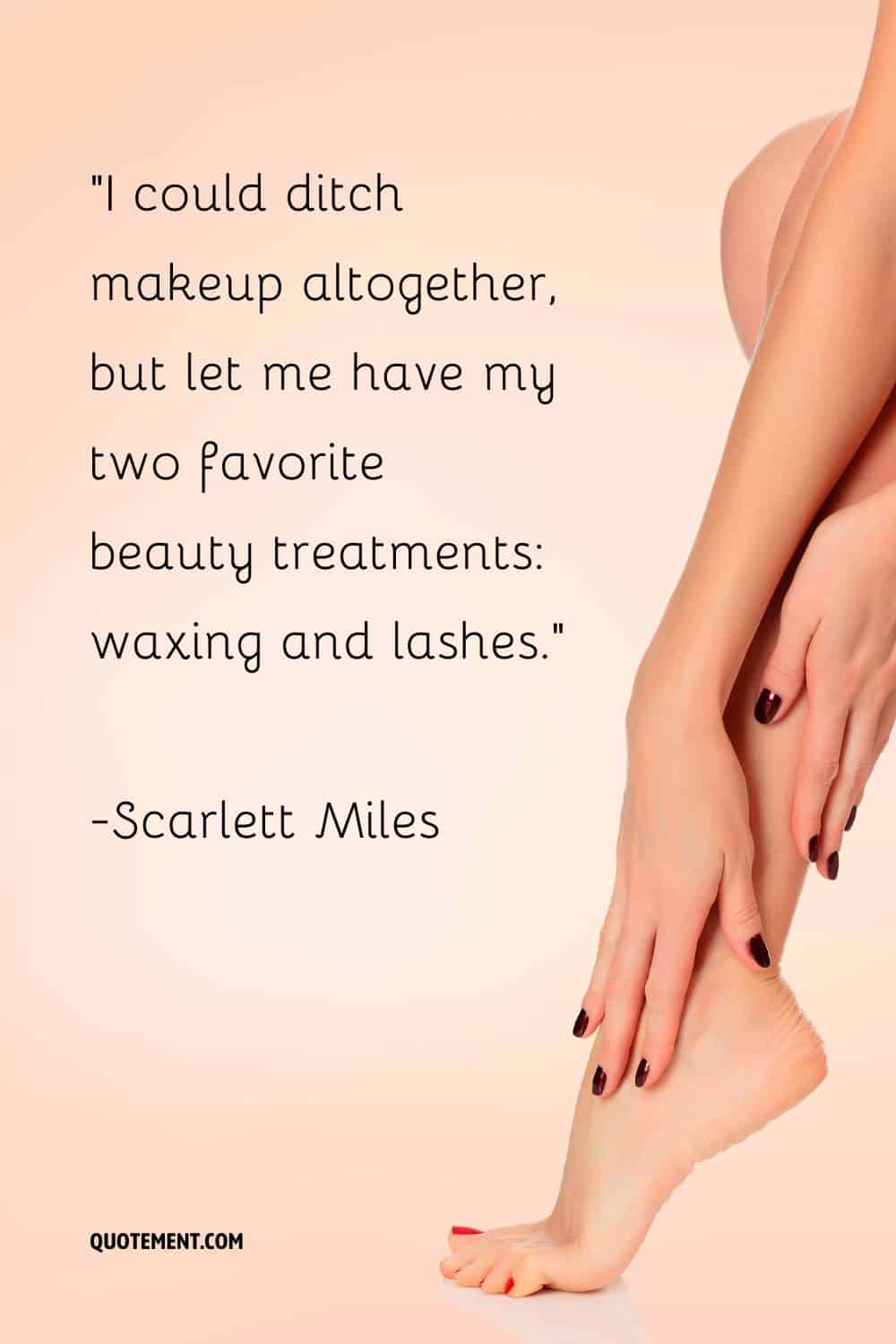 See also: 130 Beautiful Lash Quotes To Add Some Magic To Your Day
Relatable Waxing Quotes
1. "I had a body wax. It's the most painful thing I have ever done in my life." — Andy Serkis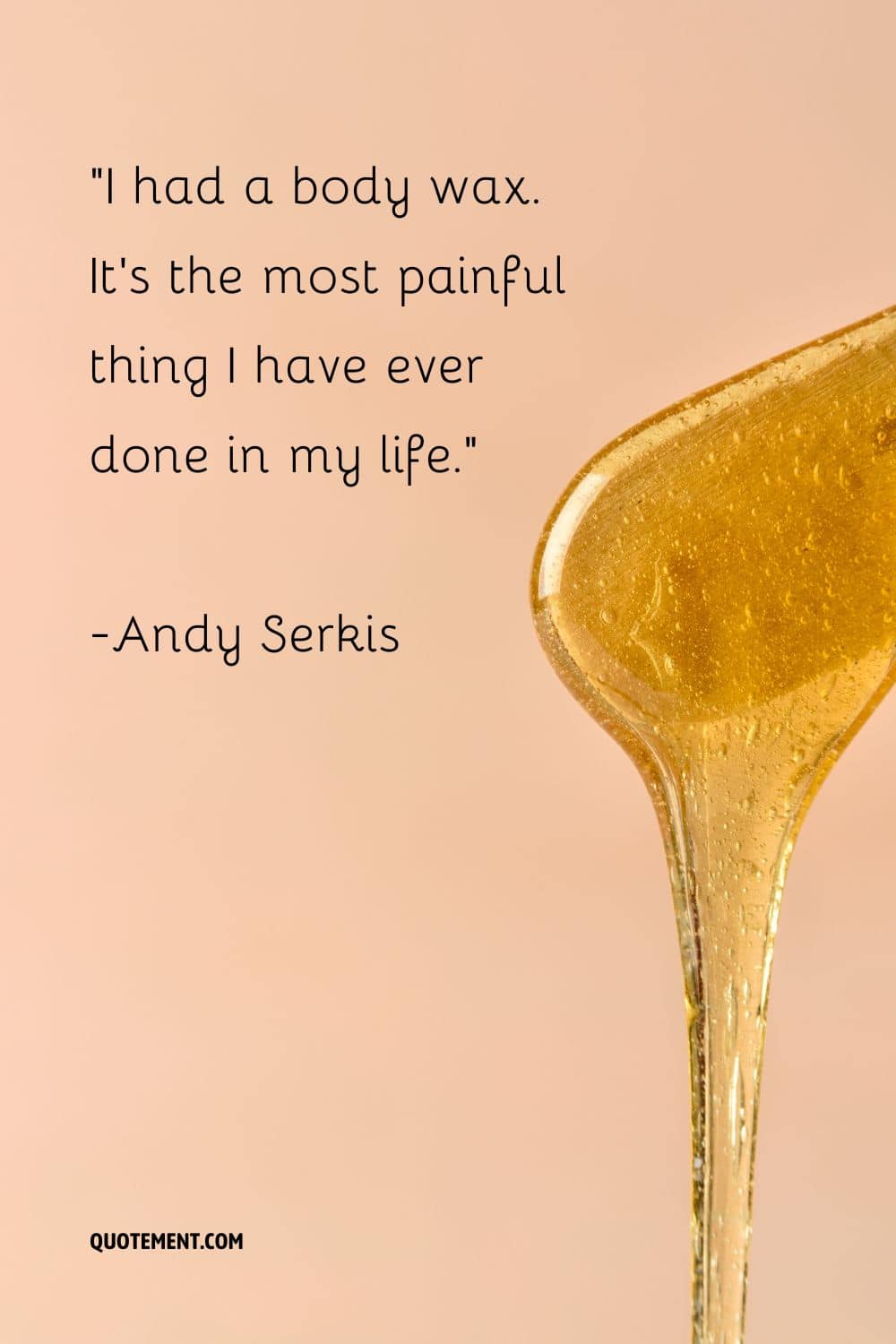 2. "Cancel all my afternoon appointments!" — Waxing Lady, "40 Year-Old Virgin"
3. "If I'm not working and getting my makeup done, that's my chance to do a hair mask and a face mask and my plucking and waxing and all of that." — Rita Ora
4. "Many of us endure pain in the service of beauty every single day. We rip off our hair with hot wax, jam our soft skin into modern-day corsets, and burn our scalps with dyes." — Rachel Simmons
5. "Waxing – the beauty treatment that's worth every penny." — Unknown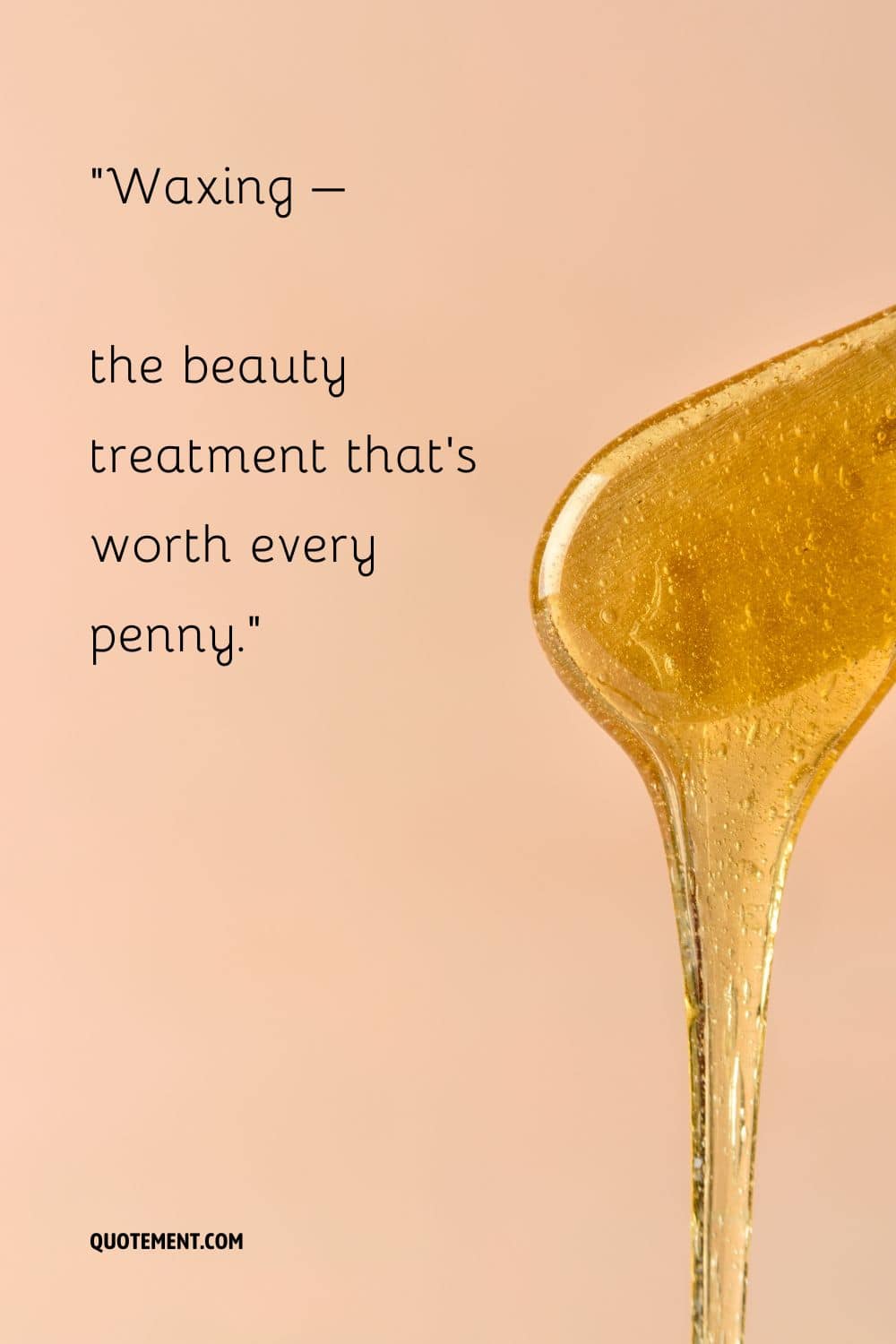 6. "I'm one of those low-maintenance people – let's get it done and get going. It's not that painful to wax, but… I don't have time for it – just give me the razor." — Elisha Cuthbert
7. "As for waxing, I've never waxed in my life, and I never would." — Matthew Rhys
8. "For a man, it's not easy to play a woman onscreen. You have to wax your body. You dress up a lot to be able to do justice to the portrayal." — Vishwajeet Pradhan
9. "Waxing my legs is pretty much the only thing I have to maintain." — Amanda Seyfried
10. "I'm Italian, so I need to get someone to wax my eyebrows, but I'm not so good at keeping it up." — Gia Coppola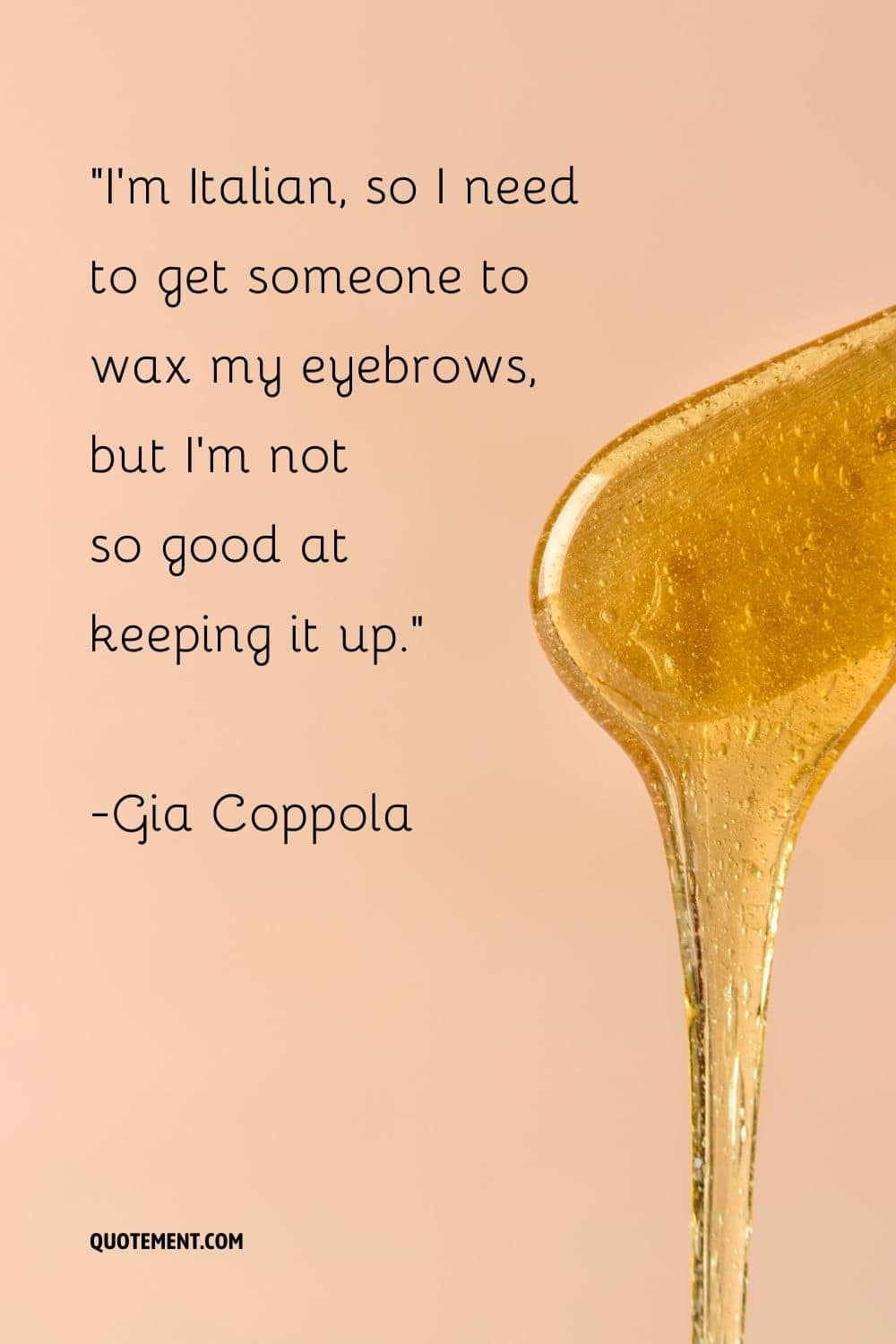 11. "Waxing may hurt a little, but it's nothing compared to the confidence boost it gives me." — Unknown
12. "Although a lot of pain for a little screen time; shaving legs, waxing eyebrows, high heels, trying to put on a bra, losing weight because women's clothes are so revealing – ladies, you have my respect." — Lou Diamond Phillips
13. "As someone with incredibly thick hair, I'll be honest and admit that waxing hasn't always been my favorite method of hair removal. Yet when I compare it to the inevitable razor bumps, painful ingrown hairs, and overall irritation that's most likely to come post-shaving, I'll deal with the in-the-moment pain of waxing over that any day." — Kayla Greaves
14. "Negative side effects of waxing can include uncomfortable problems like pain, ingrown hairs, breakouts, and infected hair follicles. Even so, many people prefer waxing because of its longer-lasting results and because it is relatively inexpensive and easy to do." — Nicole Galan
15. "I don't know how people do this waxing thing. Now I just have all these bumpy ingrown hairs." — Gaby Hoffmann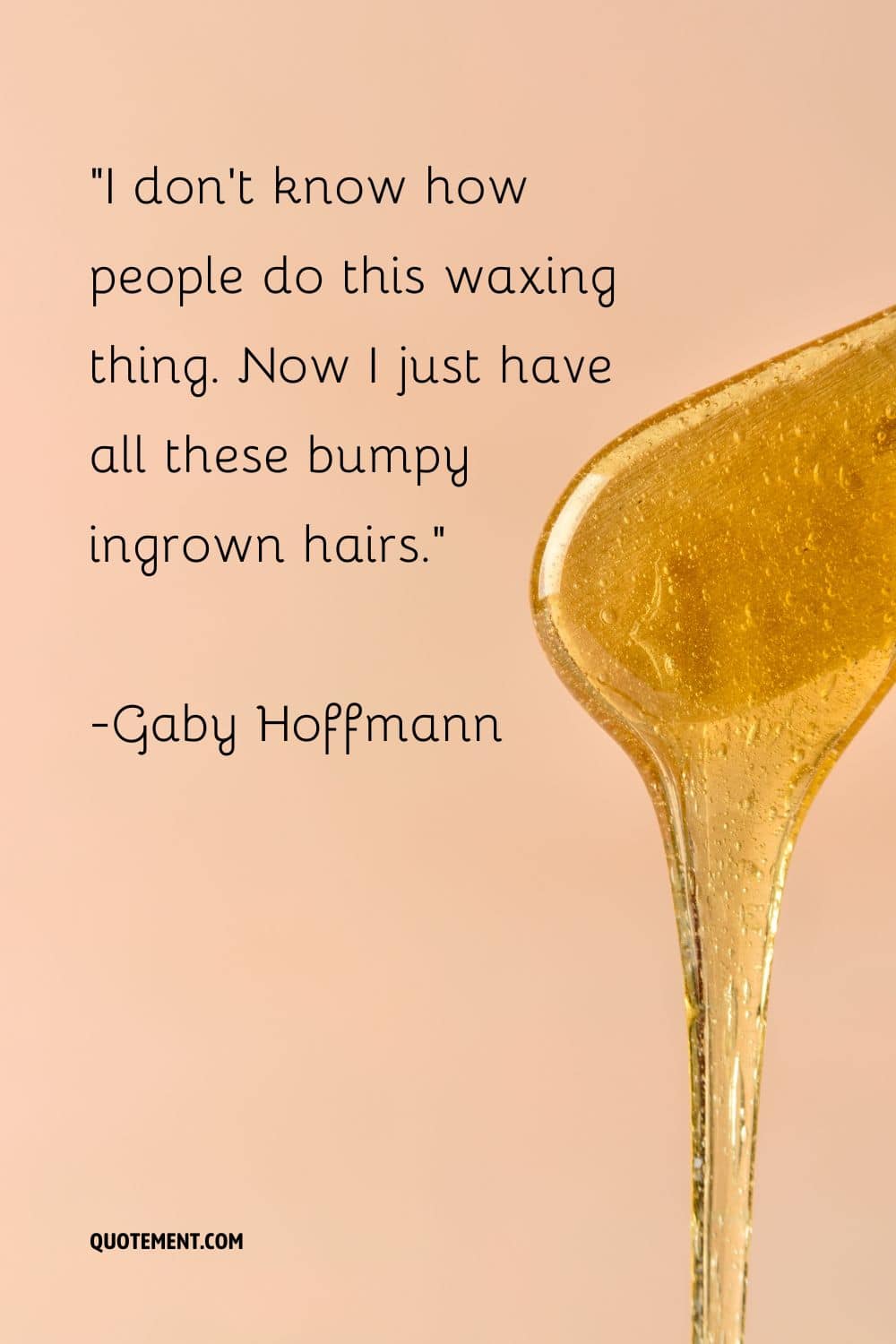 Wax Quotes From Famous People
1. "I am Armenian, so, of course, I am obsessed with laser hair removal!" — Kim Kardashian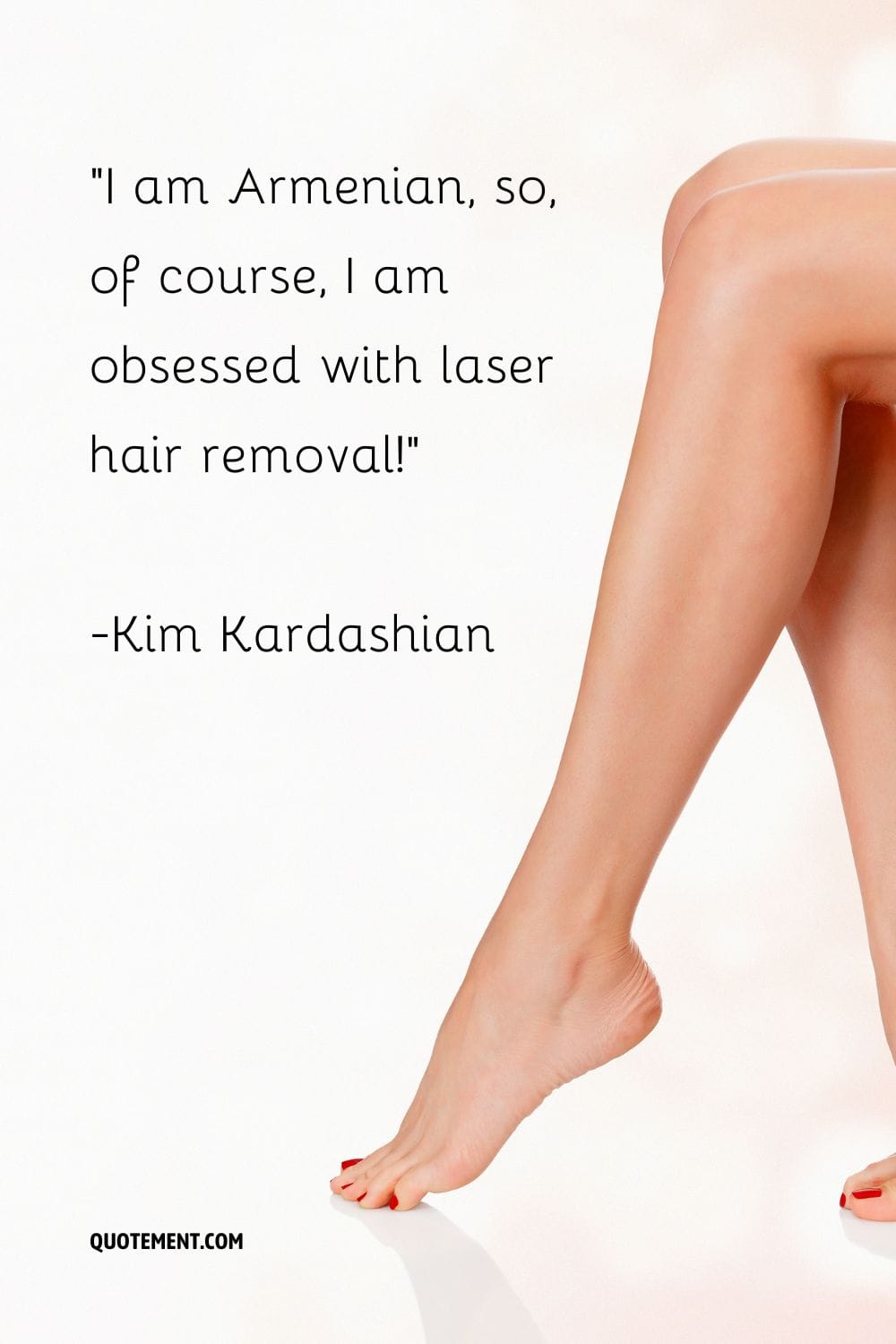 2. "I've always been asked the question, "What is it with Australian men?" It's weird because most of my friends here [in the United States] are American men. I think there's cultural differences. It's a really American thing to kind of wax your chest. As a man it's like, "Get rid of that unsightly hair!" In Australia it's like, "Mate, what are you doing? Why would you do that? Doesn't that hurt?" So there's a few little differences that keep us." — Jennifer Lopez
3. "Normally for photo shoots I get a full wax, some tanning, a facial." — Elizabeth Banks
4. "I don't love waxing." — Jennifer Lopez
5. "Every time I have a bikini wax, Cameron Diaz holds me down." — Gwyneth Paltrow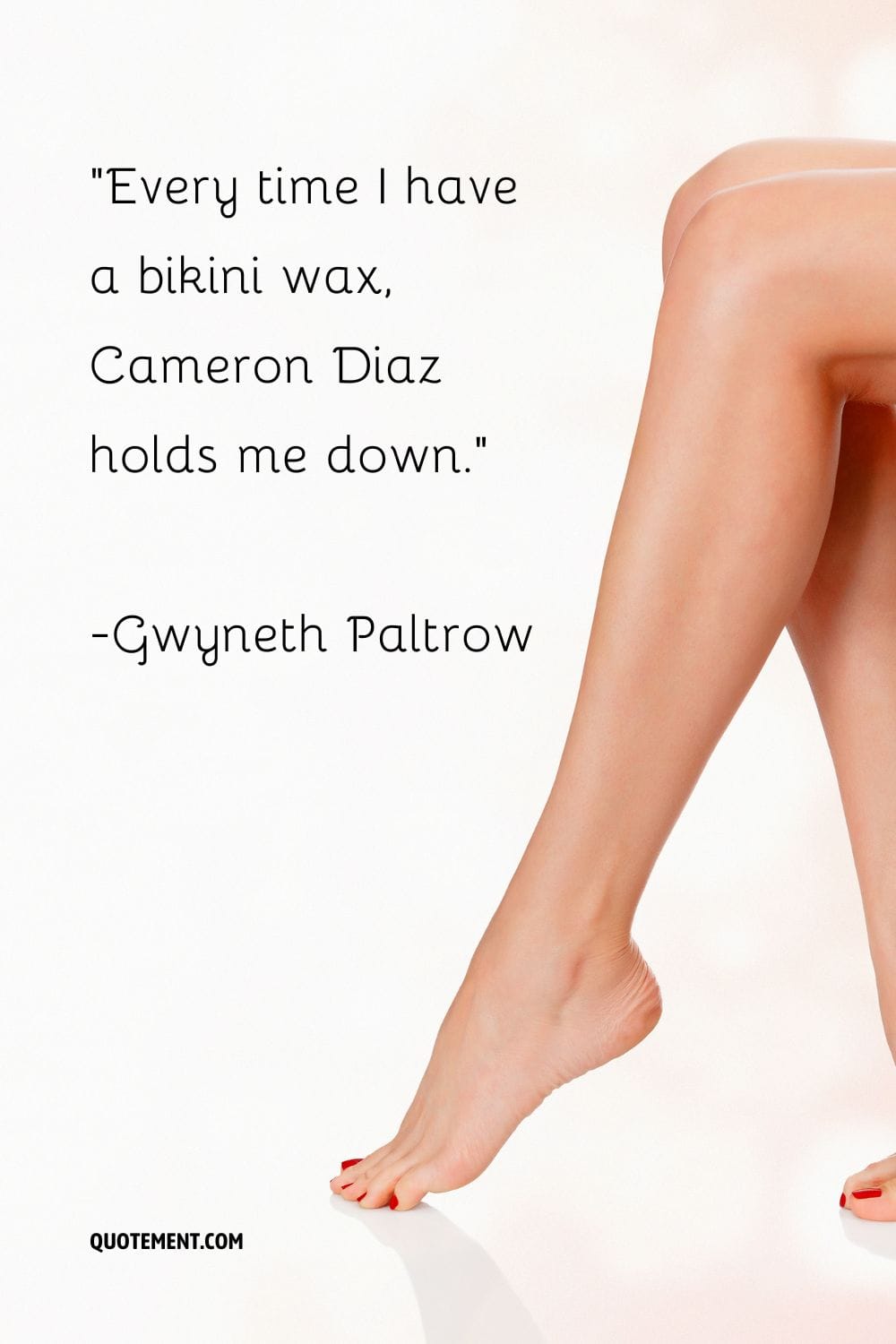 6. "I had to grow the hair down there. But because of years of waxing, as all of us girls know, it doesn't come back quite the way it used to. They even made me a merkin – a wig – because they were so concerned that I might not be able to grow enough." — Kate Winslet
7. "I have the hairiest forehead you could ever imagine, and I would always break out and get all cracky on my forehead just from all the hair that I had… So in high school, I would wax it off because there was just so much hair, and then I would laser it off a little bit." — Kim Kardashian
8. "I remember [my mom] made me get a facial for the first time; I was like 13, and I guess I'd started having hair under my arms. During my facial, I had someone come and wax my underarms, and I was so terrified because she didn't warn me!" — Khloe Kardashian
9. "I believe in grooming. Grooming is my preference." — Cameron Diaz
10. "Waxing was an interesting experience. Not quite as painful as I expected." — Channing Tatum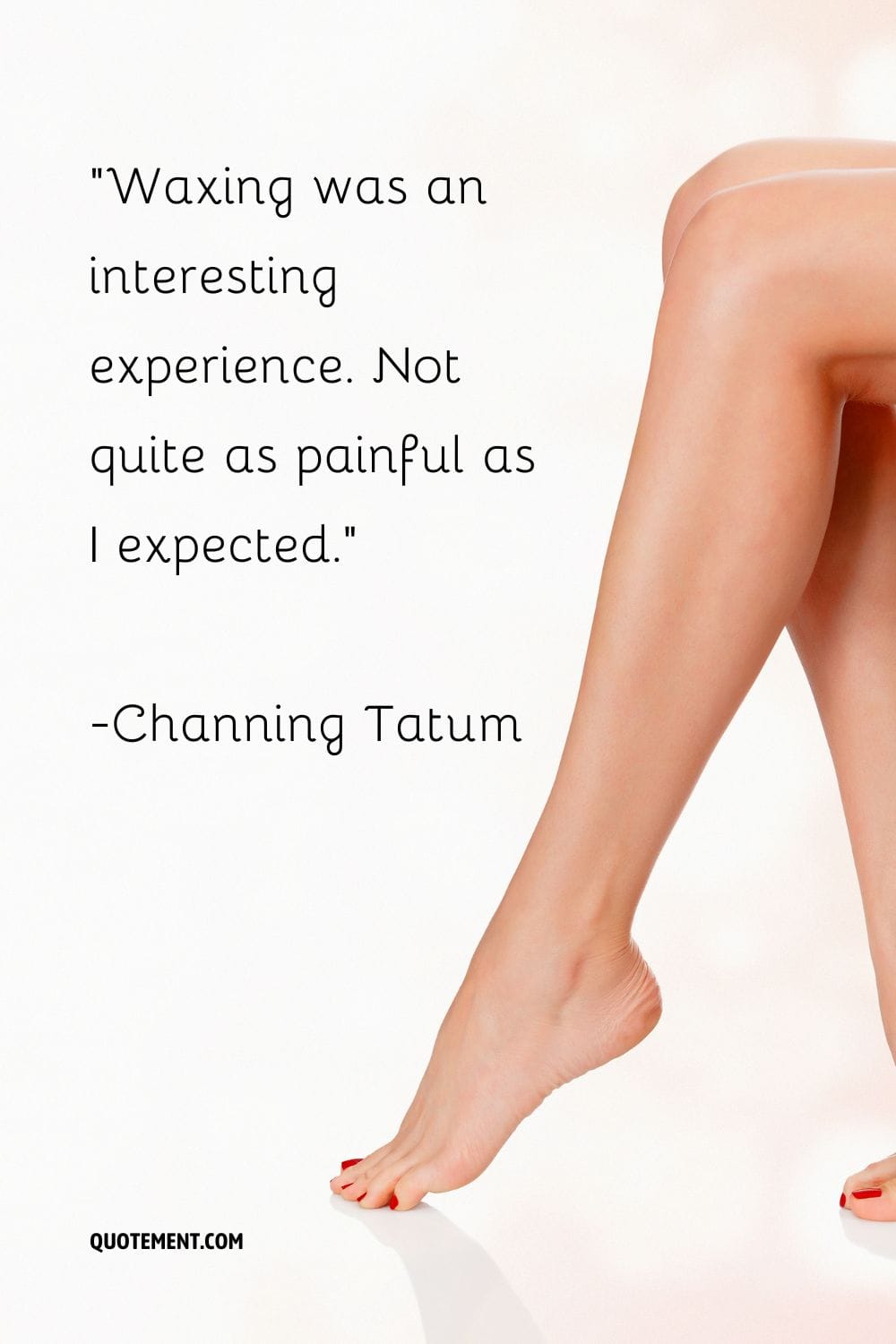 Funny Quotes About Waxing
1. "I had my back waxed once by two women… and at one point they said, Do you mind if we take a break?" — Robin Williams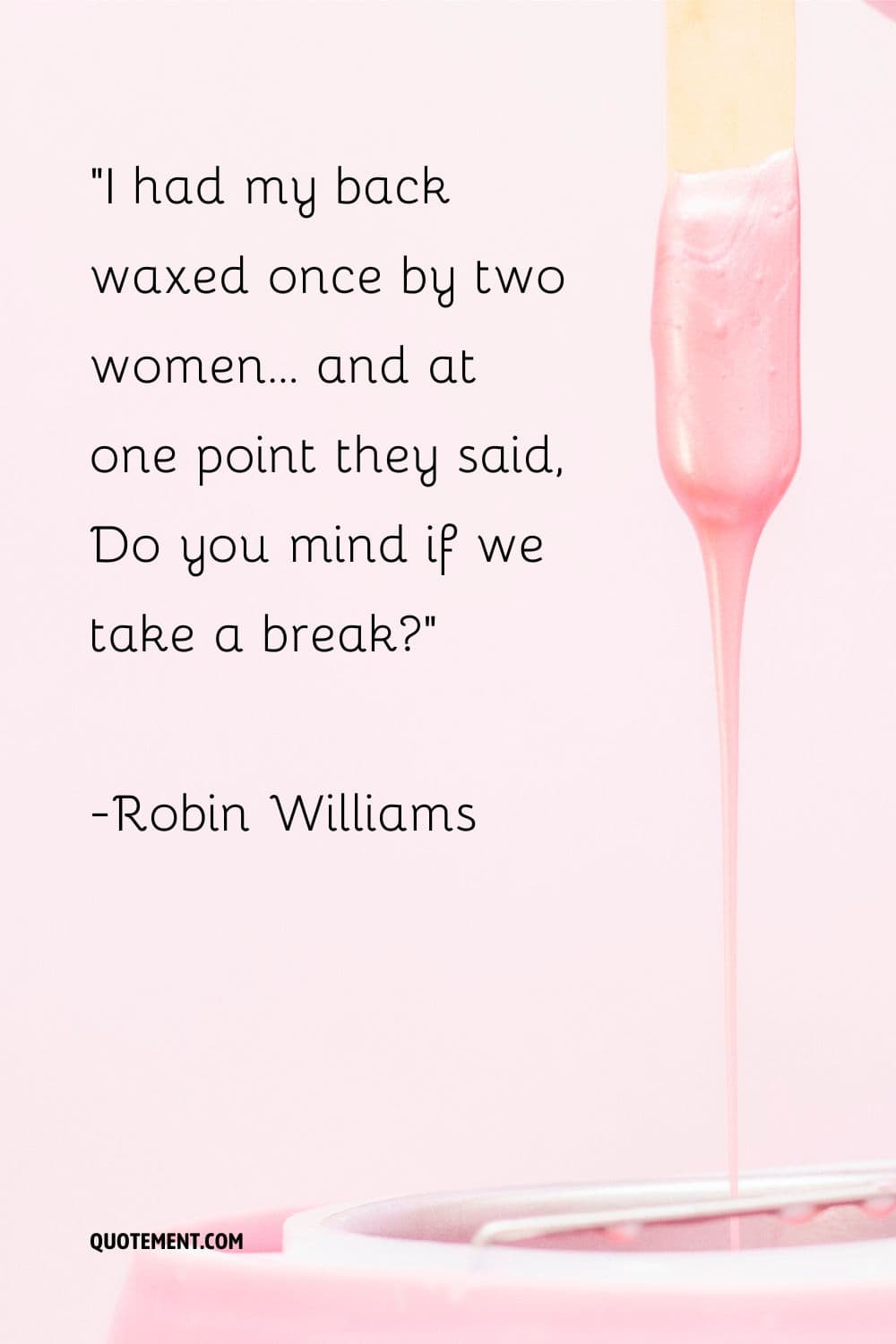 2. "My bikini waxer is the only one who's seen me cry more than my therapist." — Unknown
3. "I'm waxed clean – hairless as the day as I was born. But don't say 'Tia has no pubic hair.' That's so clinical. Use a nice euphemism. Say 'She's mowed her secret garden' or 'She's cleared the way to the Promised Land.' Because that's what it is, right?" — Tia Carrere
4. "I remember my first bikini wax. My sister did it with duct tape and melted crayolas. To this day, I can't look at a box of crayons without crossing my legs." — Penny
5. "If she starts waxing his pubes, I'm outta here." — Cal, "40 Year-Old Virgin"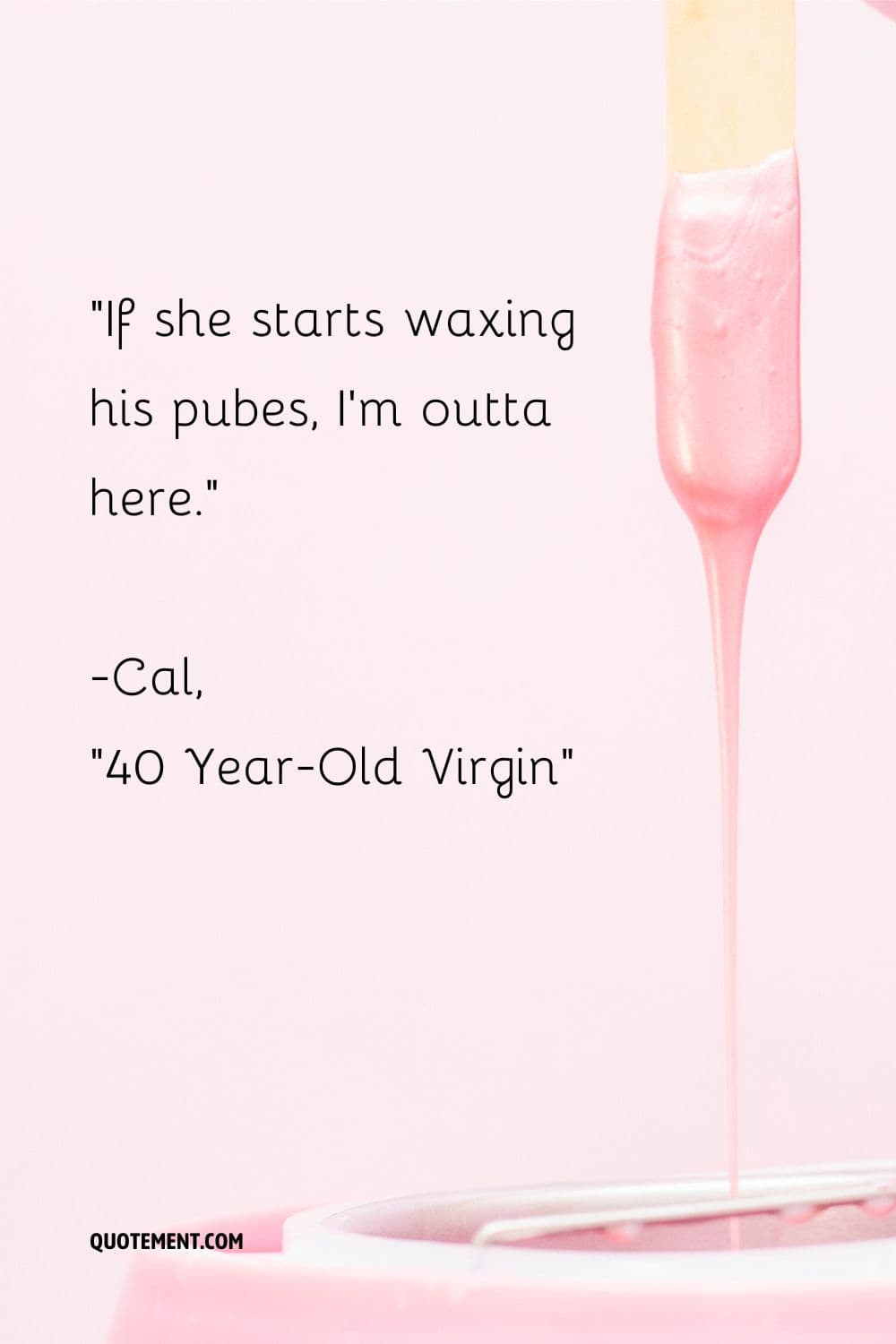 6. "My haircutter figured out I whine less if I'm under general anesthesia. I just hope when I awaken they haven't given me a Brazilian wax." — Bob Saget
7. "My friend, Sue Ann, in college pulled me aside and said, 'Honey, I love you, but you have got to start waxing your eyebrows.'" — Angela Kinsey
8. "It's not that bikini waxing is a foreign concept to me, but . . . I mean, I guess it kind of is. Like, it's one of those girl habits that's so far beyond me, it makes me feel like a different species. Do boys require hairless vaginas? Is this a known thing?" ― Becky Albertalli
9. "We gonna need more wax!" — Waxing Lady, "40 Year-Old Virgin"
10. "All right, when you guys start talking about waxing unmentionable places, that's my cue to get the hell out of here." ― J. Lynn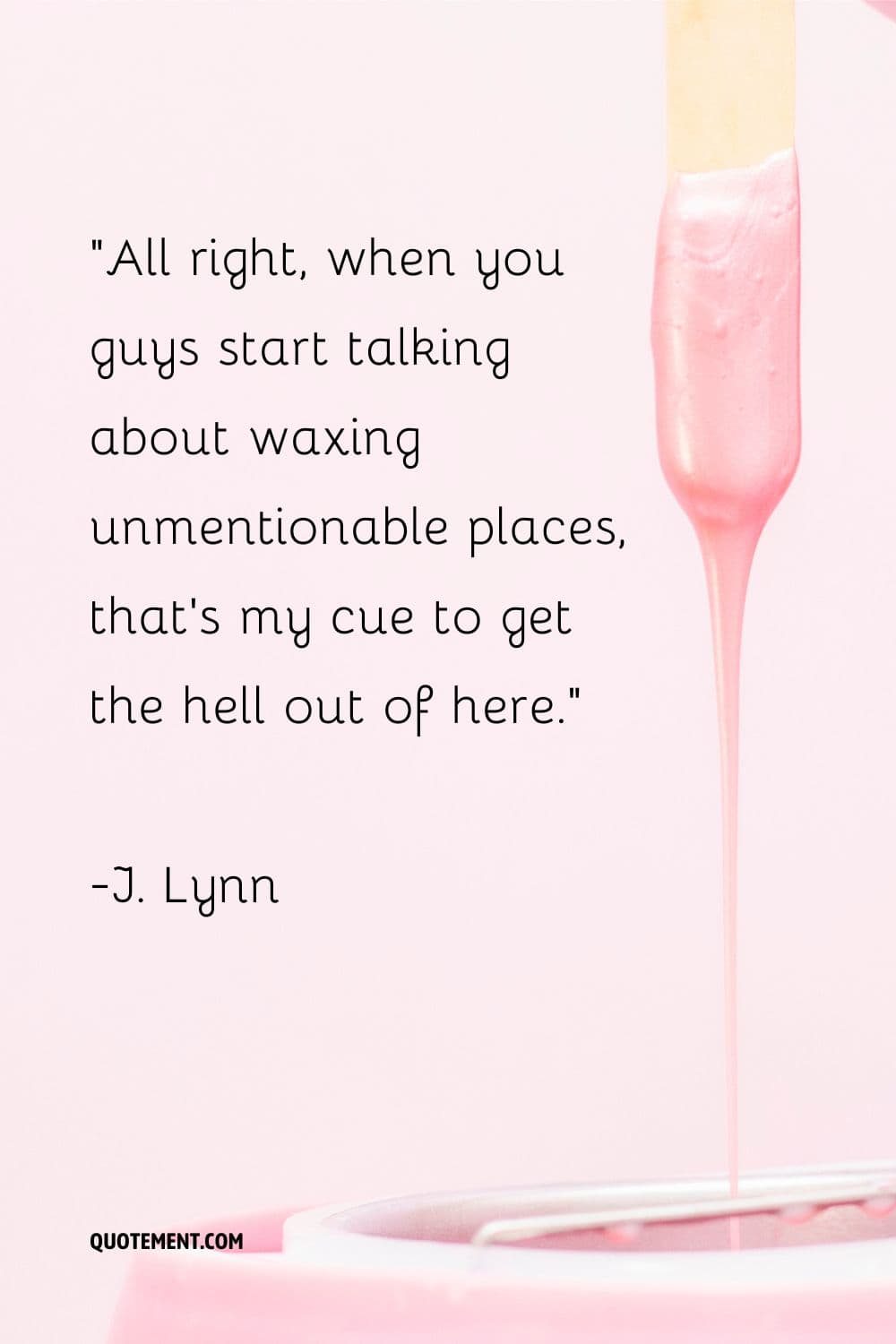 Interesting Quotes About Waxing
1. "Oh, and I've never had a wax in my life. Waxing makes no sense to me because you have to grow it out to wax it." — Elizabeth Banks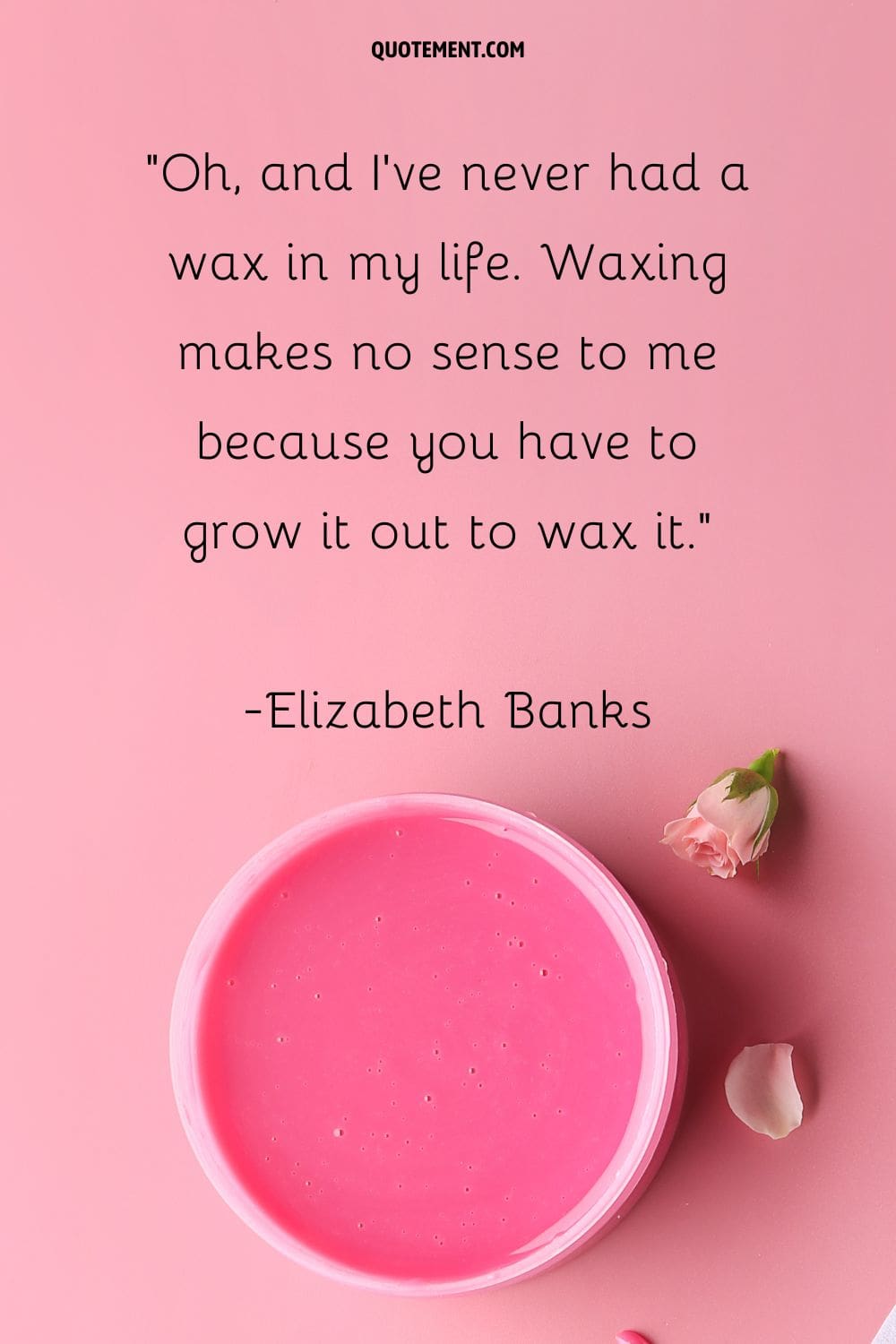 2. "Because the hair comes out by the root, it grows back in much slower than shaving, so you stay nice and smooth longer," — Angela Lamb
3. "The girl with a moustache" they called me every now and then
"It's about time you wax your arms" those who "cared" said
I faced the fears of the dreaded thread on my face
To succumb every other week to the world's ways." — Sanhita Baruah
4. "Practice deep breathing while you wax. When you anticipate pain, you may unintentionally hold your breath." — Nicole Galan
5. "I love a good wax! I just love the cleanliness and smoothness of it!" — Stassi Schroeder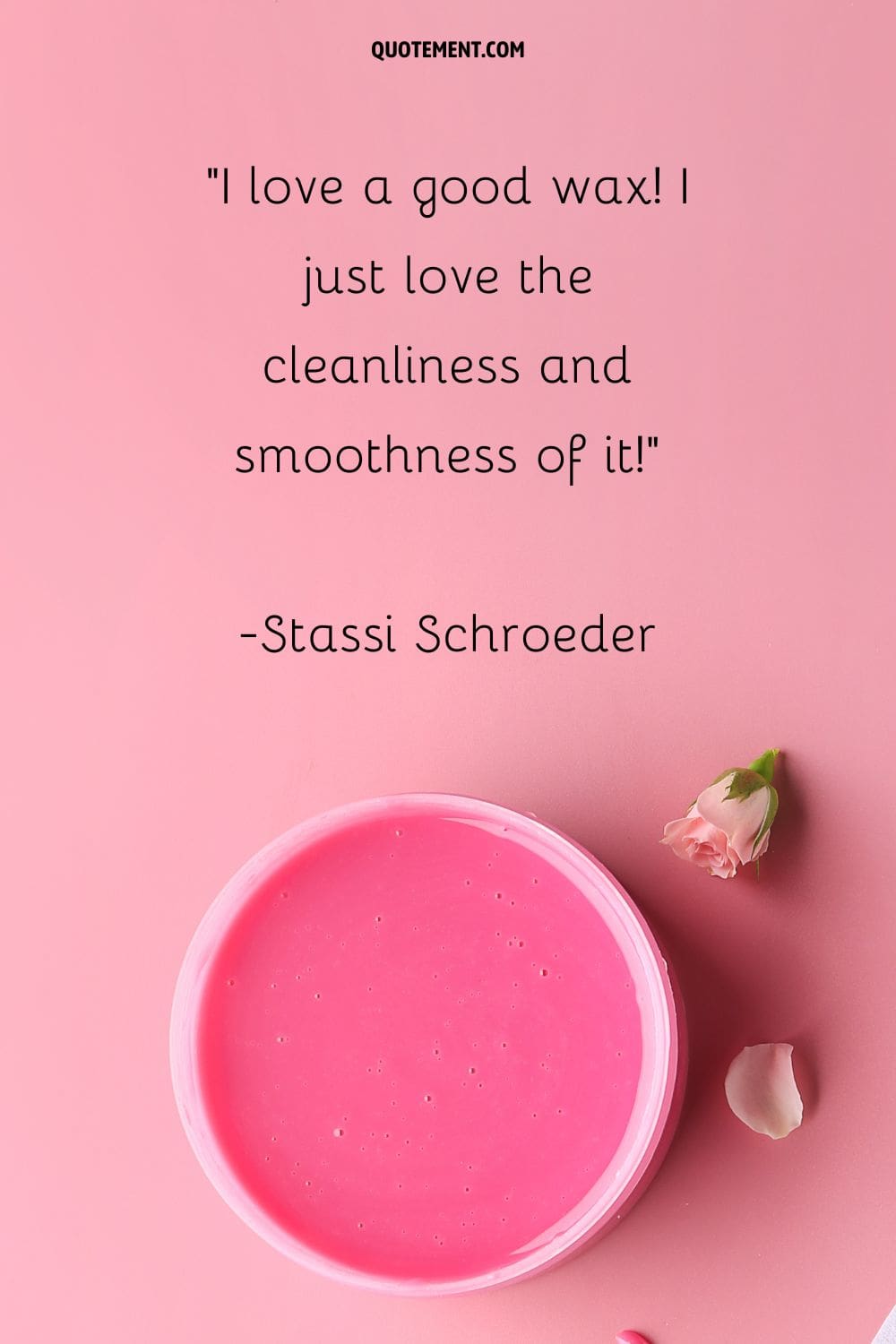 6. "I'm still not sold on this waxing thing, but I'm pretty sure I won't be signing up to get a facial and a Brazilian wax from the same person anytime soon." — Jana Aston
7. "Waxing can actually simultaneously remove some of the top layers of dead skin cells, which can make your skin feel smoother," — Angela Lamb
8. "Live-tweeting your bikini wax is not vulnerability. Nor is posting a blow-by-blow of your divorce . That's an attempt to hot-wire connection. But you can't cheat real connection. It's built up slowly. It's about trust and time." — Brene Brown
9. "I am very impressed with the results (from laser hair removal). Even after the first treatment, there was a huge difference. I save time every day that would be spent waxing or shaving." — Deborah
10. "Life is like a Brazilian wax. . . . There may be discomfort or awkward moments, but if you keep going and don't give up it's worth it." — Unknown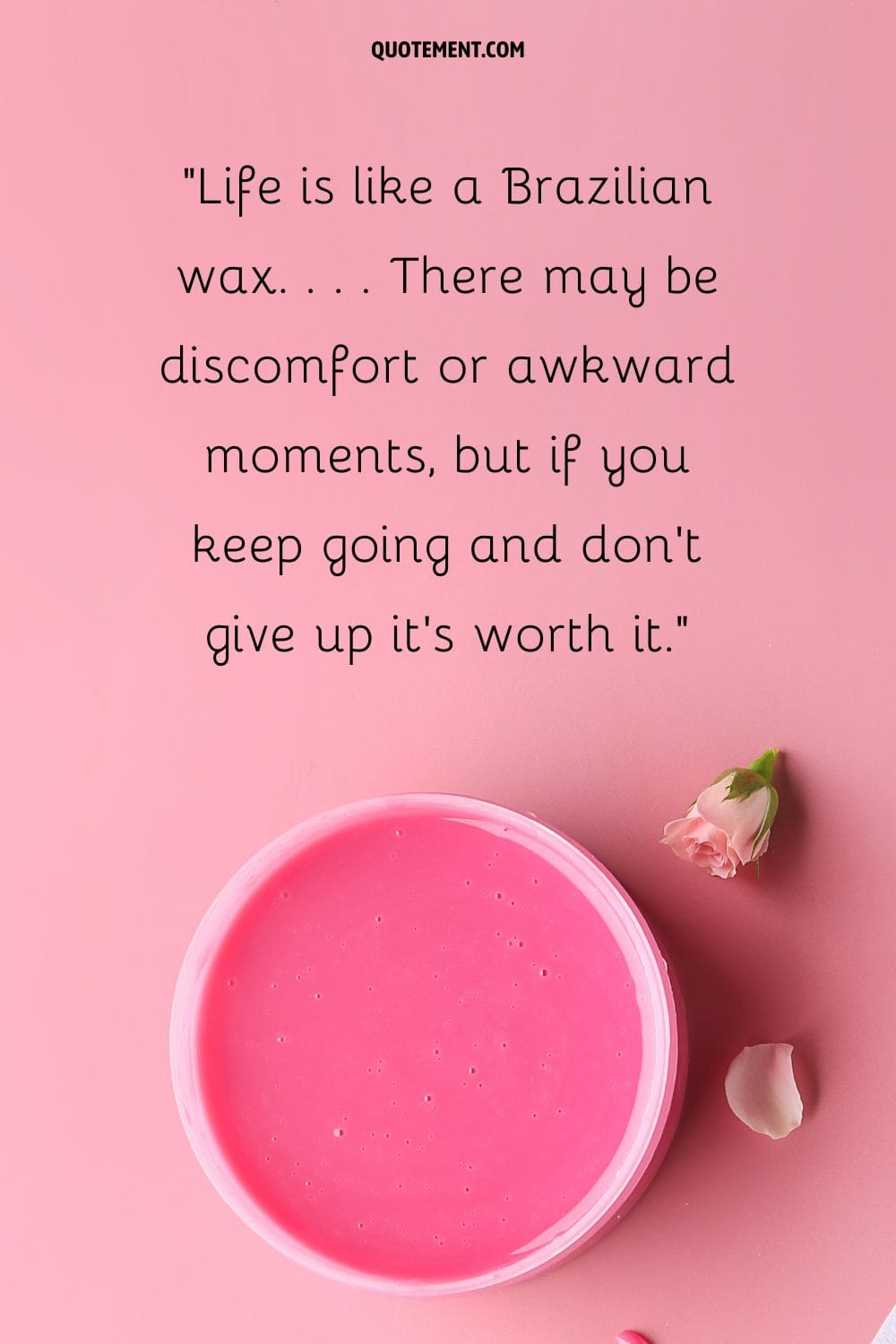 11. "Everyone always asks me how to get the most mileage out of a spray tan. I'm spoiled, and I get a fresh one every week, but my best advice for the rest of the girls out there is to wax a day in advance of your spray tan." — Cheryl Burke
12. "Really?" Claire said, and couldn't help but smile. "That's what creeps you out. Waxing. You can take on vampires and draug and killers, but you're afraid of a little chest-hair pulling?" ― Rachel Caine
13. "She would babysit me every day, and she would take me over to her friend's houses with all kinds of things going on: tucking, and eyebrow drawing, waxing, all sorts of things. I was literally raised by gay men." — Ellen Pompeo
14. "When your hairs are pulled out by their roots, it takes way longer for hair to grow back in than it does when you shave because the hair has further to go when growing back. You'll have softer skin for much longer than the day or so it takes for hairs to start showing up again on your skin after shaving, giving you back precious minutes formerly spent wielding a razor in the morning." — Alaina Raftis
15. "I don't like having my nails done and then a whole bunch of hair on my arms. So I choose to wax." — Scarlett Miles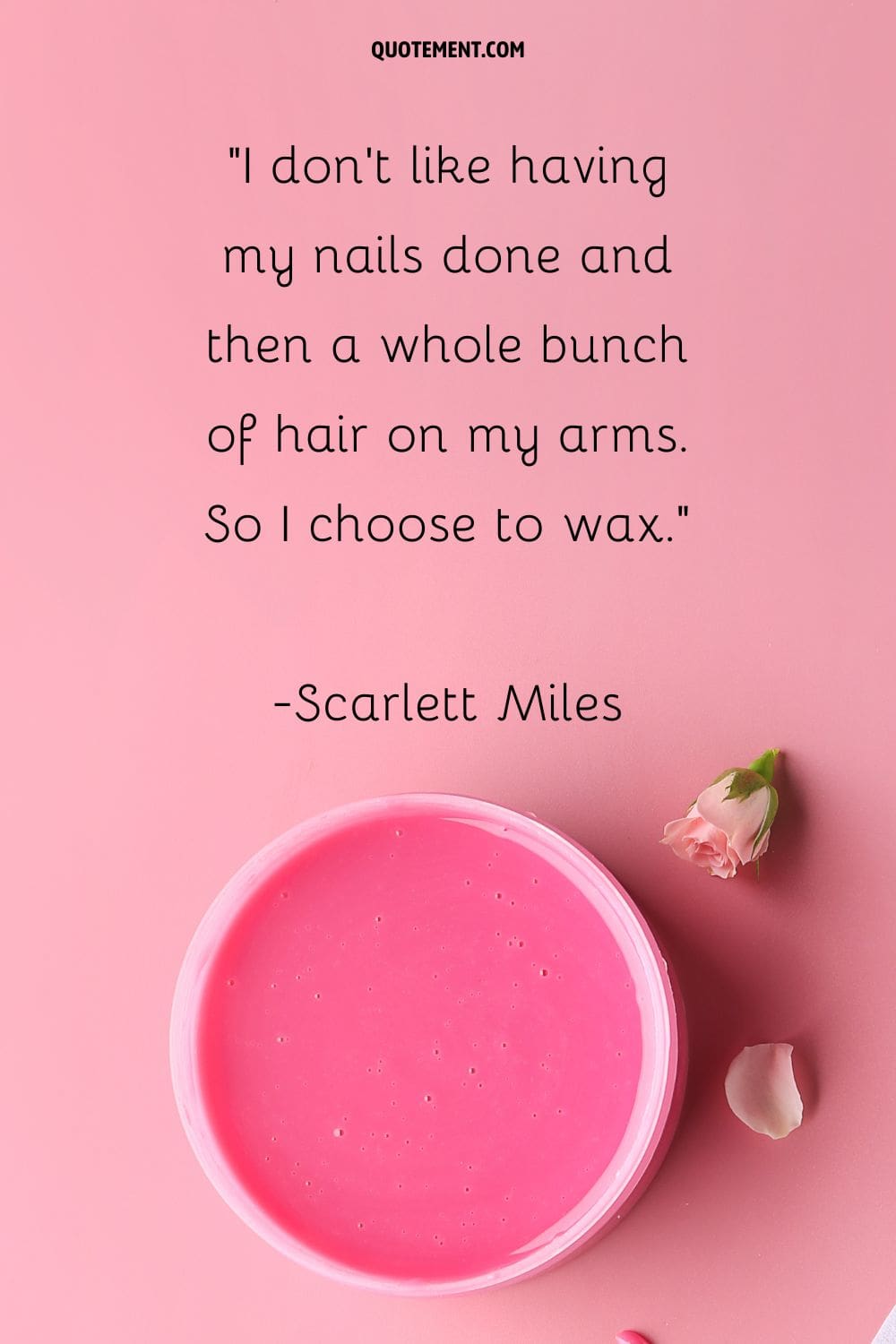 See also: 150 Best Nail Quotes To Show Off Your Nail Art Design
Final Words
I hope you enjoyed these waxing quotes. Check out my website quotement.com for more interesting and relatable content.