Have you been wondering what to write in a 30th birthday card to someone you cherish? Stay tuned because you've found a list of the best happy 30th birthday quotes ever!
I've searched the web far and wide to gather this great collection of inspirational happy 30th birthday quotes. They'll help you create a perfect happy birthday wish for your 30th-year-old celebrant.
These happy 30th birthday quotes will help you let them know that thirty is a good age and that this new decade brings much to look forward to.
You'll discover a variety of birthday greetings, including 30th birthday quotes for your son or daughter, happy 30th birthday wishes for your brother or sister, and some for your best friend too. If you're looking for the best 30th birthday wish for your special person, you'll find it here!
I've also included a list of funny 30th birthday wishes to make your dear celebrant smile on their big day.
Let's check out my lovely collection of the best happy 30th birthday quotes!
30 Best 30th Birthday Quotes
First, let's look at a list of famous lines said by some of the greatest minds about entering this decade.
1. "At 30 you finally start to catch up on those dreams you've been chasing for the last 10 plus years." — Bonidette Lanz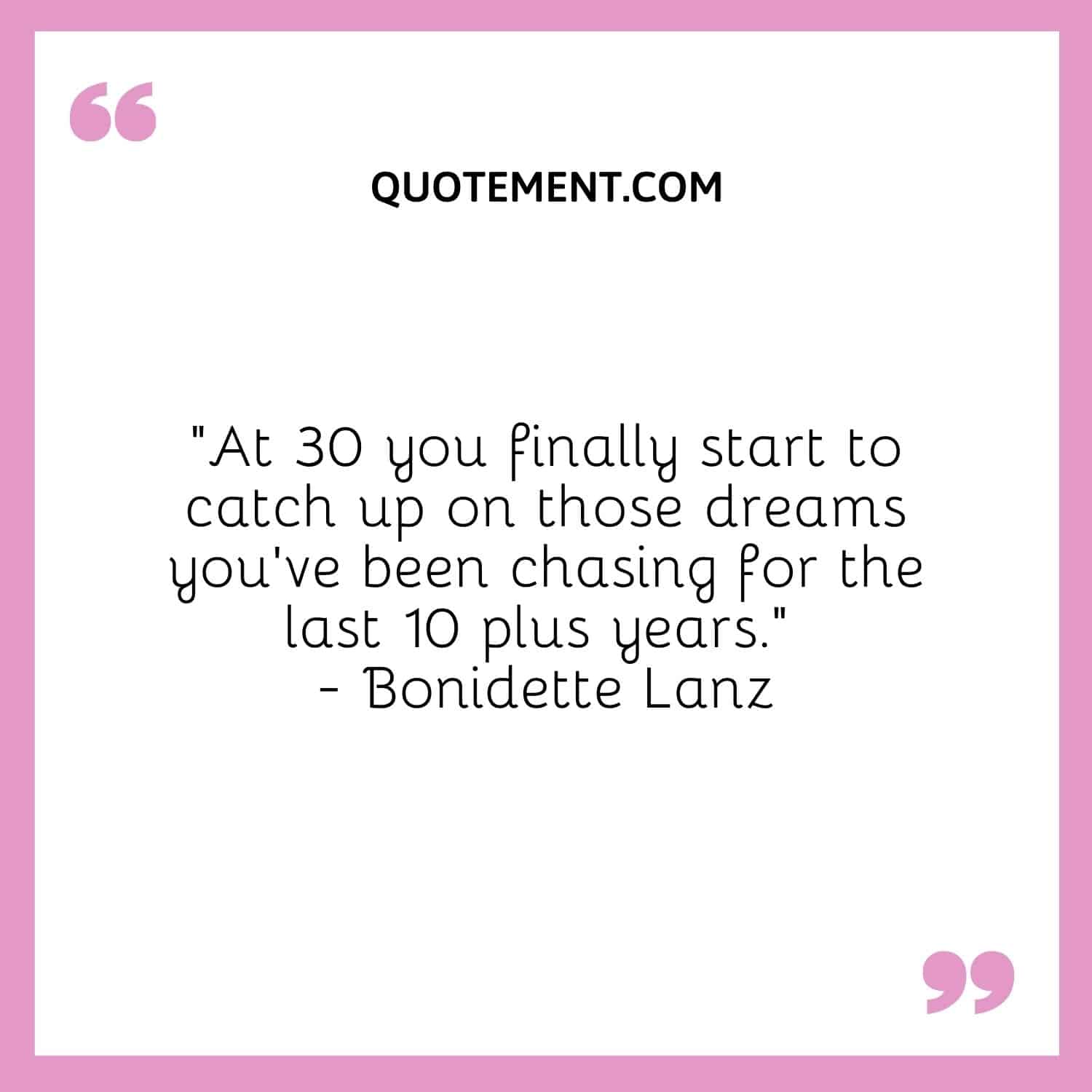 2. "The excess of our youth are checks written against our age, and they are payable with interest 30 years later." — Charles Caleb Colton
3. "Everything I know I learned after I was 30." — Georges Clemenceau
4. "You know you are getting old when the candles cost more than the cake." — Bob Hope
5. "Please don't retouch my wrinkles. It took me so long to earn them." — Anna Magnani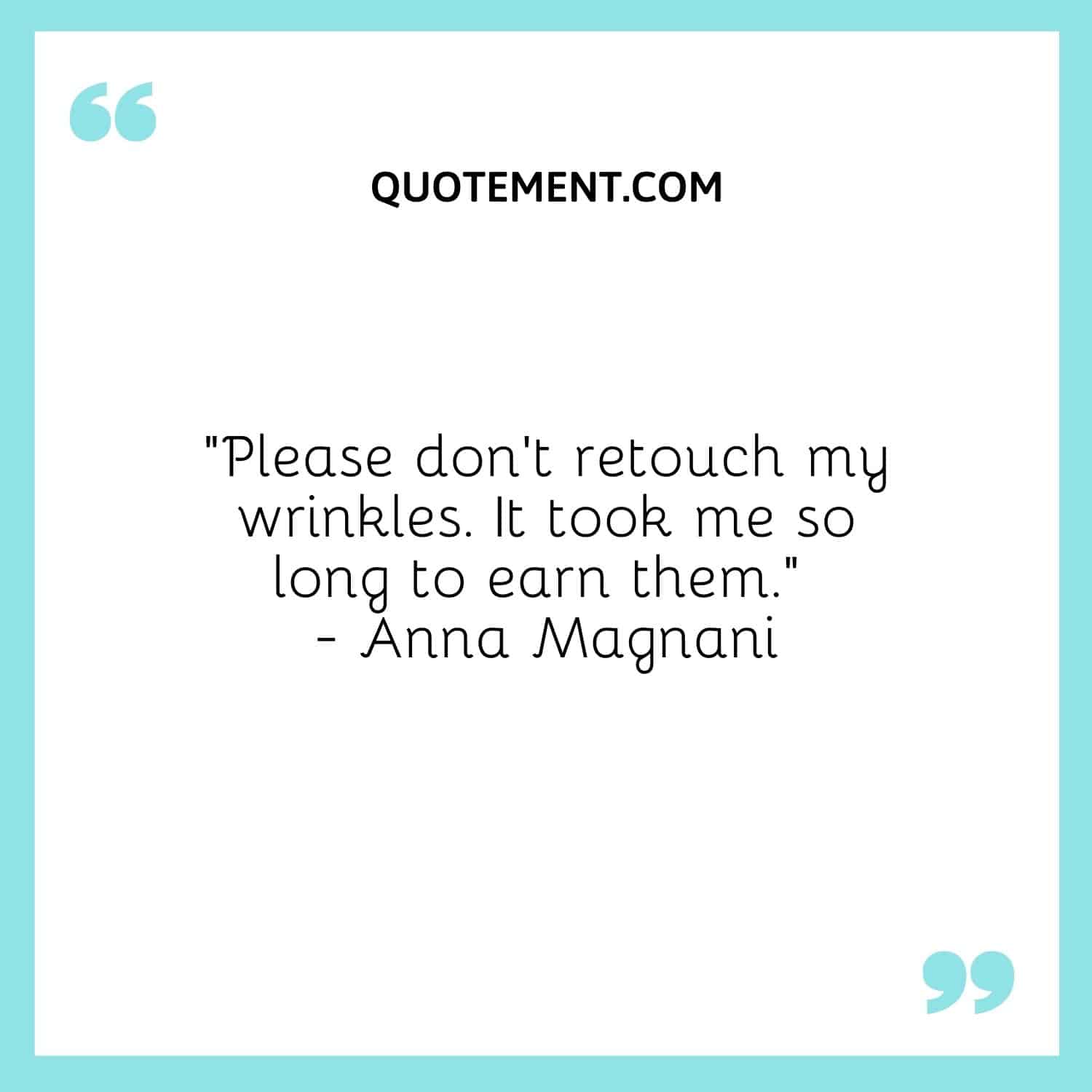 6. "When you turn 30, a whole new thing happens: you see yourself acting like your parents." — Blair Sabol
7. "Age is an issue of mind over matter. If you don't mind, it doesn't matter" — Mark Twain
8. "We grow neither better nor worse as we get old, but more like ourselves." — Bernard Baruch
9. "Let us respect gray hairs, especially our own." — J. P. Sears
10. "The only time you really live fully is from thirty to sixty. The young are slaves to dreams; the old servants of regrets. Only the middle-aged have all their five senses in the keeping of their wits." — Hervey Allen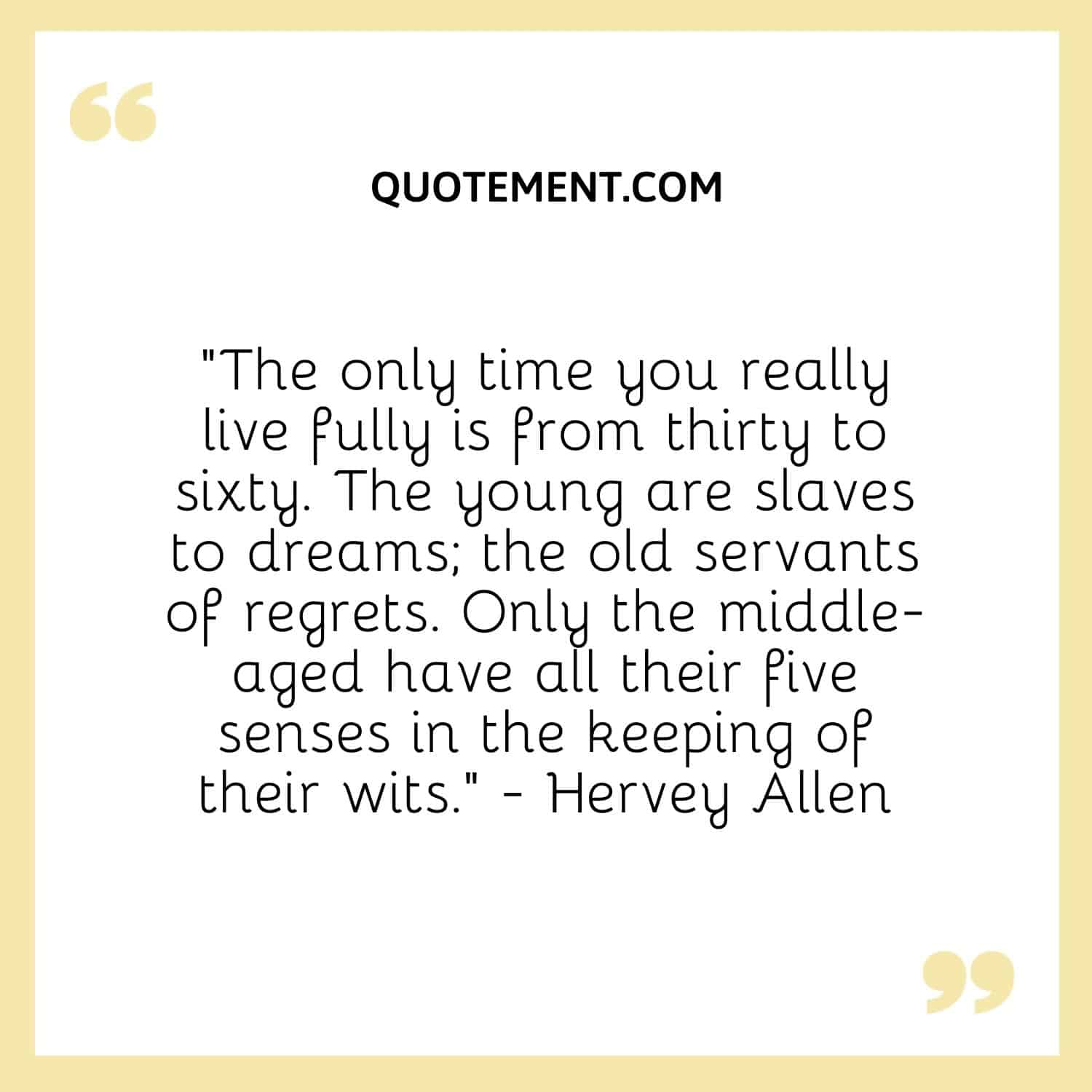 11. "Inside every 30 year old is an 18-year-old asking what happened?" — Ann Landers
12. "How old would you be if you didn't know how old you are?" — Satchel Paige
13. "At 20 years of age, the will reigns; at 30, the wit; and at 40, the judgment." — Benjamin Franklin
14. "After 30, a body has a mind of its own." — Bette Midler
15. "Age is strictly a case of mind over matter. If you don't mind, it doesn't matter." — Jack Benny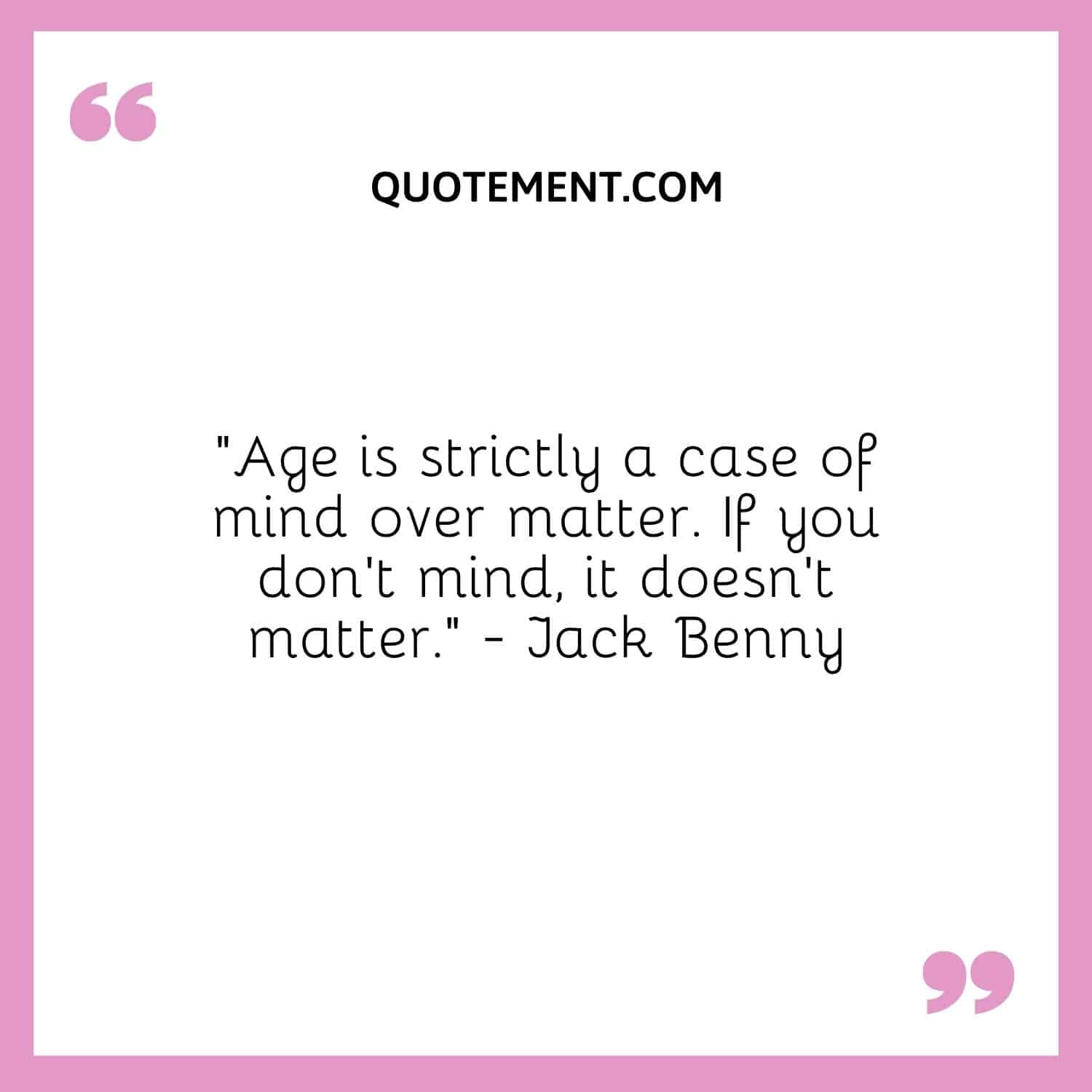 16. "The secret to staying young is to live honestly, eat slowly, and lie about your age." — Lucille Ball
17. "I'm turning thirty this year. And you know the saying, a woman over thirty is more likely to get hit by a bomb than find a man." — Fanny Fink
18. "Let us celebrate the occasion with wine and sweet words." — Titus Maccius Plautus
19. "Time and tide wait for no man, but time always stands still for a woman of thirty." — Robert Frost
20. "A man thirty years old, I said to myself, should have his field of life all ploughed, and his planting well done; for after that it is summertime." — Lew Wallace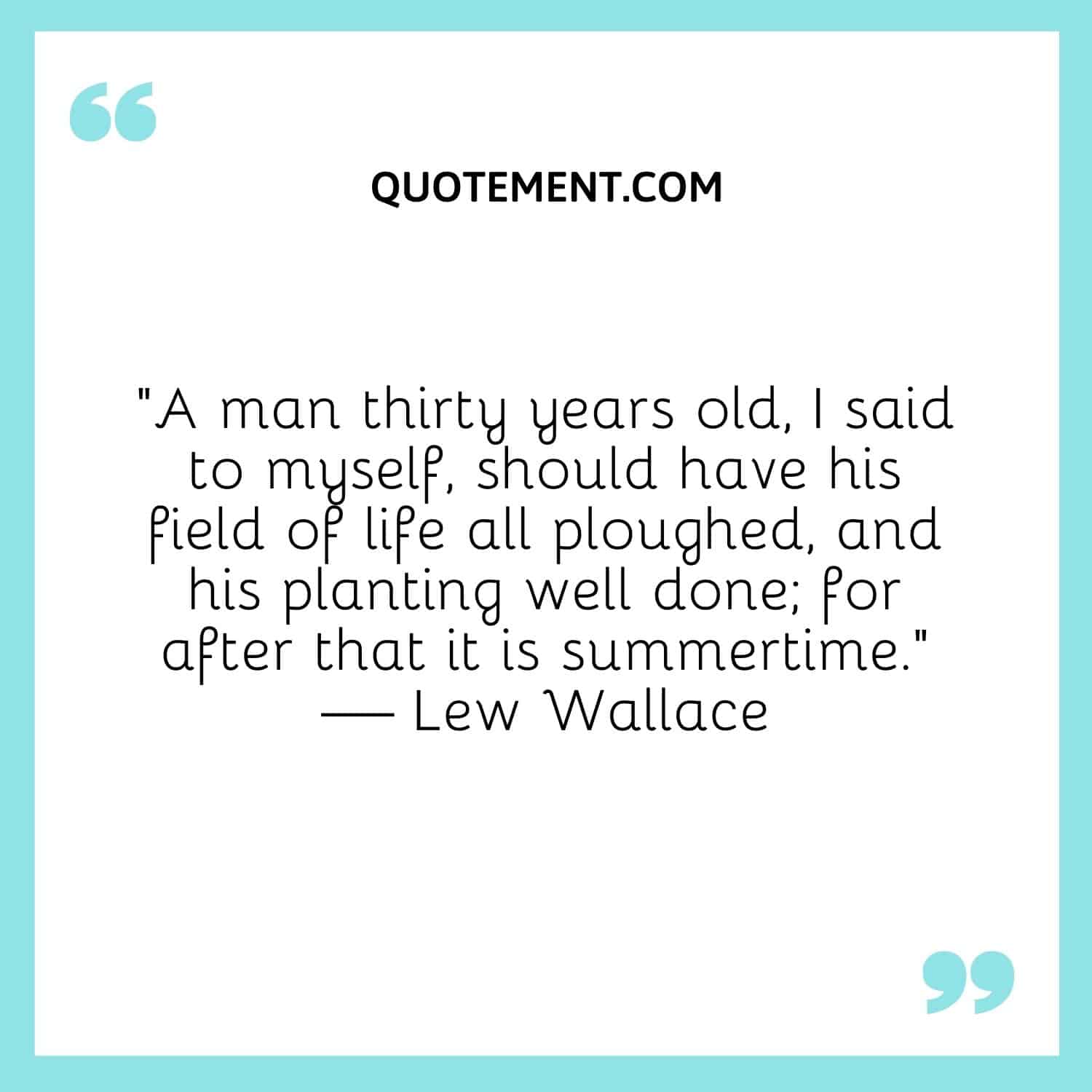 21. "And in the end, it's not the years in your life that count. It's the life in your years." — Abraham Lincoln
22. "At my 30th birthday party, one of my best friends gave a toast and said I'd been waiting for that day since I was Everyone laughed, but he was right! Life continues to get more fun, more surprising, more delightful." — Siobhan-Marie O'Connor
23. "Old age: A great sense of calm and freedom. When the passions have relaxed their hold, you may have escaped, not from one master but from many." — Plato
24. "Men are like wine. Some turn to vinegar, but the best improve with age." — Pope John XXIII
25. "Thirty was so strange for me. I've had to come to terms with the fact that I'm now a walking and talking adult." — C.S. Lewis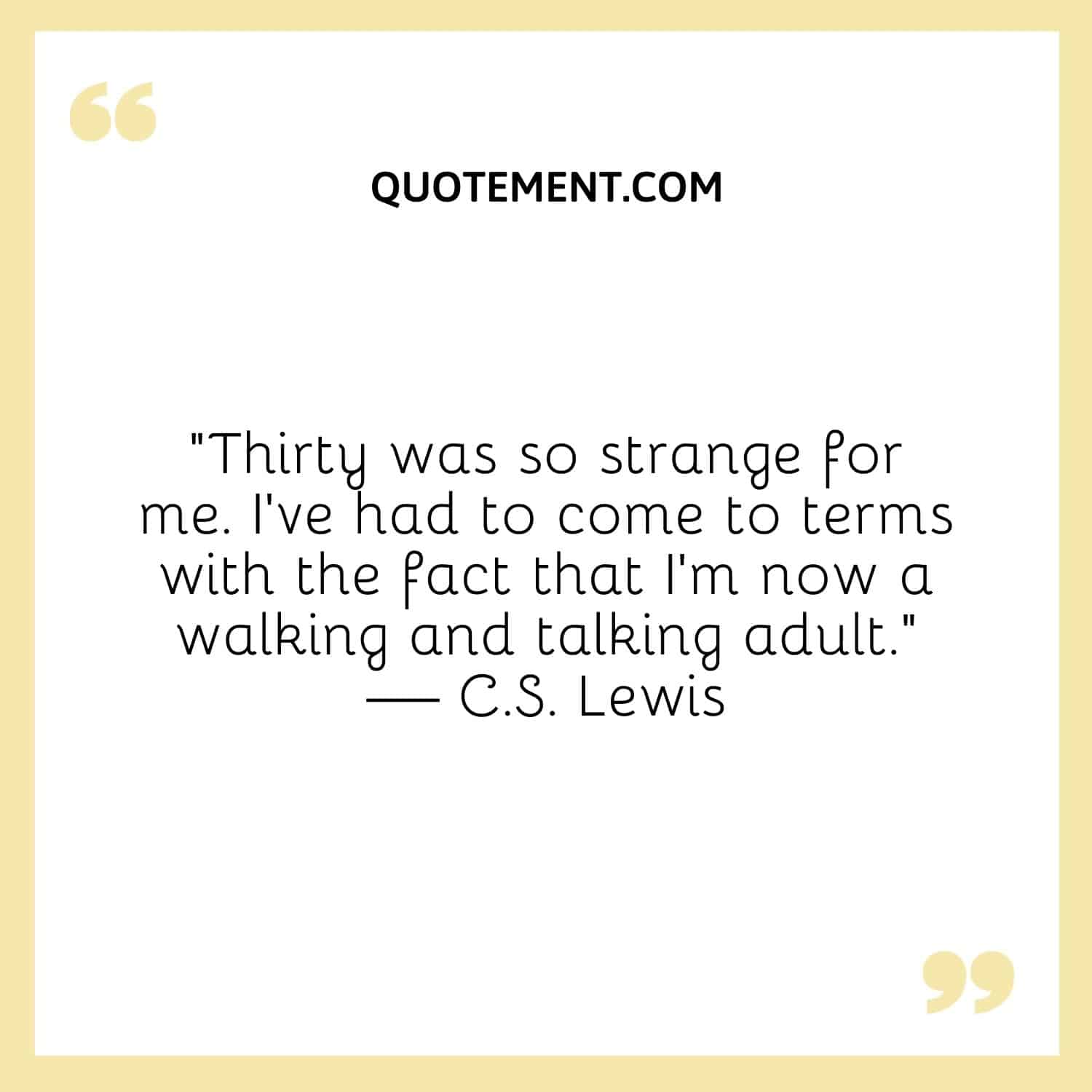 26. "May you live all the days of your life." — Jonathan Swift
27. "From our birthday, until we die, Is but the winking of an eye." — William Butler Yeats
28. "Let us never know what old age is. Let us know the happiness time brings, not count the years." — Decimus Magnus Ausonius
29. "Grow old along with me! The best is yet to be, the last of life, for which the first was made." — Robert Browning
30. "Every age can be enchanting, provided you live within it." — Brigitte Bardot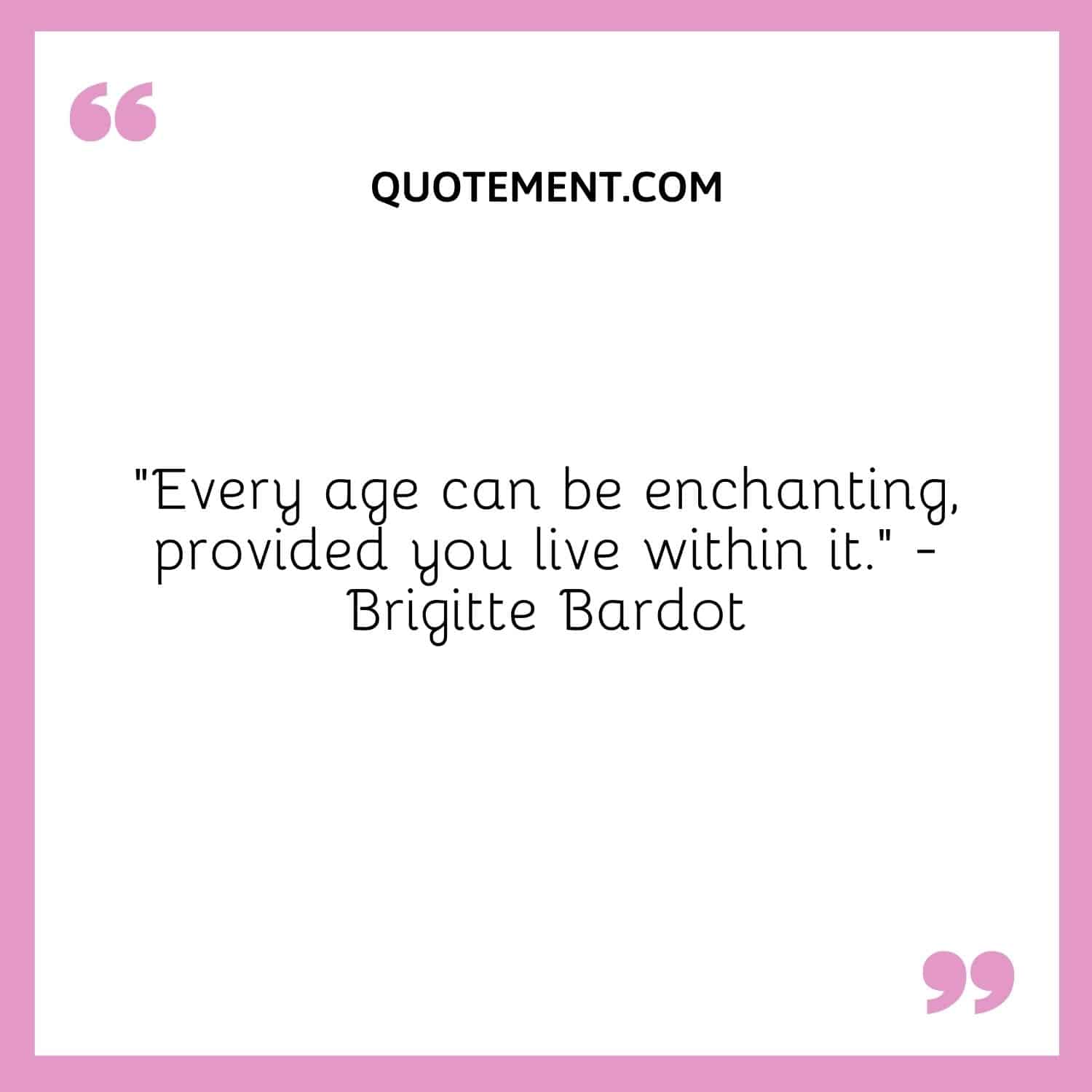 30th Birthday Quotes To Put In A 30th Birthday Card
Below you'll find a collection of great happy 30th birthday quotes to write in a 30th birthday card for a soon-to-be 30-year-old.
1. "Your 30s are your progress year. May you march forward with confidence and achieve all the goals you've set. Happy 30th birthday!"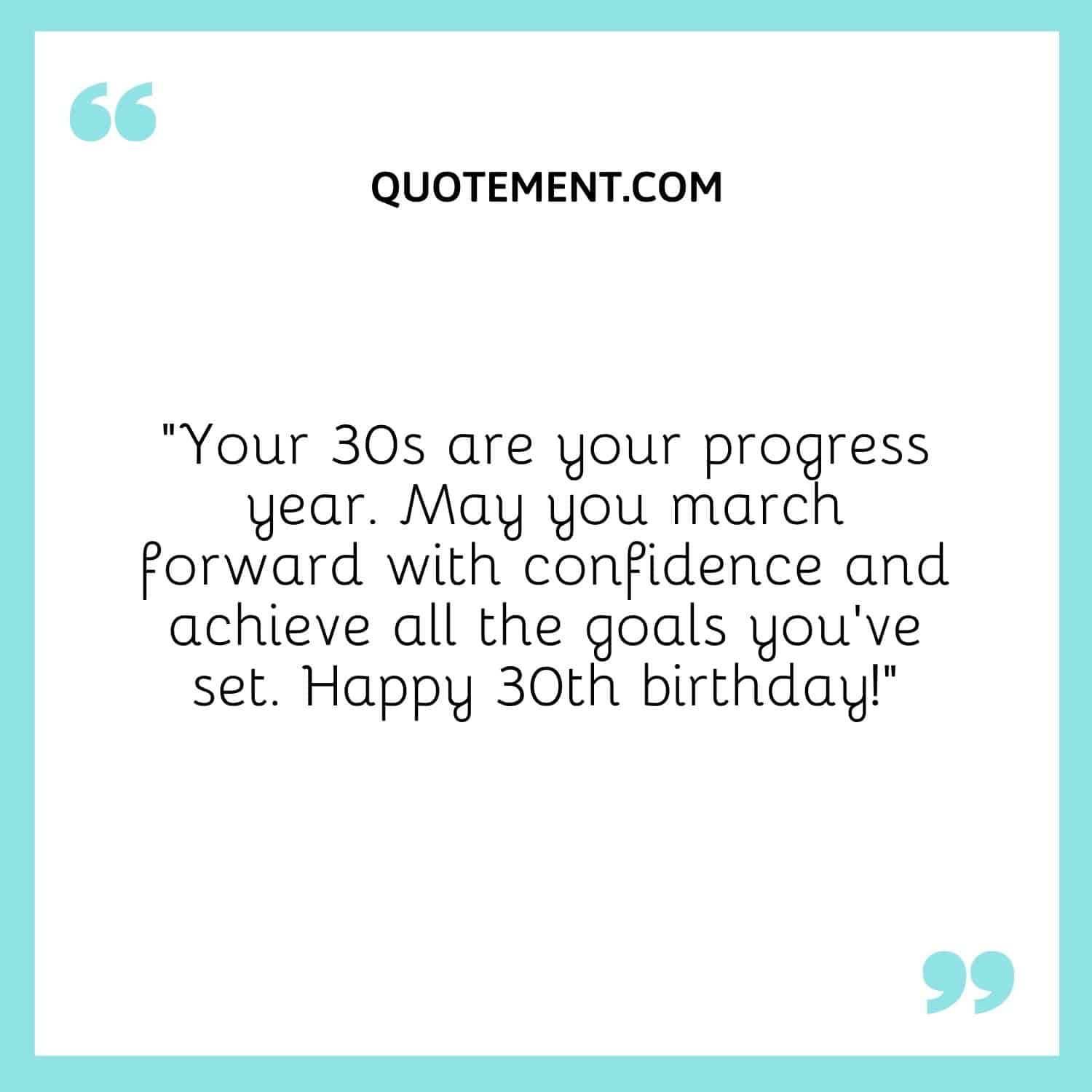 2. "Thirty, flirty, and downright dirty. Happy 30th birthday!"
3. "Your 20s were the muse you needed, your 30s are when the masterpiece is born. Happy 30th!"
4. "Your 30s are a time to work smart, conserve your time and energy, and spend your days doing what you really love. I hope you find yourself doing exactly that. Happy 30th!"
5. "30 is a perfect age. You're old enough to recognize your mistakes but young enough to make some more. Happy birthday!"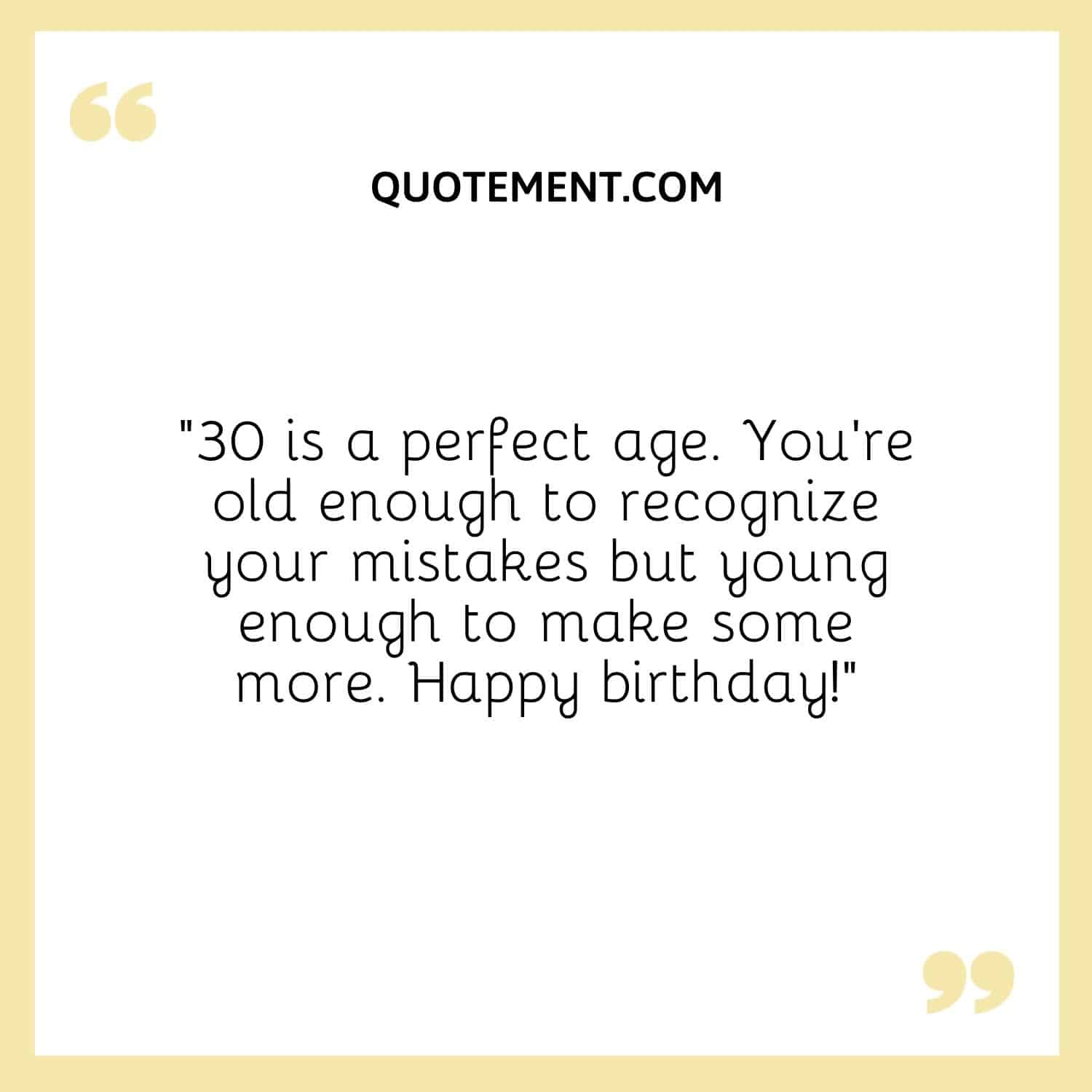 6. "Happy 30th Birthday! I hope you find some time for yourself today to reflect on all that you've accomplished, and get excited about all the achievements to come. Have a wonderful day!"
7. "Your 30s are the perfect time to remove anything from your life that doesn't make you happy. It's your time. Happy 30th!"
8. "Happy birthday! Welcome to your 30s and welcome to the start of the best years of your life. I'm sad I won't be able to see you for your birthday, but I know you will be surrounded by so much love and laughter. Wishing you nothing but the best on this next trip around the sun!"
9. "You have no idea how much you mean to me. But that won't stop me from telling you over and over again, happiest birthday dear!"
10. "I hope that your 30s are kind to you and that you achieve everything that you're looking for! Happy 30th birthday to a one-of-a-kind friend. Enjoy your day – you deserve it!"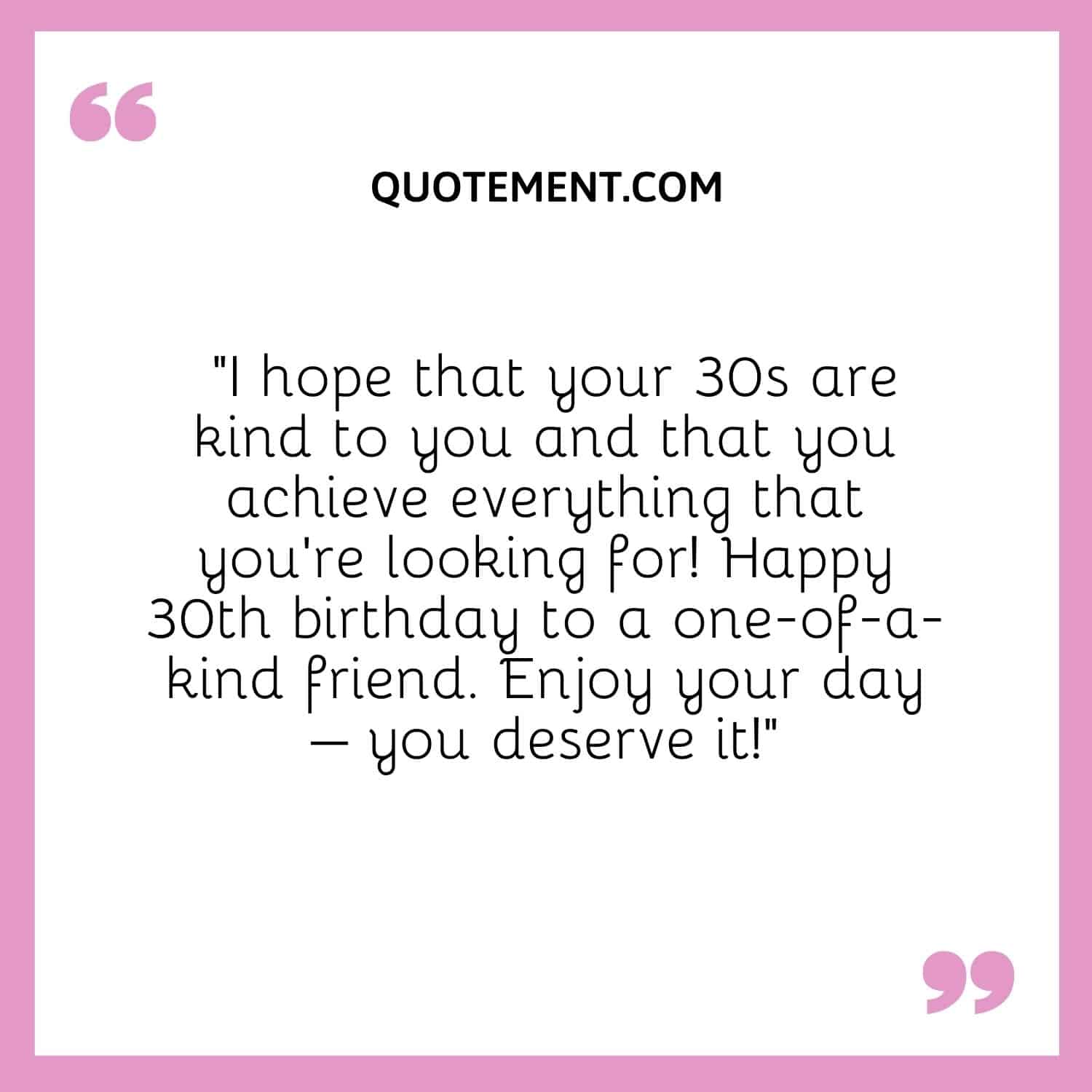 11. "Your 20s solidified your independence. I hope your 30s bring you all the right people and situations to share independence with. Happy 30th!"
12. "I am so impressed with all the hard work you put into your 20s, may your 30s keep presenting you with bigger and better opportunities. Happy 30th birthday!"
13. "May you make every decision this year from a place of self-love. Pave your path with happiness. Happy 30th birthday!"
14. "Congratulations on being three decades old! This is a huge milestone, and it's time to go out and celebrate in style. Show them what you've got! Sending you warm wishes and positive thoughts, always."
15. "I take this special date to remind you how much I love you. Happy birthday. It's already 30 years filling your friends, family, and loved ones with light and magic. You are amazing. Best wishes!"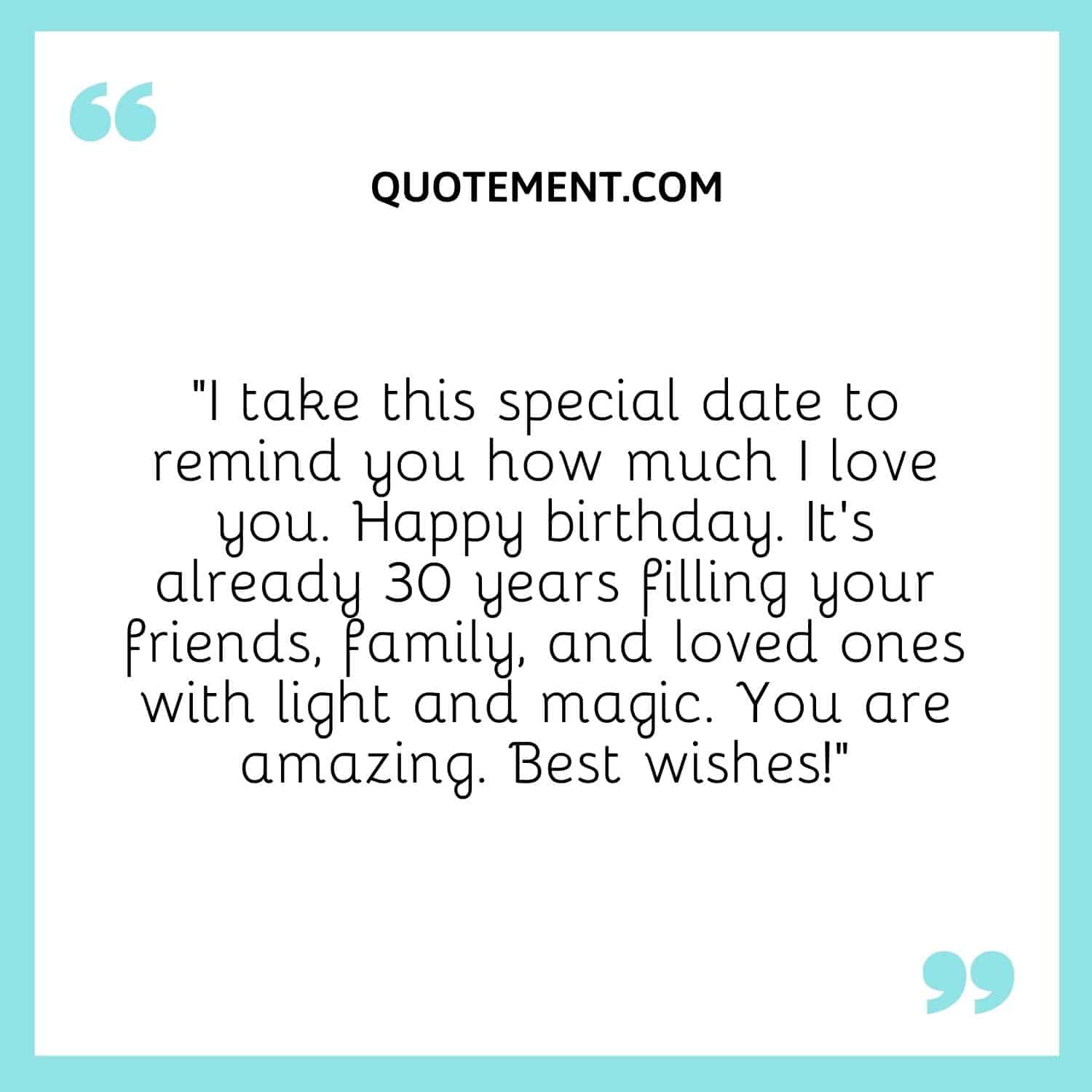 16. "May your 30s bring to fruition all the hard work of your 20s. I wish you a decade of many successes. Happy birthday!"
17. "Happy 30th birthday. Don't worry, you're still an 18-year-old… now with 12 years of added experience!"
18. "Some people say 30 is a big deal, but I say we treat this birthday like another one of your 20s and party it up like normal! Happy birthday!"
19. "Happy 30th birthday! Nothing has to change this year unless you want it to! Have a wonderful day!"
20. "You have always dreamed big and focused on the future. May your thirties exceed all of your expectations!"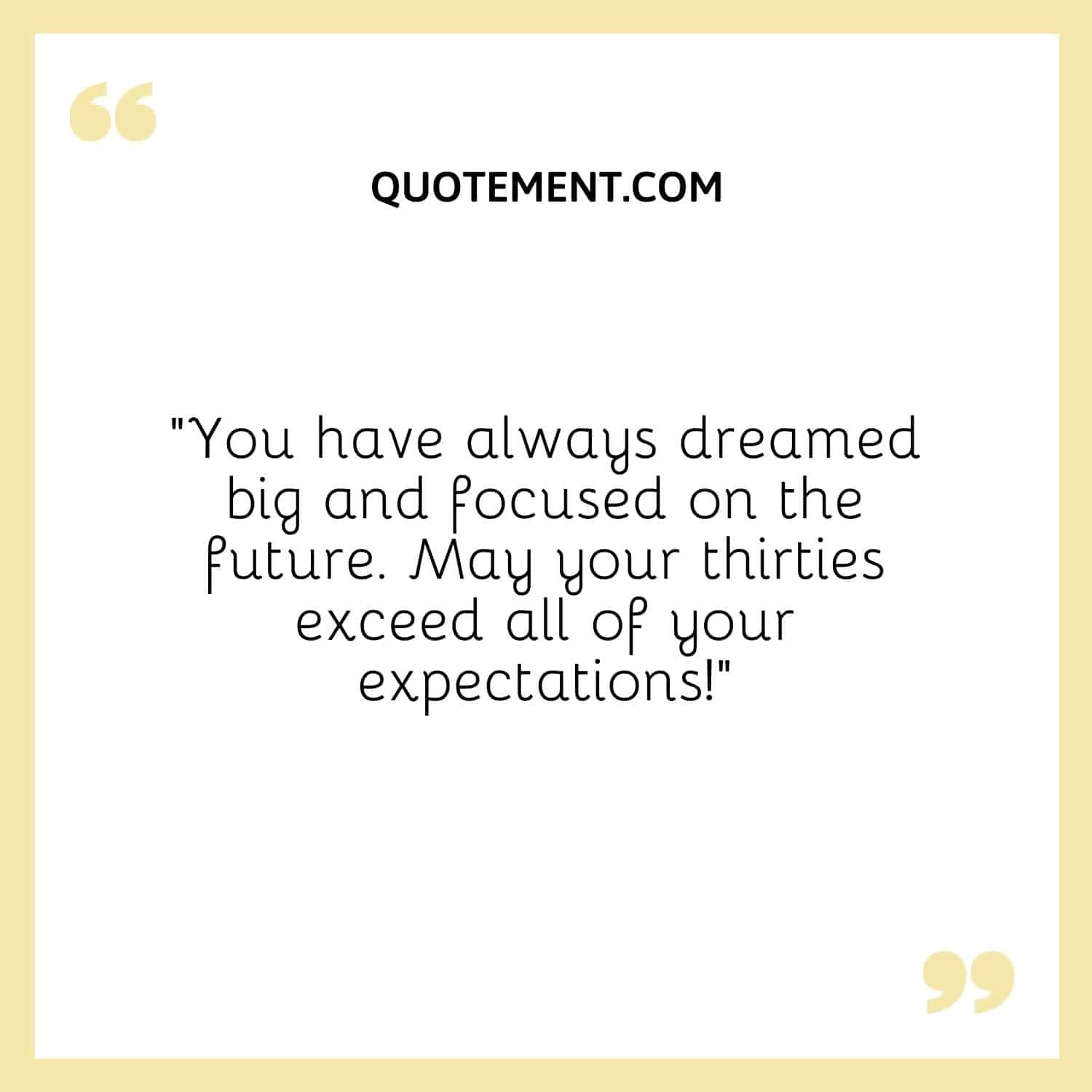 21. "Happy 30th birthday, to a person who is timeless in both beauty and character. Have a blast on this special day!"
22. "Today we will put 30 candles on your birthday cake. What a blessing! Get ready because we will celebrate with live music, drinks, and some dishes that will pamper your palate. Congratulations on this special date."
23. "Congratulations on your 30th venture around the sun! Happy birthday, to my adventurous friend who is totally out of this world."
24. "The most beautiful thing to come out of your 20s is your ability to hear and listen to your instinct. Let that be your guiding voice this decade. Happy 30th birthday!"
25. "Here's to maturing like a fine wine. Happy 30th birthday!"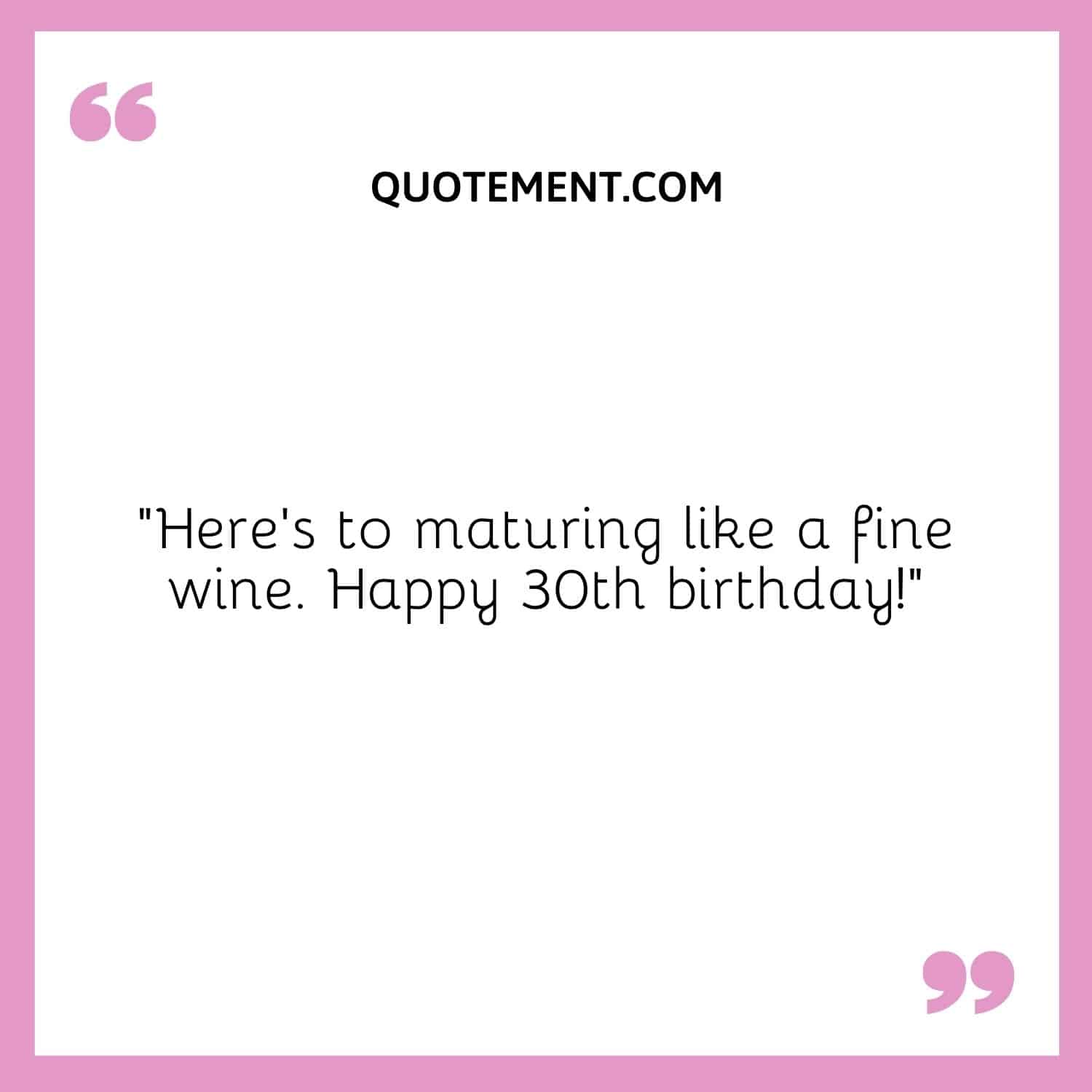 26. "I hope your 30s go by slowly and peacefully. May your days be sweet and your years fruitful. Happy 30th birthday!"
27. "Take care of yourself and congratulate yourself for being alive, for existence, and for being an amazing person. You deserve it! Happy 30th birthday!"
28. "With each birthday celebration, it is your new life and new beginning celebration. Wishing you a happy thirty-fourth birthday!"
29. "May your 30s be a field of dreams and this new decade exceed all of your wildest expectations. Enjoy your day and your year. Happy 30th!"
30. "Have fun celebrating your 30th birthday, son! But remember, you can't call me an old man anymore as you've just hit the beginning of old age too!"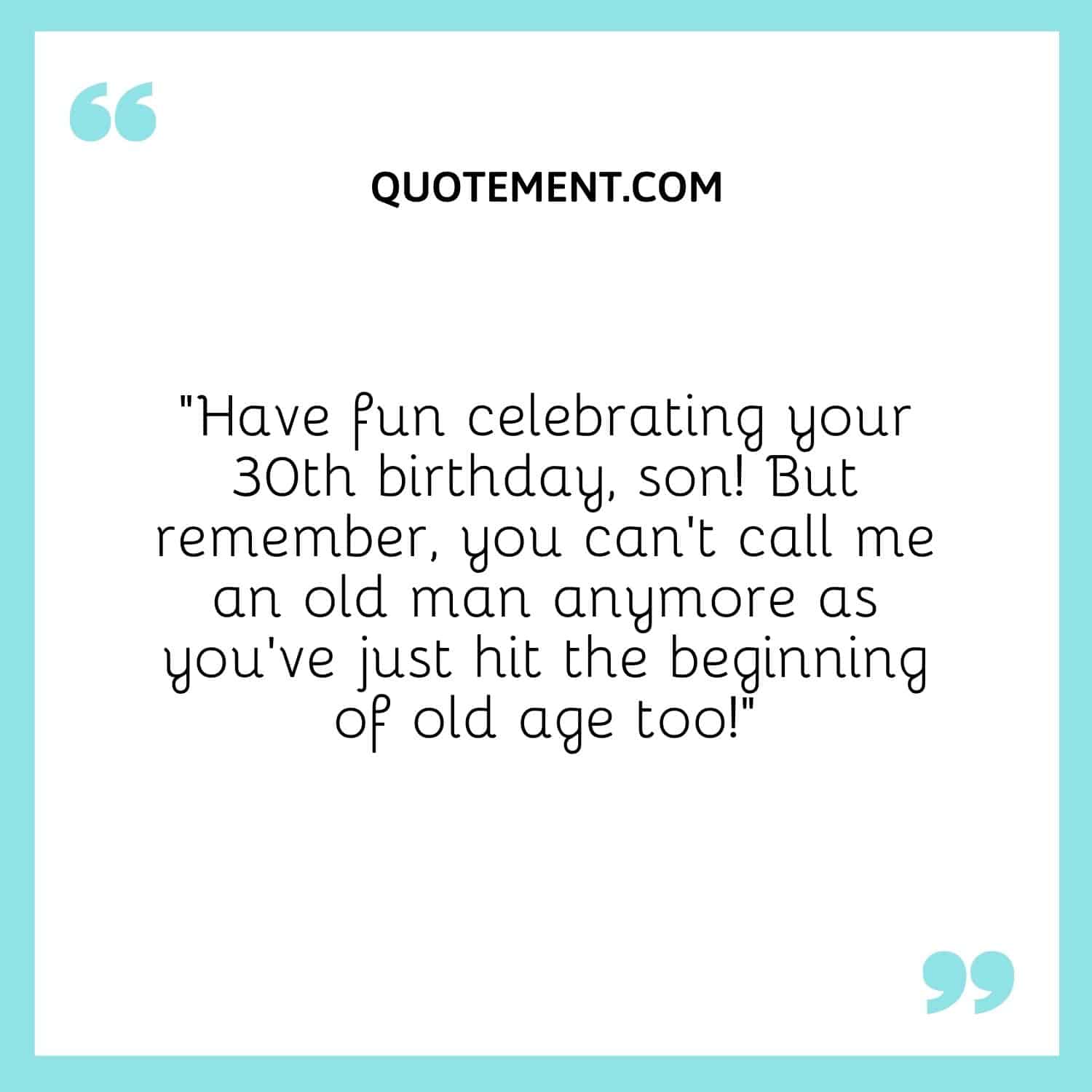 30th Birthday Quotes For Daughter
Here are some sweet happy 30th birthday quotes you can send to your lovely daughter.
1. "The world has been better for the last 30 years since you've been around. Love you, our charming daughter!"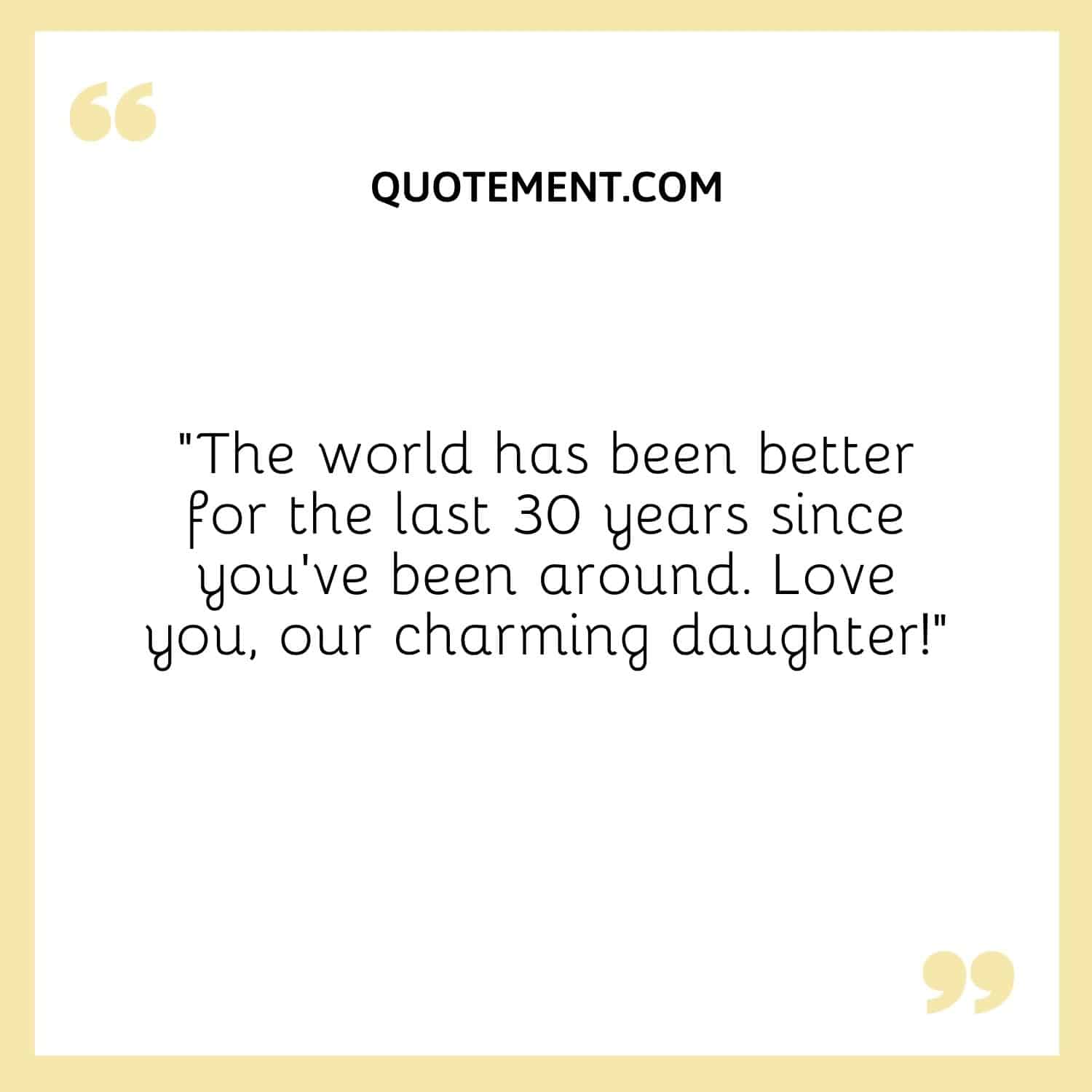 2. "You give and give and give. On your 30th, take time for yourself. You deserve it, awesome lady!"
3. "The number 30 signifies a circle, meaning absolute completion and infinity. As you mark your 30th birthday today, it also marks the sealing of absolute completion and infinite love in our relationship, beloved daughter. Happy Birthday, the apple of my eye!"
4. "We are so thankful that you came into our lives to brighten up each and every moment. You deserve an amazing day. Happy 30th Birthday our baby girl!"
5. "Darling, I've been counting down to this day from your 20th birthday. I'm happy your 30th birthday is finally here. A new and fulfilling phase of your life has just begun, express it to the fullest!"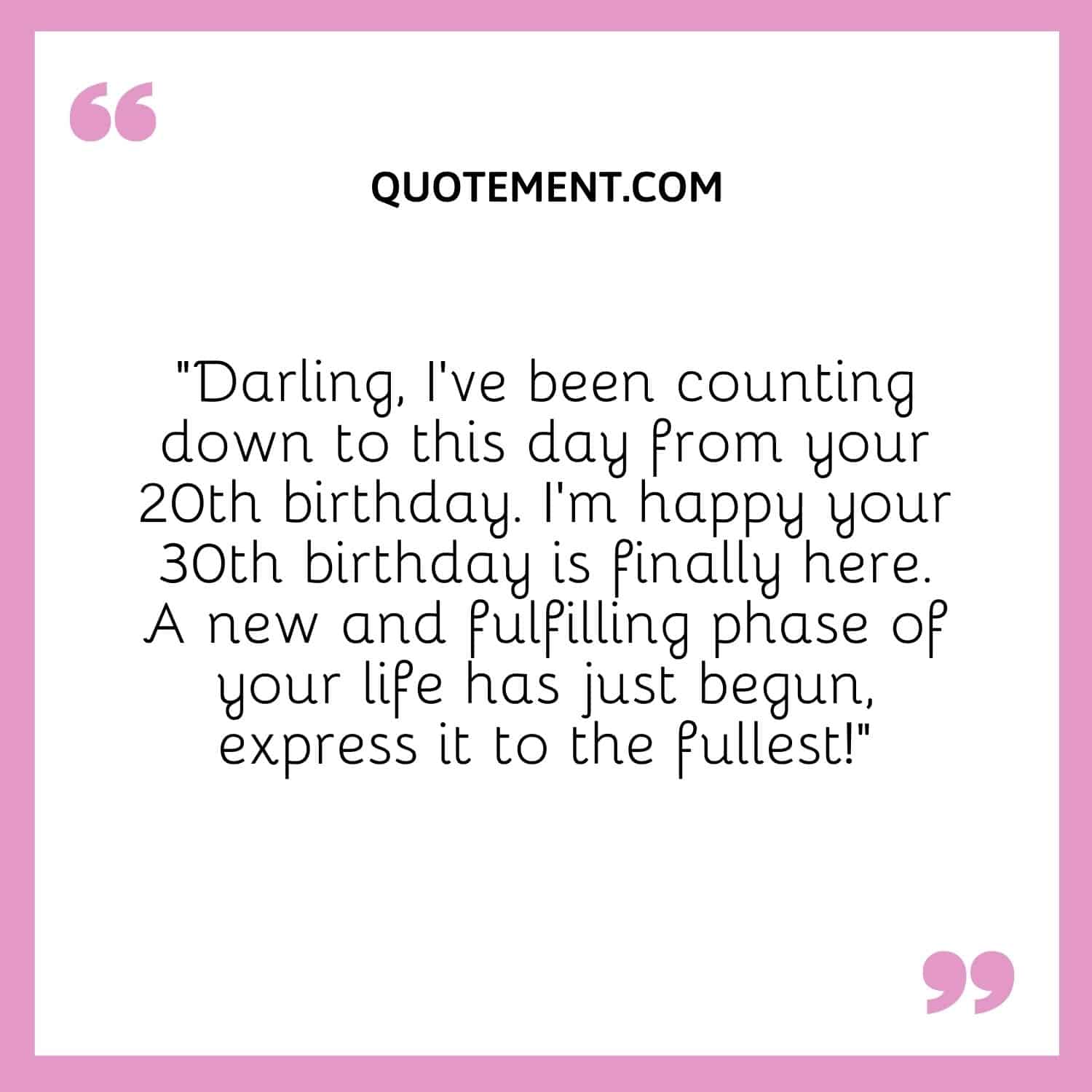 6. "Age is only a number for my child. You still look as sweet and as young as ever. Happy 30th birthday!"
7. "The 30th year of your life is rich with significant changes. My wish for you is that you always keep smiling, pretty woman!"
8. "Go tell it to the mountains, shout it over the hills, echo it down the valleys, even in the deepest part of the ocean, my honey is 30 years old today!"
9. "The best thing about having you as a daughter is that you get to act like my sister, my mother, and my best friend, too. Thank you for being such a good daughter and for making sure that I'm okay. I love our daily conversations and weekly dates. I love you, sweetheart. Happy 30th birthday!"
10. "On this special day, I wish that all your wishes will come true and that all your loved ones will be there to celebrate with you. I love you with all my heart. Always have and always will. Happy 30th birthday, dearest daughter."
30th Birthday Quotes For Son
Is your beloved son turning thirty? Here are some good ideas of what to wish him on his special day.
1. "Your birthday is a great time to tell you how much we love and admire you, our handsome boy. You have the biggest heart of anyone we know. Don't ever change! Happy birthday to you, son!"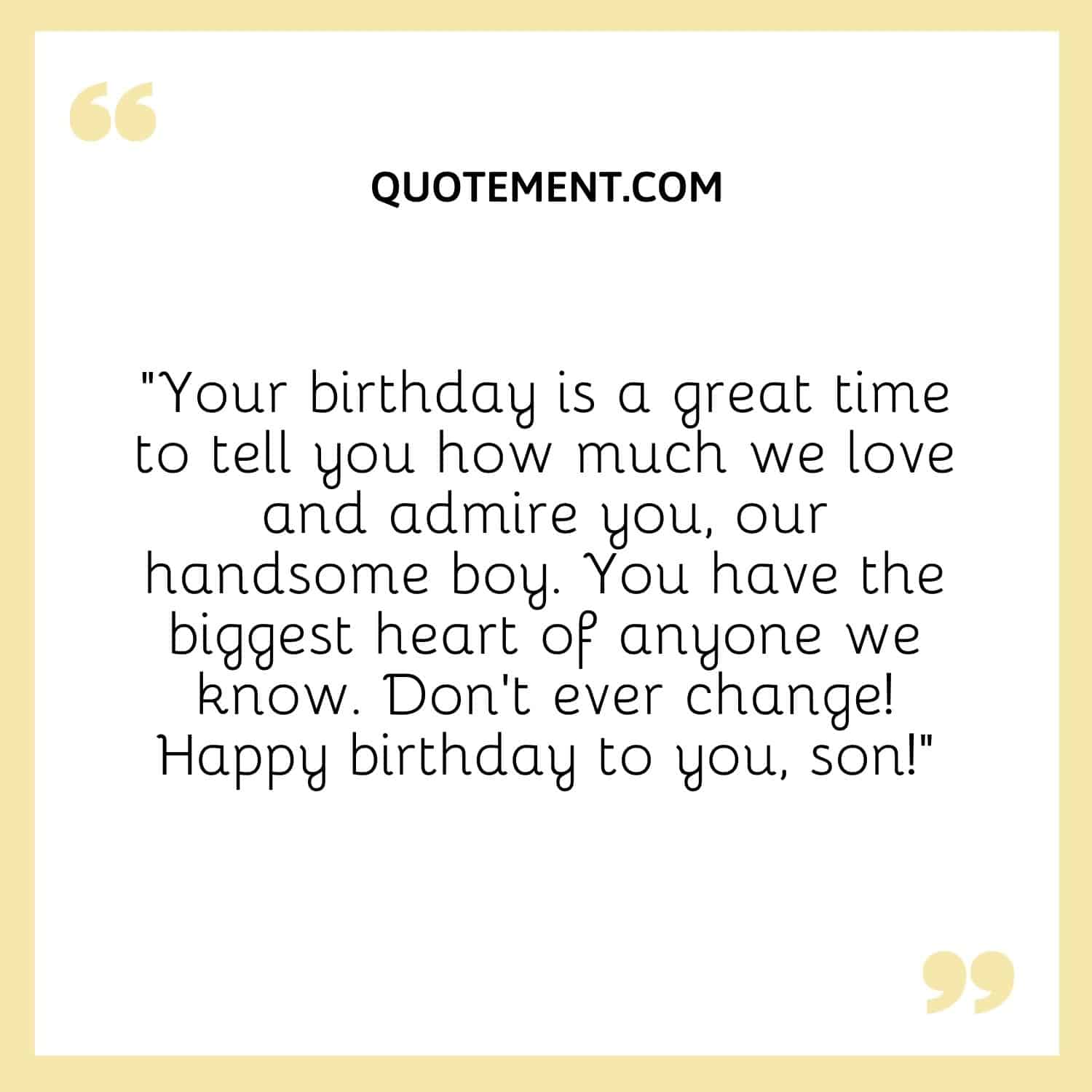 2. "I think you have really figured out this adult thing. I am so inspired by you, my boy! Happy 30th birthday!"
3. "The beautiful chapters of your life are before you, not behind you. I hope you never forget that, our child. Happy 30th birthday."
4. "May all the stars align for you this decade, my son. I hope you have a wonderful day and an even better year. Happy 30th birthday!"
5. "My most loving thoughts and warmest wishes go out to you on your special day. May all your wishes come true. Someone as hardworking and passionate as you deserve to have all the best things in life. I love you, son. Happy thirtieth birthday!"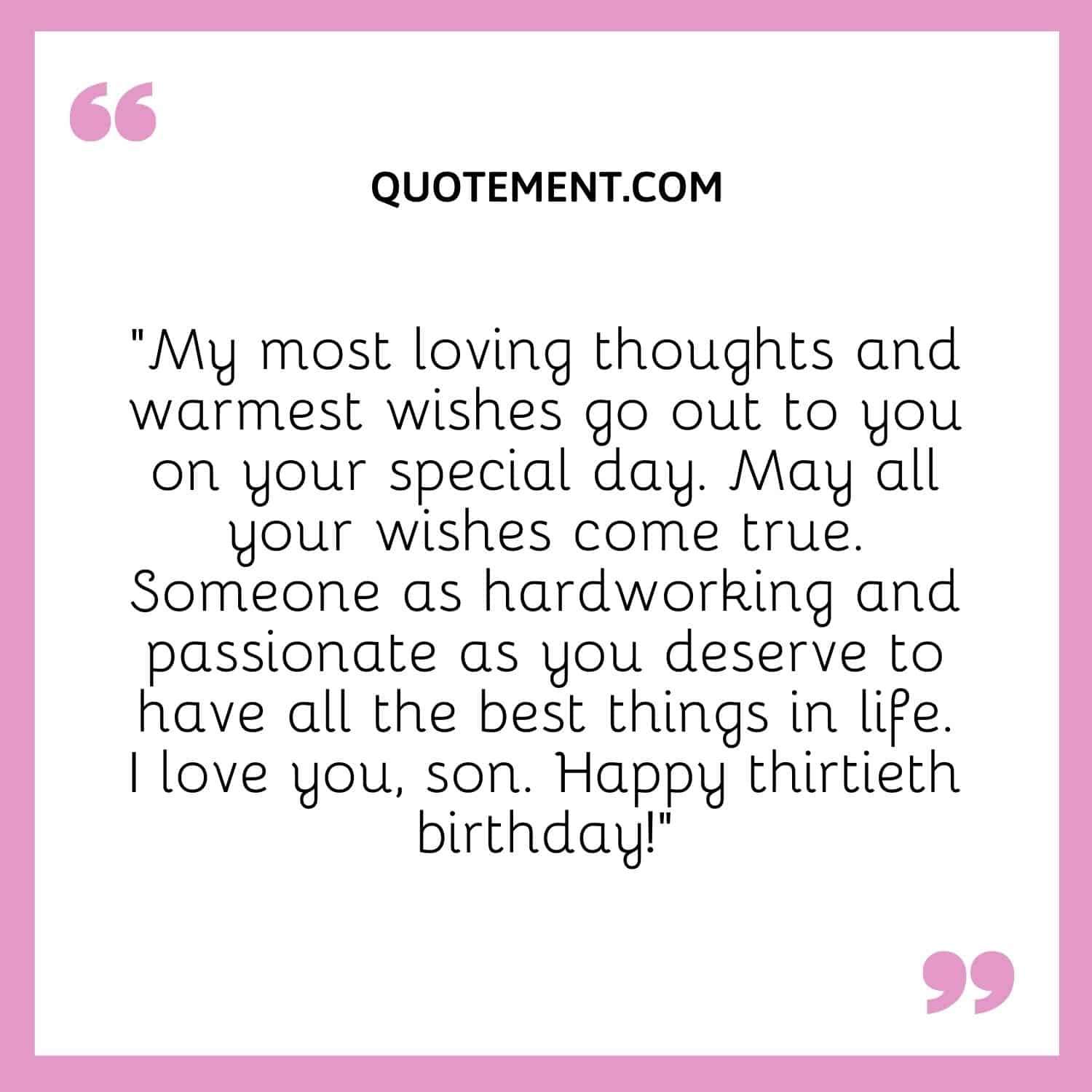 6. "Keep saving for your retirement! You're getting closer and closer to it each day! Happy 30th birthday son."
7. "As candles are lit on your birthday cake giving you blessings and the heavenly presence of God, I pray may you always be near Him! Wishing happy 30th birthday to my cutest son!"
8. "Dear son, the fact that you have achieved so much in just 30 years seems impossible and yet so amazing…I would like to extend my heartiest birthday wishes and I pray to God that you achieve a lot more in the years to come."
9. "Happy birthday to my son! Can't believe you're already 30! Enjoy the future, your best years are yet to come."
10. "Happy 30th birthday to my amazing son. May you always find happiness in everything that you do and in all the people in your life. I pray that you never lose your smile because your smile surely makes anyone's day brighter. Stay happy and blessed. I love you always."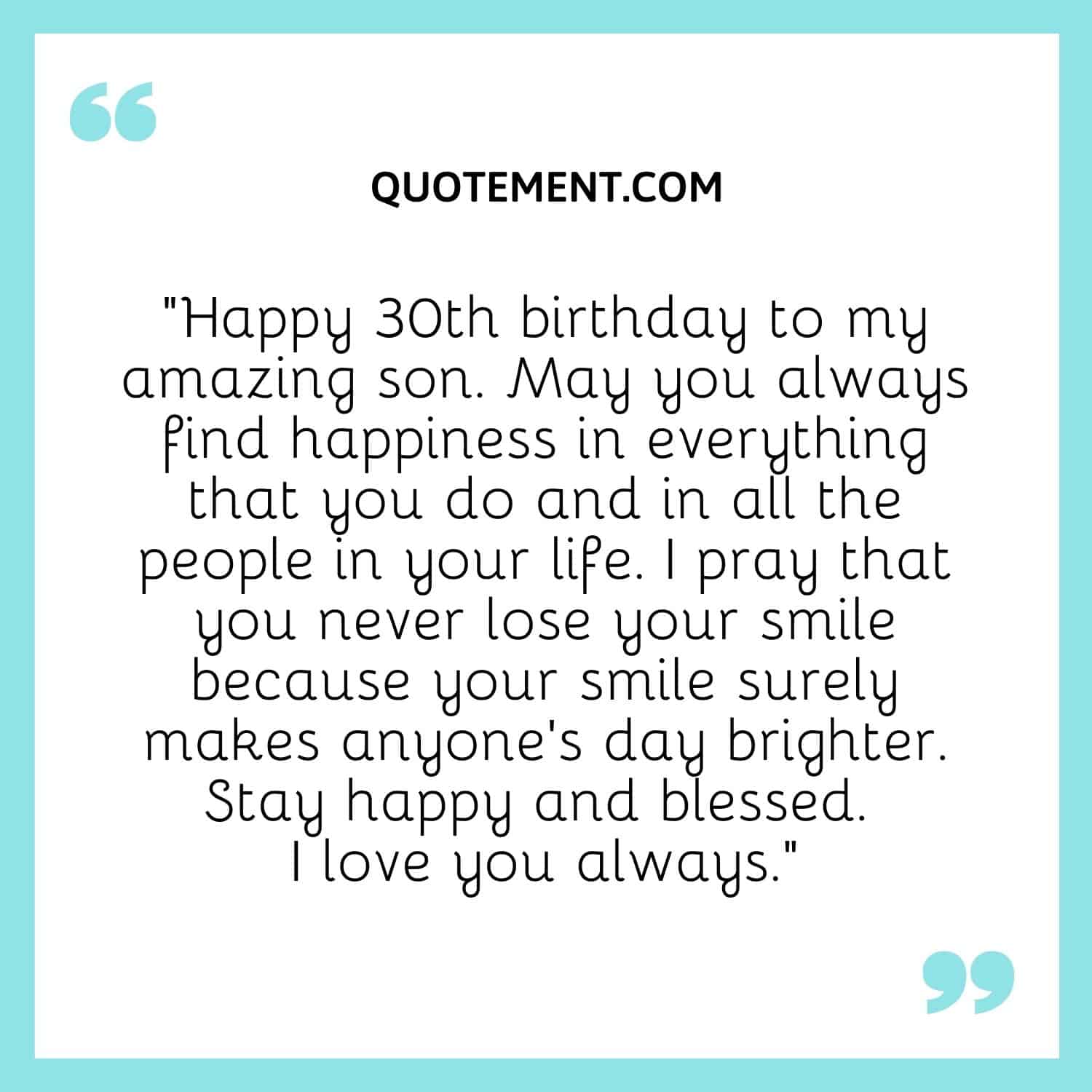 Happy 30th Birthday Quotes For Sister
Now let's read some lovely 30th birthday quotes you can share with your dear sister.
1. "When they handed out brains and beauty, you got a big dose of both. Thank you for being such a great sister. Happiest of birthdays!"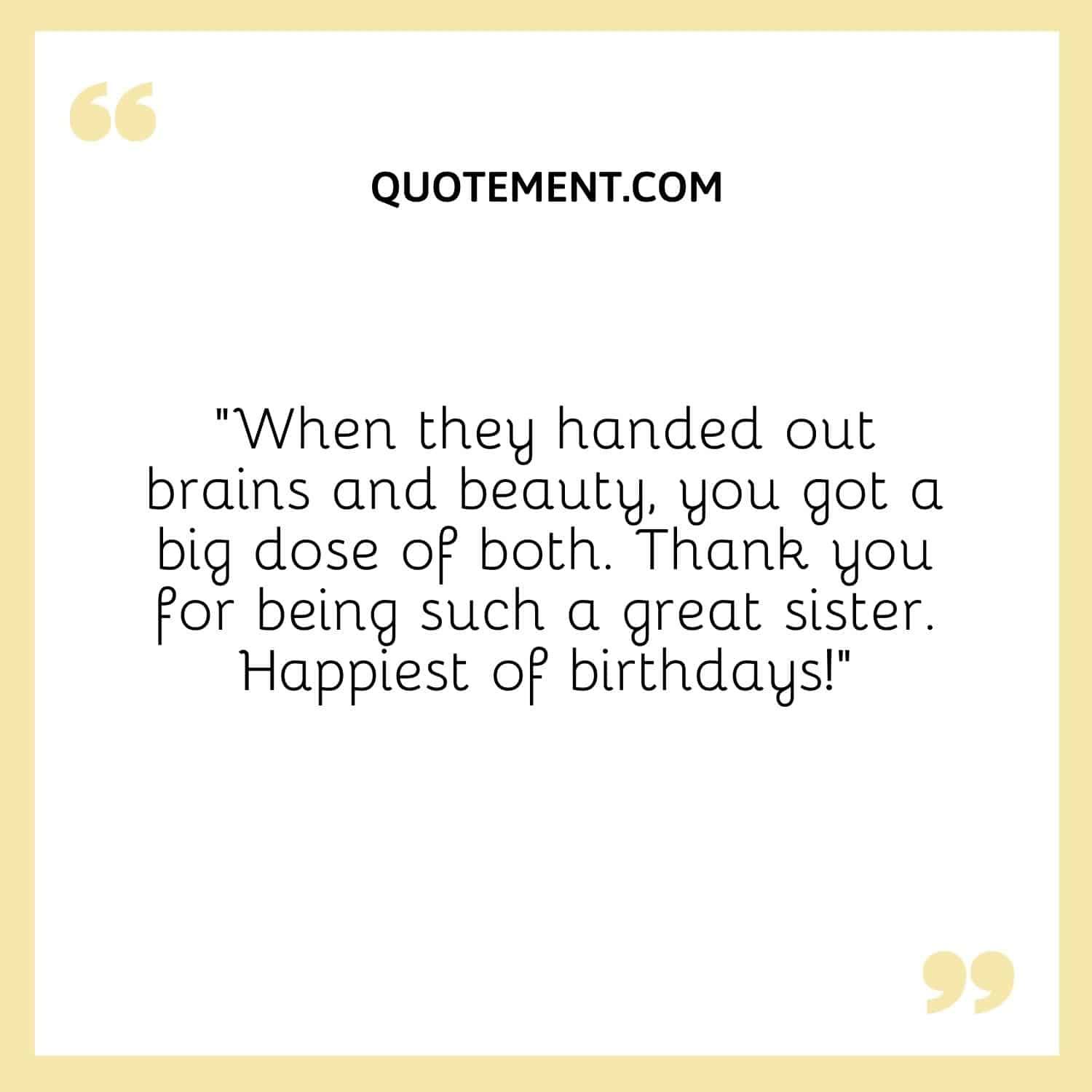 2. "The love and support you give me always astounds me. I can't thank you enough for being such an extraordinary blessing in my life. Happy 30th birthday, sister!"
3. "Happy 30th birthday, to a very special soul. The world is infinitely more beautiful because you are in it, my favorite sister!"
4. "Beauty and brains wrapped up in one charming package. I don't know how you do it! Sending heartfelt 30th birthday wishes your way!"
5. "I hope your day sparkles the way you do dear, sister! 30 never looked so good. Happy birthday!"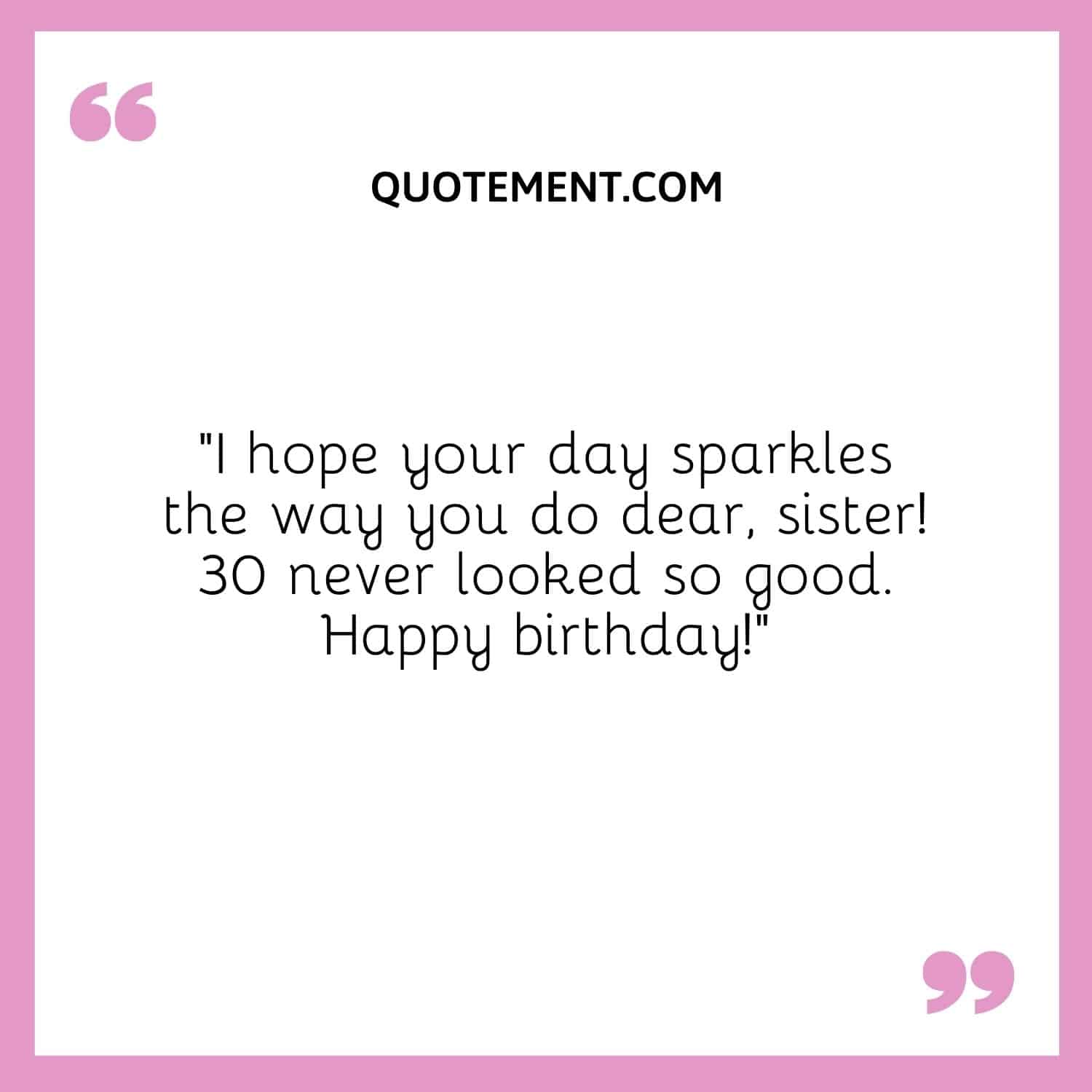 6. "Thank you for being the person who is always there when someone needs a hug, a ride, or a bit of wise advice. You are such a good soul, sister. Happy 30th birthday!"
7. "Hey sis, happy 30th birthday! You just keep getting more amazing."
8. "Thank you for always being the person who has a warm hello and a bright smile for me. Wishing my precious sister a happy 30th birthday!"
9. "Happy birthday to one beautiful, fun, and youthful 30-year-old sis!"
10. "Sending you tons of positive vibes on this special occasion. Happy 30th birthday my dearest sister, I hope your 30s are even more exciting than your 20s! Have fun!"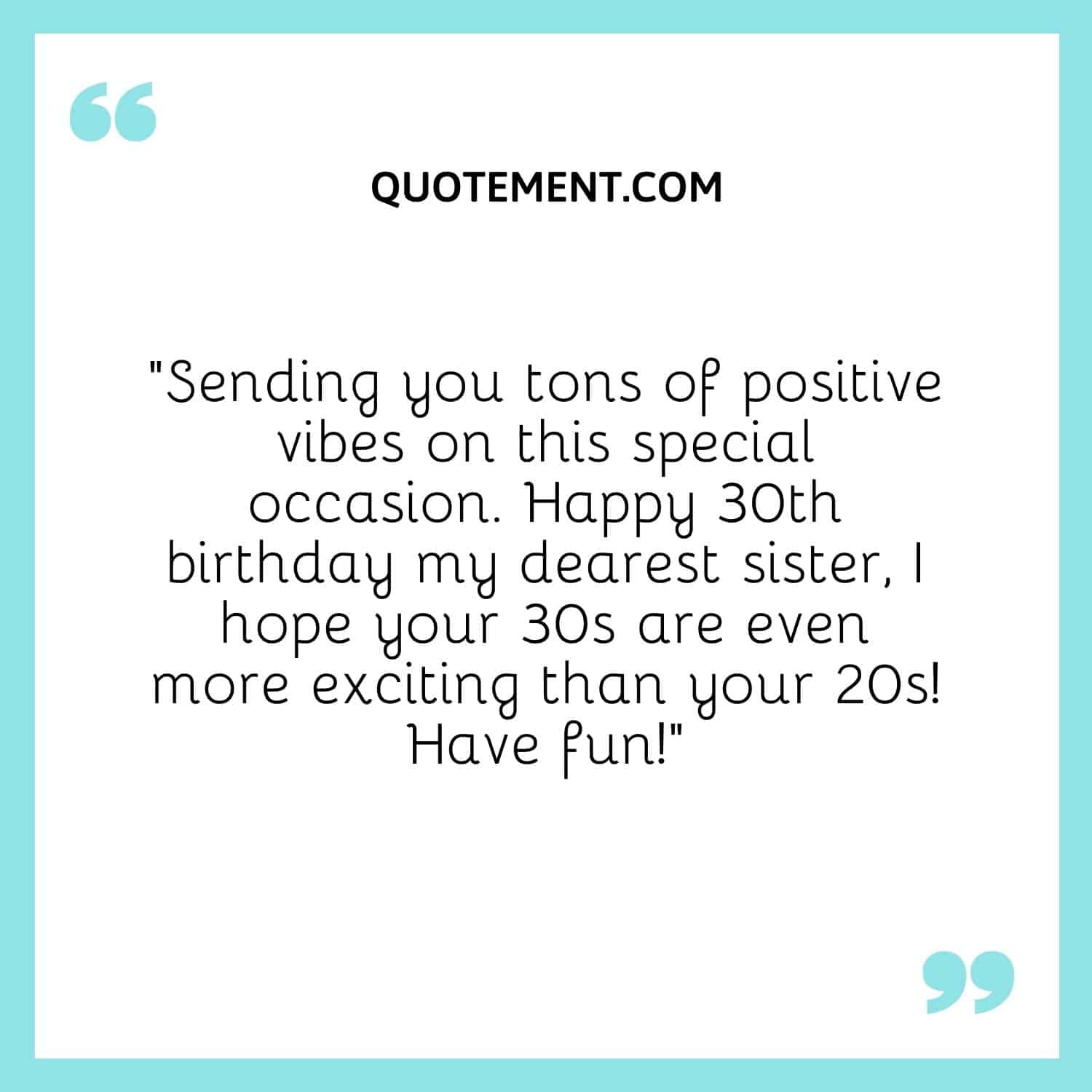 Happy 30th Birthday Quotes For Brother
Here are some thoughtful birthday greetings created especially for your brother.
1. "Happy 30th birthday, buddy! The good news: guys often get better looking as they age. The bad news: there are plenty of exceptions!"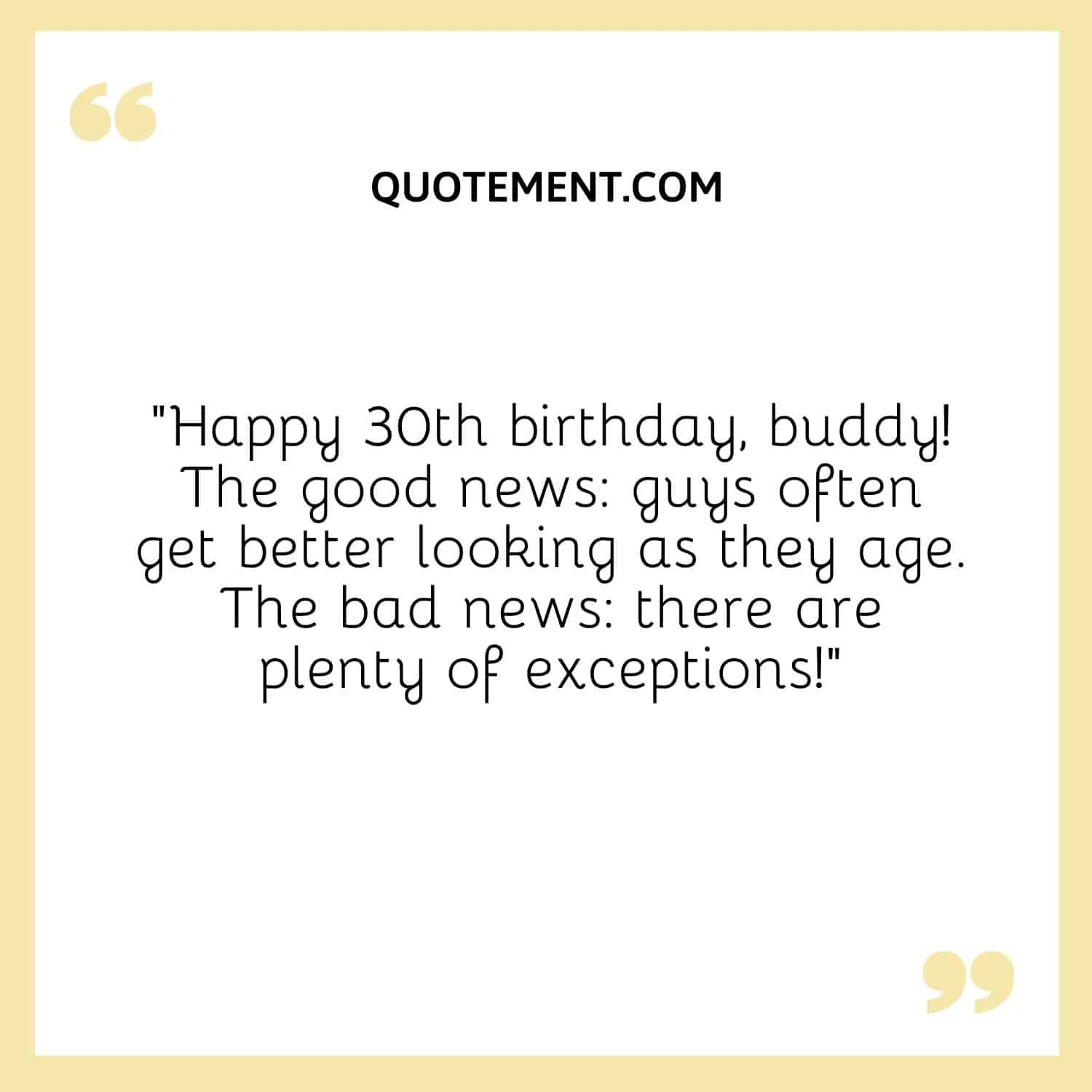 2. "May your 30th birthday mark the beginning of extraordinarily great achievements in your life. Have a great one, bro!"
3. "We share each other's t-shirts, finish each other's sentences, and laugh at our inside jokes—whether or not they're funny. Happy 30th birthday, big brother!"
4. "You may be 30 years old now, but you're still cool in my book. Happy birthday, dude!"
5. "Happy birthday to the bravest man I know. You have met every challenge that comes your way with grace and dignity. You are an inspiration to me, bro!"
6. "What a great time to tell my favorite guy in the world how much I care. Here's hoping your 30th is the best birthday ever!"
7. "There is more to us than sports and beer! We have shared good times and bad, and you continue to support me every day. I appreciate you, brother! Happy 30th!"
8. "To the brother who laughs at all of my jokes…even when they're not that funny. Have an amazing day and a very happy 30th birthday!"
9. "I hope you keep your head in the clouds and feet on the ground all decade long. Dream big and don't look back! Welcome to the 30s club, handsome!"
10. "You have just entered into a new phase of your life, dear brother. Don't be scared to explore what the thirties have in stock for you. Have a great birthday!"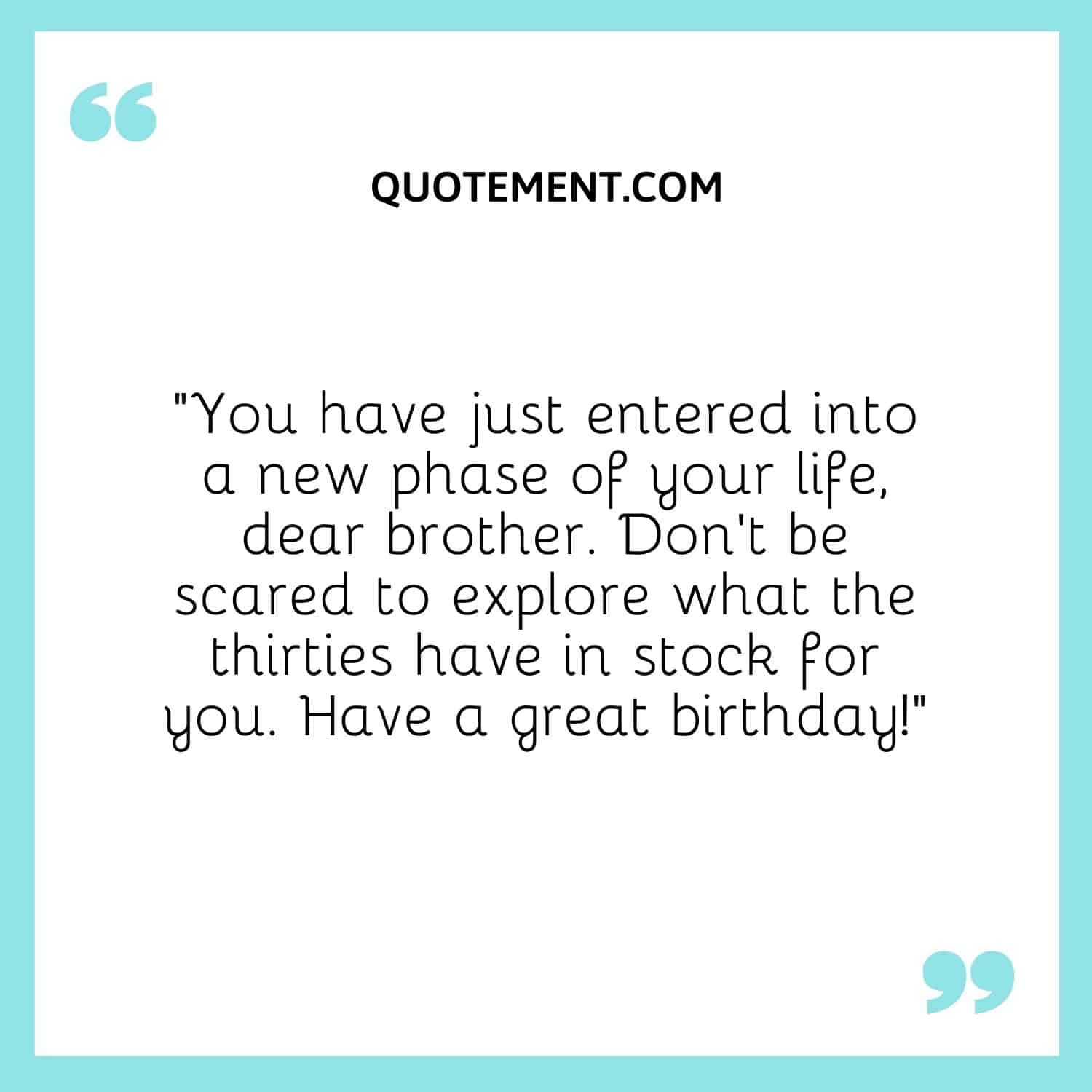 30th Birthday Quotes For Best Friend
The 30th birthday quotes you're about to read are perfect to send to your best friend celebrating their 30th bday.
1. "You are my special friend, my unique blend; and, for our friendship, there is no end! Have a merry 30th!"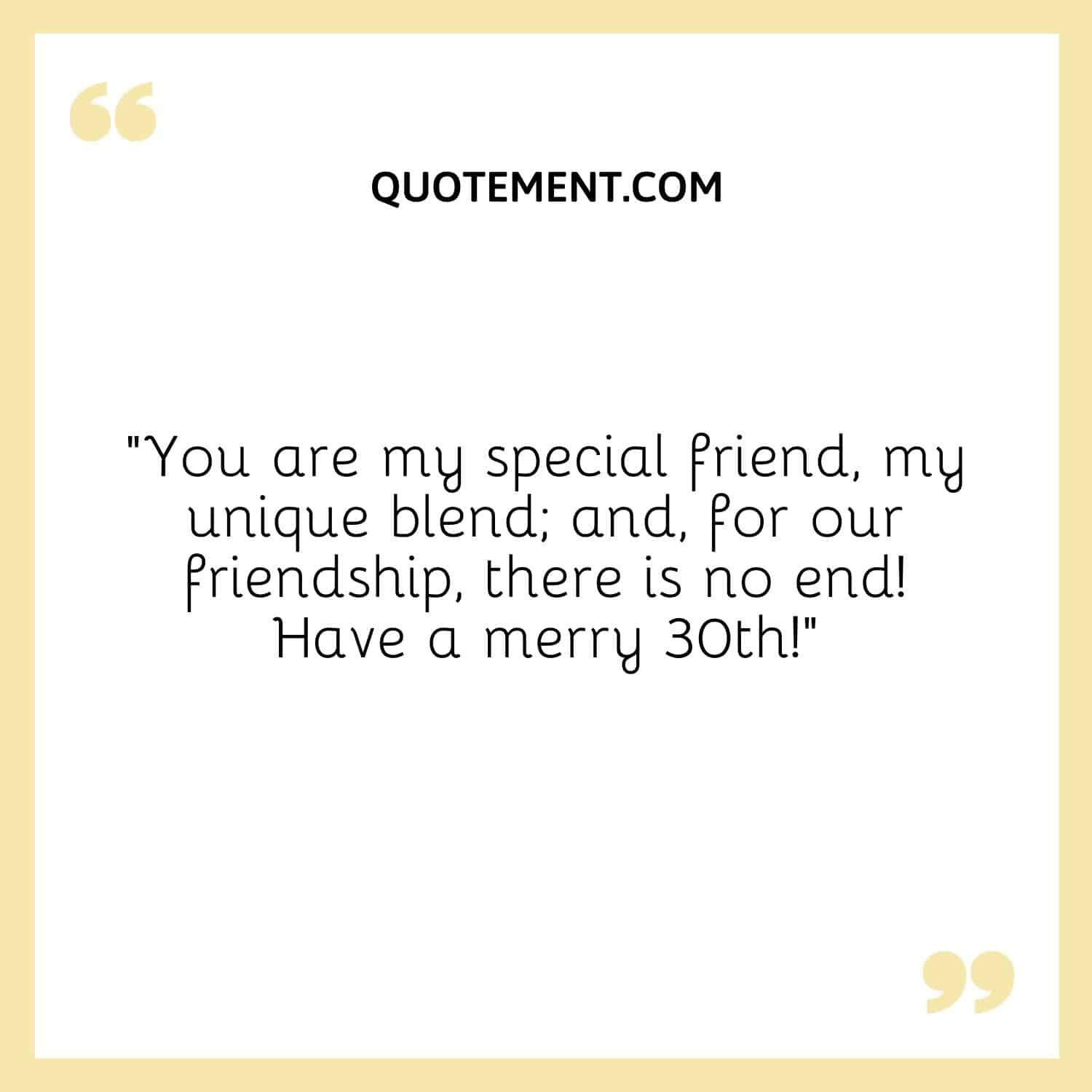 2. "Happy 30th birthday! Thank you for all the lunches together and the drinks toasted. Here's to another fabulous trip around the sun."
3. "Two hearts closely knit into one – that is what our friendship truly is, which is why I celebrate this special day with you. Enjoy your birthday, my dearest friend."
4. "Happy 30th birthday, to a friend who is always close to my heart. Your sense of humor and compassion make every day a thousand times brighter. Have a fantastic day of celebrations!"
5. "Congratulations on turning 30 relatively unscathed. Happy birthday, to a bold and fearless friend who makes life exciting!"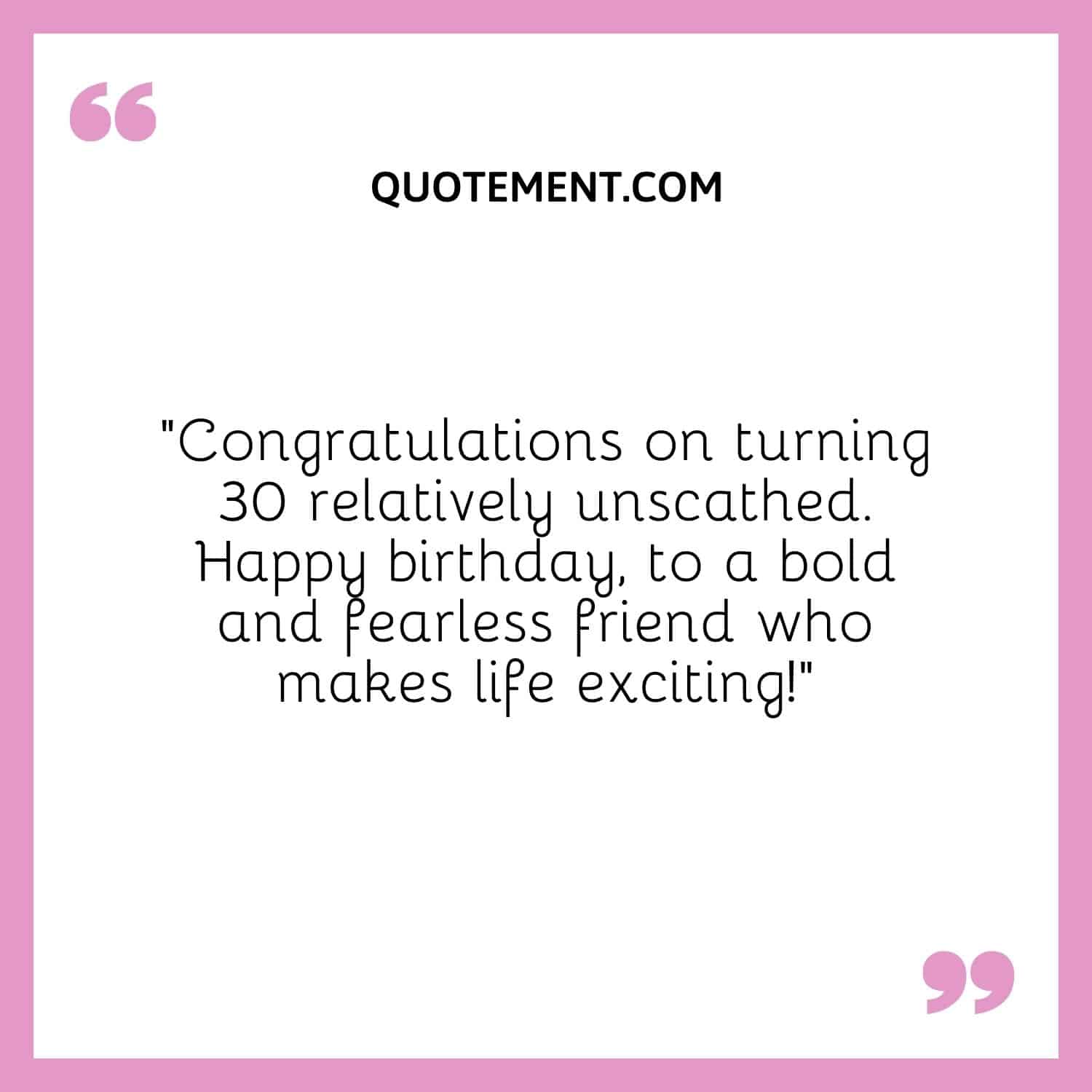 6. "Happy 30th birthday, to the friend who knows all the mechanics of our secret handshake. Stay weird and be wild!"
7. "Thank you for being a friend for life! Growing up with you has been a blast. Here's to another 30 years! Happy 30th birthday!"
8. "Here's to a day of good beer, great music, and best friends. Happy 30th birthday, to a great friend!"
9. "Turning 30 is a milestone that allows you to feel more confident in your abilities and continue to go after what you want. My wish for you, dear friend, is that your worth is acknowledged and the drive that you have never ceases!"
10. "My best friend, I wanted to let you know just how much I care about you. But I was worried that if I started now, I wouldn't be finished anytime soon because of the number of reasons why you are so great. So let me just greet you with a very happy 34th birthday and wish you many happy returns. I love you!"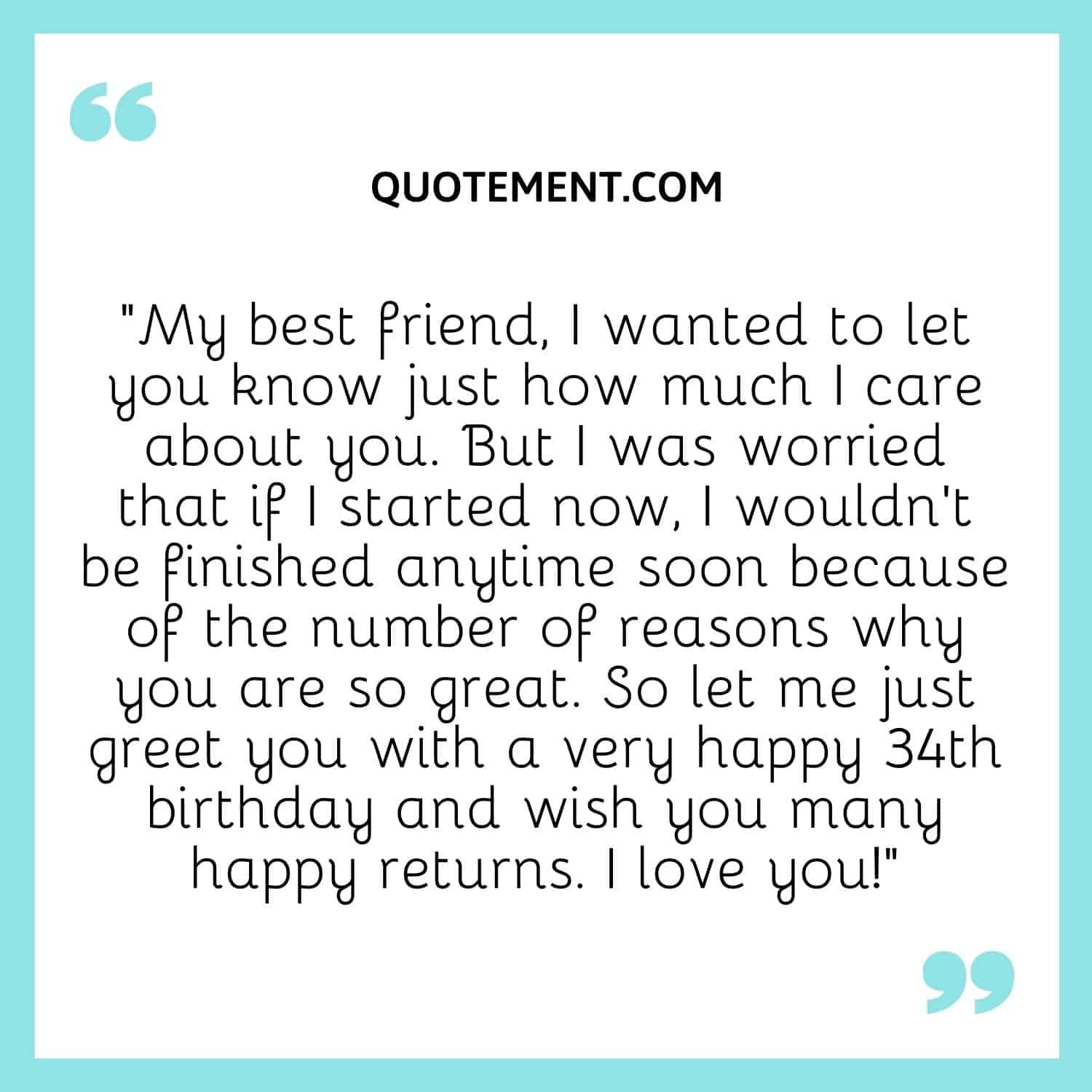 11. "You are the most amazing person I have ever met. Sometimes I think I don't deserve you. Maybe I don't. But you're still here by my side even after all these years. I wish that all your wishes will come true and may only good and happiness come your way. I love you, my dear friend. Happy 30th birthday."
12. "I have scratched my head, I have searched all over the Internet, I have asked all my friends and family members, but I didn't find a single perfect birthday gift for you. One of the biggest disadvantages of turning old is not finding the best gifts to give. Happy 30th birthday to my not-so-old buddy!"
13. "I can not believe how happy I am to find a friend like you. You make me so special every day of my life. My goal is to make your birthday one of the most special days. I can not wait to have fun with you! Happiest 30th birthday to my friend."
Funny 30th Birthday Wishes
If you want to wish someone a happy birthday and make them smile along the way, check out this great list of funny 30th birthday wishes.
1. "Welcome to 30! The age when you should know better, but really don't!"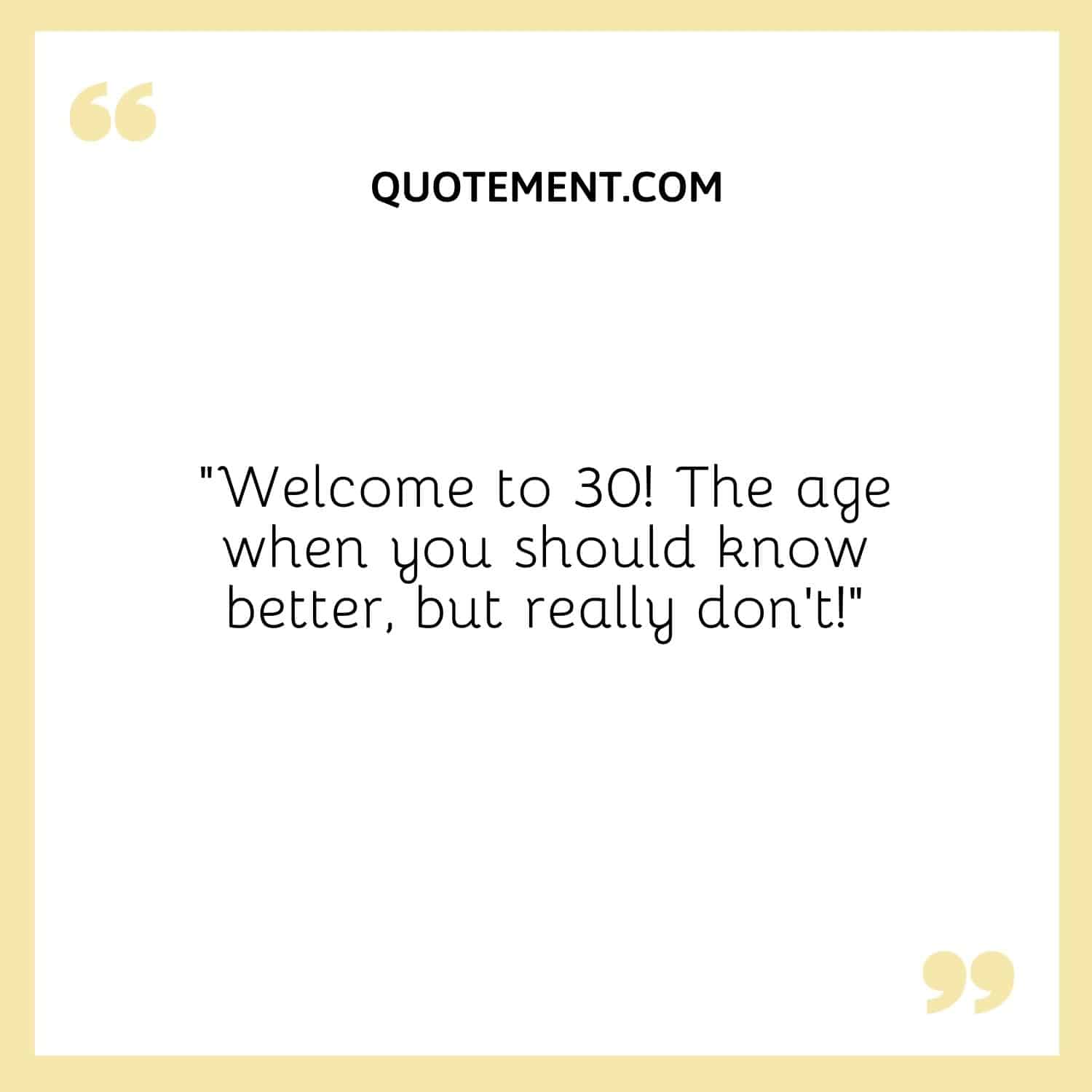 2. "Happy birthday! Don't worry about turning 30. You can say you're 29 for several more years and people will believe it!"
3. "Welcome to your 30s, where you know slightly more than you did in your 20s. Happy 30th!"
4. "Don't let anyone tell you you're old just because you're turning 30. I want to be the one to do that."
5. "Aren't you a little glad to be out of the turbulent 20s? Make way for a superior decade! Happy 30th!"
6. "Happy first anniversary of your 29th birthday."
7. "Enjoy your 30th birthday, if such a thing is possible."
8. "I wanted to get you a birthday cake but I couldn't afford that many candles! Have a good one anyway!"
9. "When high schoolers start looking like preschoolers to you… you might be a 30-year-old. Happy birthday!"
10. "Congratulations on being one year closer to a senior citizen's discount for all your tickets."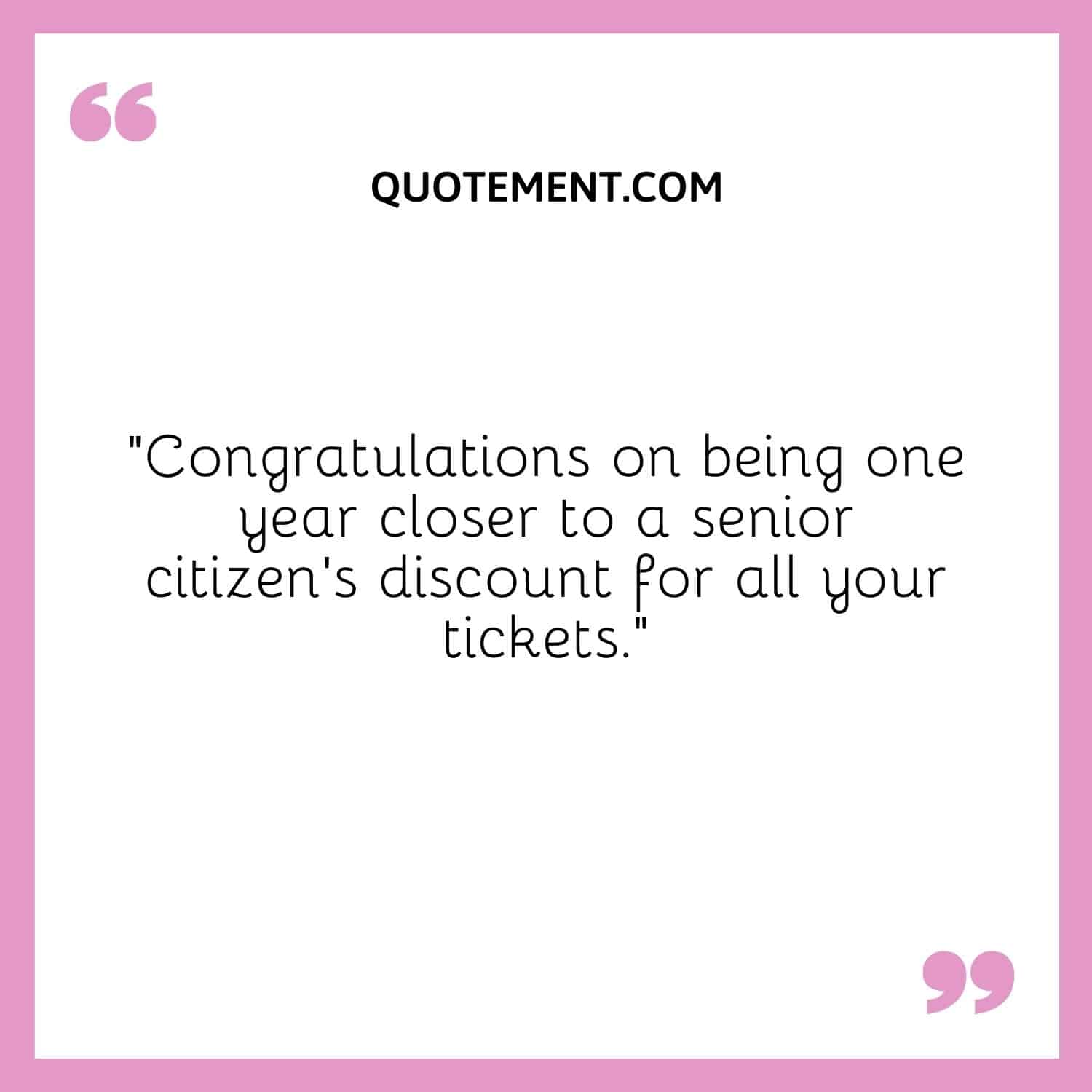 11. "In your 20s, you learned a lot, grew as a person, and had tons of fun. Now keep that shit up. Oh, and happy birthday!"
12. "Don't think of it as turning 30. We're here to celebrate the 10th anniversary of your 20th birthday."
13. "Welcome to your 30's: where all your friends have babies, body parts hurt for no reason, and being asleep by 9 p.m. is the regular routine, even on weekends."
14. "It could be worse, you could be turning 31…"
15. "You're 30 years old? You're 3 perfect 10s! Happy birthday."
16. "The biggest difference between your 20s and 30s is that your body doesn't bounce back as quickly, so be nice to yourself! Happy 30th birthday!"
17. "Have fun on your birthday, but don't get too crazy. Remember that you can't blame your irresponsible behavior on "being in your 20s" anymore."
Wrapping It Up
I hope you enjoyed reading my collection of inspirational happy 30th birthday quotes!
Entering your thirties means the beginning of new adventures.
Welcome your dear 30 year old celebrant to this awesome new decade by sending them one of these great happy 30th birthday messages.
Until next time!
Read next: 90 Cute & Funny 31st Birthday Quotes For Your Loved Ones