What better way is there to start off your Wednesday than with a Wednesday morning blessing?
In this article, you'll find plenty of inspirational and cheerful Wednesday morning blessings to get you started and fill you with inspiration!
Each day brings us new opportunities to chase our dreams, experience new things, breathe fresh air, and enjoy life. Wednesday is no different. If you set the right intentions and start your day in a positive manner, you'll be able to reach the sky.
I have prepared a bunch of motivational Wednesday morning blessings you can use for your own inspiration, or as good morning wishes and good morning messages for your loved ones. Surprise them with a cute good morning WhatsApp message and put a smile on their faces.
I also included some inspirational quotes and Bible verses you can use as morning blessings to inspire you and get you going.
Let's get started!
Top 20 Wednesday Morning Blessing Ideas
Check out my collection of the 20 most powerful Wednesday morning blessings to inspire you for the upcoming day. Enjoy!
1. "May your troubles be less, your blessings more, and you will find happiness at your door."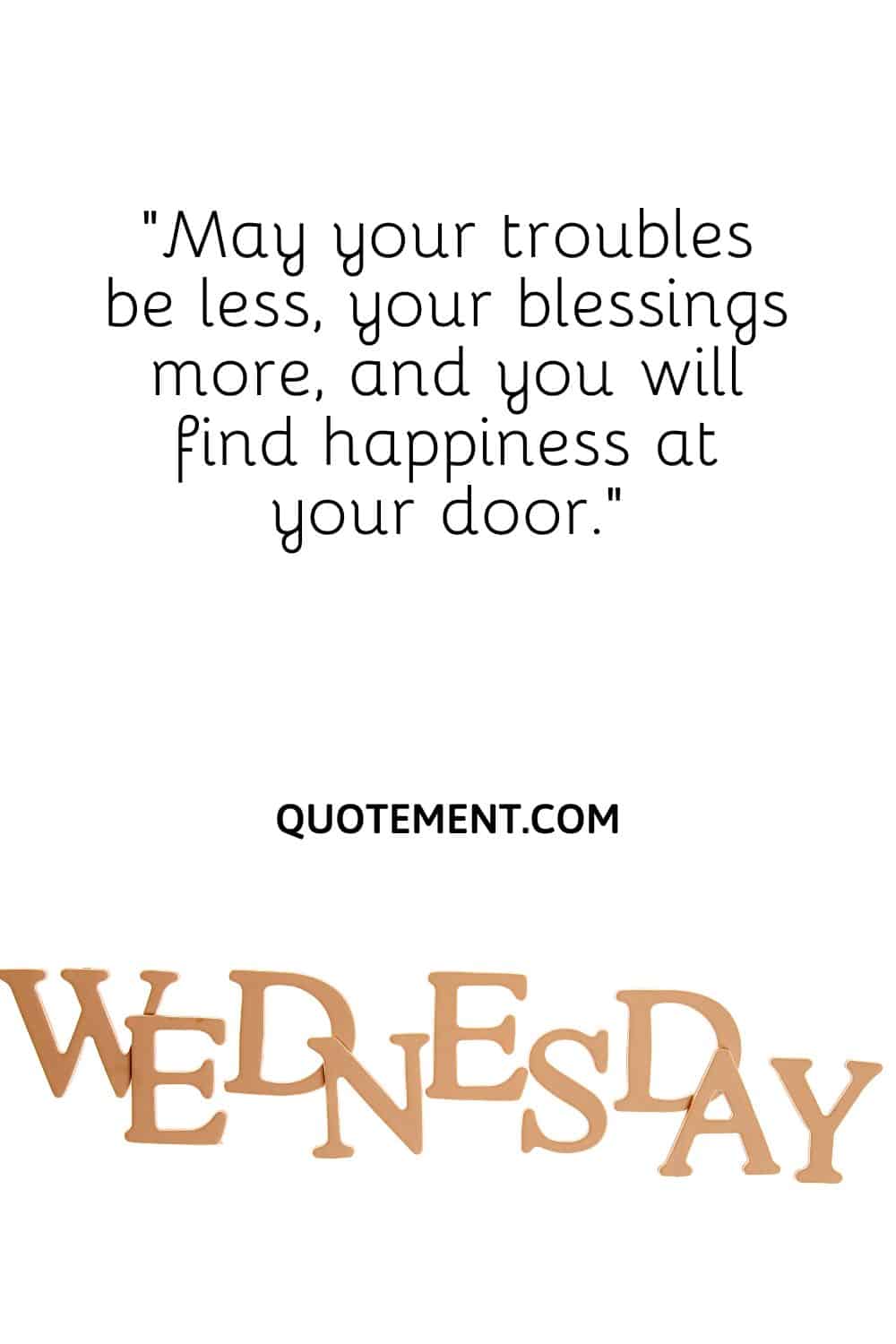 2. "The weather doesn't matter this Wednesday, may you bring sunshine with you wherever you go!"
3. "May this Wednesday morning be not only good, but may it be blessed in all you do."
4. "A morning is a wonderful blessing, either cloudy or sunny. It stands for hope, giving us another start of what we call life."
5. "May you be blessed with a smile on your face and laughter for your day. Have a blessed day today."
6. "God doesn't bless us just to make us happy; He blesses us to make us a blessing. Have a good day."
7. "May this Wednesday be a wonderful day filled with God's abundant grace for you."
8. "Shut your ears against the world and listen to what your inner man of possibilities tells you. Enjoy this lovely Wednesday morning, my love."
9. "Wednesday morning brings you halfway through the week. May you be blessed with happiness and success on this day."
10. "Keep your head up, your chin high, and smile because life is beautiful, and there are so many things to be happy about."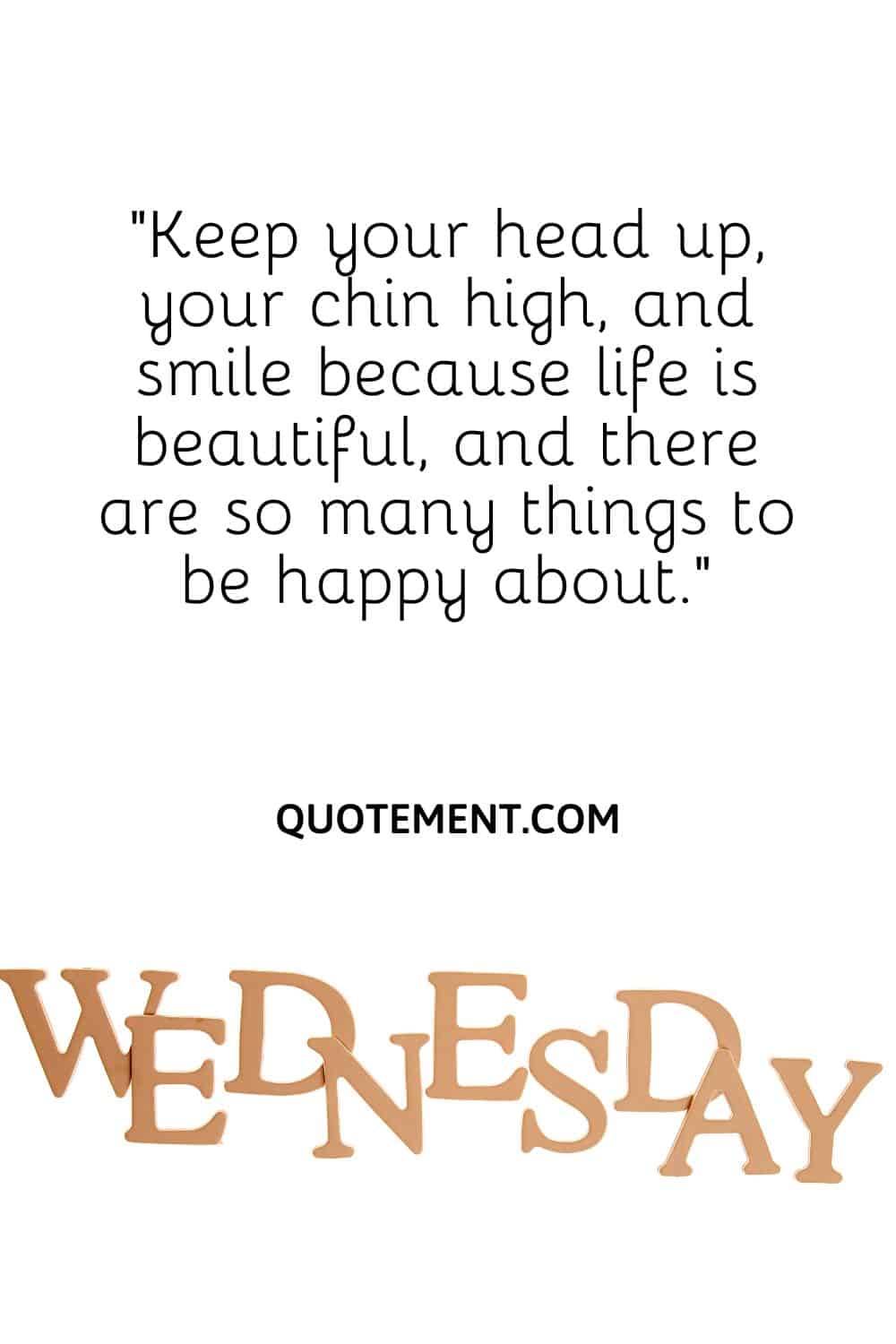 11. "May God bless you this Wednesday! May you feel His love throughout the day and experience His wonderful presence."
12. "Have a blessed Wednesday! Full of God's comforting love and strength to get through today with ease and pleasure."
13. "May this Wednesday morning bring you the blessing of thankfulness and appreciation for all that you have."
14. "Today's blessing is to focus on expanding – expanding a little farther. Pushing today to get to the best level you can."
15. "May you be blessed this Wednesday morning. Thank you for all you do, but most of all for being you."
16. "Have an awe-inspiring Wednesday that is full of God's love and kindness for you. May he fill your heart with joy."
17. "This morning will never ever come back in your life again. Get up and make the most of it. Happy Wednesday morning!"
18. "This is not just another day, this is yet another chance to make your dreams come true. Good morning."
19. "May Wednesday see a smile on your face, a bounce in your step, and your presence an inspiration to those around you."
20. "Wednesday morning marks the halfway point of the week. This day, may you find happiness and success."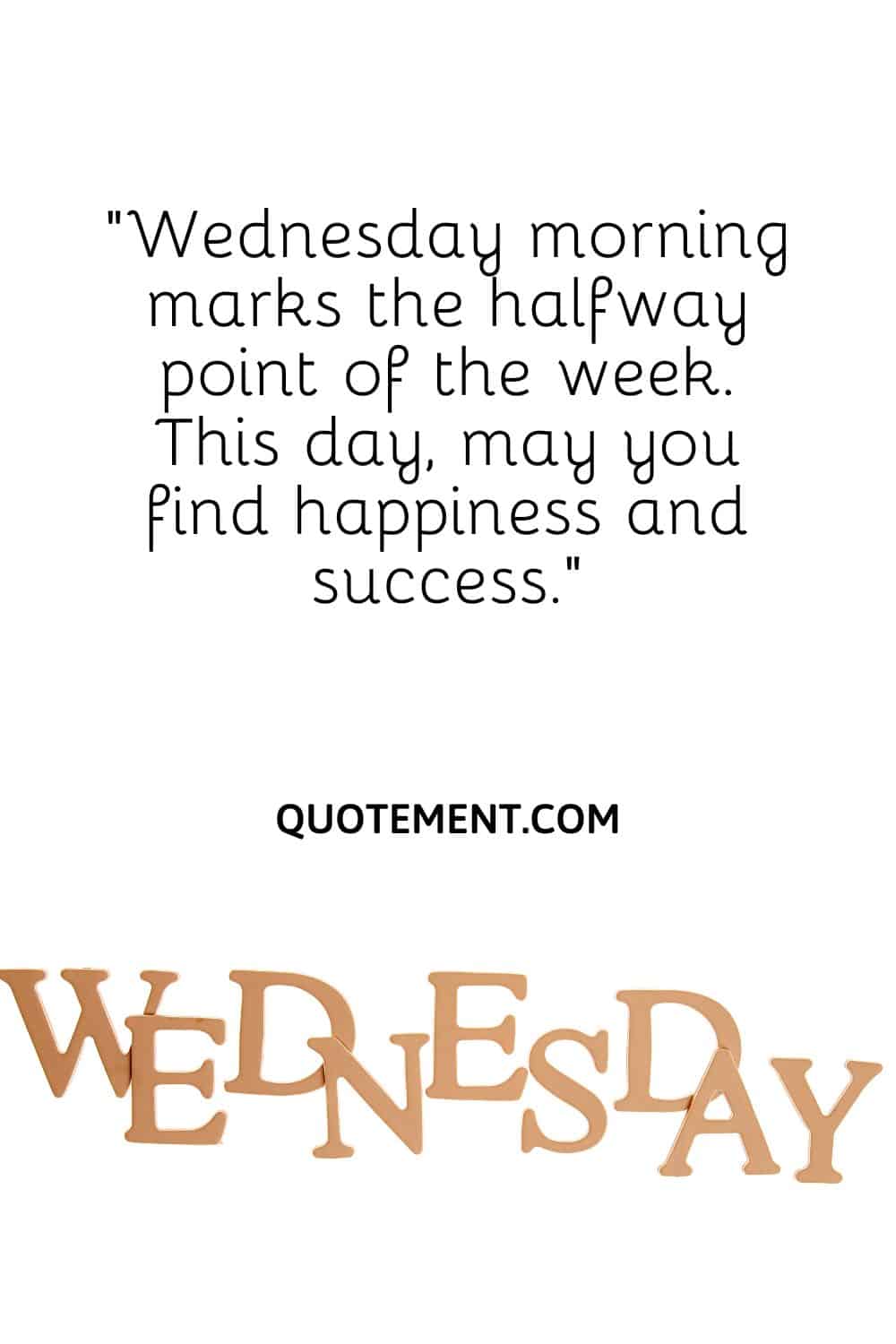 See also: 220 Best Proverbs About Success To Give You Inspiration
Positive Thankful Wednesday Blessings
Stick with me to discover loads more awesome Wednesday morning blessings to help you start your day off right.
1. "Take a moment and breathe deeply, it's Wednesday. Have fun and take more time than you normally do. It's mid-week!"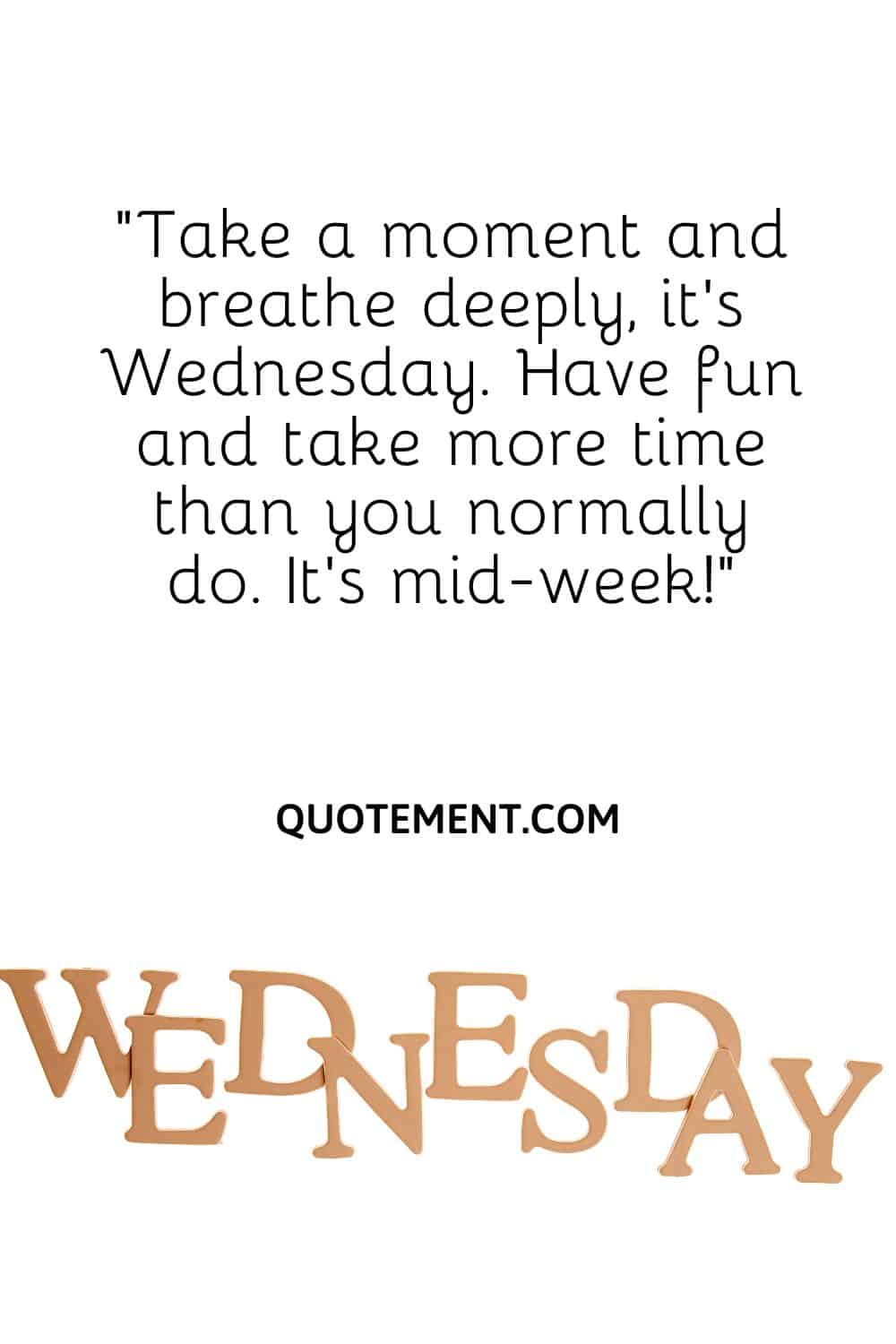 2. "May this Wednesday morning bring you grace and love from God! That your day would shine with His bright light. Blessings to you today!"
3. "For each new morning let there be flow of love. Let there be light of happiness in every direction."
4. "Welcome Wednesday, to a bright new day. All your prayers will come true, and all your wishes will be granted. You are blessed, and your generation will be blessed. Have a wonderful Wednesday!"
5. "All the problems are stuck between 'Mind' and 'Matter.' If you don't 'Mind,' It doesn't 'Matter.' Good Morning. Have a wonderful day."
6. "I pray you have a beautiful day. You deserve only the best. I'm keeping you in my mind today. I hope your Wednesday is filled with love and light."
7. "Happy Wednesday! If you are happy today, share this joy with the Lord, if you are sad, find strength in God, and remember that He is always in your heart."
8. "I pray that Wednesday brings you an amazing sense of God's love and mercy for you. May he bless and protect you today."
9. "Today's blessing is to be open to expanding and expanding even further. To reach the highest level possible, push today."
10. "Every morning, I wake up saying, 'I'm still alive, a miracle.' And so I keep on pushing." — Jim Carrey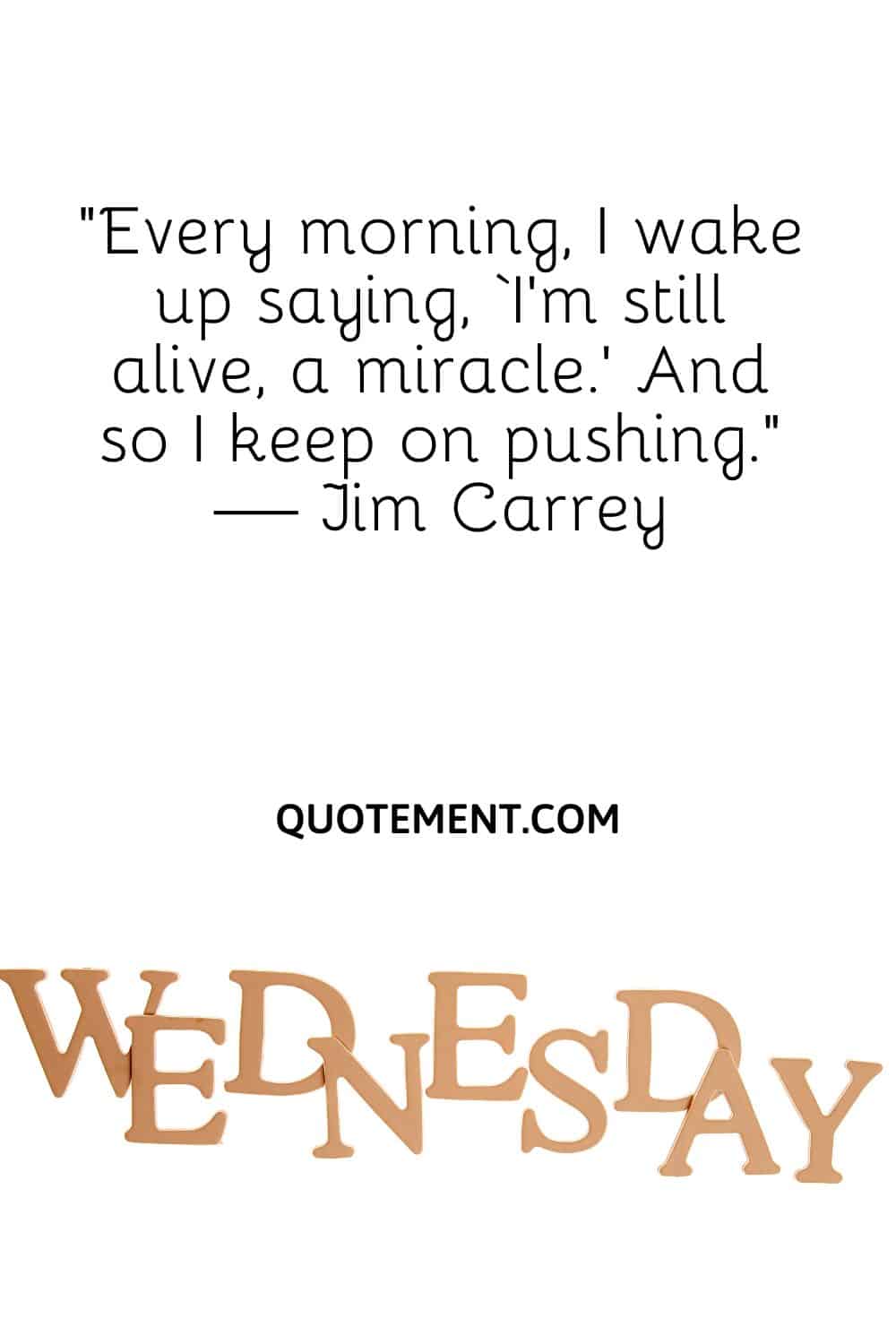 11. "Do not measure yourself by success, failure, or a degree. Measure your life by your happiness and the dreams that you want to fulfill. It will become beautiful eventually."
12. "As you look up at the beautiful Wednesday morning, let Jesus fill your day. Today and forever. May joy and peace of mind never leave you. Have a blessed day."
13. "Let our Lord Jesus bring to you a peace that surpasses all understanding. That it would warm your heart and fill it with hope and faith! Blessings to you this Wednesday night!"
14. "May the Lord give you the necessary support to handle what you think is unmanageable today. Start a new life this Wednesday."
15. "Good Wednesday Morning! Sometimes we don't realize the blessings we have until we no longer have them. May you be blessed by appreciating all that you have in your life, take none for granted."
16. "Yes, some days can be more difficult than others. If you think positively, you won't be forced to endure difficult days in order to reach Friday."
17. "May the grace and protection of the father be with you throughout the day. You can open your mind and hear the voice of God telling you today will be blessed Wednesday."
18. "Today is a perfect day to choose a new path in life, don't be afraid of changes, they come when they are really needed. Have a wonderful Wednesday!"
19. "Let this Wednesday morning bring to you a sense of loving God's grace for the rest of the day. That his blessings would surround and protect you."
20. "Take a step of faith, and you'll have the life you've ever dreamed of. Have a blissful Wednesday morning."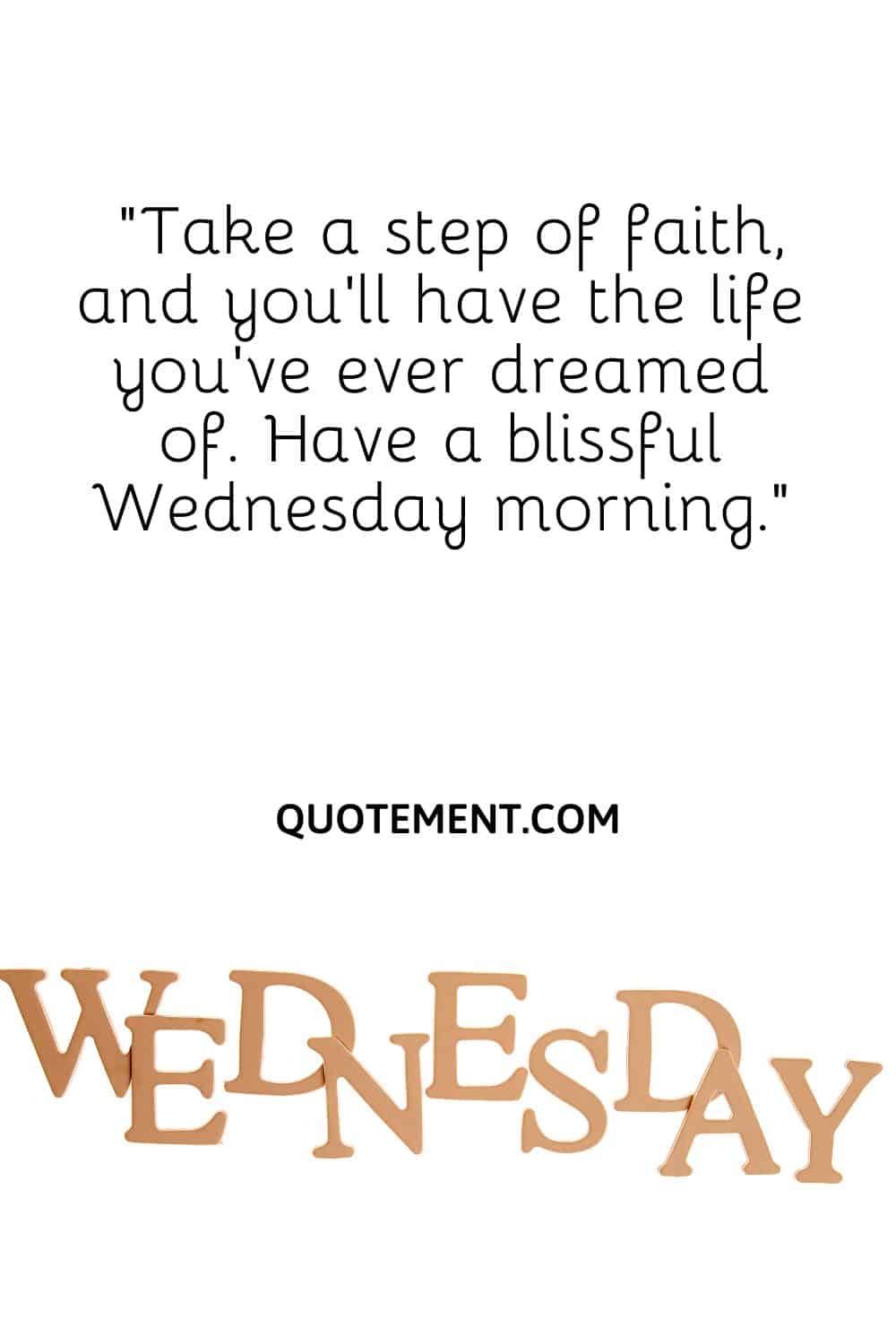 21. "Good Morning. Another day, another blessing, and another chance at life. Take nothing for granted and think of every breath as a gift. Have a wonderful Wednesday."
22. "God is making way for you right now. Heaven has heard your prayers. Stand back and watch God work on your behalf. He has you covered."
23. "Wednesday Blessings: Never let loyalty and faithfulness leave you. Tie them around your neck; write them on the tablet of your heart. So you will find favor and a good repute In the sight of God and man."
24. "Are you looking for anything to do? People want to be there with you. Imagine that you don't work alone. You have company who will support you every step of the way."
25. "Say to yourself, I can do it because I'm strong, I'm grateful, and I am a victor. A pleasant Wednesday morning to you, my darling."
See also: 60 Inspirational You Are Stronger Than You Think Quotes
Good Morning Wednesday Blessings
Wednesday is such a beautiful day if you know how to enjoy life! Start your day with a Wednesday morning blessing, and you'll radiate positive energy throughout the whole day.
1. "May this Wednesday be blessed with an overwhelming sense of God's love for you."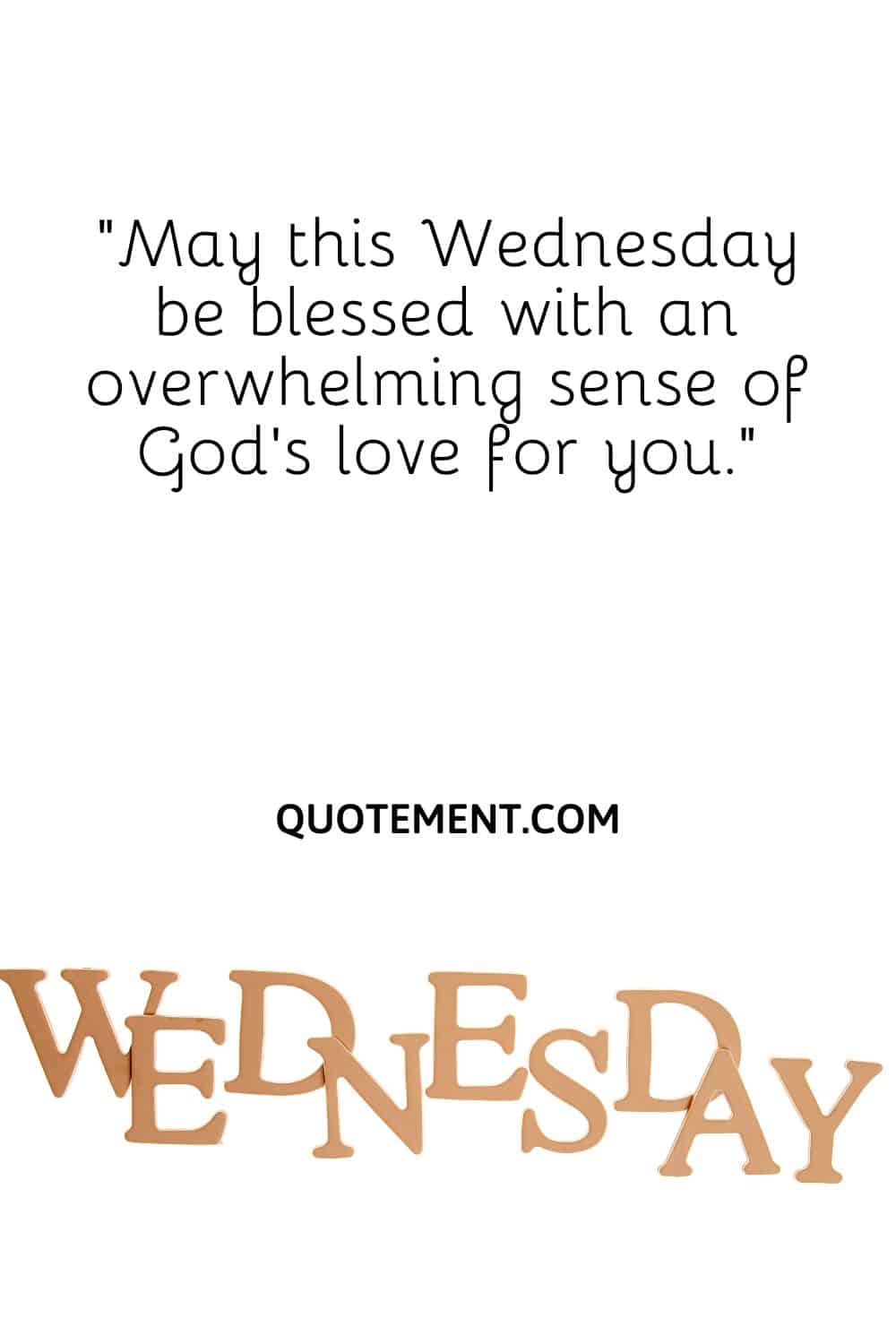 2. "It's a beautiful Wednesday morning and a great opportunity to thank the lord for reminding us of how blessed we are."
3. "Give each day a chance to become the most beautiful day of your life. Good Morning, beautiful Wednesday."
4. "When you are unable to choose other options than God, look up at the window of heaven. You will be blessed with many blessings if you believe in his words and meditate daily on them."
5. "Find time to thank God for all the blessings you receive on a day-to-day basis. I send you Wednesday morning greetings."
6. "It is Wednesday, so take a deep inhale and take a moment to relax. Have fun and do more than you normally would. It's mid-week!"
7. "Today will make a lasting impression on your life. Today's event will be a highlight of your life. You will remember it and thank the Lord for all that you did. Have a great Wednesday!"
8. "Nothing is clearer than this, your mind may be filled with worries, but one thing is certain about today. God's blessings are with you on Wednesday and every day thereafter. Happy Wednesday!"
9. "A good day full of blessings for special moments that will turn this day into a wonderful day. Good Morning Wednesday!"
10. "The joy in your heart will increase in abundance because the lord has seen you and found favor on your side. You have always been blessed. Have a great Wednesday."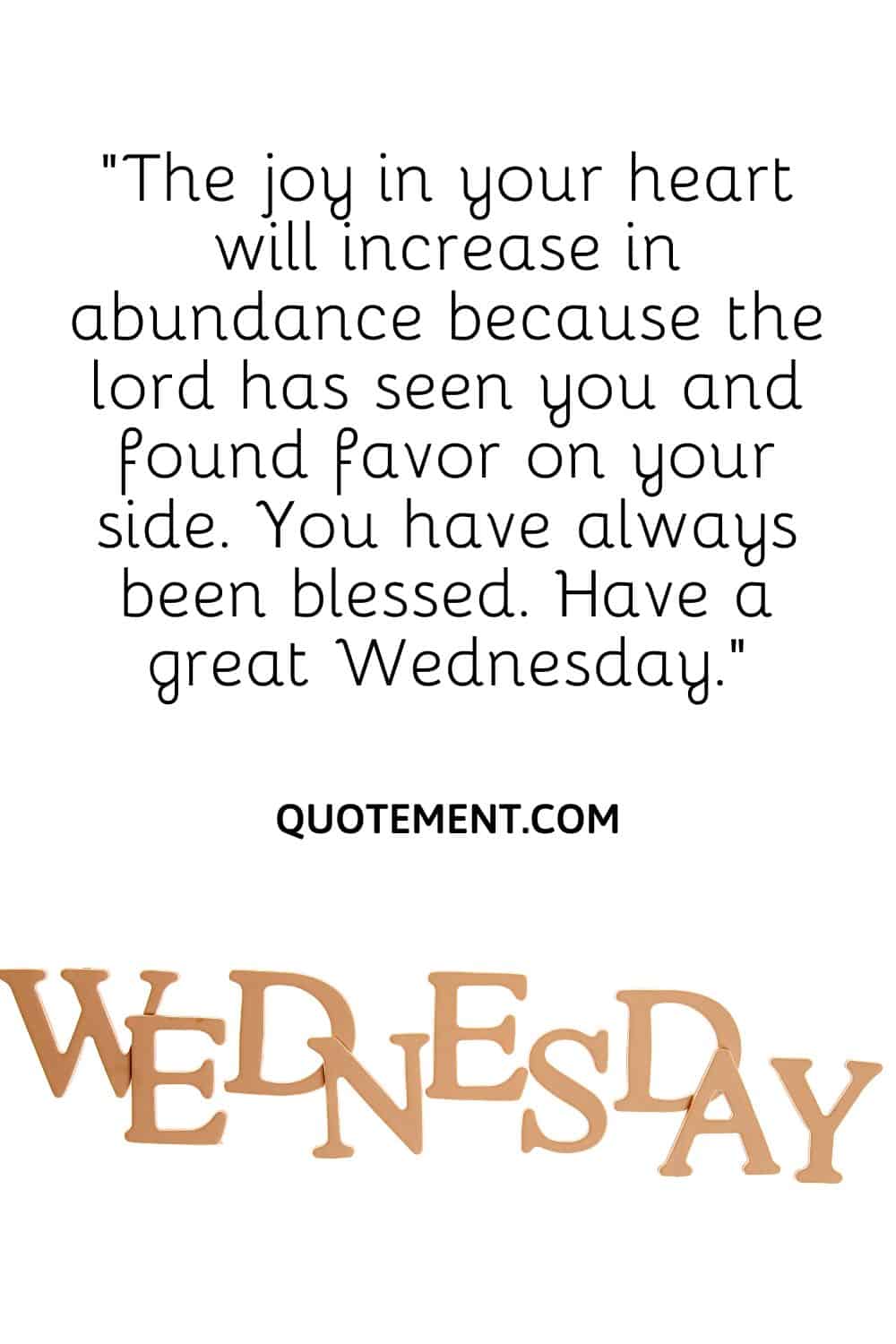 11. "May Wednesday be a wonderful day, full of God's love and kindness for you. May his presence envelop you throughout the day."
12. "If you are reading this quote, it means that you have been blessed with another day; another day to give thanks and another opportunity, through your actions and behaviors, to show love and compassion to all those around you."
13. "Never worry about what happened on the previous day. Rejoice, for all you have lost in the past will be reinstated back. Have a blessed Wednesday morning, my dear."
14. "Let this Wednesday be filled with God's blessing for you! May He shower on you with such great joy that will shine the love of Jesus all throughout the day."
15. "He will be your God and your refuge in all your needs. Joy and happiness will never be gone from your life. There will always be a reason for you to smile. Good morning."
16. "May you experience the peace of God in place of the turbulence of the previous day. Give God your worries and allow him to handle it while you enjoy the rest of the Wednesday."
17. "Wednesday morning is a special day. It is the beginning of your week; therefore, on this great day we are going to prepare you some nice lines and wishes that will make your week even better."
18. "This prayer may not be crafted with sterling or majestic words. But this much I know, it is spoken from my heart; therefore, it shall materialize. On this Wednesday morning, you shall beat the expectations of many and come out as the best there is."
19. "You shall possess your possessions by the grace of God. You will be lifted beyond measure because you have placed God as your king. Have a blessing-filled Wednesday."
20. "Just like the stars, may you shine even in darkness. Have a spectacular Wednesday morning, sweetness."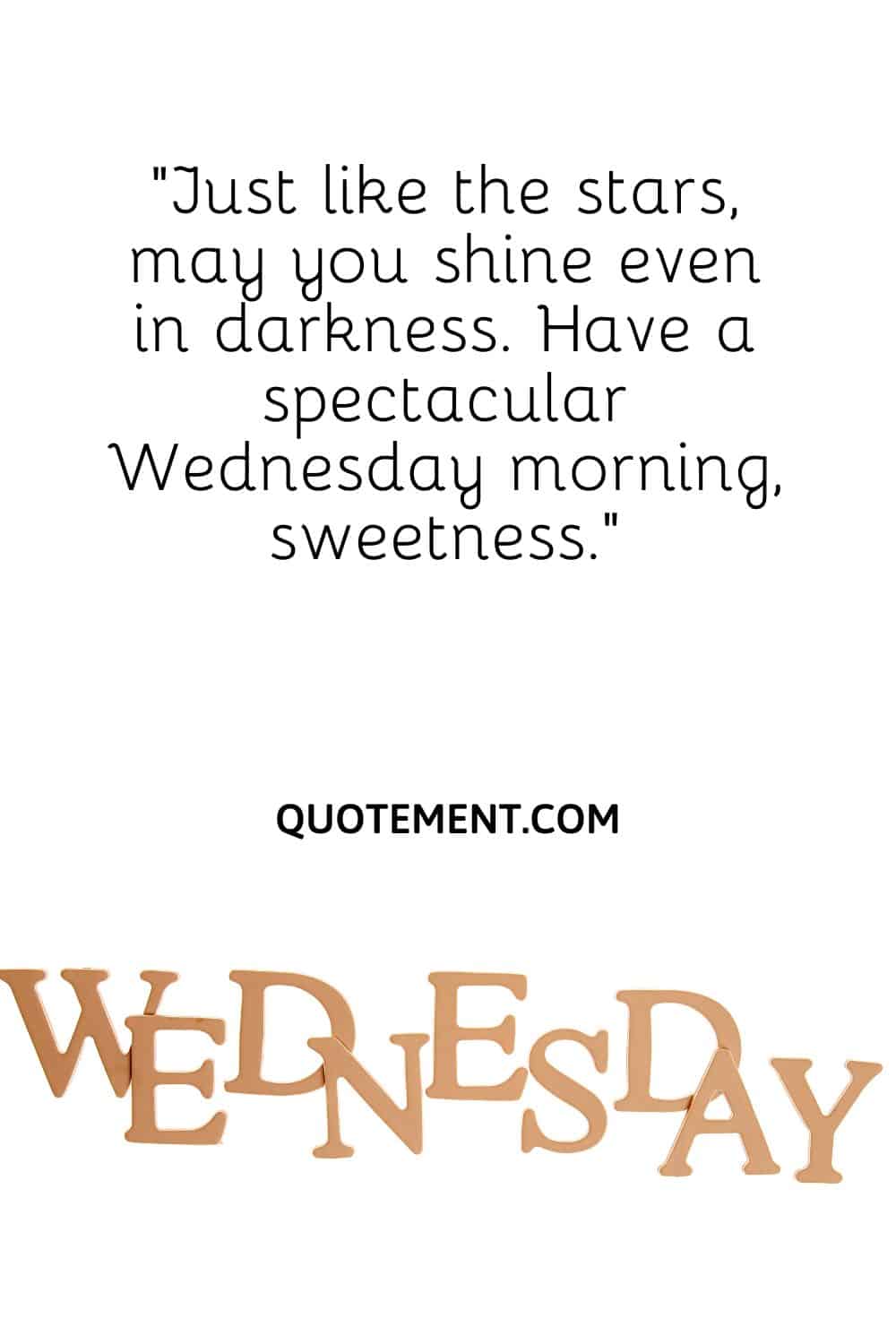 21. "Don't be discouraged. Have faith and trust God. He will not fail you. Amen! Have a happy Wednesday, blessings!"
22. "May this Wednesday be a wonderful day, filled with God's divine blessings for everyone!"
23. "Hello and good morning. I hope your Wednesday is as sweet and warm as the morning tea and as brilliant and bright as the morning sun. Have a fantastic day!"
24. "For this week and the coming weeks. To keep safe the things that are dear to you and protect you in all the moments of your life. May you have the perfect health, joy, and peace to fill your hearts with love and happiness."
25. "You yourself, as much as anybody in the entire Universe, deserve your love and affection. This Wednesday morning, decide to love yourself more."
See also: 70 Self Compassion Quotes To Help You Love Yourself More
Inspirational Wednesday Morning Blessings
Here are even more Wednesday morning blessings for you to discover, alongside some good morning quotes you can include in your morning blessing ritual.
1. "Because you have thought of good things to come your way, good things will locate you all through your days on earth. Have a blessed Wednesday morning."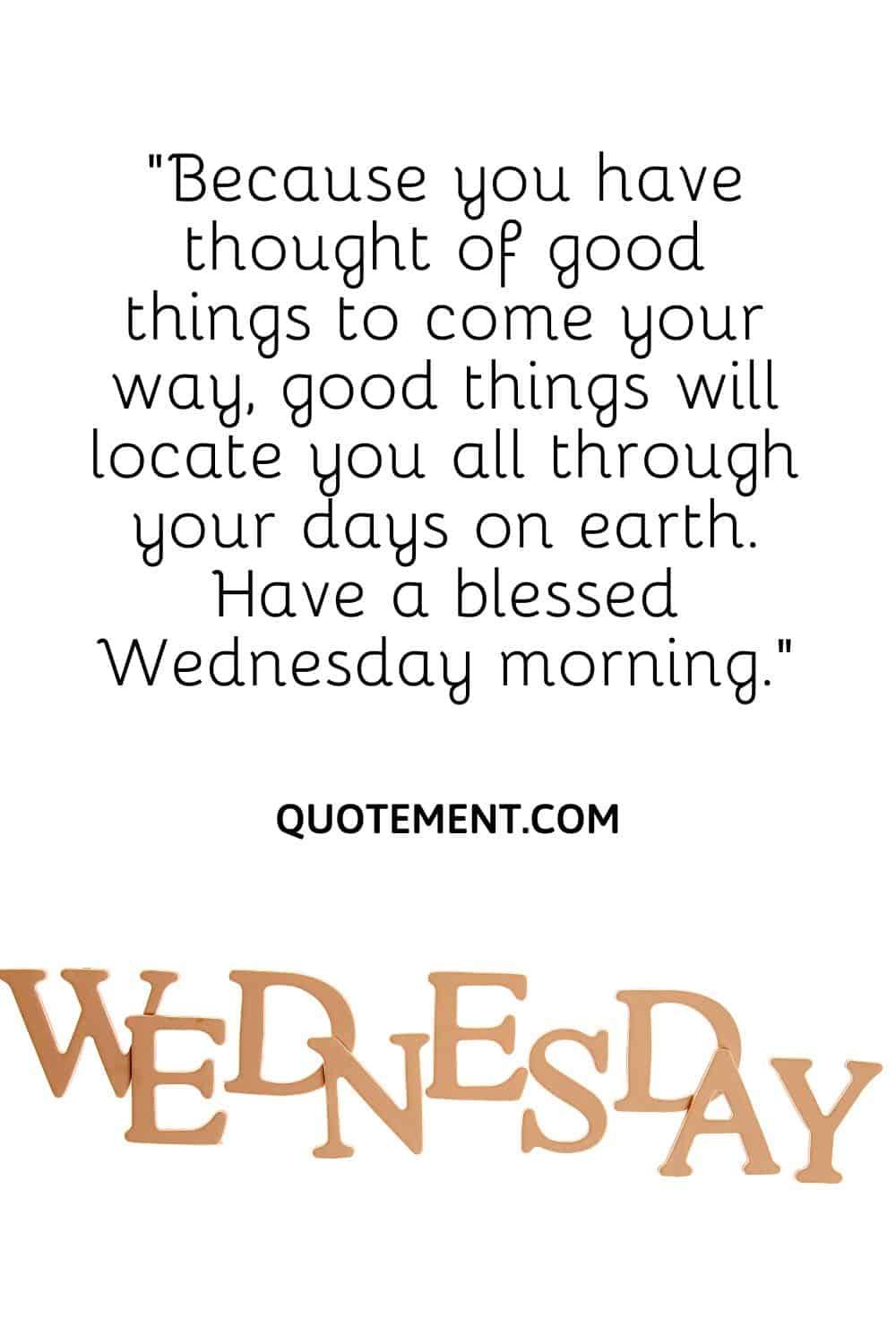 2. "What do you need today? State it and have it locate you because God has got big plans for you to excel in whatever you lay your hands on. No good thing can elude you today. Good morning."
3. "I arise in the morning torn between a desire to improve the world and a desire to enjoy the world." – E. B. White
4. "You are a star. Keep shining brightly and don't let anyone or anything stop you from having fun. This Wednesday morning, let the light of your star shine brighter than the sky. Good morning!"
5. "Nothing is clearer than this, your mind may be filled with worries, but one thing is certain about today. God's blessings are with you on Wednesday and every day thereafter. Happy Wednesday morning!"
6. "Today is not just another day, but another possible chance to achieve what you couldn't achieve yesterday. So get on your feet and chase after your success. Good morning."
7. "Lose an hour in the morning, and you will be all day hunting for it." ― Richard Whately
8. "This Wednesday was designed to focus on something new that you did not dare to achieve earlier. Focus on it and be blessed with the result."
9. "Today is Wednesday, it's not like yesterday and will never be like tomorrow. So always live life to the fullest and make the most of everything! Good morning."
10. "Wednesdays can be beautiful too if you know how to utilize them. So, don't be sad, work hard!"
11. "Happy Hump Day! At least you're at the top of the hill! Enjoy the roller coaster ride down to Sunday! Then just get back in line!" — Sotero M Lopez II
12. "Your wishes are secondary and God's plans and purposes are primary. Let him take control of today's events, and you will be blessed beyond measure. Good morning and have a wonderful Wednesday."
13. "This Wednesday morning is just perfectly made for you. You shall know no lack as you everything will turn around for your good both today and forever."
14. "I'm grateful for this day and all the blessings that come with it. I'm healthy and happy, and I'm surrounded by loved ones. Every day is a gift, and I'm grateful for each and everyone."
15. "May God give you the strength and will to handle today's challenges, grace to keep achieving, and strong health to keep living. May this Wednesday be a blessing to you."
16. "Monday is for work, Tuesday is for more work, and Wednesday is for reflection. Thursday is for some work, and Friday is for friYAY! Take advantage of your mistakes and your projections. Relax a bit and enjoy your day!"
17. "The next thing God does for you and your family will be big and mind-blowing. Healing, Blessings, Miracles, and favor are headed to your house. Claim it and receive it by faith."
18. "Be strong and courageous. Do not be afraid and do not be discouraged, for the Lord your God will be with you wherever you go. Good Morning. Have a Blessed Wednesday!"
19. "I have set the Lord always before me: because he is at my right hand, I shall not be moved." — Psalm 121:5
20. "Never Stop doing little things for others. Sometimes those little things occupy the biggest part of their hearts."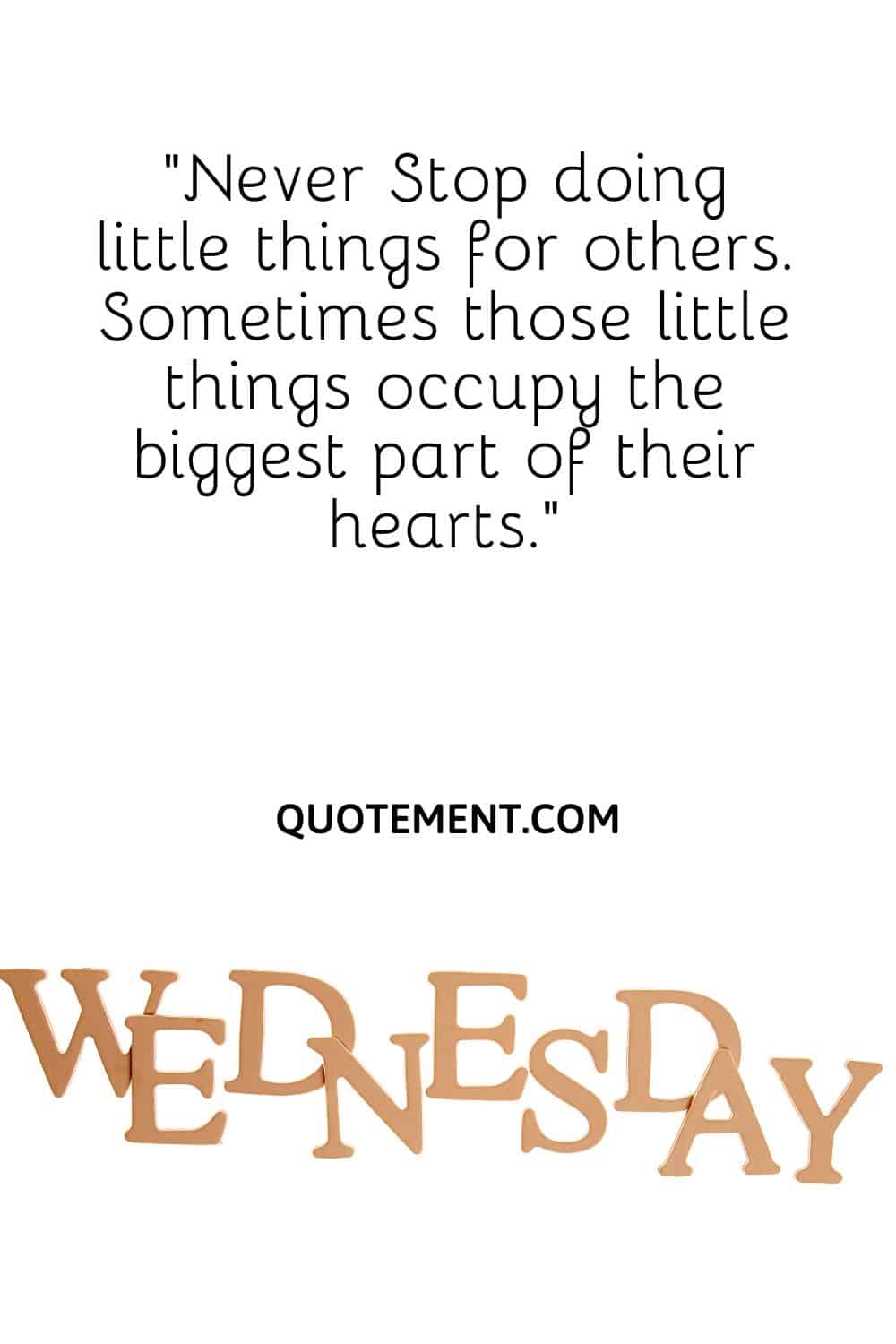 21. "You will receive your blessings in due course because you are like a tree that has been planted along the riverside. Today will bring you unmetered favors that last forever."
22. "May this Wednesday find you counting your blessings rather than your troubles. Start the day on a positive note, count your blessings this morning."
23. "Start your Wednesday morning with a smile, forget about Tuesday's stress and tiredness, and go ahead into the new day stronger and livelier. Good morning."
24. "Those who sow in tears shall reap with shouts of joy! He who goes out weeping, bearing the seed for sowing, shall come home with shouts of joy, bringing his sheaves with him." — Psalm 126:5-6
25. "People come and go, but there's something that stays with us: experience. We learn something from everyone who passes through our lives. Some lessons are painful, some are painless, but all are priceless."
See also: 150 Inspirational People Come And Go Quotes To Live By
Happy Wednesday Blessings
Check out these Wednesday morning blessings and Wednesday quotes you can use to bless your day in style.
1. "A productive Wednesday is a Wednesday when you feel and learn something new. Have a marvelous Wednesday!"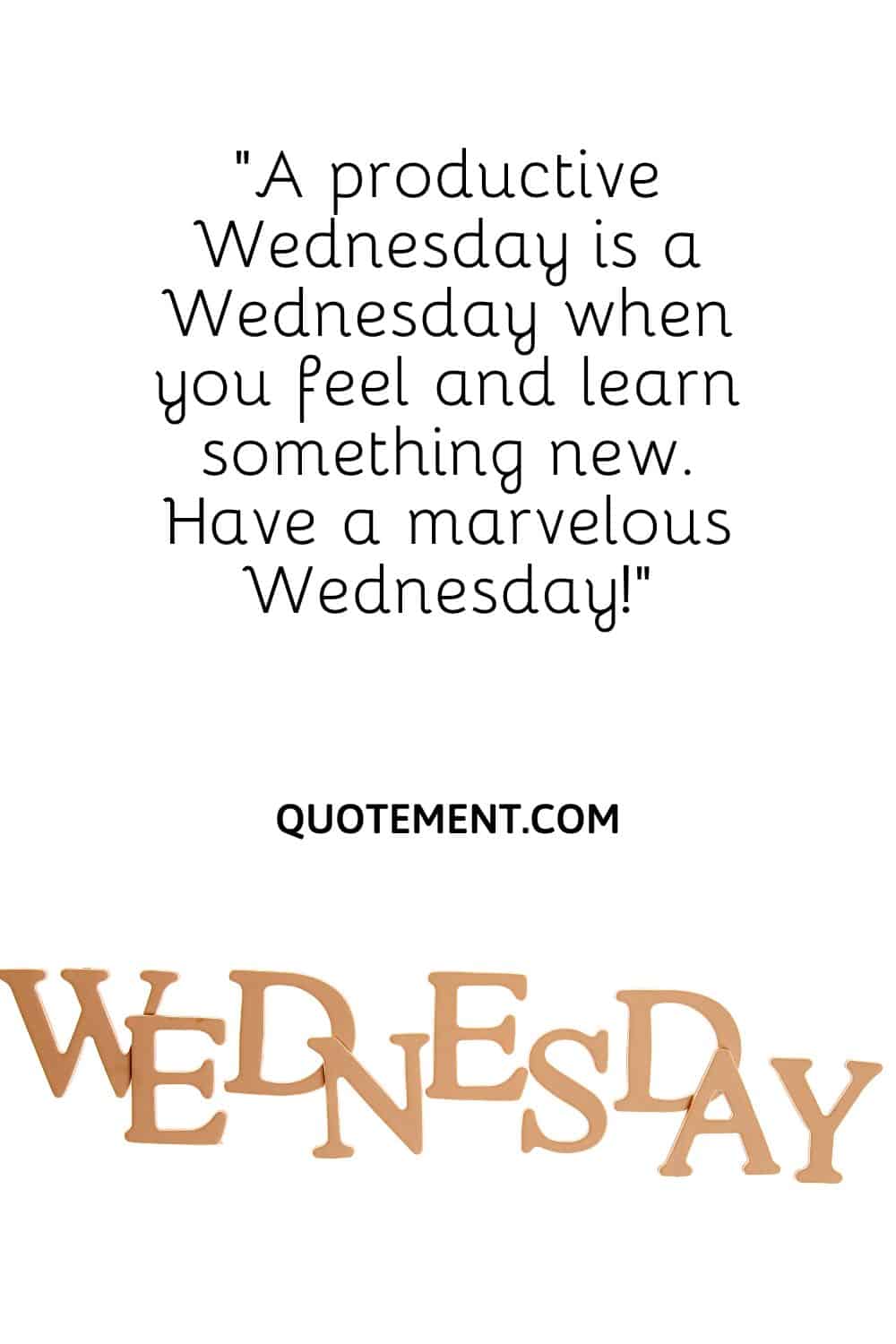 2. "You will have a fruitful and prosperous day because those who believe in it will receive blessings. Grace will be abundant because you desire it. Enjoy every moment of your day."
3. "Blessings for this Wednesday morning! May Jesus Christ fill your heart with His grace and love this day. Amen."
4. "We have 365 days in one year, and 24 hours per day, but God chose today to bless us. You will receive unlimited blessings for all your good works. Good morning!"
5. "May you feel God's blessing around you, And that you know is true May your Wednesday be happy, not blue. Happy Wednesday and good afternoon!"
6. "May God's presence be with you this Wednesday."
7. "Every morning, my dad would have me looking in the mirror and repeat: "Today is going to be a great day; I can, and I will." – Gina Rodriguez
8. "All your wishes are granted in the name of Jesus. Handle everything that comes your way today with ease because the lord will rise and bless you forevermore."
9. "You're happy in your life as long as you're doing good. Just believe in yourself and try to achieve your big dream. Do not give up on your hopes. Good Morning."
10. "May this Wednesday night be a night that is full of the Lord's rest and love for you! May you feel His presence as you sleep."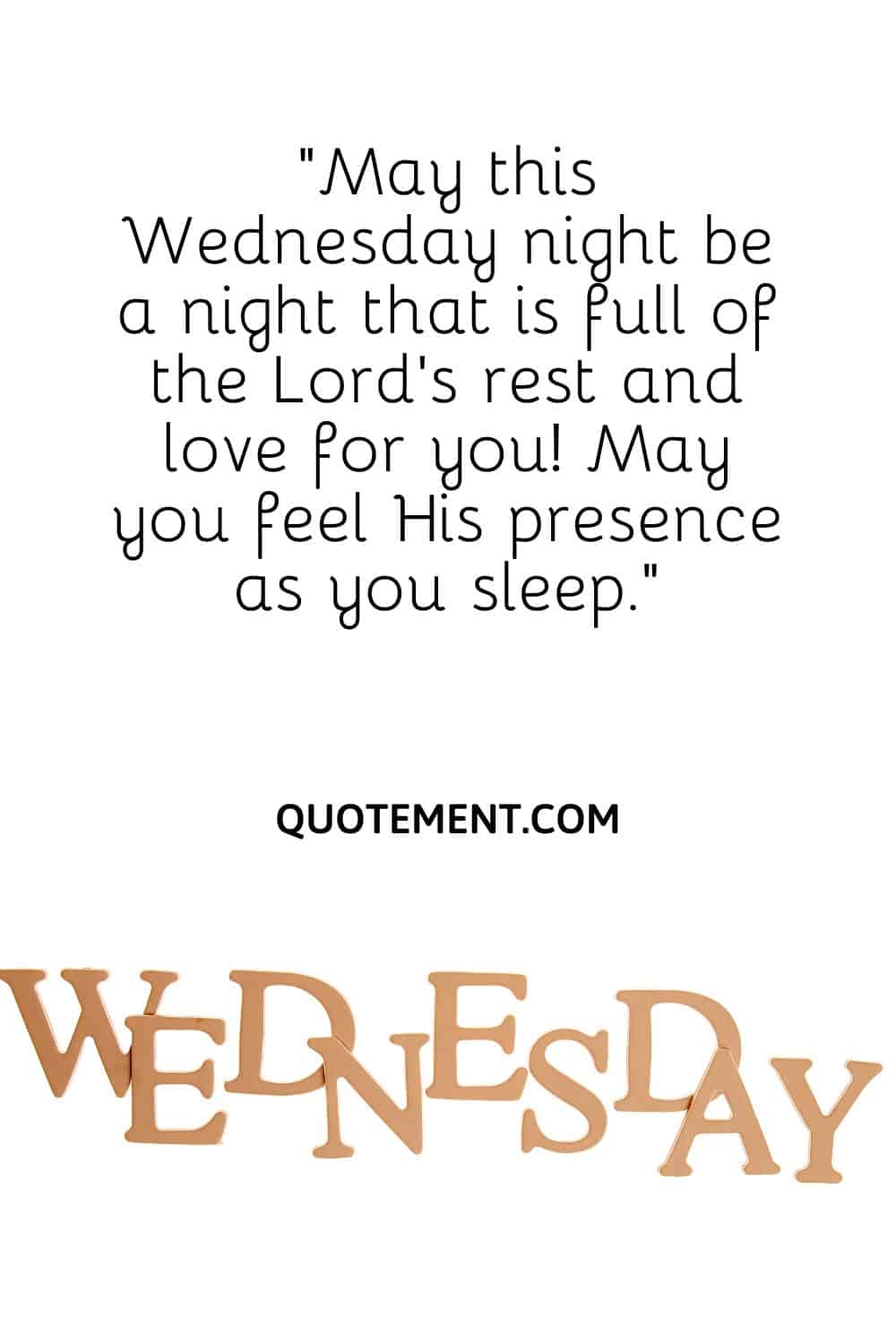 11. "Have a Wednesday evening that is filled with Jesus' wonderful peace and hope for you and your family. Good night."
12. "May God grant you strength to face today's challenges, grace, and health to continue living. This Wednesday may be a blessing for you."
13. "Today will be memorable in your life. You shall look back at today's activity and smile to yourself for the goodness of the lord. Have a happy Wednesday."
14. "The will of God will rain on you both today and every other day in your life. There shall be no setback to distort your destiny. Today will mark the beginning of God's blessing in your life."
15. "Today, on this beautiful blessed Wednesday, we have the opportunity to wake up and live another day with faith and optimism about God's blessings, after all, we are the ones who make our days good and happier, so take advantage of this beautiful morning to wish a good morning to the friends and family and thus make your day even better and joyful with God's blessing."
16. "I pray that your day is filled with warmth, happiness, and love. I pray that you are never lost, instead guided by the hand of God through all you do. I will always be here for you, no matter the distance that comes between us. Love and happiness, Wednesday morning prayer and blessings."
17. "Let this Wednesday night bring to you joy, happiness, and beauty from above! That it would fill your heart with peace as you rest."
18. "You have walked into the presence of the lord, and he will reward every good deed you have done. Today will be fruitful and memorable to you all the days of your life."
19. "May this Wednesday morning's sun warm up your face and brighten your day. God will hold you in his palm and make your day a soft one. He has great plans for you today. Good Morning. Have a Blessed Wednesday."
20. "No matter how good or bad your life is, wake up each morning and be thankful that you still have one."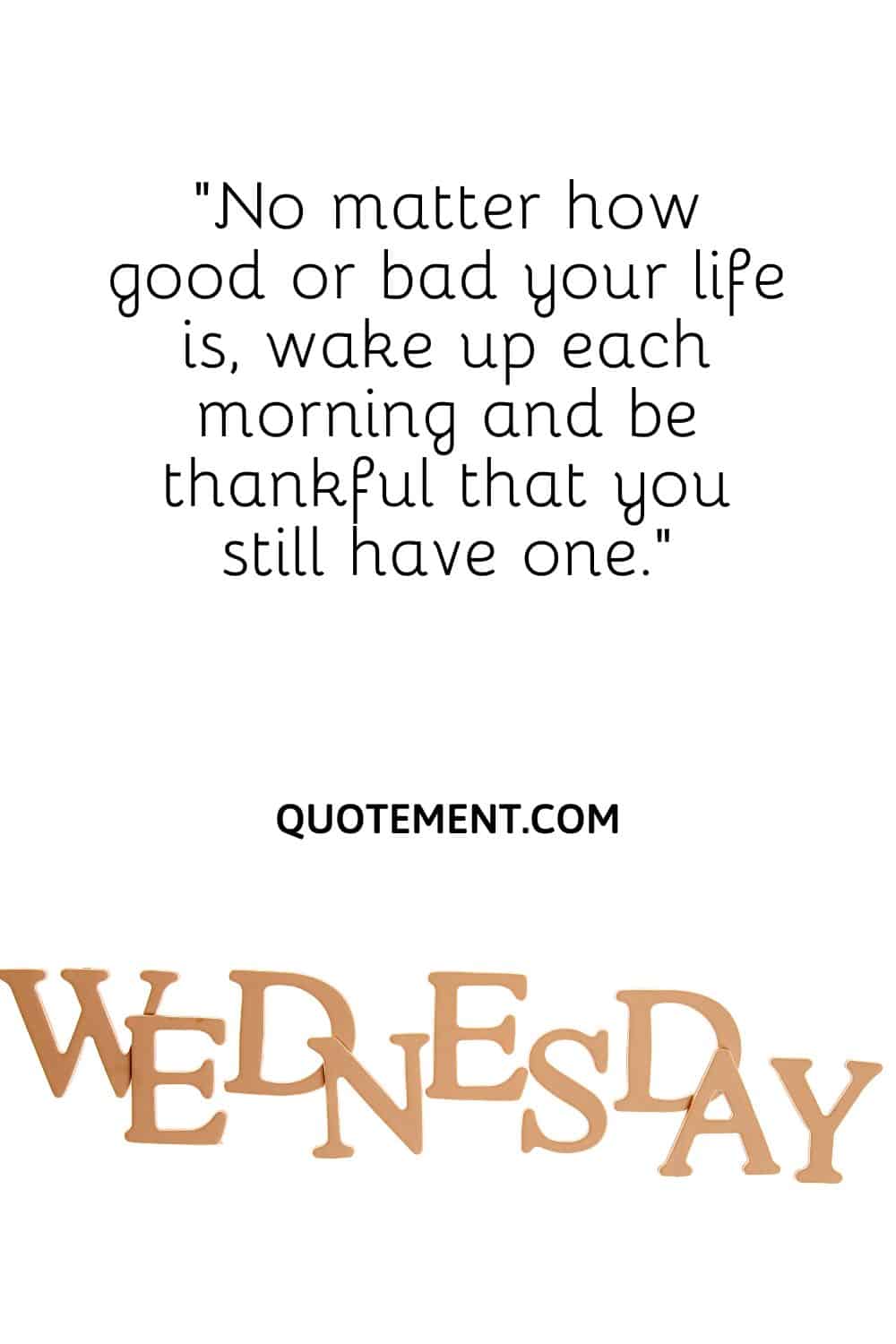 21. "Feel blessed this Wednesday for having genuine people in life. Feel blessed that they don't trade their feelings for you with time. Feel blessed for having the trust in them whose emotions stay the same even when time changes everything. Good Morning."
22. "Each and every day, a blessing is waiting for you when you get up. But if you don't look for it, that blessing will pass right by you."
23. "I hope your day is packed with pleasant vibes so you may be joyful all day and go about your work with full energy. Have a lovely Wednesday!"
24. "Joy like a river, peace like an ocean, wealth like Solomon's and love like Romeo's you shall find on this special Wednesday morning, my sweet friend."
25. "You are the only version of you to ever exist in the universe. You are great, you are powerful, you are special. "
See also: 140 You Are Amazing Quotes To Fall In Love With Yourself
Final Words
I hope I have managed to inspire and motivate you with my collection of Wednesday morning blessings.
To start your day right, use one of these morning blessings, but don't forget to send blessings before going to sleep too. For that, you can use one of these good night blessings quotes I prepared for you.
Thanks for stopping by, and I hope to see you again soon.
Until next time!
Read next: 220 Thursday Inspirational Blessings Quotes To Inspire You