Your parents remarrying and bringing new people into your home is never an easy thing. Not even when you're 39.
Step Brothers is a hilarious movie about two grown-ups, Brennan and Dale, who, by the choice of their newly wedded parents, become step-brothers.
They are grown-ups by their age, but definitely not by their behavior.
It's been 14 years since the movie came out, and it's time to remember some of its most iconic moments. I've collected 70 genius Step Brothers quotes to make you laugh again!
70 Most Iconic Step Brothers Quotes
1. "This is going to sound weird but, for a second, I think you took on the shape of a unicorn." — Dale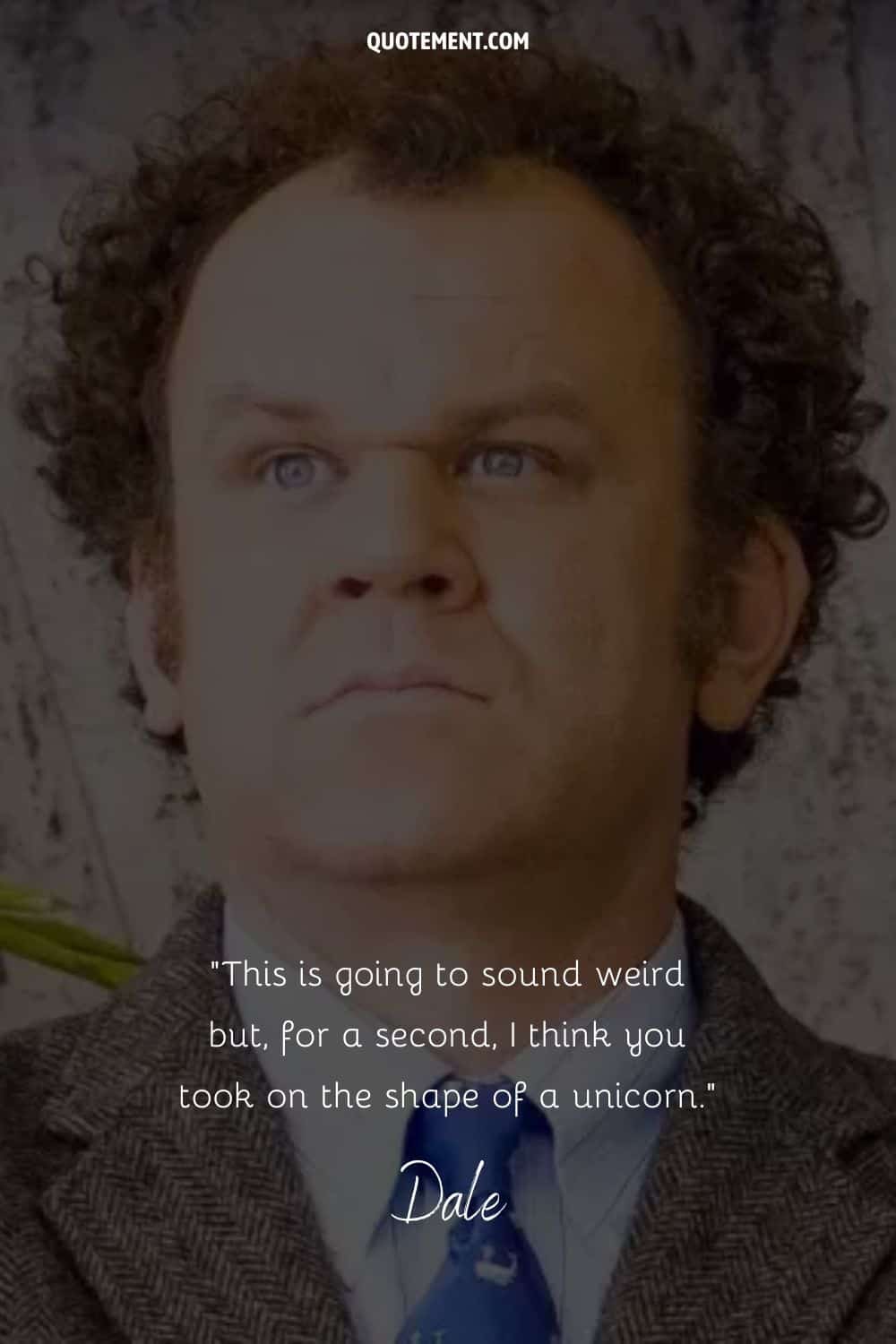 2. "I swear, I'm so pissed off at my mom. As soon as she's of age, I'm putting her in a home." — Dale
3. "I'm not gonna call him dad, not even if there's a fire." — Brennan
4. "I know that you are technically married now, but that does not mean that they have to live here." — Dale
5. "Listen, gang, don't be mad at Dale for ruining the story…and possibly the evening." — Derek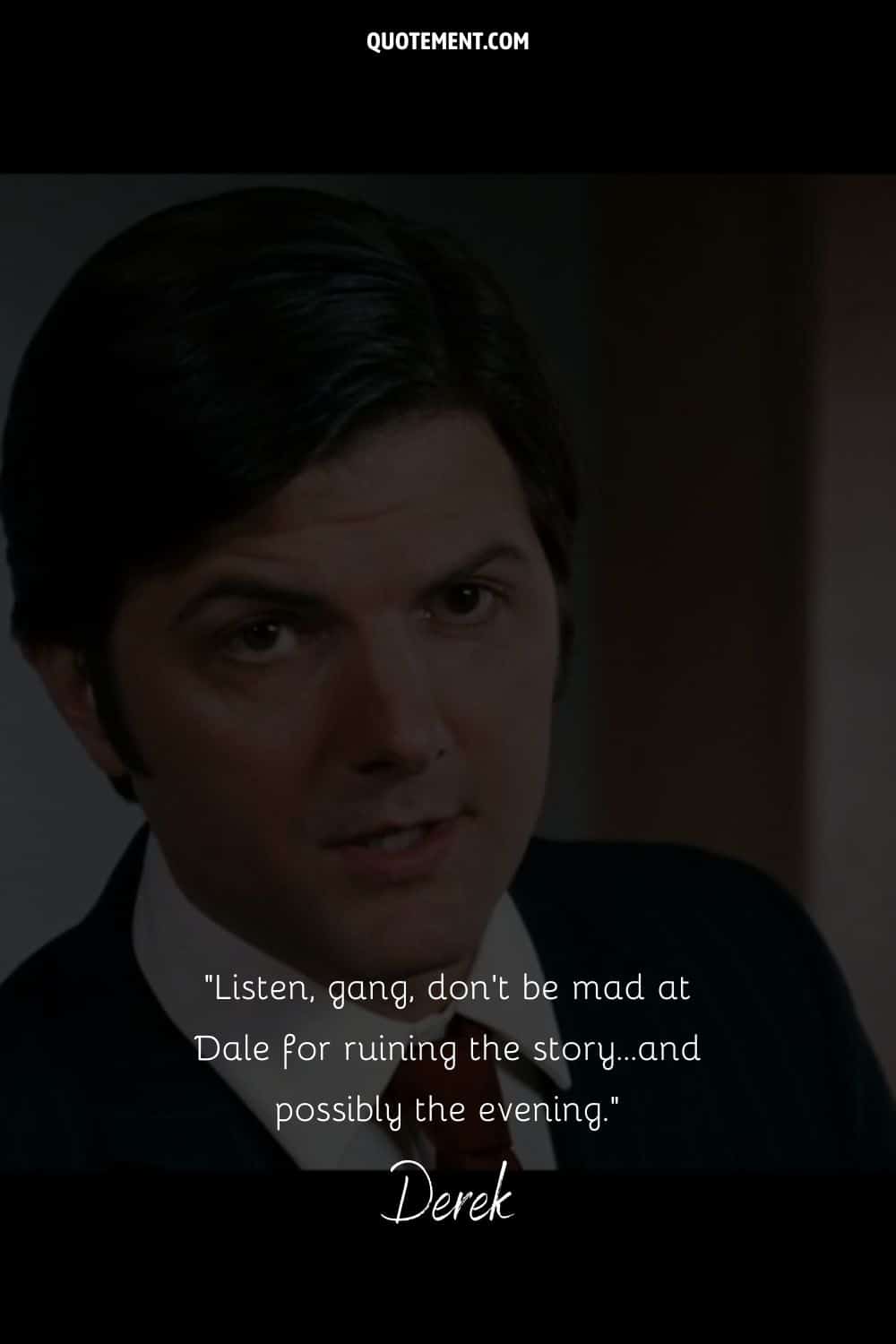 6. "Did we just become best friends?" — Brennan
7. "I am warning you: If you touch my drums, I will stab you in the neck with a knife." — Dale
8. "I'm not great at this Hallmark stuff, but Brennan, when I look at you now, I don't want to kick you in the head quite as much." — Derek
9. "Today I saw my own son use a bicycle as a weapon." — Nancy
10. "I would follow you into the mists of Avalon if that's what you mean." — Dale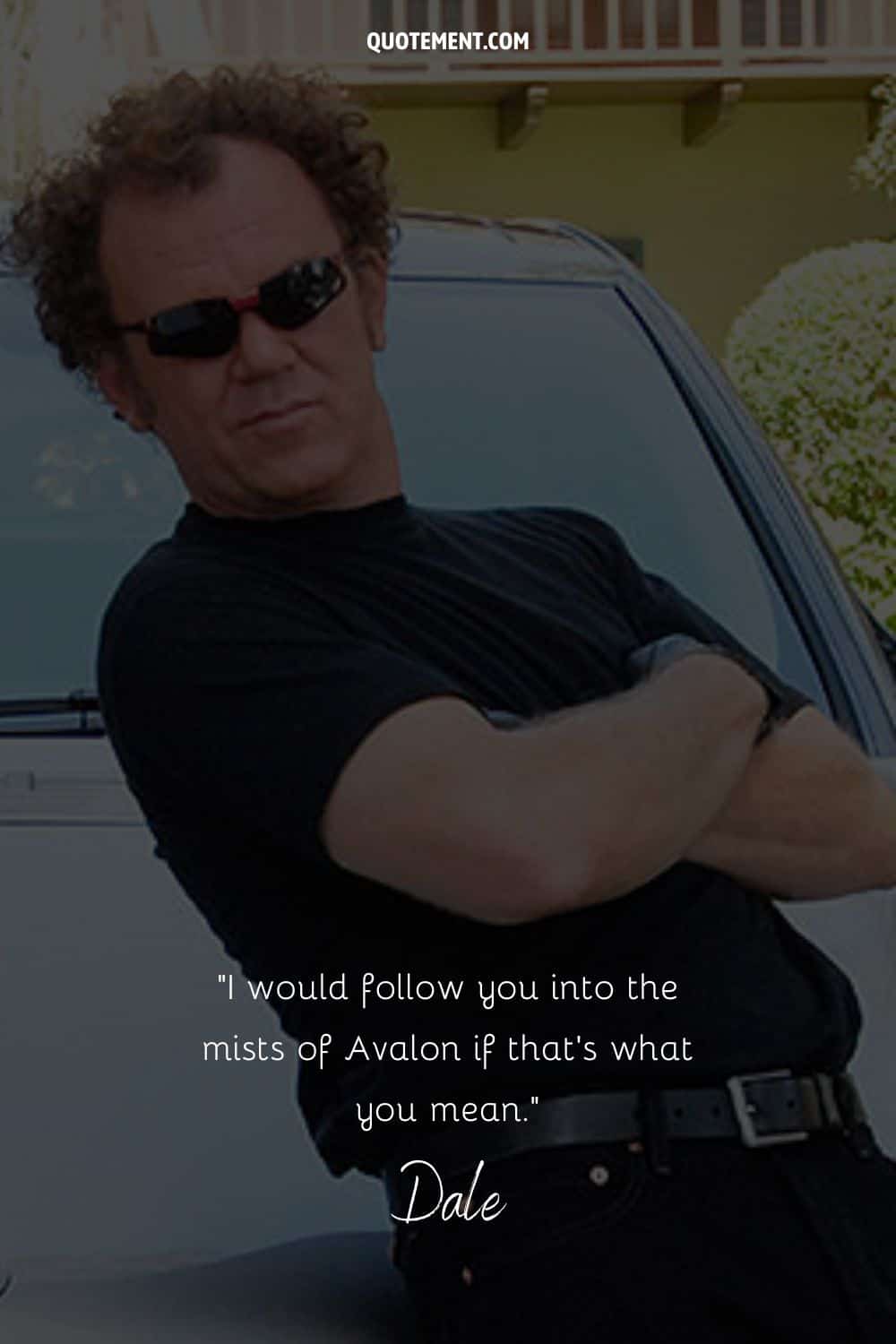 11. "I know you touched my drumstick, 'cause the left one has a chip in it." — Dale
12. "One time I wrestled a giraffe to the ground with my bare hands." — Dale
13. "Alright, that is it! You guys leave me no choice! No television for a whole week!" — Robert Doback
14. "I felt like I was hovering over my own body, watching myself sing." — Brennan
15. "I still hate you, but you have a pretty good collection of nudie magazines." — Brennan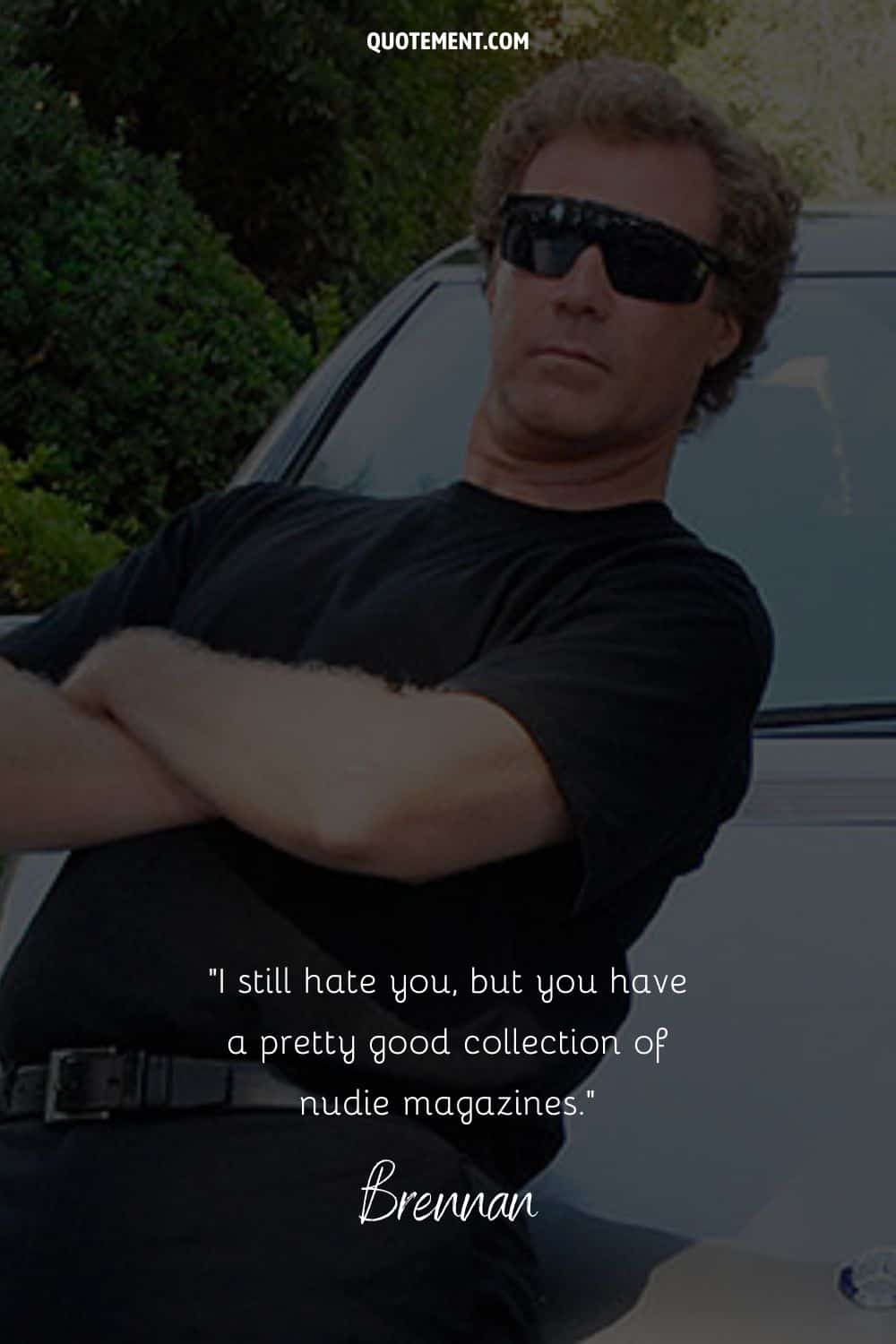 16. "Brennan, Denise called, and she said she can't spend New Year's Eve with you because she's not your girlfriend, she's your therapist." — Nancy
17. "Why are you so sweaty?" — Dale "I was watching cops." — Brennan
18. "You better not go to sleep. As soon as your eyes shut, I'm gonna punch you square in the face." — Brennan
19. "I think I might be able to help with the pan-pam dilemma." — Brennan
20. "I was faking. I used ninja focus to slow my heart rate down." — Brennan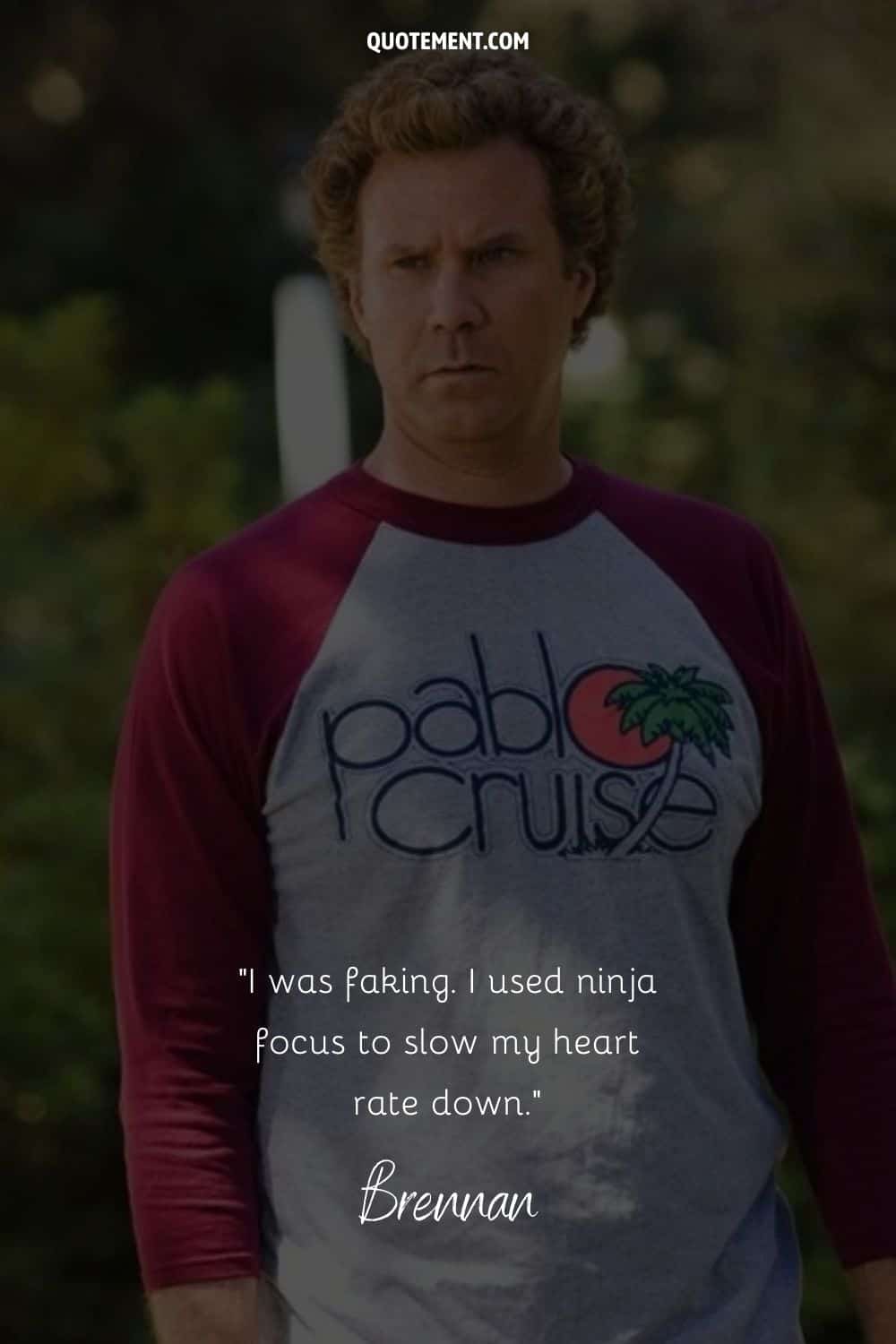 21. "Last week, I put liquid paper on a bee… and it died." — Brennan
22. "I'm Dale, but you have to call me Dragon." — Dale
23. "I'm going to take a pillowcase, and fill it full of bars of soap, and beat the sh!t out of you." — Brennan
24. "Shut up. You'll wake up my Dad and get me grounded." — Dale
25. "You are wearing tuxedos to a job interview that requires you to clean bathrooms." — Pam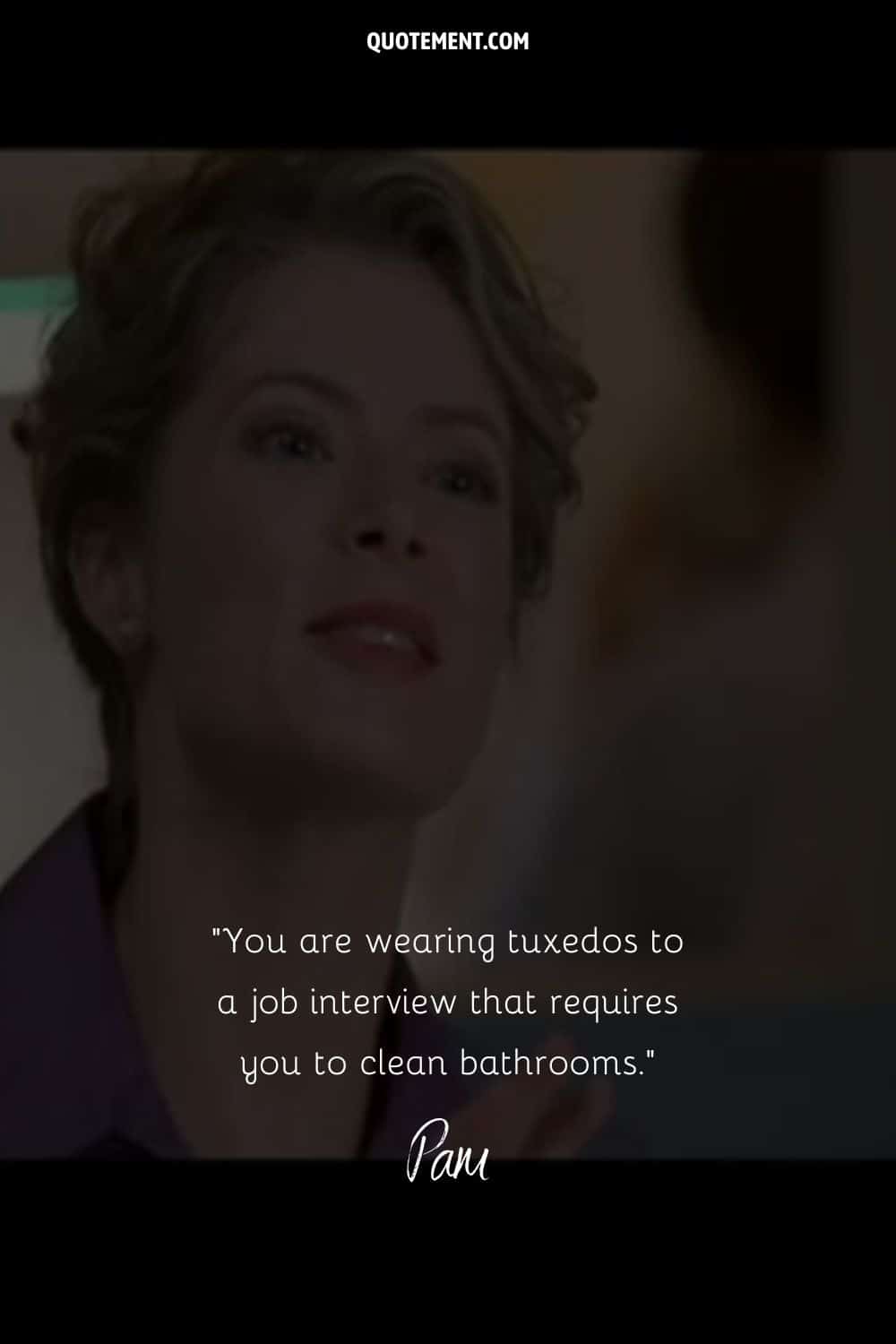 26. "I'm f*cking miserable. I had to get up at 10 o'clock this morning." — Dale
27. "Brennan, that is the voice of an angel. I can't even make eye contact with you right now. Your voice is like a combination of Fergie and Jesus." — Dale
28. "Flat. It's so flat. I can't even…" — Derek
29. "No way, Kemosabe. This is my house now." — Brennan
30. "You and your mom are hillbillies. This is a house of learned doctors." — Dale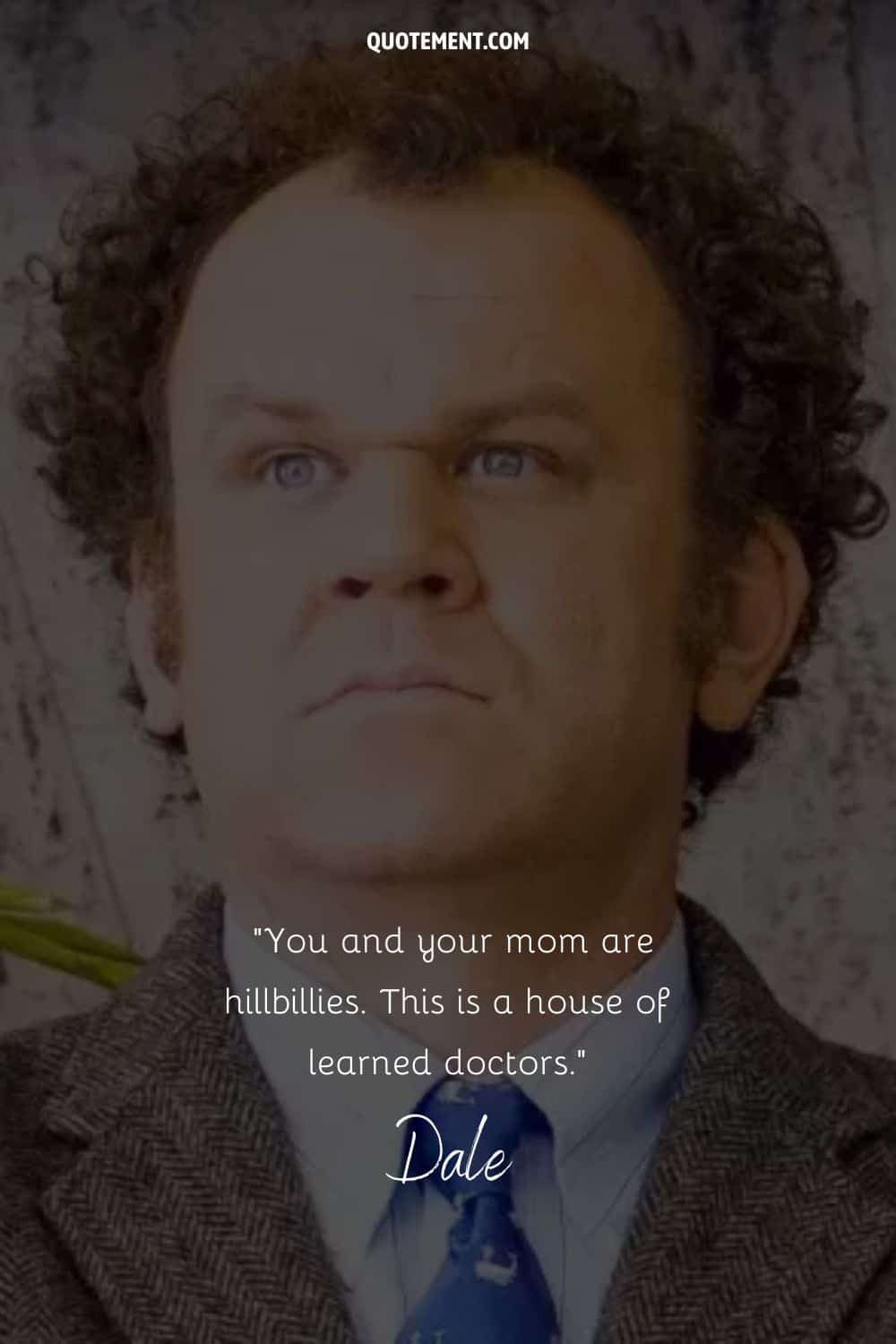 31. "Dad, what are you doing? It's 'Shark Week'!" — Dale
32. "Brennan, I thought you were incredibly brave. And I mean that in strictly the most clinical and professional sense possible, with no emotional, intimate, sexual, or any other undertones that you could possibly infer." — Denise
33. "I've been called the songbird of my generation." — Brennan
34. "I got a belly full of white dog cr*p in me, and now you lay this sh** on me?!" — Brennan
35. "I don't believe in belts. There should be no ranking system for toughness." — Dale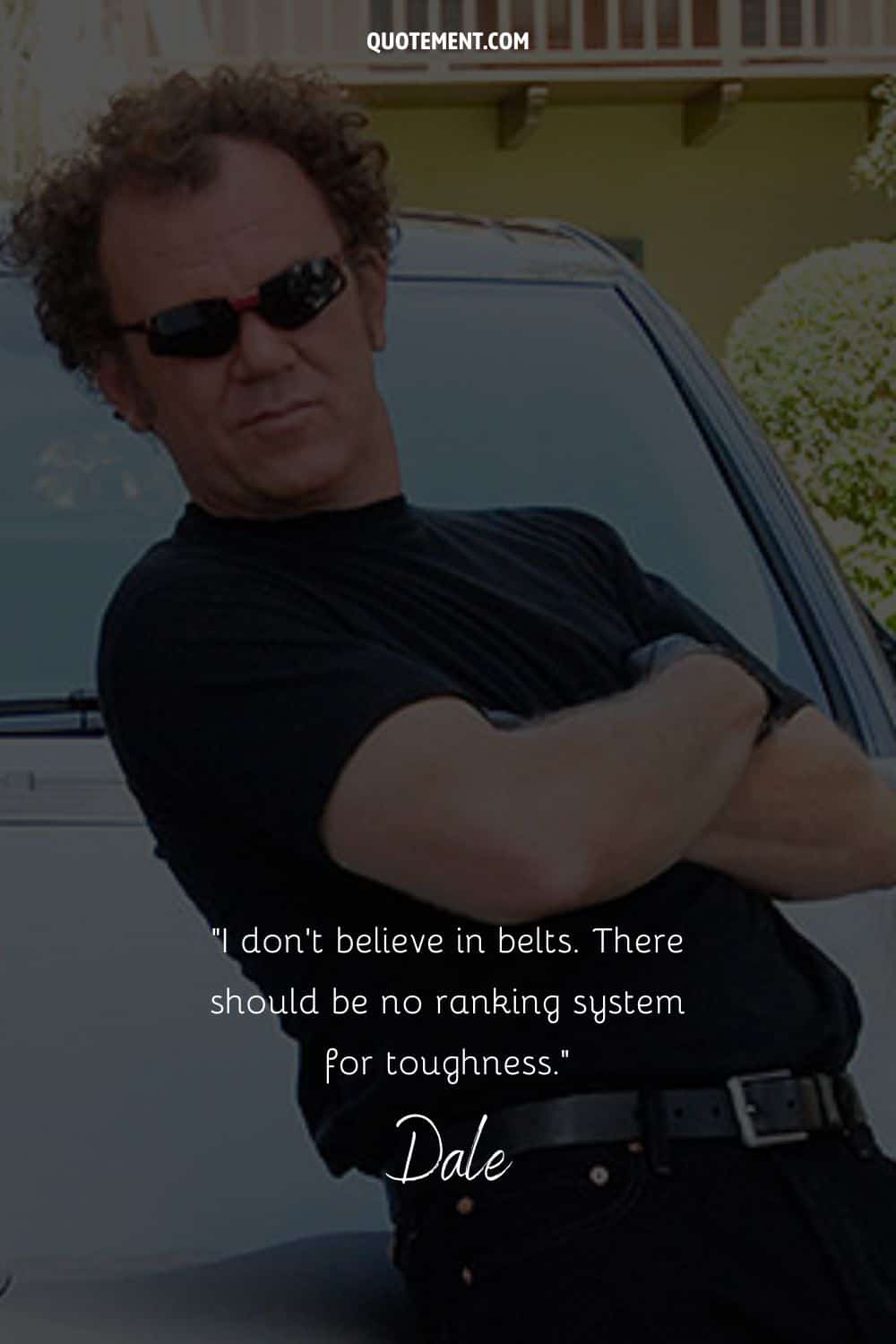 36. "My mom is being eaten by a dog and there's nothing I can do!" — Brennan
37. "Are that onions? Onions…and onions and ketchup. It stinks. And this is a small room." — Manager
38. "That's so funny; the last time I heard that, I laughed so hard I fell off my dinosaur." — Dale
39. "I work at a college as a janitor even though I feel like I'm smarter than most of the people who go there. Sometimes, I see an equation written on a blackboard like half an equation and… I just figure it out." — Dale
40. "This is twelve hundred dollars a week for voice lessons, and this is what I get?" — Derek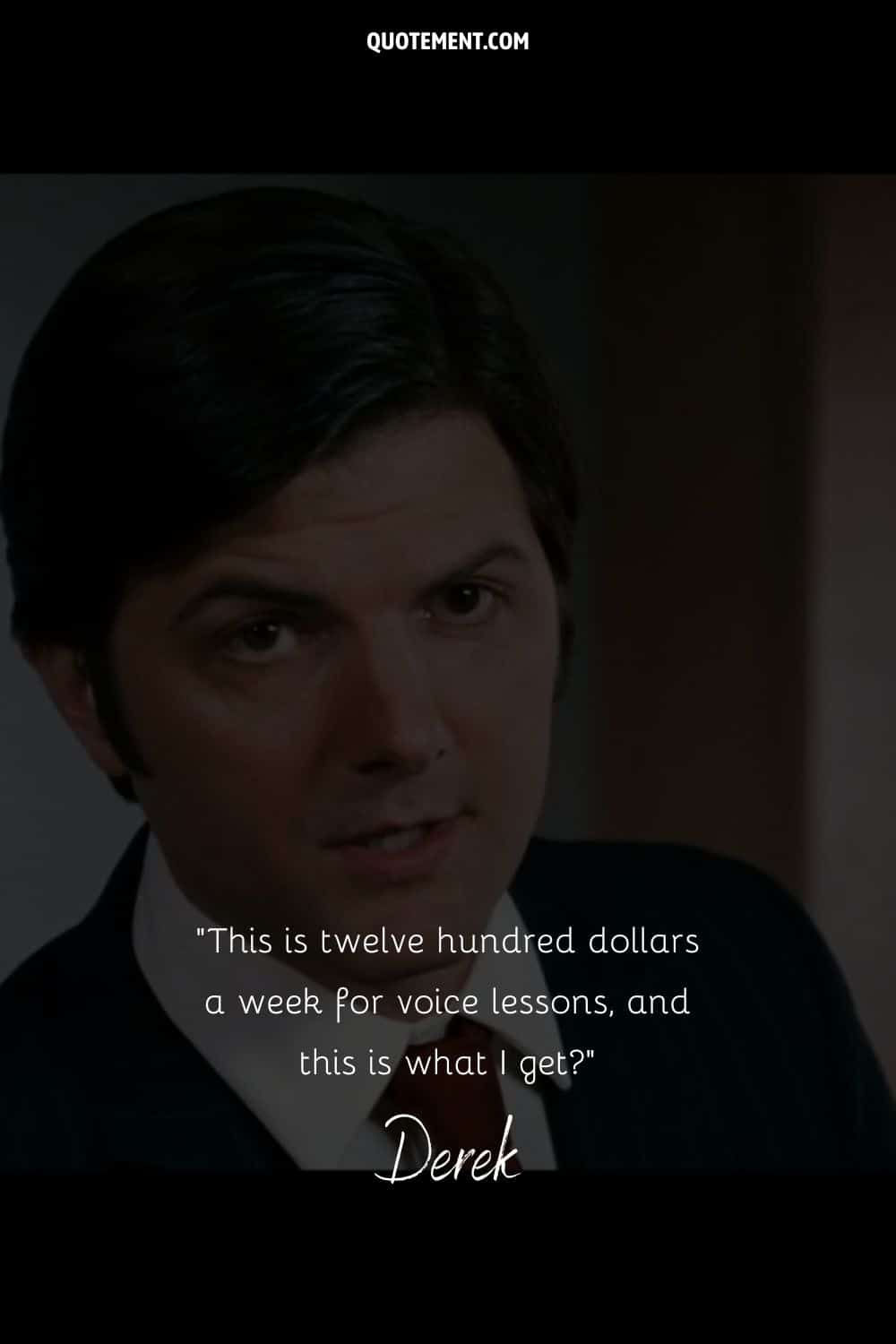 41. "You don't even look good when you're singing." — Derek
42. "Oprah, Barbara Walters, your wife. You gotta f*ck one, marry one, kill one. Go!" — Dale
43. "Robert better not get in my face because I'll drop that motherf*cker." — Brennan
44. "Gotta have my boats and hoes!" — Dale
45. "You keep your liver-spotted hands off my beautiful mother! She's a saint!" — Brennan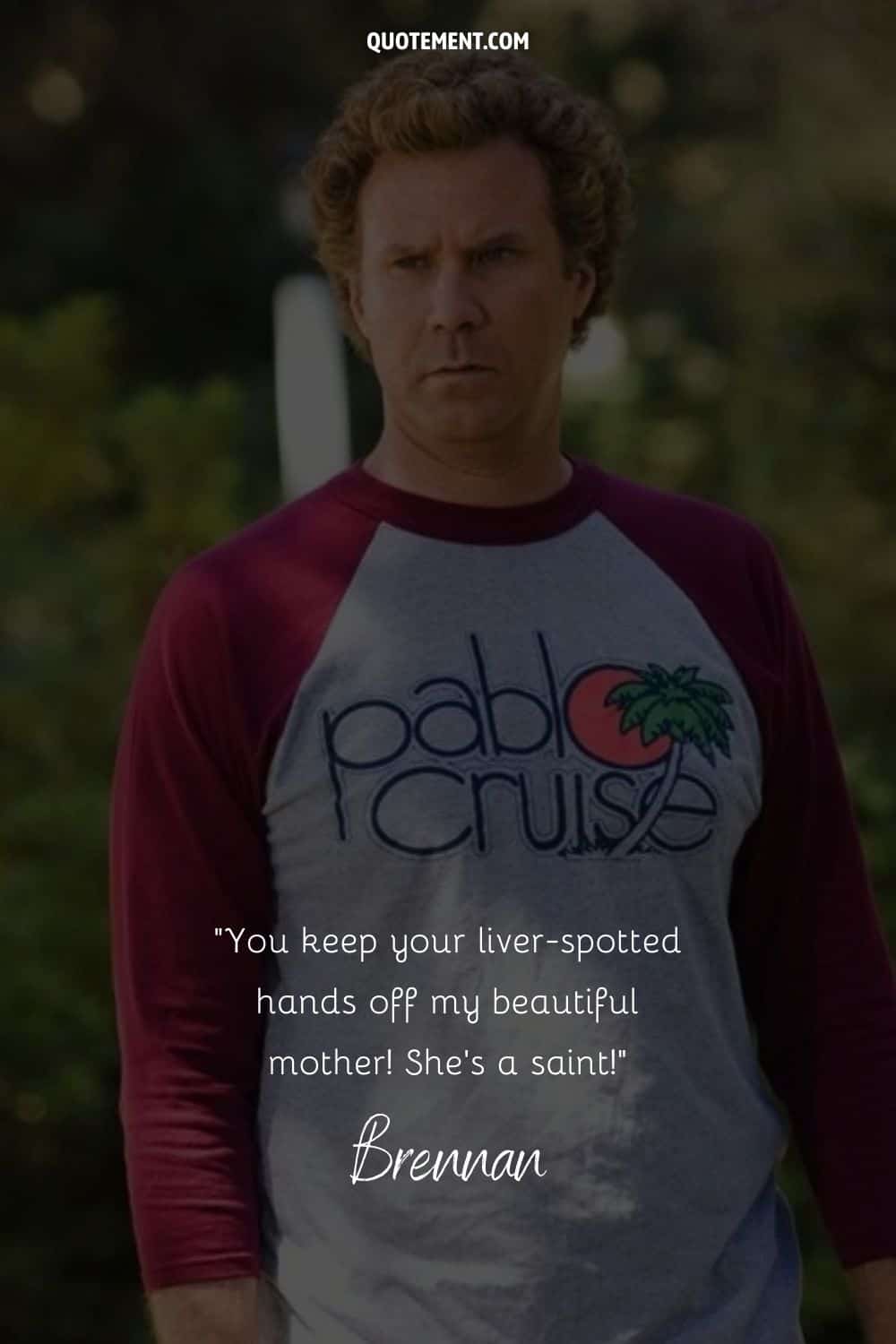 46. "Listen, I know that we started out as foes. But after that courageous act that you showed me against the one they call Derek, maybe someday we could become friends. Friends who ride majestic, translucent steeds, shooting flaming arrows across the bridge of Hemdale." — Brennan
47. "Close your eyes. Let the dirt just shower over you." — Brennan
48. "You are not a doctor…you're a big fat curly-headed f*ck." — Brennan
49. "On the count of three, name your favorite dinosaur. Don't even think about it. Just name it. Ready? One, two, three." — Dale
50. "Dad, why are you talking to me like this? I'm your son." — Dale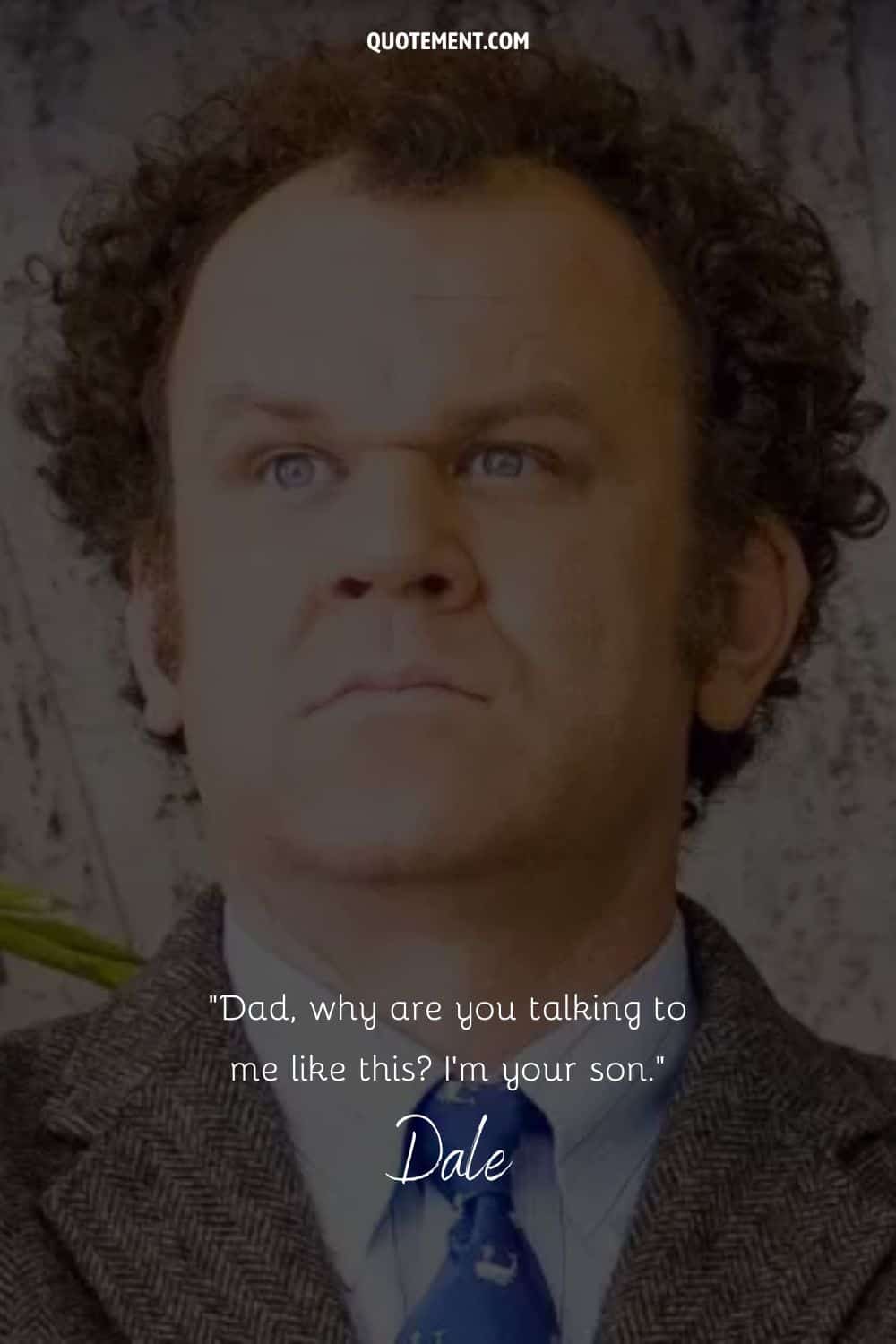 51. "What poem is that from? Is that James Joyce?" — Brennan
52. "Do you want to do karate in the garage?" — Brennan
53. "Dad, we're men, okay? That means a few things. We like to shit with the door open. We talk about p*ssy. We go on riverboat gambling trips. We make our own beef jerky. That's what we do and now that is all wrecked." — Dale
54. "Sticks and stones may break my bones, but I will kick you repeatedly in the balls, Gardocki!" — Brennan Huff
55. "You're gonna love this neighborhood. Every single house here recycles." — Dale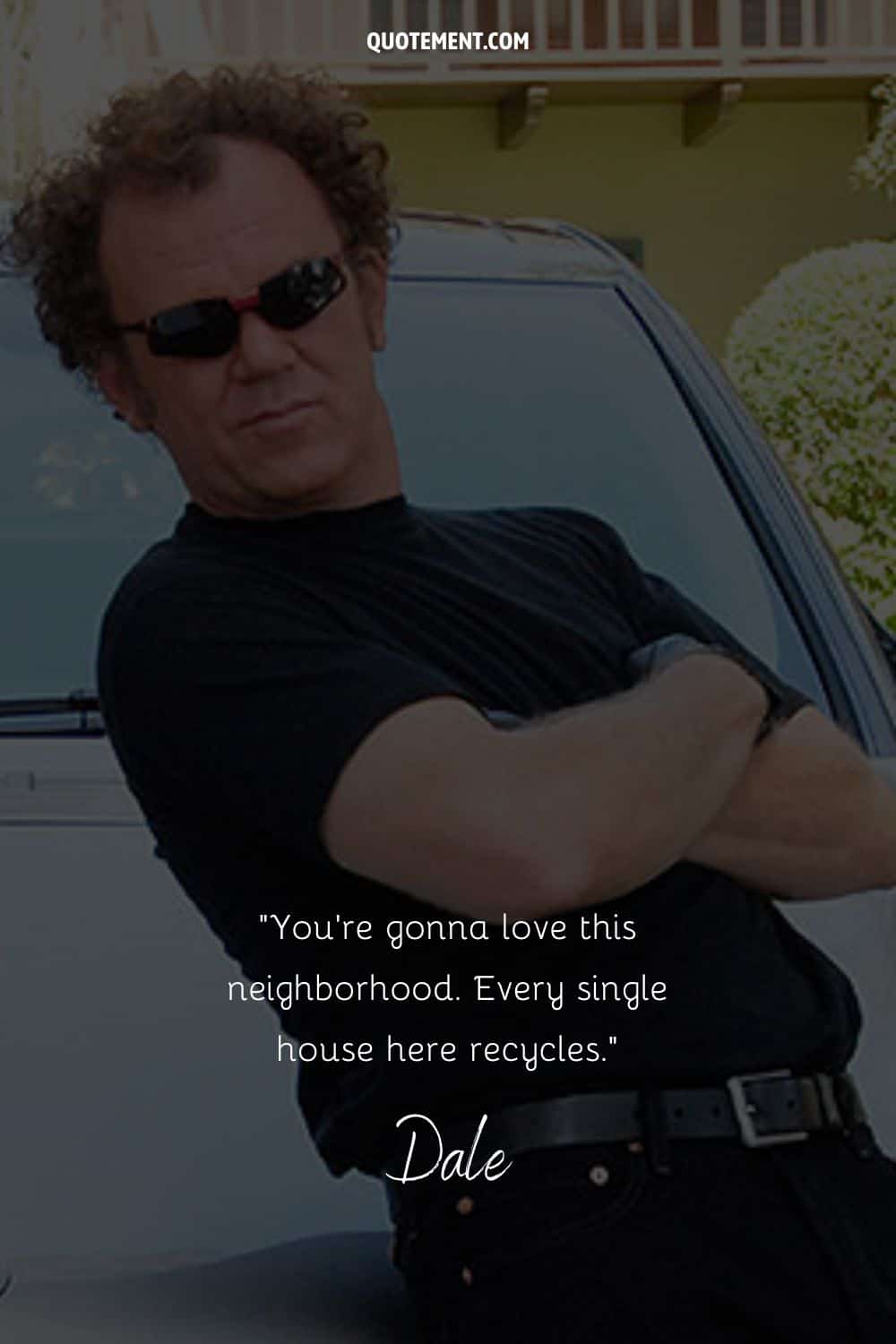 56. "The only thing is, Brennan's very…particular about who he sings in front of so…I'm his mom, for example, and I've only heard him sing…twice." — Nancy
57. "When I was a kid, I wanted to be a Tyrannosaurus rex more than anything in the world. I made my arms short, and I roamed the backyard. I chased the neighborhood cats; I growled, and I roared. Everybody knew me and was afraid of me. And one day, my dad said, 'Bobby, you're 17. It's time to throw childish things aside,' and I said, 'OK, Pop.' But he didn't really say that. He said, 'Stop being a fucking dinosaur and get a job.'" — Dr. Robert Doback
58. "There's so much more room for activities." — Brennan
59. "You should have never let us make bunk beds! It was a terrible idea! There's blood everywhere! Dad, Nancy, it's so bad. There's blood everywhere. Those bunk beds were a terrible idea. Why'd you let us do that? It's so bad!" — Dale
60. "Why do you have Randy Jackson's autograph on a martial arts weapon?" — Dale
61. "That's cute. I remember when I had my first beer." — Brennan
62. "If you're referring to me as b**t buddy, then yes, I do have a name: and it's Brennan Huff." — Brennan
63. "Get your sh*t, we're going to my room." — Derek
64. "Hey, you know, we don't have to whisper anymore. Mom and Dad aren't here." — Dale
65. "It's just weird, cause it seems like someone definitely touched my drumset." — Dale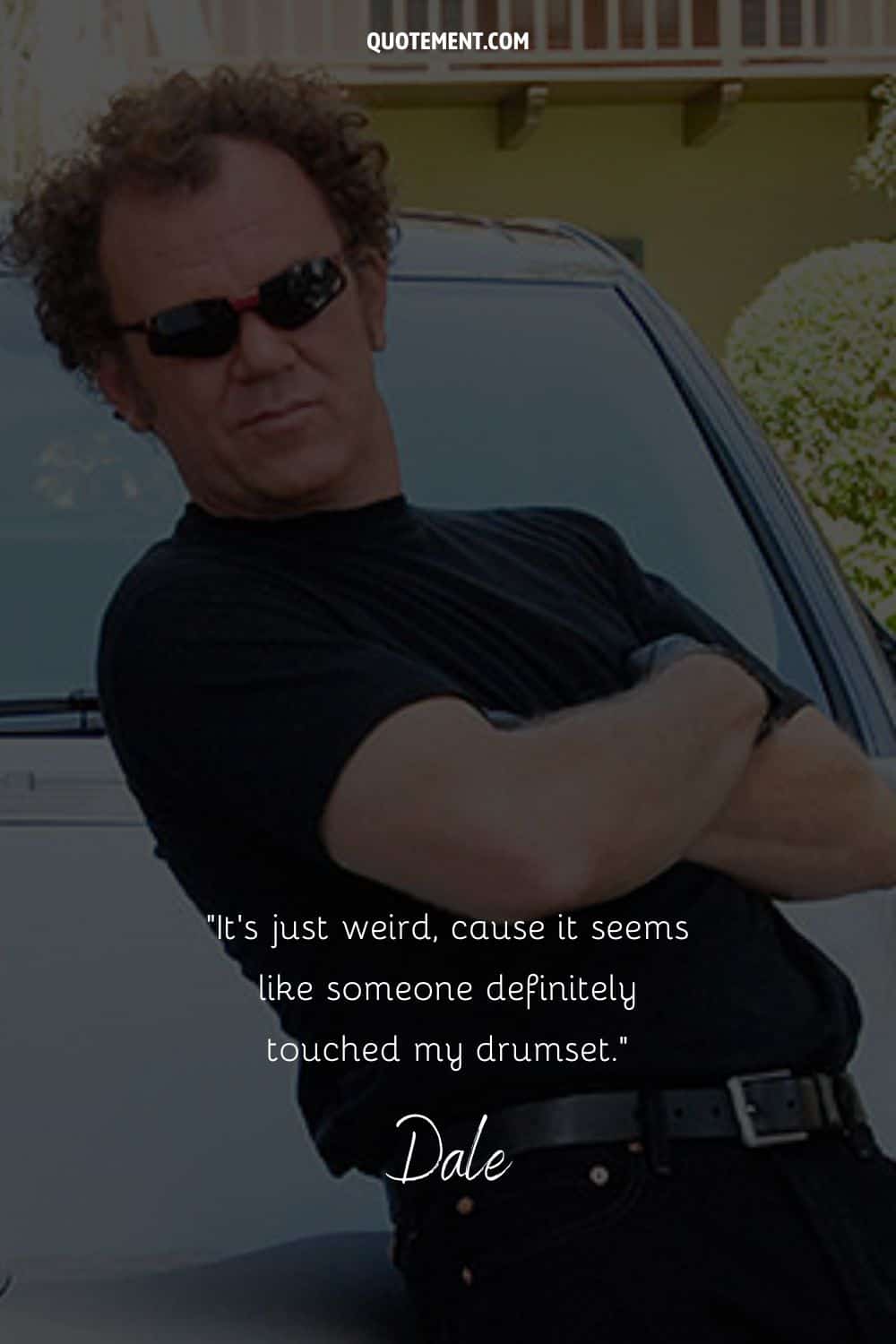 66. "Your drumset is a wh*re! I tea bagged your drumset!" — Brennanf
67. "I am the VP of the biggest executive helicopter leasing company on the western seaboard. I haven't had a carb since 2004. Check these out." — Derek
68. "You can hear the sound of your small intestine as it produces sh*t!" — Brennan
69. "I got this Mikimoto pearl necklace, but next year I'm gonna ask Santa for breast implants because I'm impatient with my body." — Tiffany
70. "I have a 39-year-old son named Brennan – who still lives at home with me!" — Nancy
The End
I hope you enjoyed these Step Brothers quotes. Check out my website for more iconic movie quotes.
Read next: 90 The Office Quotes For The Coolest Bosses