Have you been feeling exhausted and soul-tired? If so, you'll definitely relate to this awesome collection of soul tired quotes!
The feeling of exhaustion, both physical and mental, is an experience we all face at some point in our lives. It can be caused by various factors, like too much stress, burnout, and depression.
Dealing with tiredness can be really exhausting.
To that end, I made this extensive list of soul tired quotes to help you get through this difficult period.
I also included loads of encouraging soul tired quotes to keep you motivated when you feel like you can't go on.
These inspirational quotes may not get rid of your tiredness, but they will definitely give you some relief and revitalize you.
My list of tired soul quotes will help heal your exhausted soul.
Let's go!
Top 30 Soul Tired Quotes
Here are the soul tired quotes I personally like the most. They are famous quotes from influential people who also felt exhausted like you do now.
Let's see what they have said about a tired soul!
1. "Rest when you're weary. Refresh and renew yourself, your body, your mind, your spirit. Then get back to work." — Ralph Marston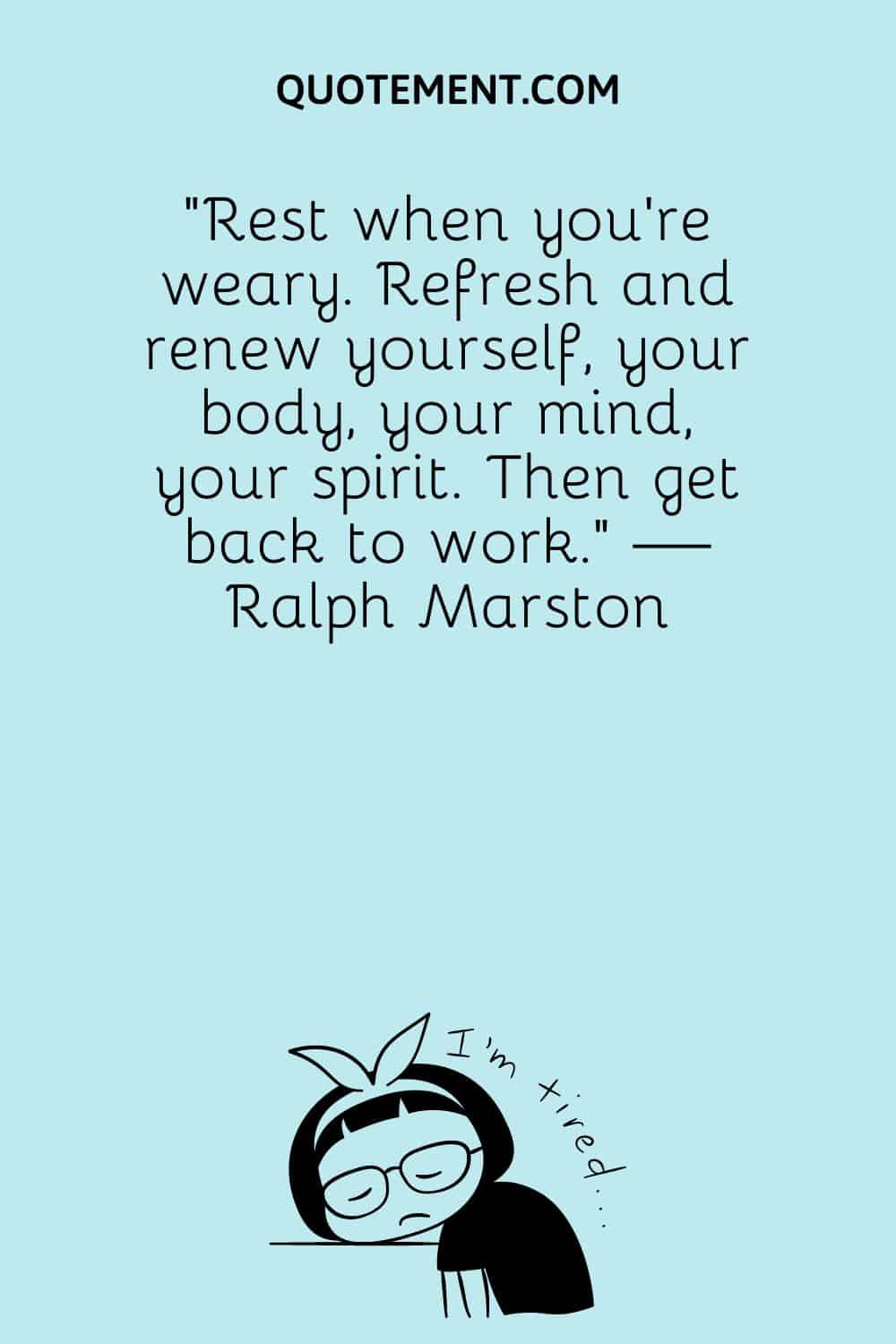 2. "I am tired of being tired and talking about how tired I am." — Amy Poehler
3. "Fatigue has many faces and many causes. Fatigue and tiredness mean different things to different people." — Michael A. Schmidt
4. "You never get tired unless you stop and take time for it." — Bob Hope
5. "Even nice things don't make you happy when you're tired." — Jo Brand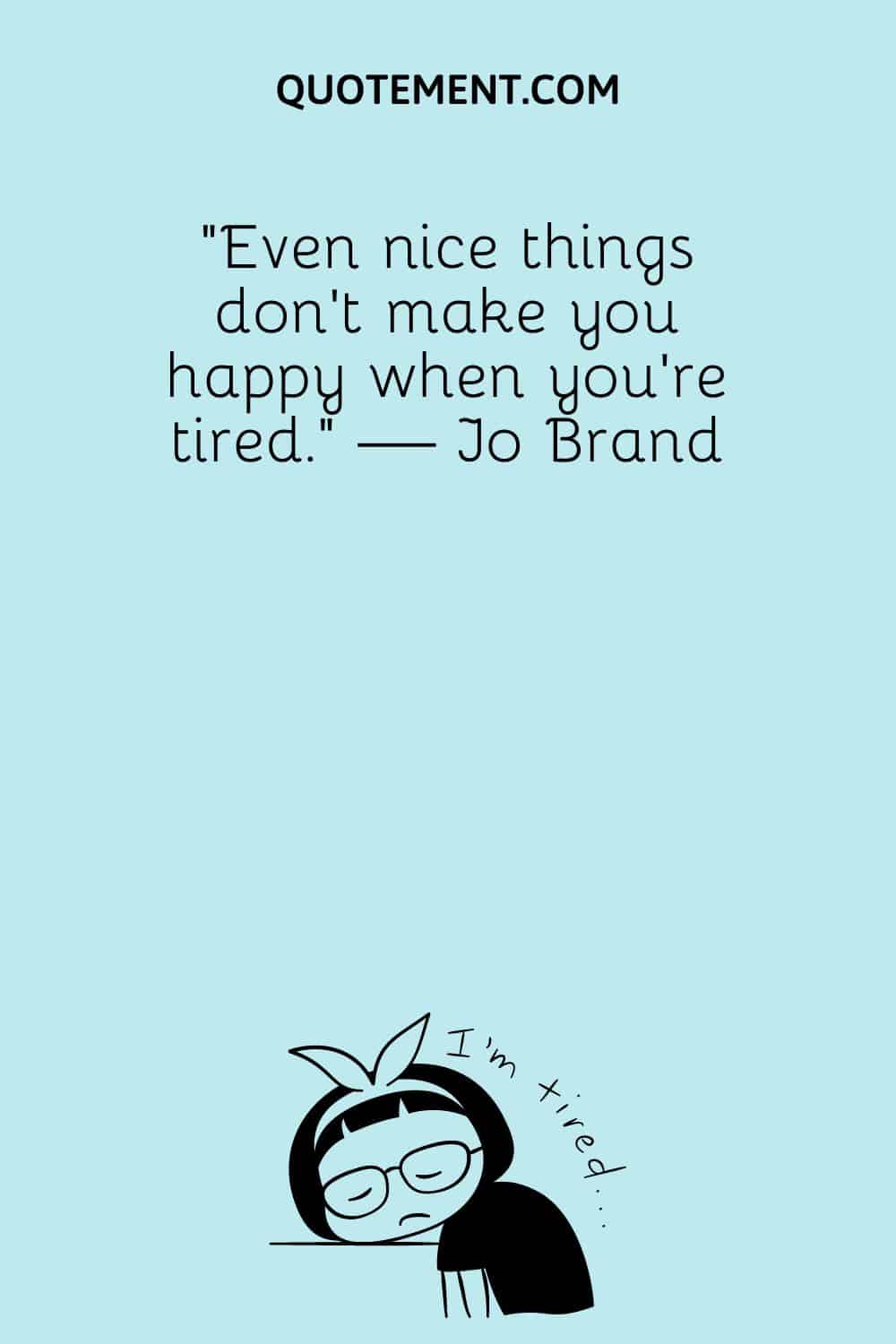 6. "Strength comes in so many forms. Not just the physical strength, but to understand the emotional strength. To have the emotional vulnerability, to show that's not a weakness." — Cory Barlog
7. "I'm not tired of challenges. I'm tired of people challenging me for nothing." — Ces Peta
8. "If one could run without getting tired, I don't think one would often want to do anything else." — C.S. Lewis
9. "I am sick and tired of being sick and tired." — Fannie Lou Hamer
10. "When we are tired, we are attacked by ideas we conquered long ago." — Friedrich Nietzsche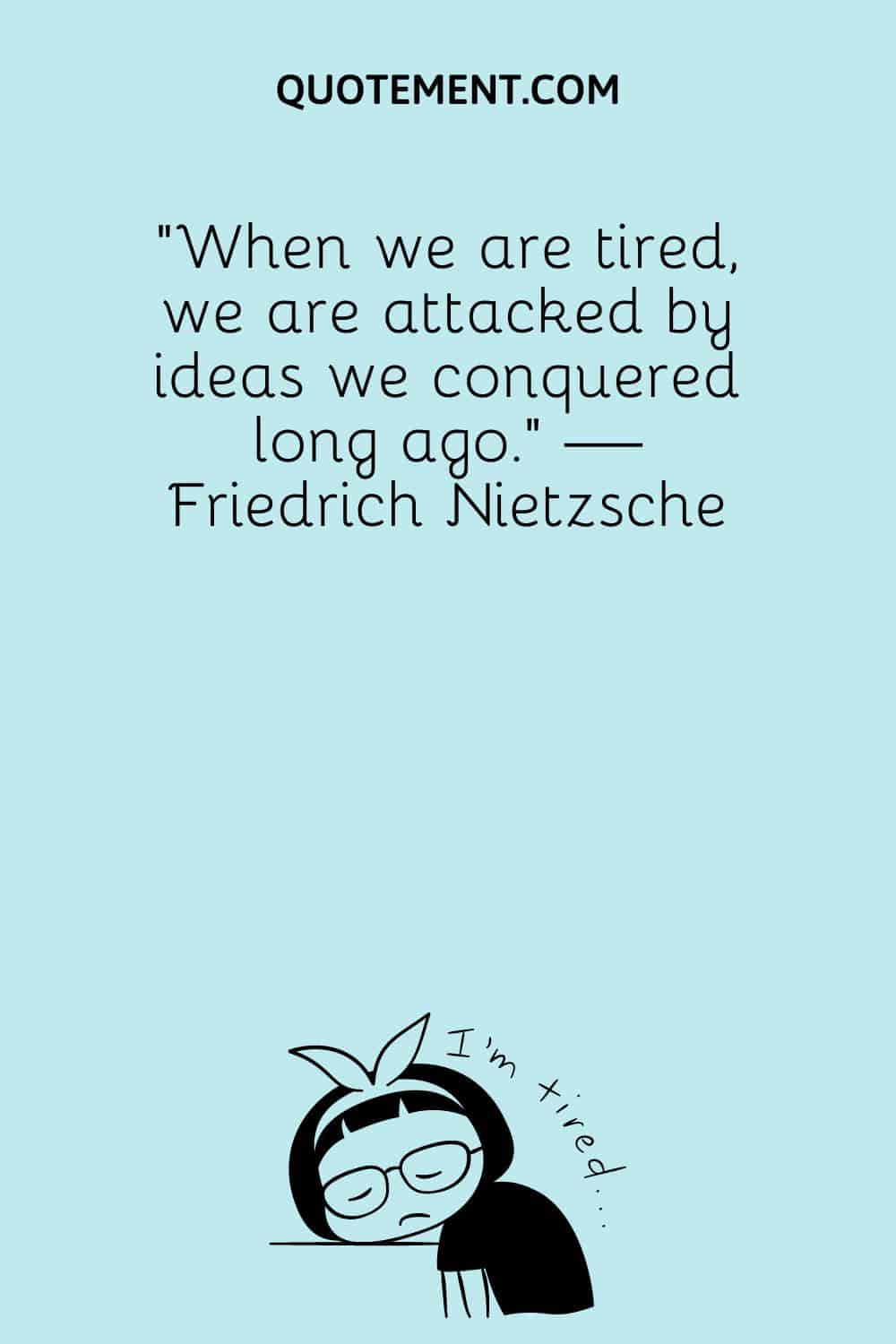 11. "I'm tired of being treated like a second-class citizen." — Rosa Parks
12. "Sleep did not honor me with its presence." — Alysha Speer, Sharden
13. "Laziness is nothing more than the habit of resting before you get tired." — Jules Renard
14. "Tired, tired with nothing, tired with everything, tired with the world's weight he had never chosen to bear." — F. Scott Fitzgerald
15. "I want to explain how exhausted I am. Even in my dreams. How I wake up tired. How I'm being drowned by some kind of black wave." ― Elizabeth Wurtzel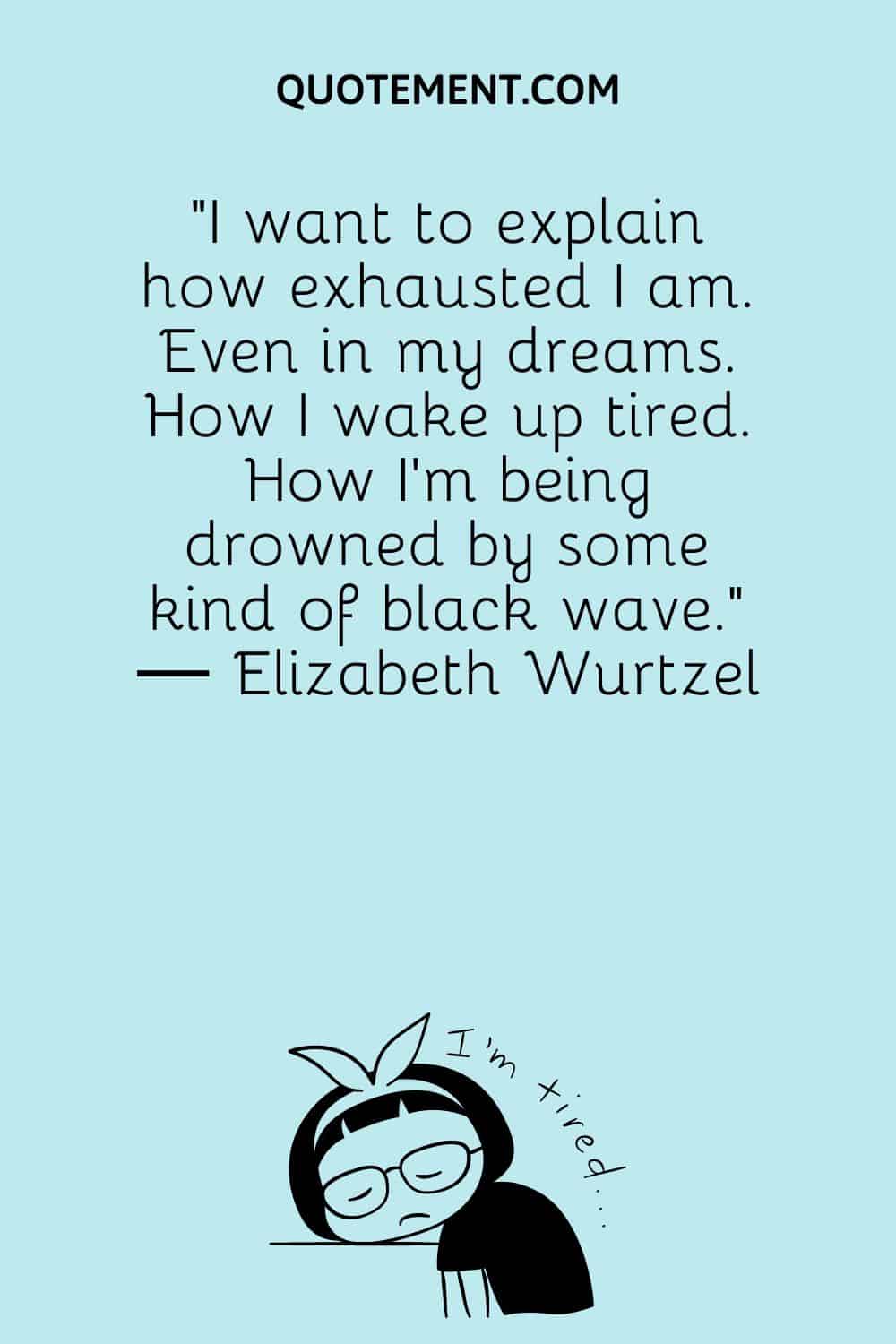 16. "You feel fine, and then, when your body can't keep fighting, you don't." — Nicholas Sparks
17. "There are only the pursued, the pursuing, the busy, and the tired." — F. Scott Fitzgerald
18. "The wages of sin are death, but by the time taxes are taken out, it's just sort of a tired feeling." — Paula Poundstone
19. "My silence means I am tired of fighting, and now there is nothing left to fight for. My silence means I am tired of explaining my feelings to you, but now I don't have the energy to explain them anymore. My silence means I have adapted to the changes in my life, and I don't want to complain. My silence means I am in a self-healing process, and I am trying to forget everything I ever wanted from you. My silence means I am just trying to move on gracefully with all my dignity." — Aarti Khurana
20. "I'm smiled out, talked out, quipped out, socialized so far from any being, I need the weight of mortal silences to get realized back into myself." — John Ciardi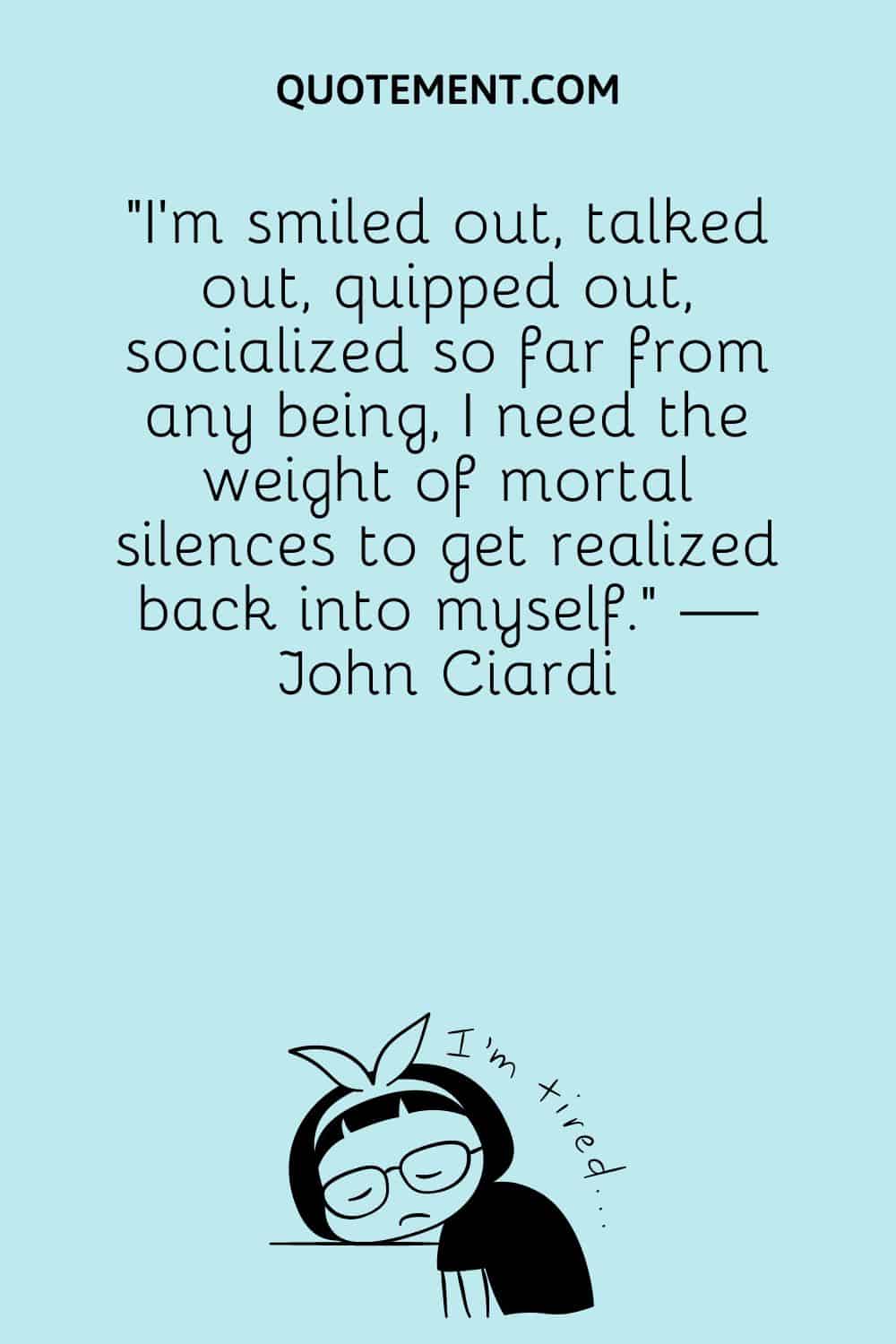 21. "Life is one long process of getting tired." — Samuel Butler
22. "One thing you can't hide – is when you're crippled inside." — John Lennon
23. "I want to care, but I don't. I look at you, and all I feel is tired." — Elizabeth Scott
24. "Oh, I am very weary, though tears no longer flow; my eyes are tired of weeping, my heart is sick of woe." — Anne Bronte
25. "The most critical time in any battle is not when I'm fatigued, it's when I no longer care." — Craig D. Lounsbrough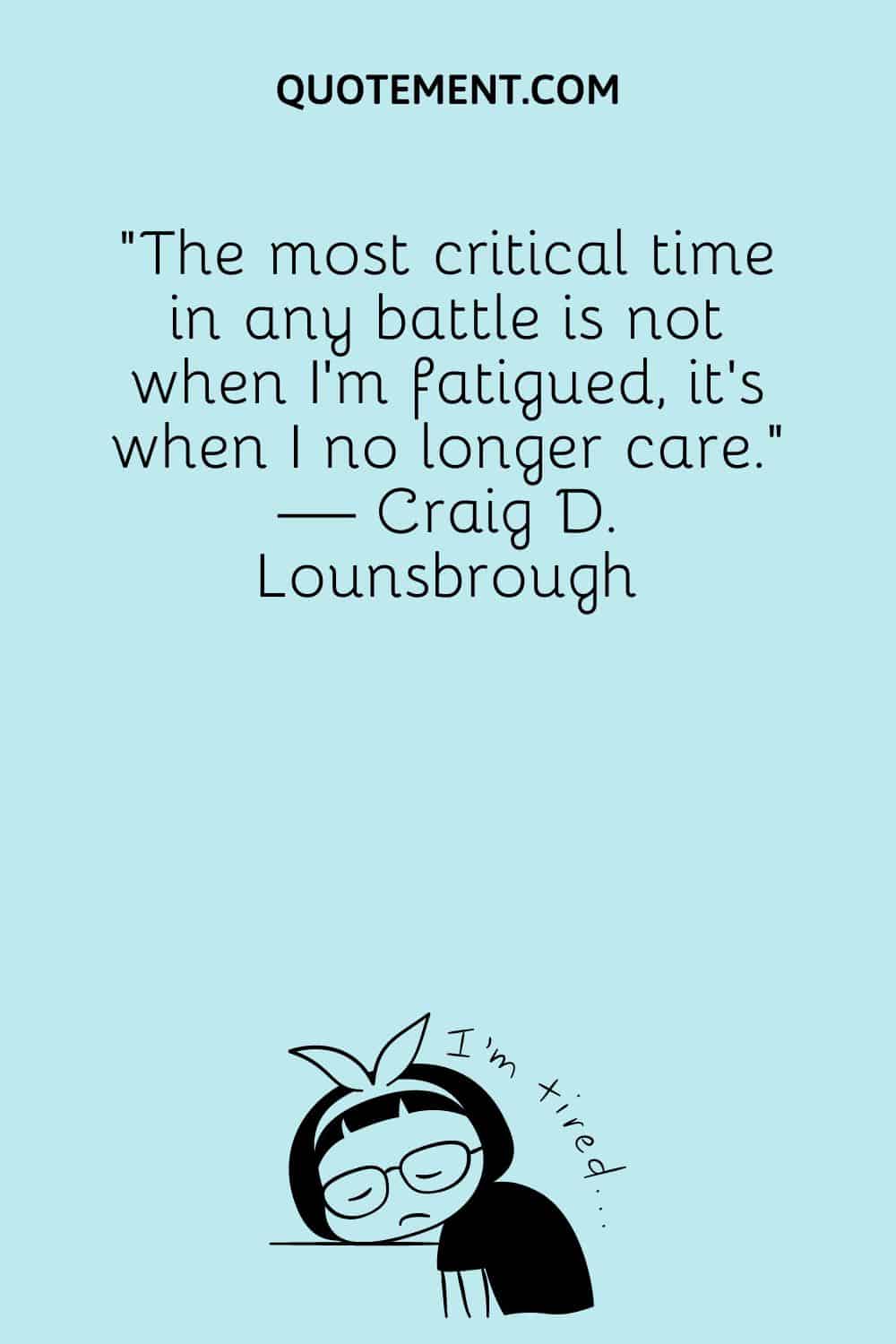 26. "I'm sick and tired of your attitude. I'm feeling like I don't know you." – Taylor Swift
27. "Let no one be slow to seek wisdom when he is young nor weary in the search of it when he has grown old. For no age is too early or too late for the health of the soul." — Epicurus
28. "I'm so tired. I don't know if I can ever outrun how I used to be." — Marie Lu
29. "You've had your share of secrets, and I'm tired of being last to know." — Taylor Swift
30. "In her bones, in her blood and breath and soul, she was so, so tired." — Sarah J. Maas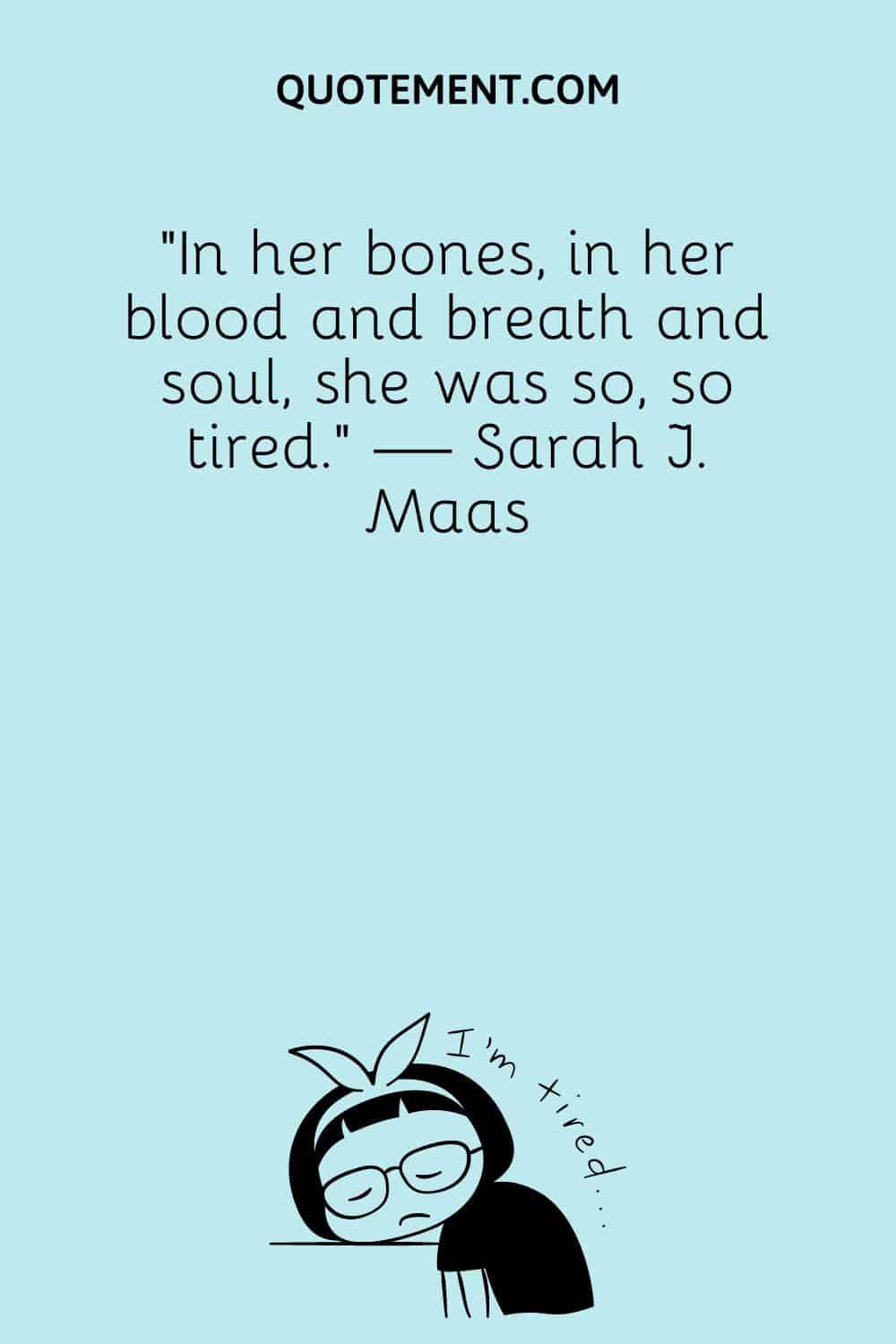 Tired Soul Quotes To Encourage You
Read on to find some motivational soul tired quotes that will remind you to keep a positive attitude toward life when you feel mentally and emotionally drained.
1. "Don't stop when you are tired. Stop when you are done!" — Brayden Brad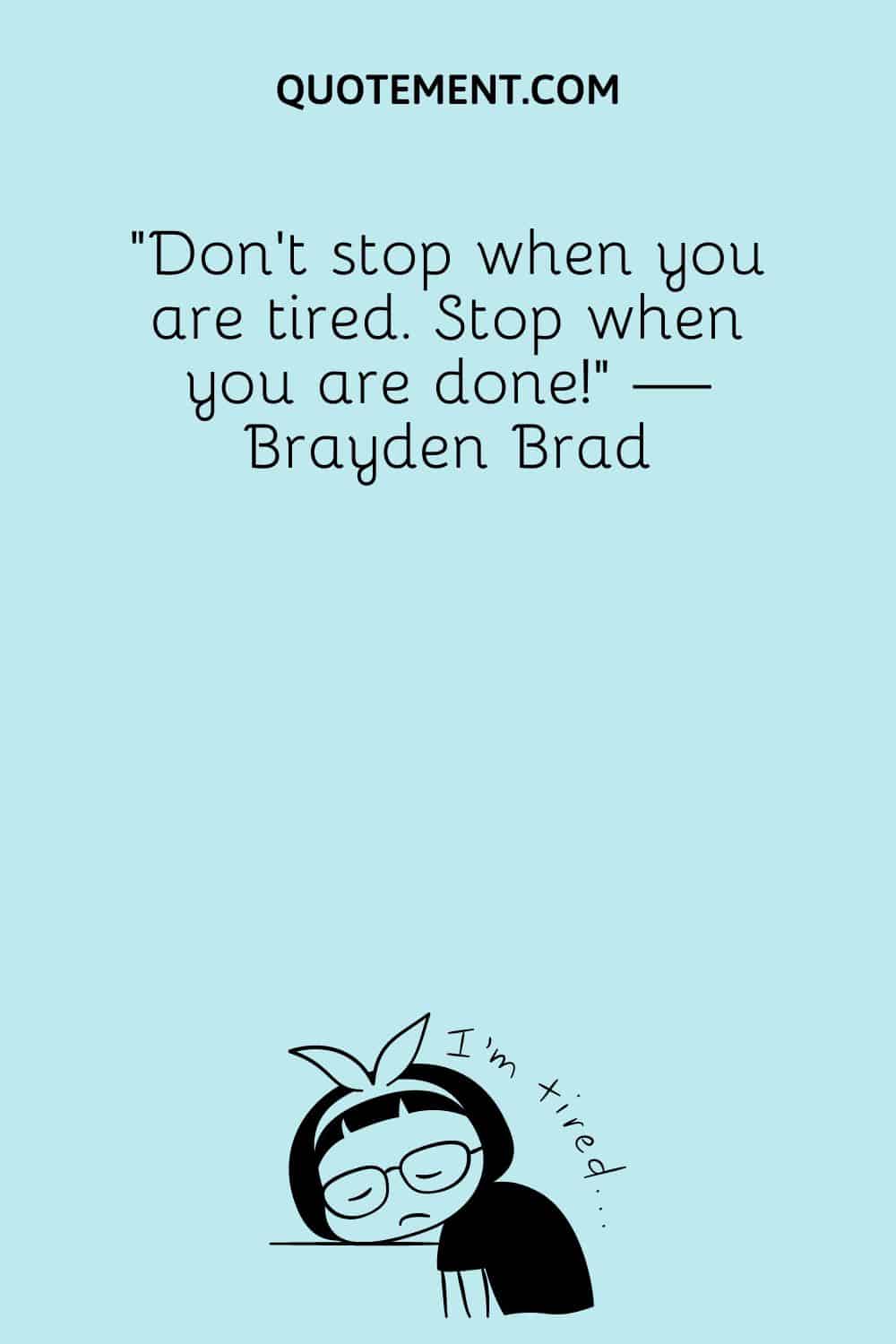 2. "Never be tired of a dream if not fulfilled. Fear of failure should not deter you from your path of self-belief. Your belief and determination will get you to your destination and make a dream come true." — Anil Sinha
3. "Perseverance is the hard work you do after you get tired of doing the hard work you already did." — Newt Gingrich
4. "Mentally, I'm drained. Spiritually I feel dead. Physically I smile." — Unknown
5. "Courage is not having the strength to go on; it is going on when you don't have the strength." — Theodore Roosevelt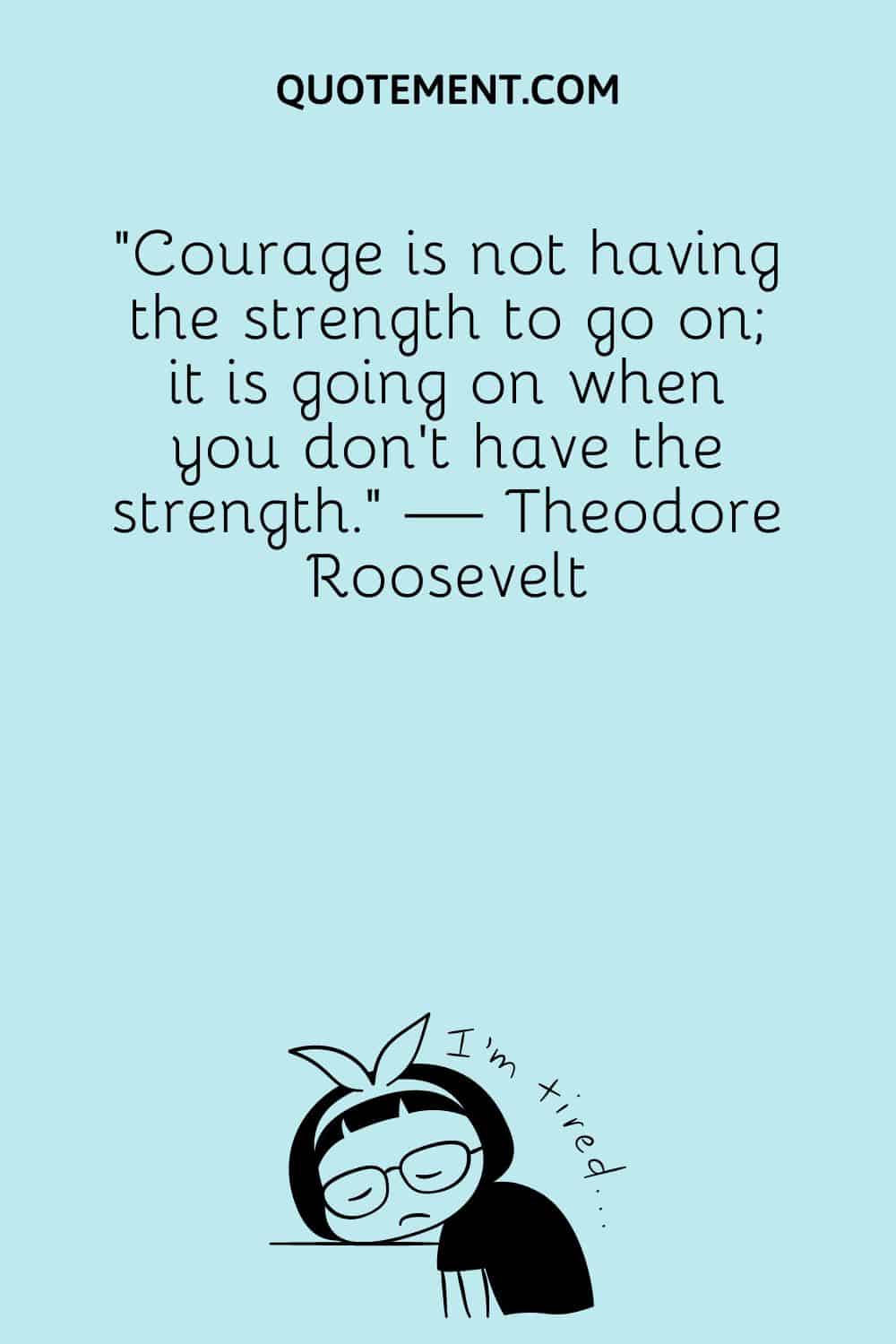 6. "When I get tired of shopping, I sit down and try on shoes." — Unknown
7. "I don't stop when I'm tired, I only stop when I'm done." — Marilyn Monroe
8. "No matter how tired you feel, no matter how much you want to quit, no matter what obstacles are in your way, keep moving toward the vision you have for your future." — Jon Gordon
9. "You've done enough. It's okay to be tired. You can take a break." — Shauna Niequist
10. "Even when you have every right to be tired of everything, never be tired of living." — Terry Mark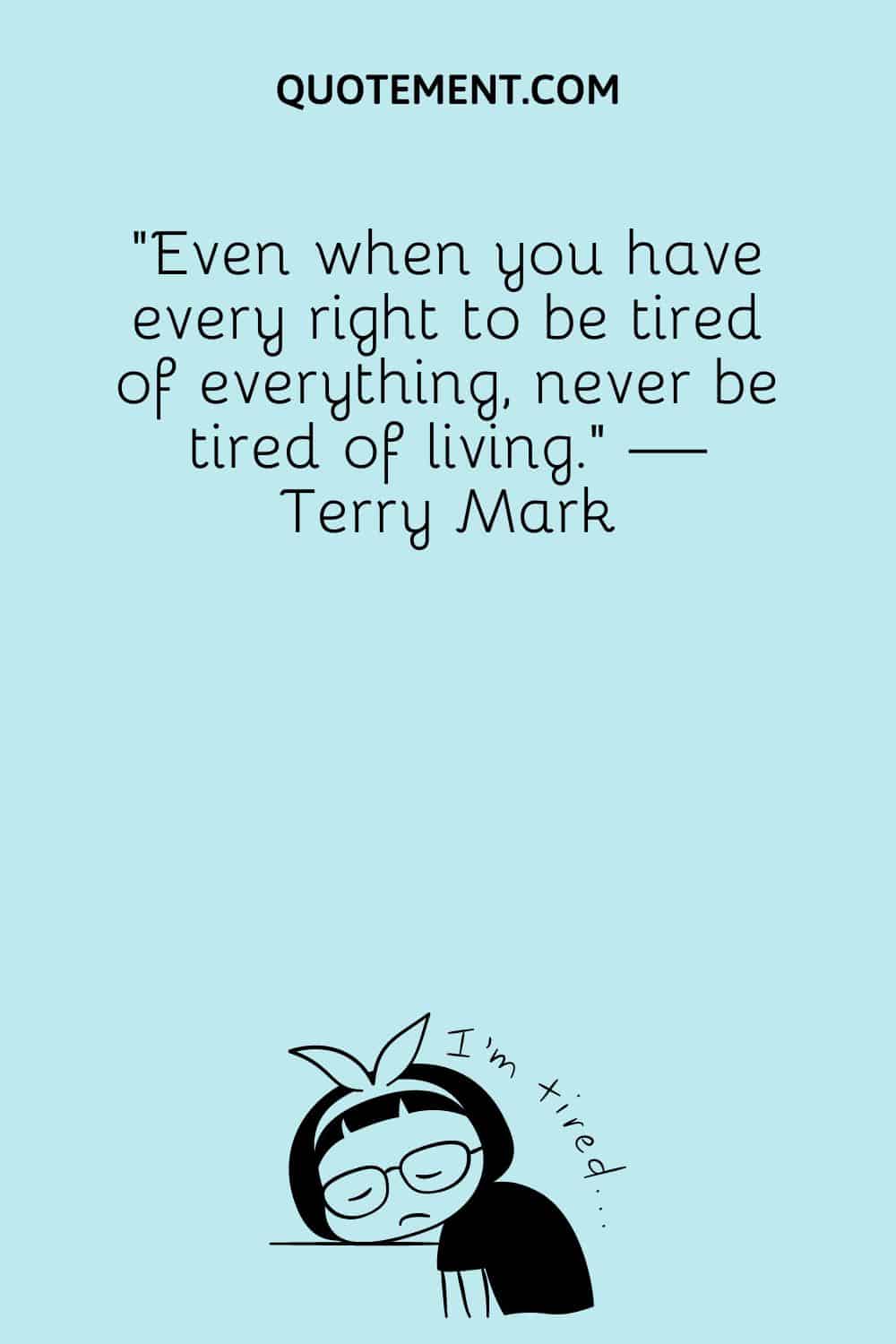 11. "It is as necessary for man to live in beauty rather than ugliness as it is necessary for him to have food for an aching belly or rest for a weary body." — Abraham Maslow
12. "Let heavy thoughts sink. Go to sleep and wake up with light thoughts." — Unknown
13. "Whenever I get fed up with life, I love to go wandering in nature." — Andrea Arnold
14. "Being a mom has made me so tired. And so happy." — Tina Fey
15. "Run when you can, walk if you have to, crawl if you must; just never give up." — Dean Karnazes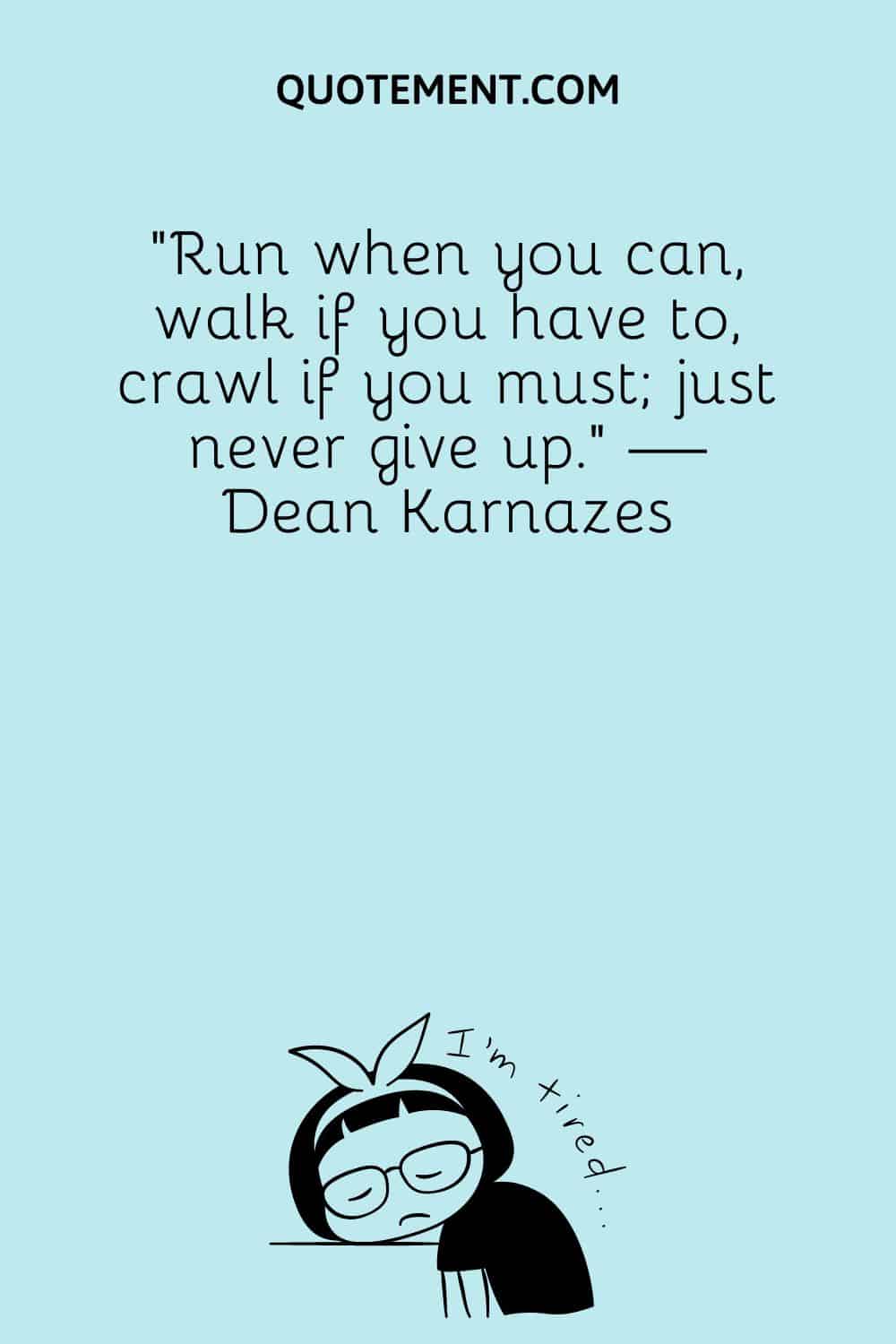 16. "Knocked down but not beaten. Tired but not giving up. I saw the sun peek through the clouds. Sometimes all we need is a glimmer of hope." — Jon Gordon
17. "When I'm tired, I rest. I say, 'I can't be a superwoman today.'" — Jada Pinkett Smith
18. "I would go to the deeps a hundred times to cheer a downcast spirit. It is good for me to have been afflicted that I might know how to speak a word in season to one that is weary." — Charles Spurgeon
19. "Sometimes all you can do is lie in bed, and hope to fall asleep before you fall apart." — William C. Hannan
20. "Our souls are getting older, and we're tired of doing things the same old way. We want to find some real solutions." — Echo Bodine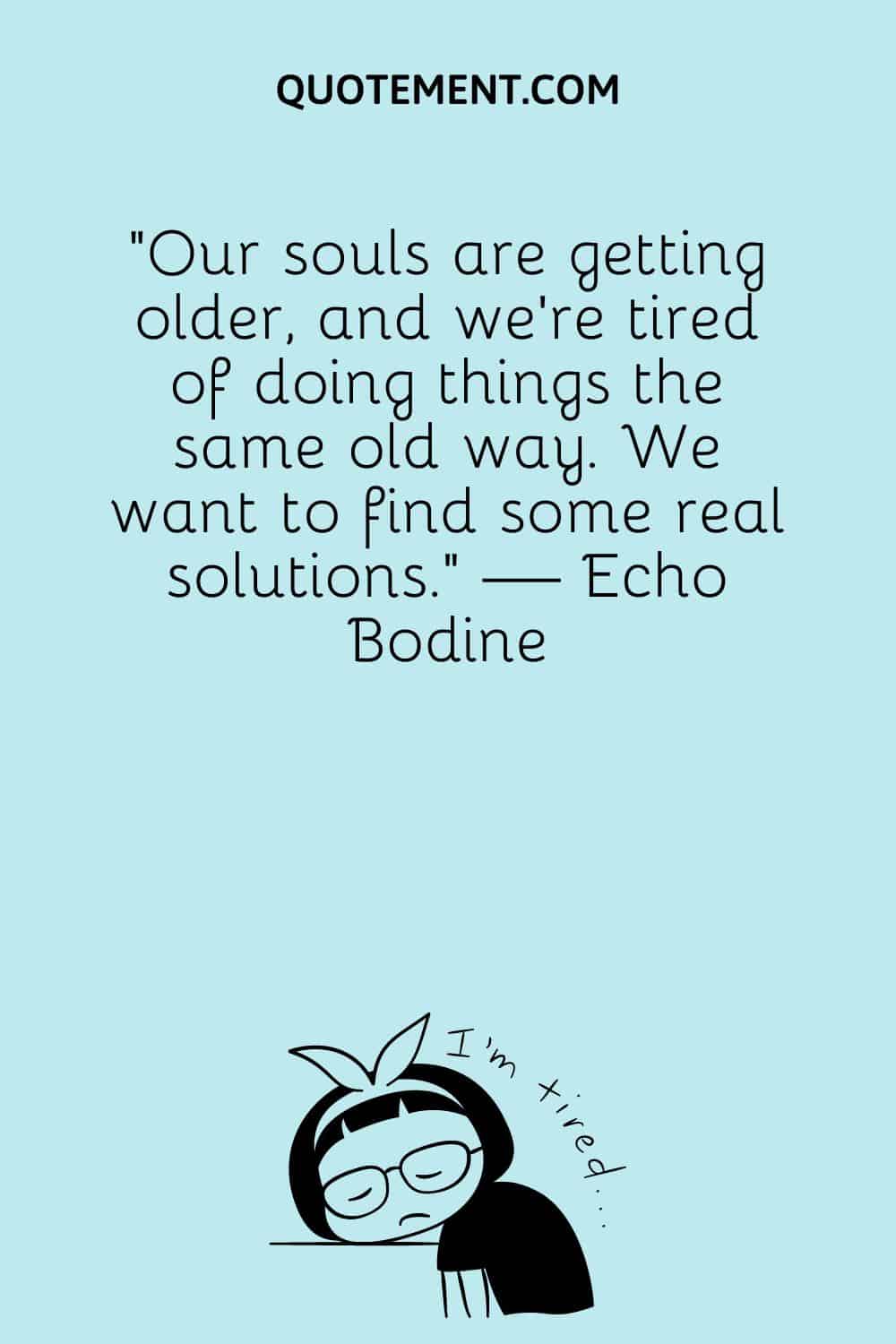 See also: 90+ Inspiring Pick Yourself Up Quotes To Keep You Going
Inspirational Quotes To Help You Keep Going
Here is a great list of inspirational quotes to keep you motivated when tiredness takes over your soul. These encouraging words will give you the will for a fresh start.
1. "Motivation is what gets you started. Habit is what keeps you going." — Jim Ryun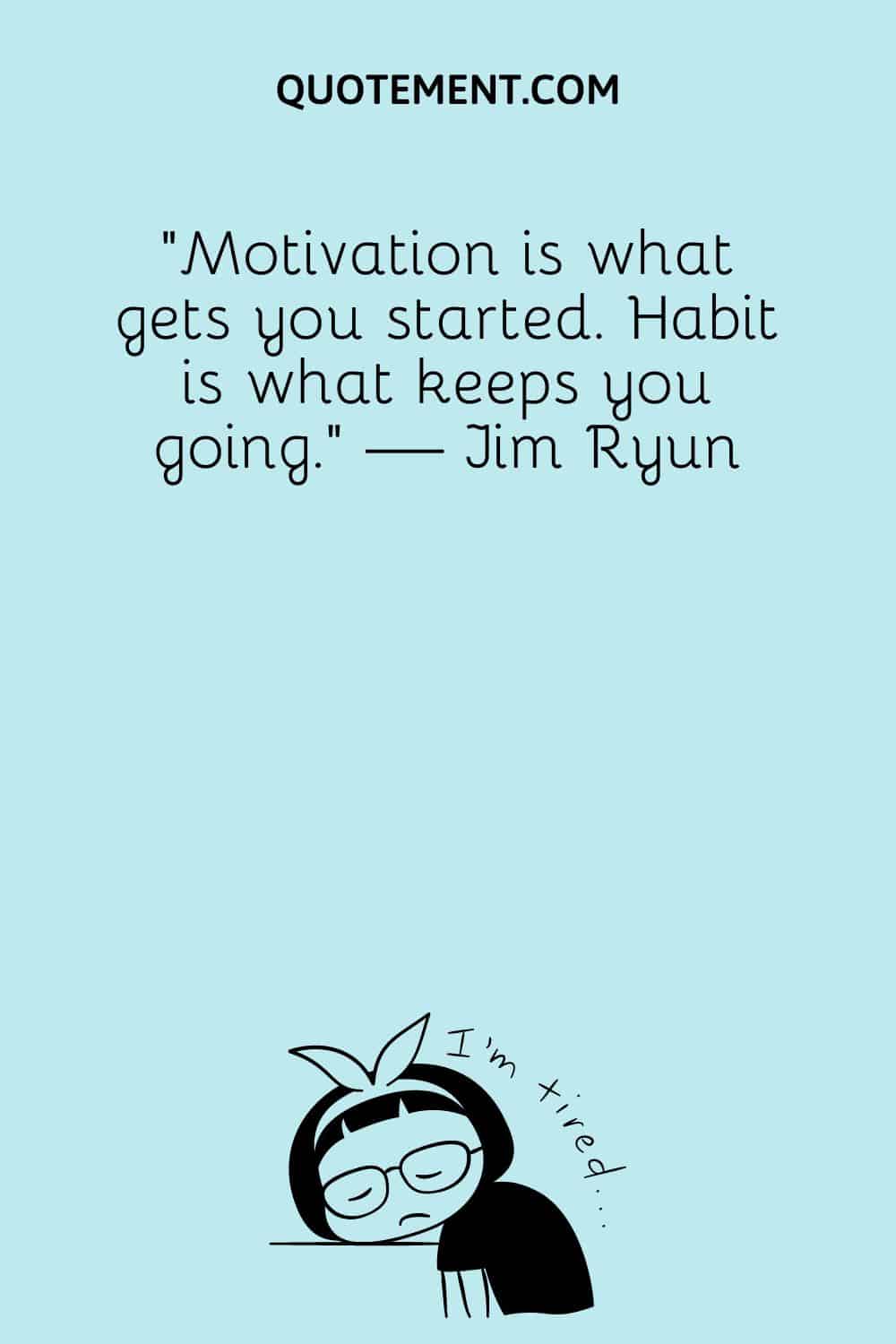 2. "Tired minds don't plan well. Sleep first, then plan later." — Walter Reisch
3. "The sky is an infinite movie to me. I never get tired of looking at what's happening up there." — K. D. Lang
4. "Tiredness is just something that is appearing; it's not who you are." — Nirmala
5. "You must be strong enough to strike and strike and strike again without tiring. The first lesson is to make yourself that strong." — Holly Black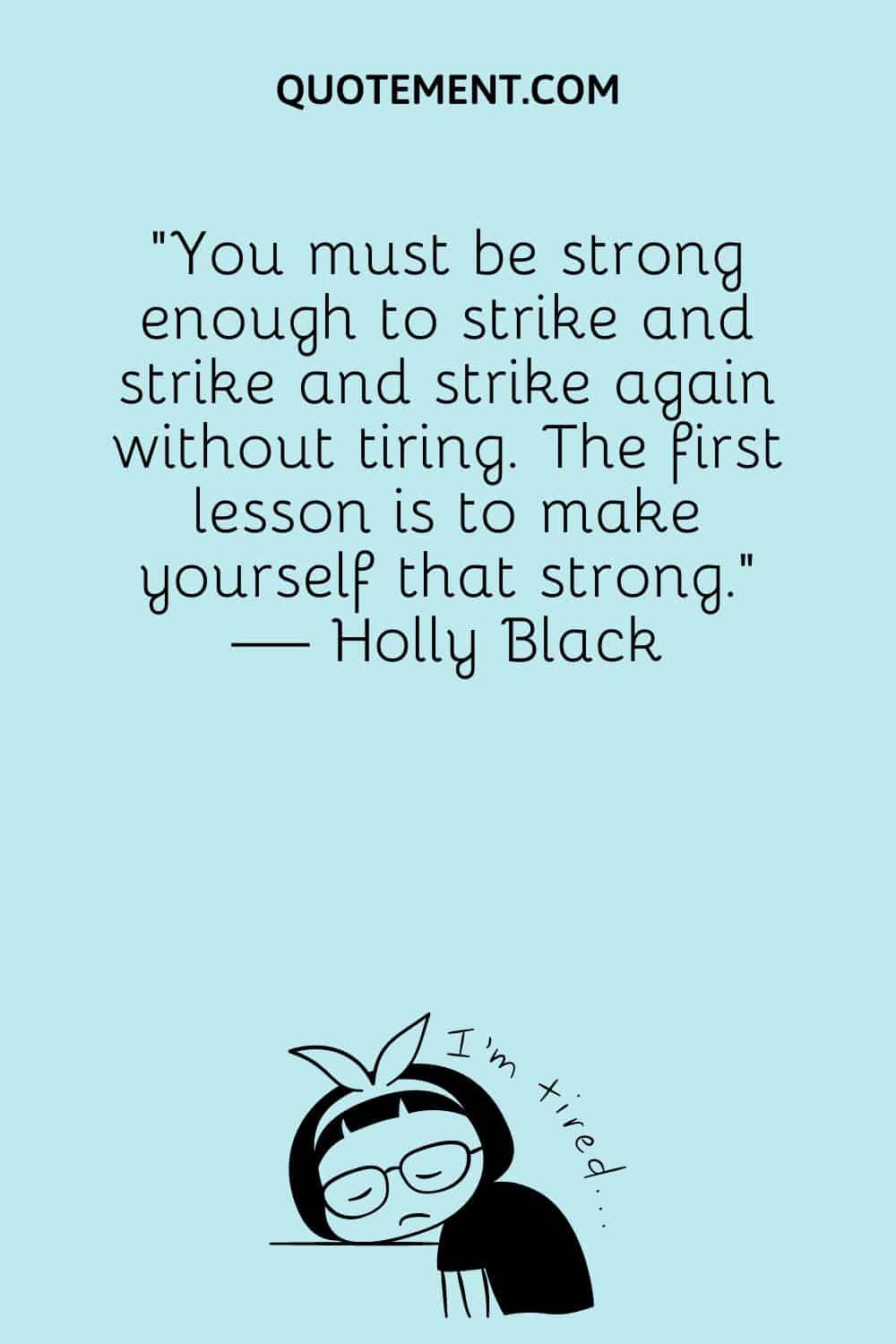 6. "It's so important to realize that every time you get upset, it drains your emotional energy. Losing your cool makes you tired. Getting angry a lot messes with your health." — Joyce Meyer
7. "Keep believing. You may be tired, discouraged, but don't give up on your future." — Joel Osteen
8. "I'm tired of defending my character. I am what I am. What you see is what you get." — Dana Plato
9. "Desire is the key to motivation, but it's the determination and commitment to the unrelenting pursuit of your goal – a commitment to excellence – that will enable you to attain the success you seek." — Mario Andretti
10. "The best way to guarantee a loss is to quit." — Morgan Freeman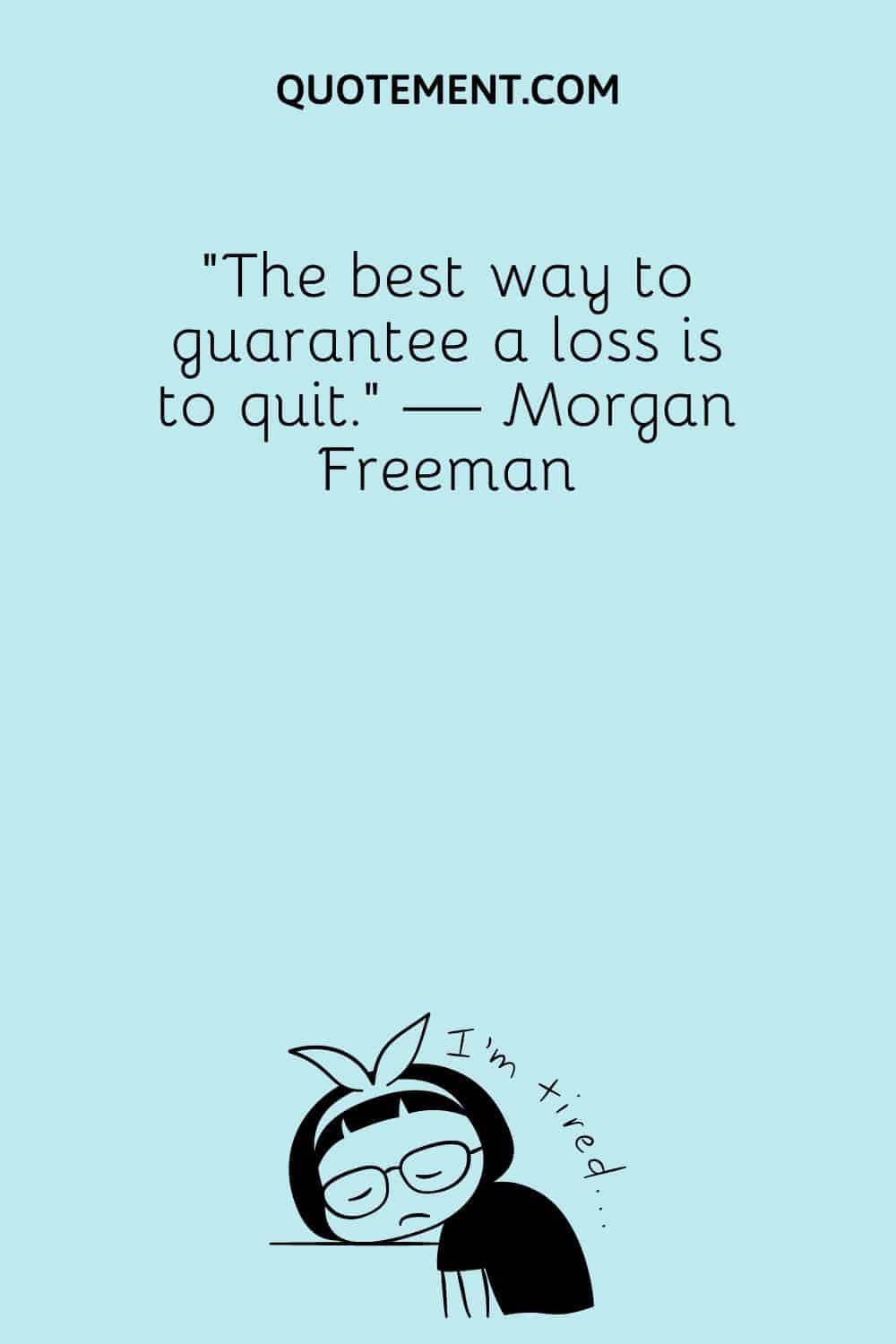 11. "It's important to surround yourself with good people, interesting people, young people, young ideas. Go places, learn new stuff. Look at the world with wonder – don't be tired about it." — Angela Bassett
12. "Never give up. When your heart becomes tired, just walk with your legs – but move on." — Paulo Coelho
13. "I'm so tired, but I can't sleep. Standing on the edge of something much too deep." — Sarah MacLachlan
14. "Giving up is the only sure way to fail." — Gena Showalter
15. "Never stop trying. Never stop believing. Never give up. Your day will come." — Mandy Hale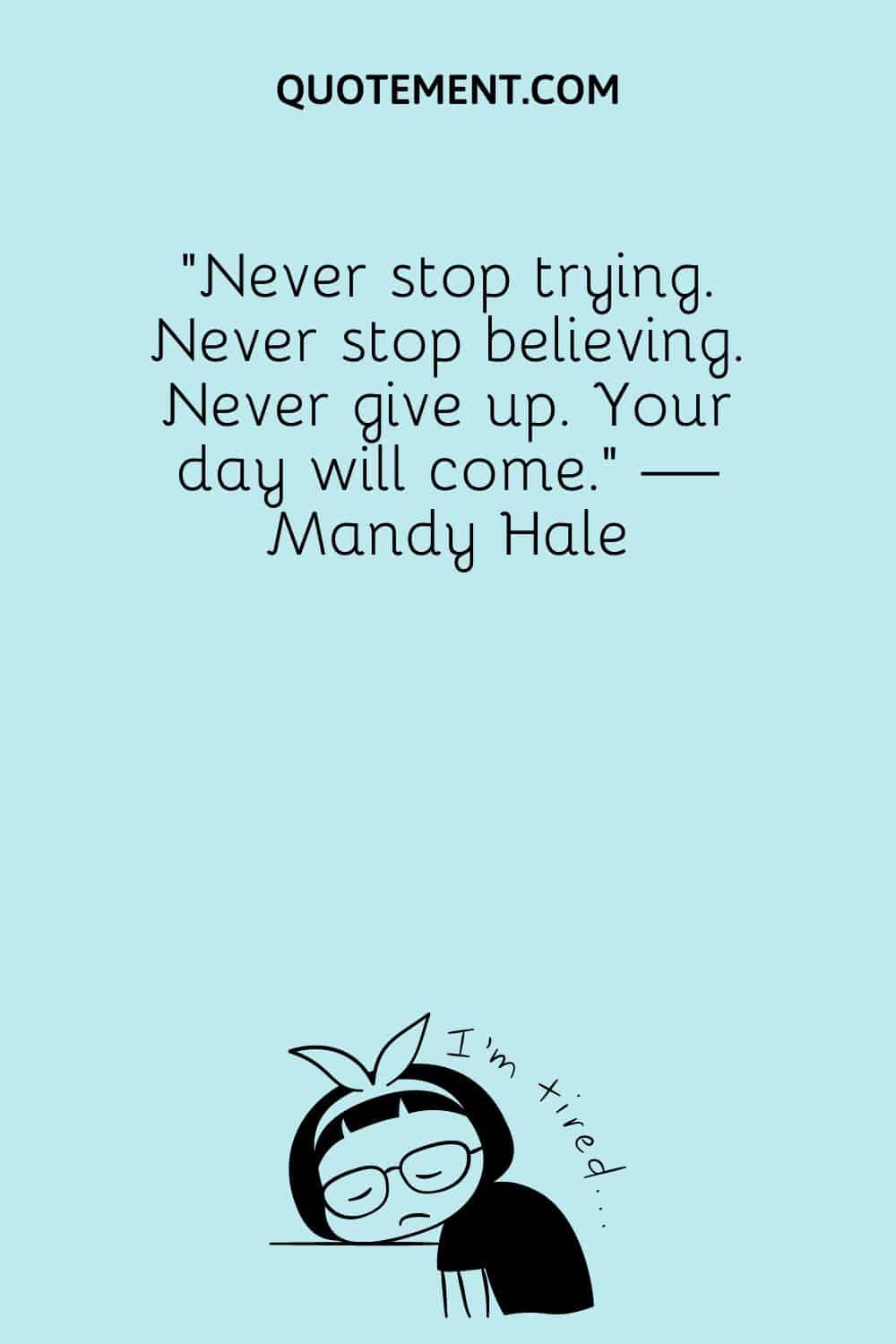 16. "Changes can be frightening, and the temptation is often to resist it. But change almost always provides opportunities – to learn new things, to rethink tired processes, and to improve the way we work." — Klaus Schwab
17. "It's a little like wrestling a gorilla. You don't quit when you're tired – you quit when the gorilla is tired." — Robert Strauss
18. "Your victory is right around the corner. Never give up." — Nicki Minaj
19. "Never give up, for that is just the place and time that the tide will turn." — Harriet Beecher Stowe
20. "People cry, not because they're weak. It's because they've been strong for too long." — Johnny Depp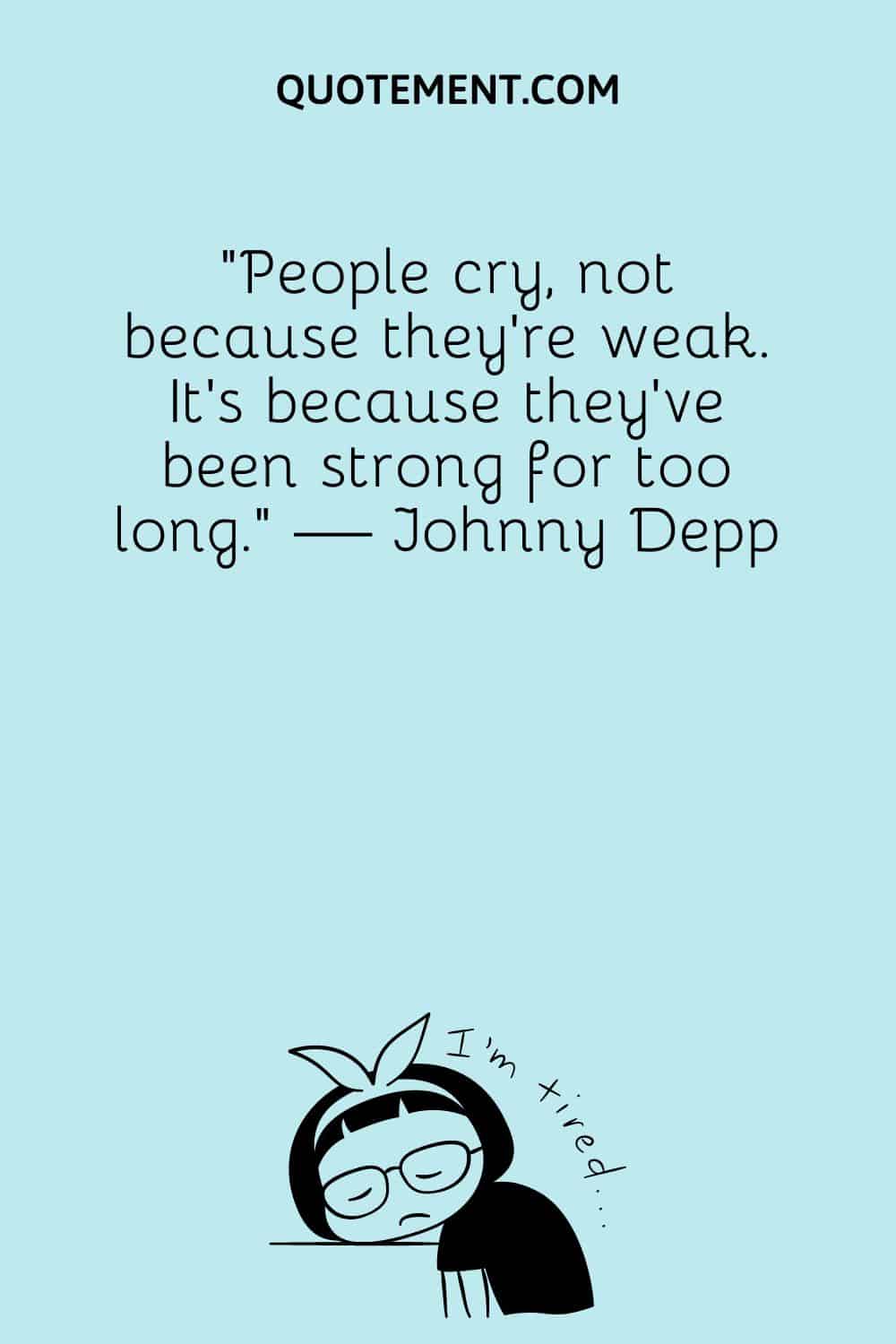 21. "Never give up on something you believe in." — Steve Scalise
22. "Time flies when you're on an emotional roller coaster." — Kaitlyn Bristowe
23. "I am someone who can't hold on to negativity or hold on to grudges. I might feel something at a certain point, but I get tired after that. I don't carry it with me. I forgive and forget very easily, and that's the only way to be happy and peaceful." — Deepika Padukone
24. "Emotional intelligence is your ability to recognize and understand emotions in yourself and others, and your ability to use this awareness to manage your behavior and relationships." — Travis Bradberry
25. "If you get tired, learn to rest, not to quit." — Banksy
Life Quotes About Tired Soul
The following list of soul tired quotes contains various life quotes from unknown sources that reflect on the state of not being able to gather the energy to do anything.
1. "I am so tired even my tiredness is tired."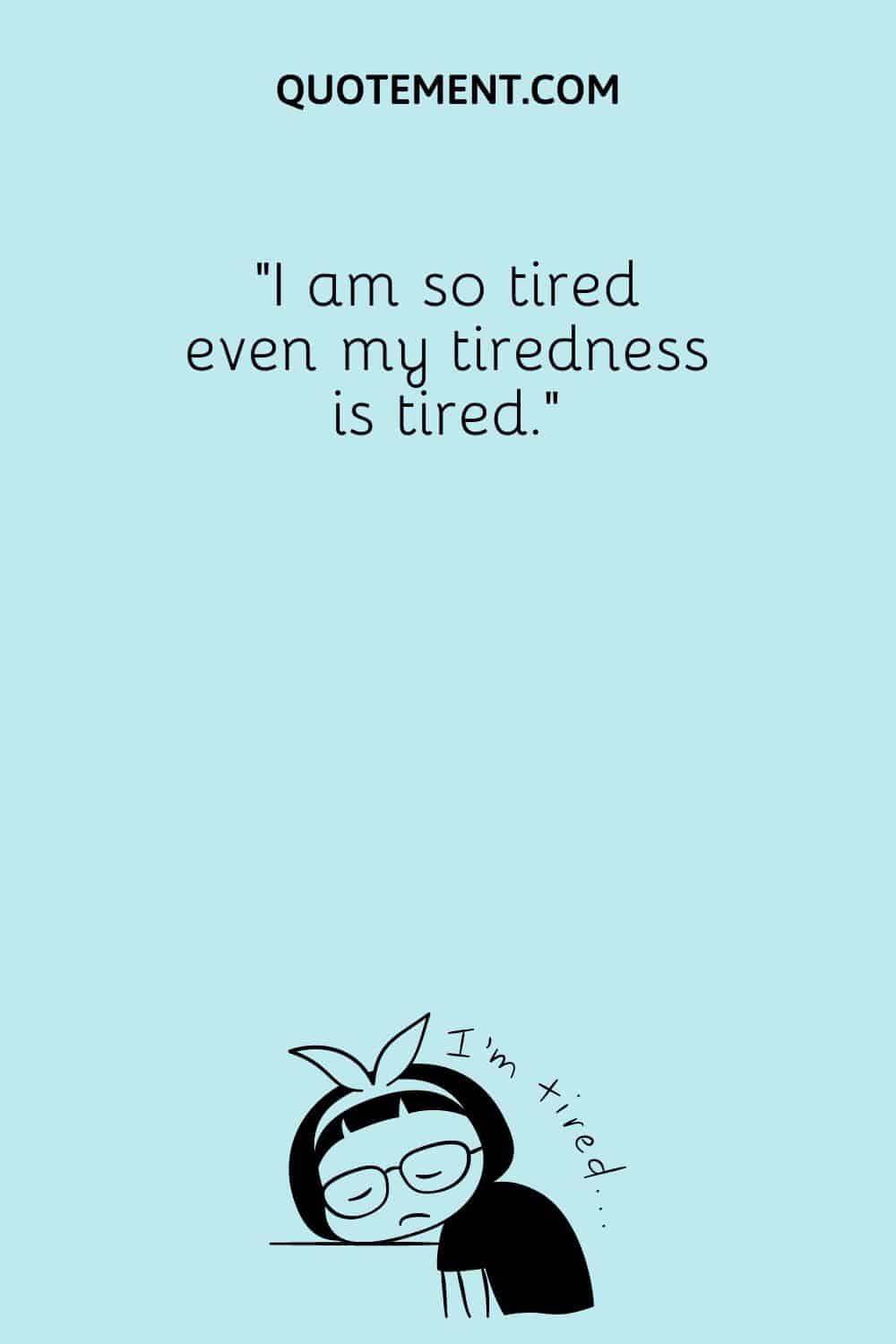 2. "Your legs must be tired because you have been running through my mind all night."
3. "I'm just tired. That's my excuse."
4. "I tried. I tried. I tried. I tried. I tried. I tried. I'm tired."
5. "Silence doesn't always mean "yes". Sometimes, it means, "I'm tired of explaining to people who don't even care to understand."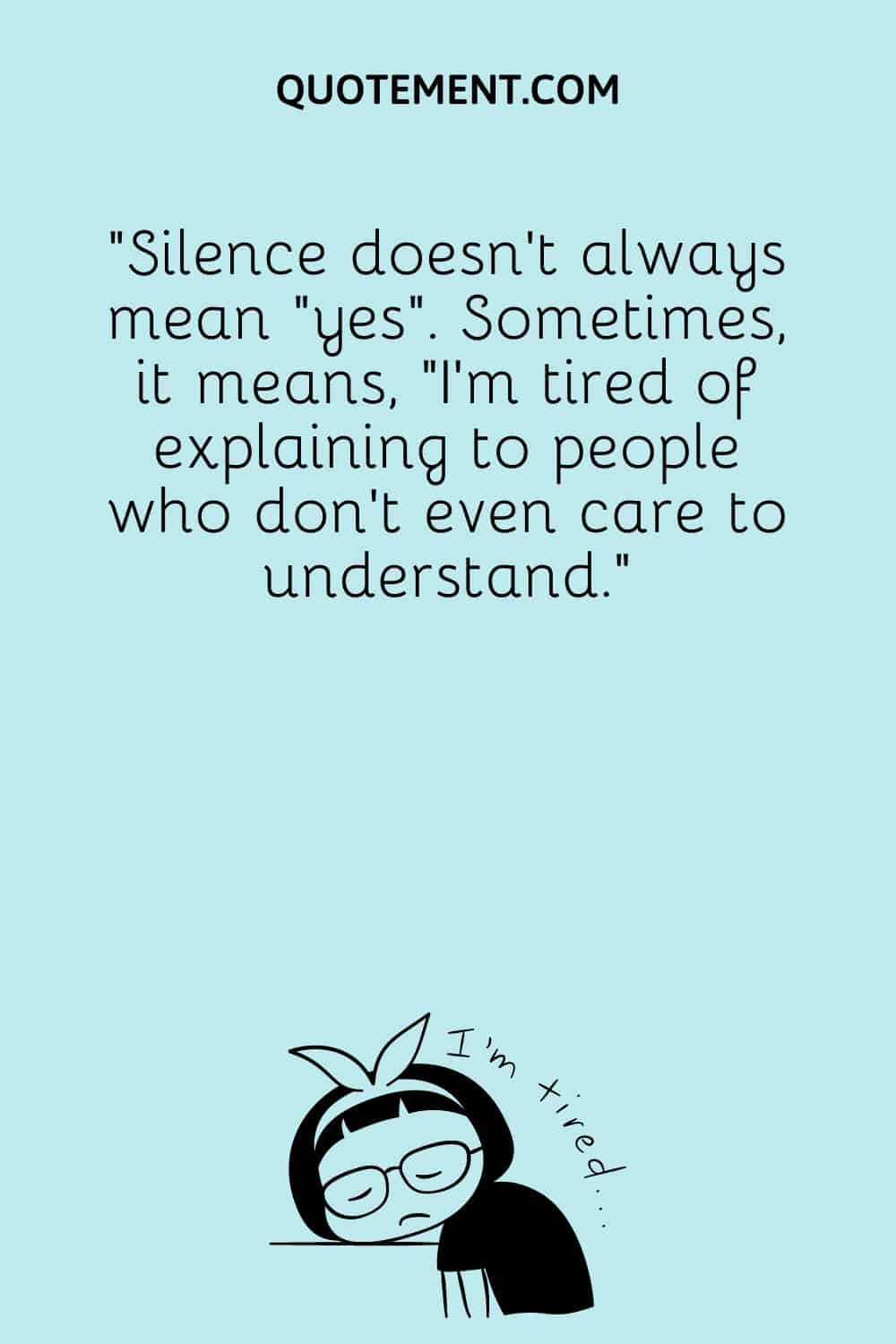 6. "Let's go to bed, I'm tired of this day, I need a new one."
7. "I've slept so much lately, and yet I'm still so damn tired. Maybe I'm just tired of life."
8. "Emotionally, I'm done."
9. "I'm so tired of feeling this way."
10. "I sleep less, I'm tired. I sleep more, I'm tired."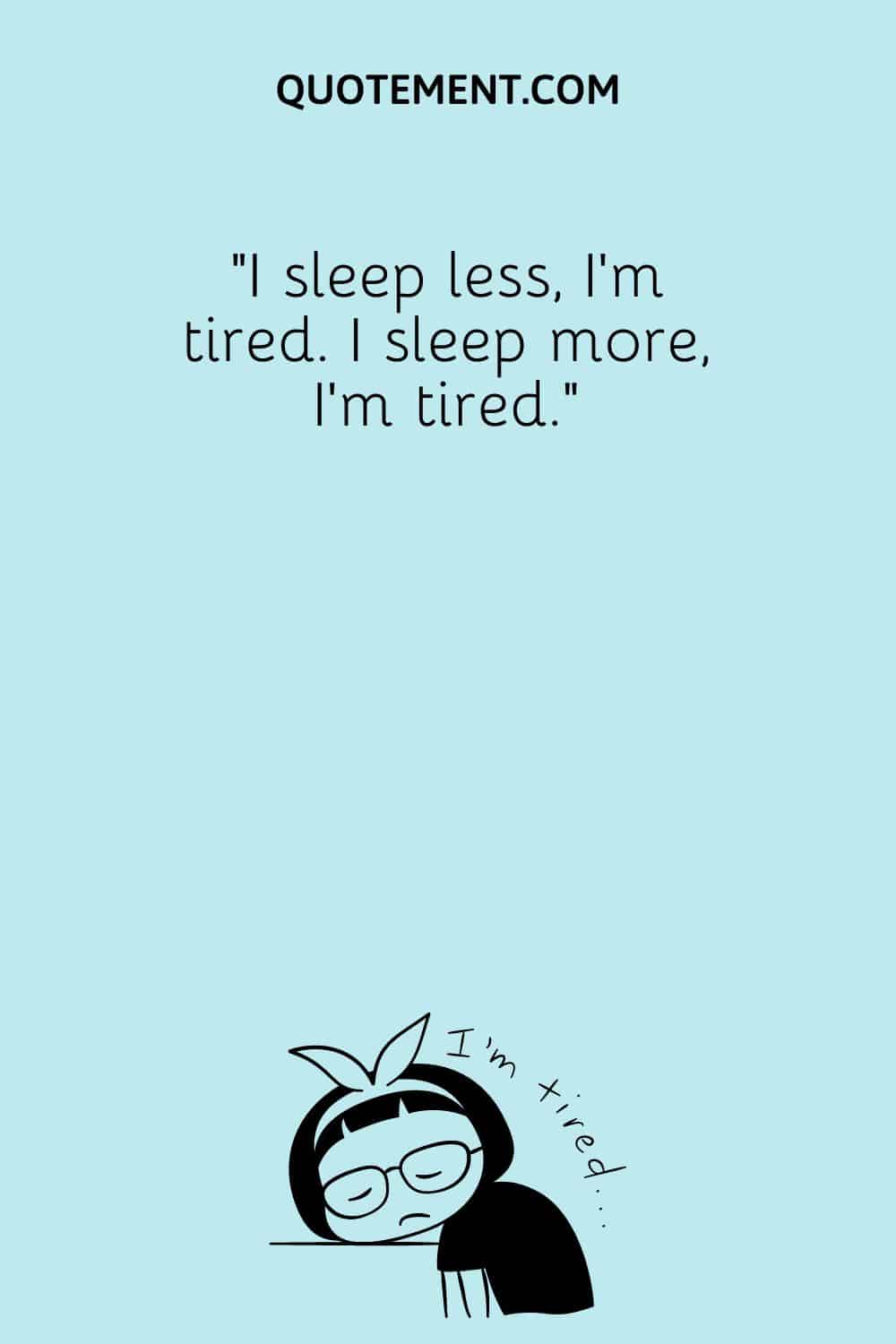 11. "You really get tired in one area of your life, and then you start questioning your whole existence."
12. "Tired of giving everything and ending up with nothing."
13. "Sick of crying, tired of trying."
14. "Just so tired of being me."
15. "I don't have time for my own mental health because so many other people need me to help them with theirs, and it's exhausting. I can't say no."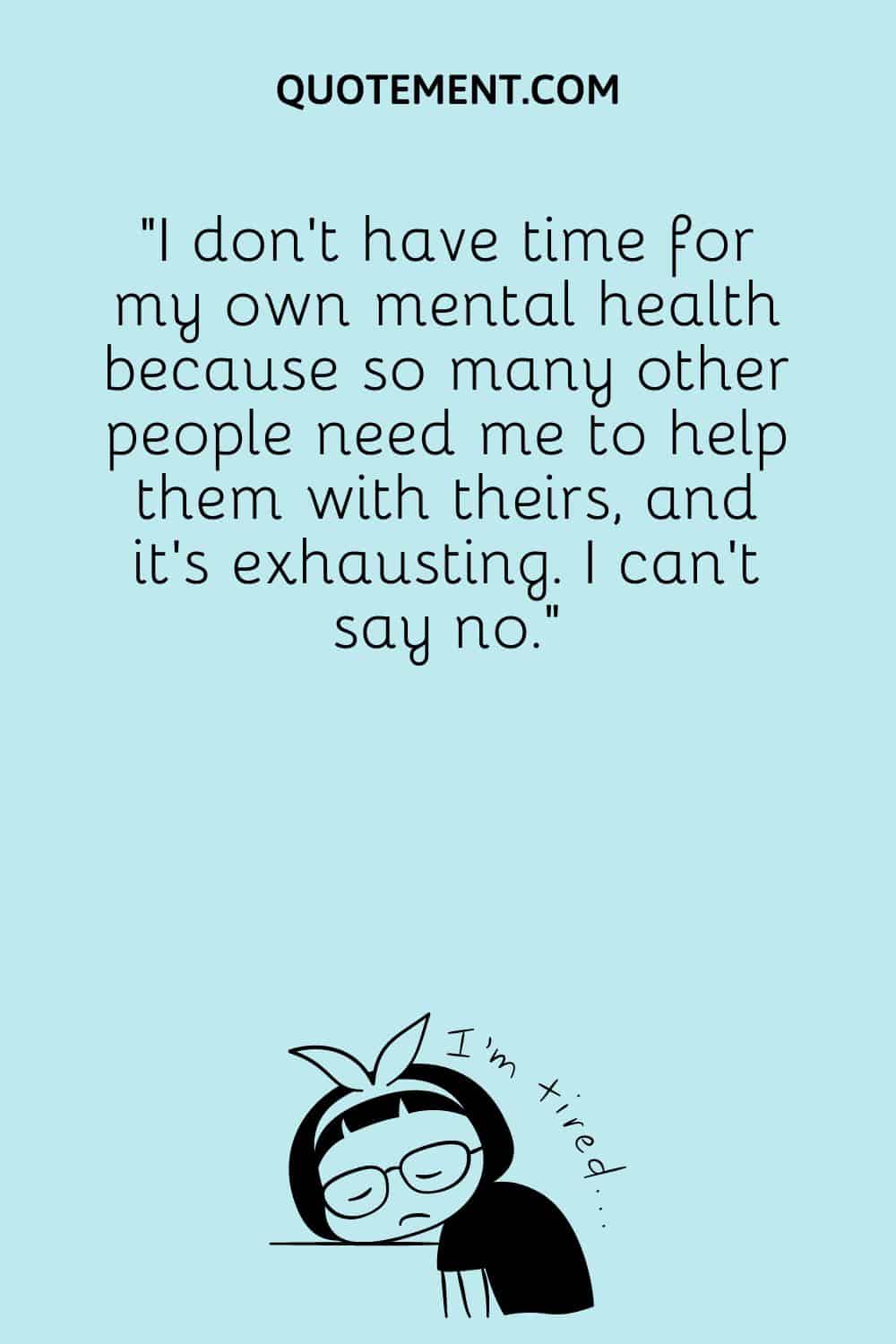 16. "Tired of life and things around me."
17. "I get tired from just thinking of everything I have to do."
18. "I'm tired, I just need a long break from life."
19. "I'm emotionally and mentally exhausted. I feel like my stress is a permanent part of my being."
20. "A heart that always understands also gets tired."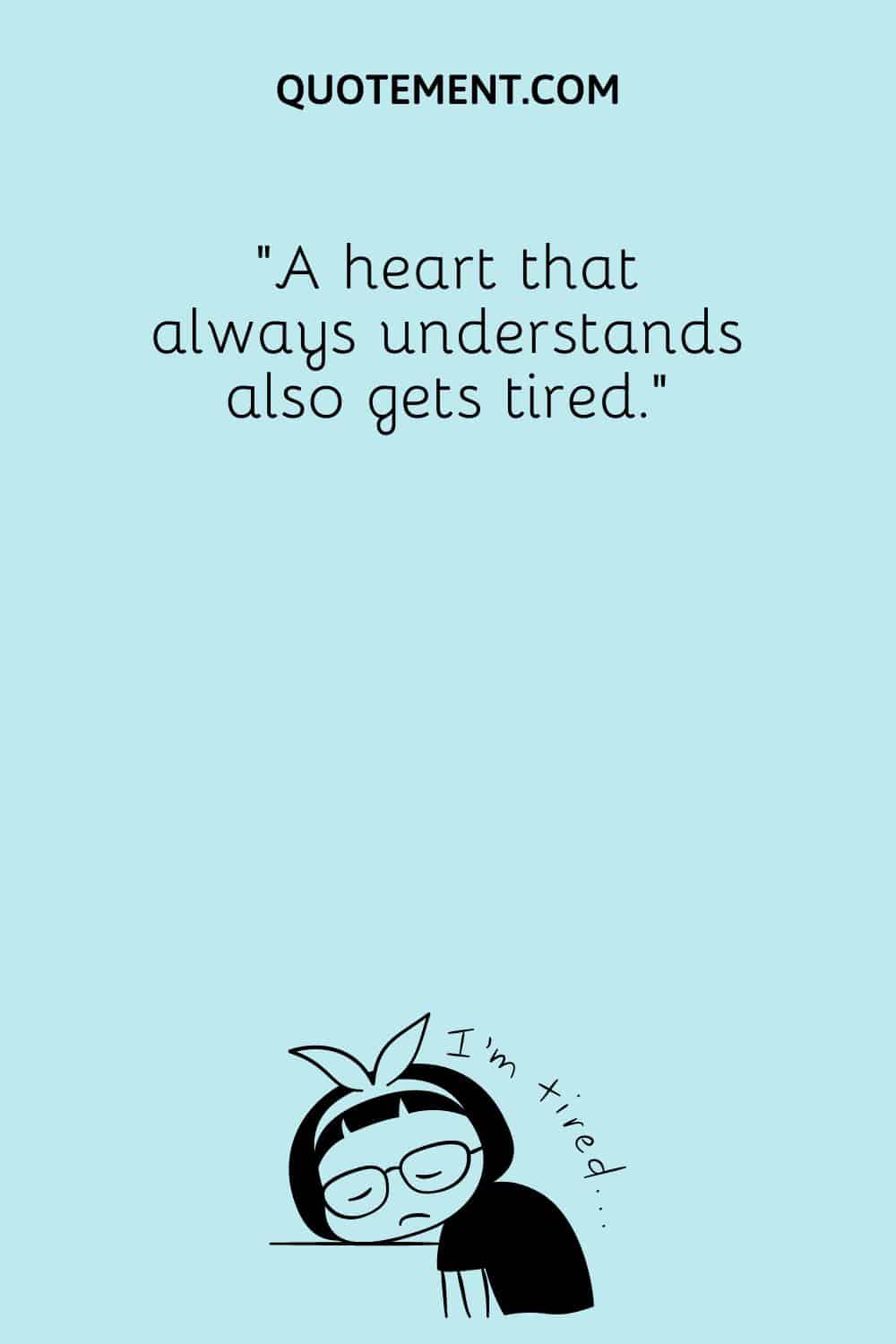 21. "Burnout is a bone-tired, soul-tired, heart-tired kind of exhaustion."
22. "I am physically, mentally, and emotionally tired now."
23. "I'm tired of feeling worthless, I'm tired of feeling hopeless, but above all, I'm tired of feeling tired."
24. "I am strong, but I'm tired."
25. "There are two types of tiredness, I suppose, one is the dire need of sleep, and the other is the dire need of peace."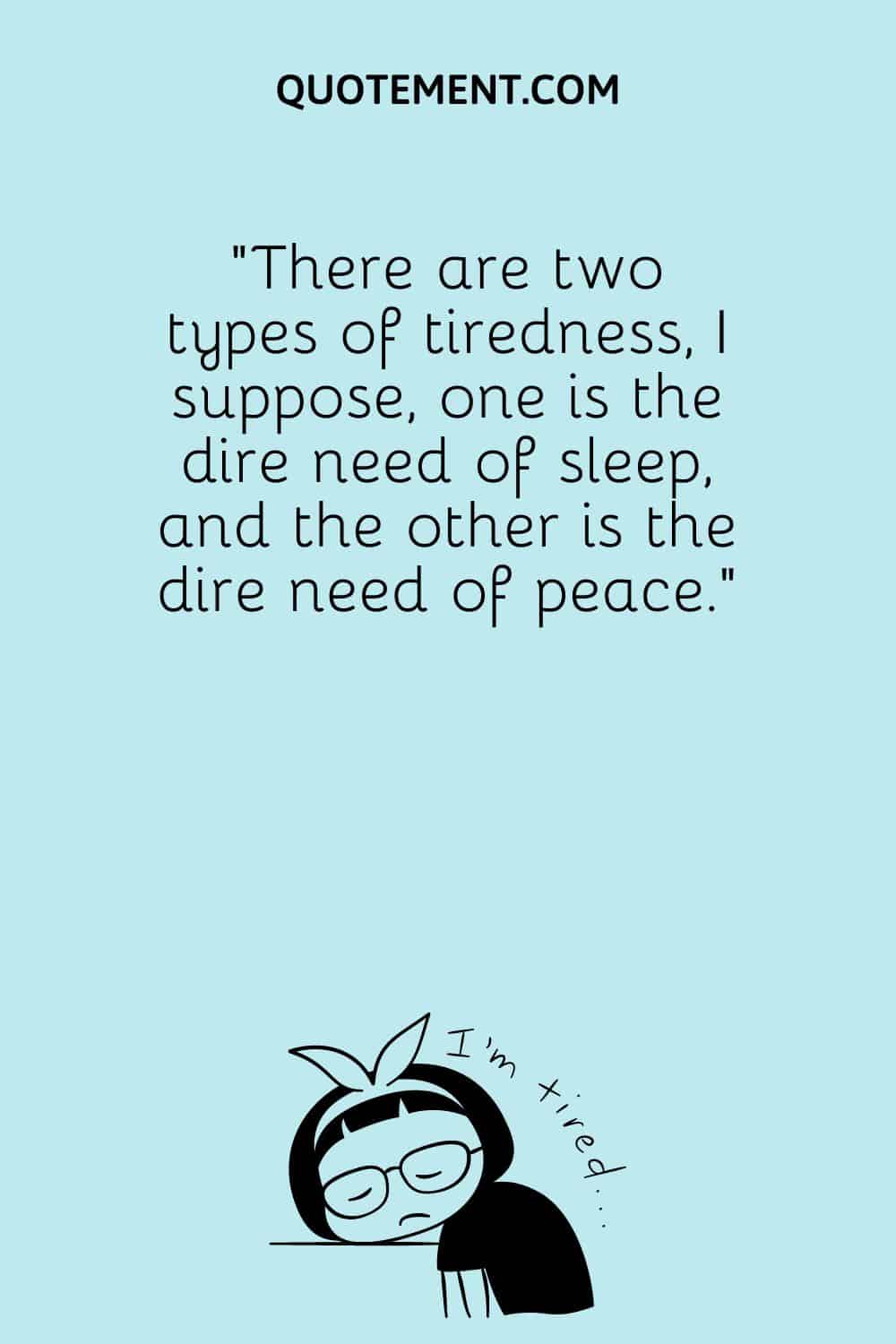 To Conclude
I hope you found my collection of soul tired quotes relatable, and that it has helped you overcome your exhaustion, get some rest, and start over fresh.
Until next time!
Read next: 120 Emotionally Tired Quotes For All The Broken People