Hello there, fellow foodie! If you're looking for some cool and catchy pancake captions for Instagram, then I've got you covered!
I've prepared a list of 150 amazing pancakes captions you will really love!
Pancakes are a delicious breakfast food that look as good as they taste. No matter how hungry you are, you've got to first snap a cute insta photo before you start eating.
I'm not judging, I do the same! That delightful fluffiness simply must be shared; the world has to see it!
To save you the stress of searching for a proper caption, I've put together all the best pancakes captions on the web in this handy article.
Cute, smart, catchy, and funny captions, you'll find them all right here. I've also included some wonderful pancake quotes that can be used as captions.
Let's take a look!
Top 20 Pancakes Captions For Instagram
Let's start off with the 20 best pancakes captions for Instagram you will absolutely love!
1. Skinny will never feel as good as pancakes taste.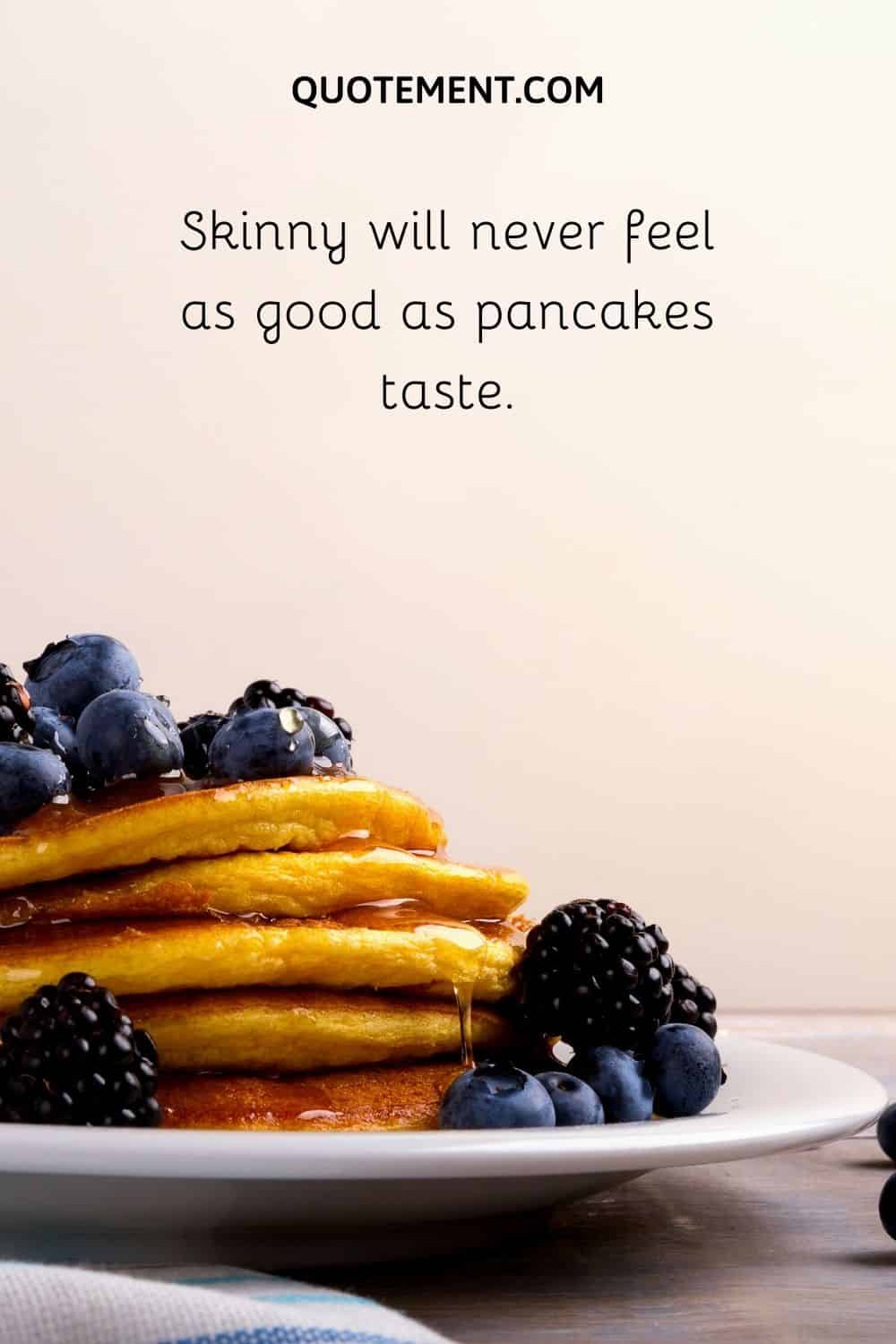 2. Blood is thicker than water, but maple syrup is thicker than blood. So technically, pancakes are more important than family.
3. Pancakes, just like life, need to be balanced.
4. Sundays are better with pancakes. Let's face it, everything is better with pancakes.
5. The best combination includes the person eating with you.
6. Anyone who doesn't like pancakes is a red flag.
7. I am proud to be a pancake lover.
8. Pancake loving loud and proud.
9. Life is a combination of magic and pancakes.
10. My head says exercise, but my heart says pancakes.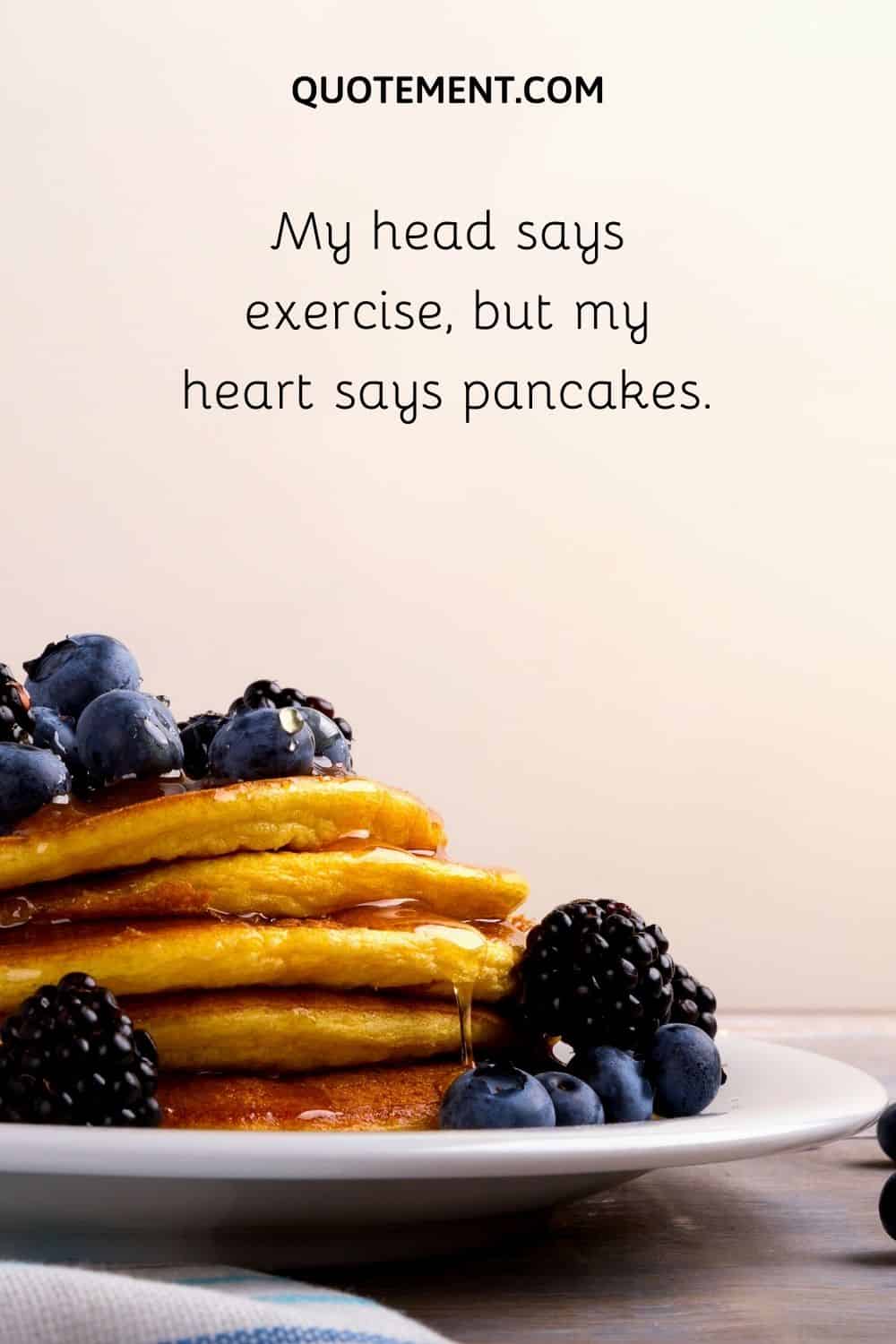 11. Who needs a therapist when you have pancakes?
12. Stressed spelled backward is desserts.
13. Rise and shine, it's pancake time!
14. Pancakes are judged by taste, not by shape or size.
15. All you need is pancakes. Pancakes are all you need.
16. Pancake obsessed.
17. Happiness is a pancake breakfast.
18. There has never been a sadness that can't be cured by breakfast food.
19. Children are like pancakes: the first one is always a bit weird.
20. I don't want to look back and think, "I could have eaten that".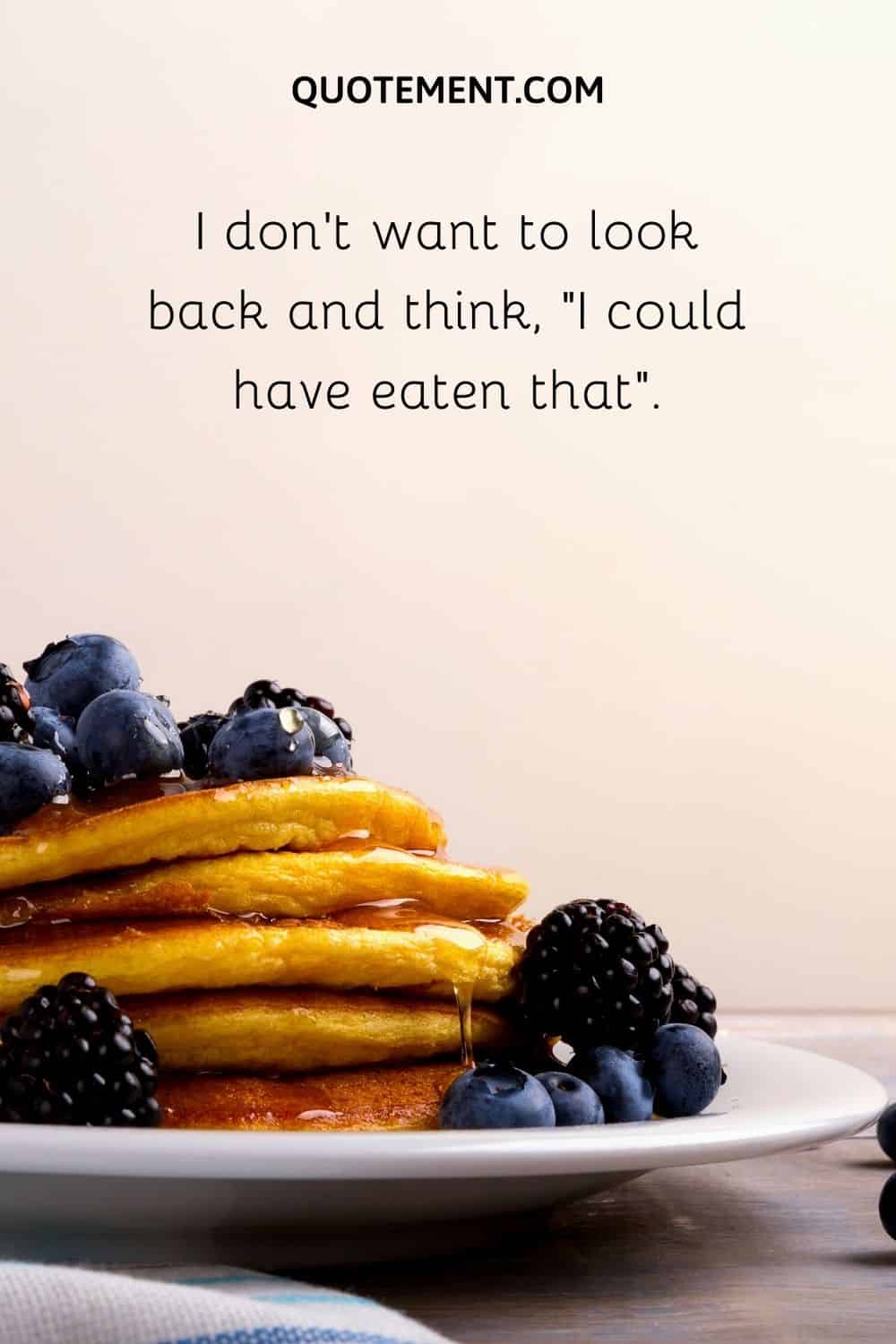 Catchy Instagram Pancakes Captions
Here are some more fantastic pancakes captions you should not miss!
1. I'm going to have pancakes with a side of pancakes.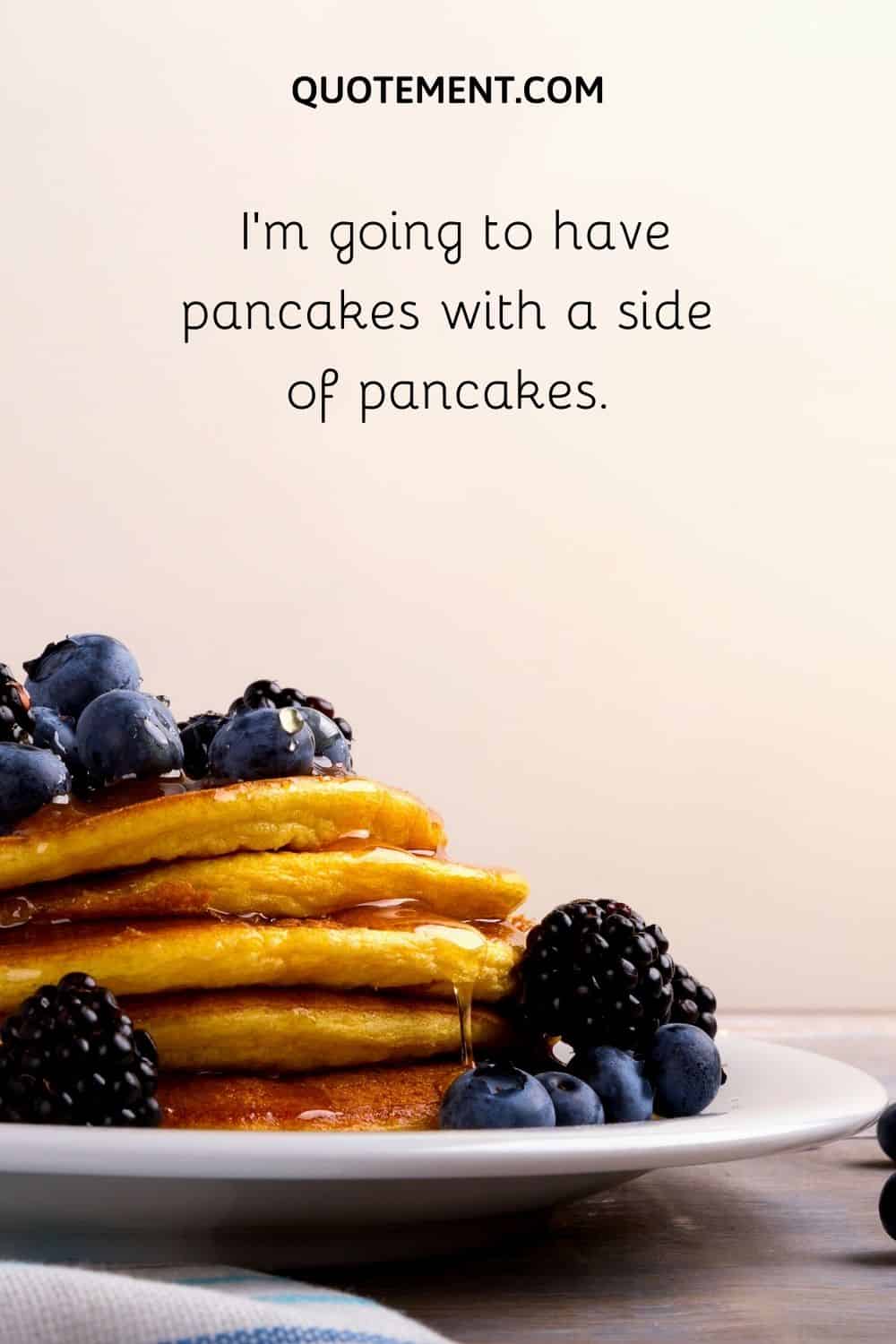 2. There's nothing pancakes can't fix.
3. Keep calm and eat pancakes.
4. Weekends are for pancakes.
5. Lazy days and pancakes.
6. Pancakes are not that easy to make.
7. All's fair in love and pancakes.
8. Without a pancake, the day is incomplete.
9. The delight of pancakes can only be discovered by eating them.
10. I believe in pancakes for breakfast.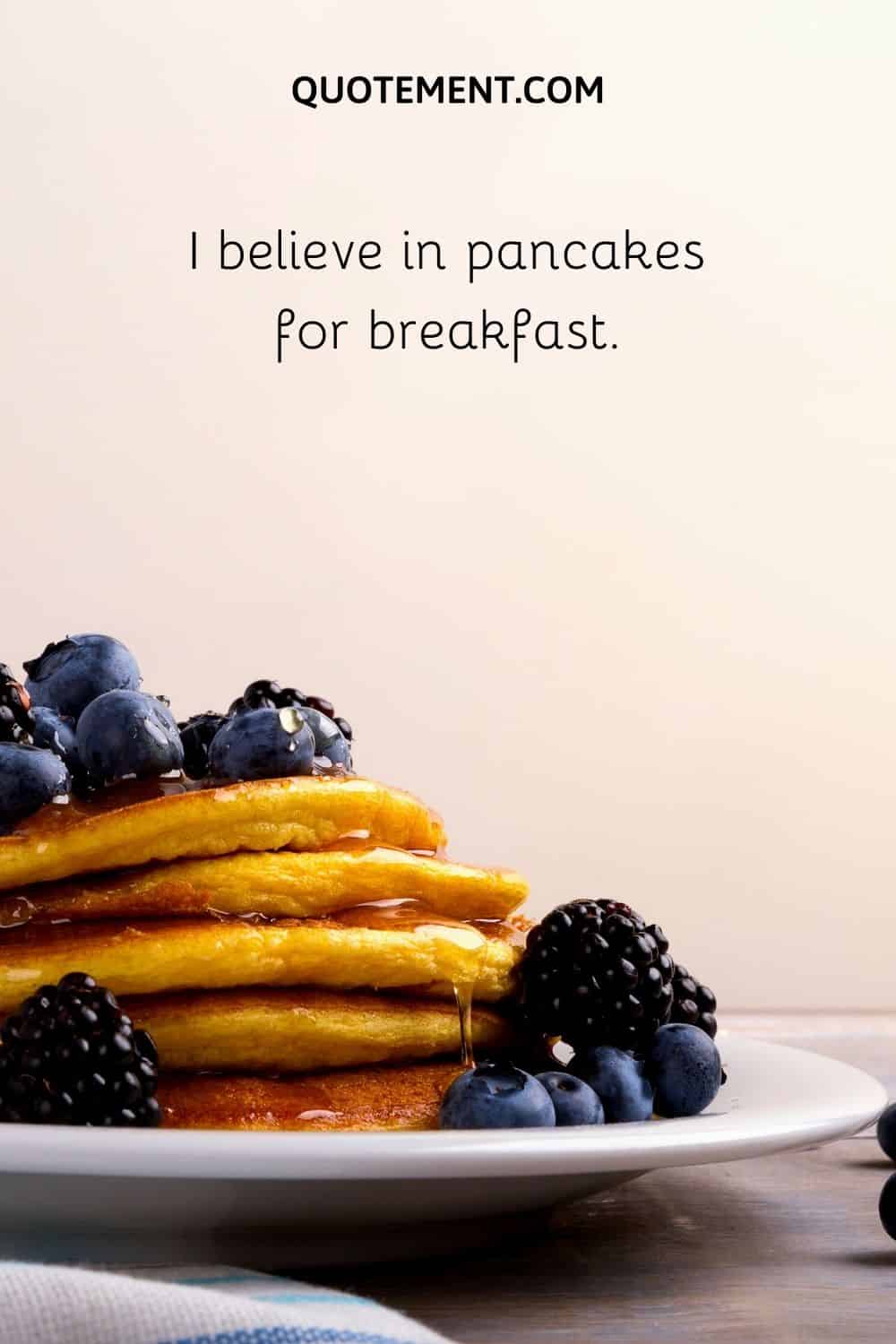 11. Pancakes are my therapy.
12. Shut up and feed me pancakes.
13. Time for pancakes!
14. Today's good mood is sponsored by pancakes.
15. I go where the pancakes are.
16. Keep calm and cook pancakes.
17. Just a boy/girl who loves pancakes.
18. Pancakes all day, every day, not just Pancake Day.
19. Pancake o'clock.
20. Spread love as thick as you would Nutella.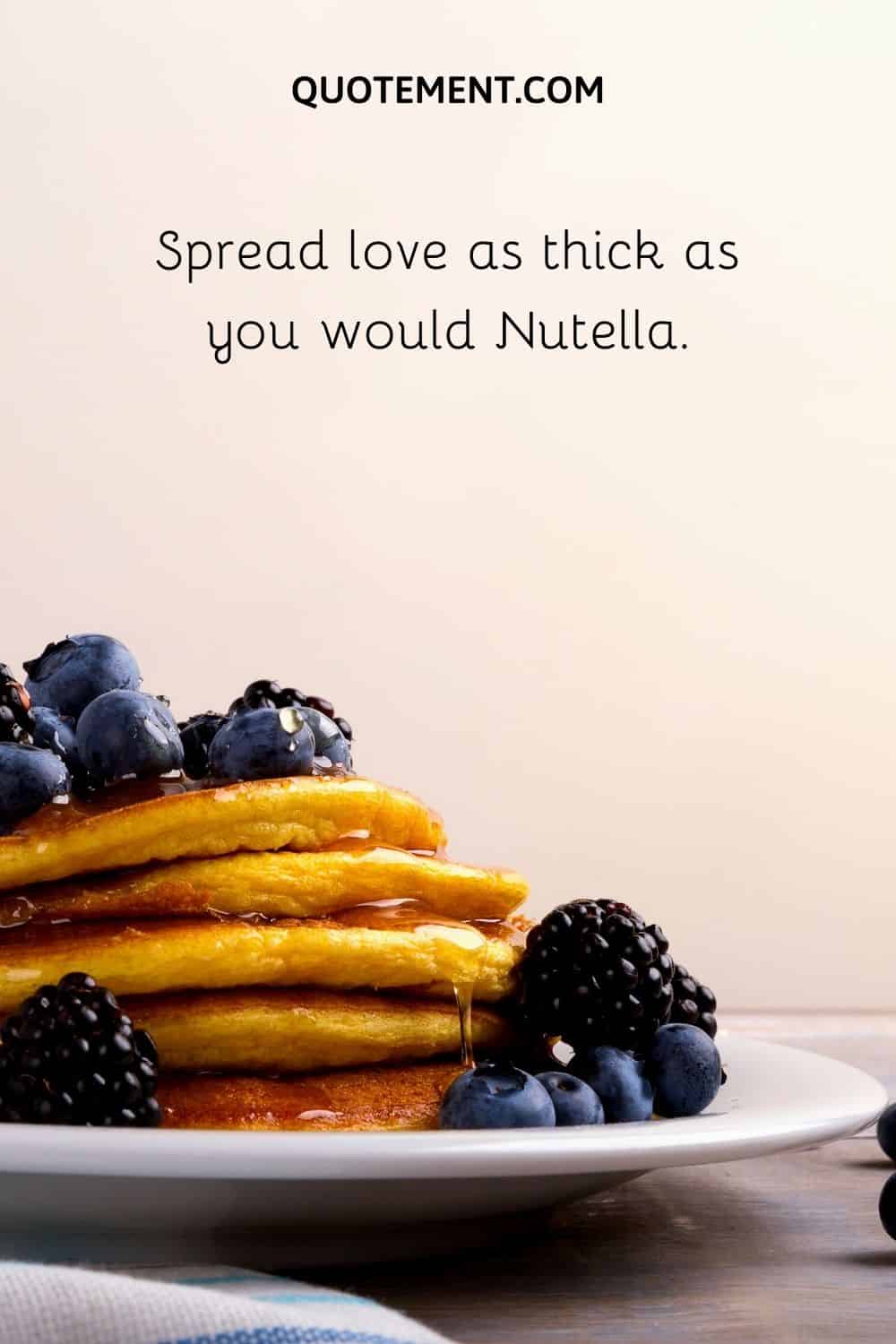 21. Pancakes make people happy.
22. Sugar and spice and everything nice.
23. All happiness depends on a leisurely pancake.
24. The best pancake topping is more pancakes.
25. Coffee and pancakes, the perfect match.
See also: 280 Awesome Coffee Captions To Show Your Coffee Obsession
Funny Pancake Captions
1. Pancake my eyes off you.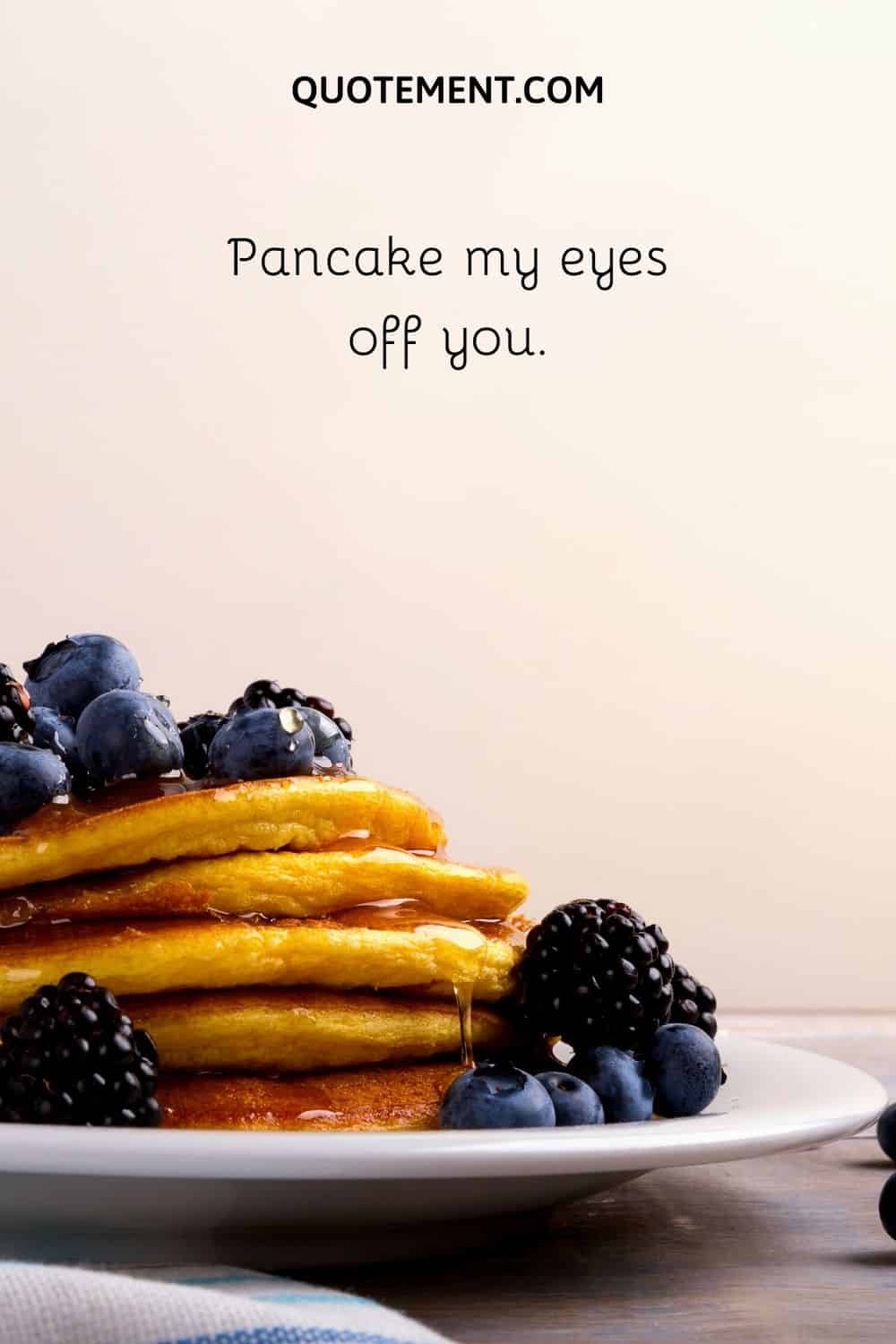 2. Suga how'd you get so fly?
3. I love the cake which is known as a pancake.
4. Haunted French pancakes give me the crepes.
5. Pancakes make everything butter.
6. "Shall I compare thee to a perfectly poured pool of pancake batter on a warm griddle?" —Williyum Cakespeare
7. Have a flippin great pancake day!
8. Flippin delicious!
9. I would have denied you if you came at the cost of pancakes.
10. Waffles are just pancakes with abs.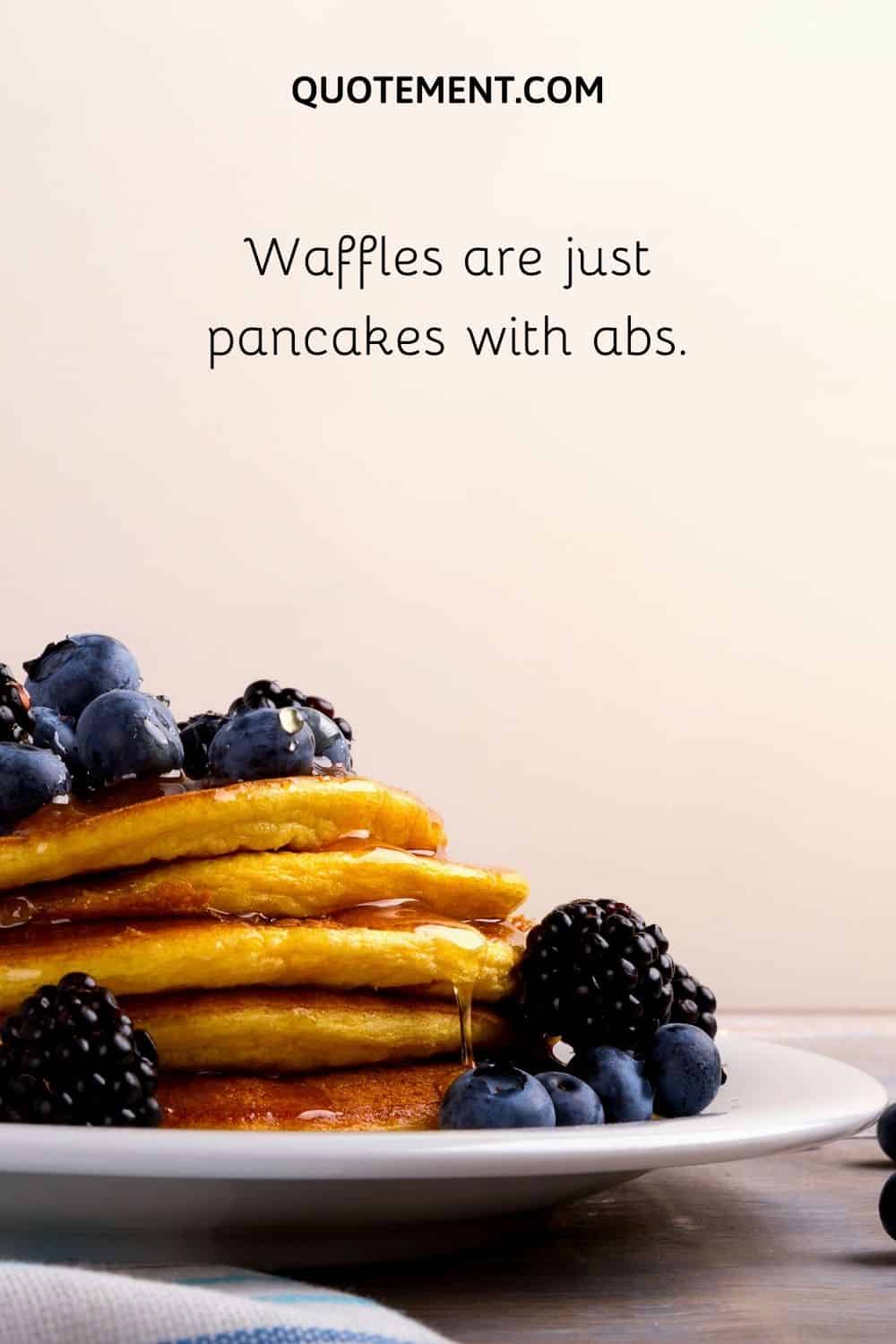 11. Pancakes are just like waffles with no holes.
12. I flipping love you.
13. Life is butter when we're together.
14. "Where there is a perfect pancake flip, there is life." — Mahoatmeal Ghandi
15. We pancaked with a pancake that was more than a pancake.
16. At the touch of pancakes, everyone becomes a poet.
Smart Pancakes Captions For Instagram
1. The laziest man I ever met put popcorn in his pancakes so they would turn over themselves.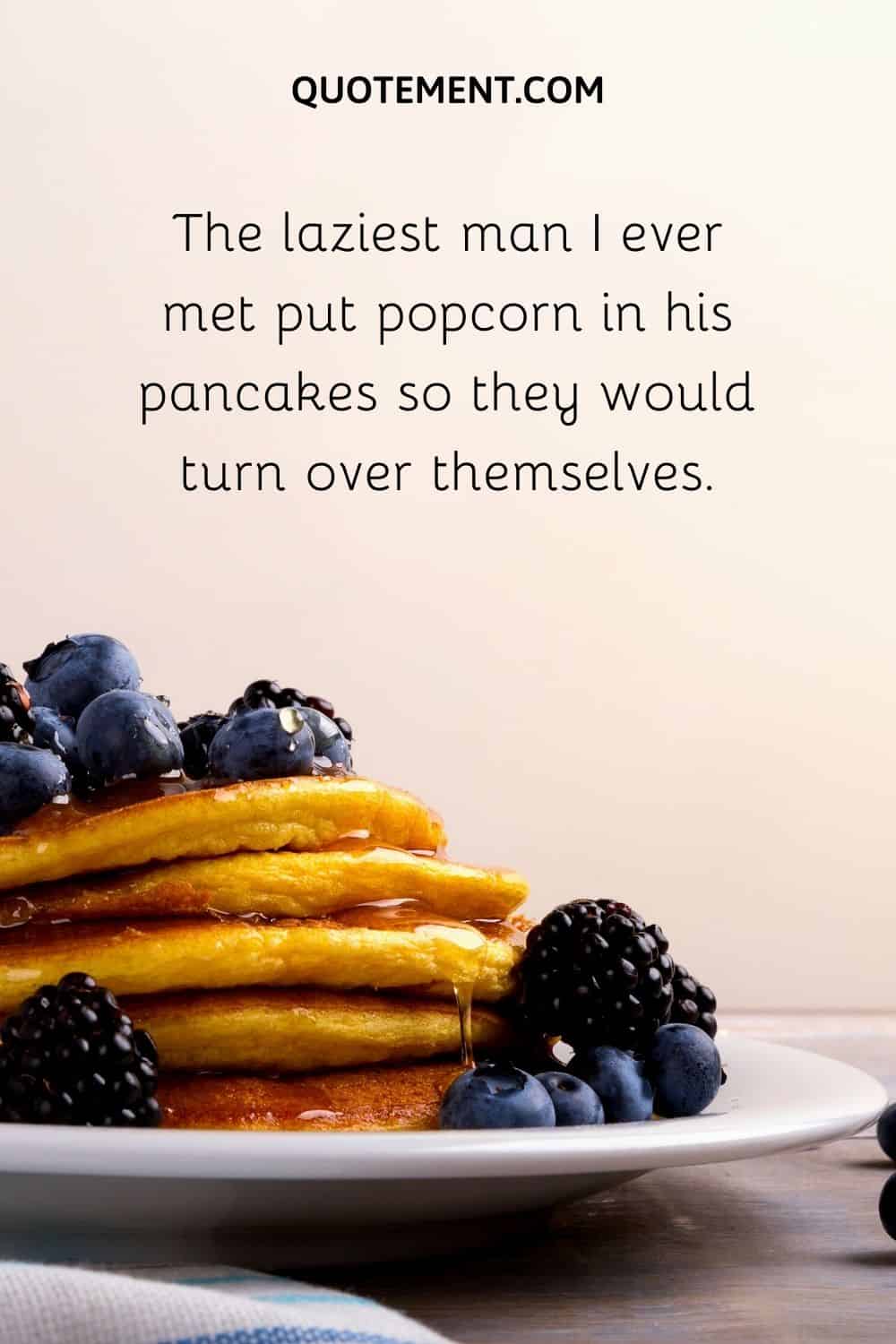 2. Nothing is as good as eating without regrets.
3. Eating breakfast is a nice way of saying thank you to your body.
4. Don't be ashamed to let your conscience be your guide.
5. Kindness is like sugar, it makes life taste a little sweeter.
6. Pregame, I eat pancakes for a meal. I always do mental visualization before the game to prepare myself. Postgame, I typically take ice baths.
7. Making pancakes can describe your love for your partner.
8. The definition of yummy is pancake.
9. One of the handiest features of crepes is that you can cook the pancakes all the way through and refrigerate them, to be reheated and stuffed later.
10. You think I am paying attention to what you are saying, but really I am just staring at you and thinking about pancakes.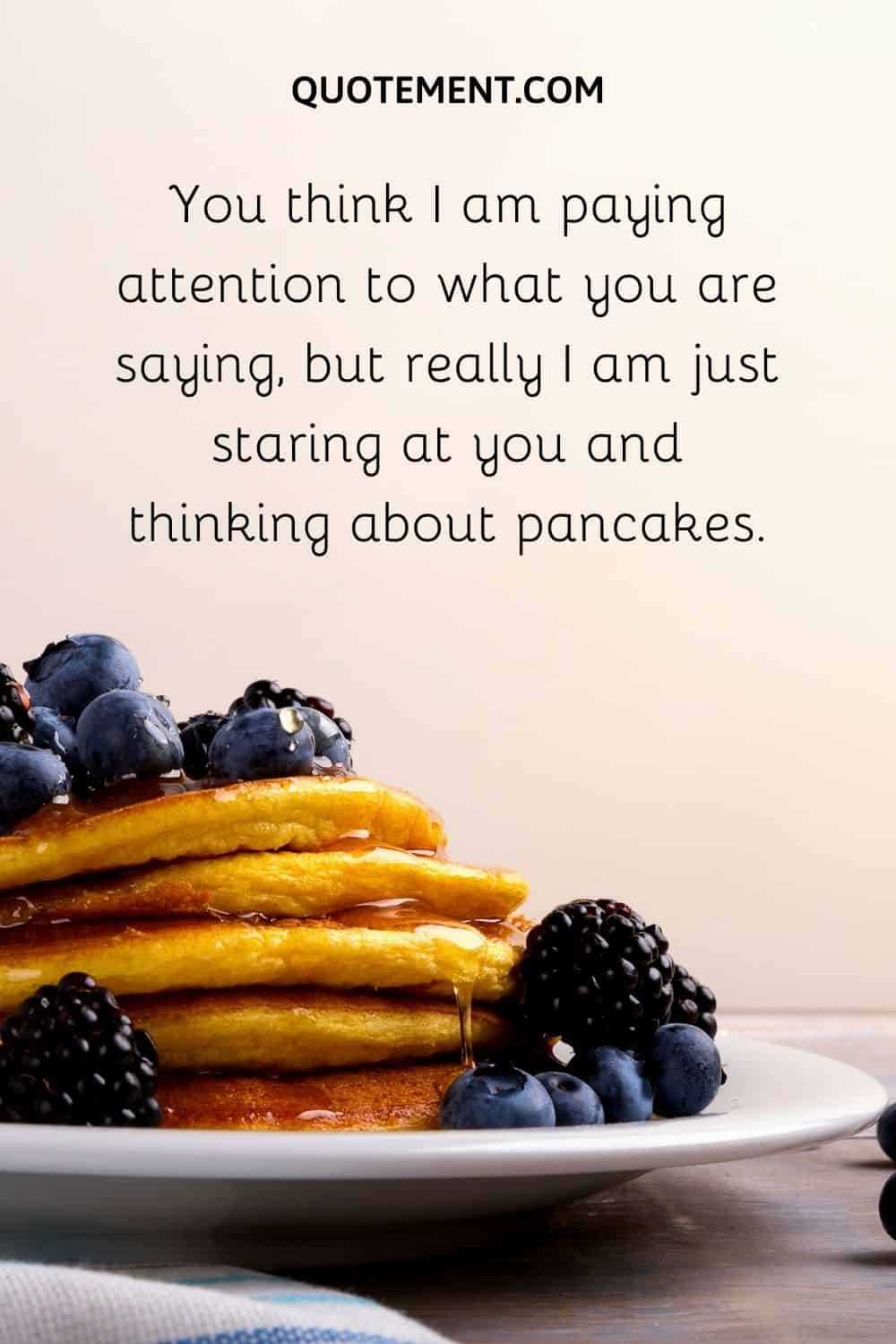 11. Pancakes are those soft things that require zero hard work.
12. Pancakes are the best thing to start your weekend with.
13. I always make my favorite pancakes with milk, and I also add some fruit – like a banana or apple with some cinnamon sprinkled on top. I also sometimes put peanut butter on my pancakes!
14. Pancakes are and will always remain an indispensable part of history.
15. Winters are the most favored time for making pancakes.
16. Pancakes are one of the best meals all around the world.
17. We go together like pancakes and syrup.
18. I love to make pancakes and French toast – vegan, gluten-free, sugar-free. And if it tastes good, I'm the proudest person in the world.
19. Tis better to have eaten a pancake than never to have eaten a pancake at all.
20. You can't buy happiness, but you can buy pancakes, and that's pretty close.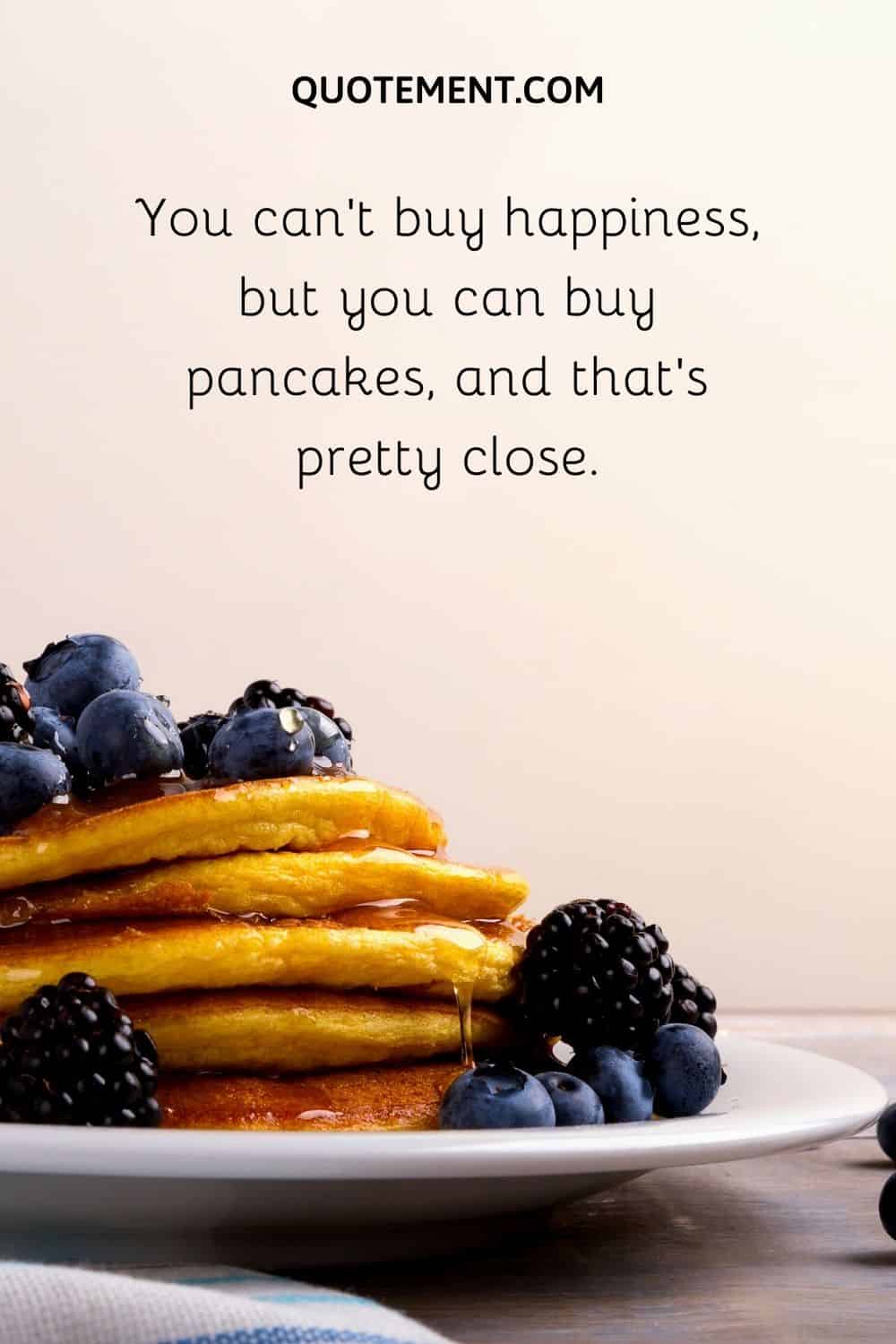 21. The pancakes would be easy, but the batter, made to an old recipe, with buckwheat flour and cider instead of milk, needed to rest for a couple of hours.
22. Eat more pancakes for breakfast, lunch, and dinner.
23. My friend says I am very sweet. All credit goes to my sweet pancakes.
24. You cannot make your first pancake perfect; you learn with time.
Good Pancakes Captions For Instagram
1. Why would anybody ever eat anything besides breakfast food.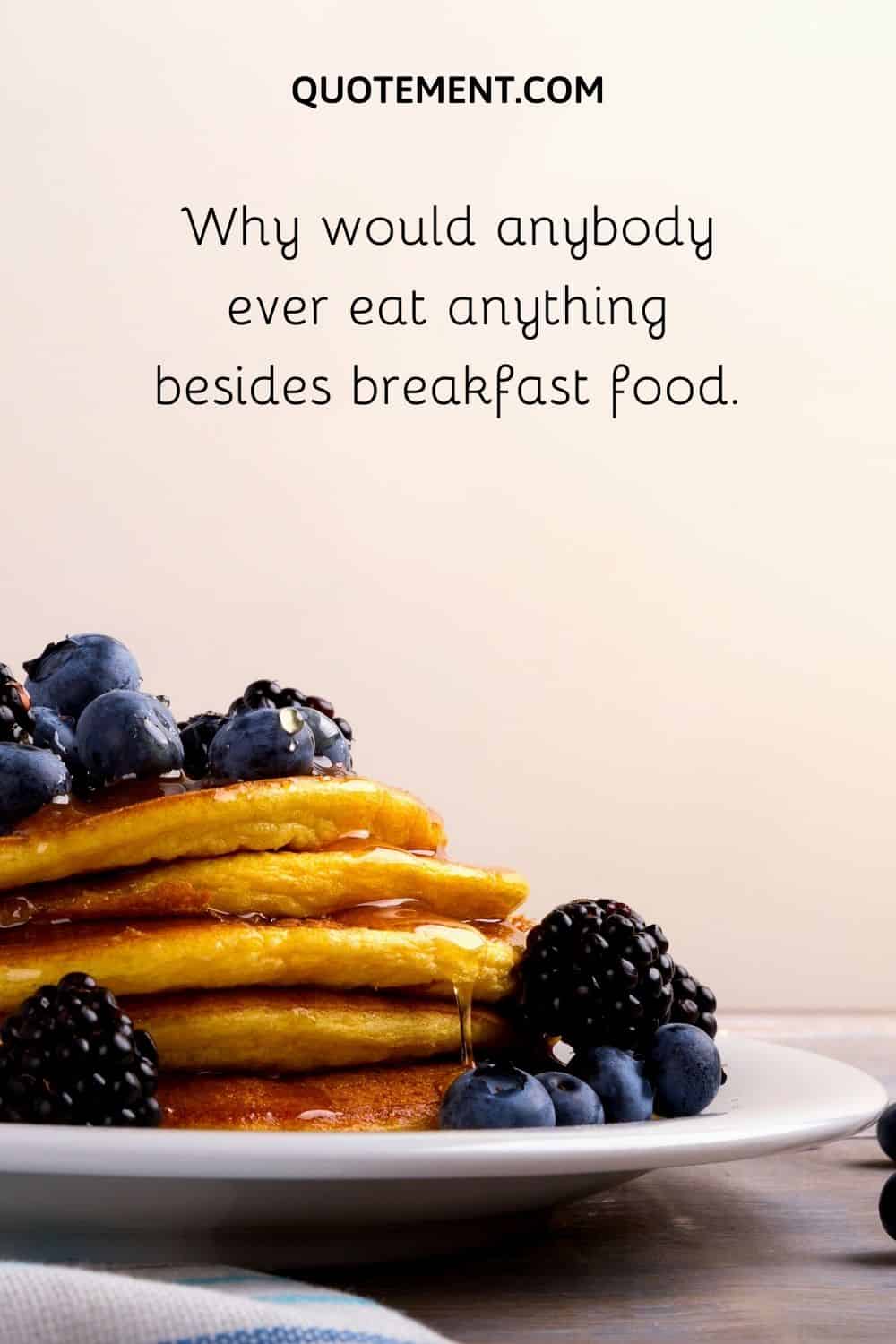 2. Pancakes are the key to my heart.
3. We've got everything we need right here, and everything we need is enough.
4. We sweet people deserve to have tasty Pancakes whenever we want.
5. To make another pancake or to not make another pancake? That is the question.
6. Life is better with pancakes.
7. In a relationship with pancakes.
8. Pancakes exist to make eating gallons of maple syrup socially acceptable.
9. Living the pancake life.
10. Bring me pancakes, and I will love you forever.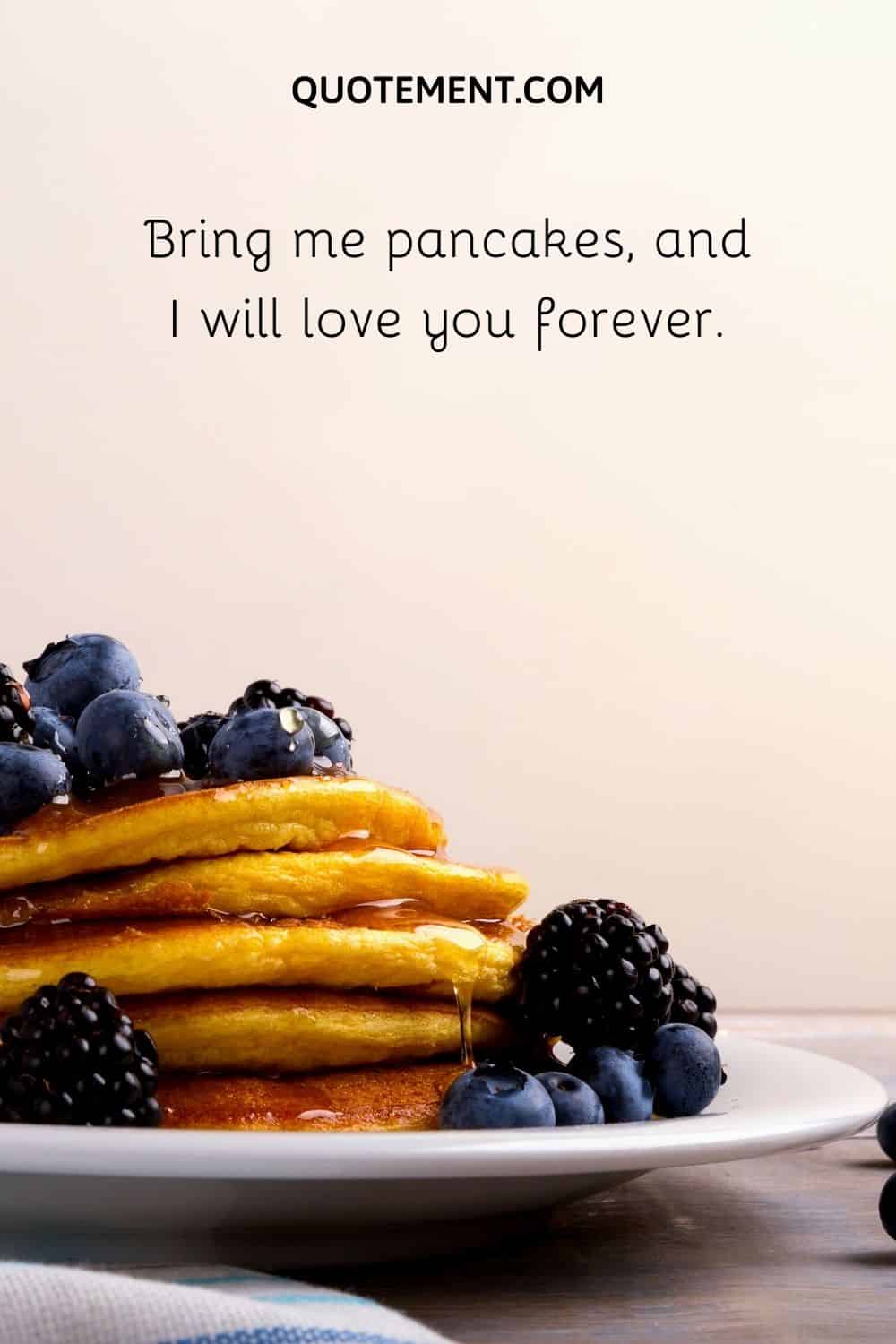 11. Sweet or savory?
12. Pancakes are my life.
13. Say no to hate. Say yes to pancakes.
14. Being away from pancakes makes me homesick.
15. My morning breakfast and evening snacks are Pancakes.
16. Griddle cakes, pancakes, hot cakes, flapjacks: why are there four names for grilled batter and only one word for love.
17. There is no remedy for pancakes but to pancake more.
18. Pancakes for dinner? Count me in.
19. Happy Pancake Day to all my foodie friends.
20. Well, I did have two pancakes with chocolate spread and stuff, but I got hungry.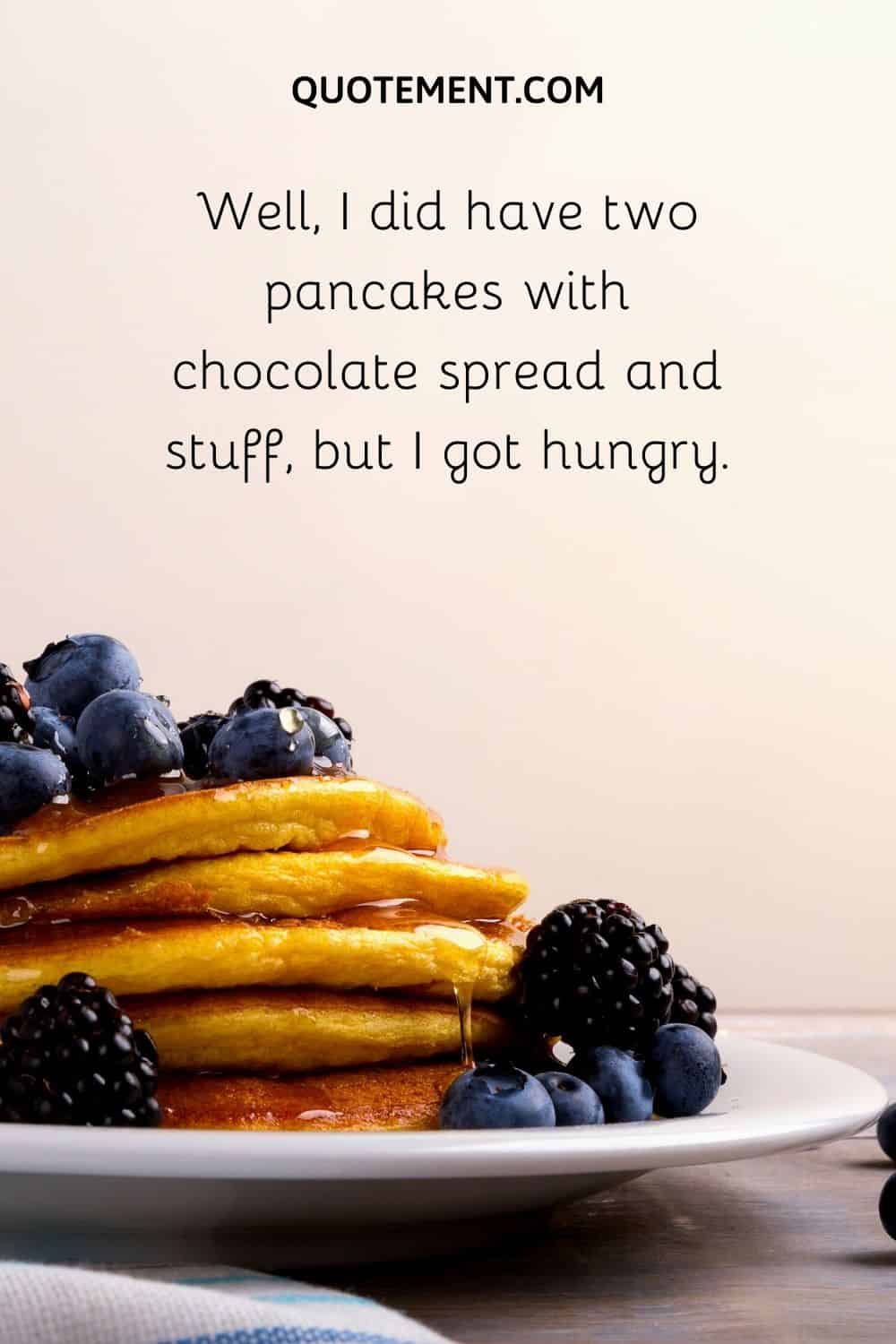 21. Pancakes were meant to be flipped.
22. Pancakes. That is all.
23. We had to meet up and hash some things out.
24. There's never a pancake around when you need one.
25. Pancakes – better than cakes.
Cute Pancakes Captions For Instagram
1. If I call you darling, will you make me pancakes?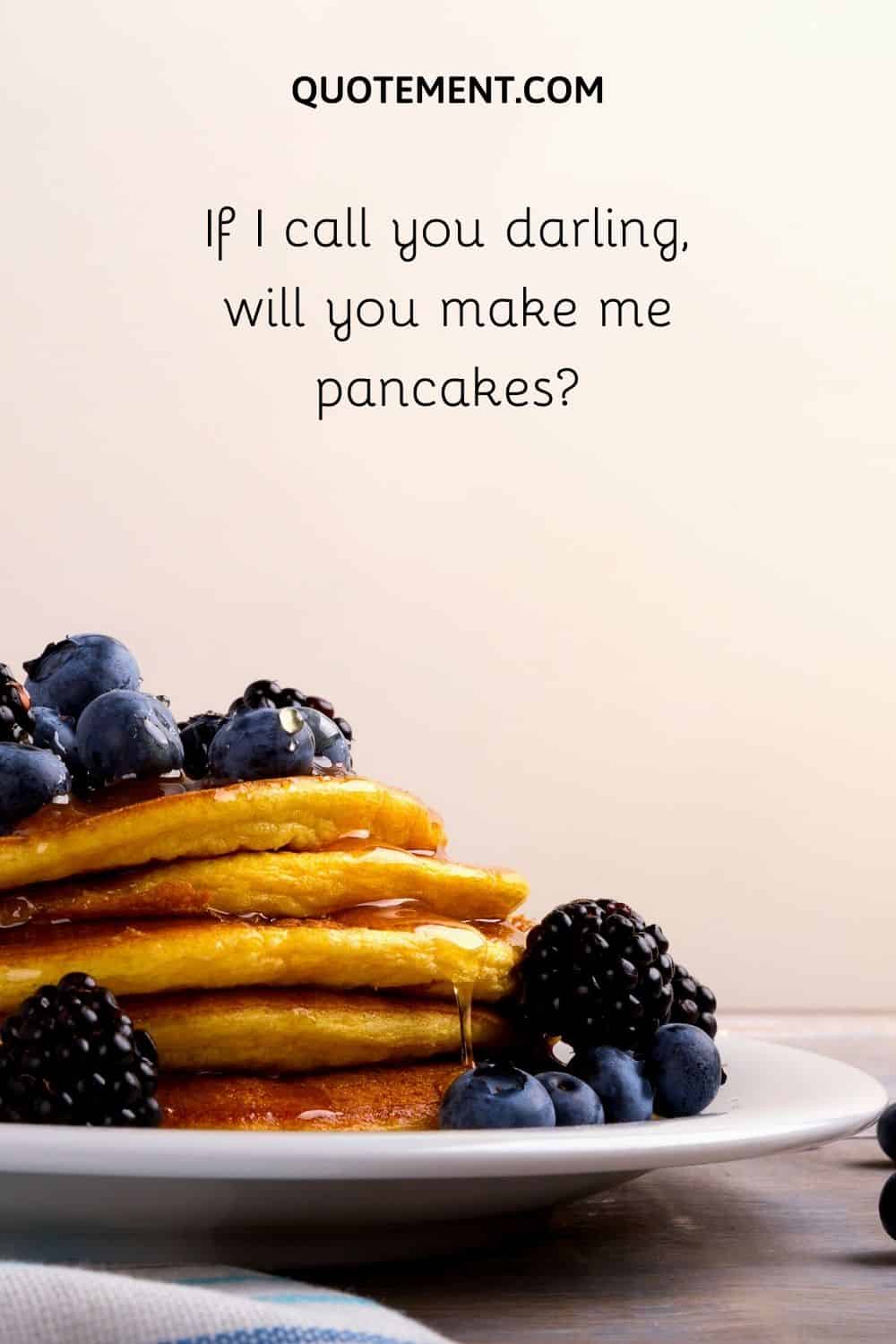 2. Always say yes to pancakes.
3. Pancakes are just like life: they have both nice and rough sides.
4. Pancake life.
5. Never let your toes or your pancakes get cold.
6. My heart always craves pancakes.
7. The one thing which changes my mood is always pancakes.
8. Darling, The pancakes are the best companion.
9. The place that makes pancakes is everyone's favorite.
10. The one thing which remains the same from my childhood to adulthood is my delicious pancakes.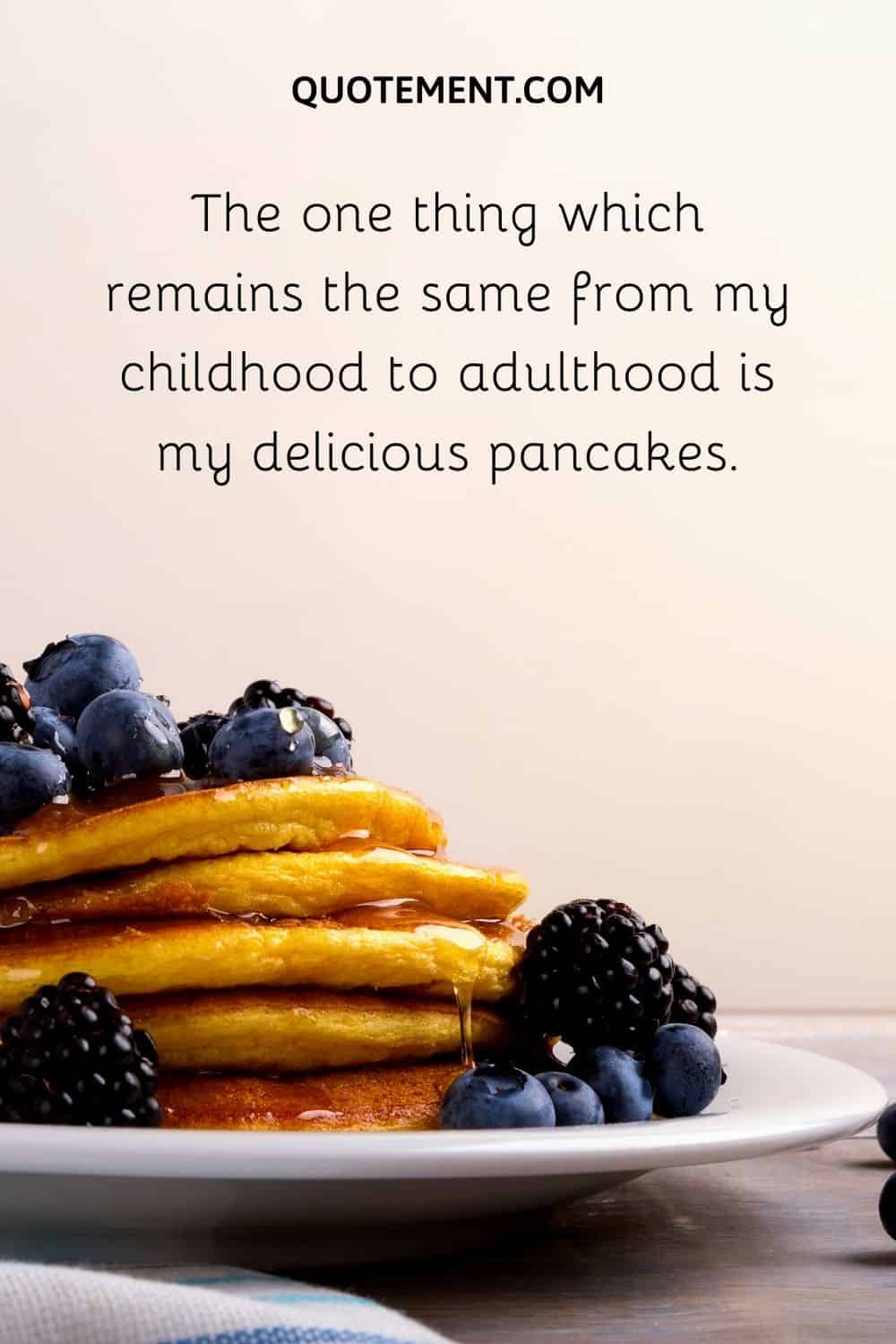 11. Pancakes and pajamas.
12. Pancake dreams.
13. I love pancakes.
14. Start each day with a grateful pancake.
15. Pancake blessed.
16. Make me pancakes and call me pretty.
17. If you want to marry me, then you should know the good recipe for pancakes.
18. Honey comes from bees, but pancakes come from heaven.
19. If you want to make it up, get pancakes for me. I will become the happiest person.
20. A balanced diet is a pancake in each hand.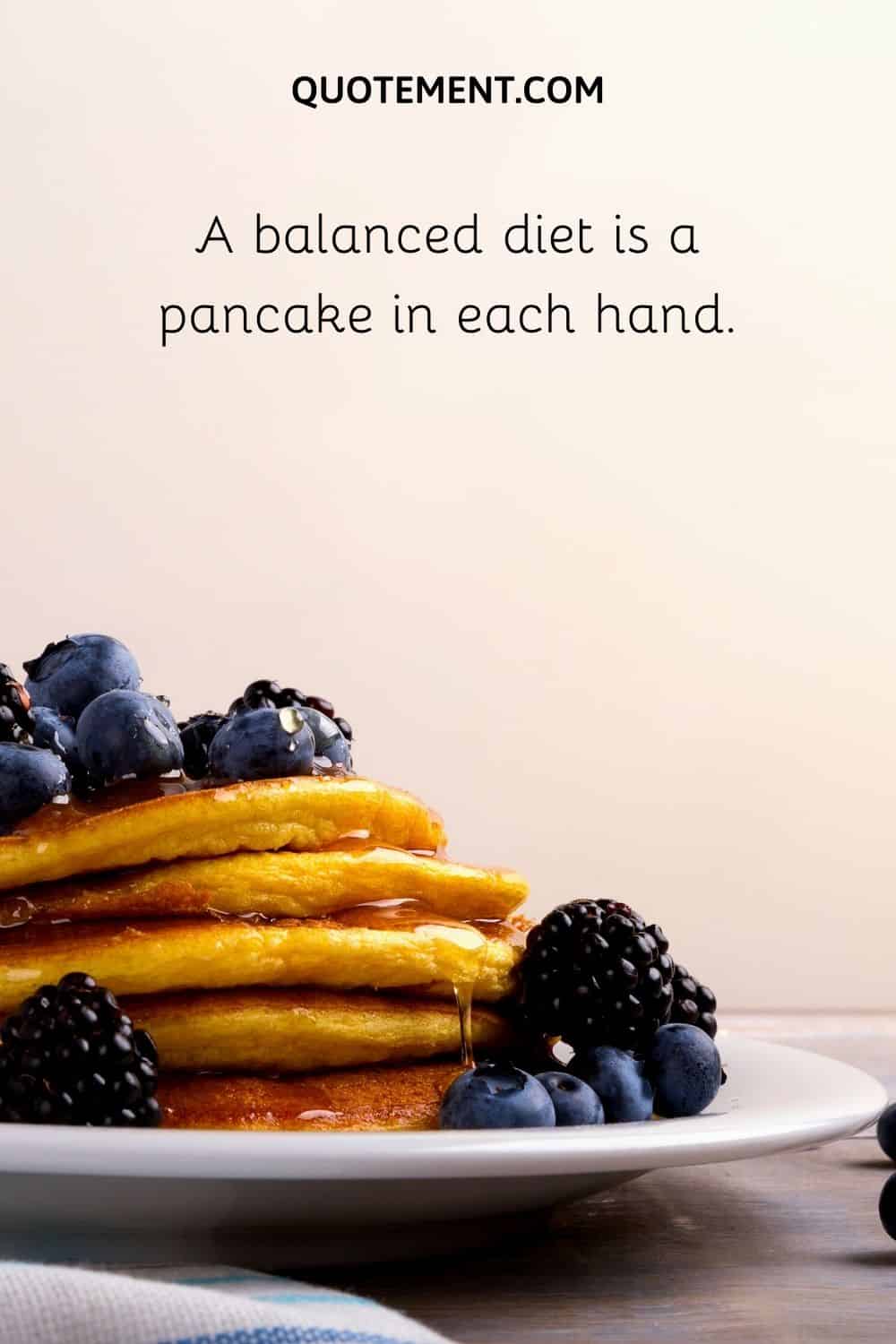 21. Live, love, pancakes.
22. You had me at pancakes.
23. You make my heart melt.
24. No one stacks up to you.
25. Eat some breakfast, then change the world.
See also: 260 Best Breakfast Captions To Make Your Post Rock
Pancake Quotes That Can Be Used As Captions
You can use these pancake quotes as pancakes captions for your next Instagram post.
1. "I don't have to tell you I love you. I fed you pancakes." — Kathleen Flinn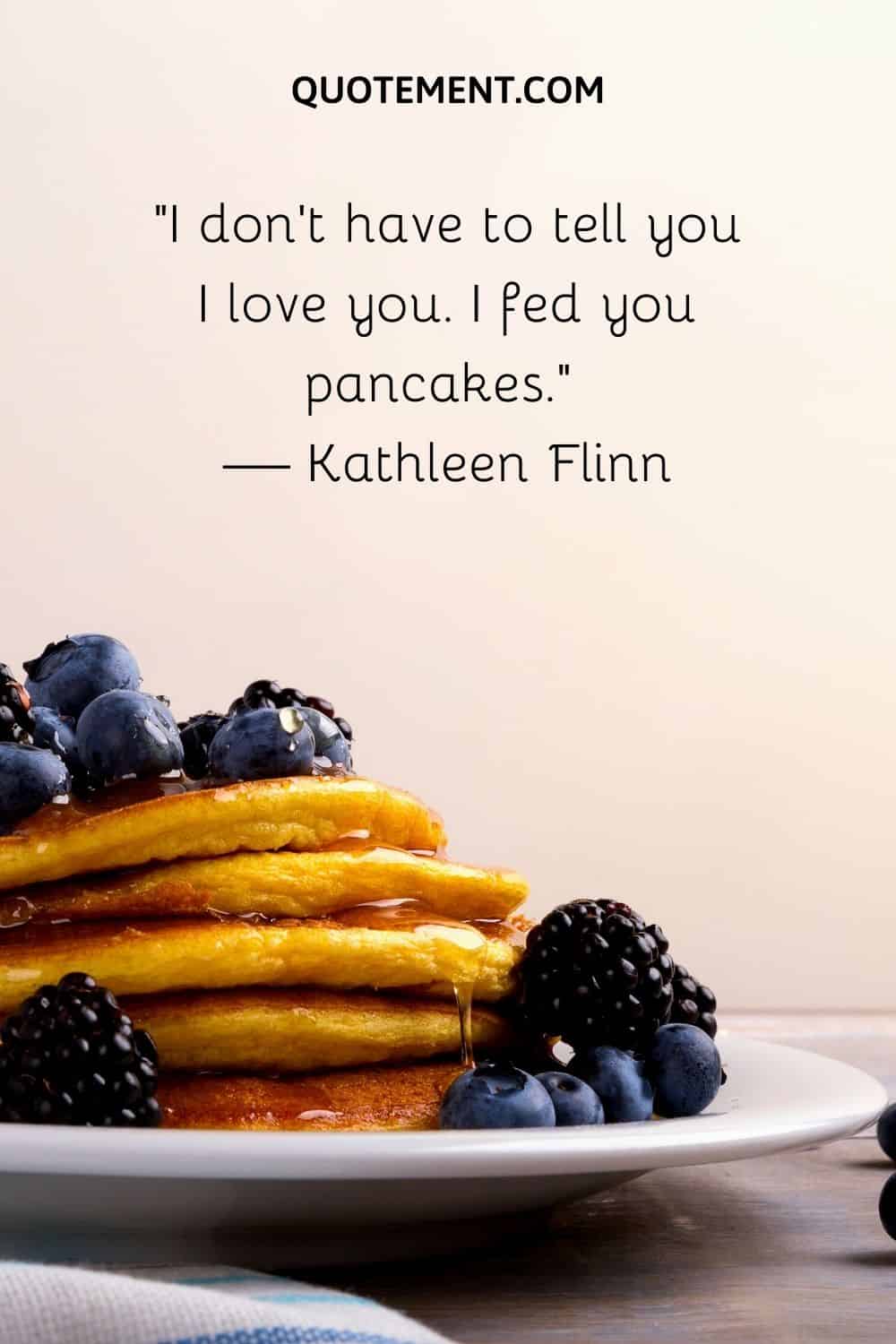 2. "In a big family, the first child is kind of like the first pancake. If it's not perfect, that's okay, there are a lot more coming along." — Antonin Scalia
3. "Someone who eats pancakes and jam can't be so awfully dangerous. You can talk to him." ― Tove Jansson
4. "People are so used to eating terrible pancakes, no matter how you mess up, they're going to be great. And if you make fresh orange juice, they'll be over the moon." — Ruth Reichl
5. "If you want pancakes for breakfast, offer to help make them." — Cynthia Lewis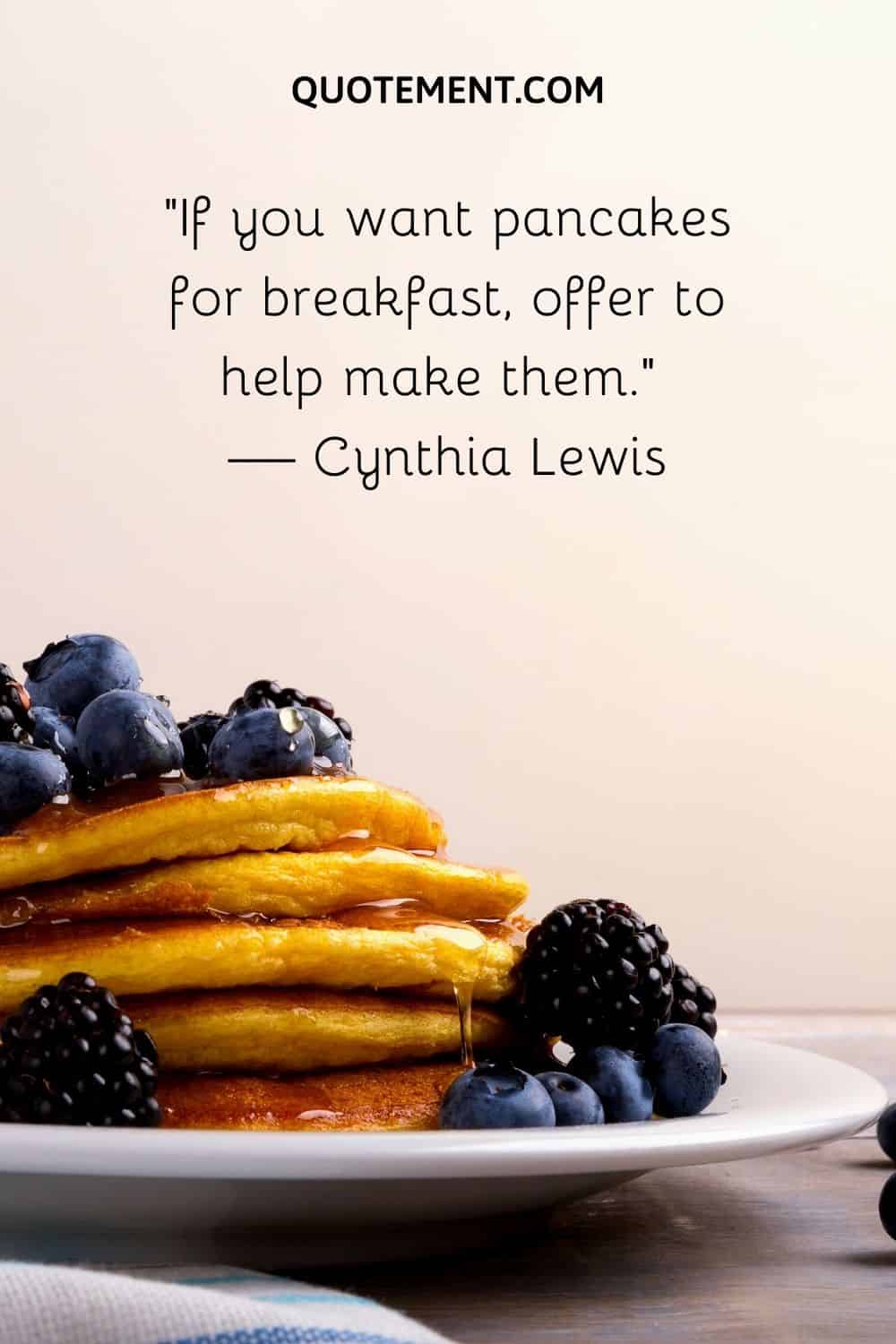 6. "No matter how flat you make your pancakes, it still has two sides."— Daniel Tosh
7. "Maybe love was a woman feeding him pancakes. Maybe it was someone sitting across from him sipping orange juice just to please him." ― Christine Feehan
8. "Just 'cause you pour syrup on something doesn't make it pancakes." — Samuel L. Jackson
9. "Waffles are like pancakes with syrup traps." — Mitch Hedberg
10. "There is hardship in everything except eating pancakes." — Charles Spurgeon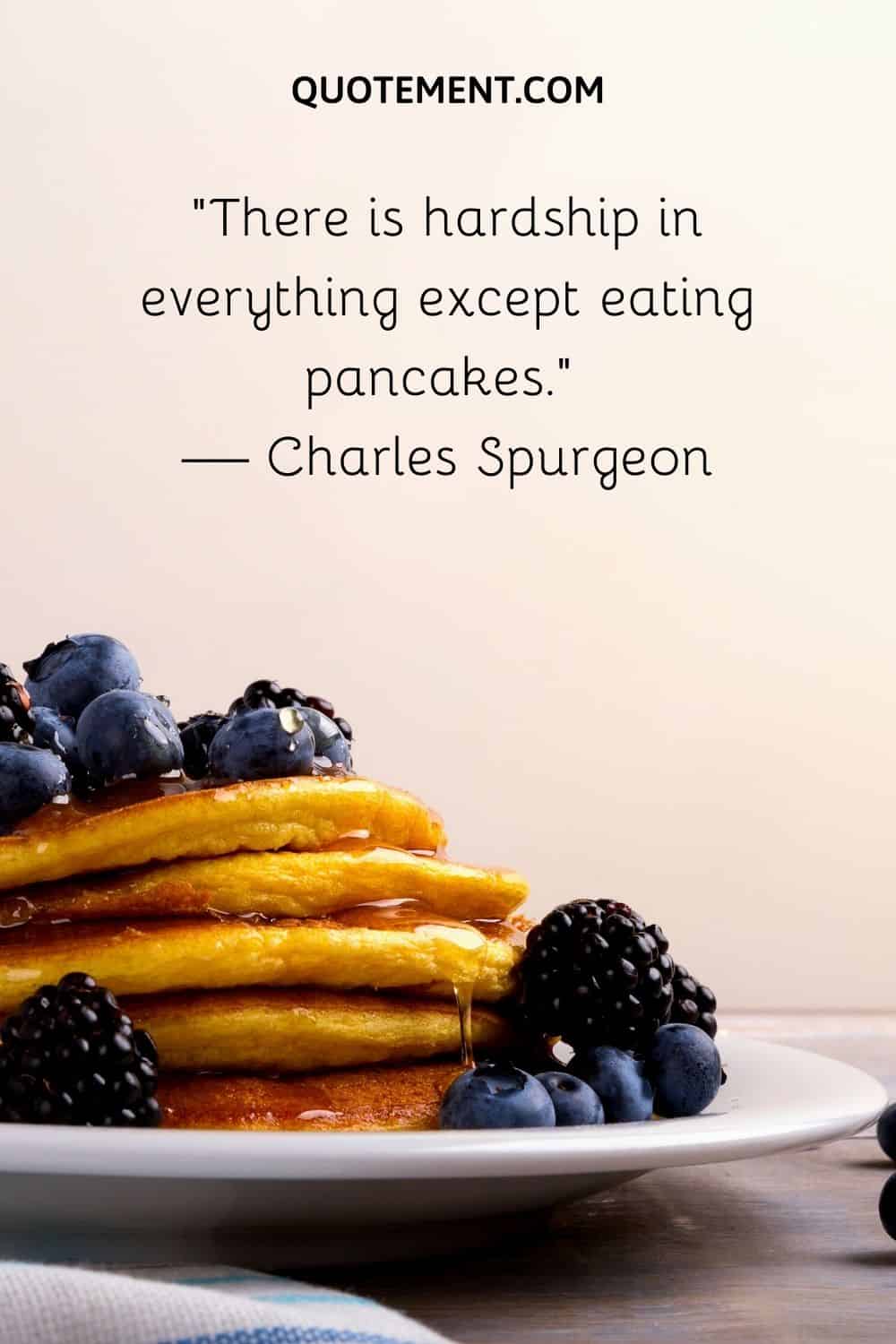 11. "There was no time for chit-chat when there were chocolate chip pancakes to be eaten." — Kristen Day
12. "Pancakes don't make the world go 'round. Pancakes are what makes the ride worthwhile." — Frankfurterlin P. Jones
13. "As is always the way with pancakes, the first hotcake to come out of the pan will probably be a bit misshapen. Just scoff it, and carry on with the rest." — Yotam Ottolenghi
14. "Everything can have drama if it's done right. even a pancake." — Julia Child
15. "There are two sides to a pancake. One is brown and fluffy; the other is burnt." — Bill Parcells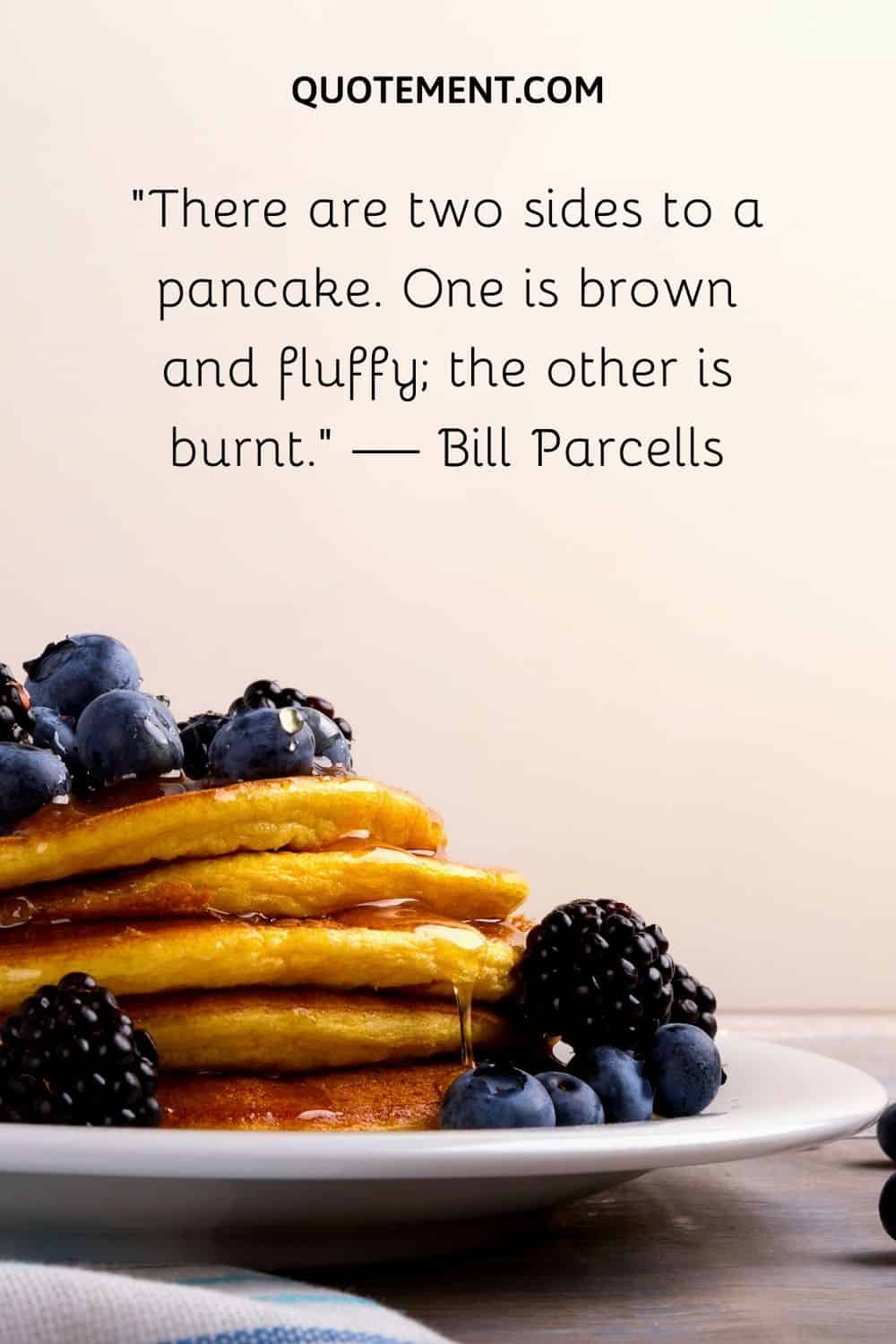 In Conclusion
Out of all the food-inspired Instagram captions, pancakes captions are definitely my favorite. Just reading them makes my mouth water!
I hope you enjoyed this article and to see you again soon.
Until next time!