If you're fascinated with mermaids as much as I am, you'll definitely love today's post!
Welcome to my fantastic collection of 110 mermaid quotes which brings you only the best and most inspirational quotes I could find on the web!
It's no wonder that these mythical aquatic creatures appear in the folklore of various cultures all around the globe – they're absolutely mesmerizing!
Of course, they've also been a popular subject in literature and art – the mysterious maids of the sea remain to be a subject of fascination for many people, and it's not difficult to tell why that's so!
Now, let's take a look at different sections and simply dive into the world of mermaids!
10 Best Mermaid Quotes
I'll kick things off with my 10 best quotes on mermaids:
1. "I've always been obsessed with things that are half animal and half human – like mermaids and Minotaurs – because they are trapped in an animal body. And I felt trapped in my own life." ― Riccardo Tisci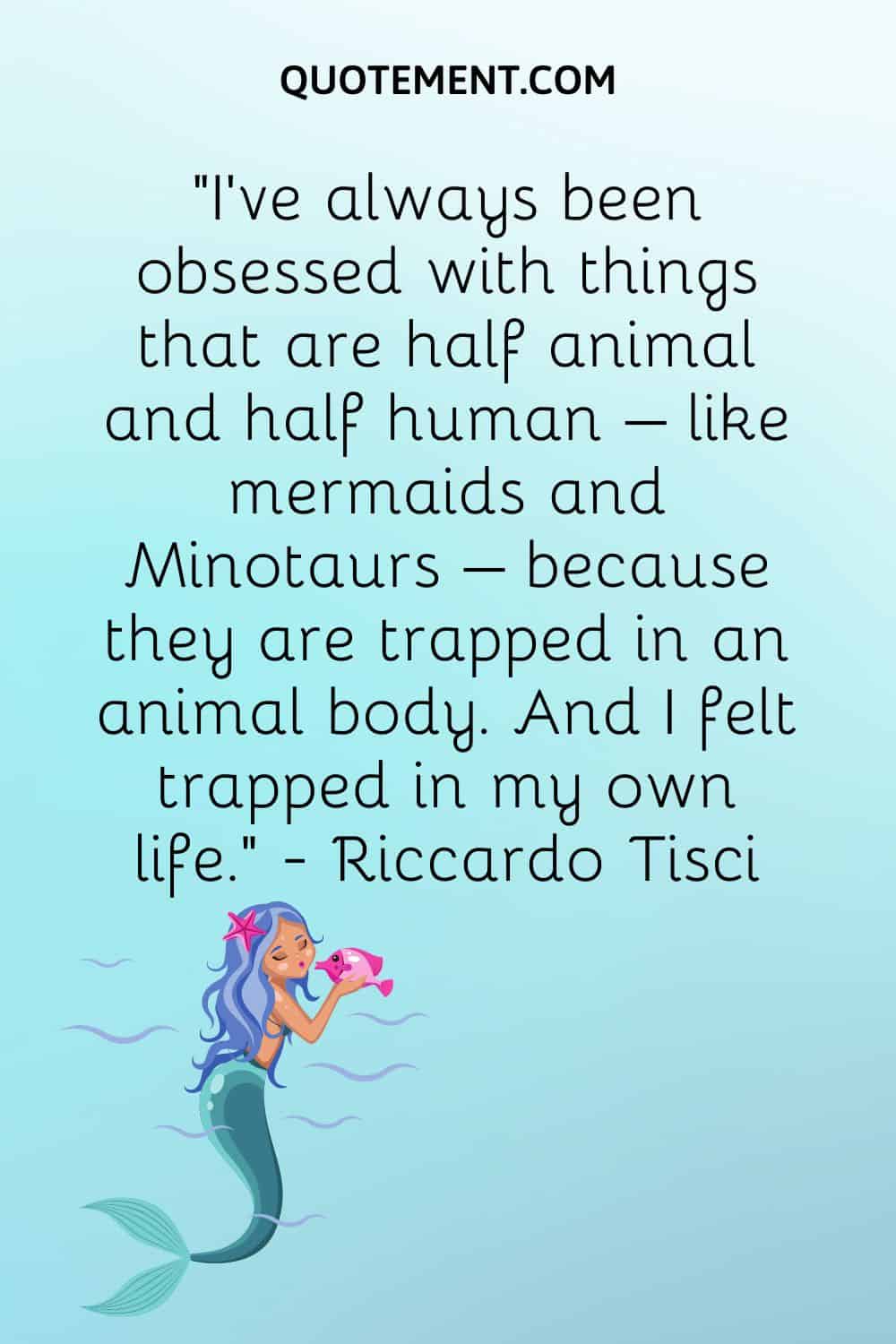 2. "I have heard the mermaids singing, each to each. I do not think that they will sing to me." ― T.S. Eliot
3. "The sea waves stirred before me, they dashed against the rocks like a mermaid rising from its depths, curled white sea foam were her locks…" ― Giselle V. Steele
4. "First of all, never call a mermaid a fish unless you're trying to insult her." ― Tiana Warner
5. "There are people all over the world who carry the mermaid inside them." — Carolyn Turgeon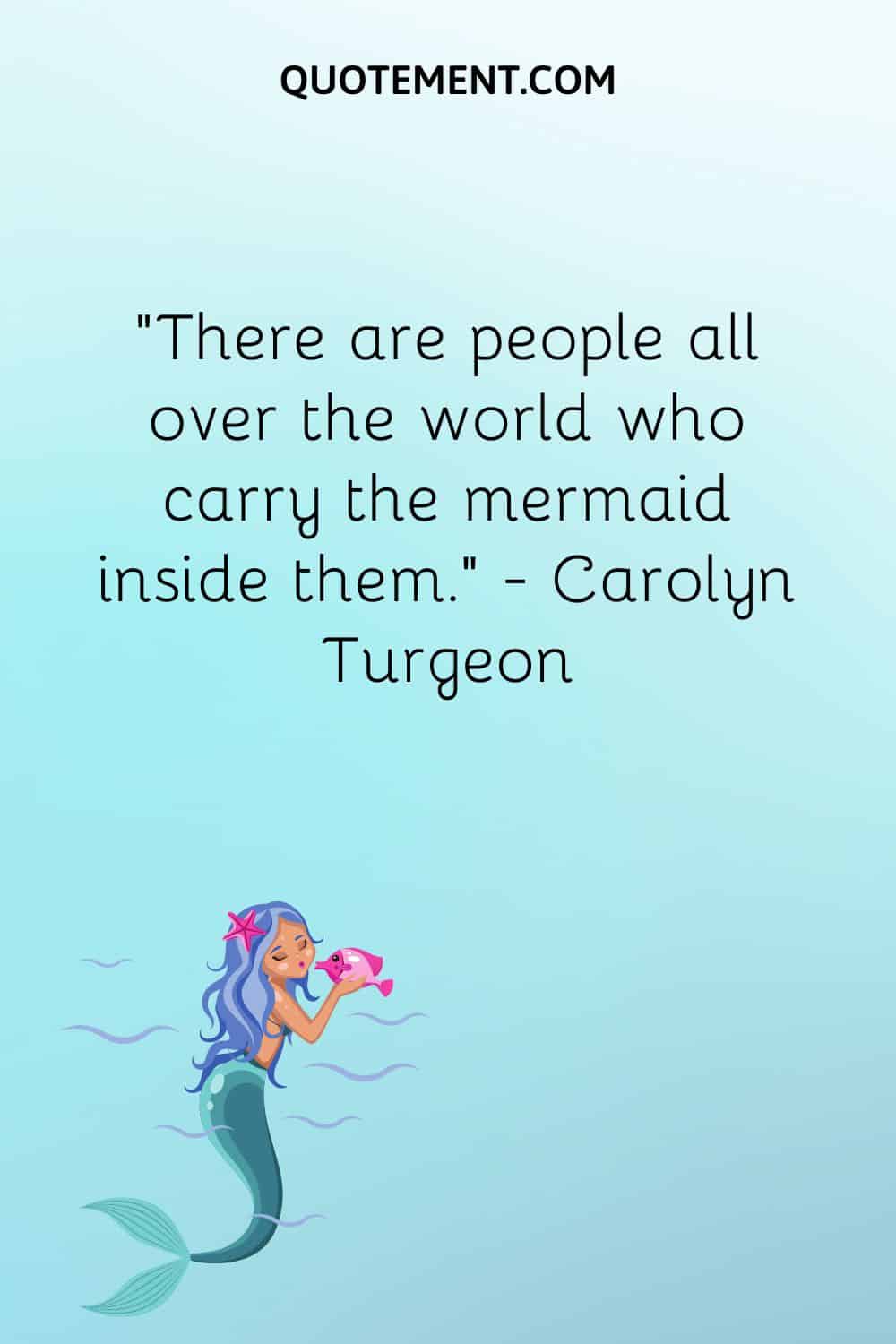 6. "I know a sad little mermaid dwelling in the ocean softly, gently blowing her heart into a wooden flute." — Forugh Farrokhzad
7. "You've never tasted salty air on your tongue or waved heartily at a mermaid!" — Gideon Defoe
8. "Mermaid tears were treasure, meant to be guarded close to one's heart. They brought wishes of true love and kept you safe." — Kerry Lonsdale
9. "The mermaid is an archetypal image that represents a woman who is at ease in the great waters of life, the waters of emotion." ― Anita Johnson
10. "We are the glamorous mermaids in the ocean that offers us another magical journey." — Cinda Swalley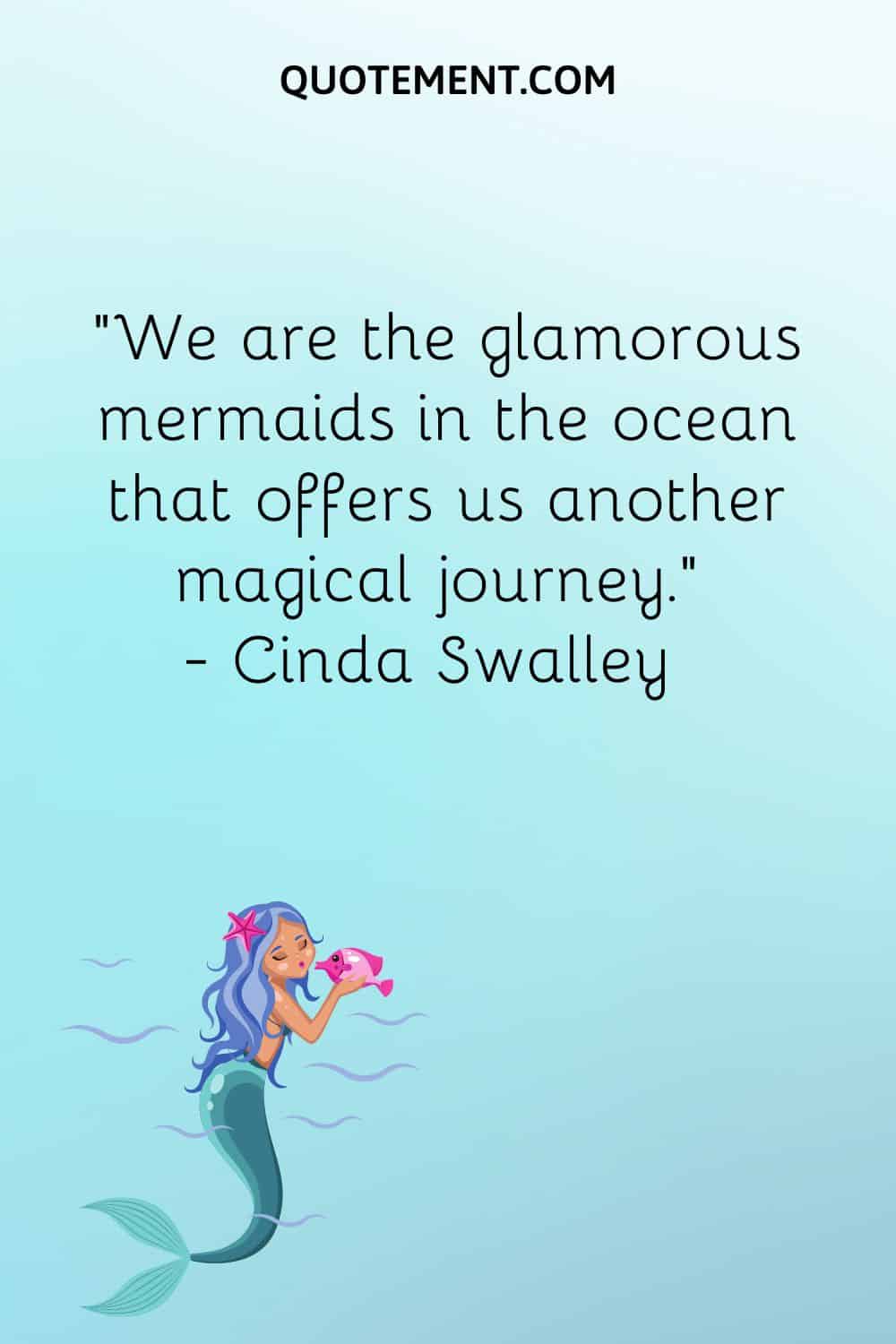 Inspirational Mermaid Quotes
If you've been searching for the most inspirational mermaid quotes, you'll love the following selection:
1. "Oh love, rose made wet by mermaids and foams, fire that dances and climbs up the invisible stairs and awakens the blood in the tunnel of sleeplessness." – Pablo Neruda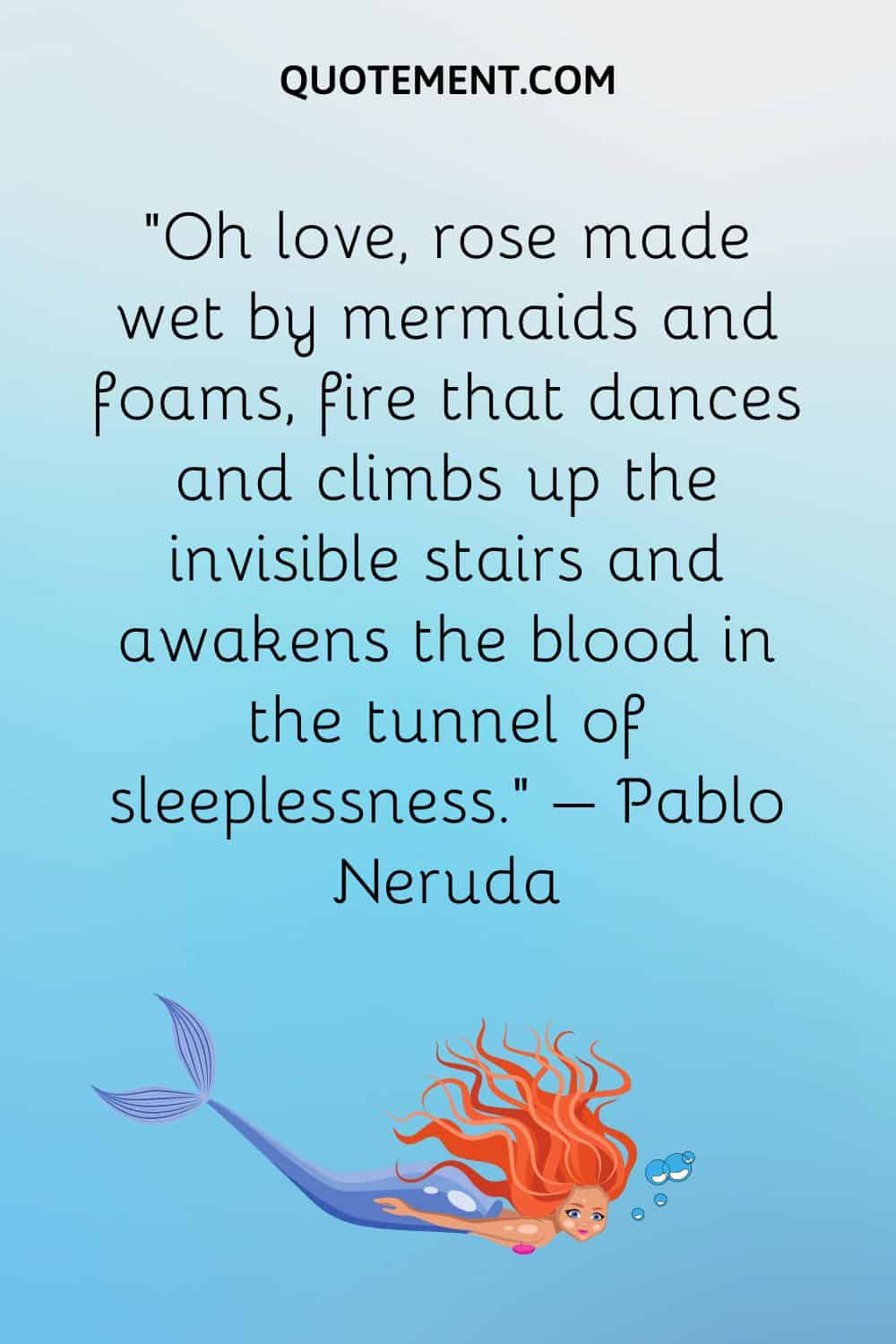 2. "I just love mermaids. I was a mermaid in my past life. I just feel it when I go in the sea." ― Ella Henderson
3. "There walked warlocks in all their bat–winged, cat–eyed glory, and here, as they swung out over the river, she saw the darting flash of multicolored tails under the silvery skin of the water, the shimmer of long, pearl–strewn hair, and heard the high, rippling laughter of the mermaids." – Cassandra Clare
4. "A mermaid has not an immortal soul, nor can she obtain one unless she wins the love of a human being. On the power of another hangs her eternal destiny." ― Hans Christian Andersen
5. "Rainbows and mermaids are proof that imagination and beauty go hand in hand."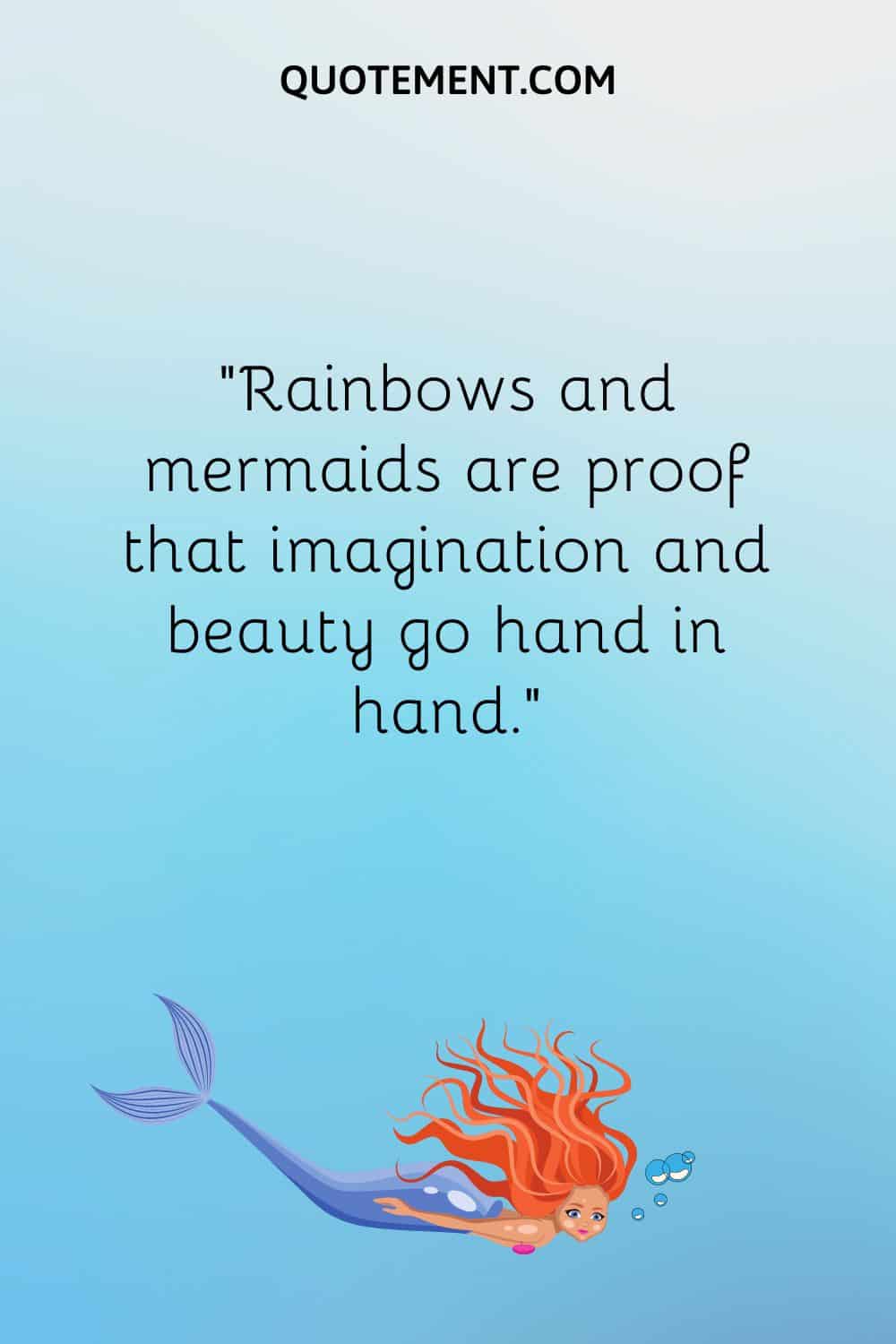 6. "Nobody wants to admit that mermaids who survive the dangers of the ocean can still be defeated by their own pain." ― Emm Cole
7. "Your soul is so bohemian, free, and gypsy wild. Come swim with me in the calming sea, let's be mermaids for a while." ― Melody Lee
8. "I think I was a mermaid and I used to swim the shores of Hawaii and used to pop up and see coconuts and pineapples everywhere." – Ella Henderson
9. "Men are afraid of mermaids. They want to be near mermaids, but, they're afraid of them. Because a man needs to swim with a mermaid while a boat feels safer. Lots of men want to stay in a boat because they're afraid of drowning. But a mermaid knows: life is just not worth living if you're not ready to drown a few times." ― C. JoyBell C.
10. "The turquoise tide shimmered in shades of mermaid tails against the alabaster shore." ― Karen Marie Moning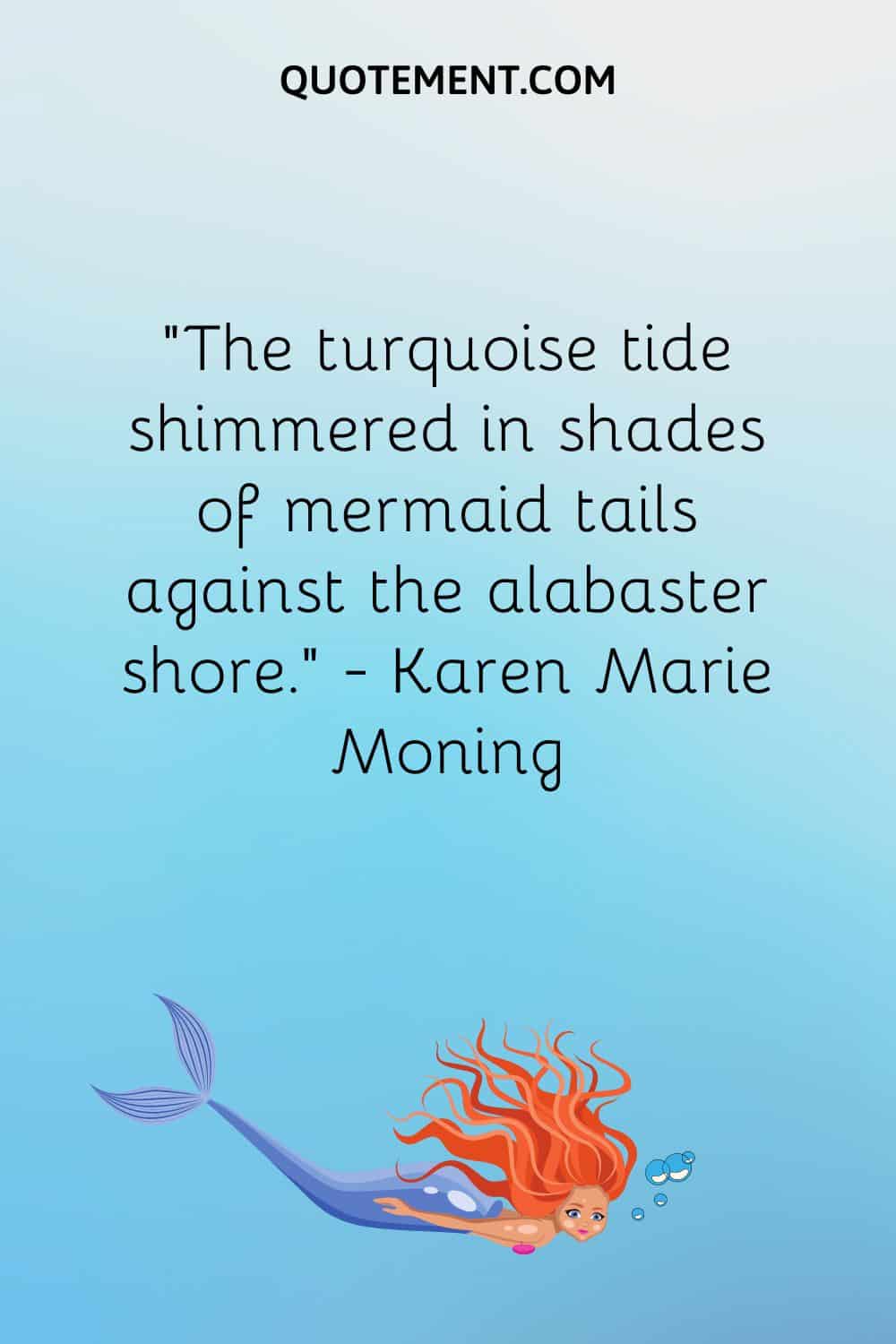 11. "Maybe I'm still the mermaid. Maybe the ocean is your hand." — Kelli Russell Agodon
12. "I'll swim through the Earth, like a mermaid of the soil, just to be next to your bones." ― Jeffrey McDaniel
13. "I must be a Mermaid. I have no fear of depth and a great fear of shallow living." ― Anias Nin
14. "Be a mermaid who doesn't stop until she makes tidal waves. Be a mermaid who knows to stop before she devastates the world with her." — Amanda Lovelace
15. "The mermaids came to me finally, in the pink hours of my existence. They are my consolation." ― Sue Monk Kidd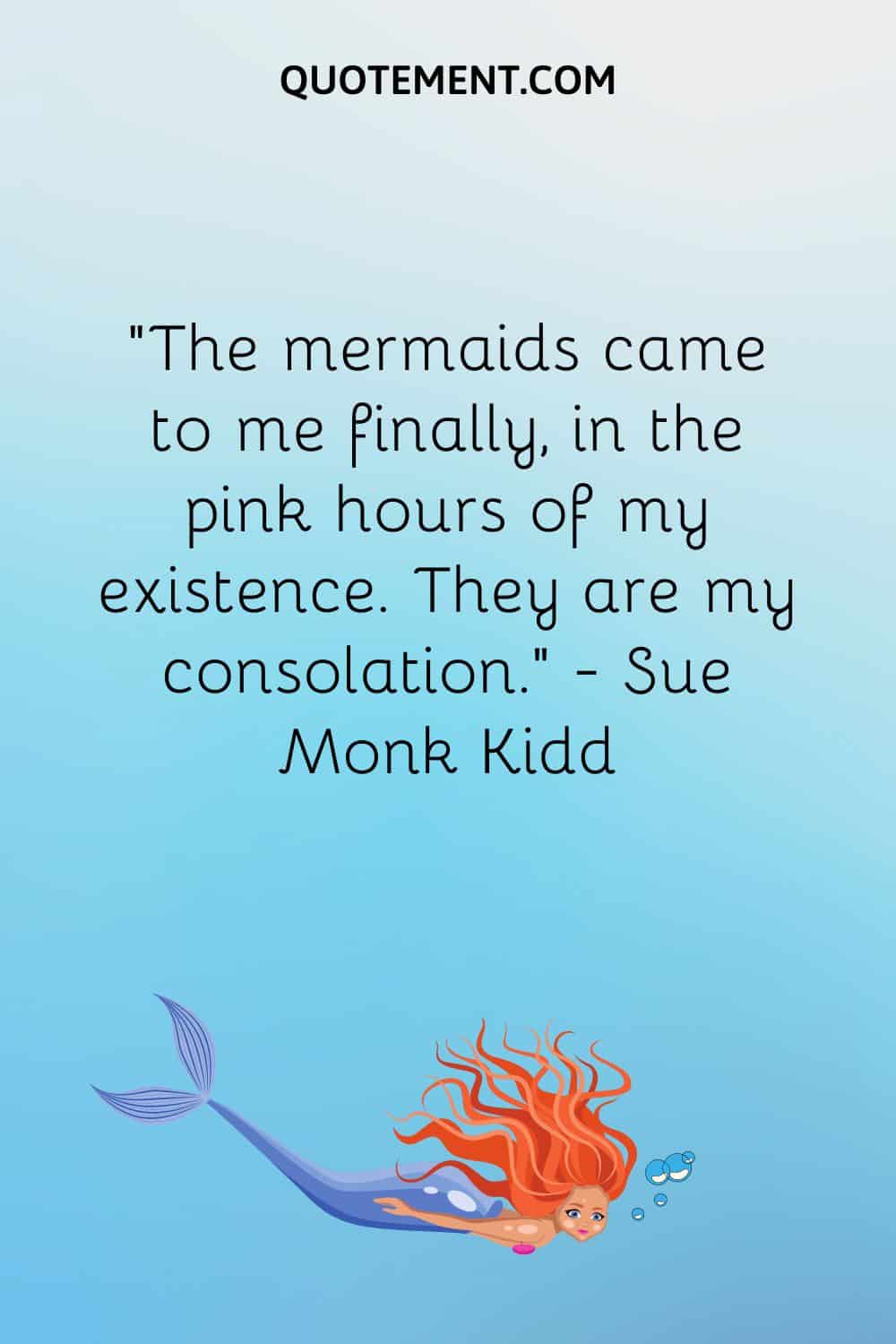 16. "Like a mermaid in sea–weed, she dreams awake, trembling in her soft and chilly nest." ― John Keats
17. "What you have to understand about the mermaid legend is that it's universal. No matter where you go, the mermaids got there first." ― Mira Grant
18. "Where there's water, we find mermaids. Maybe it's time we started asking ourselves exactly why that is." — Mira Grant
19. "We are the glamorous mermaids in the ocean that offers us another magical journey." — Cinda Swalley
20. "She is a mermaid but approach her with caution. Her mind swims at a depth most would drown in." — J. Iron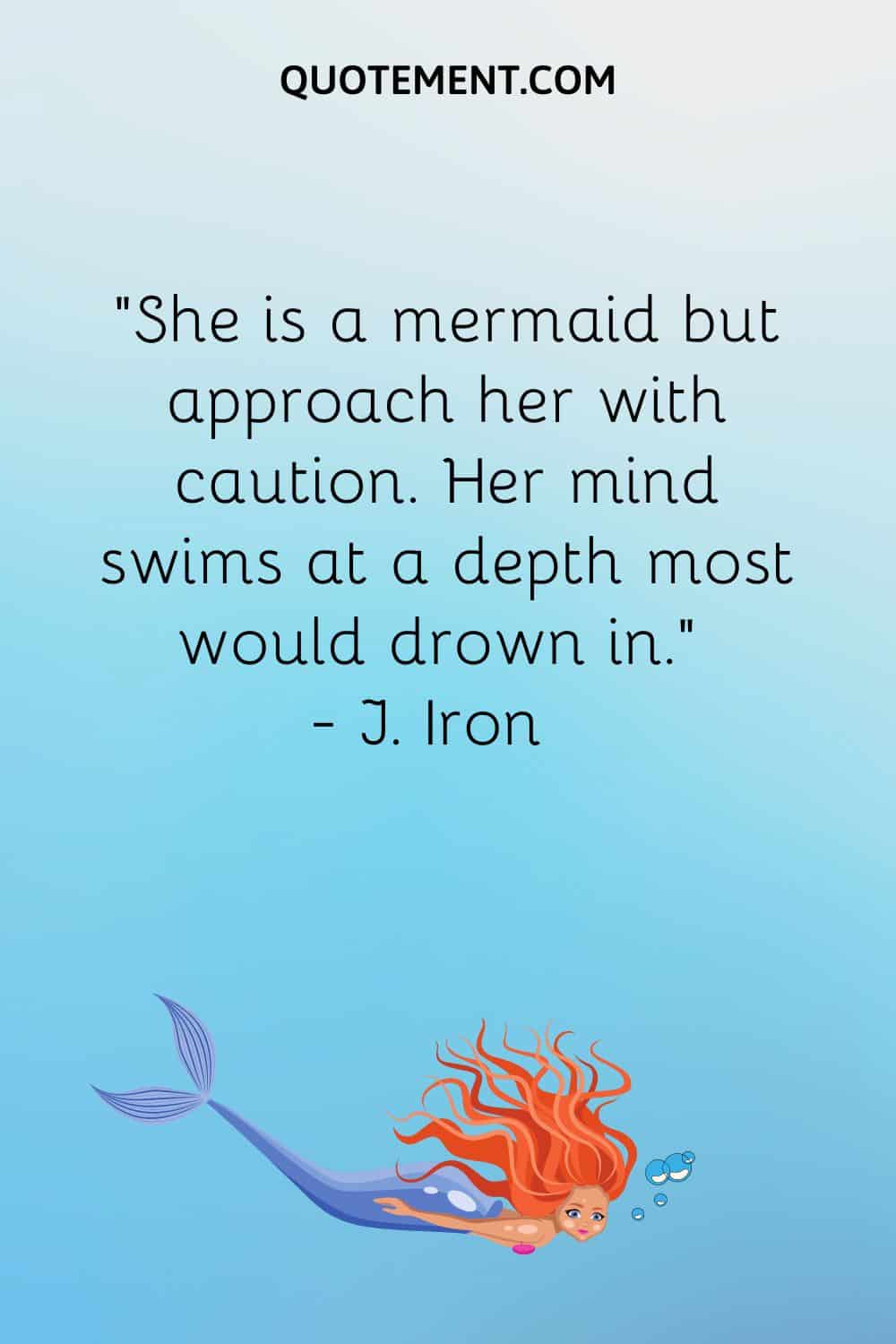 21. "Any soul you are attached to is a mermaid for you because it slowly pulls you into the pond of its bad Karma." — Shunya
22. "Way down to the bottom of the ocean to find where the mermaids sang, each to each. Where there was danger and beauty and light." ― Marisha Pessl
23. "Mermaids are not the monsters you humans think we are." ― Sarah Henning
24. "Maybe I would become a mermaid… My fingernails would be tiny shells and my skin would be like a jade with light shining through it. I would never have to come back up." ― Francesca Lia Block
25. "I felt a little like a mermaid, rendered voiceless by her own longing." — Seanan McGuire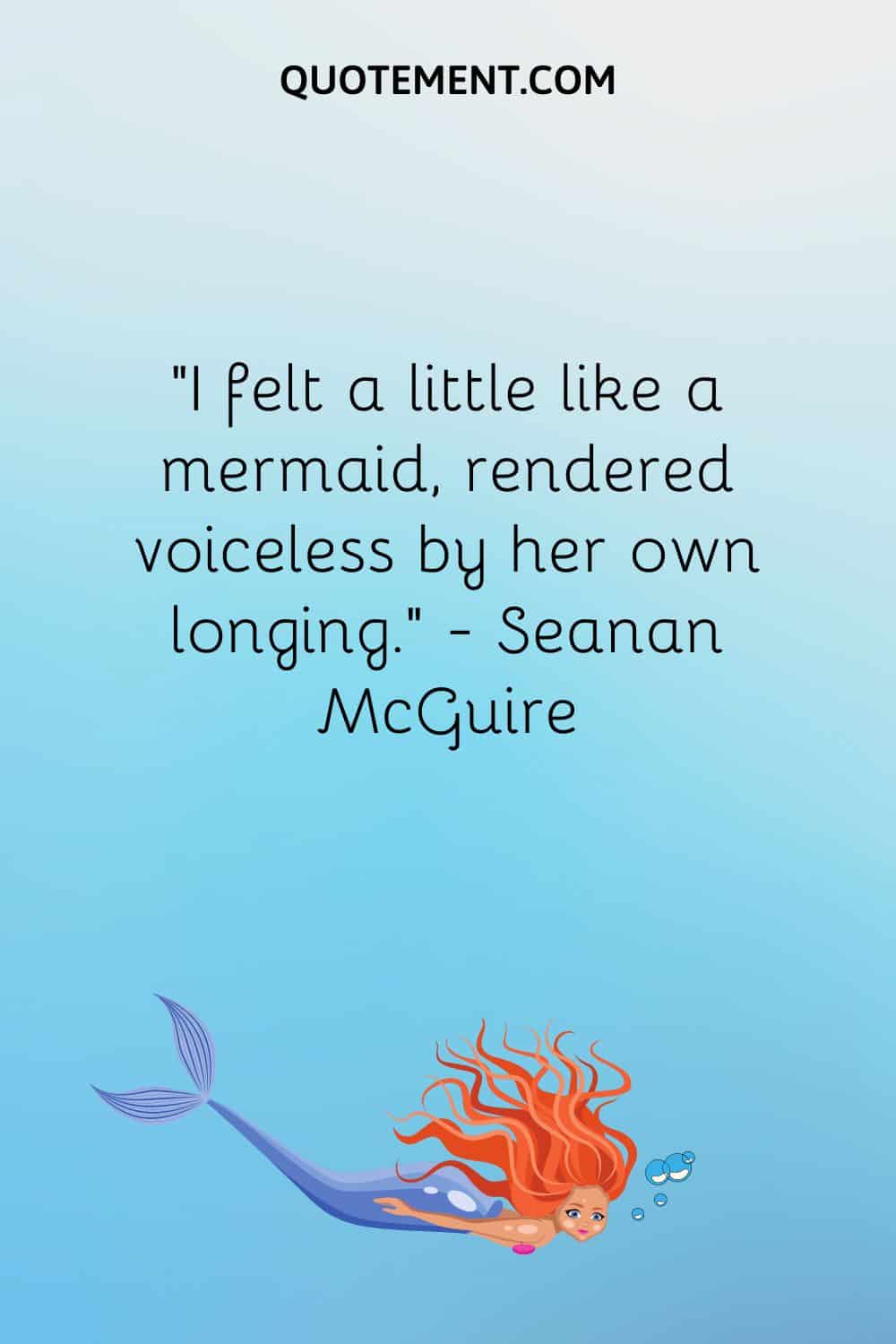 26. "Newly come from the river, she knew nothing. She was a mermaid who had lost her way." ― Pablo Neruda
27. "They were beautiful dark lakes in which her thoughts swam about like mermaids." ― Hans Christian Andersen
28. "I couldn't imagine living in a state that didn't reach the ocean. It was a giant reset button. You could go to the edge of the land and see infinity and feel renewed." ― Avery Sawyer
29. "I sat upon a promontory, and heard a mermaid on a dolphin's back, uttering such dulcet and harmonious breath, that the rude sea grew civil at her song; and certain stars shot madly from their spheres, to hear the sea–maid's music." – William Shakespeare
Funny Mermaid Quotes
If you want to read some funny quotes on mermaids, be sure to check out these:
1. "Mermaid hair, don't care."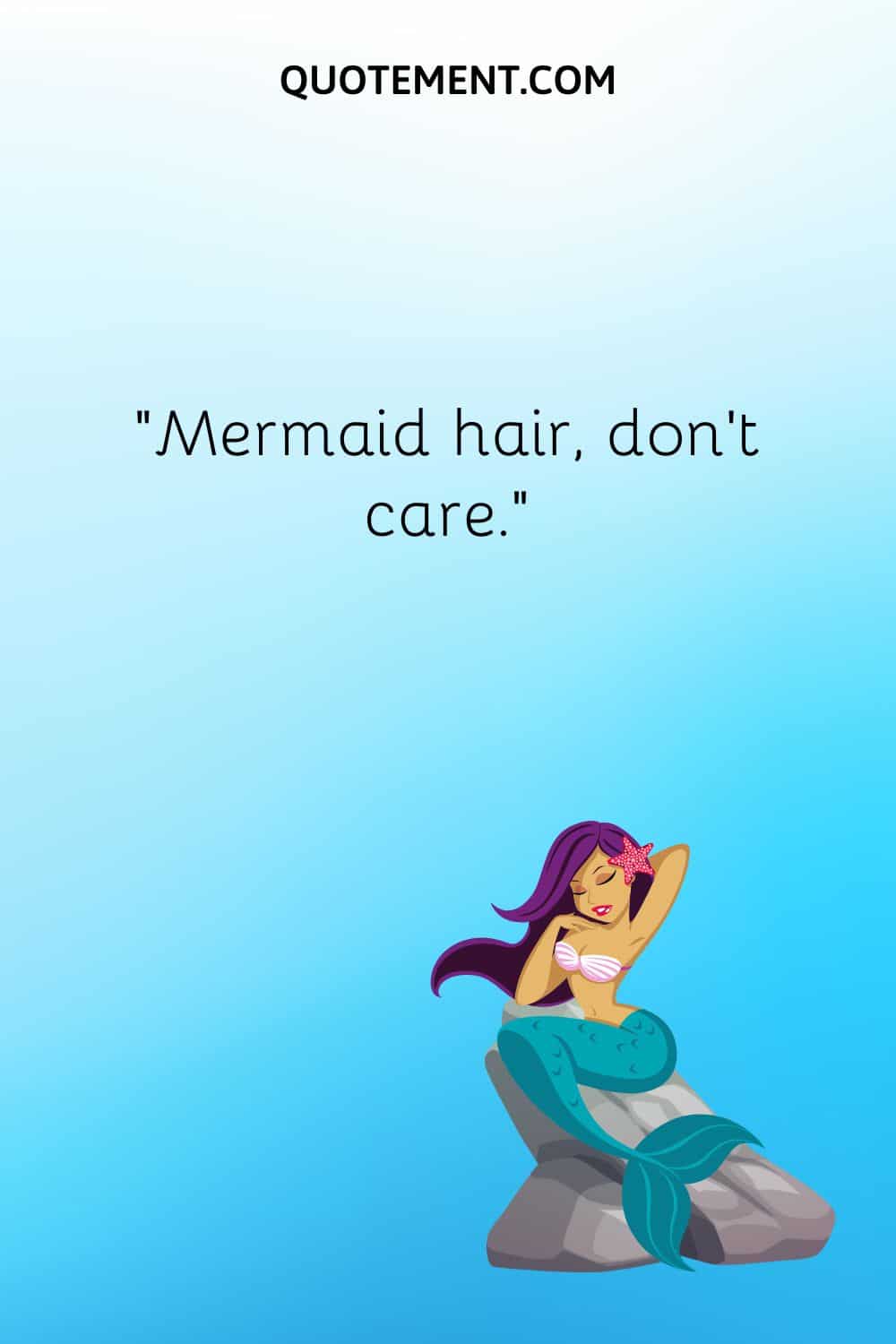 2. "The difference between a miracle and a fact is exactly the difference between a mermaid and a seal." ― Mark Twain
3. "Mermaids don't lose sleep over the opinions of shrimp."
4. "I've got a swimming pool and I pretend to be like a mermaid, like in the middle of the night. It kind of de–stresses me." ― Rebel Wilson
5. "I think you're mermazing."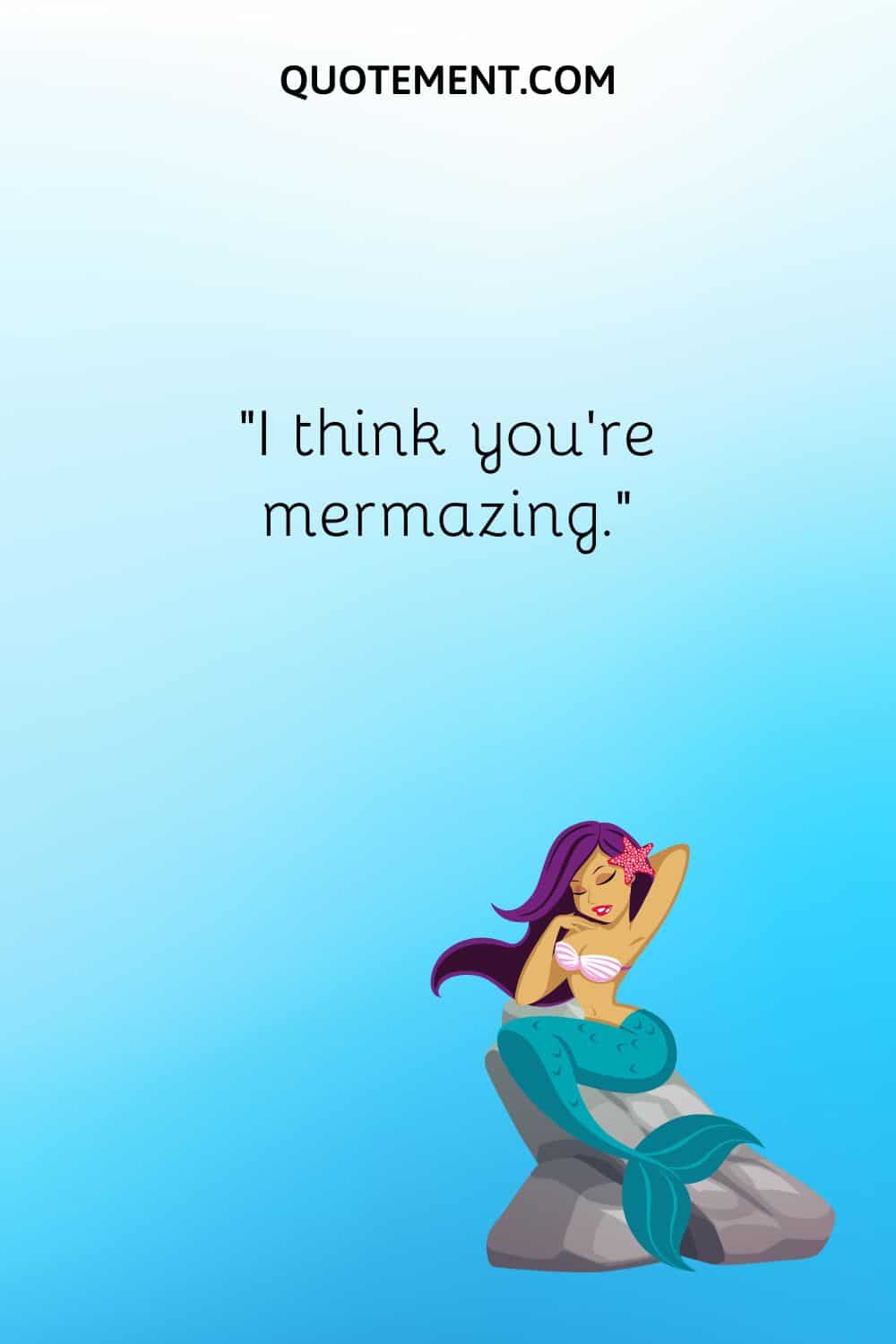 6. "If the mermaid had been an idealized projection of a human woman onto a marine mammal, she would have looked different every time." ― Mira Grant
7. "Fishermen dream of great dripping trout, shapely and elusive as mermaids, and arise cranky and haggard from their fantasies." ― John D. Voelker
8. "Now and then a giggling trail of mermaids appeared in our wake. We fed them oatmeal." ― Tove Jansson
9. "I've been in the water so much these past few days, I swear I'm growing fins & scales." – April Mae Monterrosa
10. "Mermaids drink mermosas."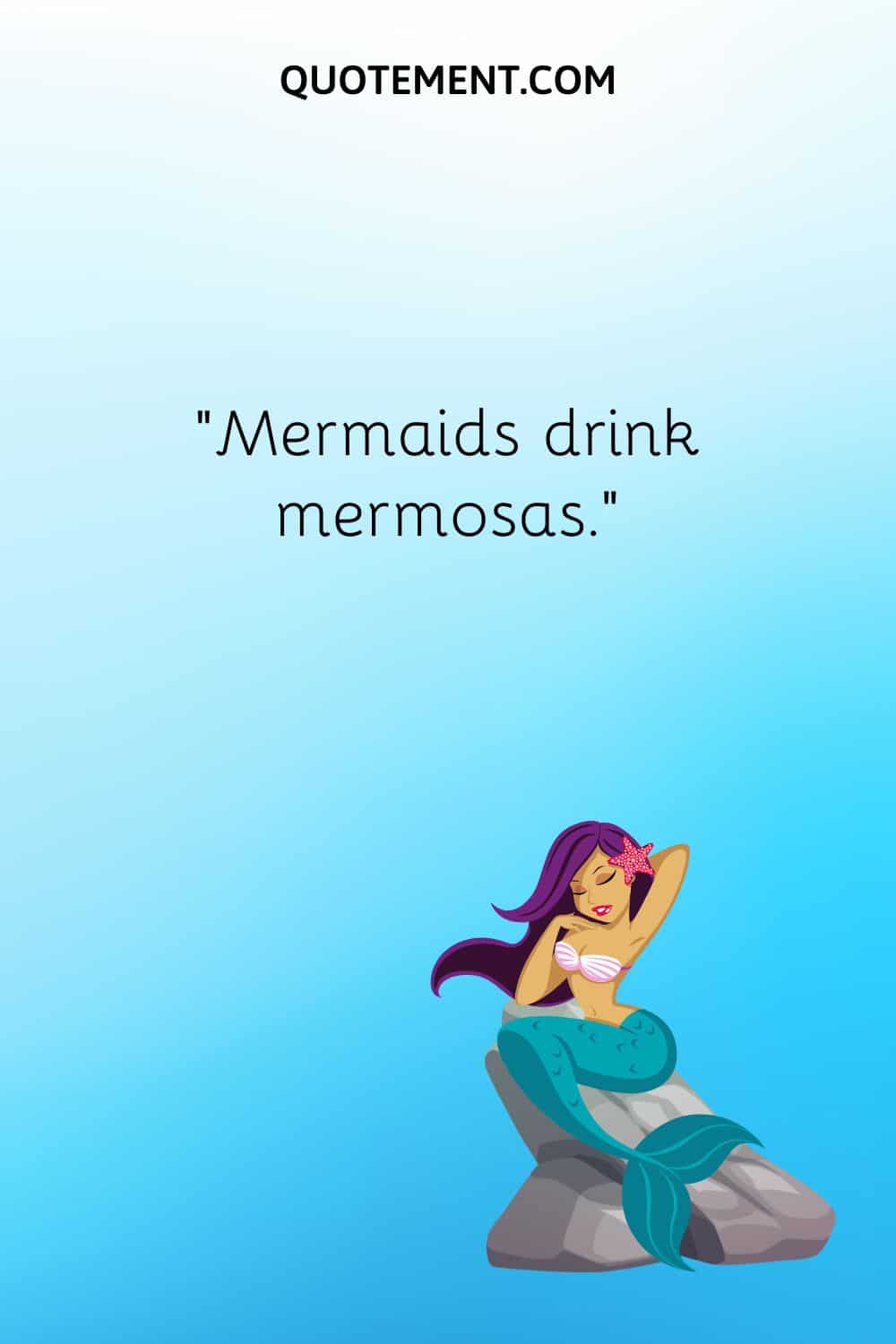 11. "Since the nineteen–fifties, rural Florida has marketed itself to Northerners and Midwesterners as an unexplored paradise of citrus and mermaids." ― Anne Hull
12. "I'm always happy when I'm surrounded by water, I think I'm a Mermaid or I was a mermaid." ― Beyoncé Knowles
Short Mermaid Quotes
This section brings you short mermaid quotes. I hope you'll enjoy them:
1. "As the sunlight flickered along her scales, the mermaid shimmered." — Lisa Thompson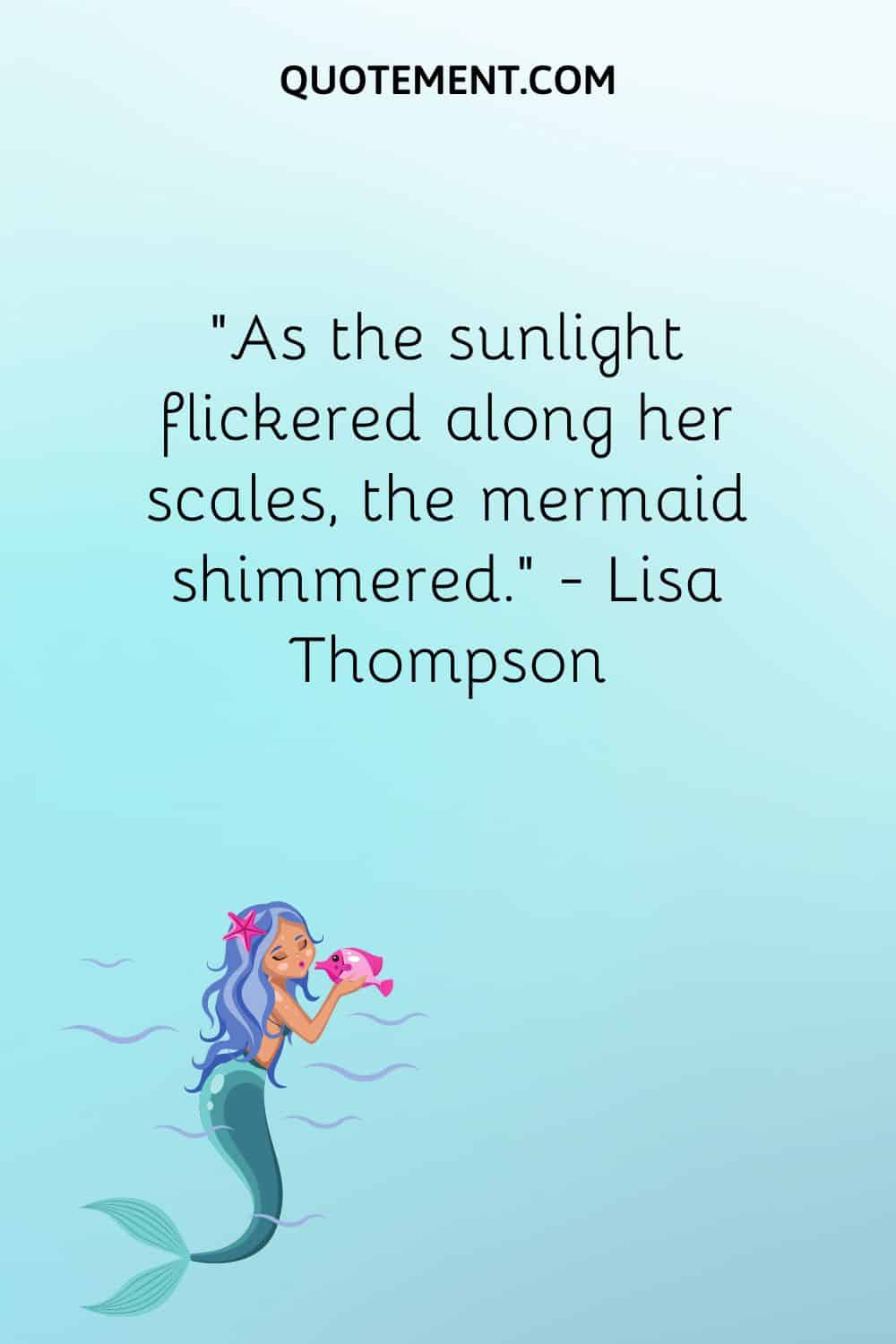 2. "I must be a mermaid, Rango. I have no fear of depths and a great fear of shallow living." – Anais Nin
3. "But a mermaid has no tears." ― Hans Christian Andersen
4. "She would be half the world away, floating in a turquoise sea, dancing by the moonlight." ― Janet Fitch
5. The sea always filled her with longing, though for what she was never sure." ― Cornelia Funke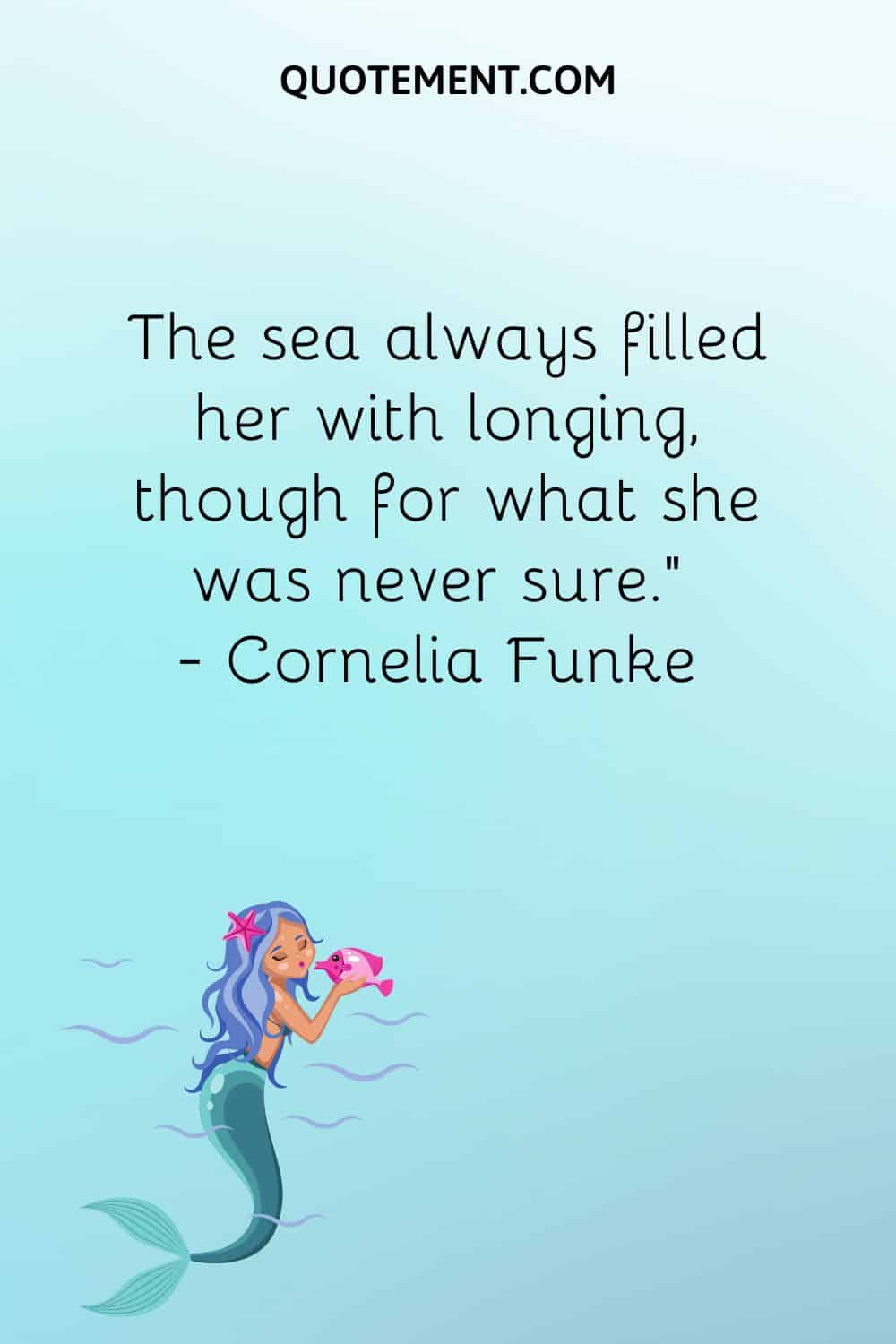 6. "She dreams of the ocean late at night and longs for the wild salt air." ― Hannah Fraser
7. "The stars twinkled above her brilliantly, representing all of the beautiful laws of the universe." — Keira D. Skye
8. "If you sing to the mermaids, they come when you're drowning." — Tori Amos
9. "O, train me not, sweet mermaid, with thy note, to drown me in thy sister's flood of tears." — William Shakespeare
10. "People want to believe in mermaids." — Christina Henry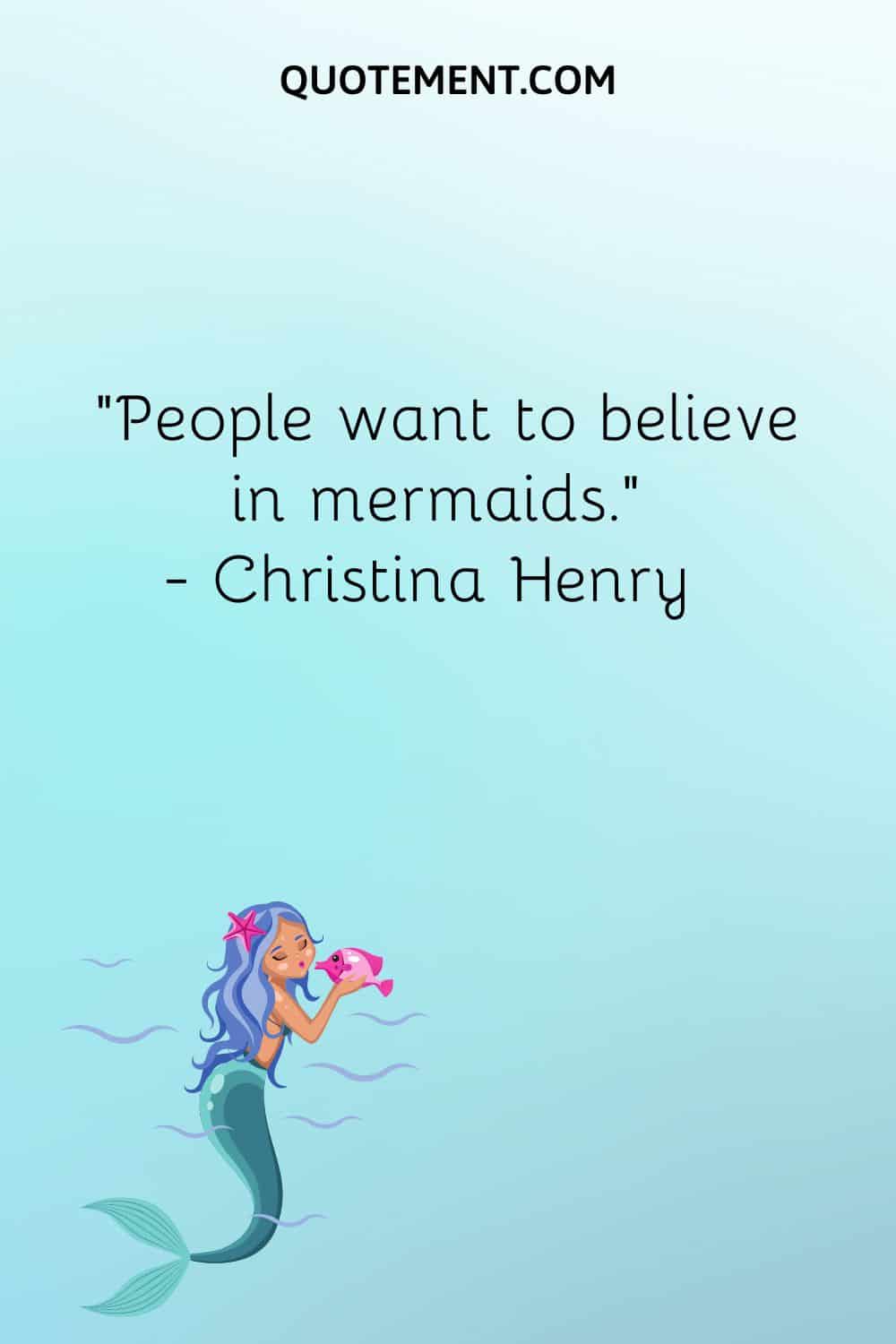 11. "Ebbing and flowing and pushed by a breeze, I live to make you free." — Gregory and the Hawk
12. "The ocean has a rhythm, but it has no heart." — Christina Henry
13. "I always wanted to be a mermaid but I never saw the sea." — Renee Thebeau
14. "Mermaids don't drown." ― Suzanne Palmieri
15. "Let the sea set you free."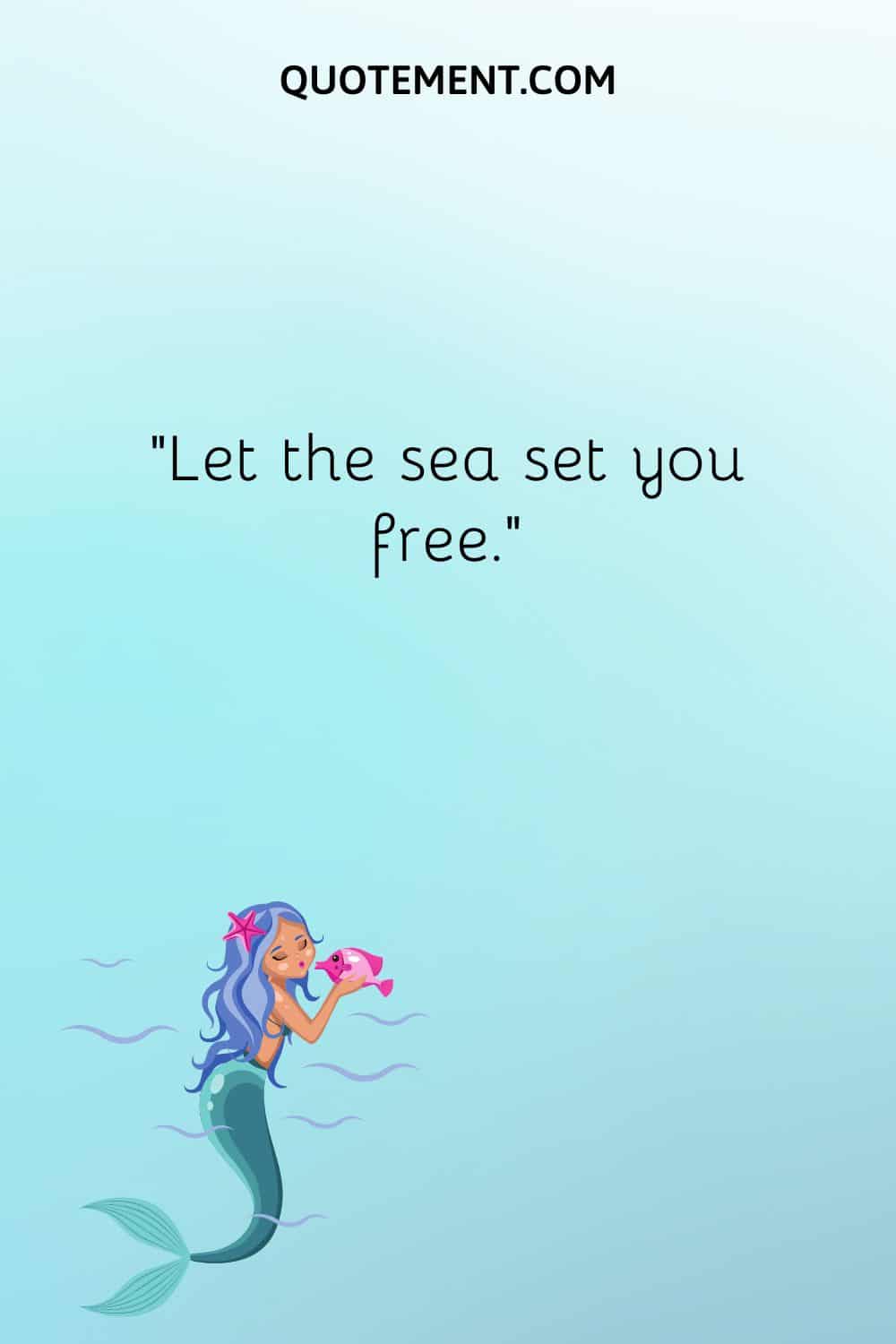 16. "I was happy anywhere I could see the ocean." ― Ai Yazawa
17. "I have sea foam in my veins, I understand the language of waves." ― Le Testament d'Orphée
18. "But all the magic I have known I've had to make myself." – Shel Silverstein
19. "You are not a drop in the ocean. You are an ocean in a drop." ― Joy N. Hensley
20. "Mermaid kisses and starfish wishes."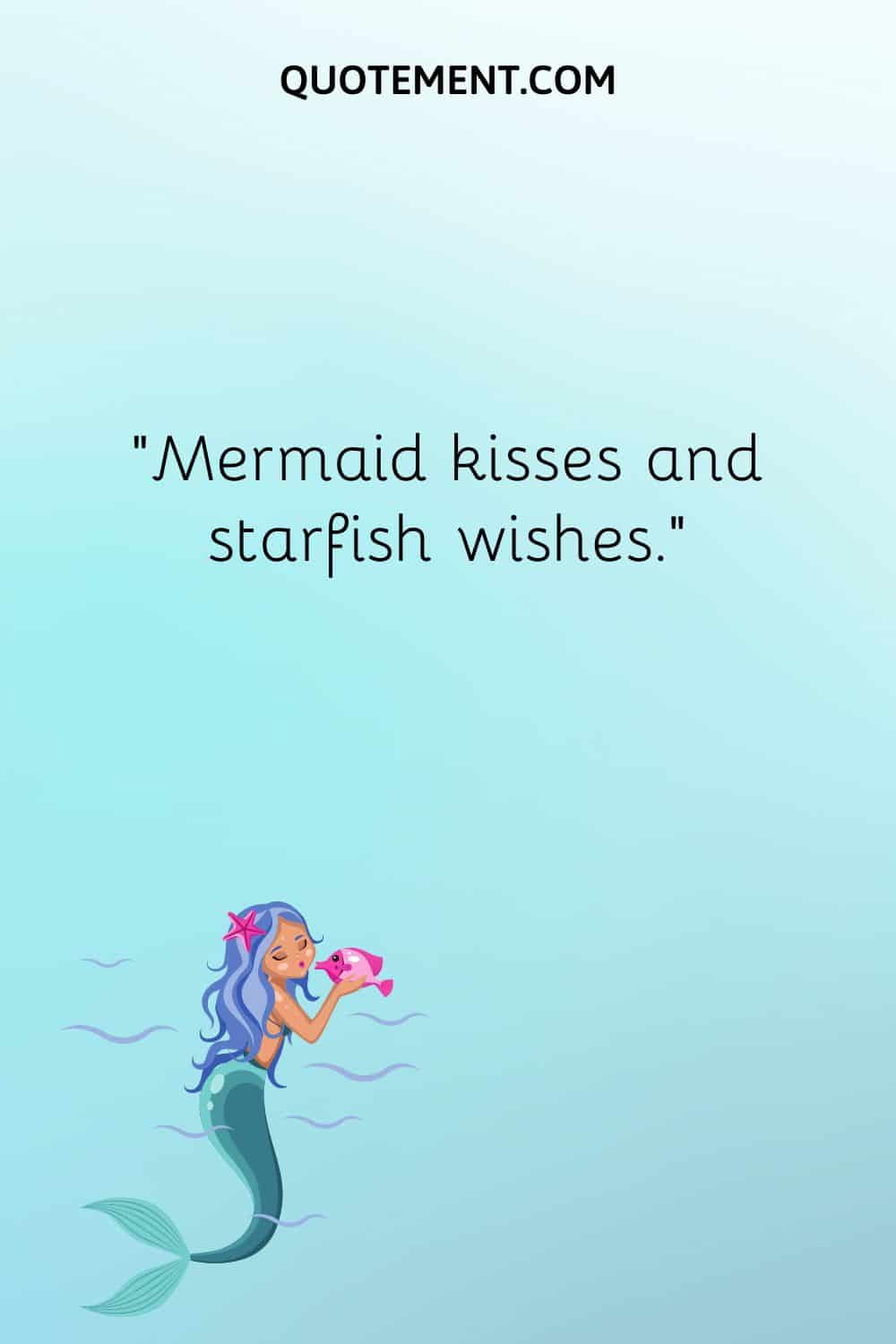 21. "You can't get something for nothing, you know." ― Ursula
22. "I'm done adulting. Let's be mermaids."
23. "A smooth sea never made a skilled mermaid."
24. "There's a million fish in the sea, but I'm a mermaid."
25. "Aye, tough mermaids are." — Blackbeard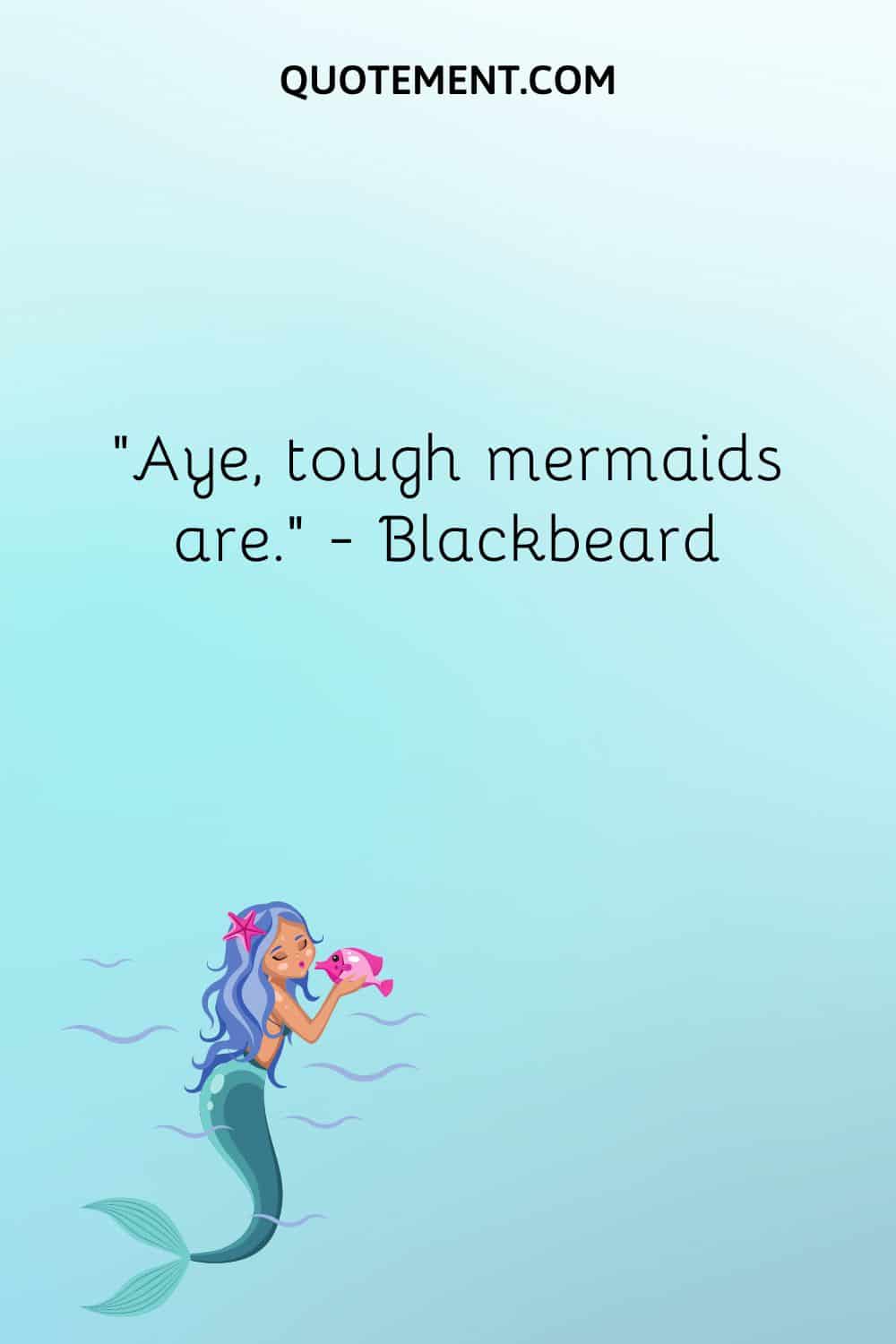 Mermaid And Siren Quotes
Mermaids, sirens, the deep sea and oceans… Just keep reading to find amazing mermaid quotes and siren quotes:
1. "No siren did ever so charm the ear of the listener as the listening ear has charmed the soul of the siren." ― Henry Taylor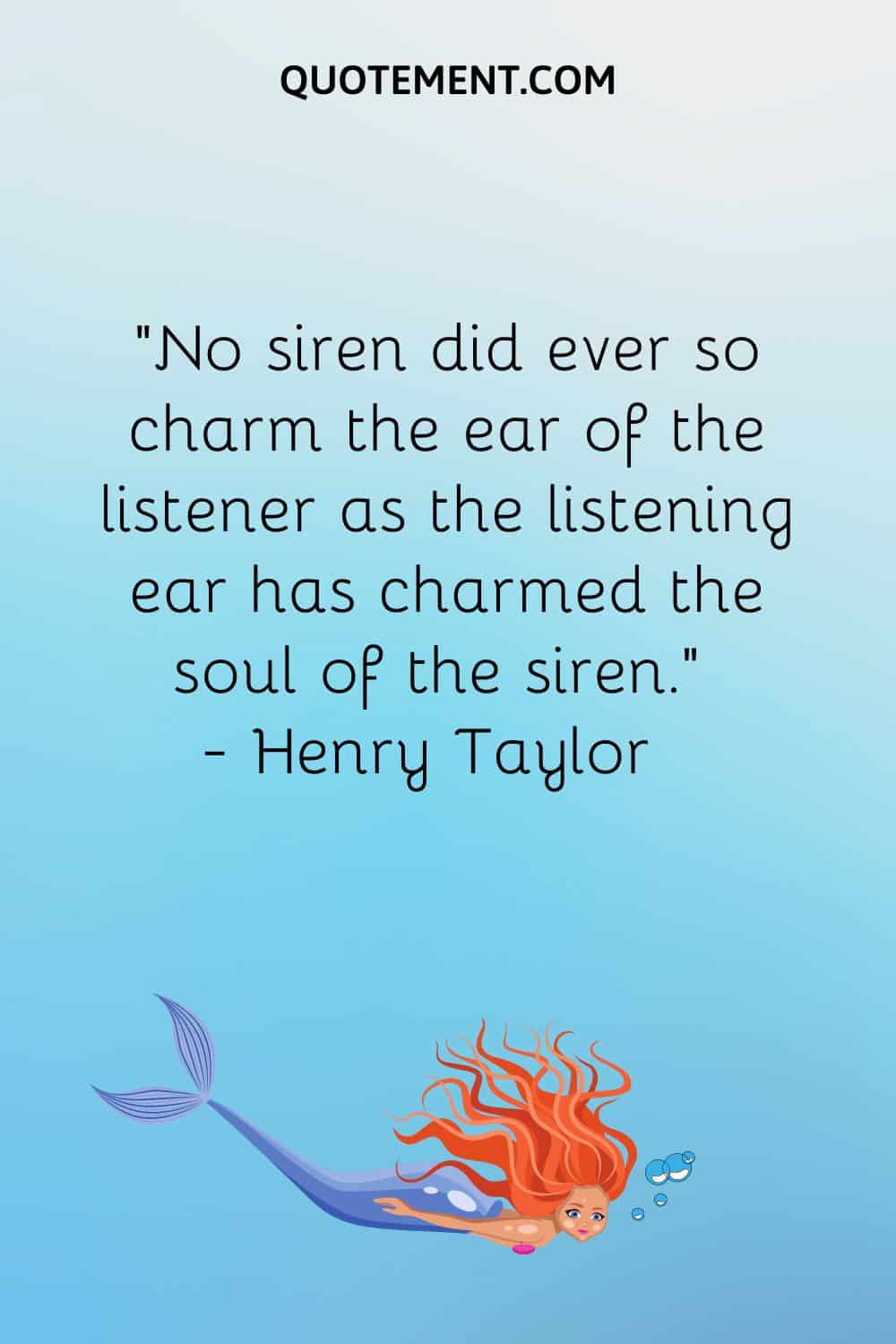 2. "We have lingered in the chambers of the sea by sea–girls wreathed with seaweed red and brown till human voices wake us… and we drown." ― T.S. Eliot
3. "If you are curious, you might never come home, like all the men who now live with mermaids at the bottom of the sea. Or the people who found Atlantis." — Jeanette Winterson
4. "There is, one knows not what sweet mystery about this sea, whose gently awful stirrings seem to speak of some hidden soul beneath." — Herman Melville
5. "She is water, powerful enough to drown you, soft enough to cleanse you." ― Adrian Michael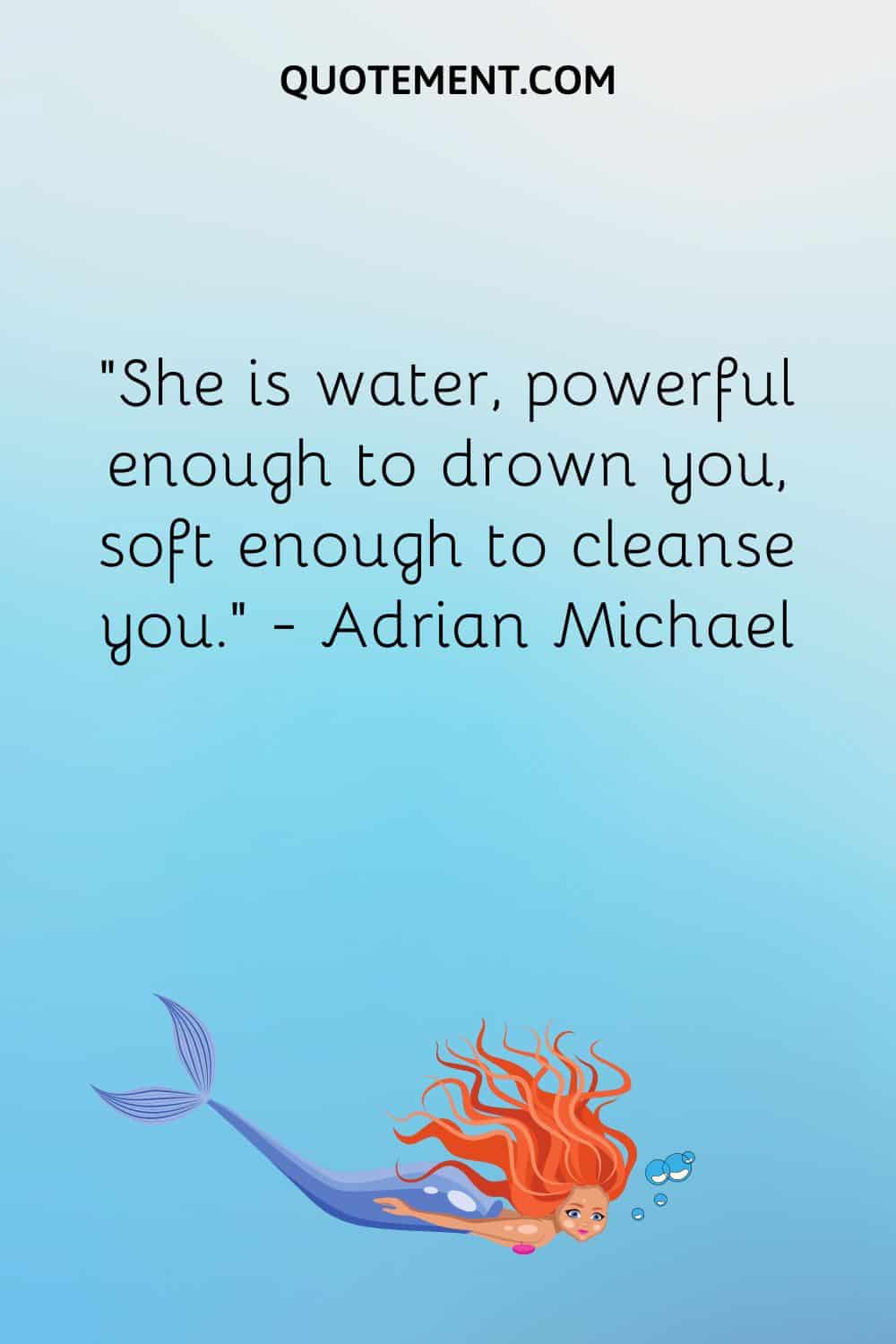 6. "I am a siren, and for my adoration of mankind, have been caught in fishing nets one time too many. And in those fishing nets I have learned too many unfavorable things about human intentions and the lack of trust and goodwill; I'm not going to allow myself to be caught any more. Sirens do well at singing the sirens' song and dragging vile people to their deaths, and for good reason!" – C. JoyBell C.
7. "And then I cried a flood of tears as if I really were a mermaid who had absorbed too much sea into herself." ― Francesca Lia Block
8. "The sea, once it casts its spell, holds one in its net of wonder forever." — Jacques Yves Cousteau
9. "I thought of Atargatis, the First, frightening and beautiful. The mermaid goddess who lived on in the soul of every woman who'd ever fallen in love with the ocean." — Sarah Ockler
10. "And I am here, the mermaid whose dark hair streams black, the merman in his armored body." — Adrienne Rich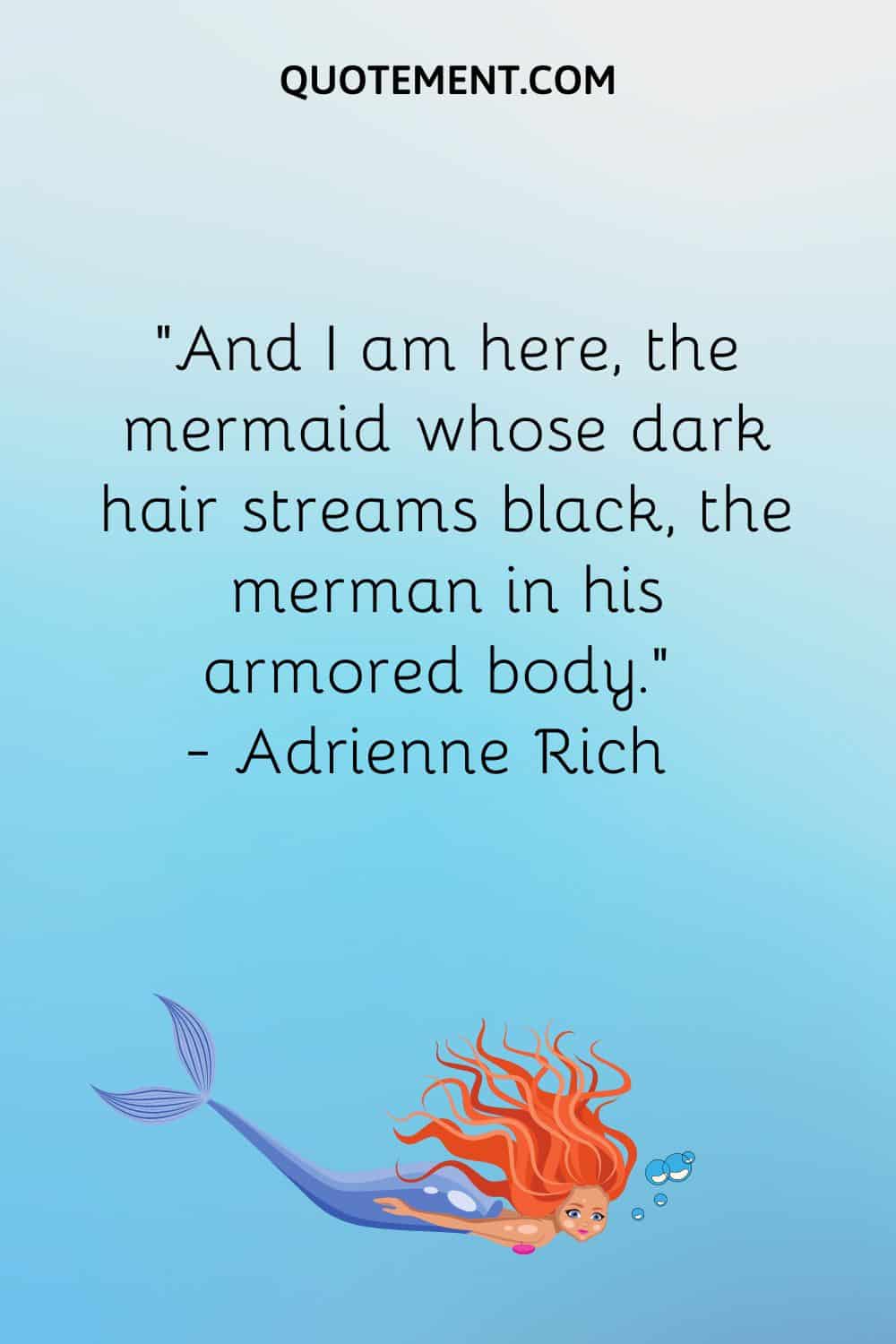 11. "Like a mermaid rising from an ocean of paper, the girl emerged across the room." — Brian Selznick
12. "A mermaid found a swimming lad, picked him up for her own." — W.B. Yeats
13. "Enraptured by an aberration of beauty, I cannot move. I find myself helpless against a woman whose pale lips sing to me. Every note, every hymn that escapes those lips, I want to hear like a story being told to a child. I want to listen to its crinkled page as it turns, but more so, I desired this creature before me." ― Marilyn Velez
14. "I love water and you said, you thought a mermaid, maybe. If you were a mermaid, you said, if you were a mermaid, I was the sea." ― Francesca Lia Block
15. "Now the Sirens have a still more fatal weapon than their song, namely their silence; someone might possibly have escaped from their singing but from their silence, certainly never." – Franz Kafka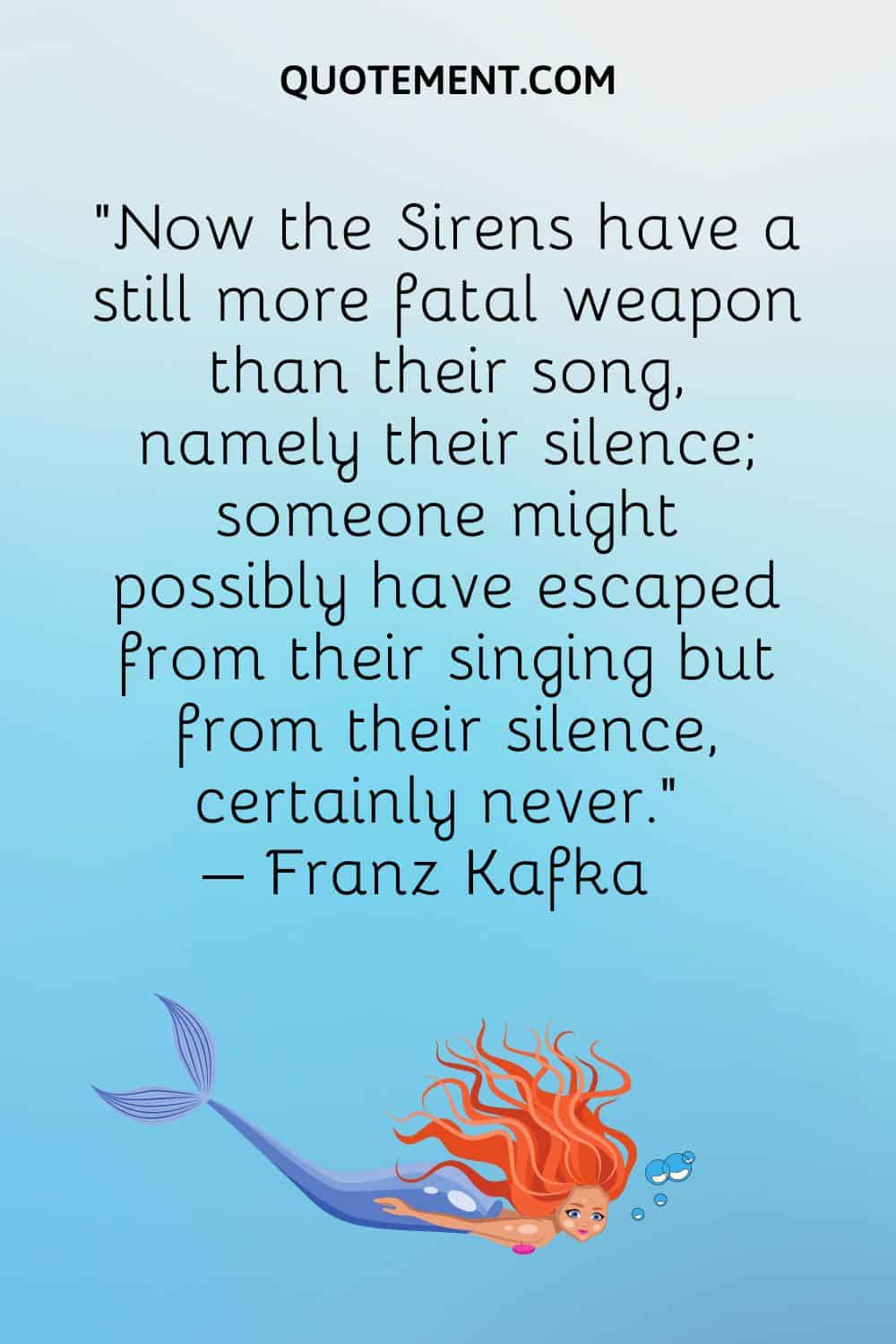 16. "My ocean is bluer than the heart you had to break; my sea is deeper than your lake." ― Emilie Autumn
17. "There's always a woman somewhere, child; a princess, a witch, a stepmother, a mermaid, a fairy godmother, or one as wicked as she is beautiful, or as beautiful as she is good." — Jeanette Winterson
18. "The ultimate corner of sugar and toast, where the mermaids catch the branches of the willows and the heart opens to a flute's sharpness." ― Federico Garcia Lorca
19. "Meet me where the sky touches the sea." — Jennifer Donnelly
20. "Make your story so beautiful, mermaids have trouble believing it's true." ― R.I.D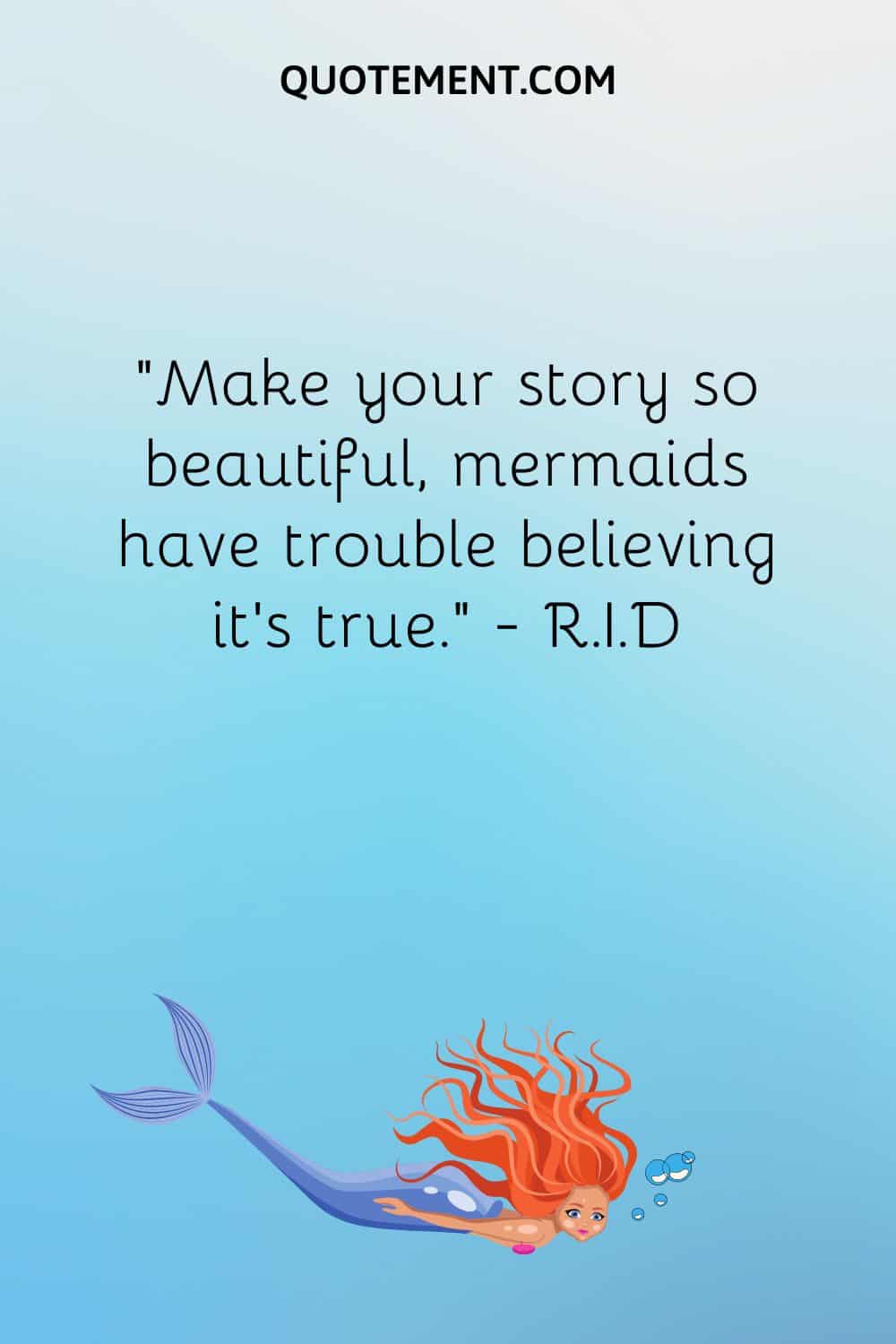 21. "I was a mermaid in my past–life! I definitely was. I don't know why I'm obsessed with them that much, which is why I think that somehow in my past –life I must have just lived underwater or something. Maybe I was a fish or a dolphin, but I do believe in mermaids." – Ella Henderson
22. "Souls of poets dead and gone, what Elysium have ye known, happy field or mossy cavern, choicer than the Mermaid Tavern? Have ye tippled drink more fine than mine host's Canary wine?" – John Keats
23. "I started early, took my dog, and visited the sea; the mermaids in the basement came out to look at me" – Emily Dickinson
24. "But one kiss levitates above all the others. The intersection of function and desire. The I do kiss. The I'll love you through a brick wall kiss. Even when I'm dead, I'll swim through the Earth, like a mermaid of the soil, just to be next to your bones." – Jeffrey McDaniel
25. "The Siren waits thee, singing song for song." – Walter Savage Landor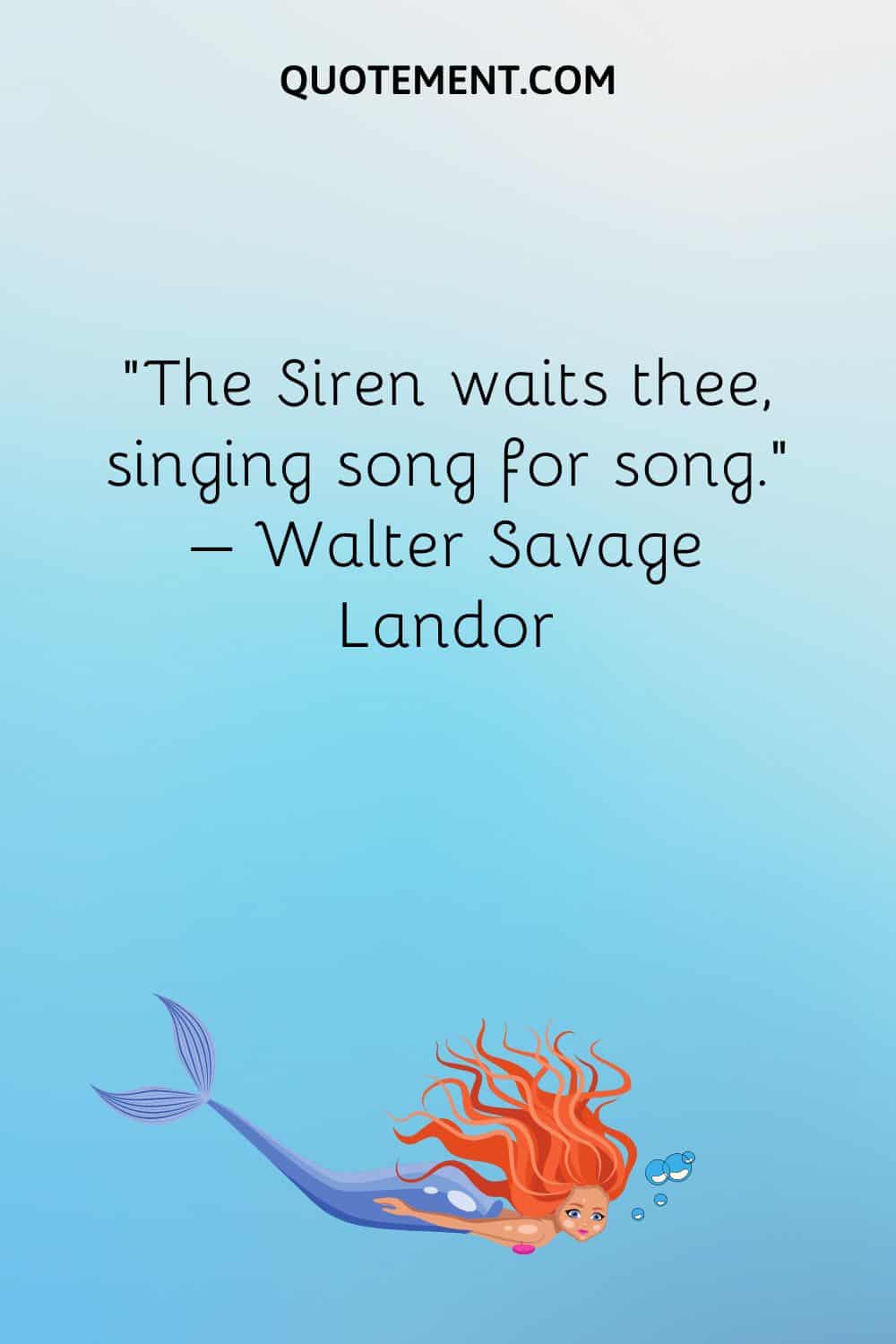 26. "I'll always be happy if they'd leave me alone in that delightful and unknown furthest corner, apart from struggles, putrefactions and nonsense; the ultimate corner of sugar and toast, where the mermaids catch the branches of the willows and the heart opens to a flute's sharpness." – Federico Garcia Lorca
The Little Mermaid Quotes
If you're a fan of The Little Mermaid, you should check out these wonderful quotes as well:
1. "Isn't this great? The salty sea air, the wind blowing in your face. A perfect day to be at sea!" ― Eric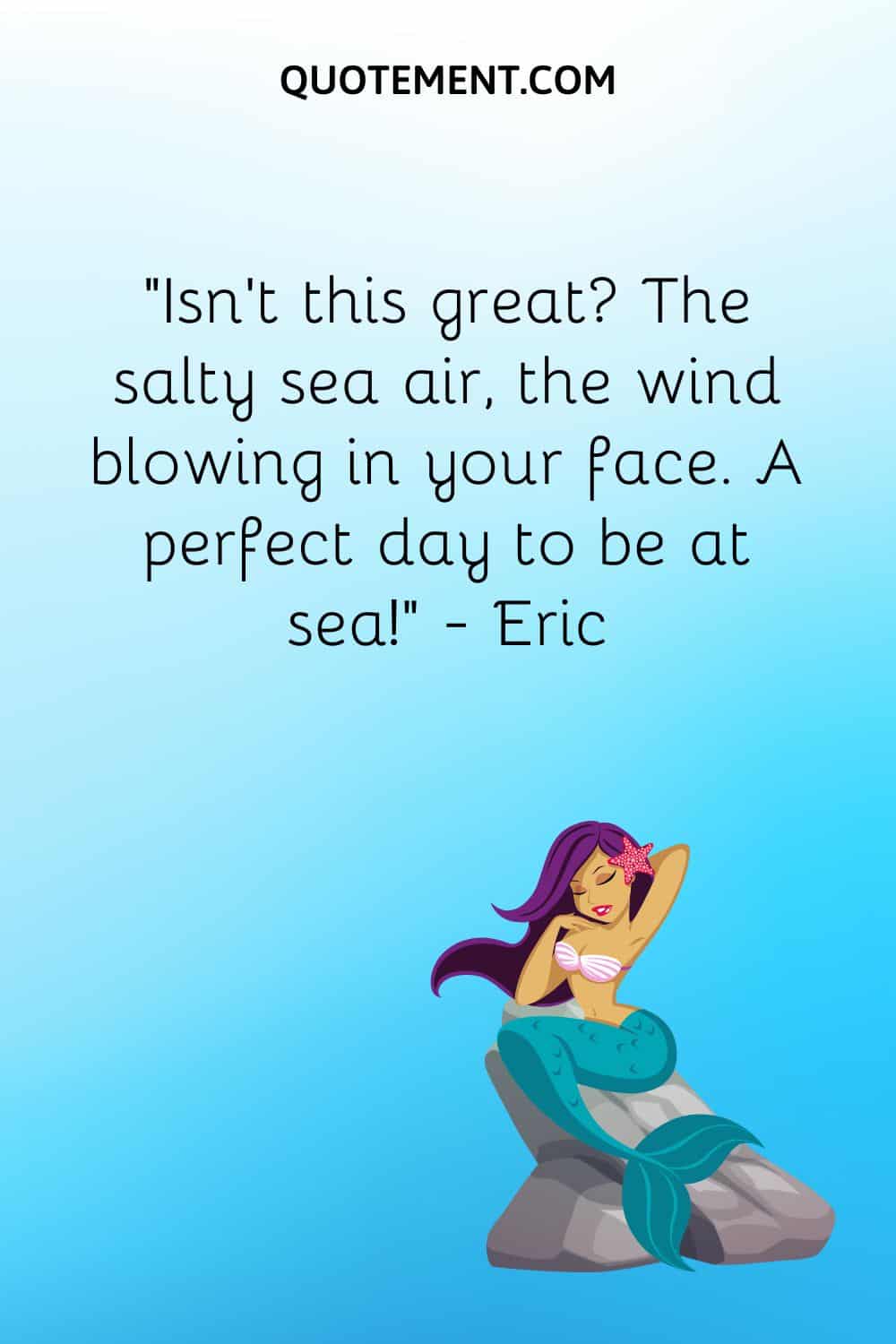 2. "You got your own style, now let it shine through and remember no matter what, you've got to be you." ― Sebastian
3. "What would I pay to spend a day warm on the sand." ― Ariel
4. "I consider myself a reasonable merman." – King Triton
5. "Who says that my dreams have to stay my dreams?" ― Ariel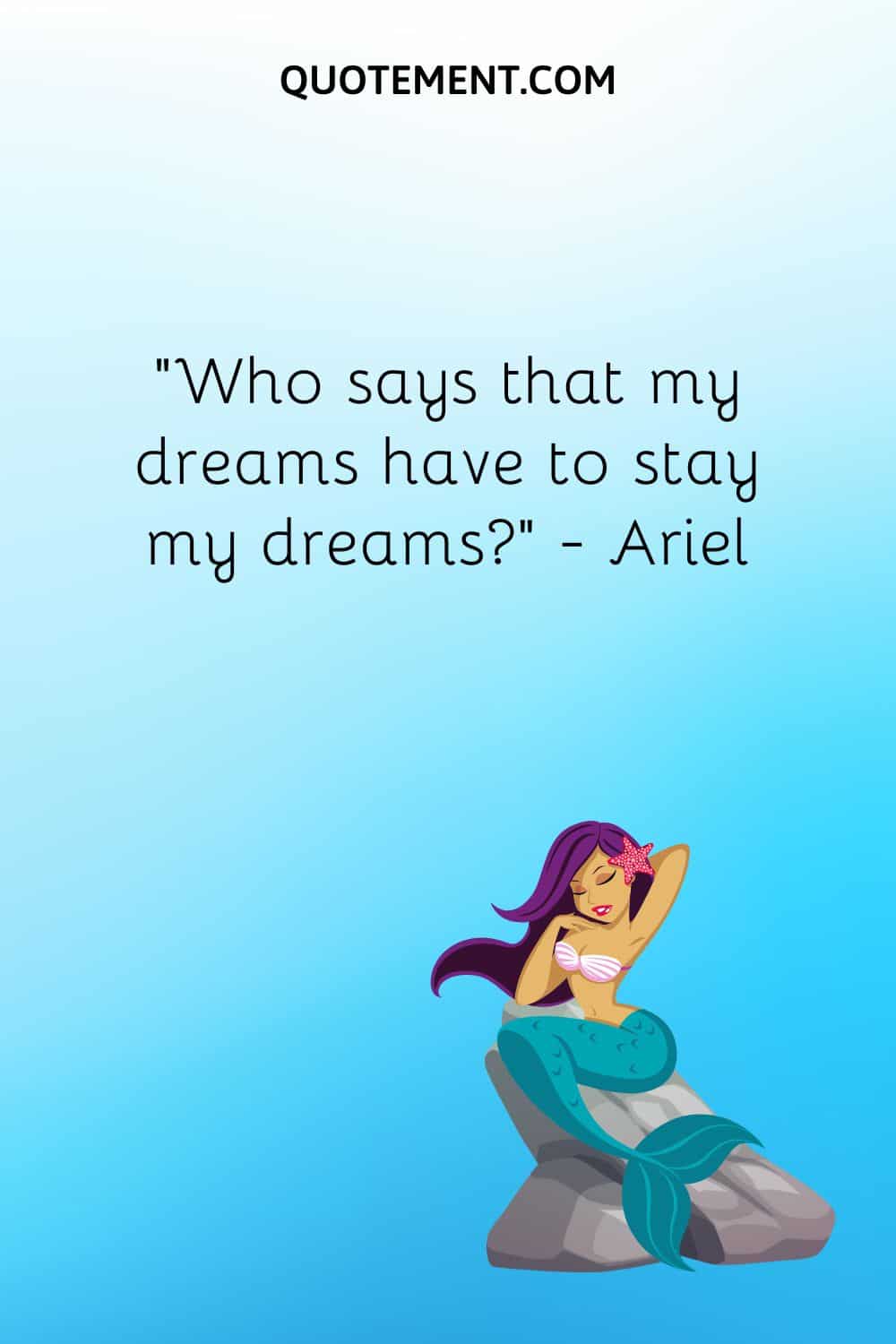 6. "Life is the bubbles, under the sea." ― Sebastian
7. "Someday I'll be part of your world." ― Ariel
8. "I don't see how a world that makes such wonderful things could be bad." ― Ariel
To Wrap It Up
You've reached the end of the article!
Thank you for reading my collection of 110 mermaid quotes, mermaid sayings and mermaid love quotes!
If you like this post and my unique images, be sure to check out our page because you'll find more inspirational content!
Until next time!
Read next: 260 Gripping Water Captions For Instagram To Inspire Change