With Halloween being just around the corner, I'm sure you're getting thrilled to collect some great spooky quotes and create that wickedly fun ghostly atmosphere.
That's why I've scoured the depths of the internet to gather the best Halloween quotes I could find and infuse your All Hallows' Eve with the right blend of spook and spirit.
Let's explore the very essence of this awesome season of all things eerie and exciting!
10 Best Halloween Quotes
1. "'Tis the night — the night of the grave's delight, and the warlocks are at their play; Ye think that without the wild winds shout, but no, it is they — it is they." — Cleveland Coxe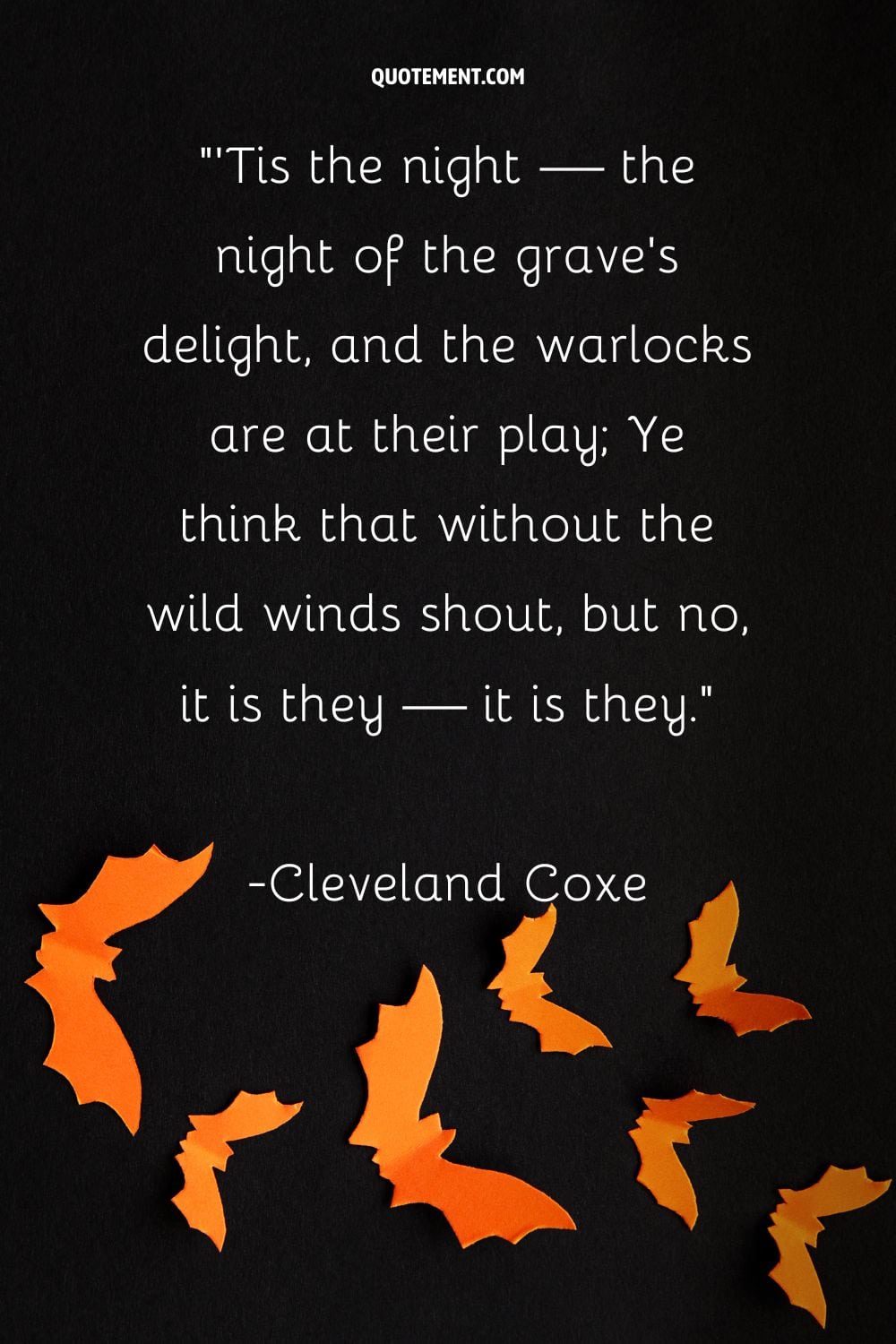 2. "Oh, how the candles will be lit and the wood of worm burn in a fiery dust. For on all Hallows' Eve will the spirits come to play." — Solange Nicole
3. "It's Halloween! It's Halloween! The moon is full and bright and we shall see that can't be seen on any other night." — Jack Prelutsky, It's Halloween
4. "Vampires, werewolves, fallen angels and fairies lurk in the shadows, their intentions far from honorable." — Jeaniene Frost
5. "Shadows of a thousands years rise again unseen, voices whisper in the trees, 'Tonight is Halloween!'" — Dexter Kozen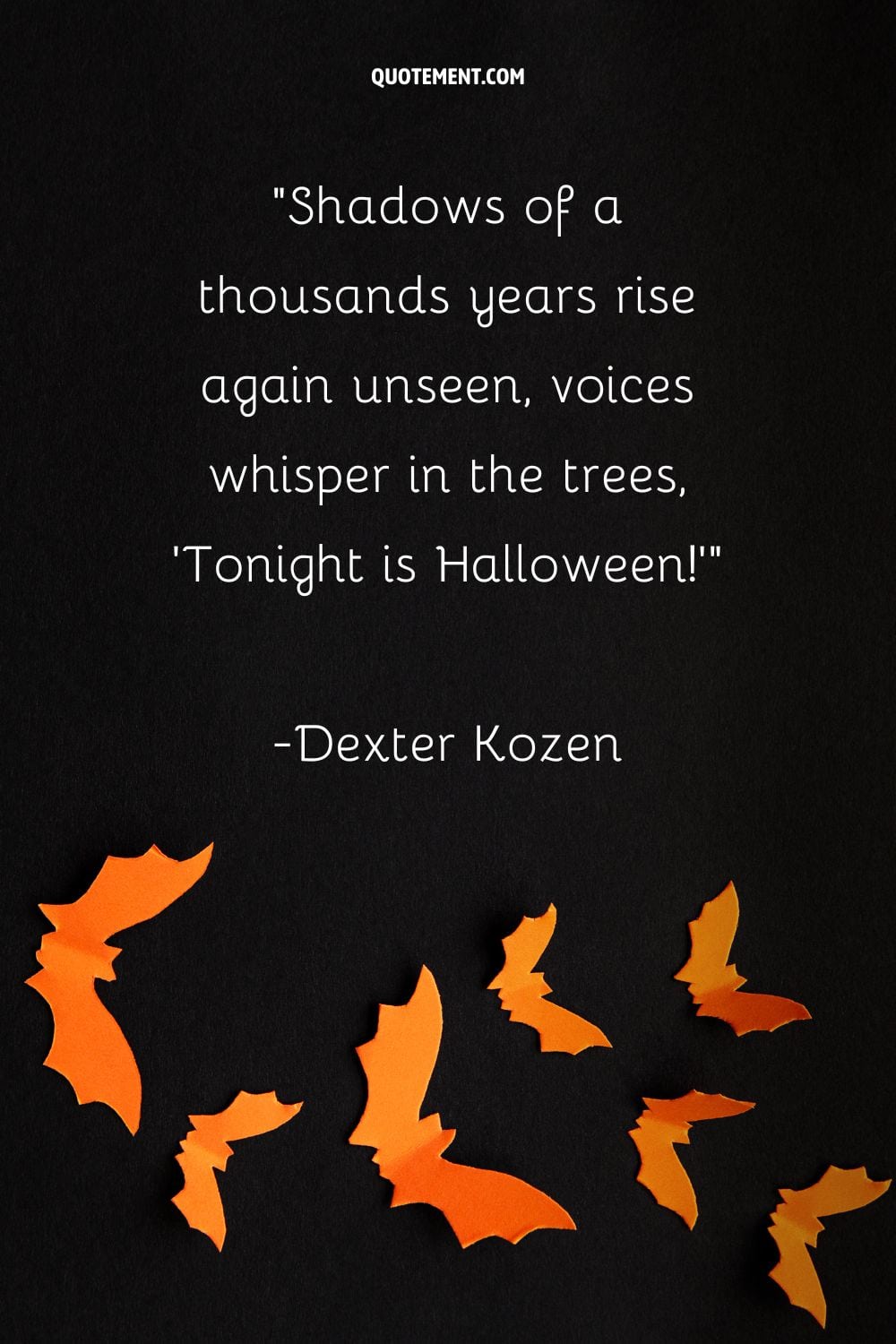 6. "It's Halloween, everyone's entitled to one good scare." — Sheriff Leigh Brackett, Halloween
7. "Halloween is a celebration of the inversion of reality and a necessary Gothic hat-tip to the darker aspects of life, death, and ourselves." — Stewart Stafford
8. "Halloween is a day in which some people choose to wear a mask… while others finally feel safe to take theirs off." ― Steve Maraboli
9. "Anyone could see that the wind was a special wind this night, and the darkness took on a special feel because it was All Hallows' Eve." — Ray Bradbury
10. "She'd always loved Halloween. A magic night. A night when anything could happen. Monsters could be real. Magic could whisper in the air." — Cynthia Eden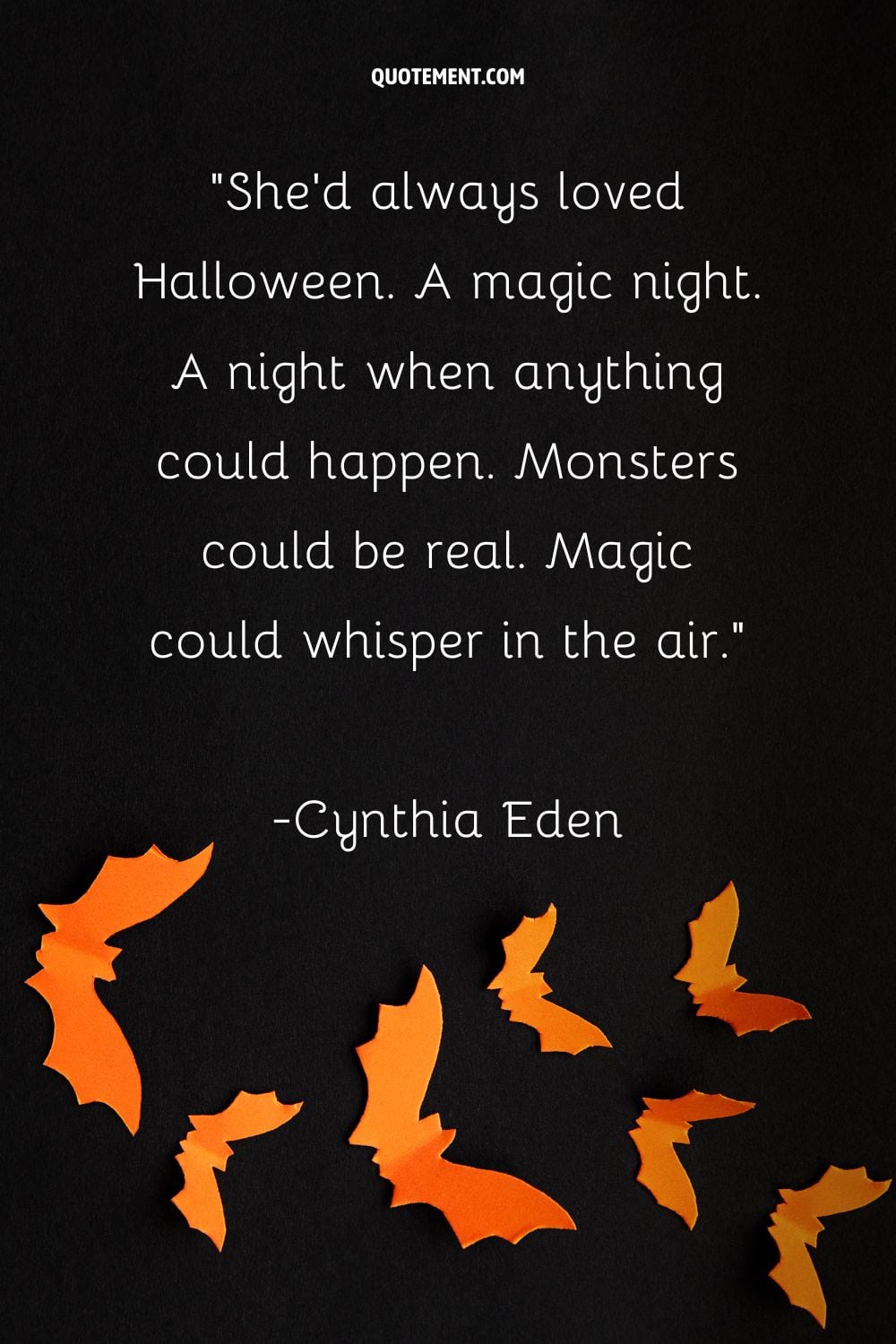 Quotes About Halloween To Inspire You
1. "Nothing on earth is so beautiful as the final haul on Halloween night." — Steve Almond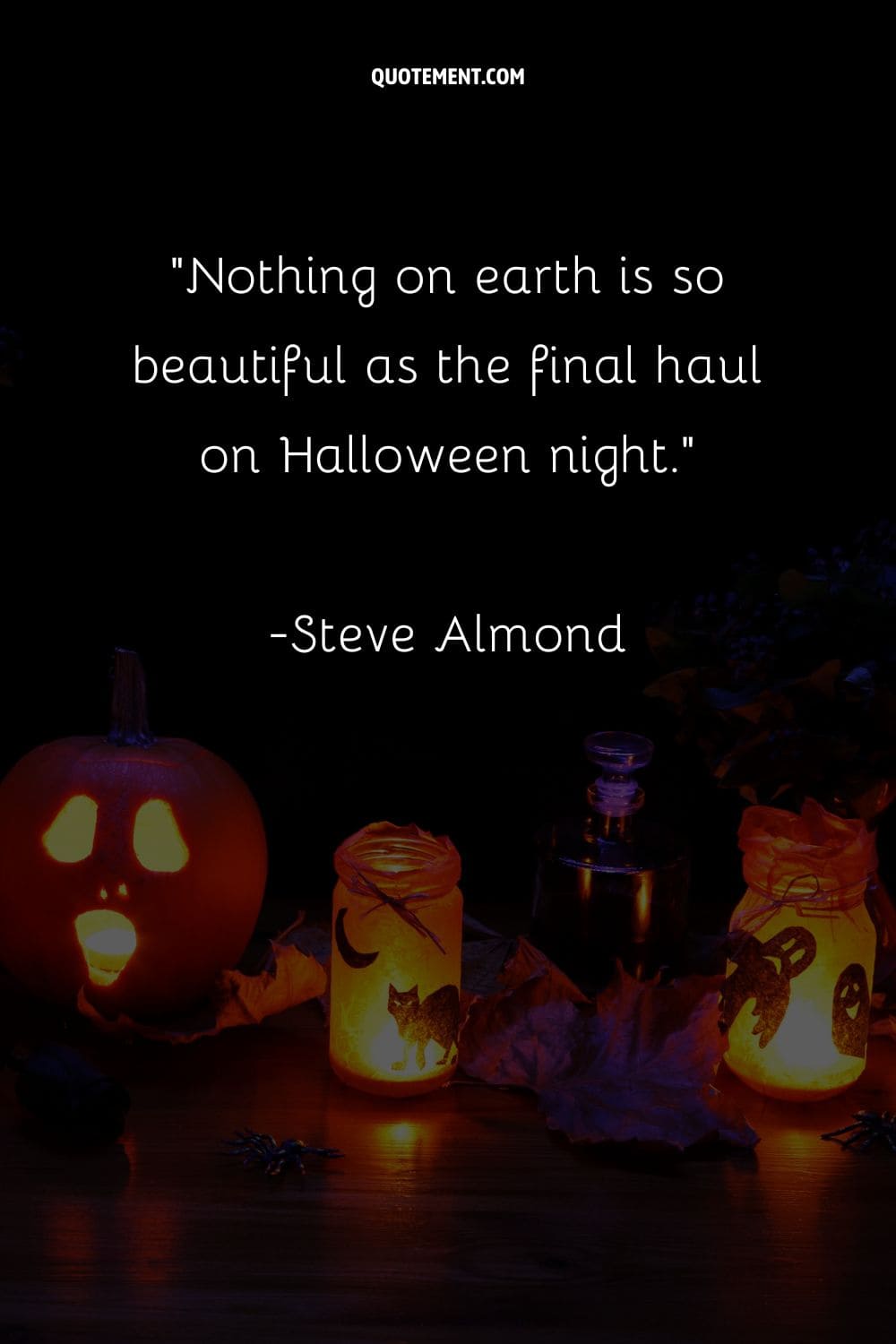 2. "I love Halloween, and I love that feeling: the cold air, the spooky dangers lurking around the corner." — Evan Peters
3. "Halloween shadows played upon the walls of the houses. In the sky, the Halloween moon raced in and out of the clouds… It was a lovely and exciting night, exactly the kind of night Halloween should be." — Eleanor Estes
4. "The wind outside nested in each tree, prowled the sidewalks in invisible treads like unseen cats." — Ray Bradbury, The Halloween Tree
5. "The moon has awoken with the sleep of the sun, the light has been broken; the spell has begun." — Midgard Morningstar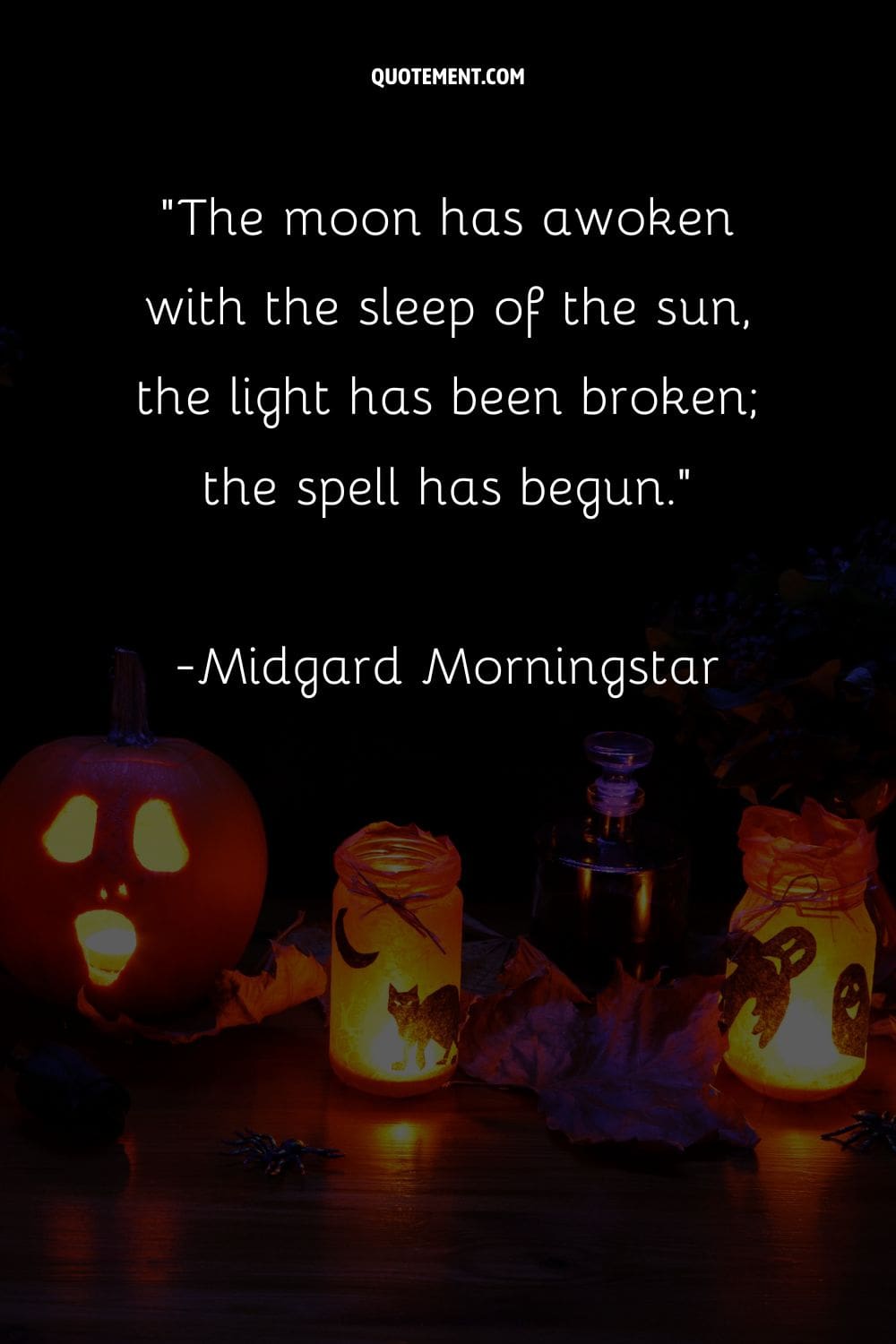 6. "Halloween wraps fear in innocence, as though it were a slightly sour sweet. Let terror, then, be turned into a treat…" — Nicholas Gordon
7. "There is magic in the night when pumpkins glow by moonlight." — Unknown
8. "The farther we've gotten from the magic and mystery of our past, the more we've come to need Halloween." — Paula Guran
9. "Halloween was the best holiday, in my opinion, because it was all about friends, monsters, and candy, rather than family and responsibility." — Margee Kerr
10. "On Halloween, witches come true; wild ghosts escape from dreams. Each monster dances in the park." — Nicholas Gordon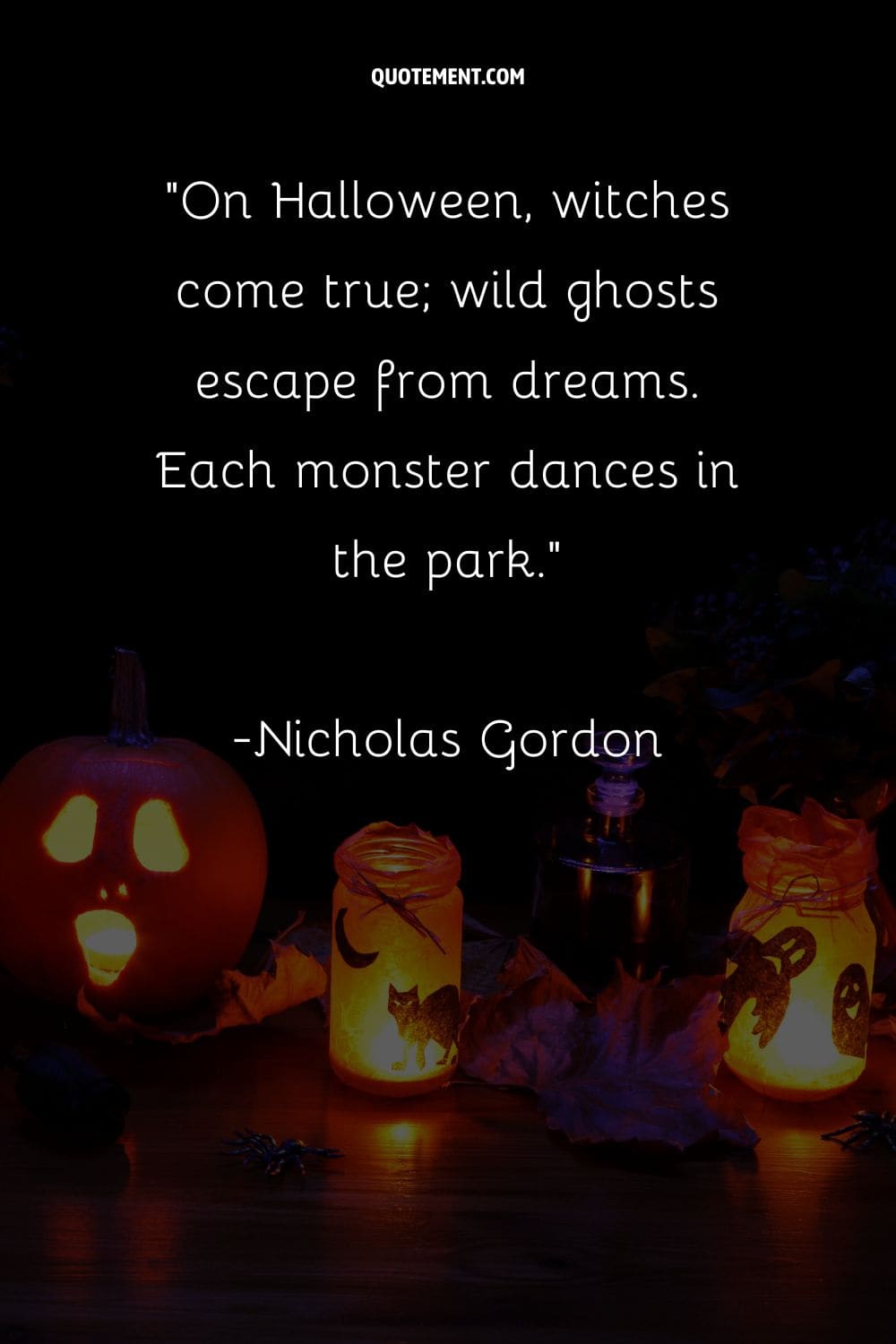 11. "All Hallows' Eve: a magical time; a time of secrets and of mysteries; of sachets to be sewn in red silk and hung around the house to ward off evil; of scattered salt and spiced wine and honey cakes left on the sill; of pumpkin, apples, firecrackers, and the scent of pine and woodsmoke as autumn turns and old winter takes the stage." — Joanne Harris, The Girl with No Shadow
12. "Magic is really very simple, all you've got to do is want something and then let yourself have it." — Aggie Cromwell, Halloweentown
13. "That old black magic has me in its spell. That old black magic that you weave so well. Those icy fingers up and down my spine, the same old witchcraft when your eyes meet mine." — Frank Sinatra, That Old Black Magic
14. "Halloween is the only time people can become what they want to be without getting fired." — Sylvester Stallone
15. "The world turned upside down — in a good way — for one black velvet night." — Karen Fortunati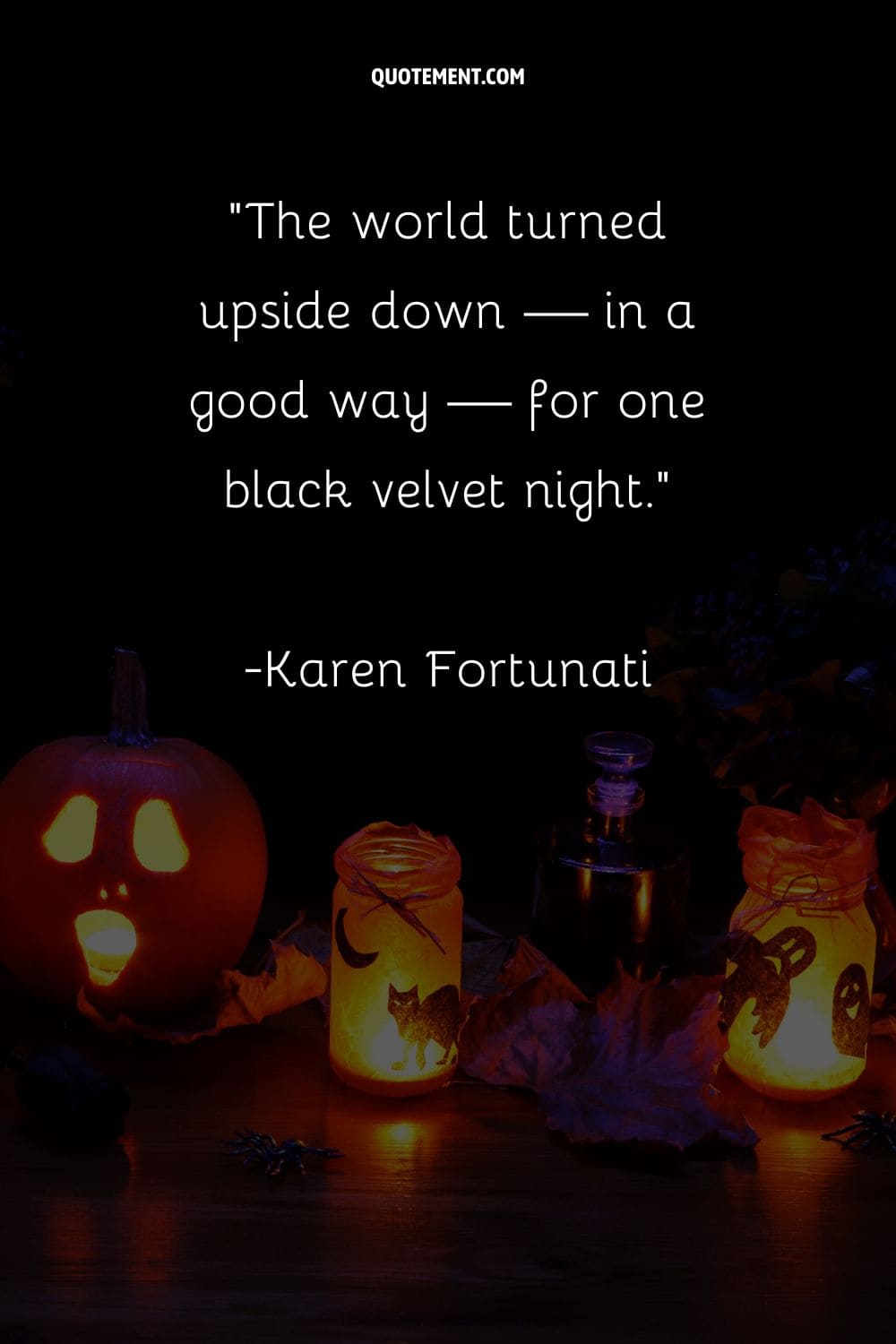 16. "Most people will tell you growing up means you stop believing in Halloween things — I'm telling you the reverse. You start to grow up when you understand that the stuff that scares you is part of the air you breathe." — Peter Straub, Magic Terror: 7 Tales
17. "Halloween is one of my favorite holidays. Christmas and the others can end up making you sad because you know you should be happy. But on Halloween you get to become anything that you want to be." ― Ava Dellaira, Love Letters to the Dead
18. "But that's what makes it so fun! Life is scary. So why wouldn't we enjoy and make fun of that fear? It's like life is trying to make us fear it, and on this day we just mock its attempts and say 'no, not today, today I'm not scared of anything you throw at me'." ― Patricia Morais, The Roommate
19. "I was born on the night of Samhain, when the barrier between the worlds is whisper-thin and when magic, old magic, sings its heady and sweet song to anyone who cares to hear it." ― Carolyn MacCullough, Once a Witch
20. "I long for the days of pumpkins and ghosts; When the dead use homes and people as hosts." ― E. Reyes, Devil's Hill: An Anthology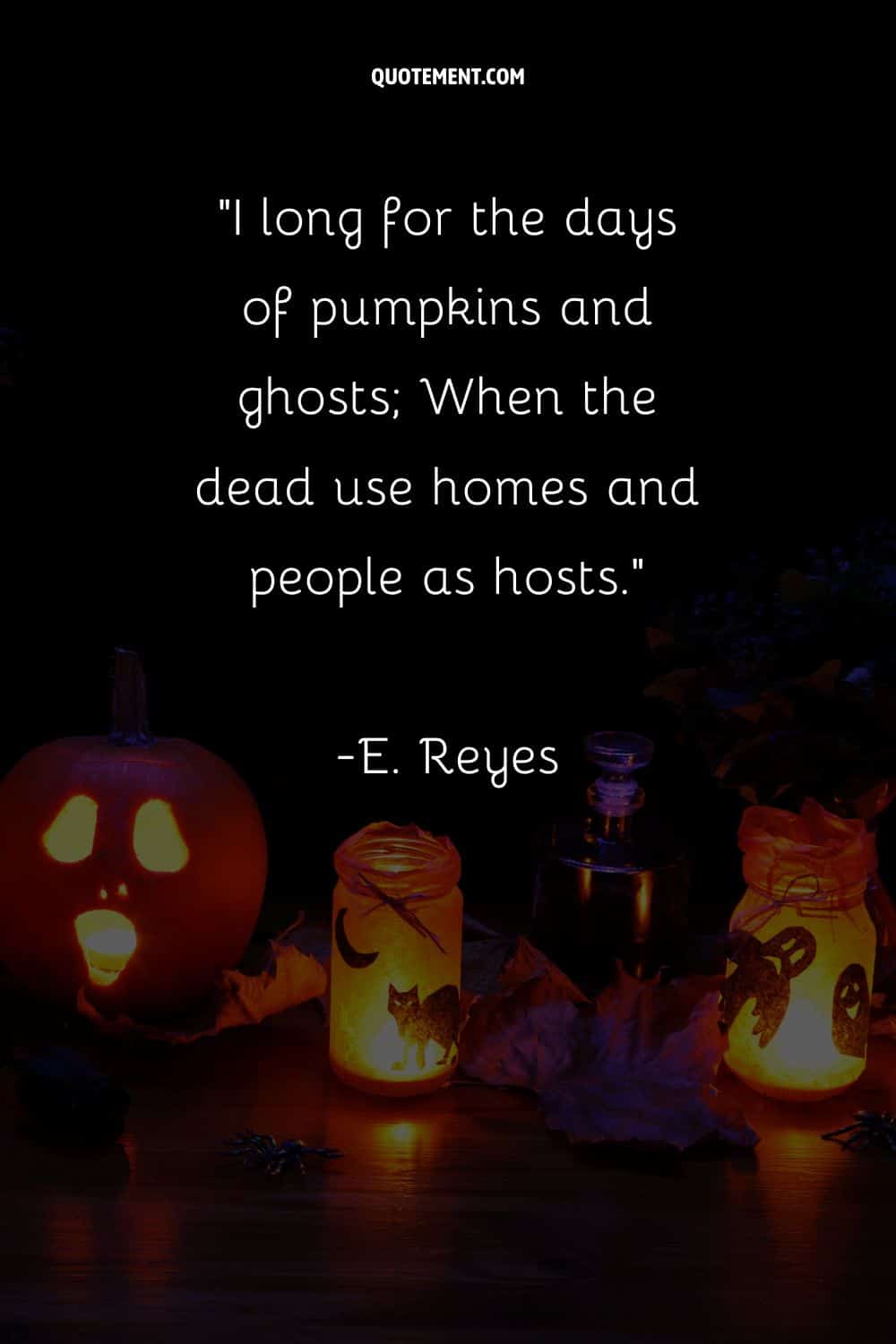 21. "It has always been my aim to live every day like Halloween by celebrating individuality and creative freedom within a world of horror." — Sharon Needles
22. "And yet there is something oddly attractive about the crowded shop window with its piles of boxes and tins, and its Hallowe'en witches in darkest chocolate and colored straw, and plump marzipan pumpkins and maple-candy skulls just glimpsed beneath the half-closed shutter." ― Joanne Harris, The Girl with No Shadow
23. "The universe is full of magical things patiently waiting for our wits to grow sharper." — Eden Phillpots
24. "She used to tell me that a full moon was when mysterious things happen and wishes come true." — Shannon A. Thompson
25. "I'm so glad I live in a world where there are Octobers." — L.M. Montgomery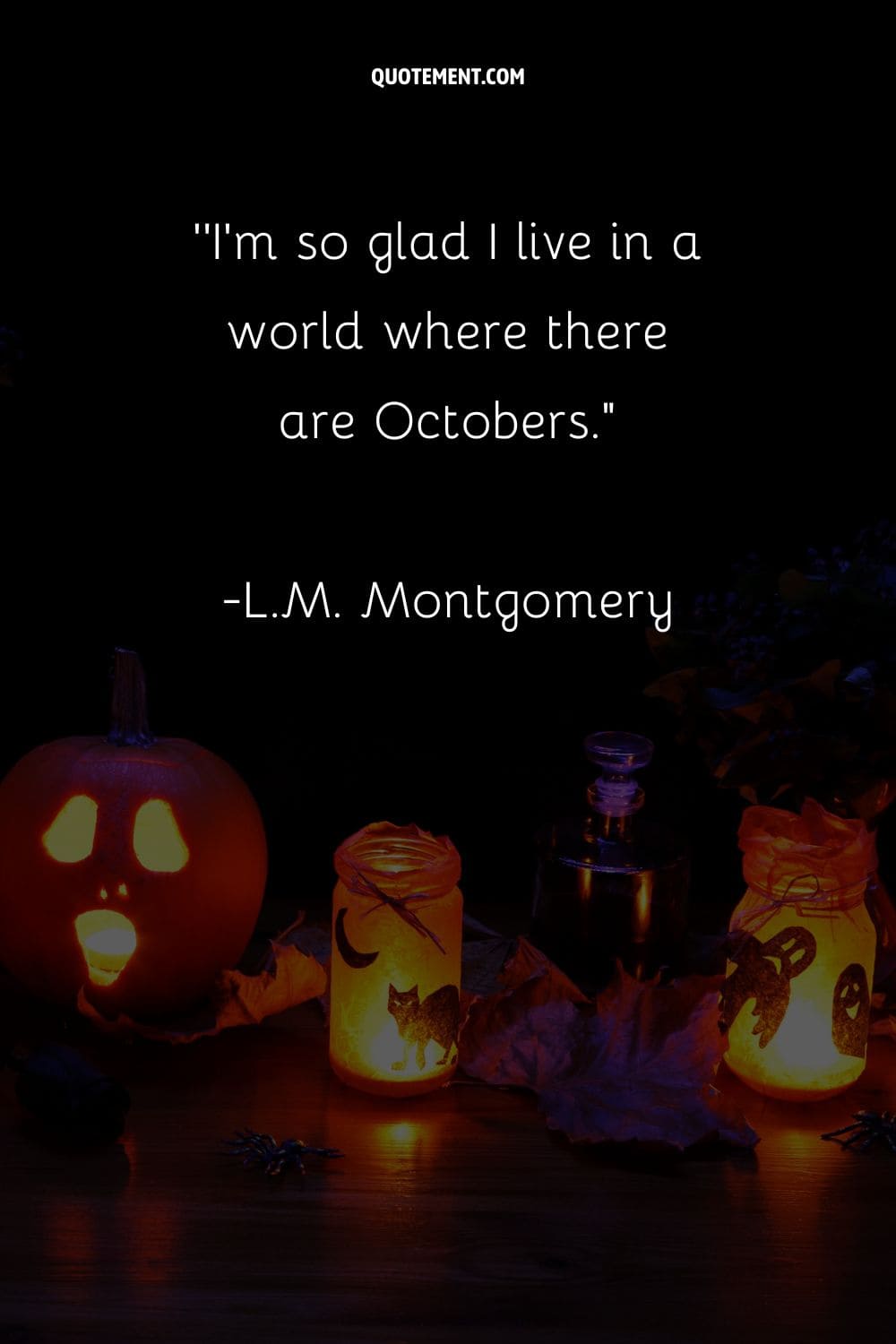 See also: 110 Magical October Quotes Capturing The Beauty Of Fall
Short Halloween Quotes On The Treasures Of All Hallow's Eve Delight
1. "By the pricking of my thumbs, something wicked this way comes." — William Shakespeare, Macbeth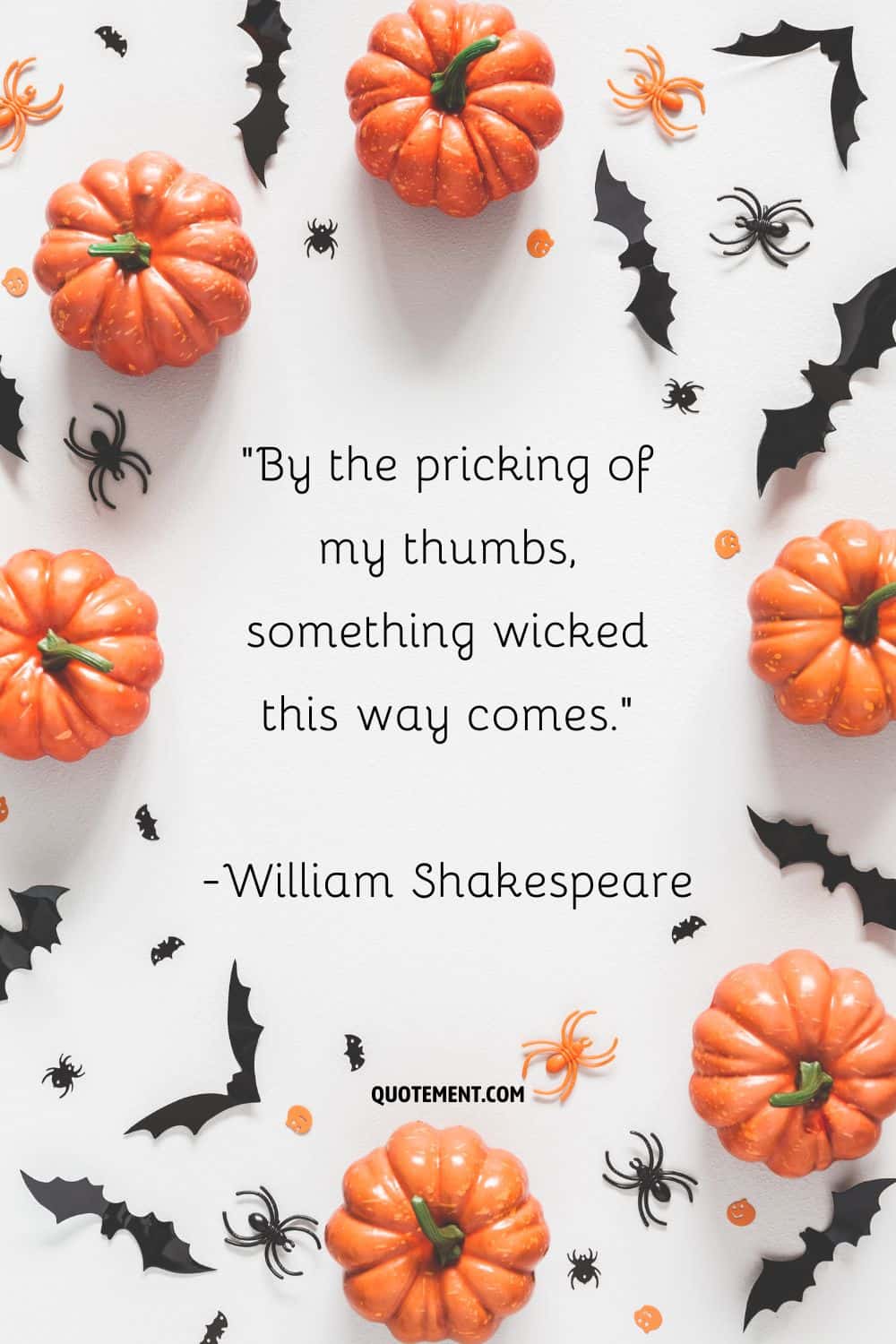 2. "You're missing the point of Halloween…it's come as you aren't night." — Buffy Summers, Buffy the Vampire Slayer
3. "My only career goal is to be a Halloween icon." ― Nuno Roque
4. "Ghosts and goblins come to play on October's final day!" — Rusty Fischer
5. "Hell is empty and all the devils are here." — William Shakespeare, The Tempest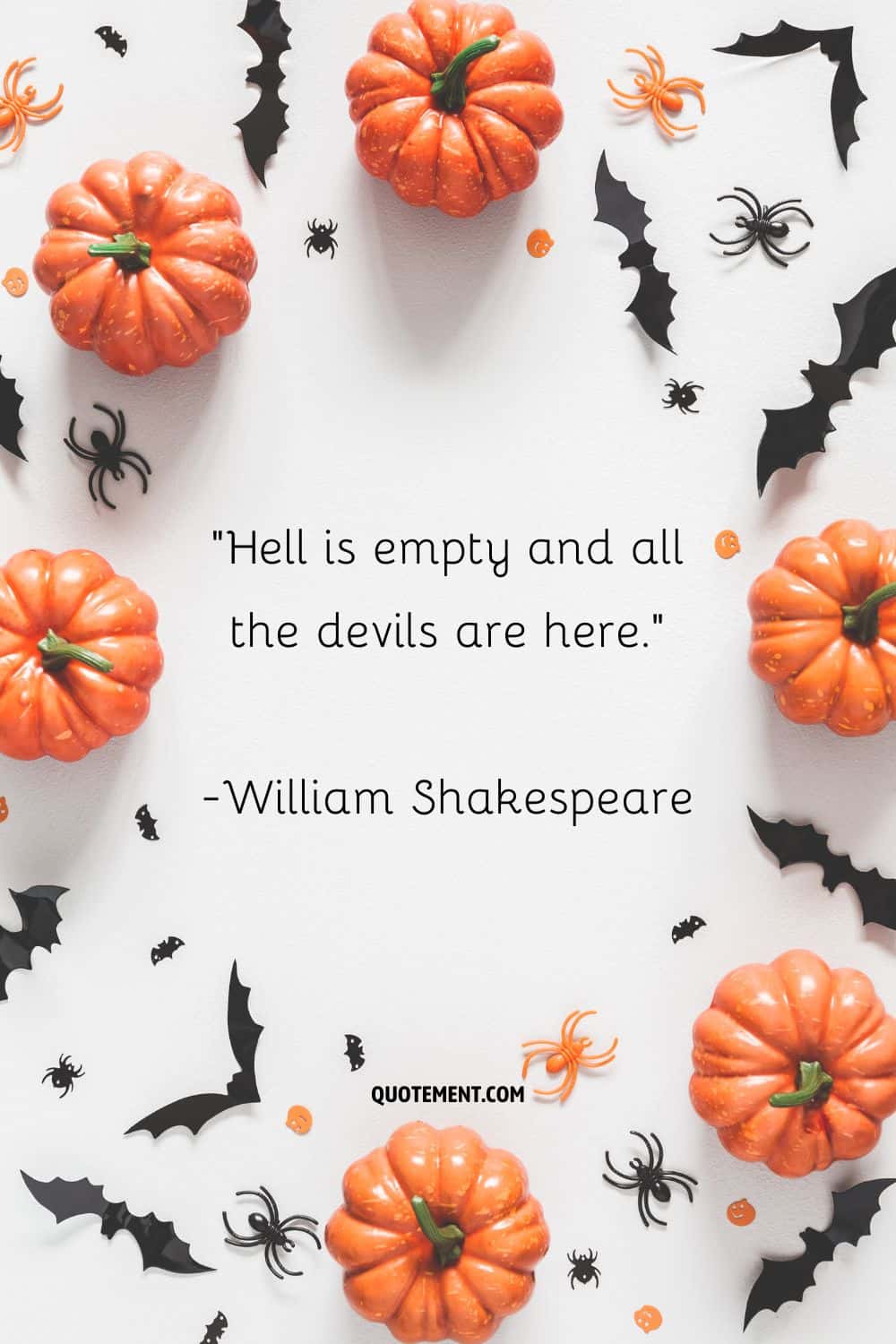 6. "There is something haunting in the light of the moon." — Joseph Conrad
7. "There are nights when the wolves are silent and only the moon howls." — George Carlin
See also: 430 Beautiful Moon Captions For A Magical Instagram Post
8. "I love the spirit of Halloween and the energy that comes with it." — Katharine McPhee
9. "It's as much fun to scare as to be scared." — Vincent Price
10. "Every day is Halloween, isn't it? For some of us." — Tim Burton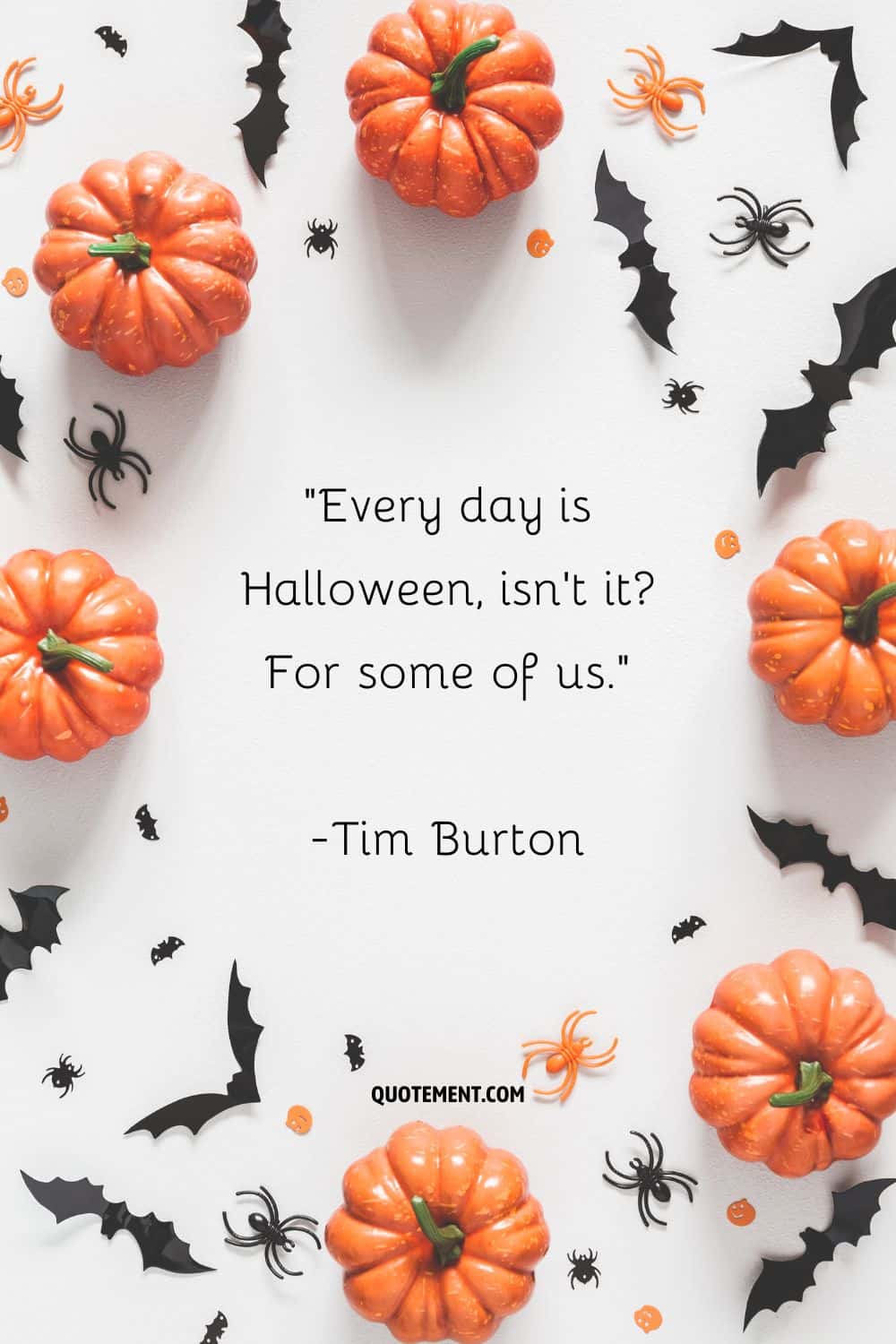 11. "Have you come to sing pumpkin carols?" — Charlie Brown, It's the Great Pumpkin
12. "It's all just a bunch of hocus pocus!" — Max, Hocus Pocus
13. "There's a little witch in all of us." — Alice Hoffman, Practical Magic
14. "Life's no fun without a good scare." — Lock, Shock, and Barrel, The Nightmare Before Christmas
15. "Where there is no imagination, there is no horror." — Arthur Conan Doyle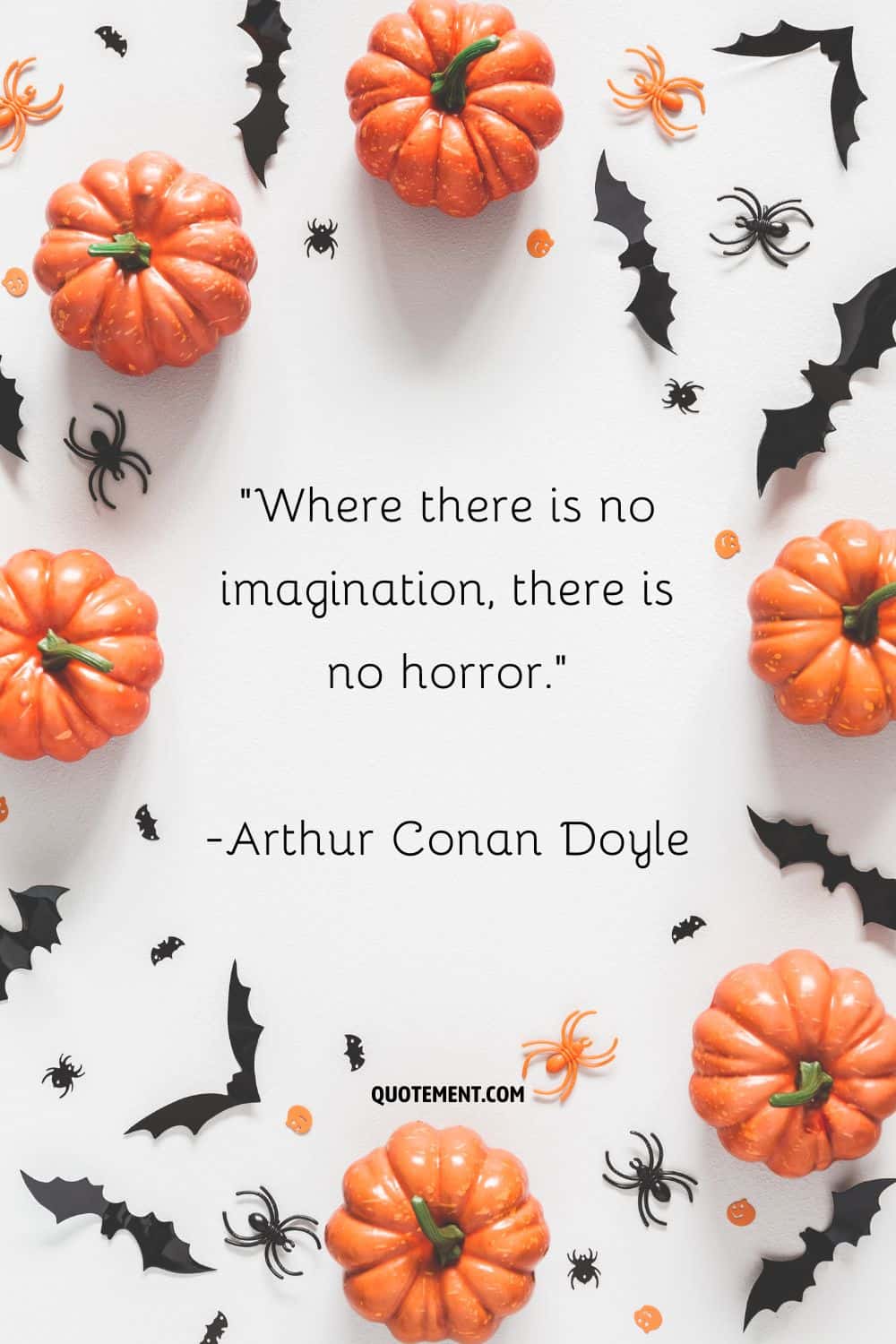 16. "Keep calm and carry a wand." ― A.W. Jantha, Hocus Pocus & The All New Sequel
17. "Don't have a cup of coffee this Halloween. Have a cauldron of coffee instead." ― Anthony T. Hincks
See also: 280 Awesome Coffee Captions To Show Your Coffee Obsession
18. "I put a spell on you because you're mine." — Jay Hawkins, I Put a Spell on You
19. "Halloween colors, less or more, are pumpkin, witch, and bloody gore." ― Richelle E. Goodrich
20. "October was always the least dependable of months … full of ghosts and shadows." — Joy Fielding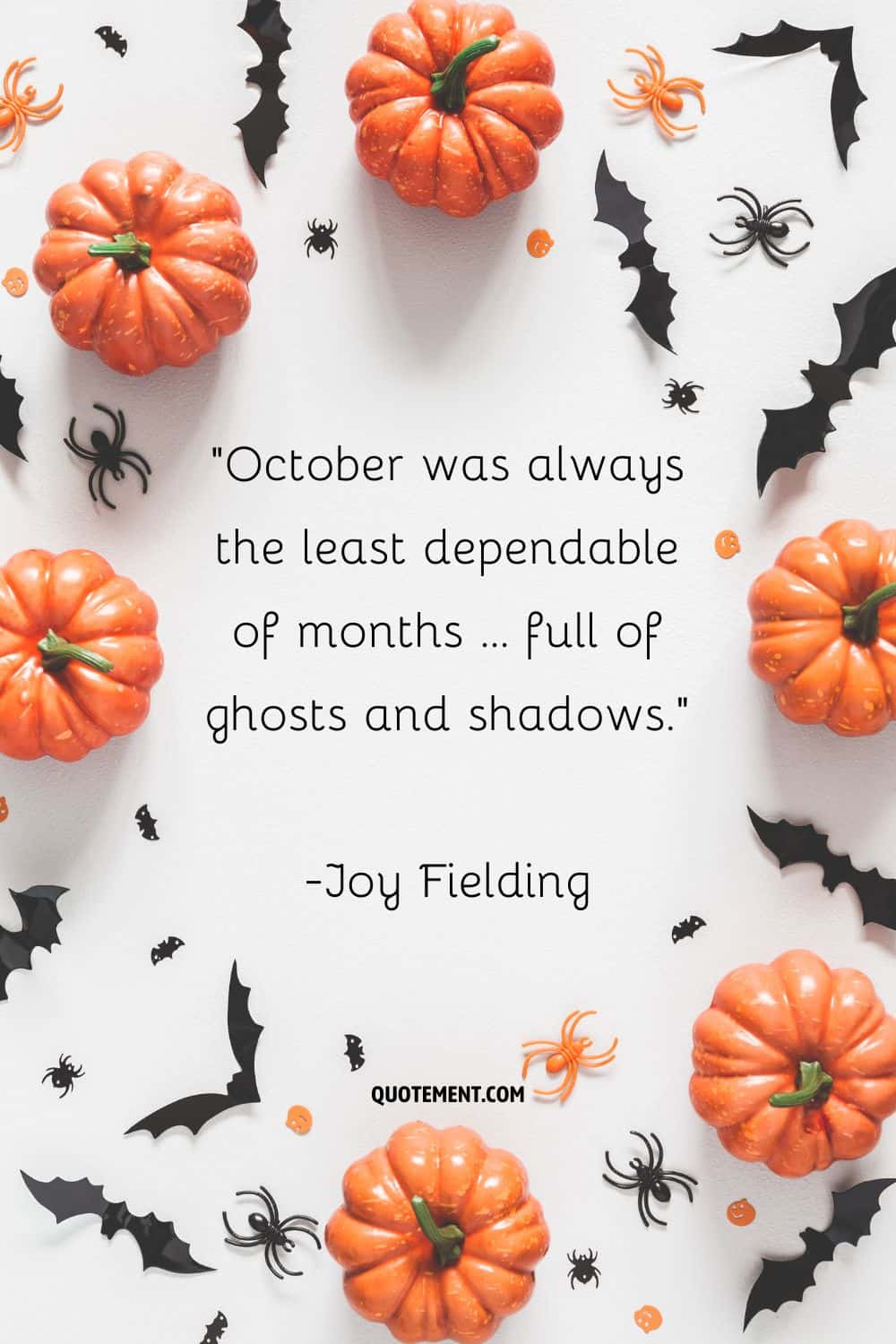 Spooky Halloween Quotes To Haunt Your Imagination
1. "I'm wild again, beguiled again, a simpering, whimpering child again. Bewitched, bothered, and bewildered am I…" — Ella Fitzgerald, Bewitched, Bothered, and Bewildered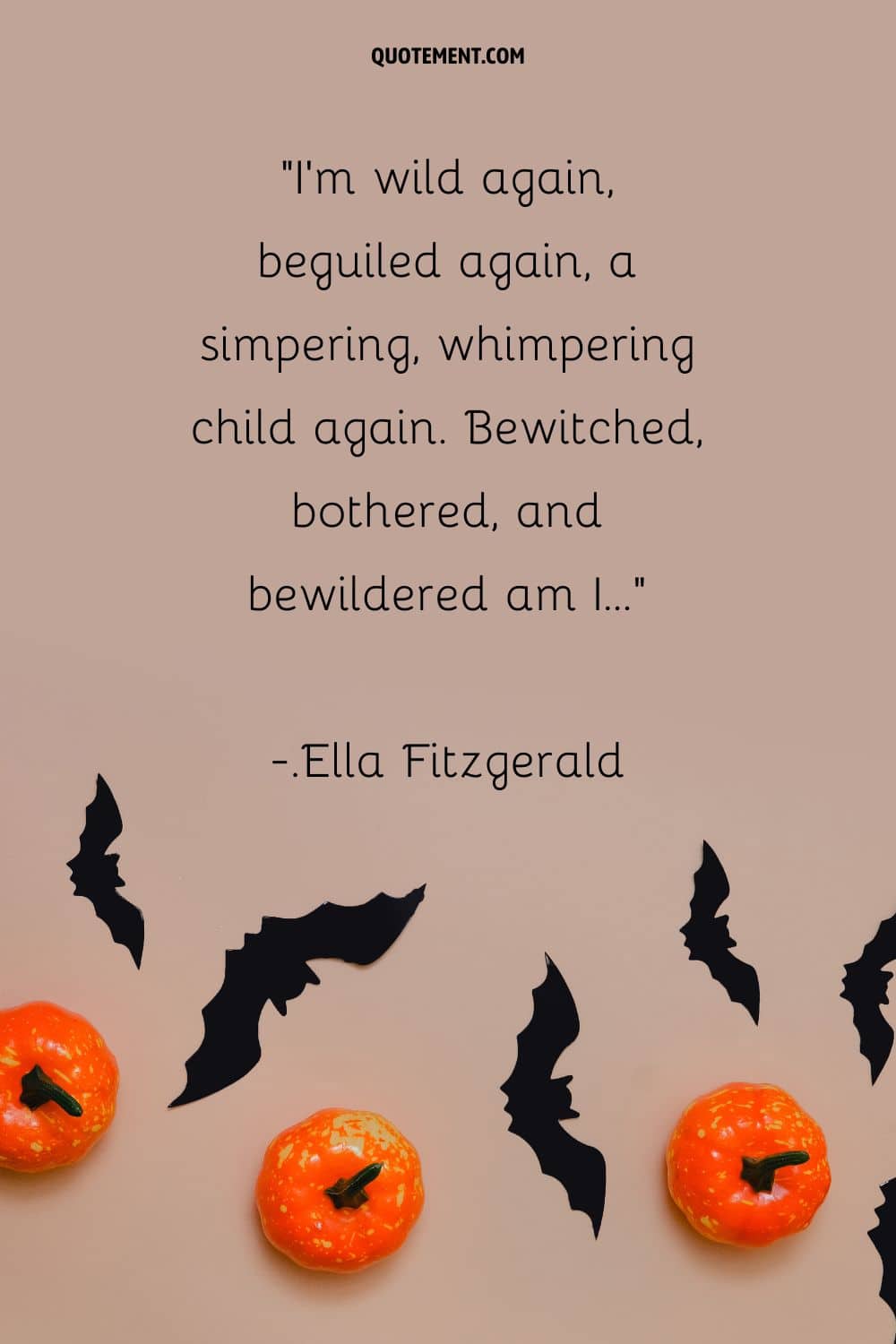 2. "Grisly ghouls from every tomb are closing in to seal your doom." — Thriller
3. "I am the who when you call, 'Who's there?' / I am the wind blowing through your hair / I am the shadow on the moon at night / Filling your dreams to the brim with fright" — This is Halloween, The Nightmare Before Christmas
4. "Darkness falls across the land. The midnight hour is close at hand." — Thriller
5. "The dead rise again, bats fly, terror strikes and screams echo, for tonight it's Halloween." — Unknown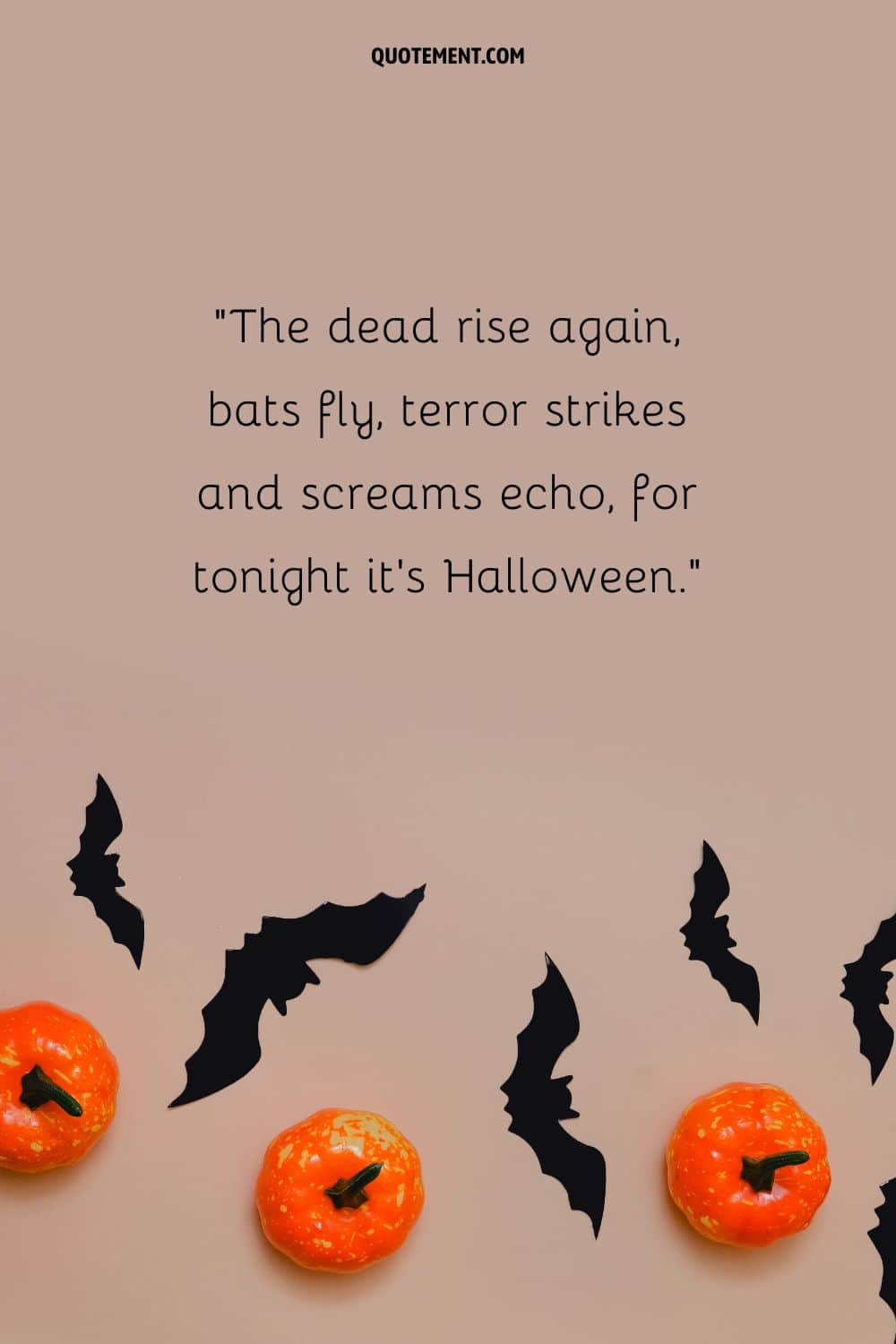 6. "Spooky, scary skeletons, send shivers down your spine, shrieking skulls will shock your soul, seal your doom tonight." — Andrew Gold, Spooky, Scary Skeletons
7. "We shall see that at which dogs howl in the dark, and that at which cats prick up their ears after midnight." — H.P. Lovecraft, The Collected Works of H.P. Lovecraft"
8. "Be afraid… be very afraid." — The Fly
9. "Vampire, share your secret. Turn into a black bat. Quench your thirst before the day dawns. Drink blood." ― Richelle E. Goodrich, Being Bold: Quotes, Poetry, & Motivations for Every Day of the Year
10. "Whatever you do, don't fall asleep." — A Nightmare on Elm Street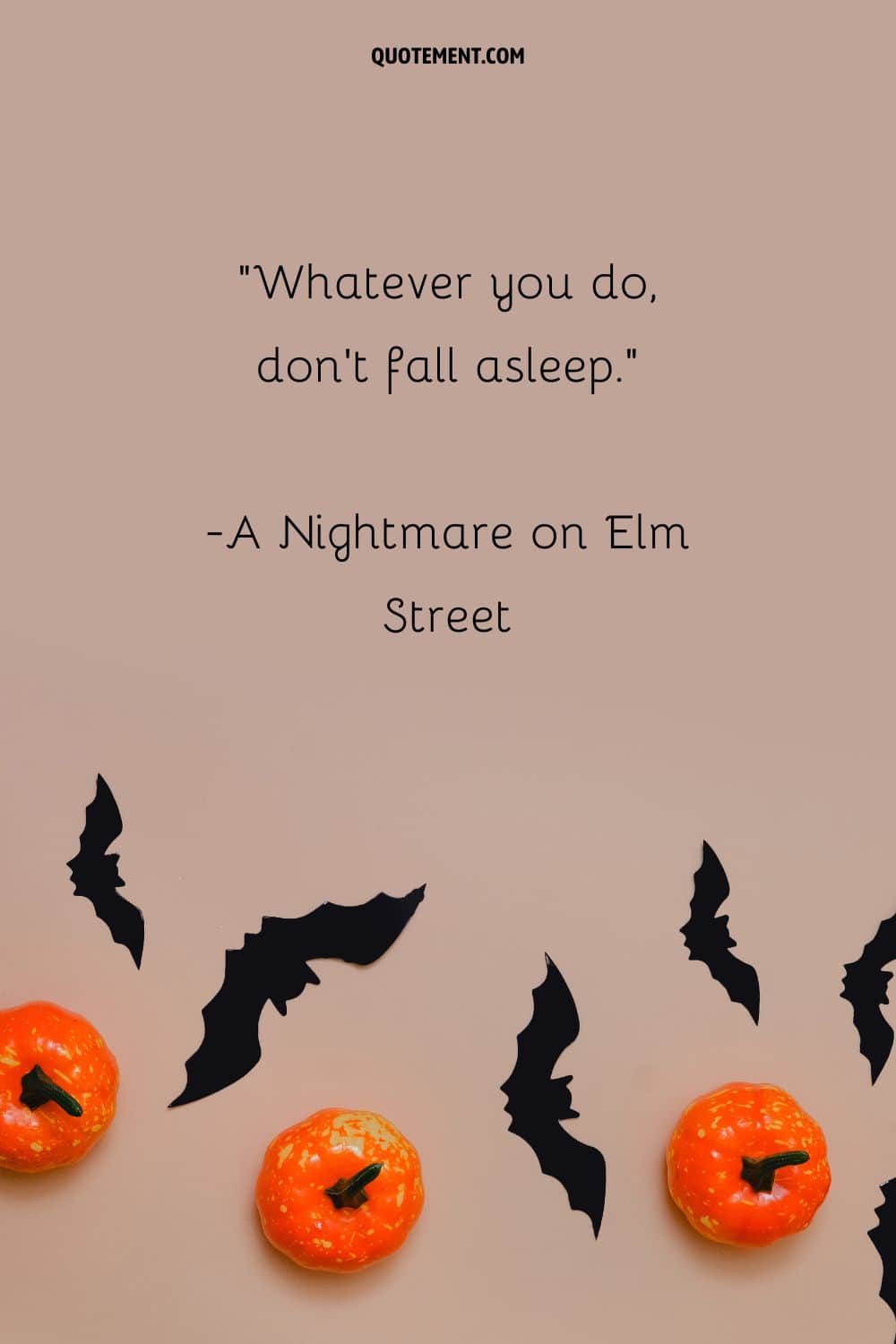 11. "The coldest day in fall is at the Hallows Evening ball, where ghoulish fun avoids the sun as monsters mingle wall to wall." ― Richelle E. Goodrich, Slaying Dragons: Quotes, Poetry, & a Few Short Stories for Every Day of the Year
12. "The murmurings and mutterings grew even more freakish and grotesque as Halloween slithered ever closer." ― Kevin Purdy
13. "Shadows mutter, mist replies; darkness purrs as midnight sighs." — Rusty Fischer
14. "Werewolves howl. Phantoms prowl. Halloween's upon us now." — Richelle E. Goodrich
15. "Men say that in this midnight hour, the disembodied have power." — William Motherwell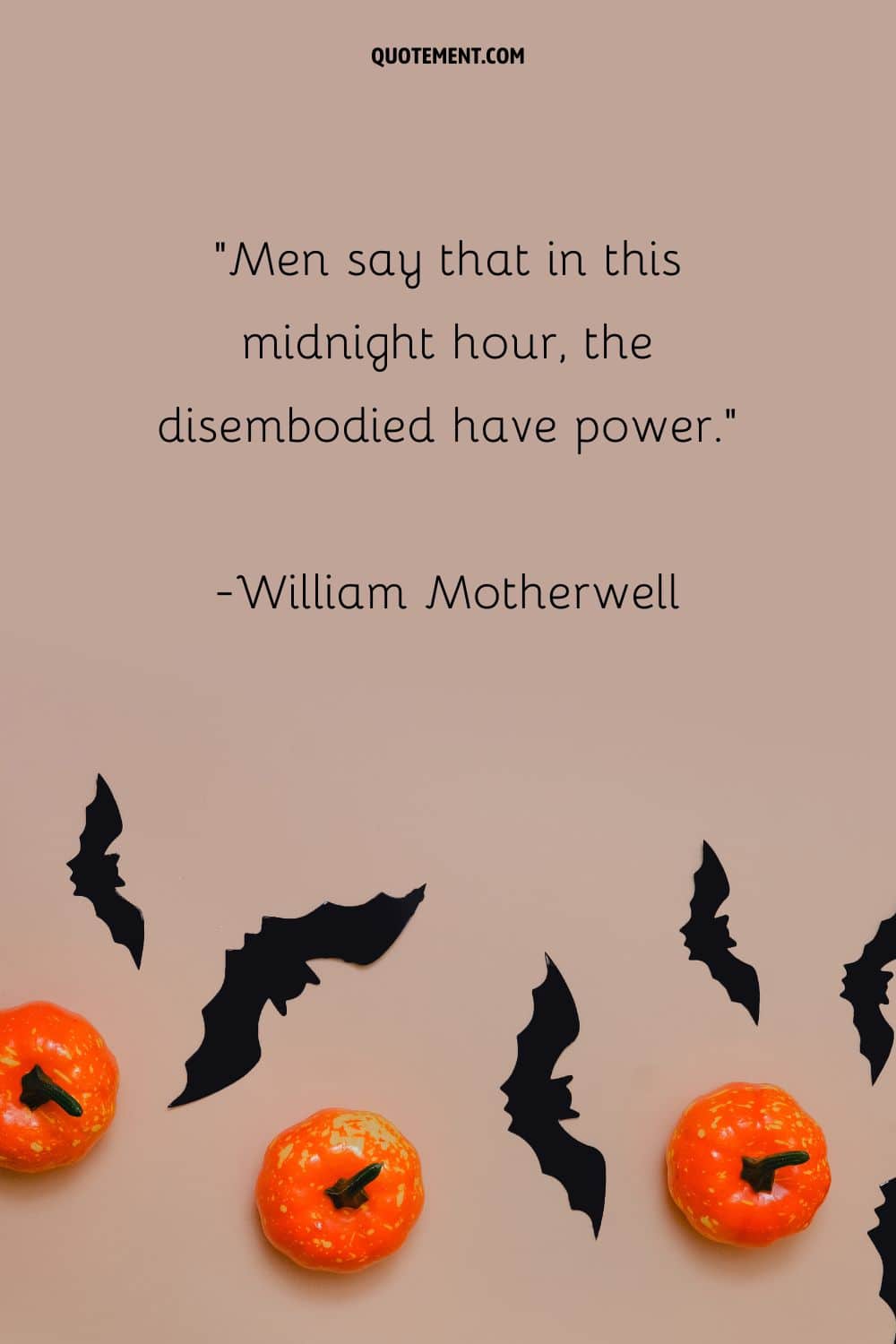 Trick Or Treat Quotes For Some Candy-Coated Wisdom
1. "There is a child in every one of us who is still a trick-or-treater looking for a brightly lit front porch." — Robert Brault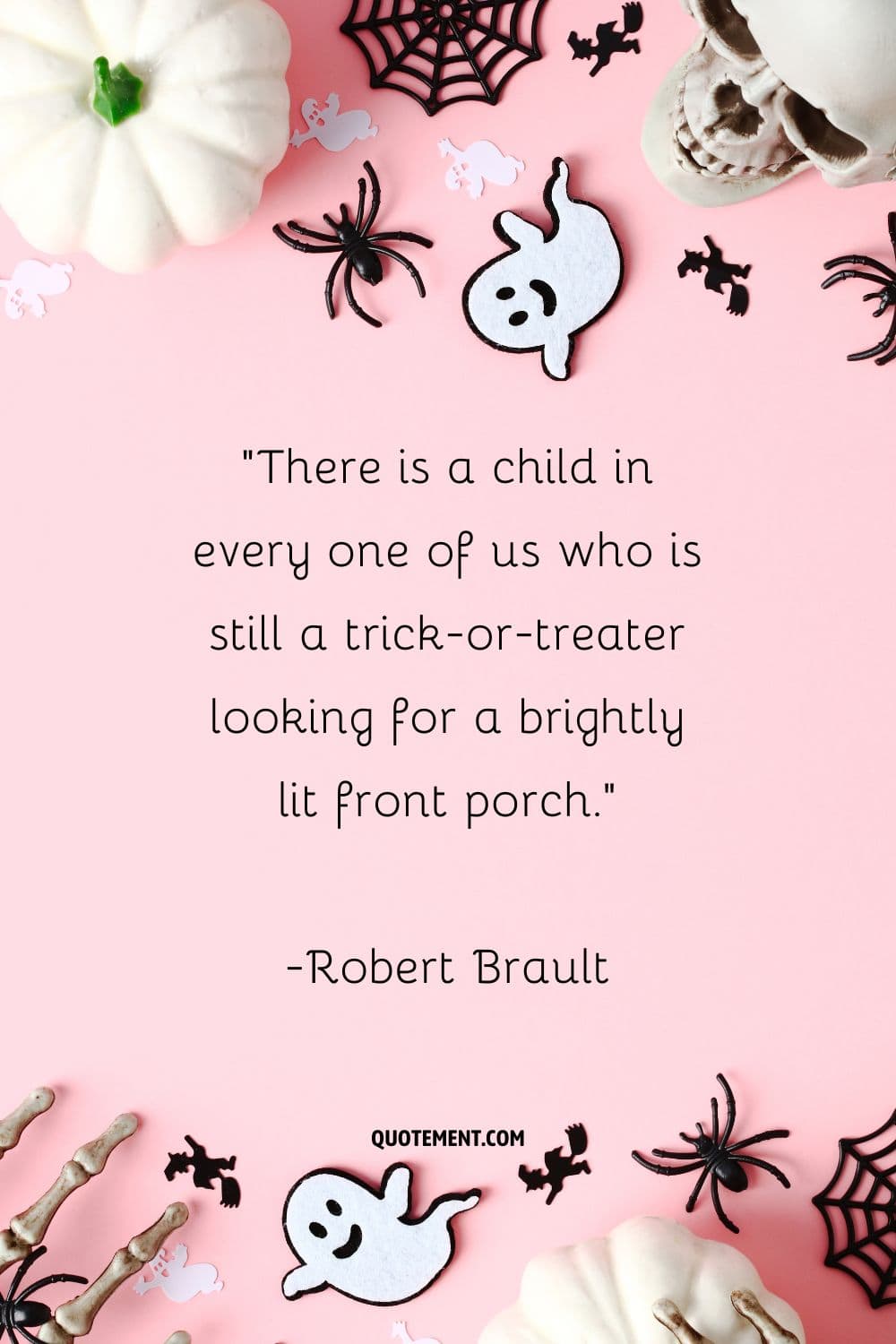 2. "Sticky fingers, tired feet; one last house, trick or treat!" — Rusty Fischer
3. "The laughter of children filled the crisp air while off-beat rhythms of knocks and doorbells mixed with a chorus of "trick or treat" that sang out into the early evening." ― Amber Newberry, One Night in Salem
4. "Trick or treat, bag of sweets, ghosts are walking down the street." — Unknown
5. "In masks and gowns, we haunt the street and knock on doors for trick or treat. Tonight we are the king and queen, for oh tonight it's Halloween!" ― Jack Prelutsky, It's Halloween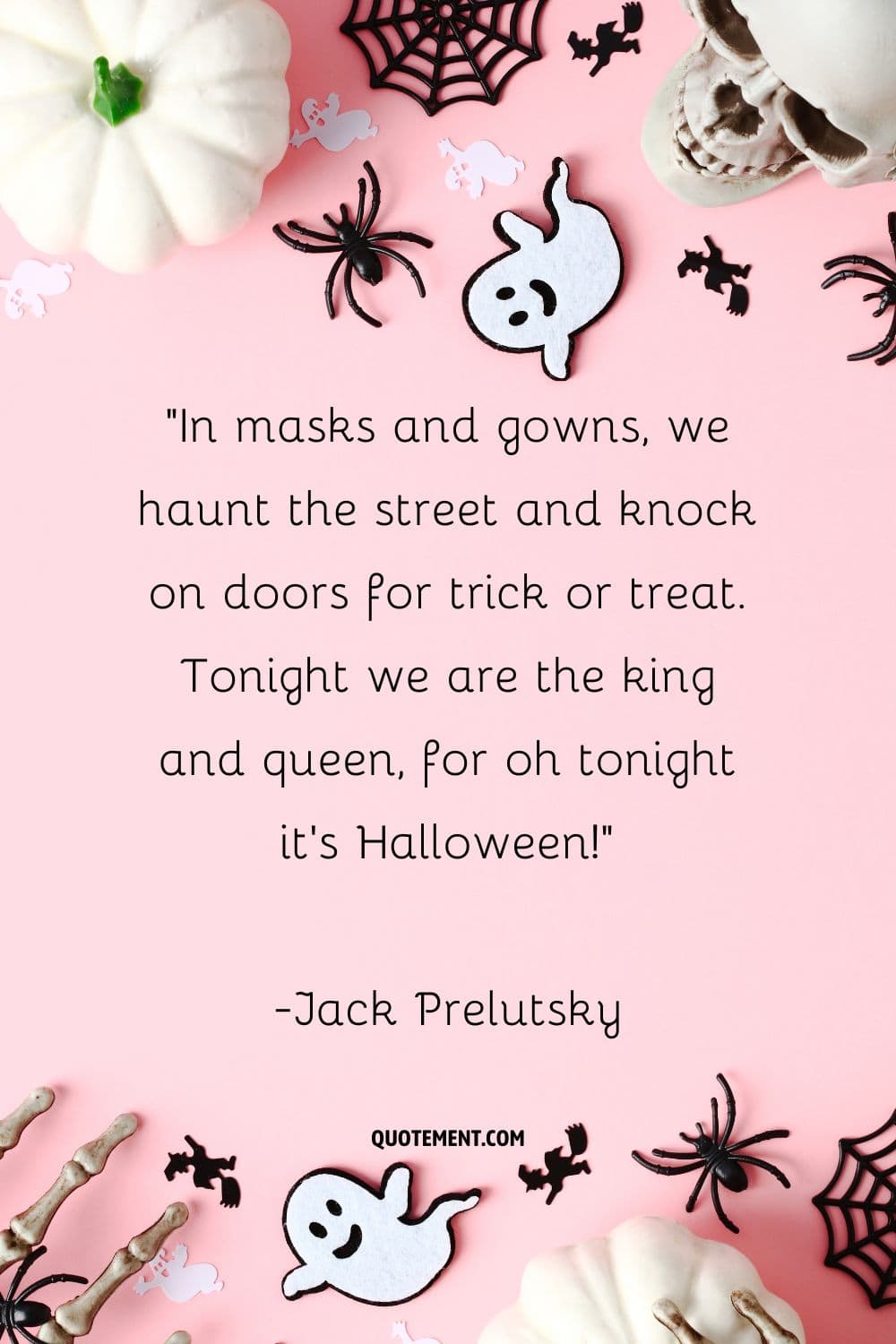 6. "This is Halloween, everybody make a scene, trick or treat till the neighbors gonna die of fright, it's our town, everybody scream, in this town of Halloween." — Danny Elfman
7. "I don't know that there are real ghosts and goblins, But there are always more trick-or-treaters than neighborhood kids." — Robert Breault
8. "When I was a youngster, I trick-or-treated. I dressed up in costume, rang doorbells, and pleaded. Today I'm a grown-up who treats and tricks. I cackle at children and share candy sticks." ― Richelle E. Goodrich, Being Bold: Quotes, Poetry, & Motivations for Every Day of the Year
9. "I dropped the candies into the children's bags, thinking: You small mortals don't realize the power of your stories." — Karen Russell, Vampires, The Lemon Grove
10. "Nobody goes trick-or-treating anymore. The monsters have gotten too real." ― E.K. Barnes, When the Divine Are Dead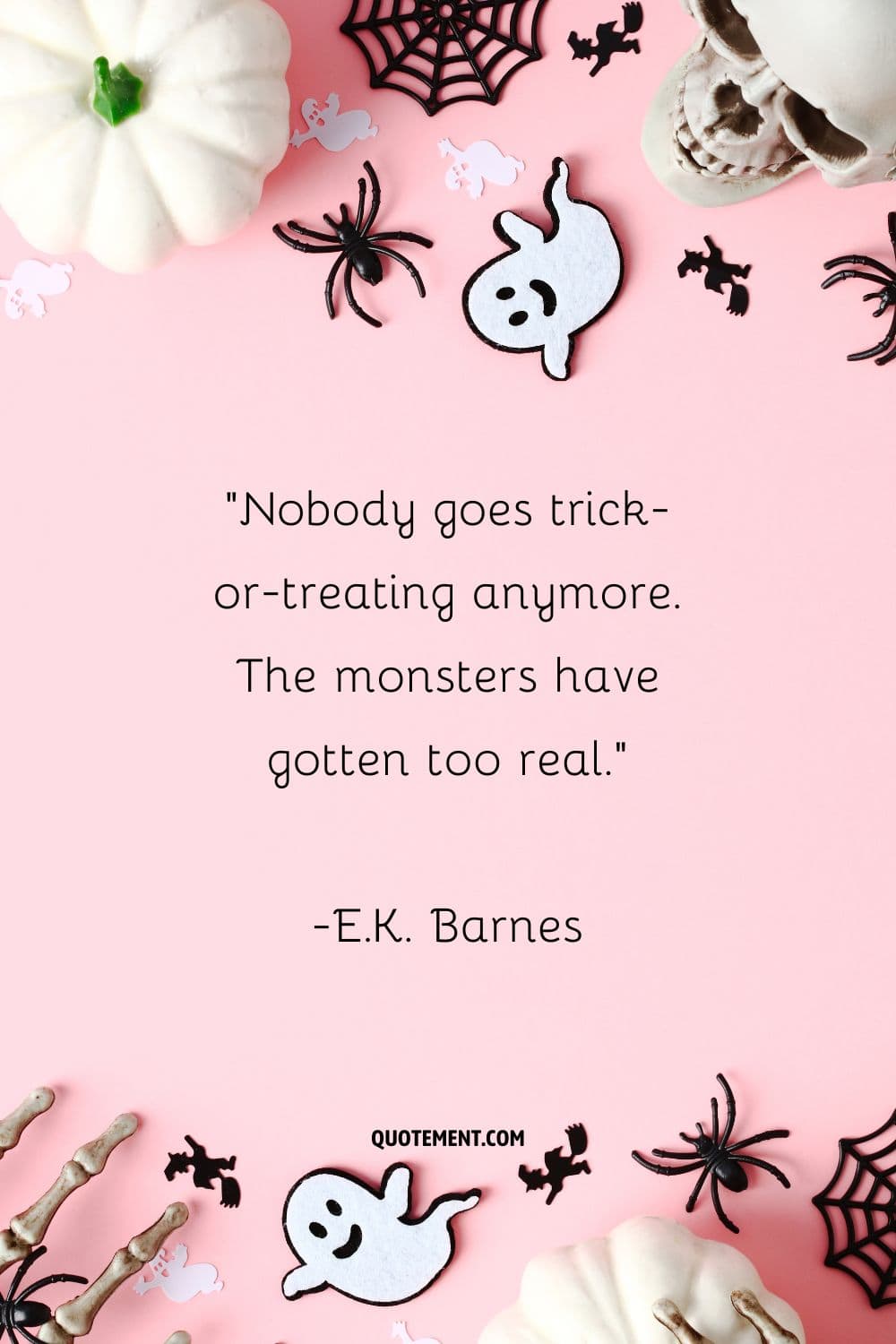 Happy Halloween Quotes To Get You In The Festive Spirit
1. "When black cats prowl and pumpkins gleam, may luck be yours on Halloween." — Unknown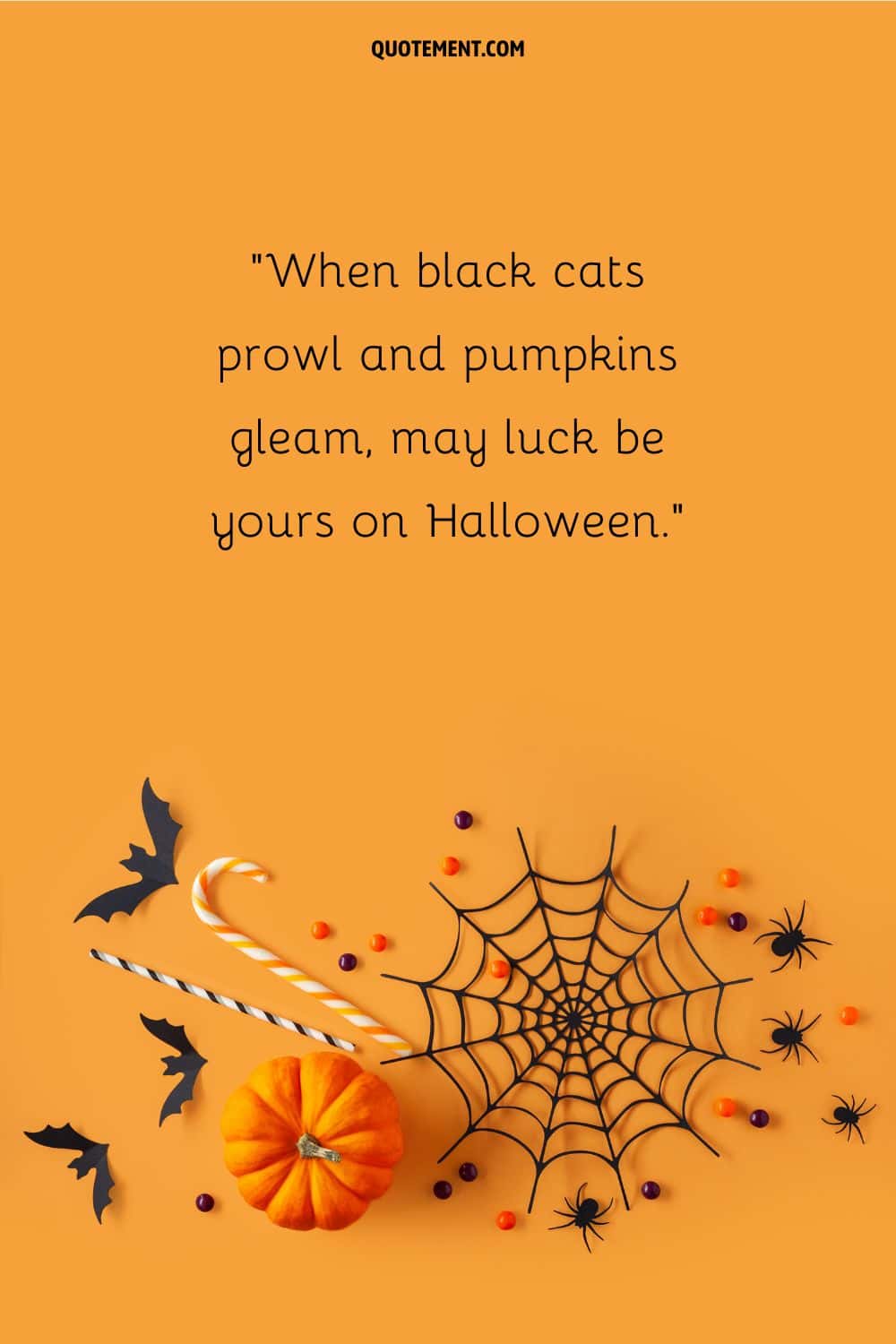 2. "My favorite time of year will soon be here, new scary rhymes will soon appear, I love to write them yes that's true, won't you please read one or maybe two? Happy Halloween!" ― Ray Bella, Pretty Evil: My Halloween Store
3. "Eat lots of candy, scare someone, don't be yourself because it's Halloween!" — Unknown
4. "Treats of hot cocoa, pumpkin pie, and candy corn. Yummy Halloween." ― Richelle E. Goodrich, Being Bold: Quotes, Poetry, & Motivations for Every Day of the Year
5. "Have a ghost of a time. Have a happy Halloween!" ― Anthony T. Hincks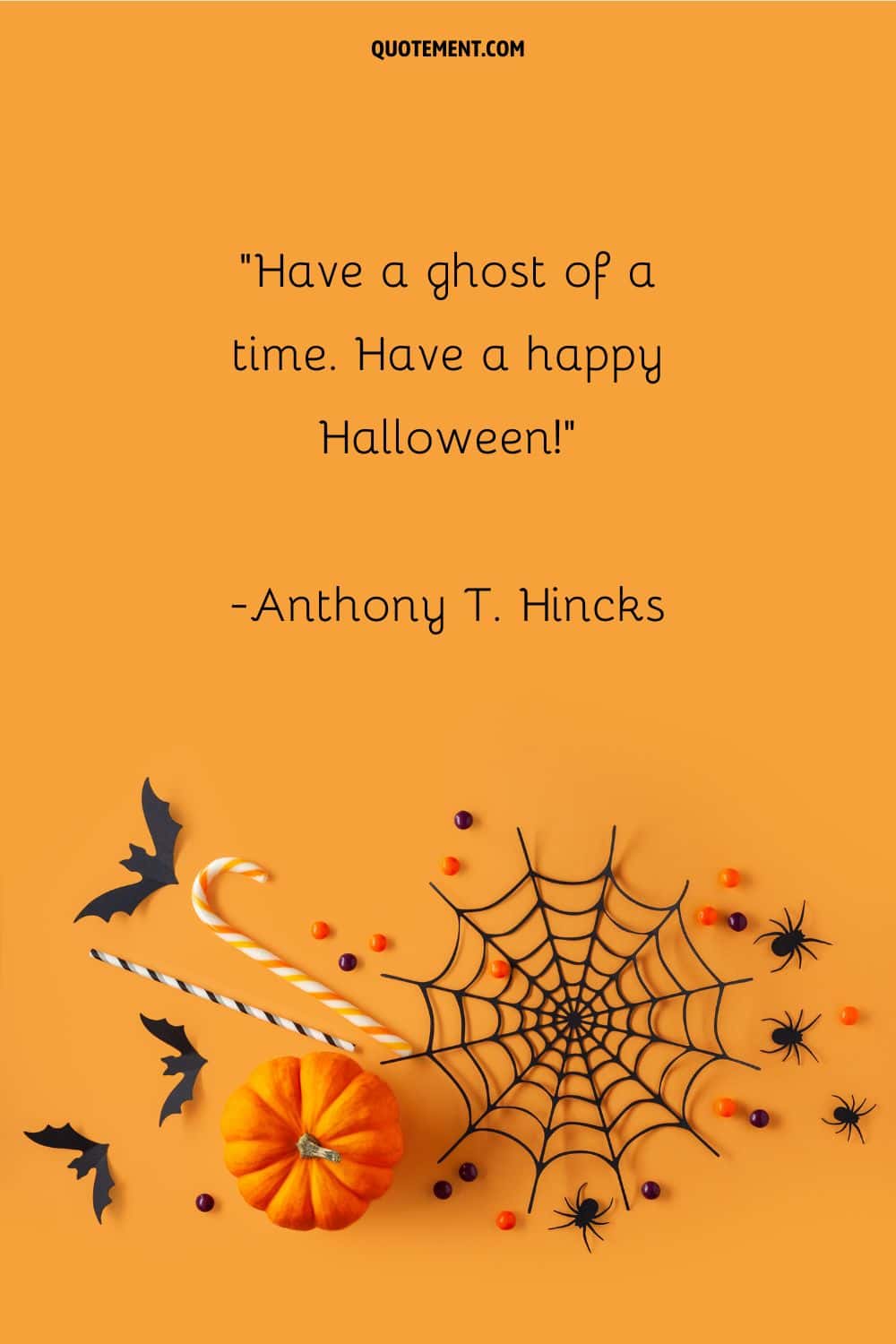 6. "Halloween trickster. Spiders on string. Children in costume. Startle and scream. Halloween treater. Apples on sticks. Caramel. Chocolate. Come, take your pick." ― Richelle E. Goodrich, Being Bold: Quotes, Poetry, & Motivations for Every Day of the Year
7. "Today's the day to eat candies and sweets to your heart's content! Happy Halloween!" — Unknown
8. "Haunt an old house. Ask for a treat. Laugh like a witch. Lick something sweet. Offer a trick. Wander a maze. Echo a boo. Exclaim the phrase — Normal's unnatural on Halloween!" ― Richelle E. Goodrich, Making Wishes: Quotes, Thoughts, & a Little Poetry for Every Day of the Year
9. "From ghoulies and ghosties and long-legged beasties and things that go bump in the night, Good Lord, deliver us!" — Scottish Saying
10. "When witches go riding, and black cats are seen, the moon laughs and whispers, 'tis near Halloween." — Unknown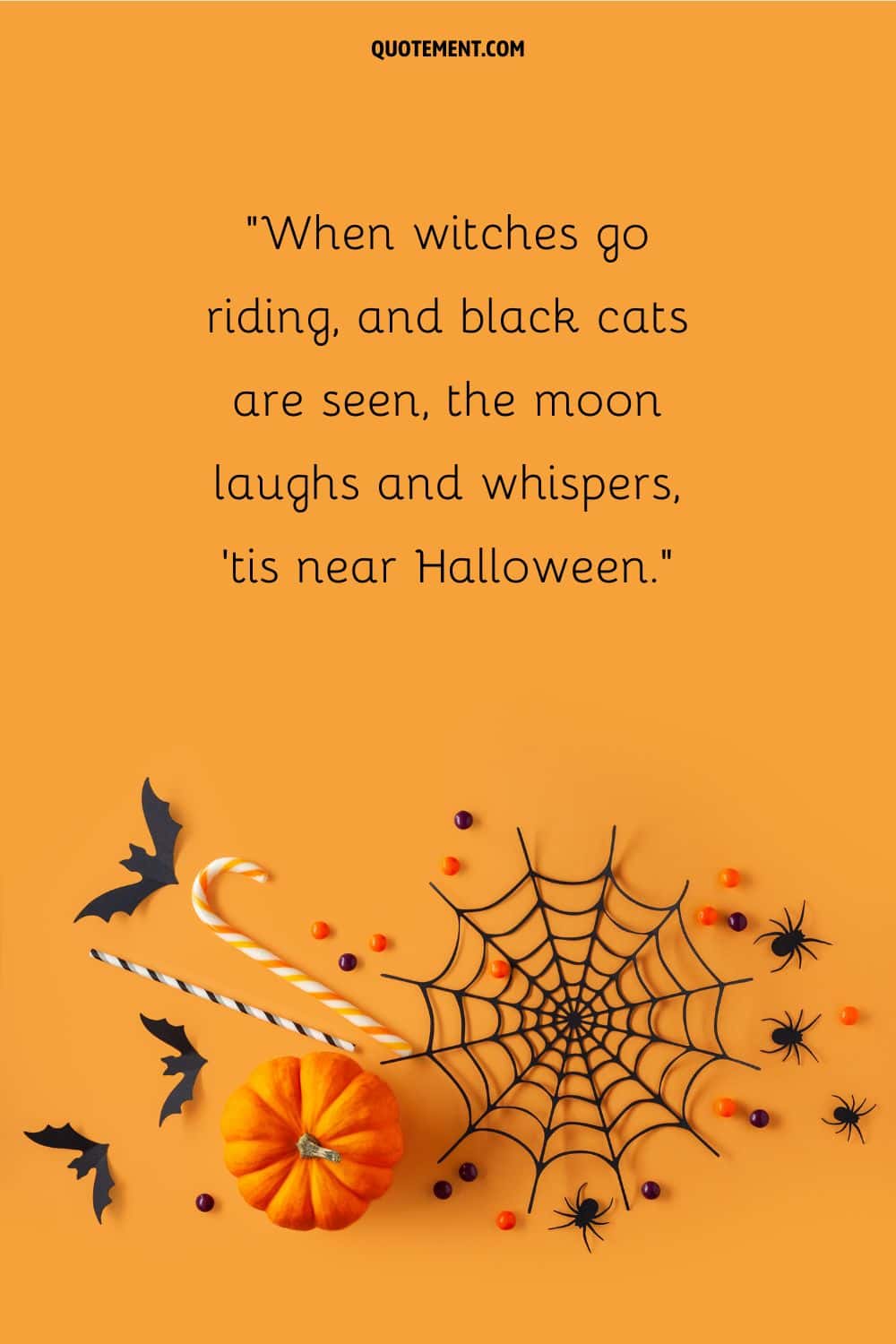 Halloween Costume Quotes To Elevate Your Dress-Up Game
1. "Clothes make a statement. Costumes tell a story." — Mason Cooley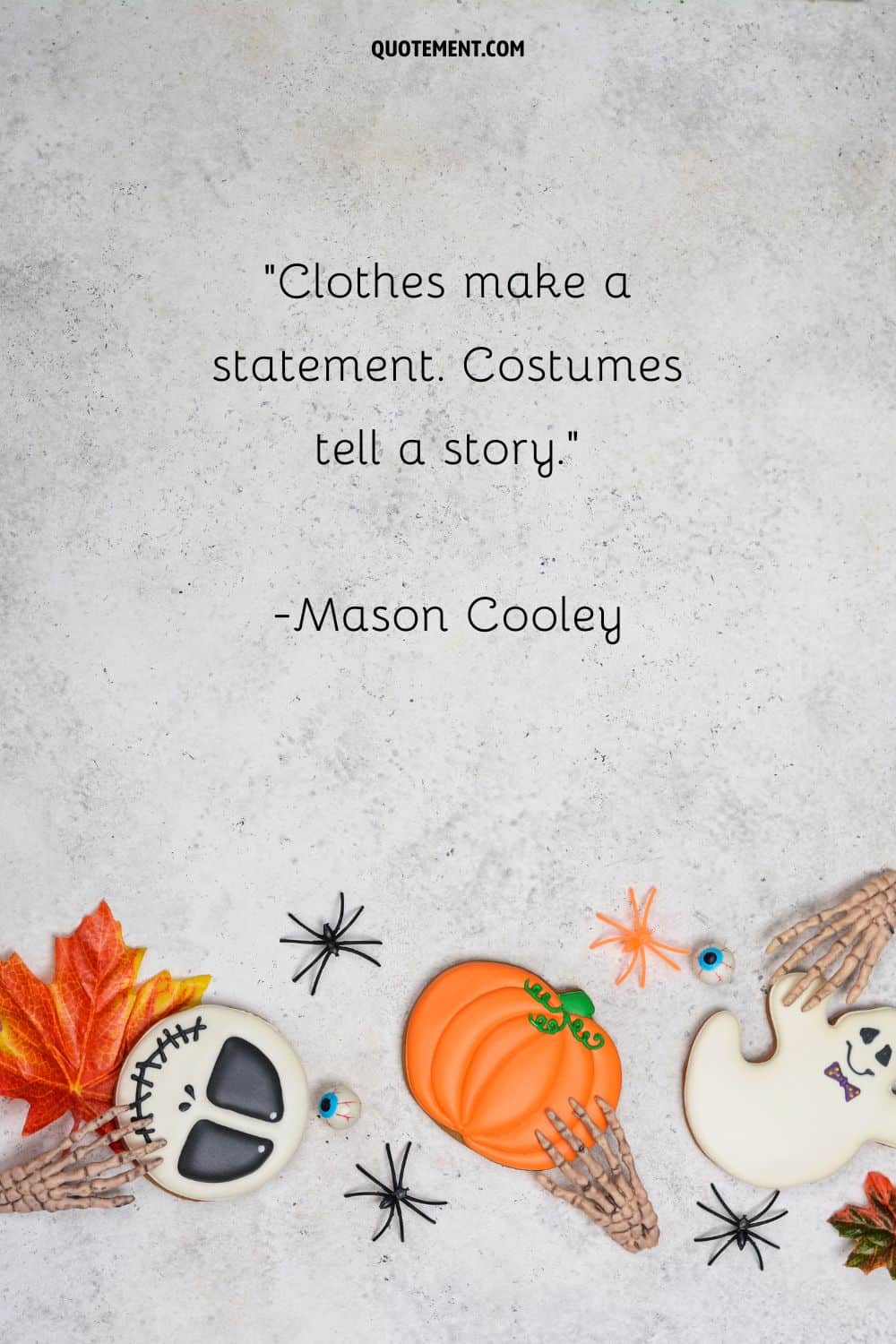 2. "Halloween is an opportunity to be really creative." — Judy Gold
3. "I'm not a big fan of Halloween. Except for the dressing up part. I love picking out a costume." ― Matthew Leeth
4. "Halloween is a great holiday for any actor if you think about it. It's all about dress-up and playing characters. So yeah, it's always had a special place for me." ― Nicolas Cage
5. "Halloween is not only about putting on a costume, but it's about finding the imagination and costume within ourselves." — Elvis Duran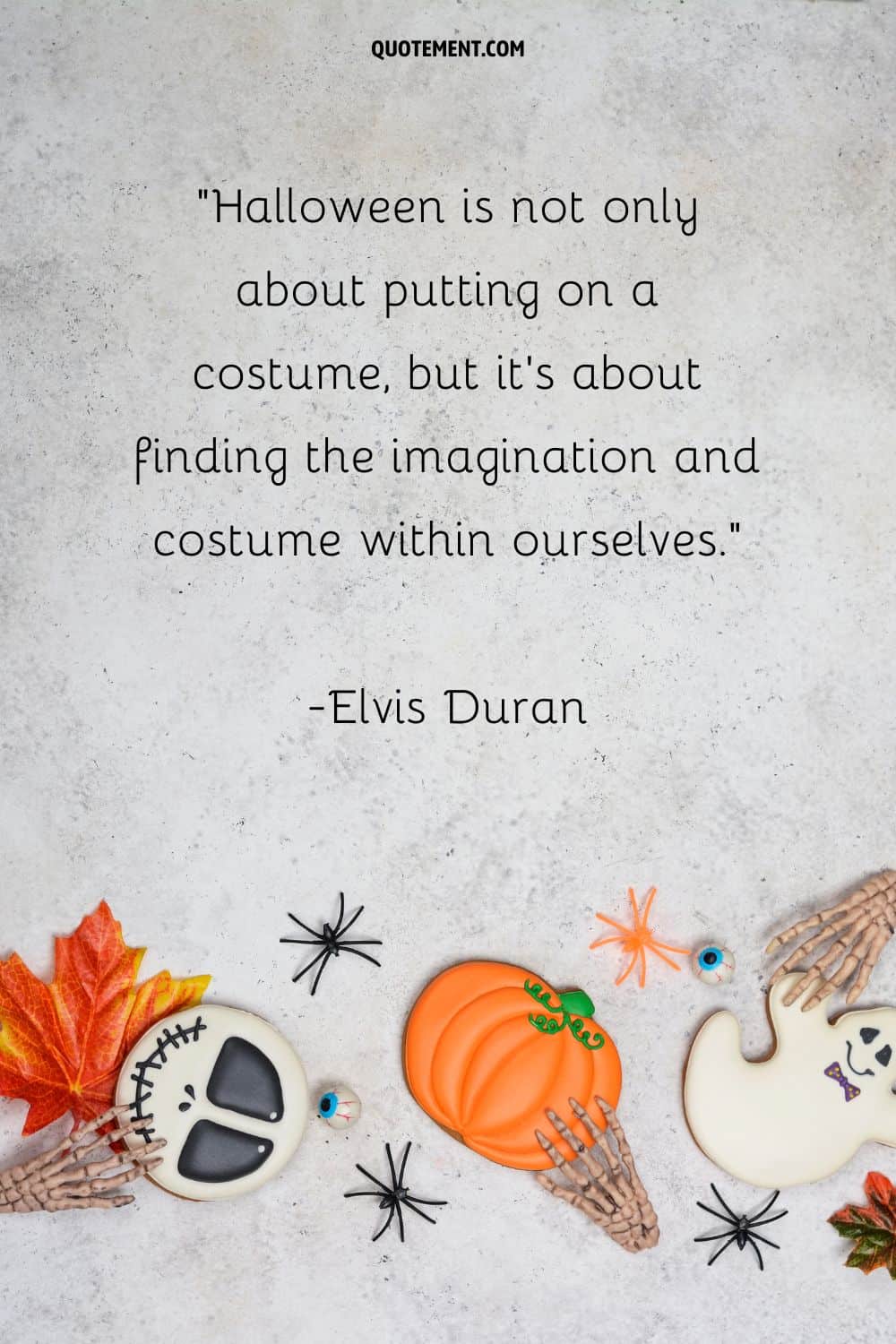 6. "I've always loved Halloween: the one day of the year when you can blatantly dress as your number-one obsession and people will smile instead of snicker." ― J.C. Lillis, A&B
7. "A person should always choose a costume which is in direct contrast to her own personality." — Lucy Van Pelt, It's the Great Pumpkin, Charlie Brown
8. "This is my costume. I'm a homicidal maniac. They look just like everyone else." — Wednesday Addams, The Addams Family
9. "My Halloween costume is Godot. I'm not showing up at the party, just texting the host every 10 minutes that I'm on my way." ― Wynne McLaughlin
10. "If human beings had genuine courage, they'd wear their costumes every day of the year, not just on Halloween." — Douglas Coupland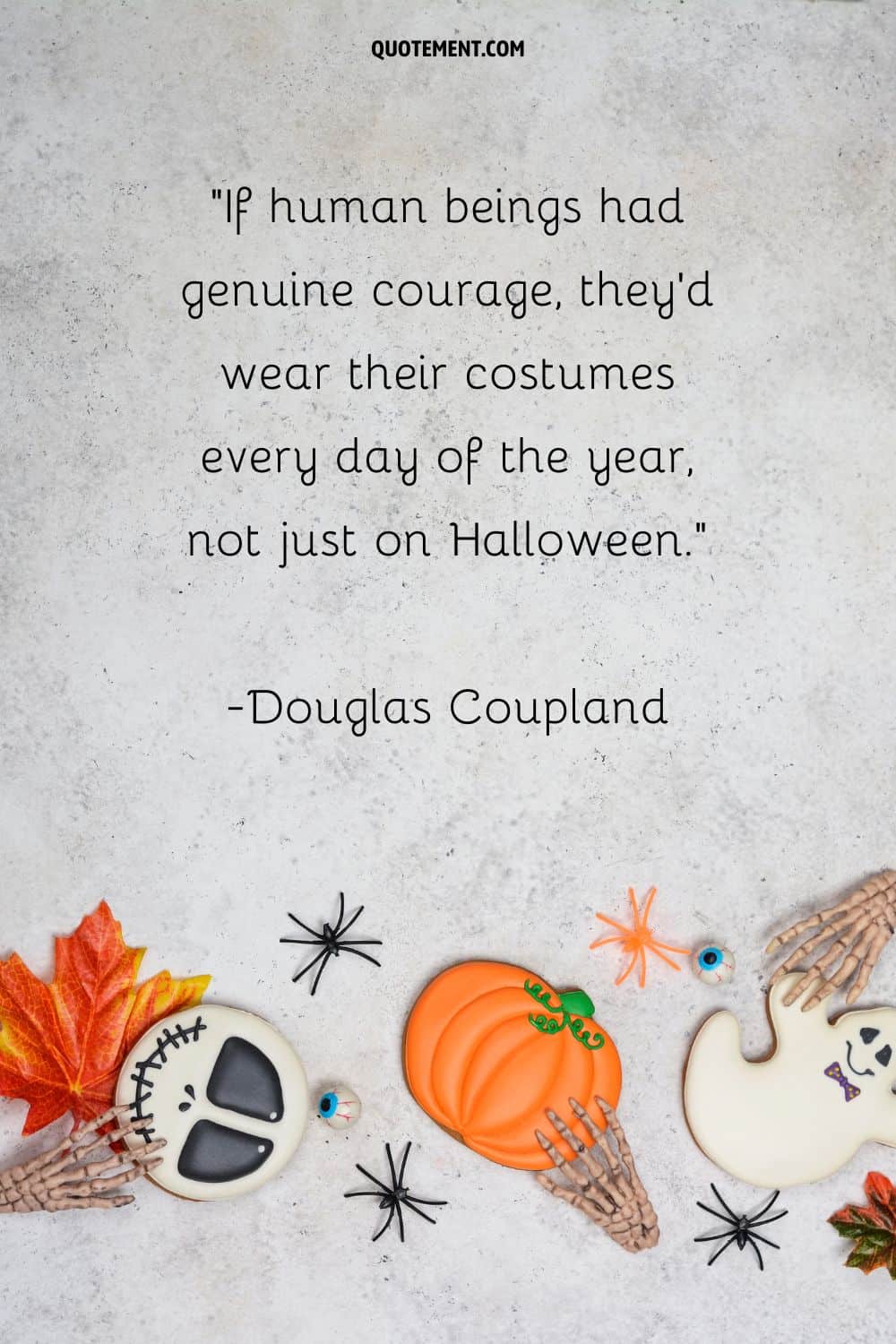 Funny Halloween Quotes For Some Ghoulish Giggles
1. "Halloween: the night that fathers get their hearts broken when they see their daughters' costume." — Whitney Cummings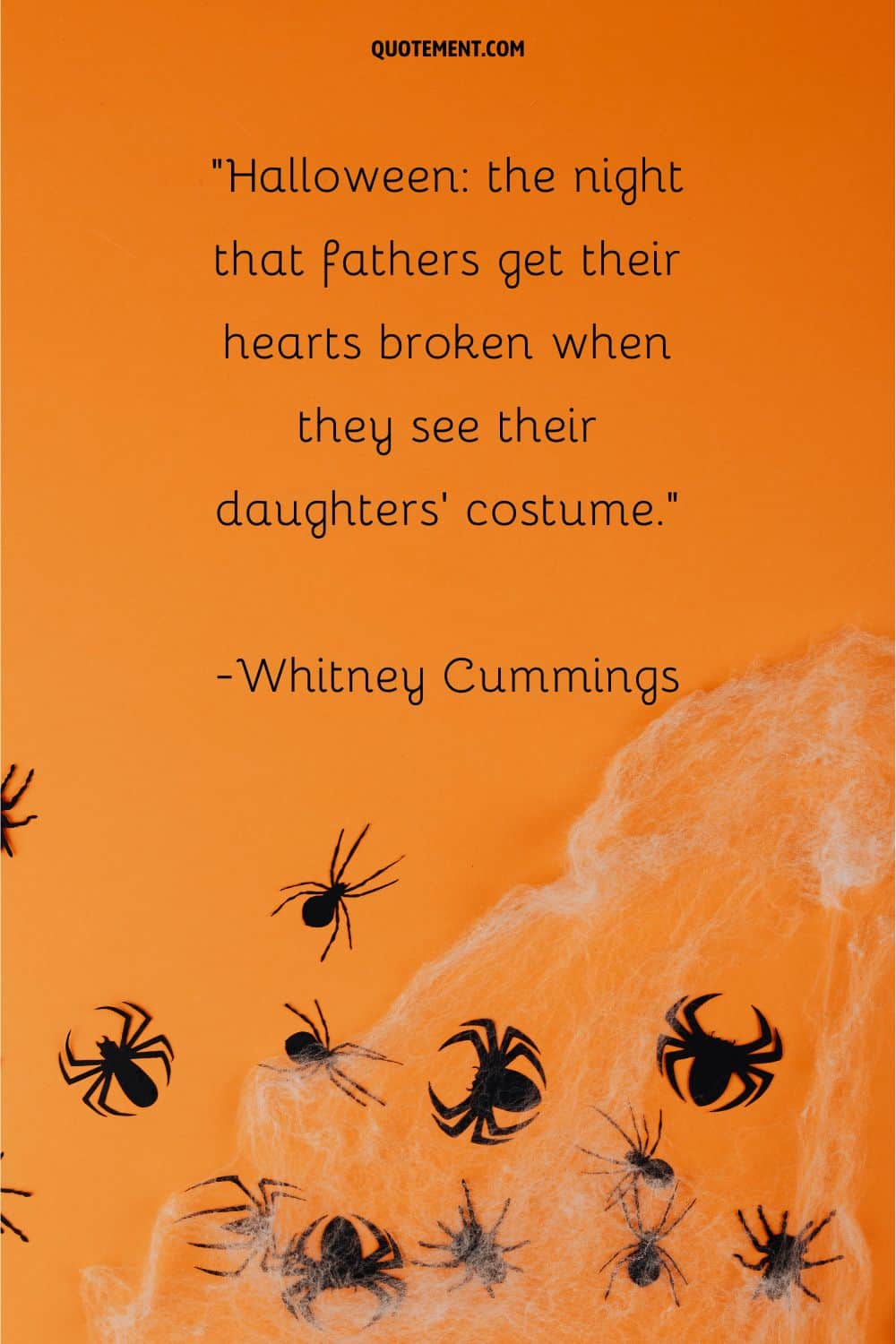 2. "Halloween was confusing. All my life my parents said, 'Never take candy from strangers.' And then they dressed me up and said, 'Go beg for it.' I didn't know what to do! I'd knock on people's doors and go, 'Trick or treat…no, thank you.'" — Rita Rudner
3. "My Halloween costume was so bad that people opened their doors and took candy from me." — Glen Nesbitt
4. "If you're having trouble with the concept of ghosts, then you're in for a very long evening." ― Kevin Purdy, The Legend of Decimus Croome: A Halloween Carol
5. "For Halloween, I'm going as that feeling you get at a store when you try to refold a sweater property and put it back on the shelf." — Rob Delaney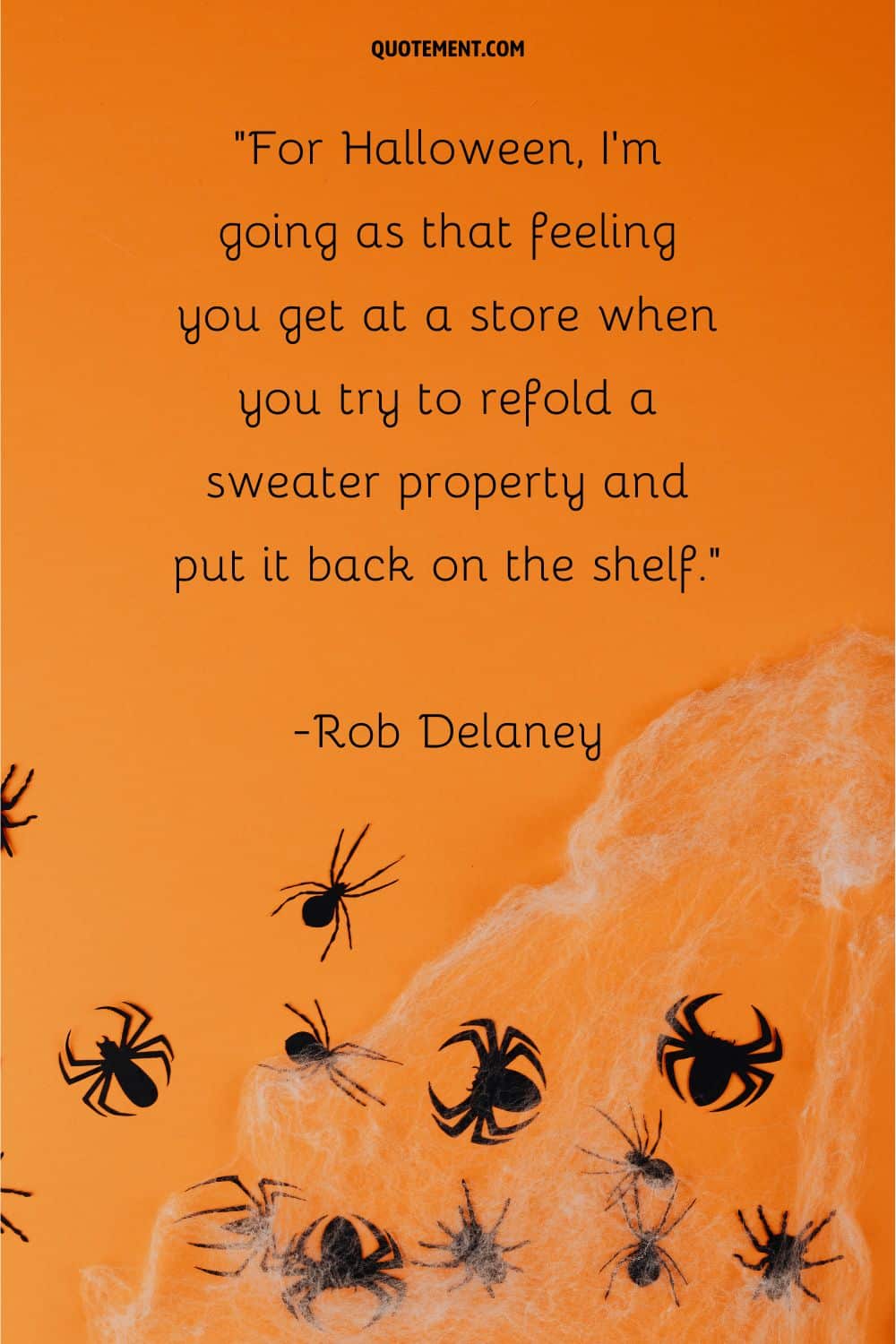 6. "It's that special time of year where we voluntarily imbibe pumpkin-spiced lattes: the coffee that tastes like a candle." — John Oliver
7. "During the day, I don't believe in ghosts. At night, I'm a little more open-minded." — Unknown
8. "Was deciding if I should dress as Batman or Spiderman for Halloween when I realized I'm a grown man. So, Batman." — Stephen Colbert
9. "On Halloween, the parents sent their kids out looking like me." — Rodney Dangerfield
10. "This Halloween the most popular mask is the Arnold Schwarzenegger mask. And the best part? With a mouth full of candy you will sound just like him." — Conan O'Brien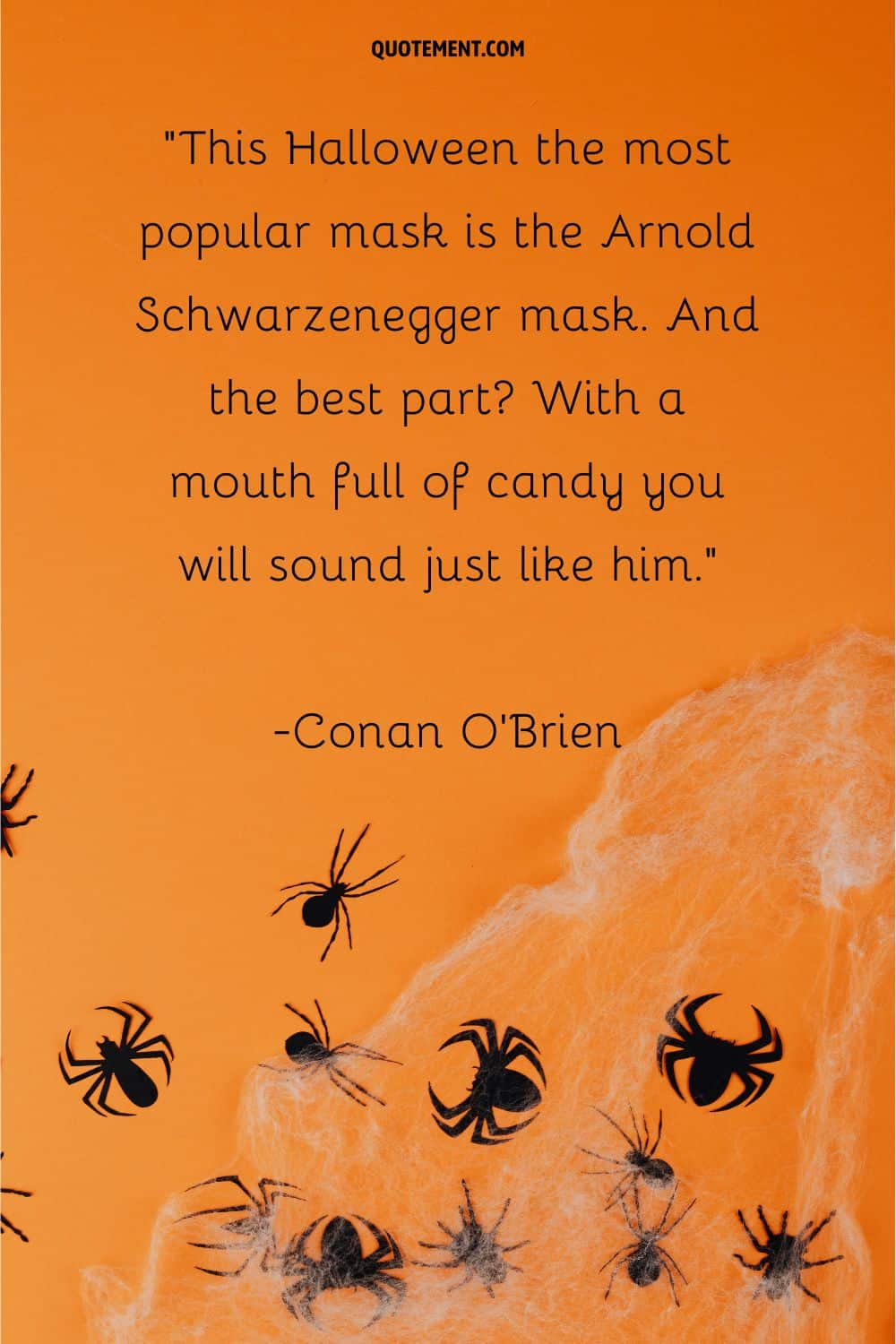 Wrapping Up The Spooky Spectacle
I hope these Halloween quotes have added an extra layer of excitement and spookiness to your celebrations.
Have a spooktacular Halloween!