Today's article is dedicated to sweet little first borns, who literally steal your heart the first time you see them!
If you've been looking for the best first born quotes to use right now, your search is over because you've found a brilliant collection you simply can't miss!
You'll be thrilled to learn that I've gathered the most heartwarming, inspirational, and heart-touching first child quotes anywhere on the web!
Keep reading to find loads of absolutely gorgeous quotes about first borns, those little buttercups that will always have a special place in your heart!
Top 10 First Born Quotes
Here are my top 10 most inspirational quotes:
1. "Having a baby is like falling in love again, both with your husband and your child." – Tina Brown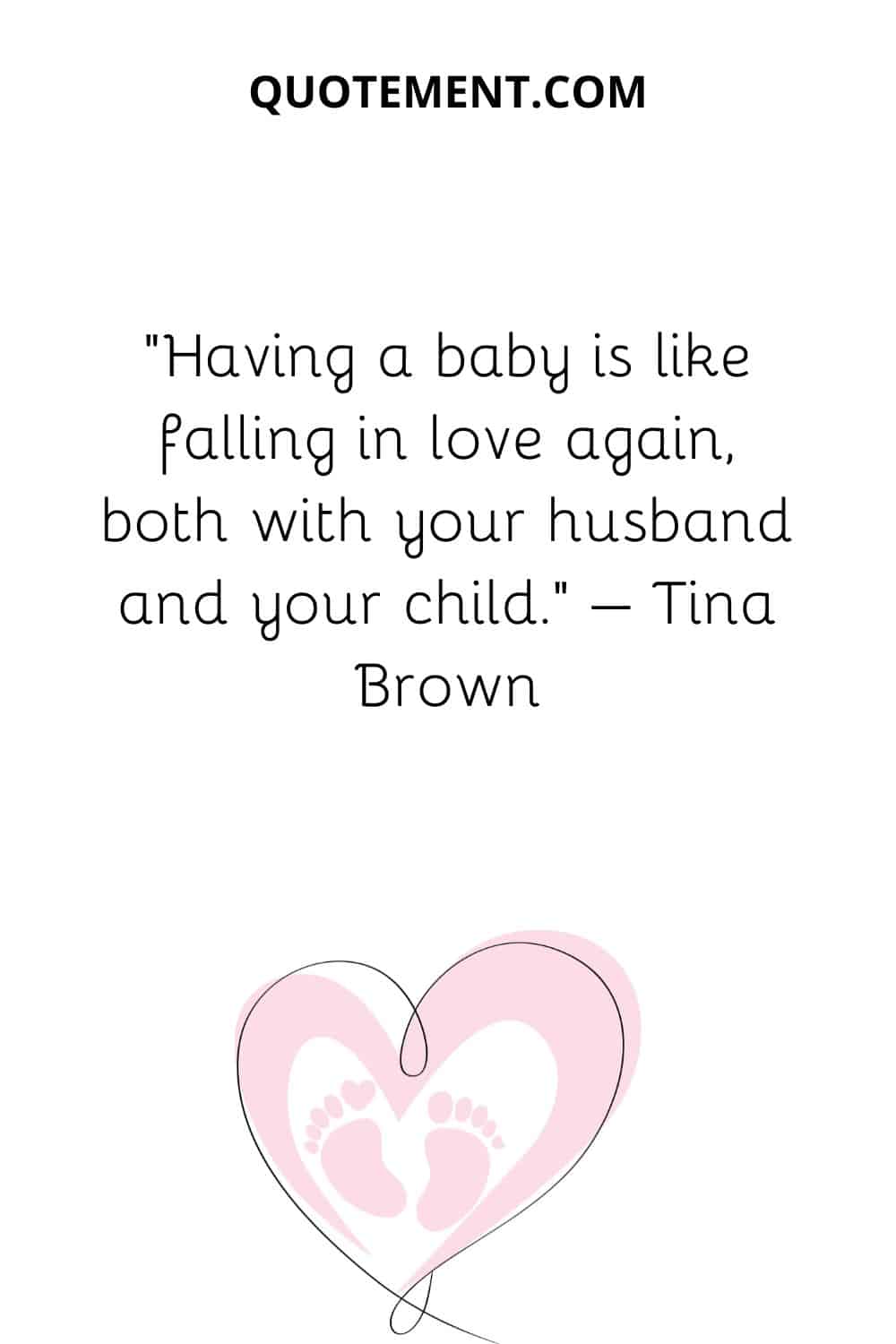 2. "A baby is as pure as an angel and as fresh as a blooming flower." – Debasish Mridha
3. "Making the decision to have a child is momentous. It is to decide forever to have your heart go walking around outside your body." – Elizabeth Stone
4. "Life's only worth living if you're being loved by a kid." – Buzz Lightyear
5. "Still the most magical day of my life was the day I became a mom." – Linda Becker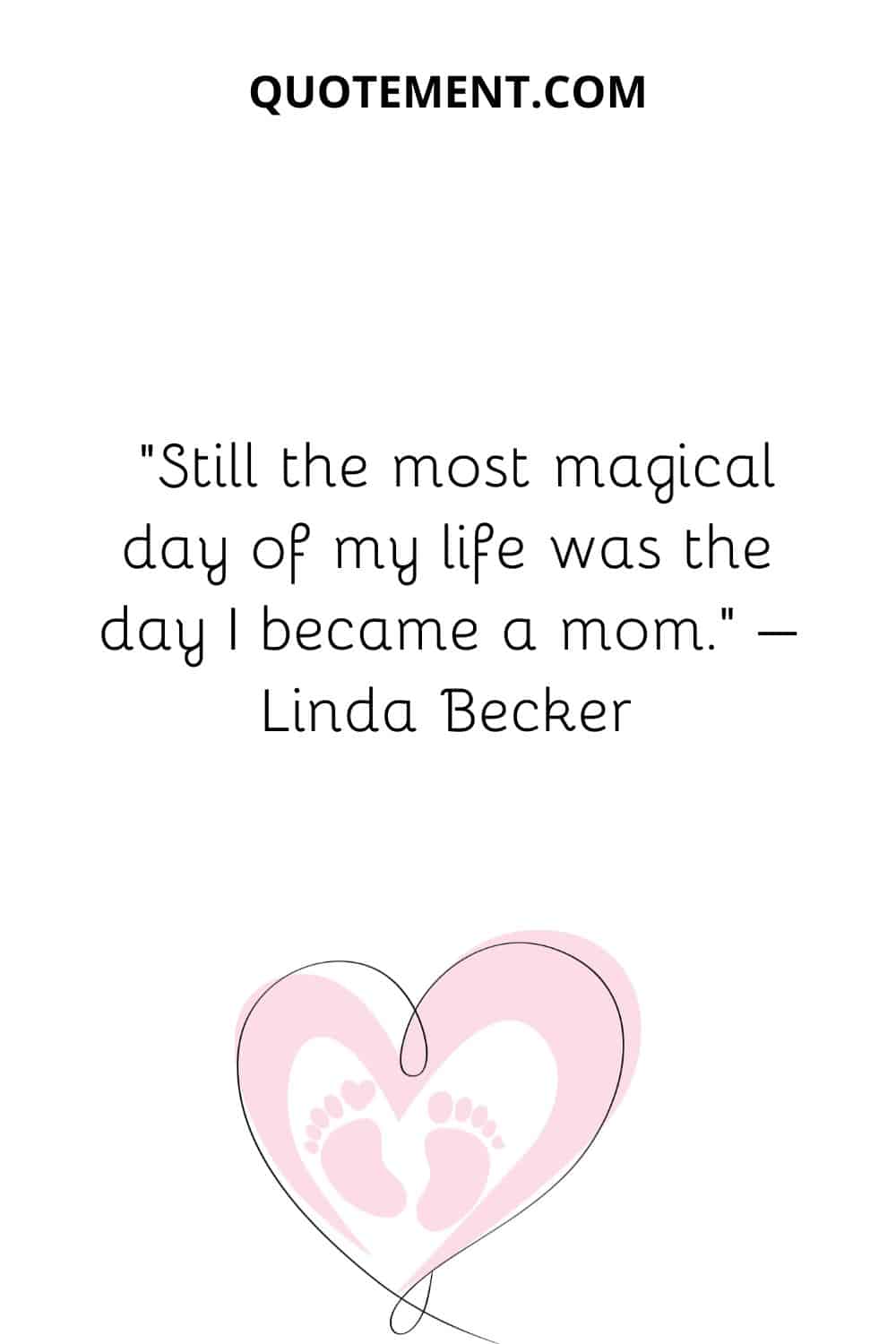 6. "There is no greater privilege in living than bringing a tiny new human being into the world and then trying to raise him or her properly during the next eighteen years." – James C. Dobson
7. "Nothing compares to becoming aware of the massive face of the universe hidden in a newborn's stare." – Curtis Tyrone Jones
8. "A baby is God's opinion that the world should go on." – Carl Sandburg
9. "Join them in their world when they're little so you'll be welcome in their world when they get big." – L.R. Knost
10. "The child must know that he is a miracle. That since the beginning of the world there hasn't been, and until the end of the world, there will not be another child like him." – Pablo Casals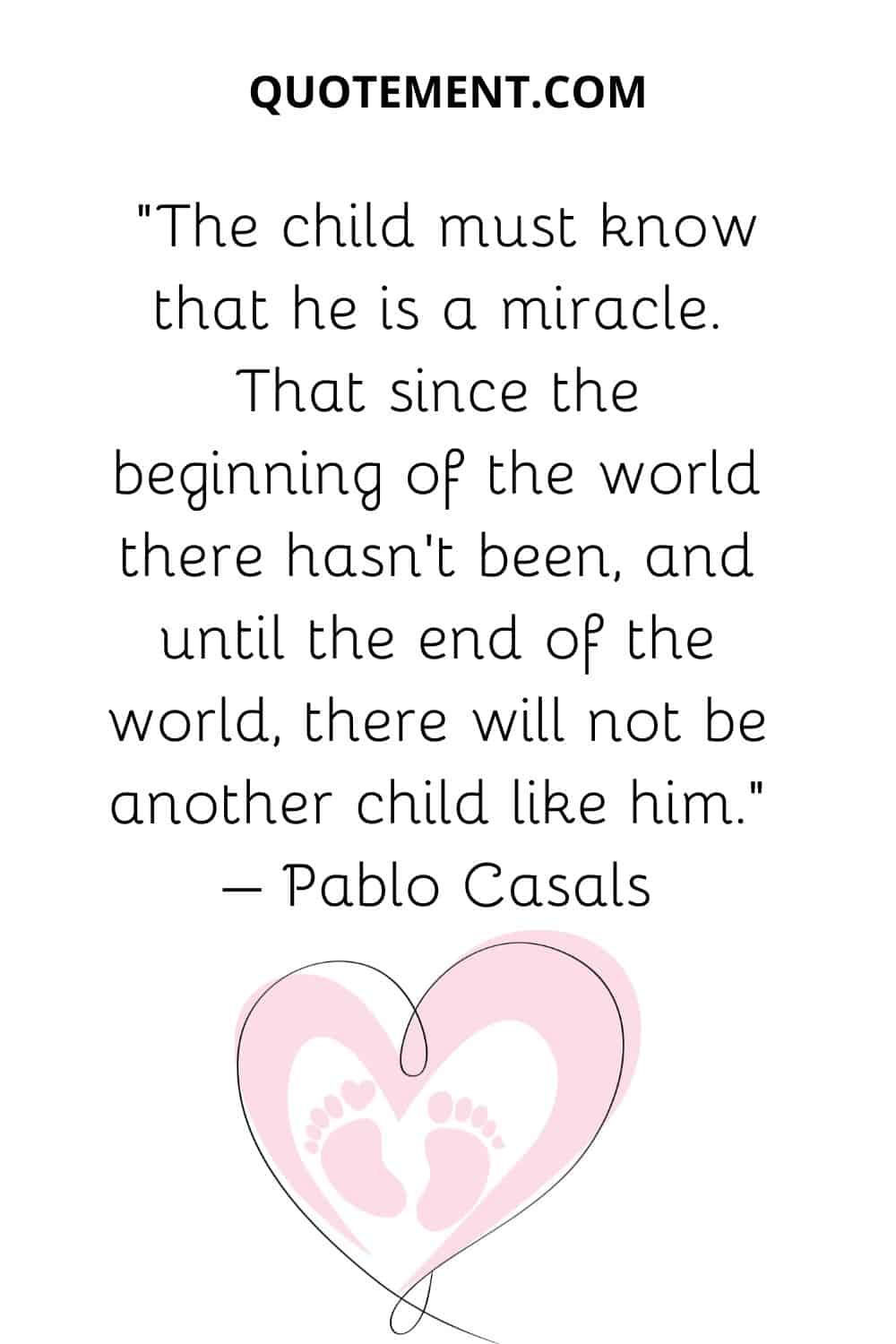 Sweet First Born Daughter Quotes
If you've been searching for first born quotes for your cute little daughter, these sweet first born daughter quotes will surely melt your heart:
1. "There's two things I know for sure: She was sent here from heaven and she's daddy's little girl." — Bob Carlisle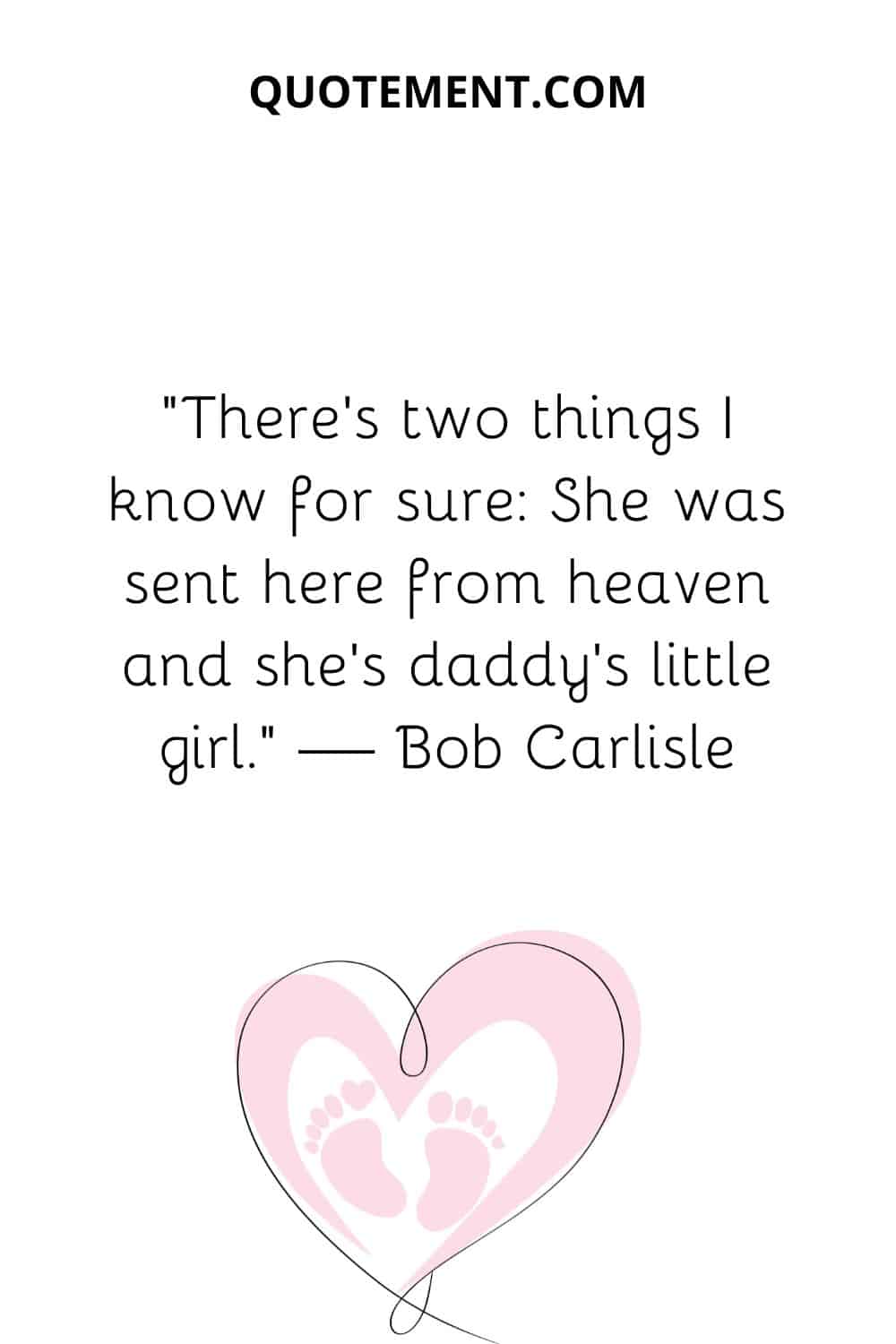 2. "A daughter is one of the best gifts this world has to give." – Laurel Atherton
3. "She stands firmly on her own two feet and I just behind her; should she ever need me." – J. Iron Word
4. "A daughter is a bundle of firsts that excite and delight, giggles that come from deep inside and are always contagious, everything wonderful and precious and your love for her knows no bounds." – Barbara Cage
5. "No one is able to make the female a queen except her father." — Arab Proverb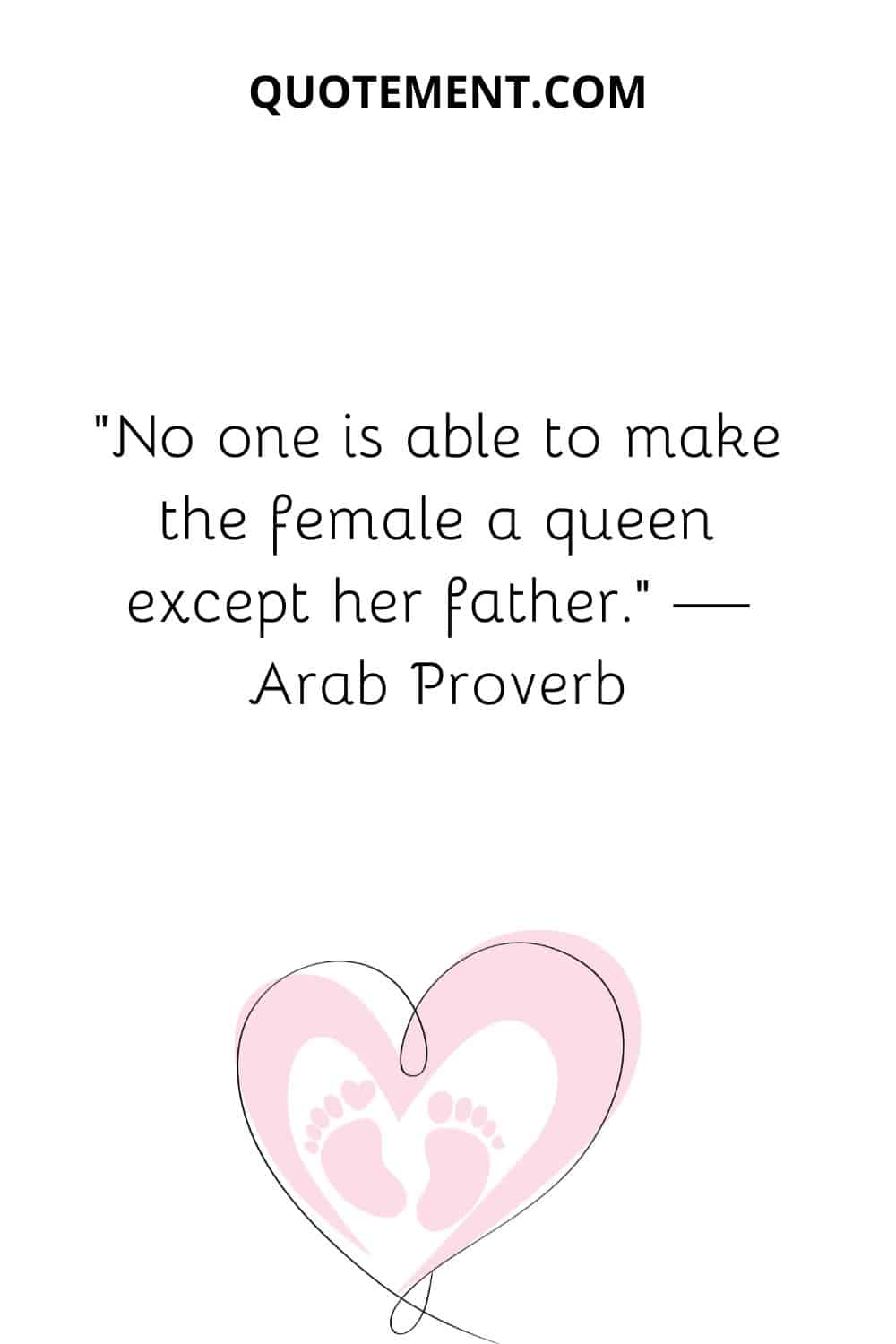 6. "Let her sleep, for when she wakes she will move mountains." – Napoleon
7. "Certain is it that there is no kind of affection so purely angelic as of a father to a daughter. In love to our wives there is desire; to our sons, ambition; but to our daughters, there is something which there are no words to express." – Joseph Addison
8. "Every day is Father's Day to me when I'm with her: when I'll be able to hold my daughter and see her grow and see her smile. That's Father's Day to me every day." – Saquon Barkley
9. "A daughter is a mother's gender partner, her closest ally in the family confederacy, an extension of herself. And mothers are their daughters' role model, their biological and emotional road map, the arbiter of all their relationships." – Victoria Secunda
10. "To my first-born daughter: I will always be here for you. I will always be your biggest fan. I love you with all of my heart."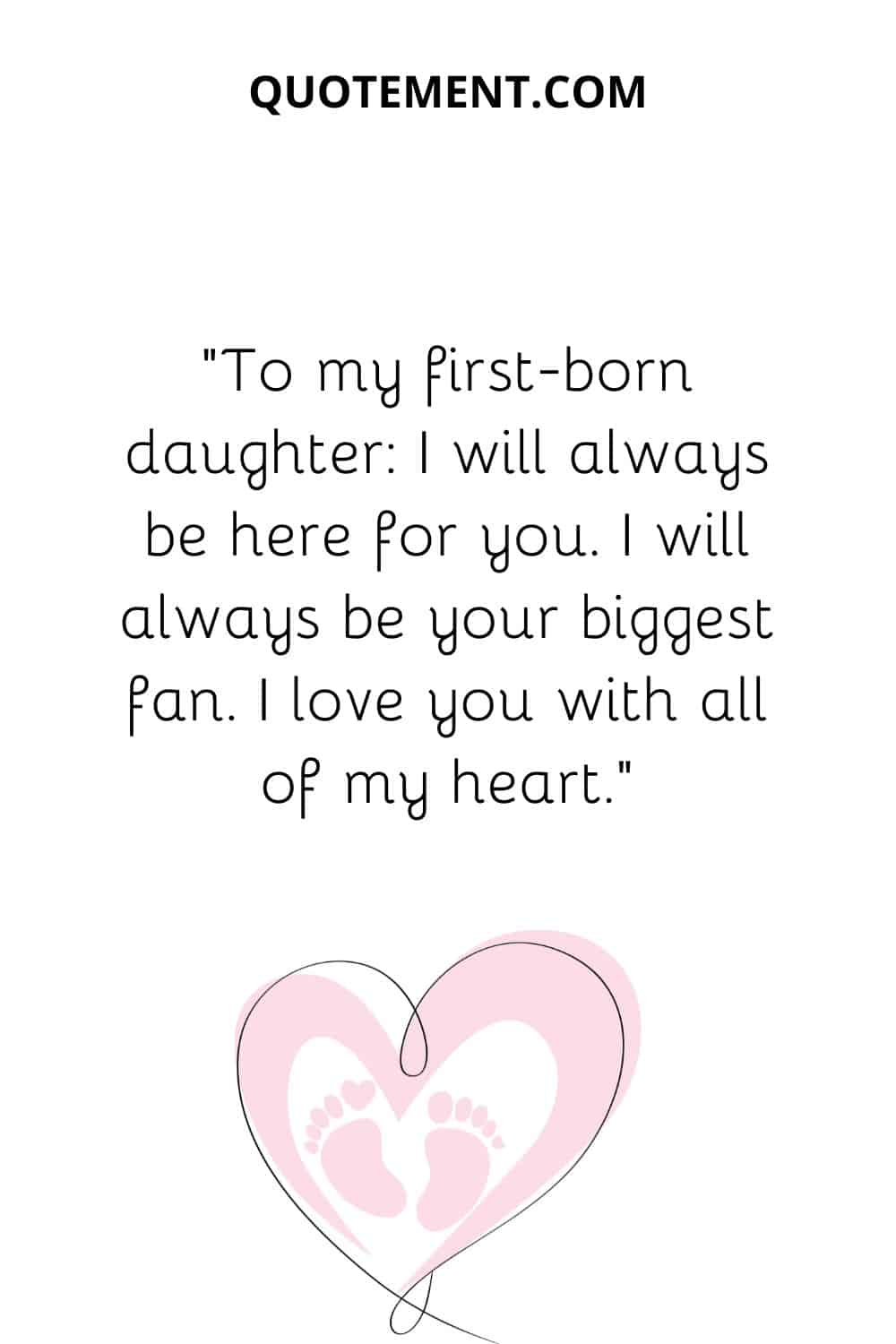 11. "Mothers and daughters together are a powerful force to be reckoned with." – Melia Keeton-Digby
12. "To a father growing old nothing is dearer than a daughter." – Euripides
13. "Our daughters are the most precious of our treasures, the dearest possessions of our homes and the objects of our most watchful love." – Margaret E. Sangster
14. "Who can describe the transports of a beam truly parental on beholding a daughter shoot up like some fair and modest flower, and acquire, day after day, fresh beauty and growing sweetness, so as to fill every eye with pleasure and every heart with admiration?" – George Fordyce
15. "When my daughter was born, that was the first time I cried from happiness." — Boots Riley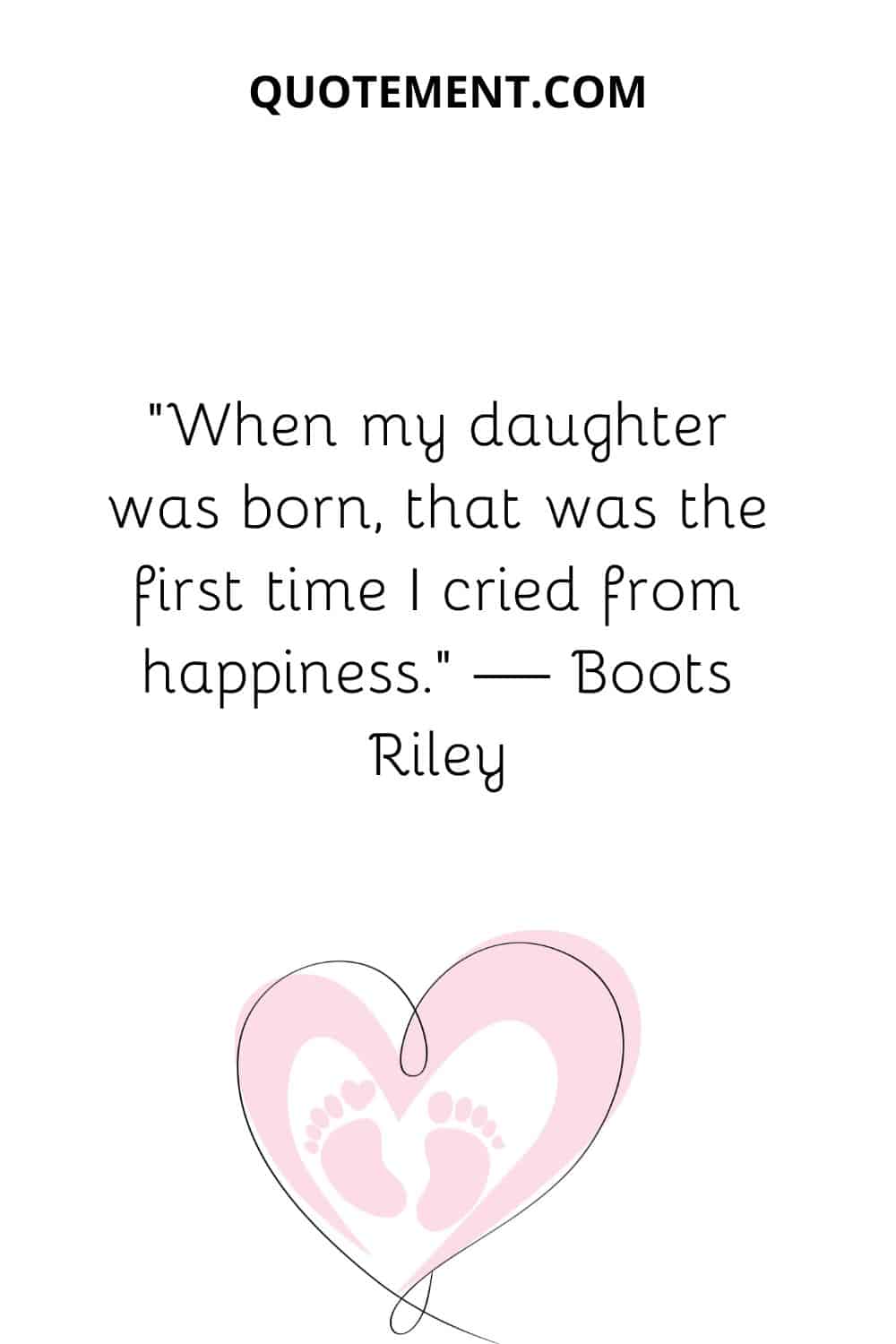 16. "My daughter is the biggest gift; I've said it so many times and it sounds like a cliche, but the thing about being a parent is when you think you've cracked it, and you're on top of your game, they change again and you have to catch up and adjust. I feel such a responsibility to instill good values in her, to be polite, to have discipline." – Geri Halliwell
17. "A mother's and daughter's love is never separated." – Viola Shipman
18. "Courage, sacrifice, determination, commitment, toughness, heart, talent, guts. That's what little girls are made of." – Bethany Hamilton
19. "Words are not enough to express the unconditional love that exists between a mother and a daughter." – Caitlin Houston
Lovely Quotes For Your First Born Son
If you're looking for first born quotes for your son, take a look at these wonderful first born son quotes:
1. "If you want your son to grow up into a man you can be proud of, be a man he can be proud of."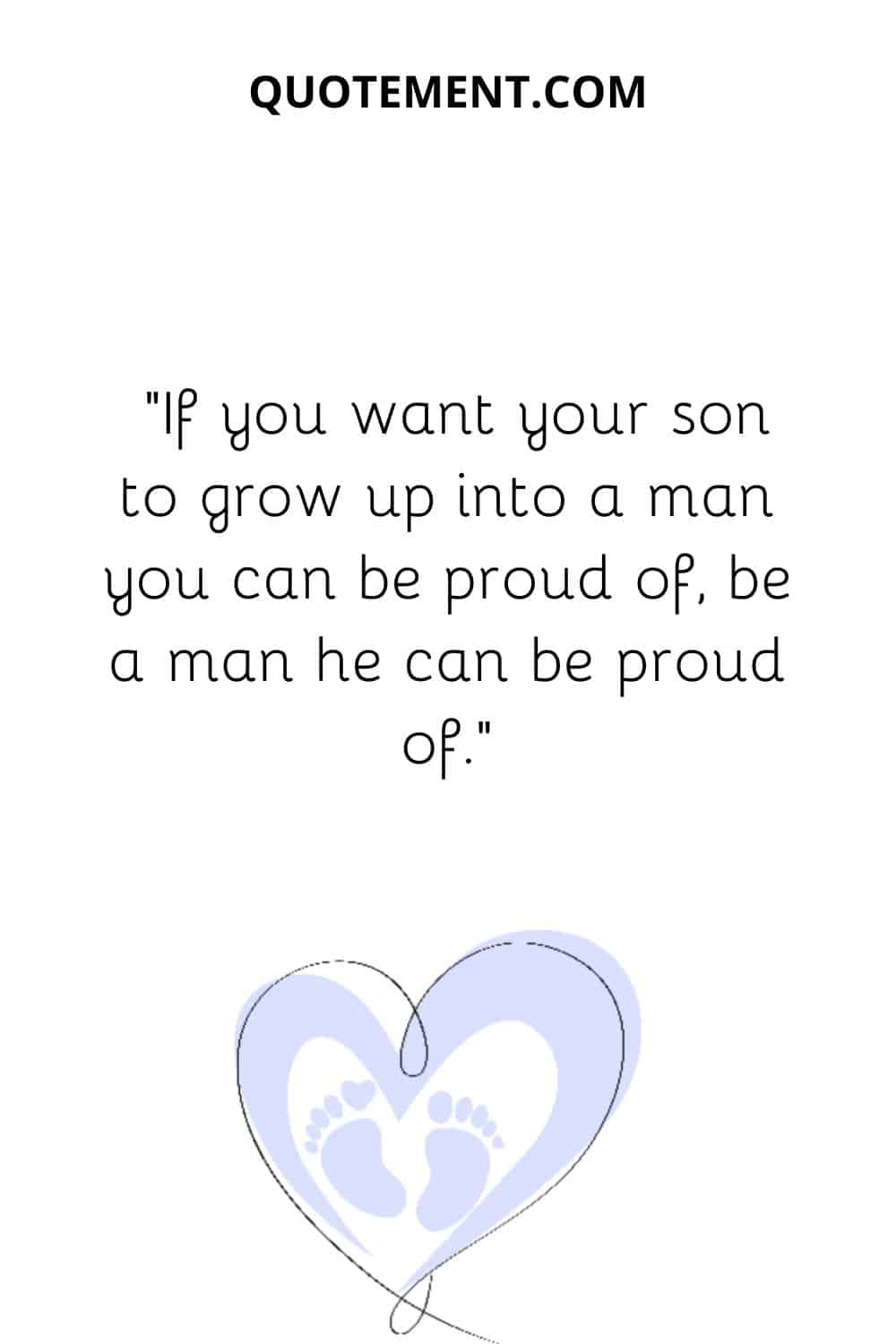 2. "Though our new son is barely a part of our present, we look at his squirming, warm bundle of future potential and say to ourselves, 'Hello, little man.' Little do we know the adventure we are beginning!" – Gregory L. Jantz
3. "Sons are born to make their fathers better men." – Mekael Shane
4. "Men are what their mothers made them." – Ralph Waldo Emerson
5. "Sons are the anchors of a mother's life." – Sophocles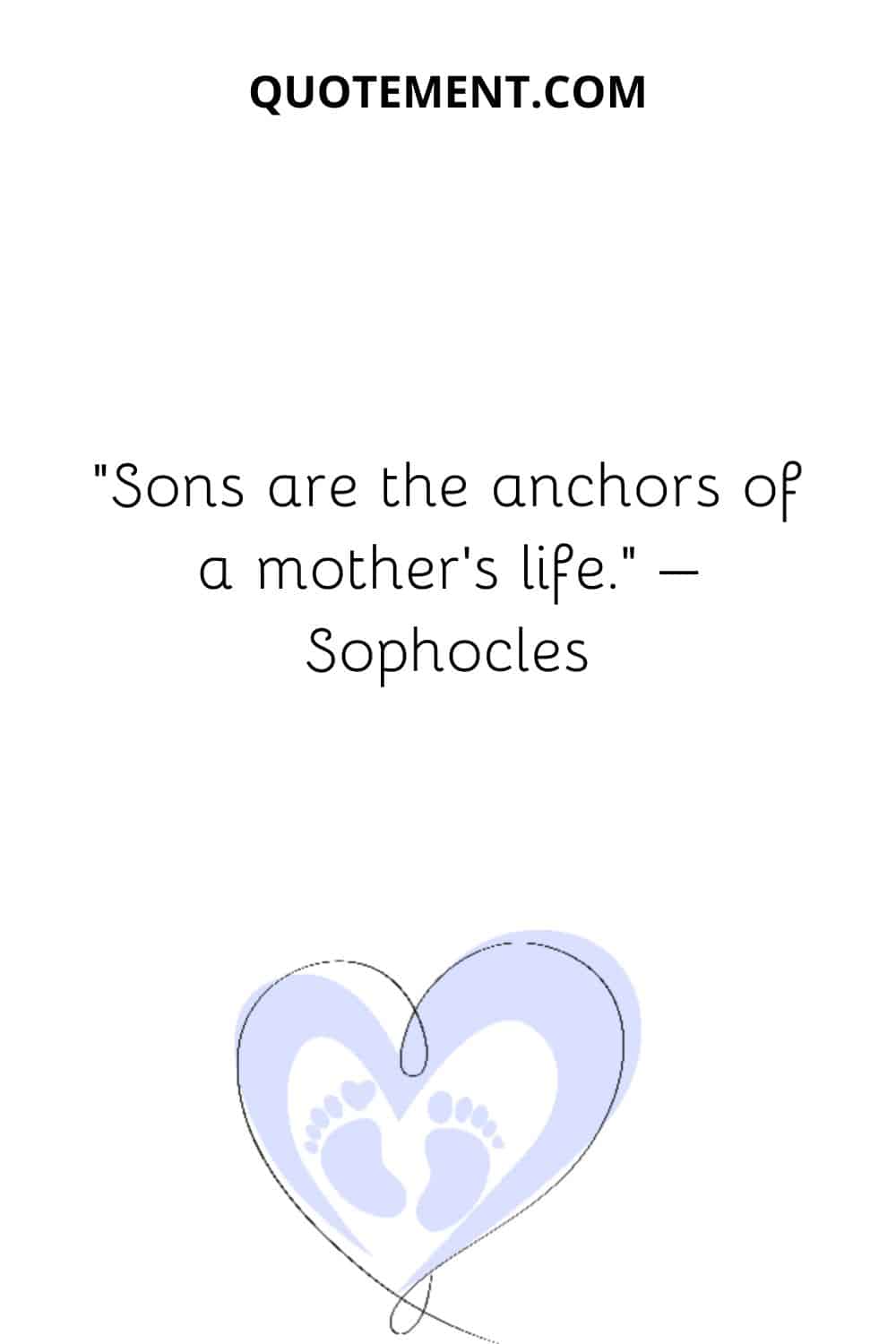 6. "To be a mother of a son is one of the most important things you can do to change the world. Raise them to respect women, raise them to stand up for others, raise them to be kind." – Shannon L. Alder
7. "A boy needs a father to show him how to be in the world. He needs to be given swagger, taught how to read a map so that he can recognize the roads that lead to life and the paths that lead to death, how to know what love requires, and where to find steel in the heart when life makes demands on us that are greater than we think we can endure." – Ian Morgan Cron
8. "The years will rush by, and one day you will be watching your son as a man, and feeling incredibly proud that he is caring, safe, making a contribution, and hopefully going far beyond you in the scope of his life." – Steve Biddulph
9. "Let your boys test their wings. They may not be eagles, but that doesn't mean they shouldn't soar free." – C. J. Milbrandt
10. "I have a son, who is my heart. A wonderful young man, daring and loving and strong and kind." – Maya Angelou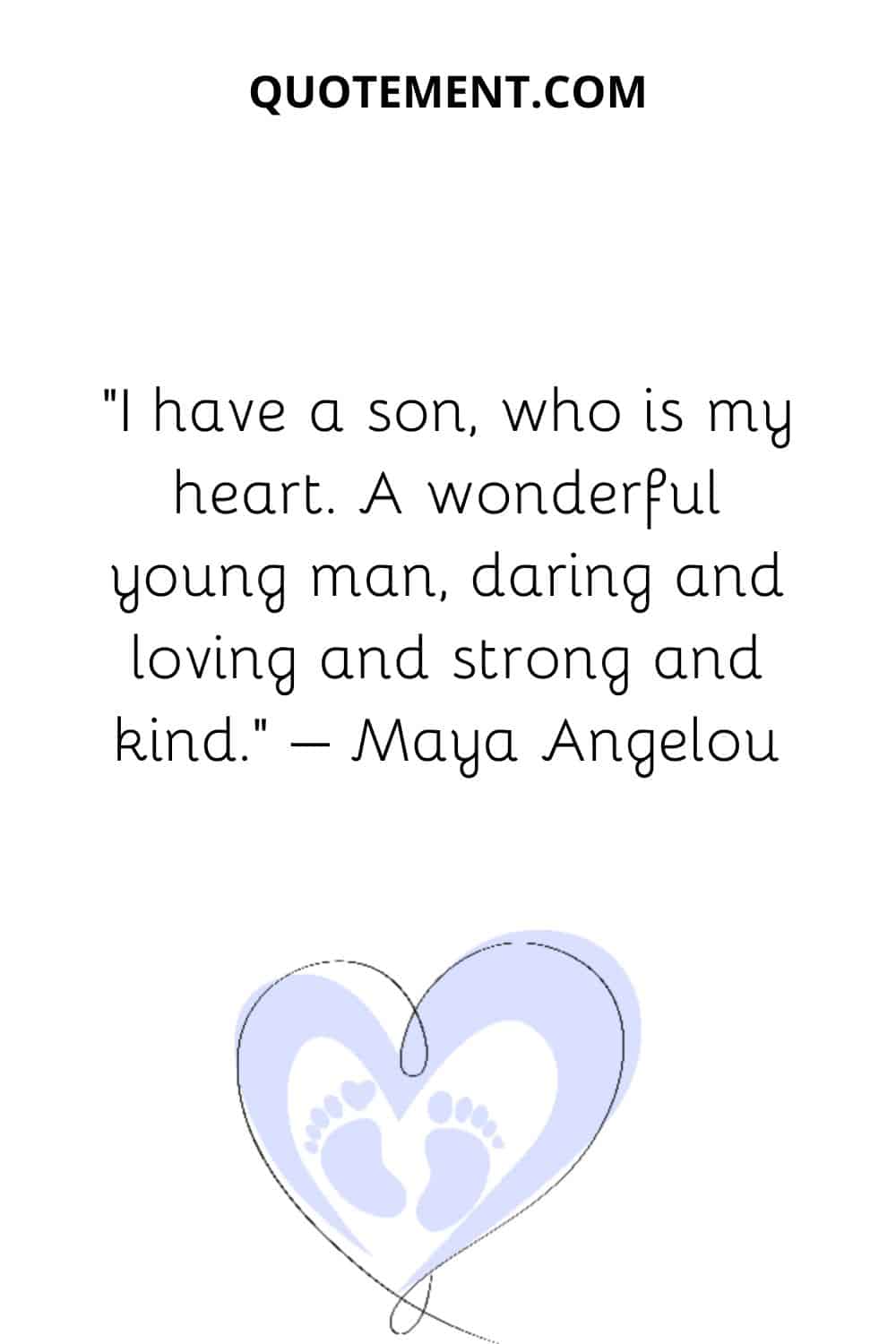 11. "A baby boy has a special way of bringing out the man in his father and the little boy in his grandfather." – Tanya Masse
12. "If I have a monument in this world, it is my son." – Maya Angelou
13. "Until you have a son of your own, you will never know what that means. You will never know the joy beyond joy, the love beyond feeling that resonates in the heart of a father as he looks upon his son." – Kent Nerburn
14. "The most important mark I leave on this world is my son." – Sarah Shahi
15. "Do I want to be a hero to my son? No. I would like to be a very real human being. That's hard enough." – Robert Downey Jr.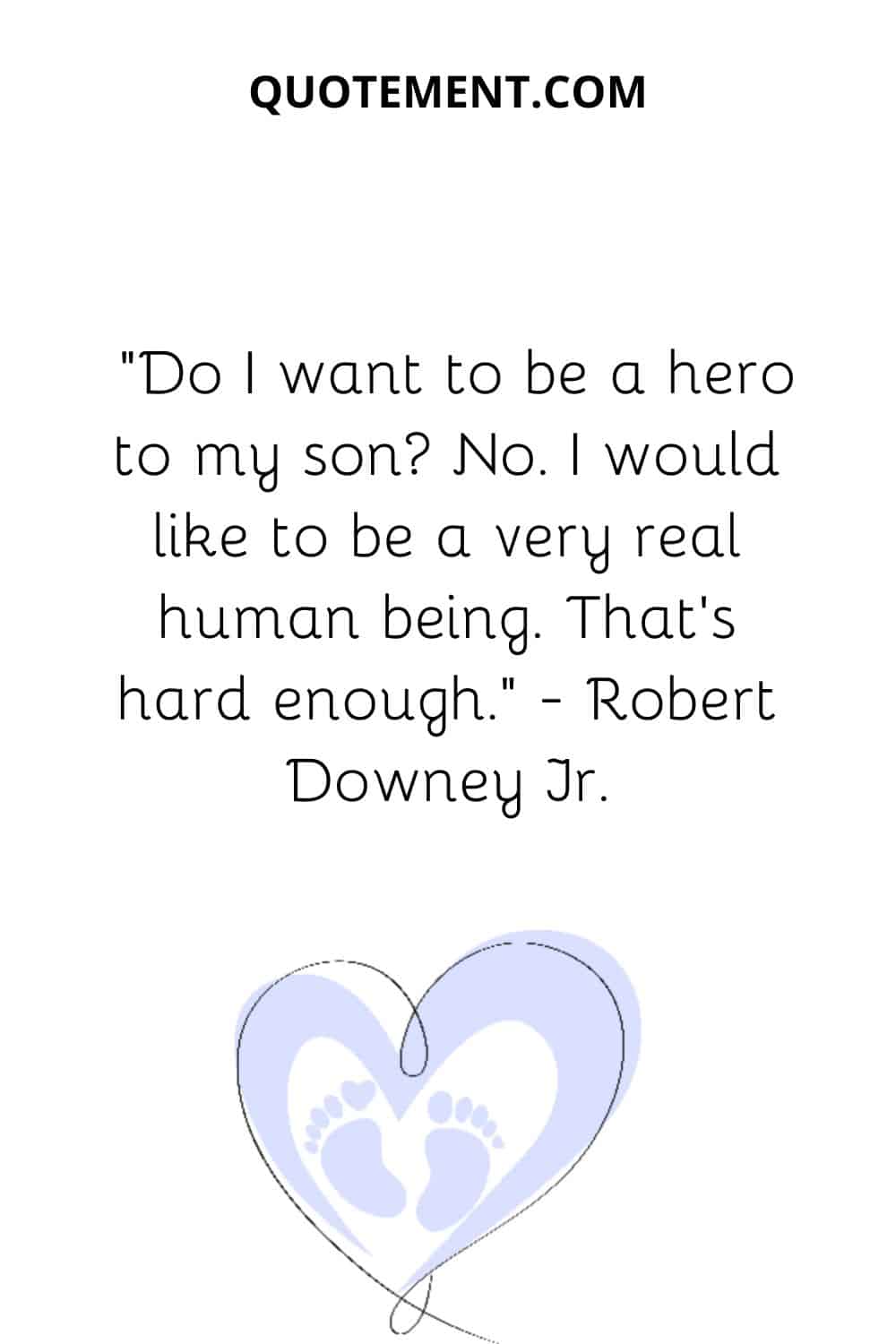 16. "You don't raise heroes, you raise sons. And if you treat them like sons, they'll turn out to be heroes, even if it's just in your own eyes." – Walter M. Schirra Sr.
17. "Little boys should never be sent to bed. They always wake up a day older." – J.M. Barrie
18. "He doesn't know you're watching him, but in this special, reflective moment, you realize he's growing up. I mean, really growing up." – Robert Lewis
Parenting Your First Child Quotes
First-time parents should definitely check out these parenting love quotes, mom quotes, and father quotes:
1. "There are no words that can describe the euphoria you feel when your baby recognizes you for the first time and smiles." – Jared Padalecki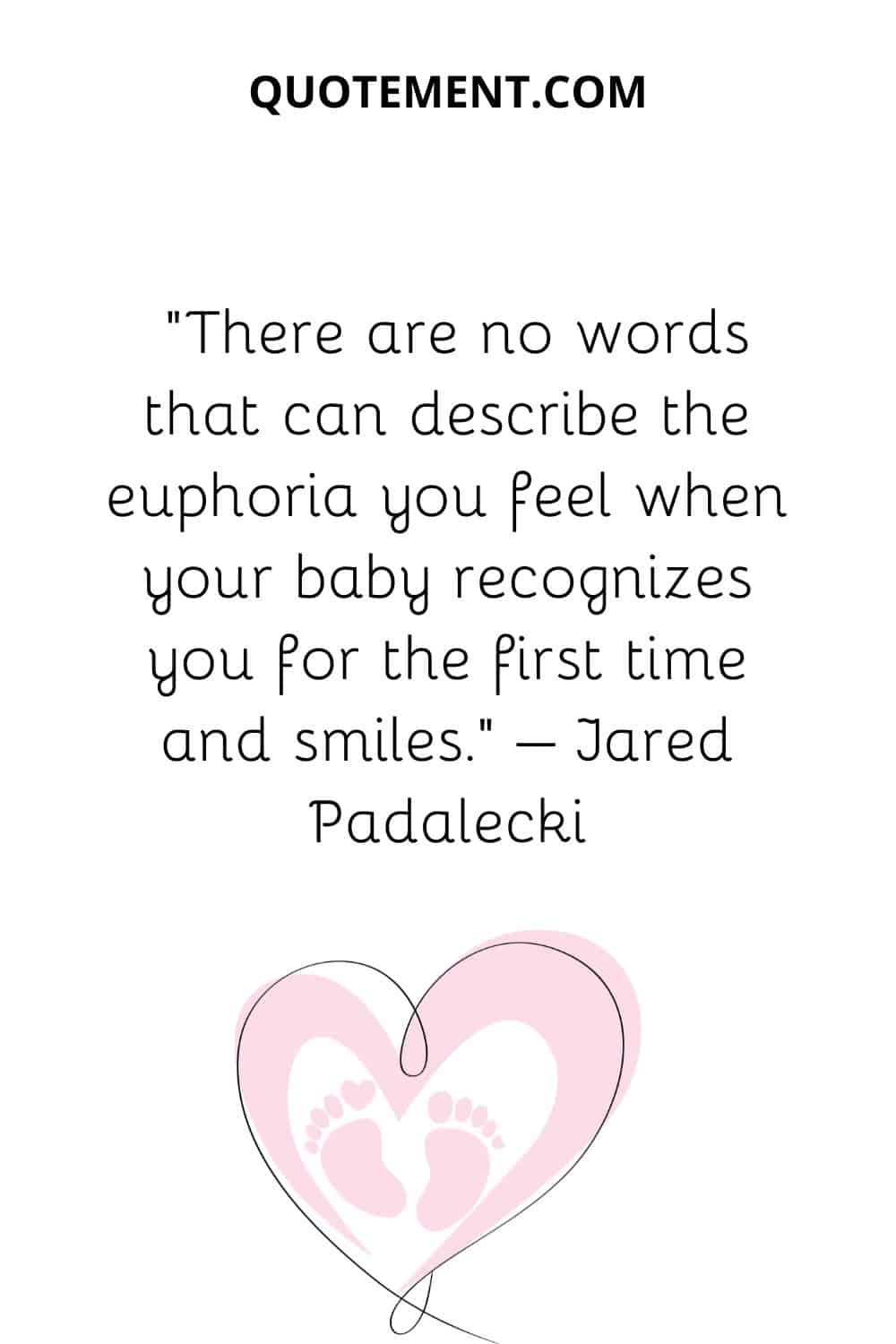 2. "The amazing thing about becoming a parent is that you will never again be your own first priority." – Olivia Wilde
3. "If evolution really works, how come mothers only have two hands?" – Milton Berle
4. "Mother is her son's first god. She must teach him the most important lesson of all – how to love." – T. F. Hodge
5. "Firstborns set the example. Their upbringing, good or bad, also reflects on your other children."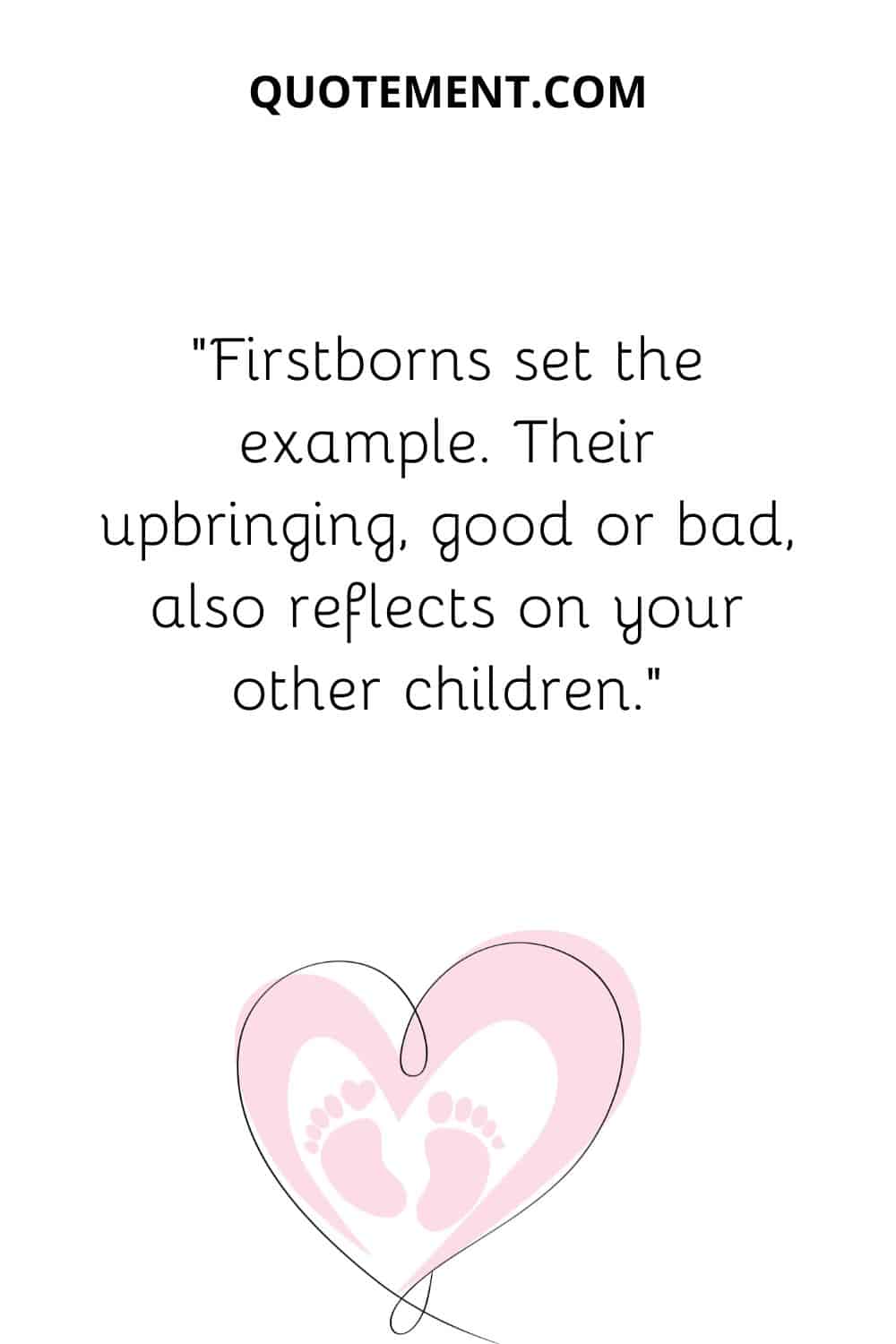 6. "The moment that changed me forever was the moment my first child was born. I was happy, filled with hope, and thought, 'Now I understand the whole point of work, of life, of love.'" – Paul Theroux
7. "Giving birth and being born brings us into the essence of creation, where the human spirit is courageous and bold and the body, a miracle of wisdom." – Harriette Hartigan
8. "The best way of training the young is to train yourself at the same time; not to admonish them, but to be seen never doing that of which you would admonish them." – Plato
9. "Every father should remember one day his son will follow his example, not his advice." – Charles Kettering
10. "I cannot think of any need in childhood as strong as the need for a father's protection." – Sigmund Freud
11. "The nature of impending fatherhood is that you are doing something that you're unqualified to do, and then you become qualified while doing it." – John Green
12. "Firstborn can instill joy, fear, triumph, uncertainty, and delight all at the same time. The moment your first child is born your life changes completely and irrevocably, for good."
13. "Anyone who tells you fatherhood is the greatest thing that can happen to you, they are understating it." – Mike Myers
14. "Having a child, particularly the first one, can change your whole perspective about life. Suddenly you have someone you care about more than anything. Someone you love more than anything. Everything else takes the back seat."
15. "I believe the choice to become a mother is the choice to become one of the greatest spiritual teachers there is." – Oprah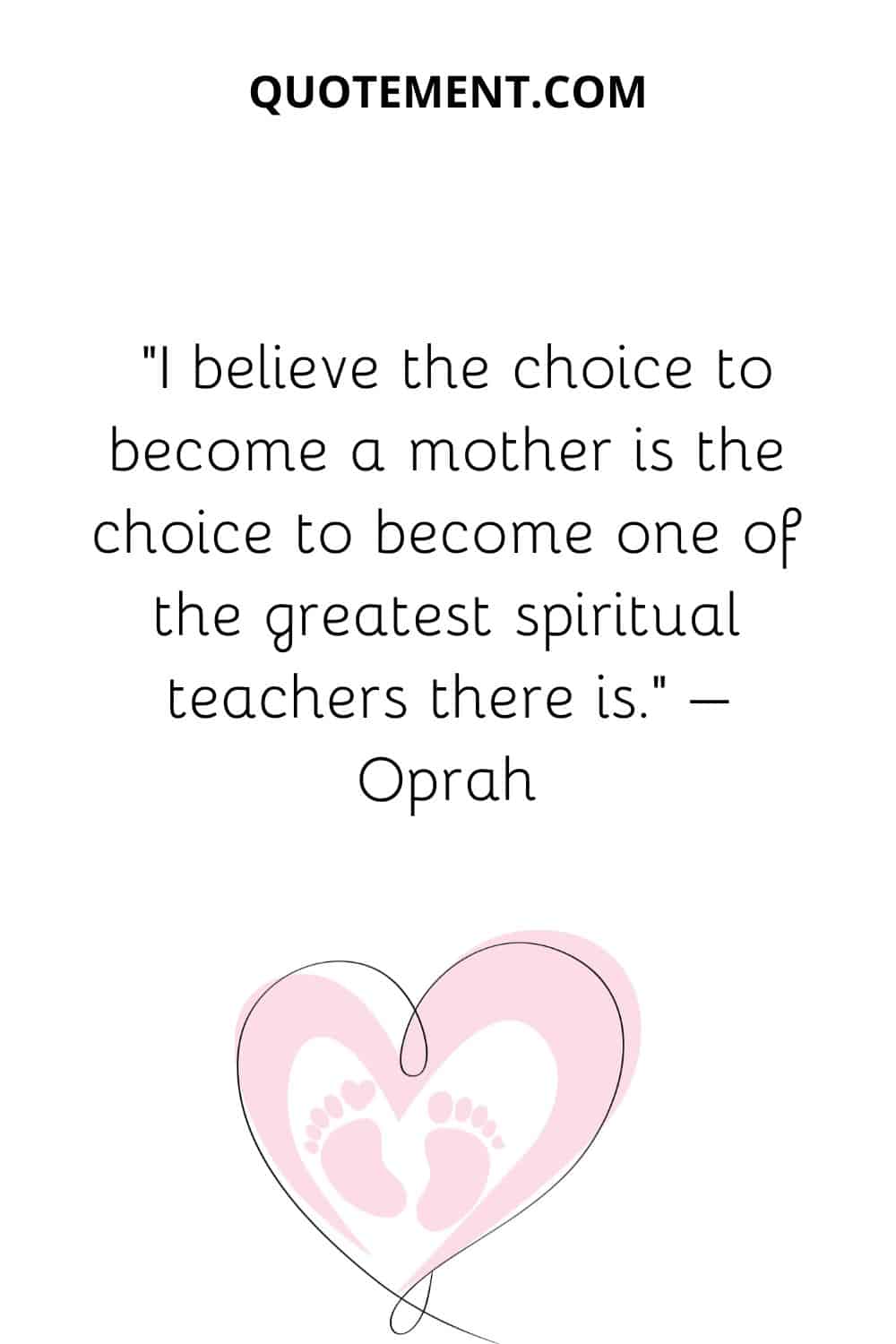 16. "You have to keep your parenting game strong with the first child because later on, he will have a major influence on your younger kids. If he is brought up the wholesome way, others will follow suit."
17. "The biggest surprise, which is also the best, is that I didn't know I would love motherhood as much as I do." – Deborah Norville
18. "A baby is something you carry inside you for nine months, in your arms for three years and in your heart till the day you die." – Mary Mason
19. "Sometimes the strength of motherhood is greater than natural laws." – Barbara Kingsolver
20. "Children reinvent your world for you." – Susan Sarandon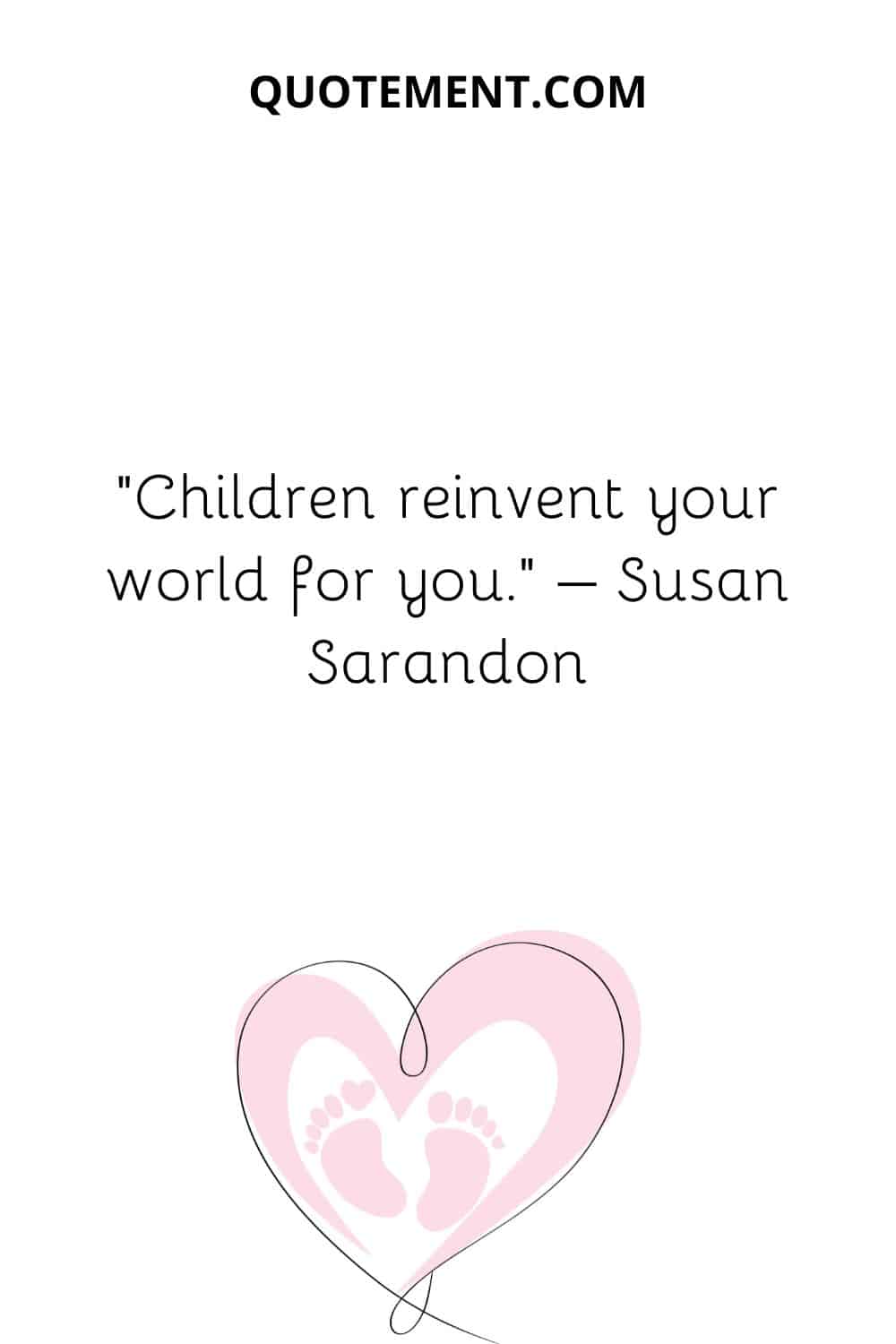 21. "There's no way to be a perfect mother and a million ways to be a good one." – Jill Churchill
22. "Life is all about sleepless nights, Pjs, pooping and feeding after having my baby, but I wouldn't have it any other way."
23. "The biggest test your firstborn puts you to – is changing diapers."
Unique First Born Quotes You'll Love
My fabulous collection would be incomplete without these unique first born quotes:
1. "There is nothing as powerful as a mother's love, and as healing as a child's soul."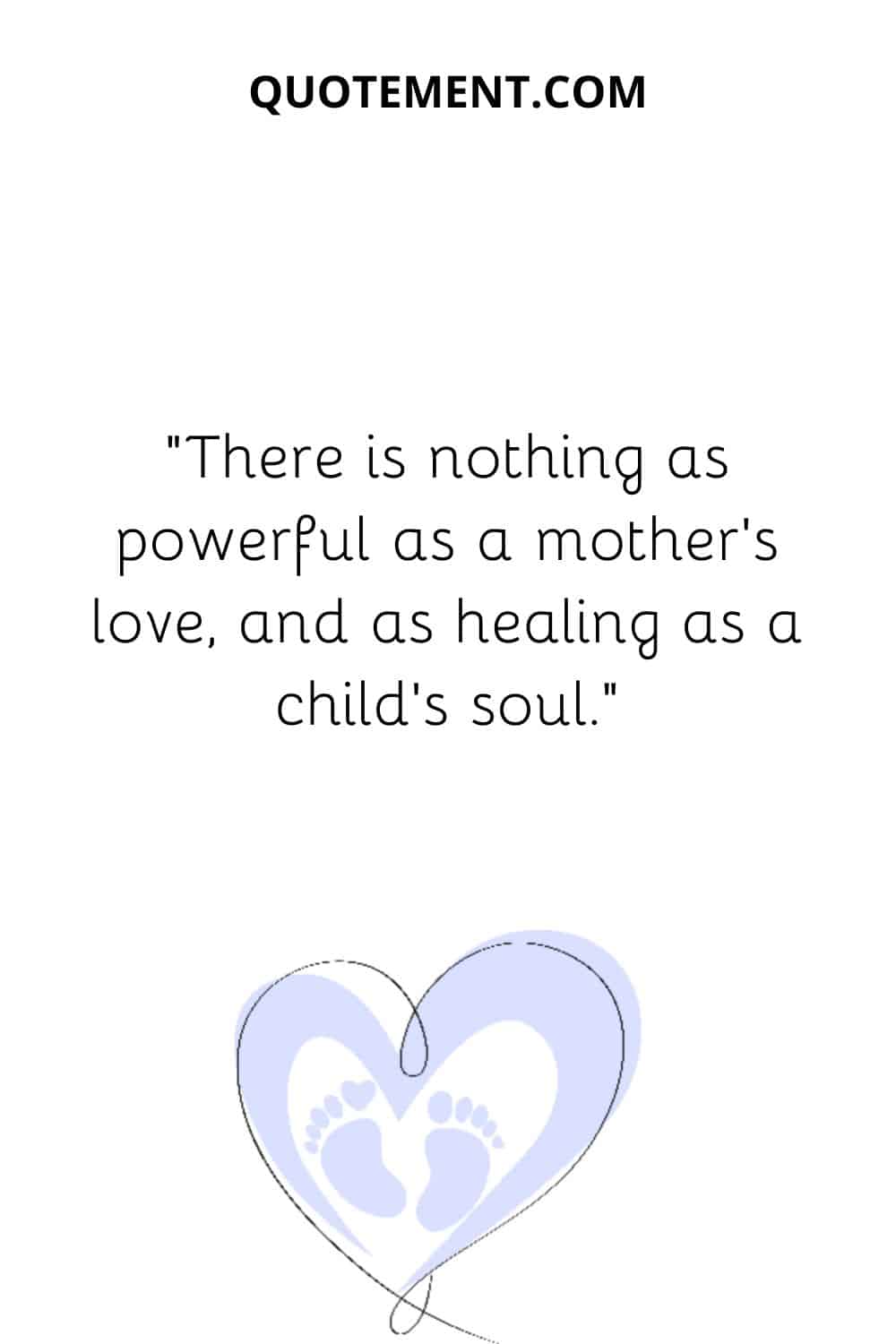 2. "When we encourage new parents to 'treasure these moments because they don't last forever,' we need to remember to also reassure them that they will survive these moments because they don't last forever." – L.R. Knost
3. "Babies are always more trouble than you thought –– and more wonderful." – Charles Osgood
4. "That's the way it is with firstborns. Mom and Dad may think they're in charge, but the firstborn knows better, and so does the youngest sibling." – Kevin Leman
5. "Firstborns try your patience like nobody else can."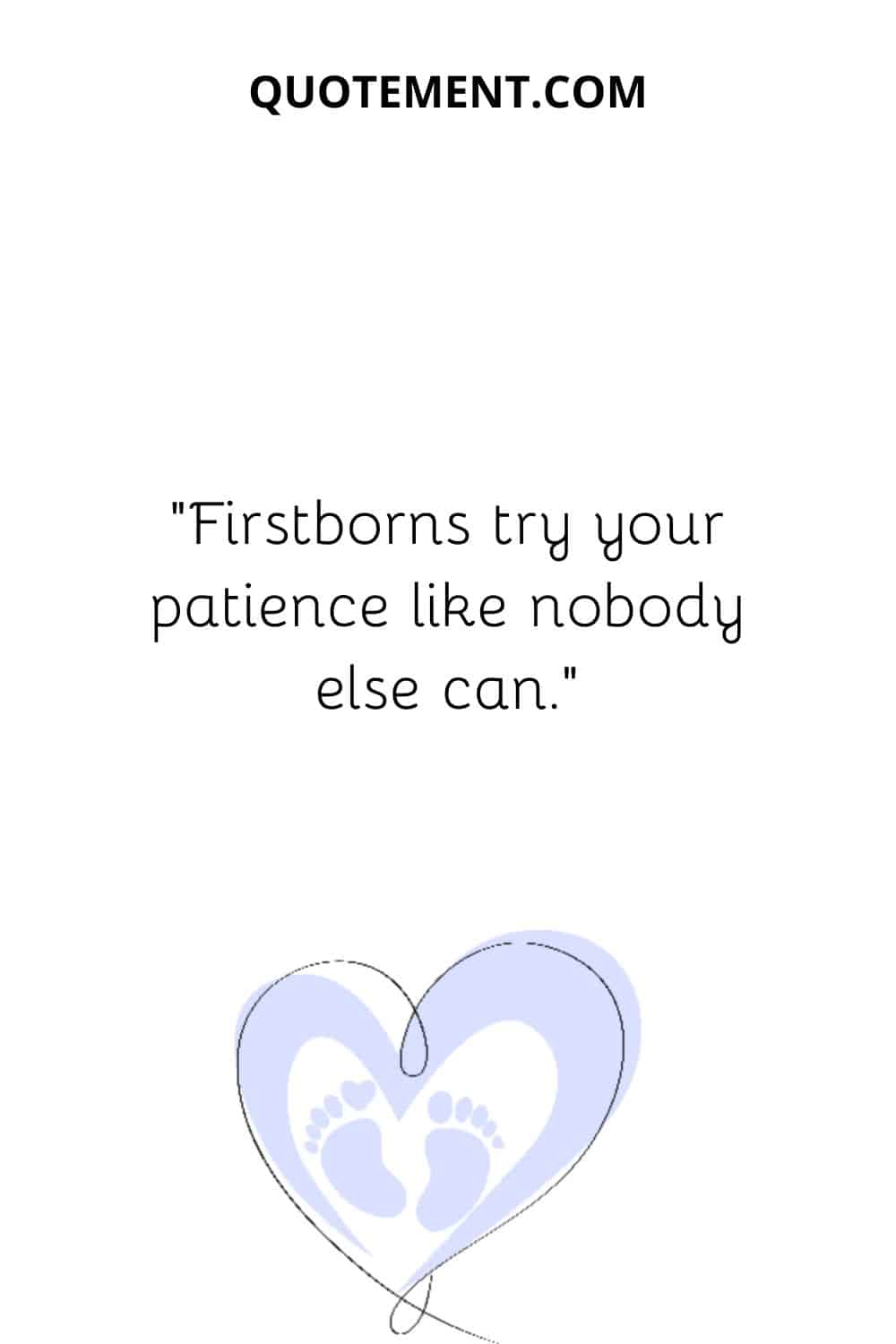 6. "There are words in the soul of a newborn baby, wanting and waiting to be written." – Toba Beta
7. "I love these little people; and it is not a slight thing when they, who are so fresh from God, love us." – Charles Dickens
8. "Every child born into the world is a new thought of God, an ever-fresh and radiant possibility." – Kate Douglas Wiggin
9. "Babies are amazing. They begin each day all warm and sleepy, smelling of promise." – Julia Roberts
10. "Always kiss your children goodnight, even if they're already asleep." – H. Jackson Brown, Jr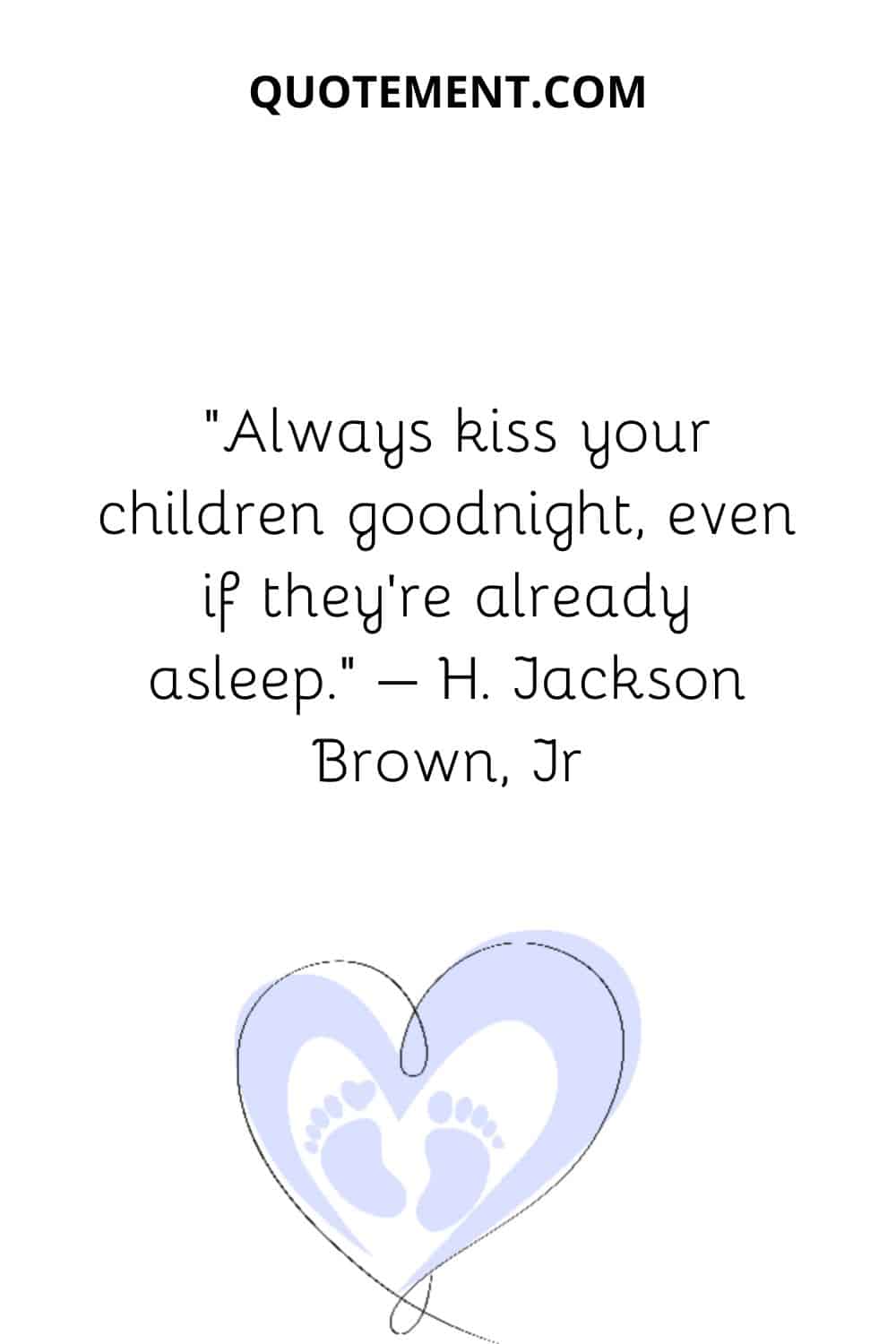 11. "The first-born children are privileged in many ways. The time they spent with their parents is theirs, the toys they own are theirs, and the house is theirs to command. Later-borns always have to share."
12. "The only creatures that are evolved enough to convey pure love are dogs and infants." – Johnny Depp
13. "My first child is going to be the oldest sibling to the next kid, and that may change with each and every year. I'm looking forward to how one baby influences the other" – Blake Lively
14. "Your firstborn baby may hold your hand for only a little while, but it will hold your heart for the rest of your life."
15. "Children bring us a piece of heaven on Earth." – Roland Leonhardt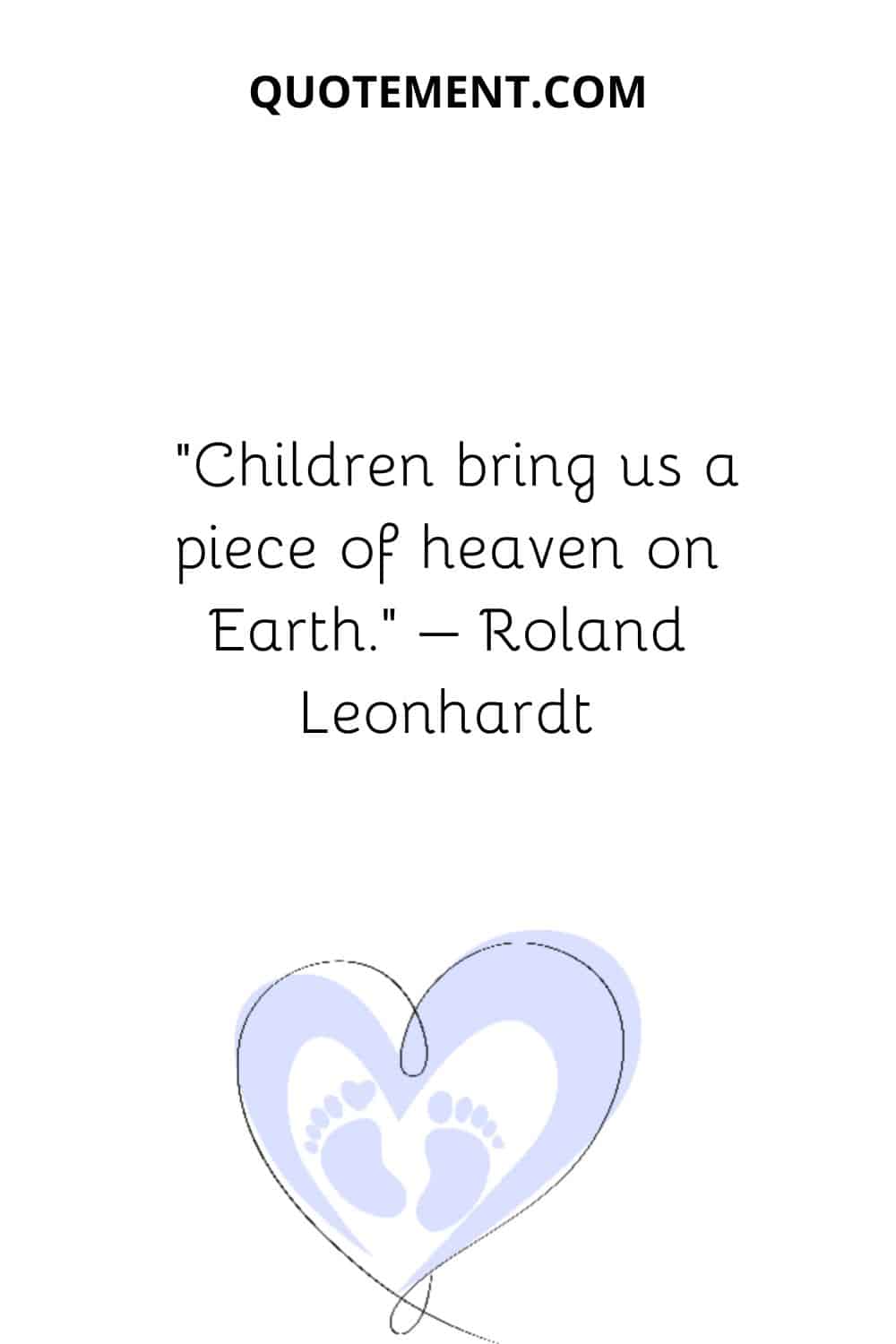 16. "Every child comes with the message that God is not yet discouraged of man." – Rabindranath Tagore
17. "A new baby is like the beginning of all things-wonder, hope, a dream of possibilities." – Eda J. Le Shan
18. "Babies are bits of stardust, blown from the hand of God." – Larry Barretto
19. "Like stars are to the sky, so are the children to our world. They deserve to shine!" – Chinonye J. Chidolue
20. "It is a smile of a baby that makes life worth living." – Debasish Mridha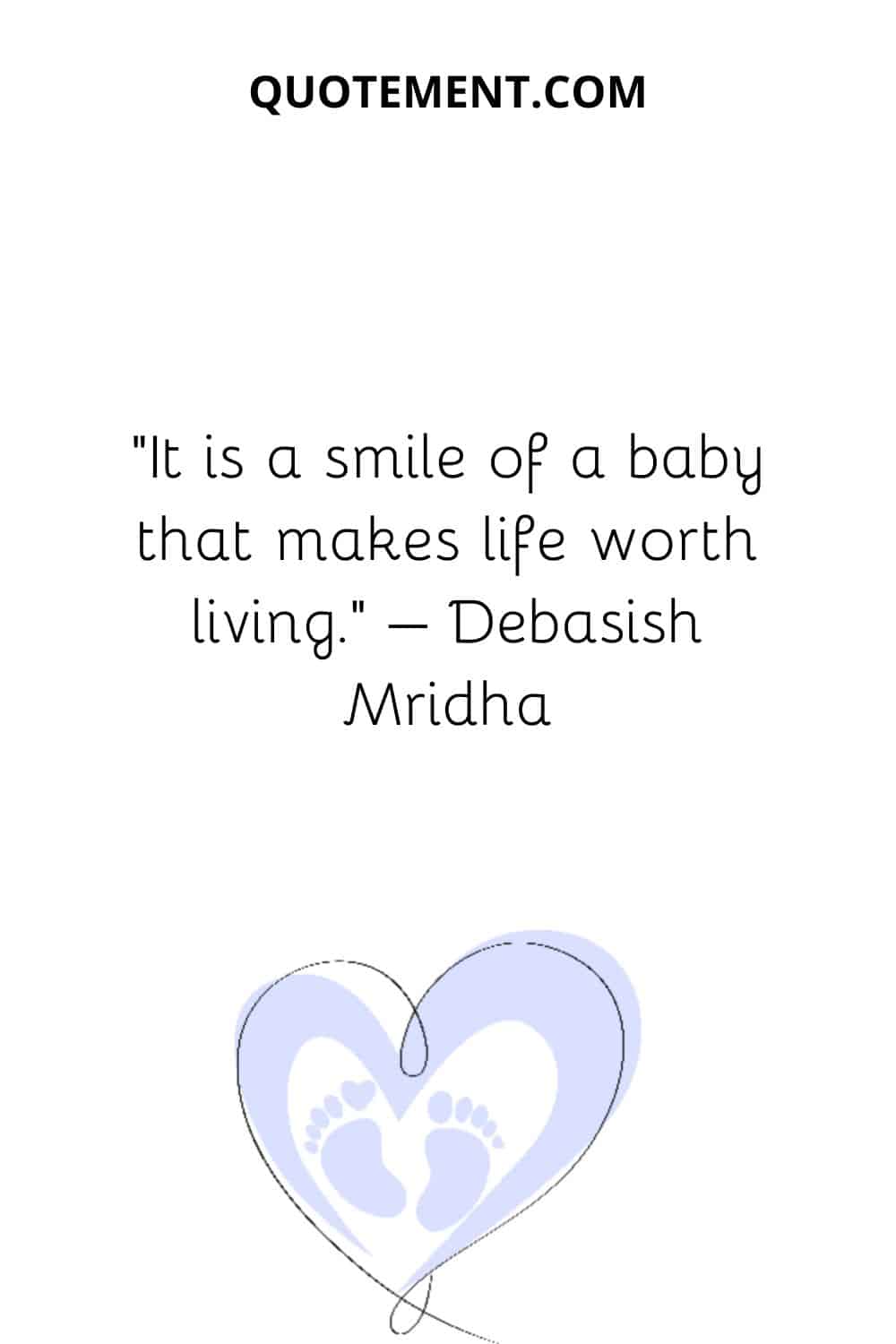 To Wrap It Up
I hope you enjoyed reading my collection of first born quotes!
If you're a new mom or dad, I would like to take this opportunity to congratulate you on having a beautiful baby! 🙂
Whether you had your firstborn intentionally or the pregnancy was unexpected, one thing is sure; your life gets a new purpose with the arrival of the baby.
If one of your loved ones has had a baby girl or a baby boy, I hope you found a few inspirational first baby quotes you'll share with them!
Stay tuned for more awesome content.
Until next time!
Read next: 160 Happy 1st Birthday Wishes For The Cutest One-Year-Olds