If you're looking for the perfect bridal shower caption to post on social media, you'll be happy to have found this incredible collection of the best bridal shower captions ever!
Whether you're a bride-to-be, her bestie, or a bridesmaid, you'll definitely enjoy celebrating the bridal shower party, and you'll definitely want to post some pics of it in your Instagram post.
For this post to be perfect, you'll need the perfect bridal shower caption.
This article is full of great ideas for party captions to go with all your bridal shower pictures and selfies.
Check out my awesome collection of bridal shower Instagram captions below!
20 Best Bridal Shower Captions
1. Sparks are going to fly at the wedding, but the magic starts at the bridal shower.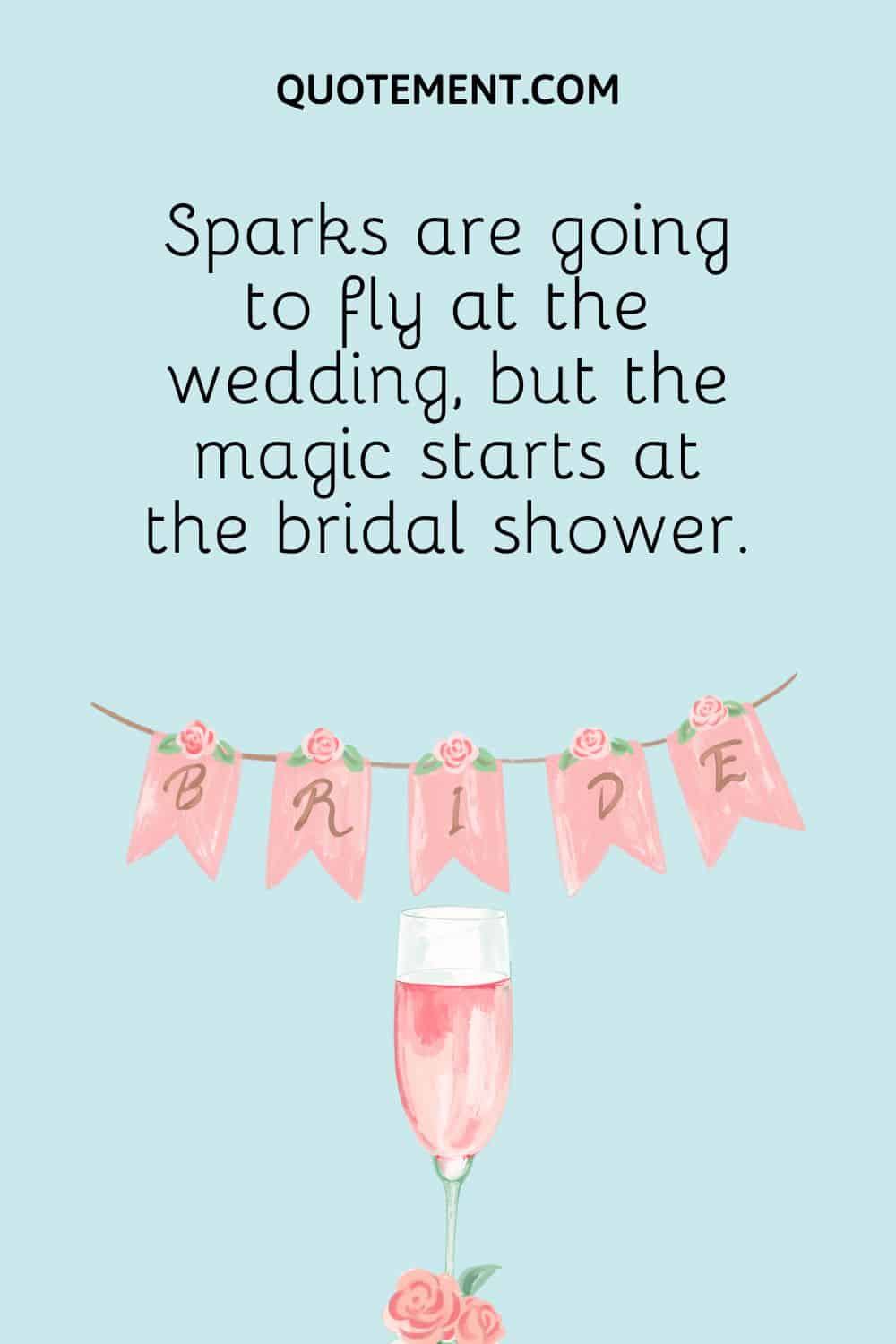 2. After 'Yes,' but before 'I do,' happy bridal shower day to you!
3. What an amazing bachelorette weekend with this beautiful bride-to-be.
4. Game over! But not before the bridal shower party!
5. One last party before the groom 'steels' her away!
6. Keep calm, it's bridal shower party time.
7. The countdown is on for your best day ever!
8. Pop the bubbly, she's getting a hubby!
9. Celebrating a lifetime of love and happiness.
10. First comes love, and next comes marriage.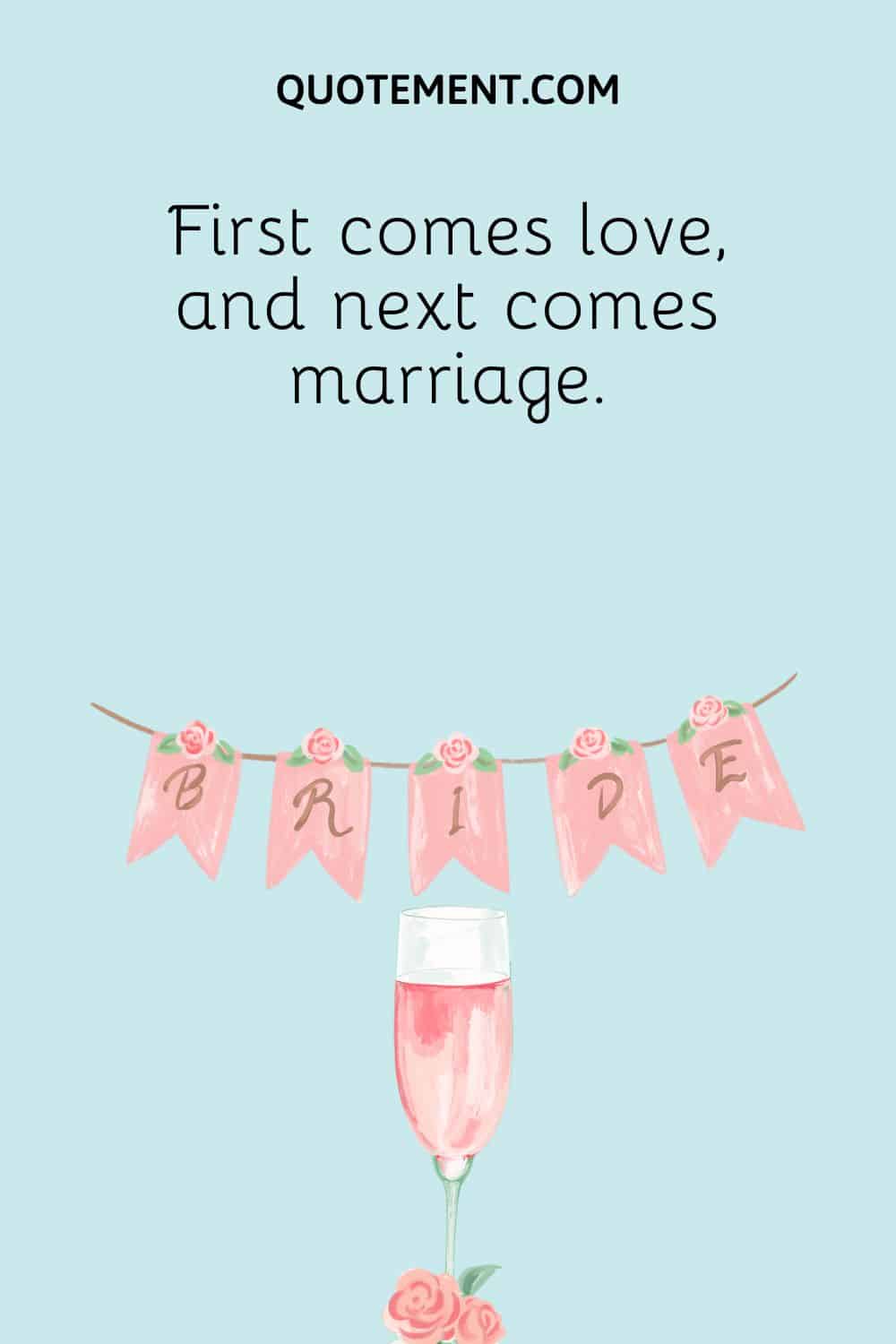 11. Full of LOVE.
12. So, where's the champagne?
13. Pass the bubbly.
14. The best is yet to come. X days until the wedding!
15. Happy shower. Happy couple. Happy wishes.
16. Bride vibes on repeat.
17. Let's look at the bride side.
18. To love, laughter, and happily ever after.
19. There's something about a bridal shower that just has a ring to it.
20. A sweet ending to a new beginning.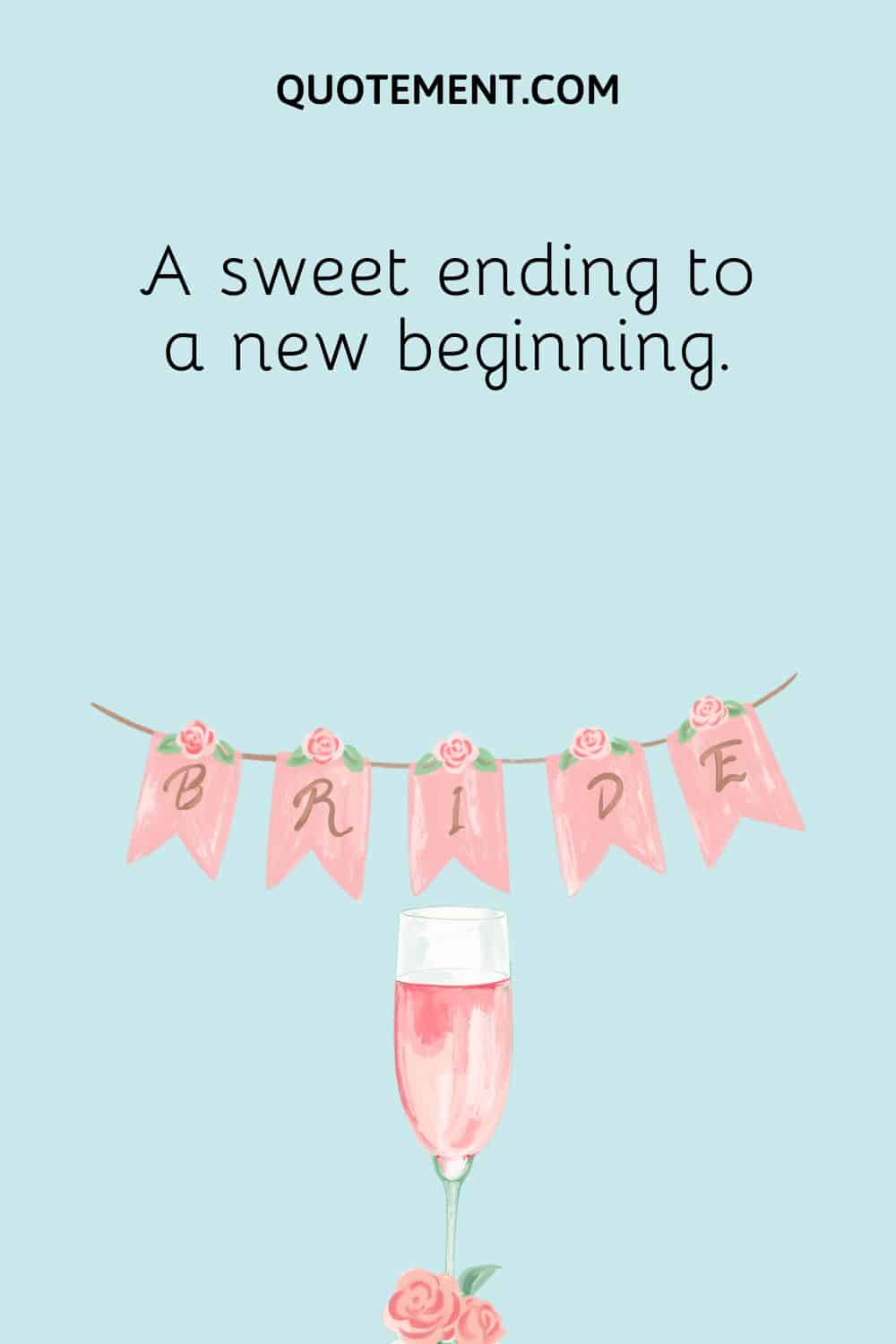 See also: A Collection of the 130 Greatest Pre-Wedding Captions
Happy Bridal Shower Instagram Captions
1. The stunner of the night, THE LOVELY BRIDE!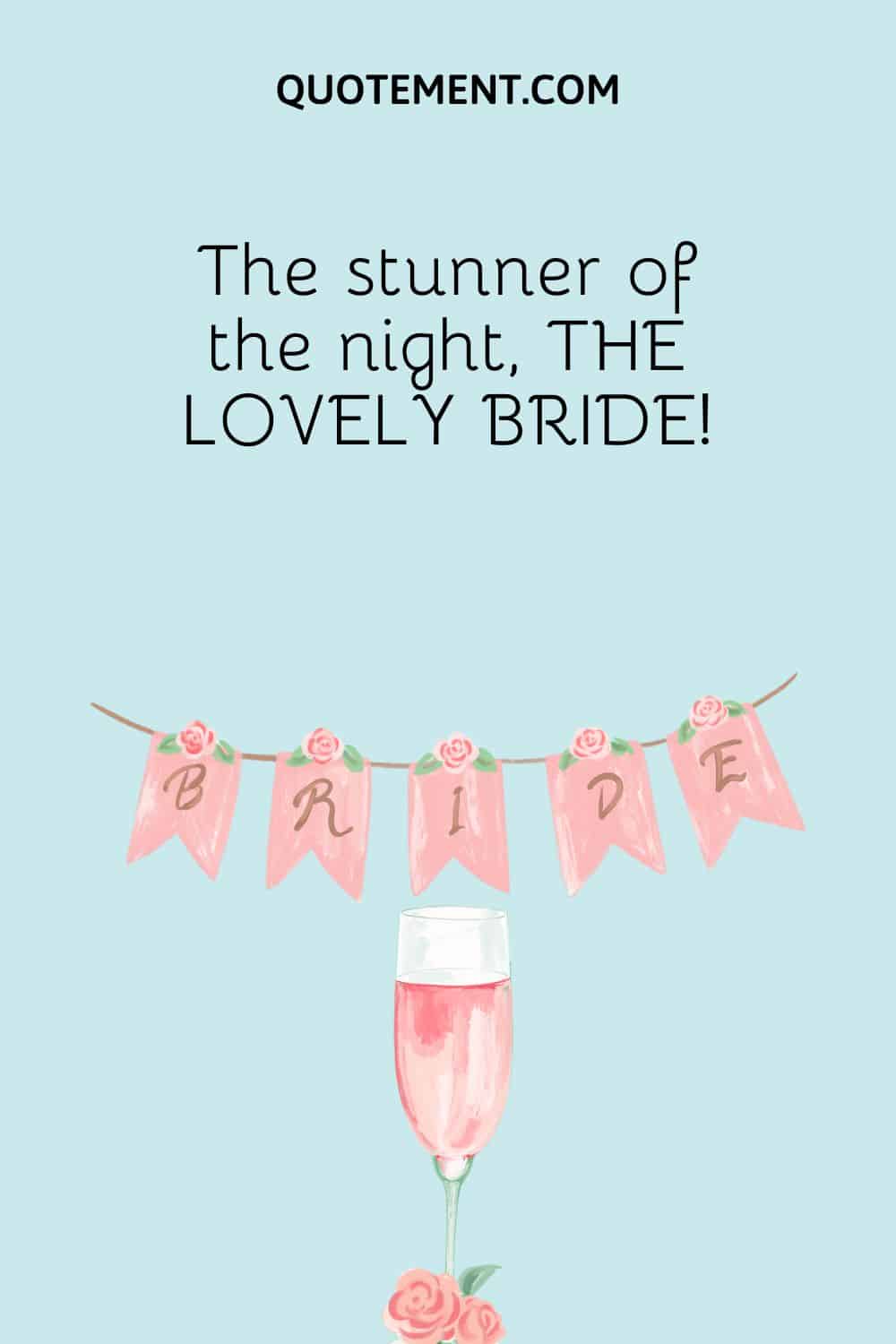 2. A gorgeous bridal shower for the gorgeous bride
3. I love this girl so much and cannot wait for their wedding day next month.
4. Such a picture-perfect bride. Such a lovely being inside and out, who deserves the love she is getting and more.
5. From Miss to Mrs. 42 Days until they say I Do!
6. Welcome to the family, my sister-to-be.
7. Bride-to-be goals!
8. The best is literally yet to come. 31 days until this gorgeous bride-to-be gets married!
9. (Groom-to-be's name) is one lucky guy. Congratulations and best wishes to you both.
10. Judging by how awesome this party is, I am sure it will be the best wedding ever!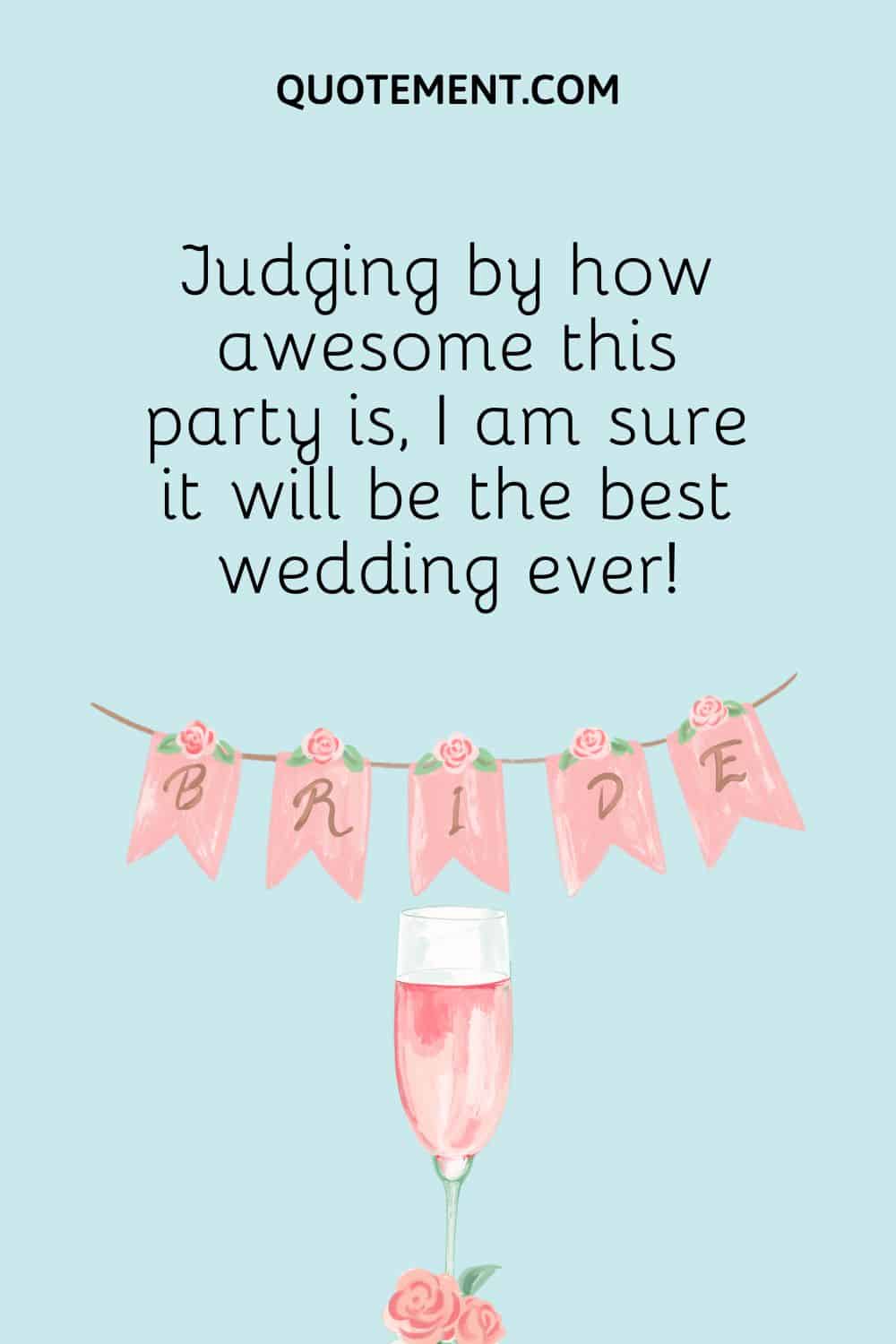 11. You are so lucky to find someone as awesome as (future husband's name). A wonderful person like you deserves nothing less.
12. Love makes the world a happier place to live. So happy that the two of you found each other.
13. Congratulations on finding your happily ever after!
14. A bridal shower that is fit for a queen!
15. Cheers to the beautiful bride!
16. Bridal shower success!
17. A shower of wishes on this beautiful bridal shower of yours.
18. Have some tea with our bride-to-be.
19. Perfect afternoon with amazing family and friends! Celebrating a beautiful bride.
20. And the adventure begins.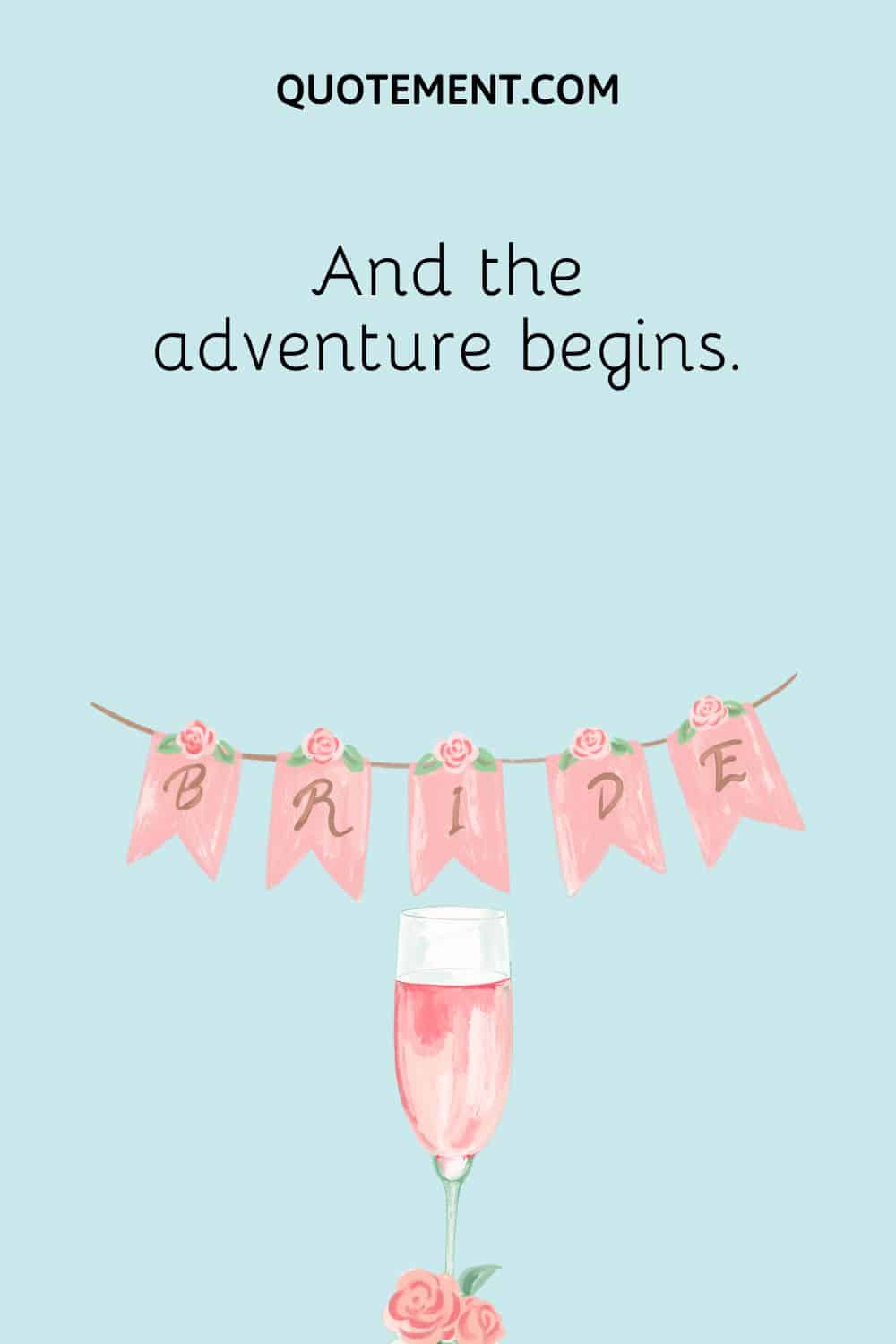 21. Celebrating the future Mrs. (Bride's new last name)
22. Best. Day. Ever… Until the wedding!
23. It's the final countdown.
24. Kiss the Miss Goodbye.
25. This bride is a whole vibe.
26. April showers bring May flowers, which brings allergies and wedding season!
27. Bride to be GOALZZZZ!
28. Perfect afternoon with dear friends! Celebrating a beautiful bride and loving family!
29. Love all of these girls! So much fun!
30. A bride should be two things: classy and fabulous.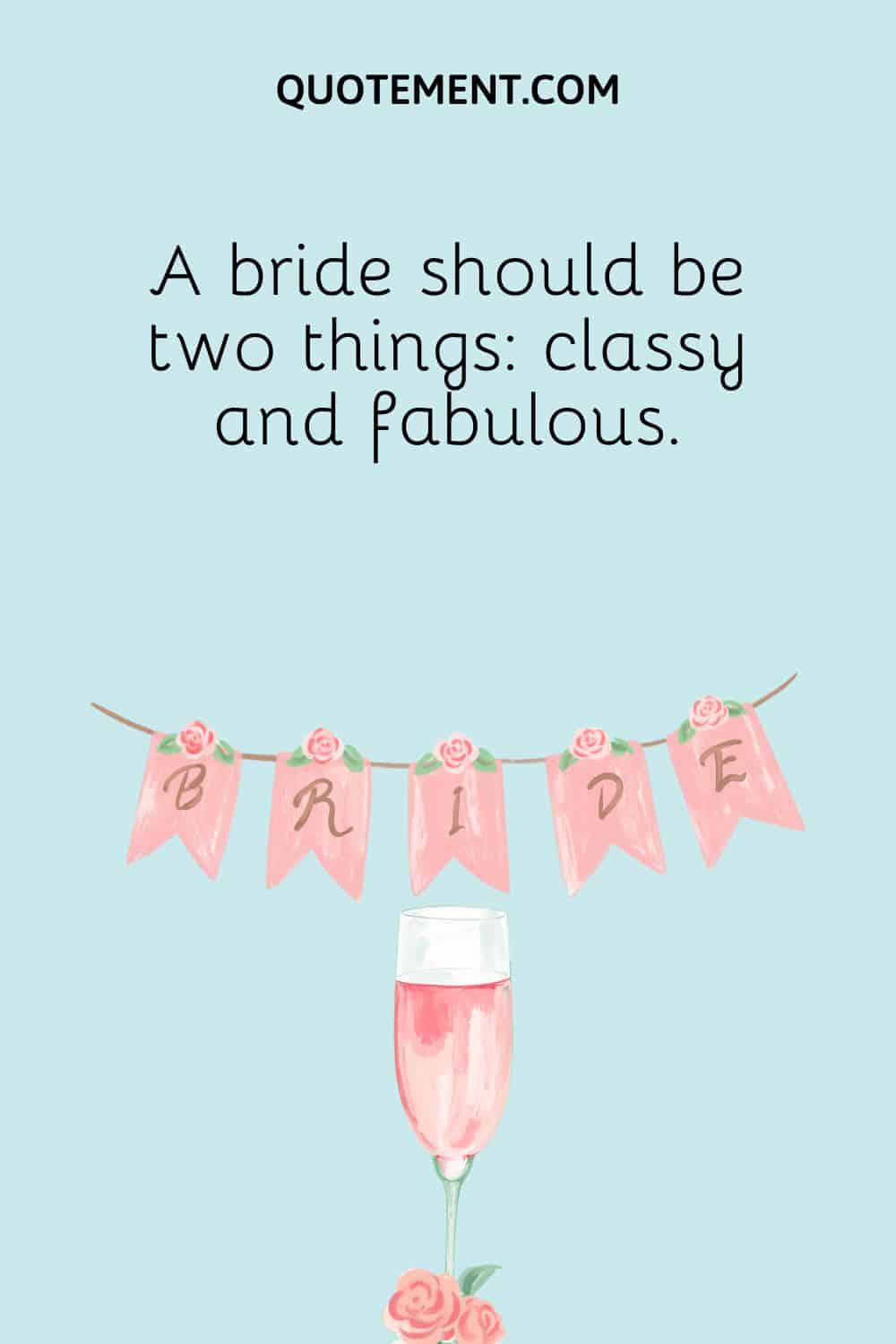 See also: 80 Beautiful Bride Quotes For Every Bride's Special Day
Cute Bridal Shower Captions For Instagram
1. I didn't know that so much love could fit in one room.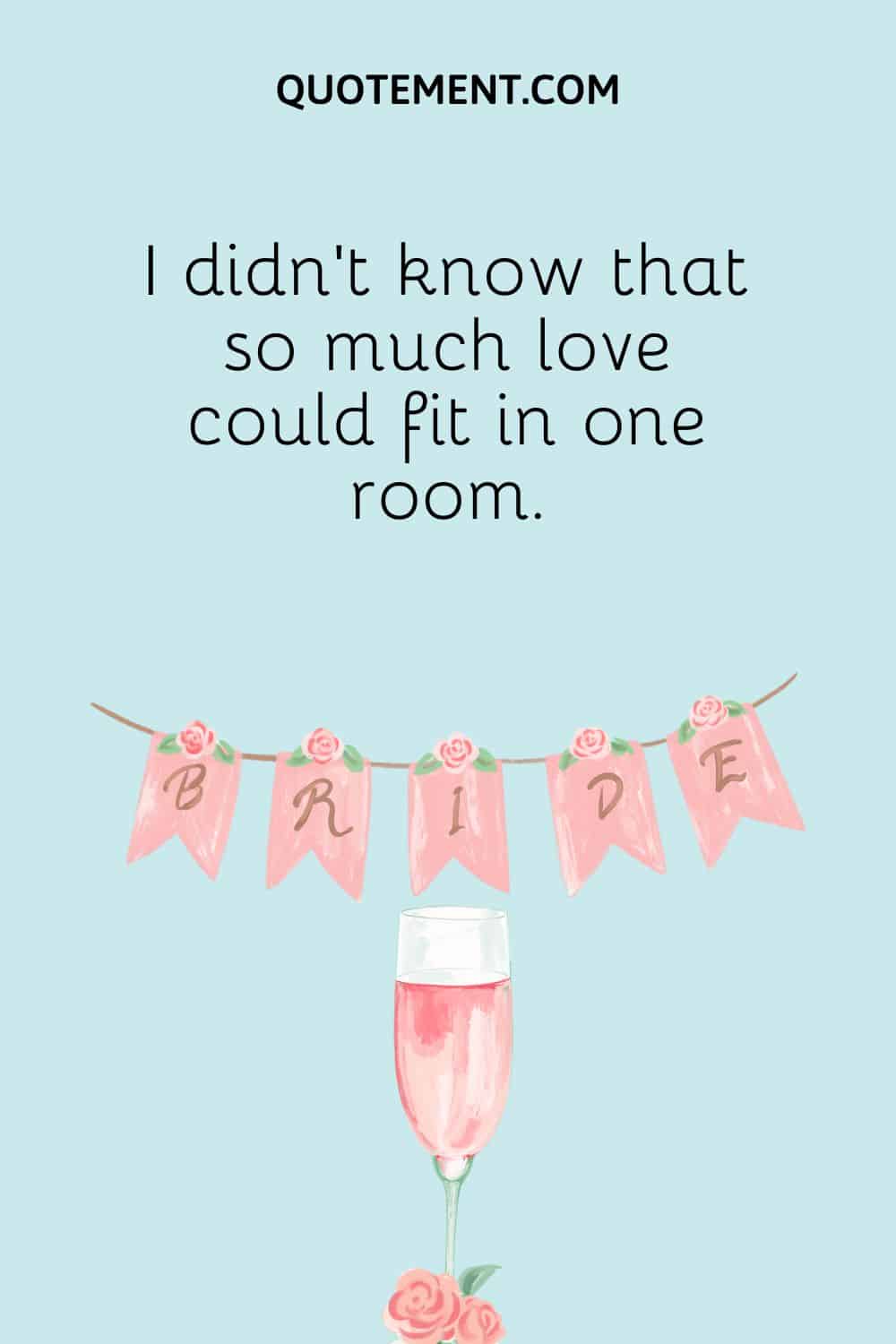 Celebrating the soon-to-be Mrs.!
2. Brunch and a beautiful bride! Congratulations!
3. The best bridal shower party ever! I had a lovely time yesterday, thank you so much for including me.
4. What a beautiful shower for the bride-to-be!
5. Saying I do. SOON!
6. This lovely bride-to-be has so much love to give and deserves the best. Congratulations on your wedding day!
7. The countdown is officially on!
8. Showering this beautiful bride-to-be.
9. What a perfect day to celebrate! The weather was almost as beautiful as the bride-to-be.
10. Teas of happiness, cheers of joy!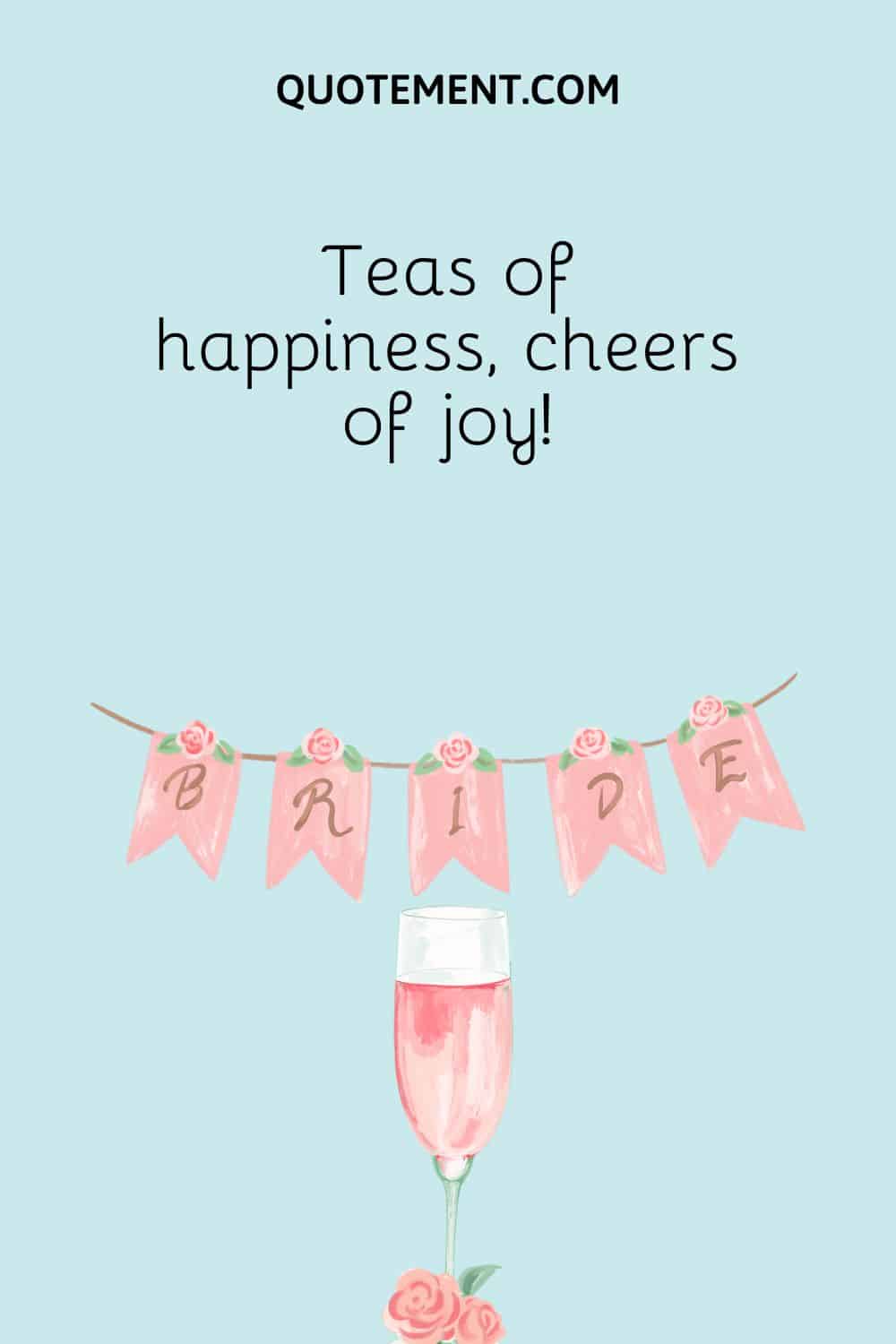 11. Sweetest wishes to the soon-to-be Mrs.
12. I love that this family always finds a reason to throw a great party!
13. Countdown starts right…NOW!
14. Old, new, borrowed, and blue: 40 days till they say "I Do"
15. Feel the rhythm! Feel the rhyme! Get on up, it's bridal shower time!
16. Today's weather forecast calls for bridal showers.
17. A picture-perfect weekend with a picture-perfect bride!
18. She got someone hot to tie the knot.
19. She's changing her name, I'm popping the Champagne!
20. Showering you with a lifetime of love and happiness.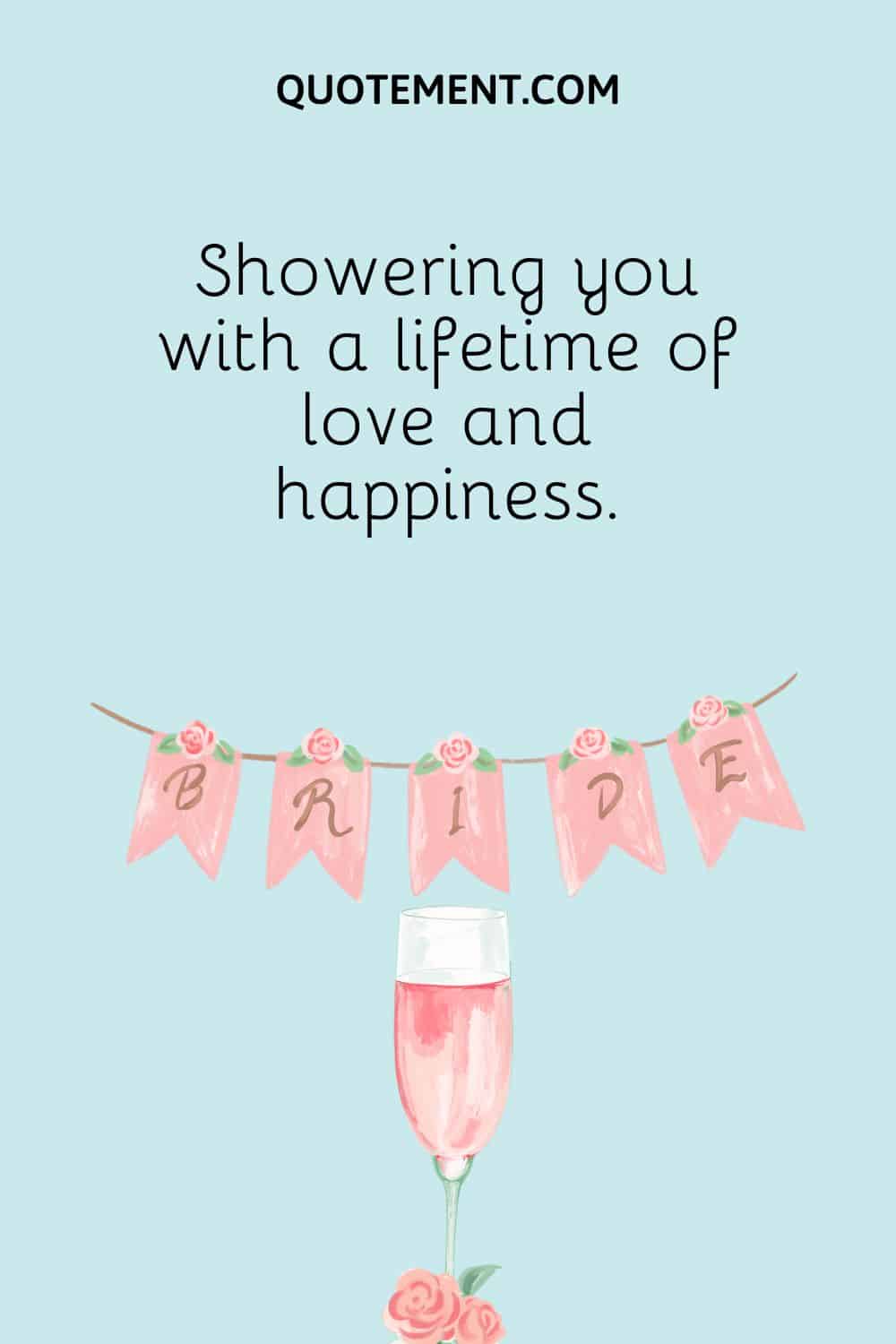 21. It's bridal shower time, which means someone needs to hand me the Kleenex!
22. The soon-to-be Mr. and Mrs. Such a lovely couple! I wish you all the love and happiness.
23. I didn't know so much love could fit into one room.
24. Life of the party and soon-to-be a Mrs.
Funny Bridal Shower Instagram Captions
1. I'm just here for the snacks.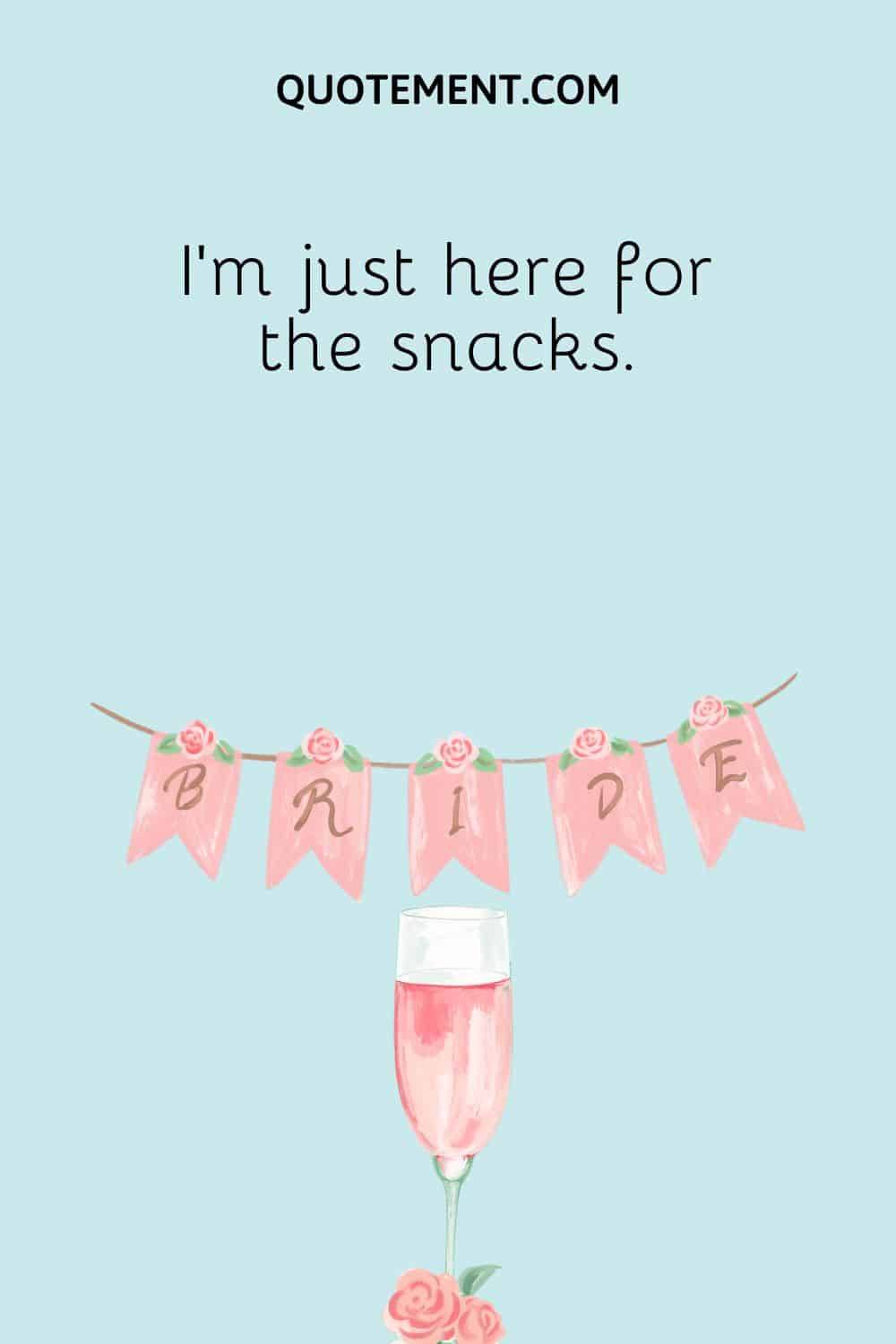 2. Shoutout to Pinterest for making this shower possible.
3. Last sail before the veil!
4. Grab the umbrella, it's time for the bridal shower.
5. You better be tossing that bouquet to me on the wedding day!
6. There has never been a happier occasion for me to buy a blender.
7. Almost the big day! It's not too late to back out! Just kidding — you and I both know that you found your perfect match. Congratulations!
8. Alright! I will be the second most beautiful girl in the room on your wedding day, but you owe me big time.
9. Frank Sinatra was right: the best is yet to come.
10. It's bridal shower time, hand me the Kleenex.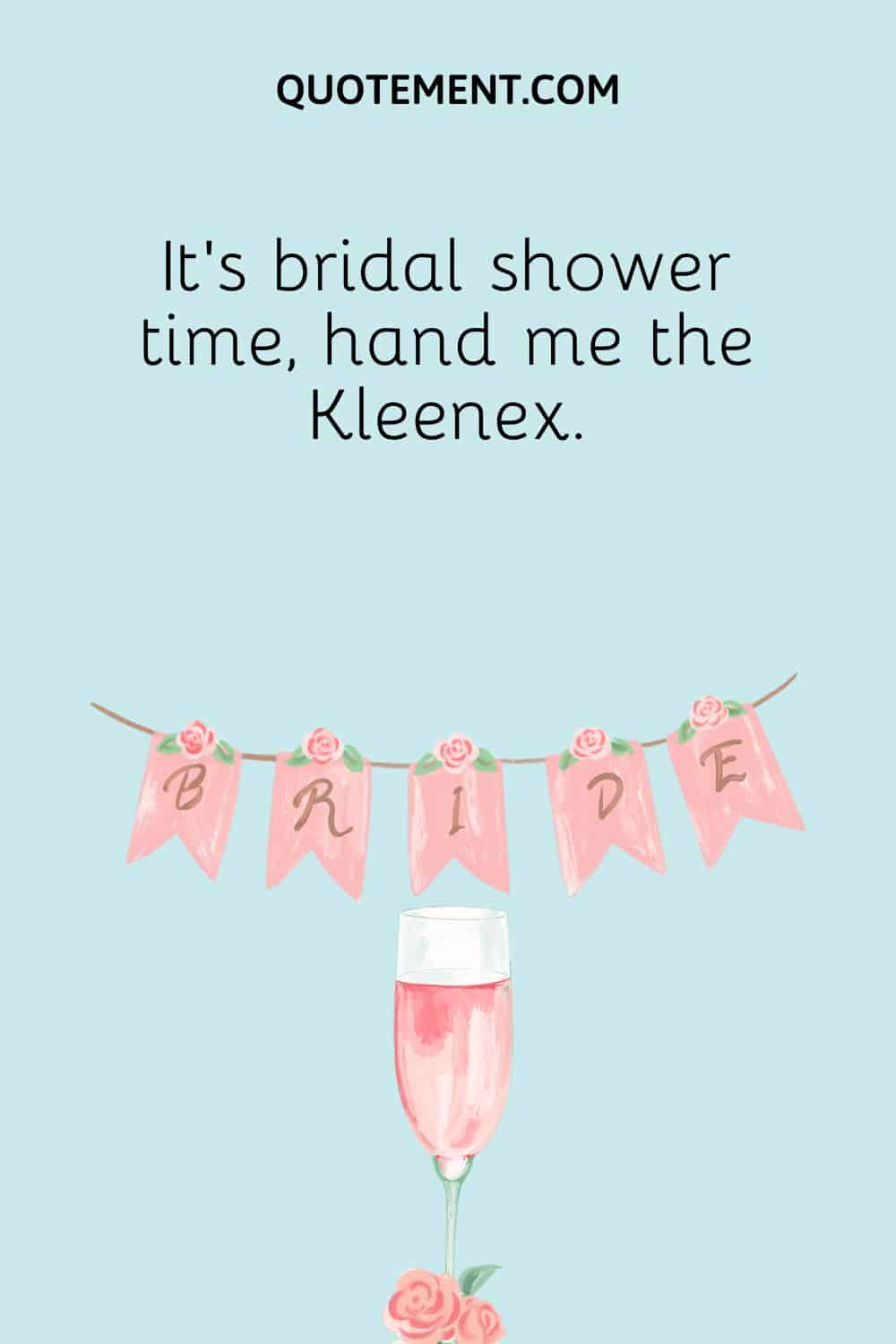 11. Smiles, love, and mimosas for this beautiful bride-to-be.
12. One of the best things about a bridal shower is the amazing food and drinks. Oh, and the company's good too.
13. The bridal shower: Where we watch the bride-to-be act surprised while opening pre-selected wedding registry gifts.
14. One down. Who's next?
15. It's only the bridal shower, and I'm already ugly crying.
16. Soon-to-be-wed sounds eerily similar to soon-to-be-dead!
17. She found her lobster.
18. A man's wife has more power over him than the state has.
19. Nothing beats the beauty of a bridal shower. Well, except the bride.
20. I have never been so happy to buy someone a set of sheets. Happy shower day to our bride!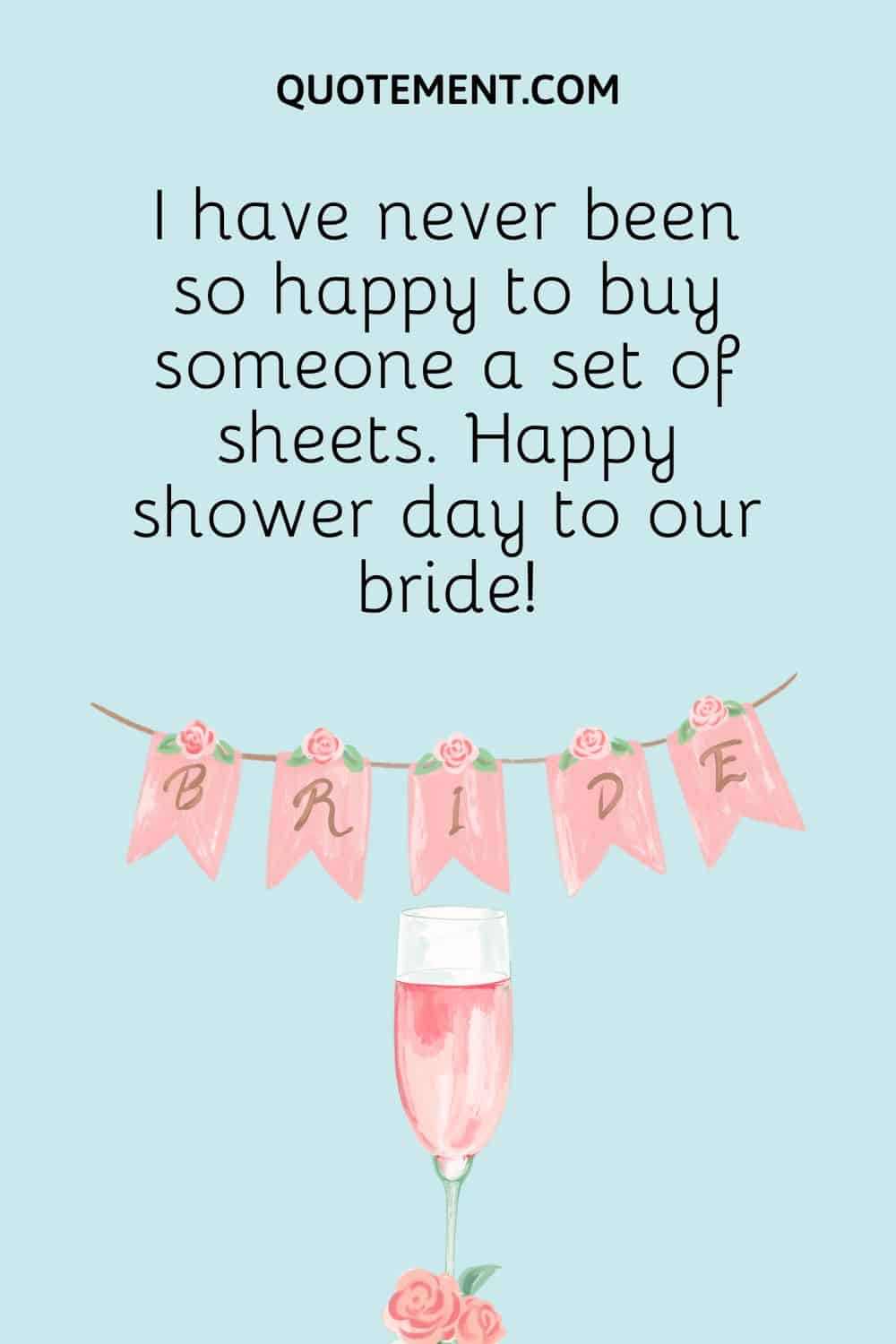 21. It's bridal shower time, which means someone needs to hand me the tissues.
Bridal Shower Captions From The Bride-To-Be
1. Couldn't get married without these people by my side.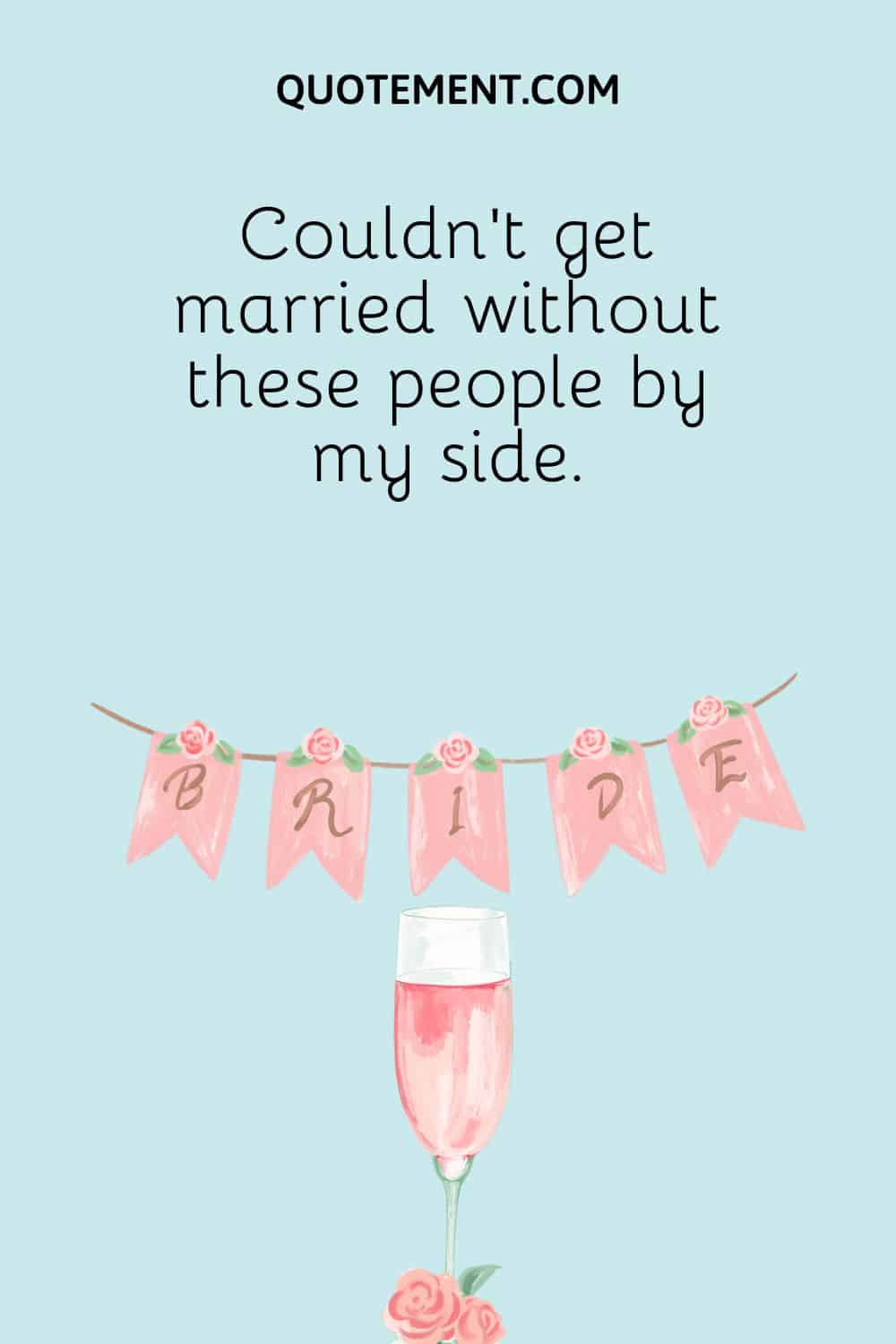 2. Thank you to everyone who came out and joined us today!
3. WOW! Feeling incredibly blessed to have the best friends and family. Thank you for throwing me such a beautiful bridal shower today.
4. Amazing weekend with amazing people. See y'all in a few weeks!
5. I'm super stoked about how everything came together.
6. Had such a great time with a fabulous group of women!
7. Hashtag blessed.
8. Thank you to everyone who made me feel like the luckiest bride-to-be!
9. Ain't over until I say I do.
10. My single life is ending, but the fun has just begun!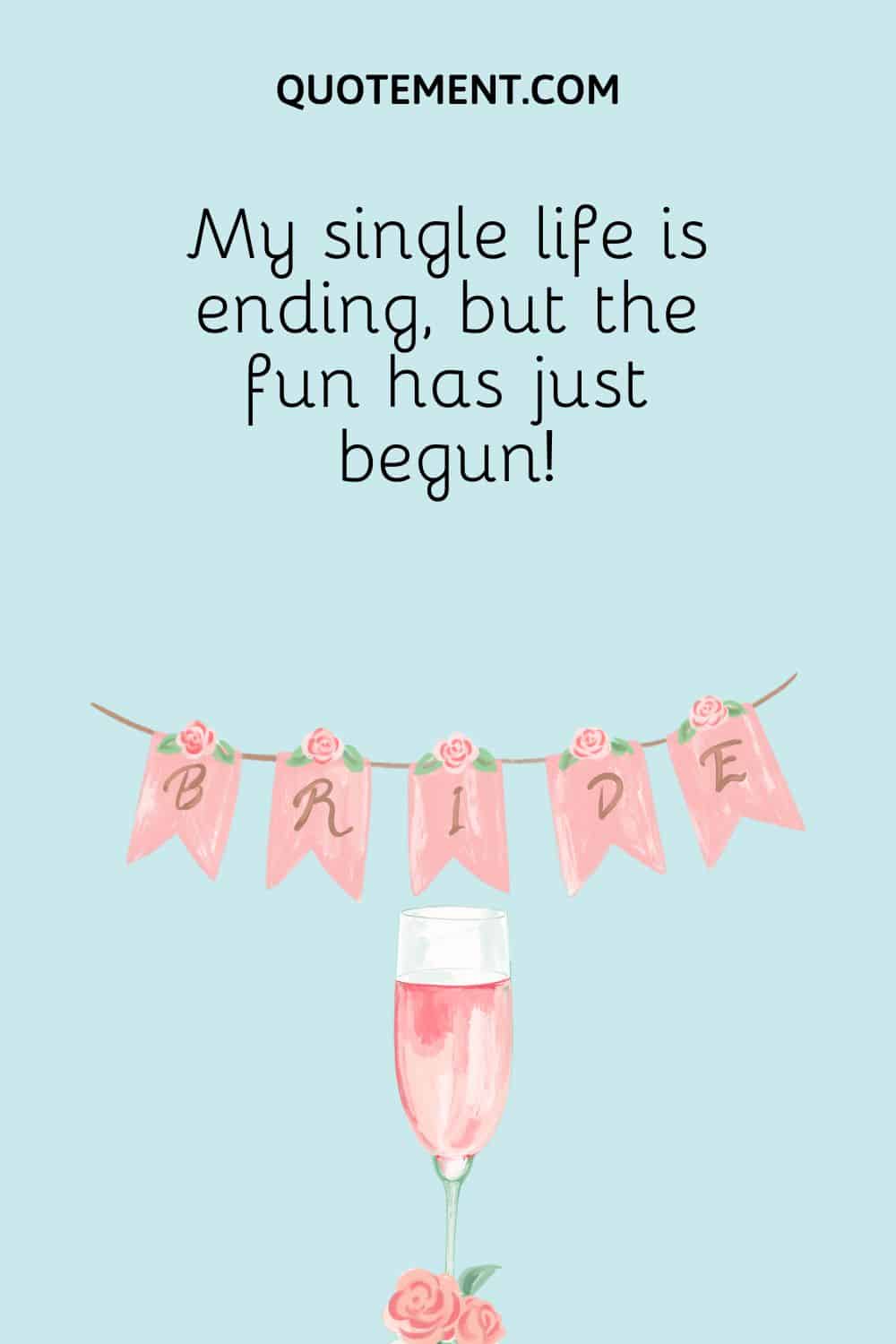 11. Just living my best life with my besties.
12. Pop the champagne, I'm changing my last name.
13. I'm so lucky to be surrounded by so much love.
14. I'm the wife of the party.
15. Anything and everything I felt shows in those pics, best time ever. Thank you again and again, ladies.
16. Just the girls and me, what a fun time it will be.
17. Thank you all so much for your love and support. What a gorgeous shower!
18. I couldn't ask for a better #bridetribe. Thanks for the amazing shower, girls!
19. Thank you to all of my family and friends for this perfect bridal shower party. I am starting to wonder if it's legal to feel this happy.
20. I was showered with love today!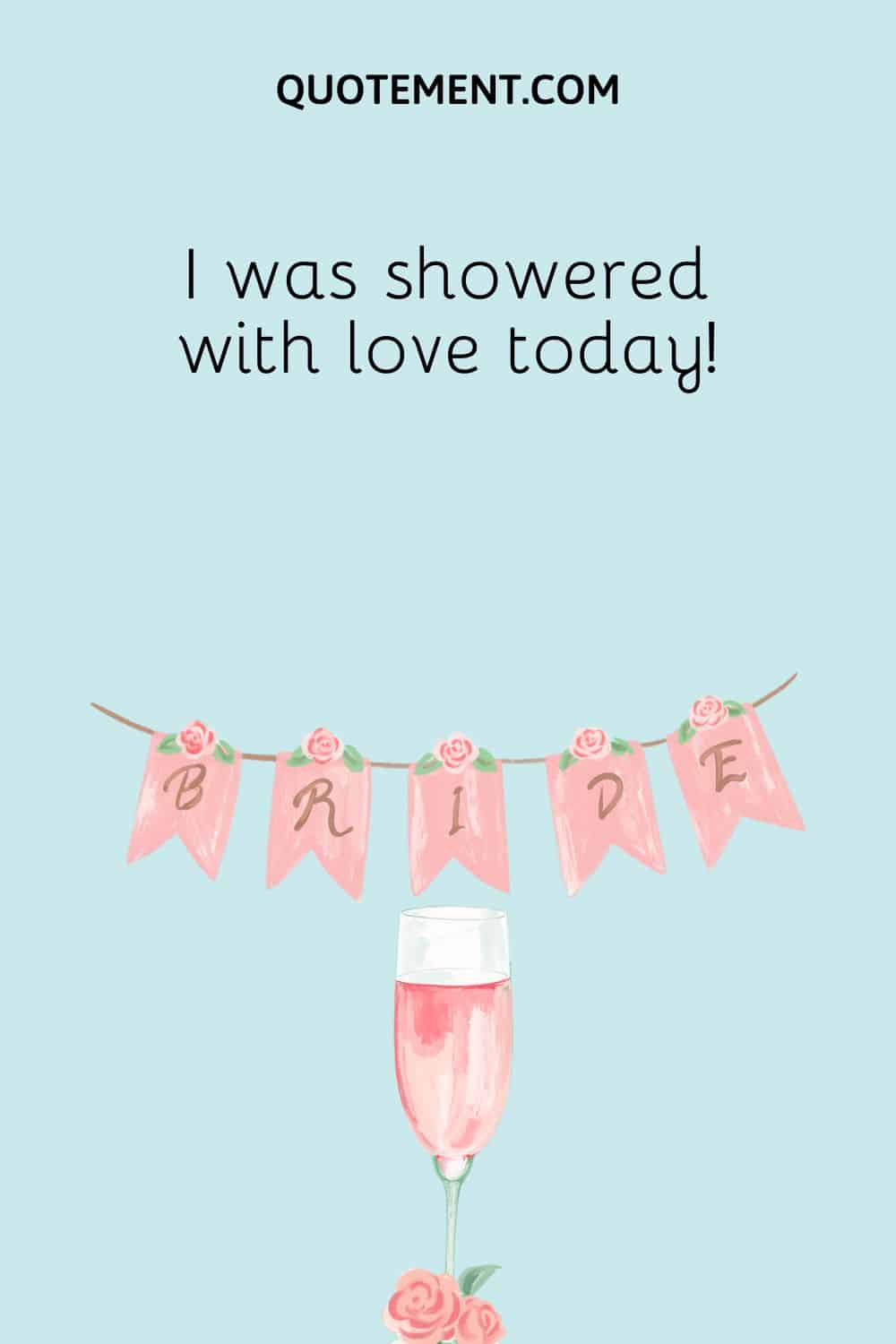 Bridal Shower Instagram Captions From Bridesmaids
1. Call us the "I Do" crew.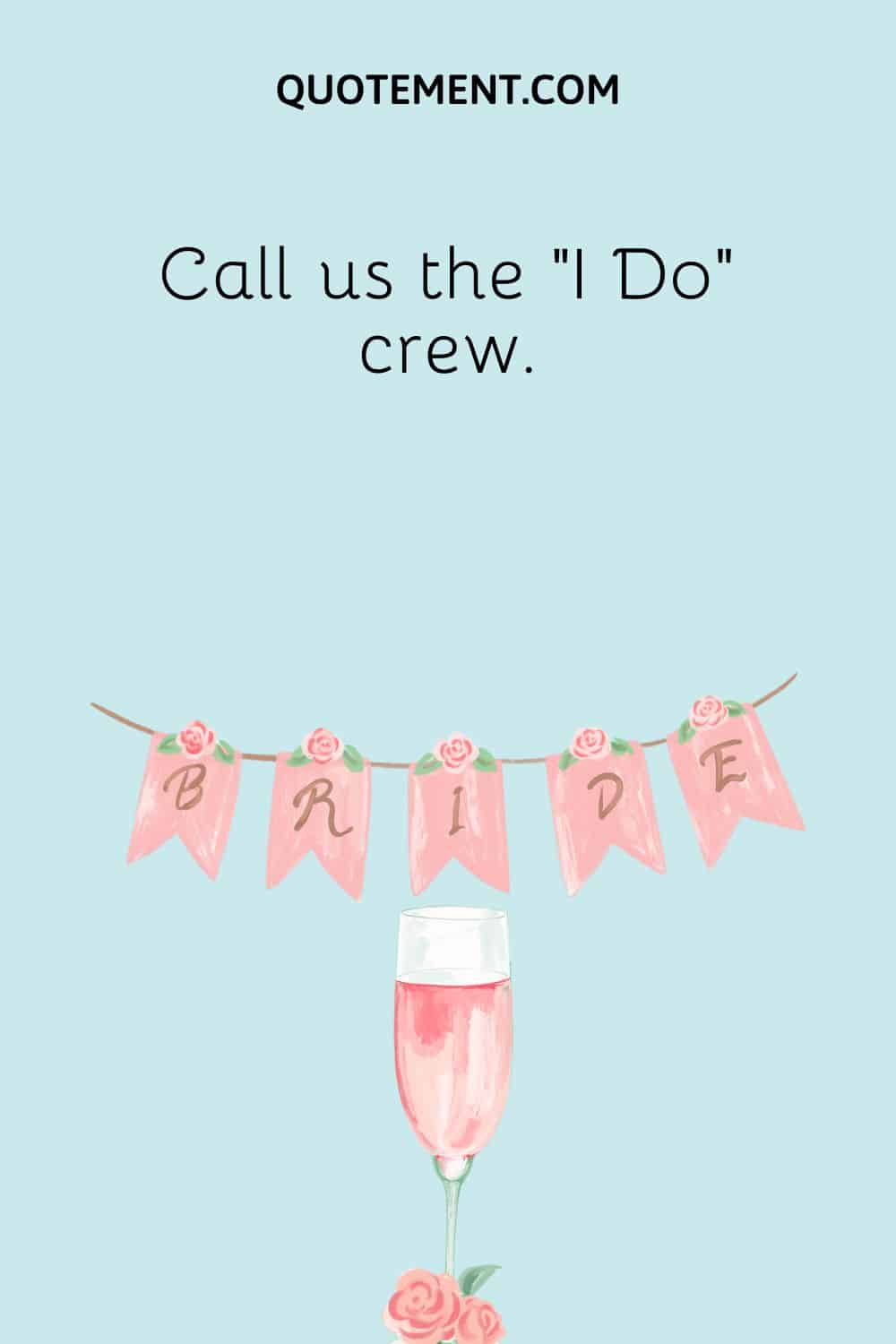 2. Always a bridesmaid, never the bride.
3. My best friend is one step closer to being a Mrs.
4. See you all on the wedding day, let's dress up again. I CAN'T WAIT!
5. Crowning the queen on her bridal shower day (One of the many Maid of honor duties I get the pleasure of doing).
6. Some call it chaos; we call it the bridal party.
7. The best 'I do' crew around.
8. Best bride squad ever.
9. Always a bridesmaid, never a sober one.
10. A happy bridesmaid makes a happy bride.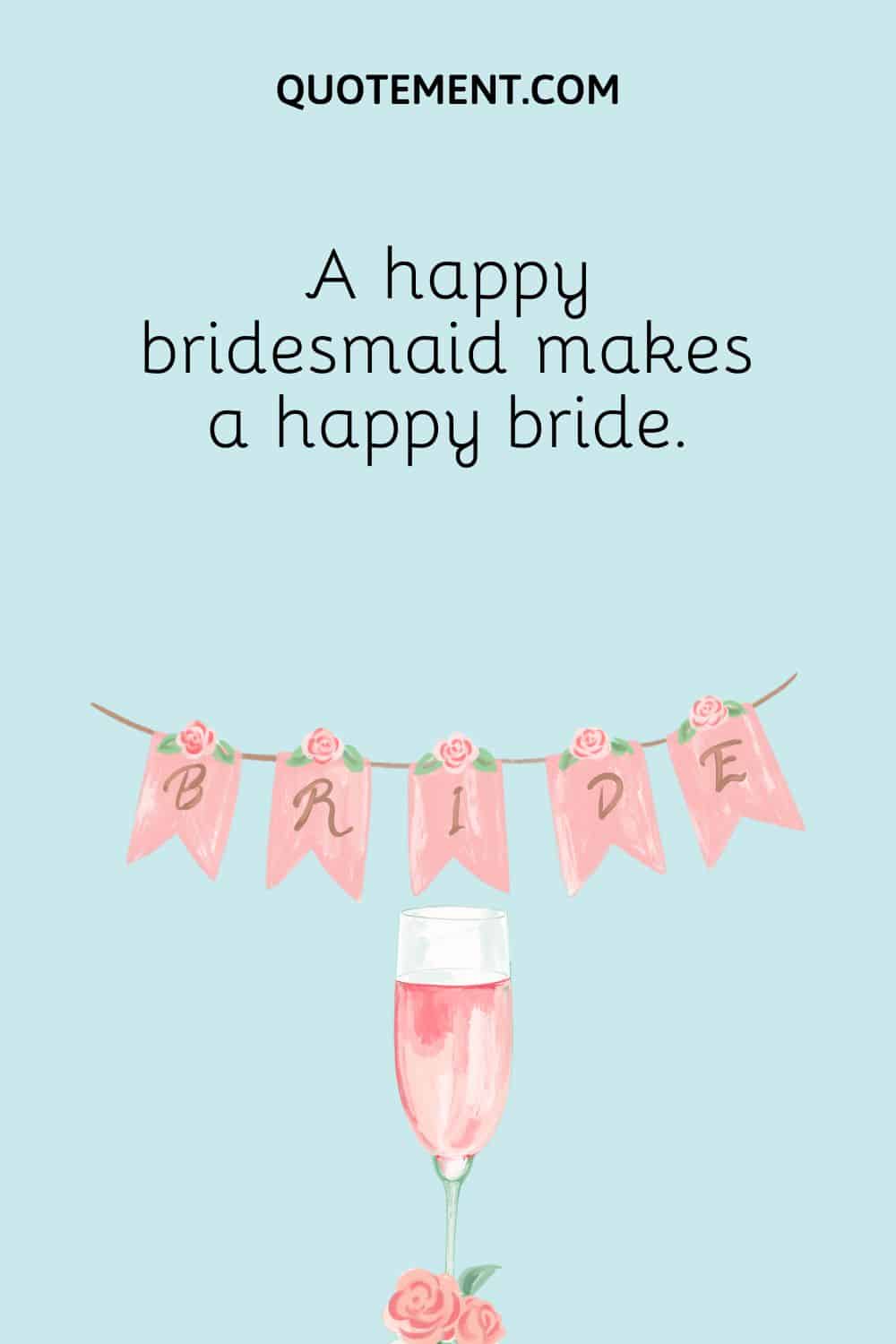 11. Bridesbabes.
12. Bridal brunch bunch.
13. The shower party doesn't start until we walk in.
14. Can't contain my excitement for my bestie!
15. Surprised our sweet bride tonight with a wedding shower! Wishing you the best life!
16. Played photographer for the day and showered the bride with love.
17. I'm very honored to be part of this wonderful celebration with the other bridesmaids.
18. Feeling so blessed by my friendship with this one! What an amazing weekend celebrating the most beautiful bride-to-be.
19. 23 years of friendship, and I wouldn't ever want to lose this one.
20. Perfect day showering my favorite gal.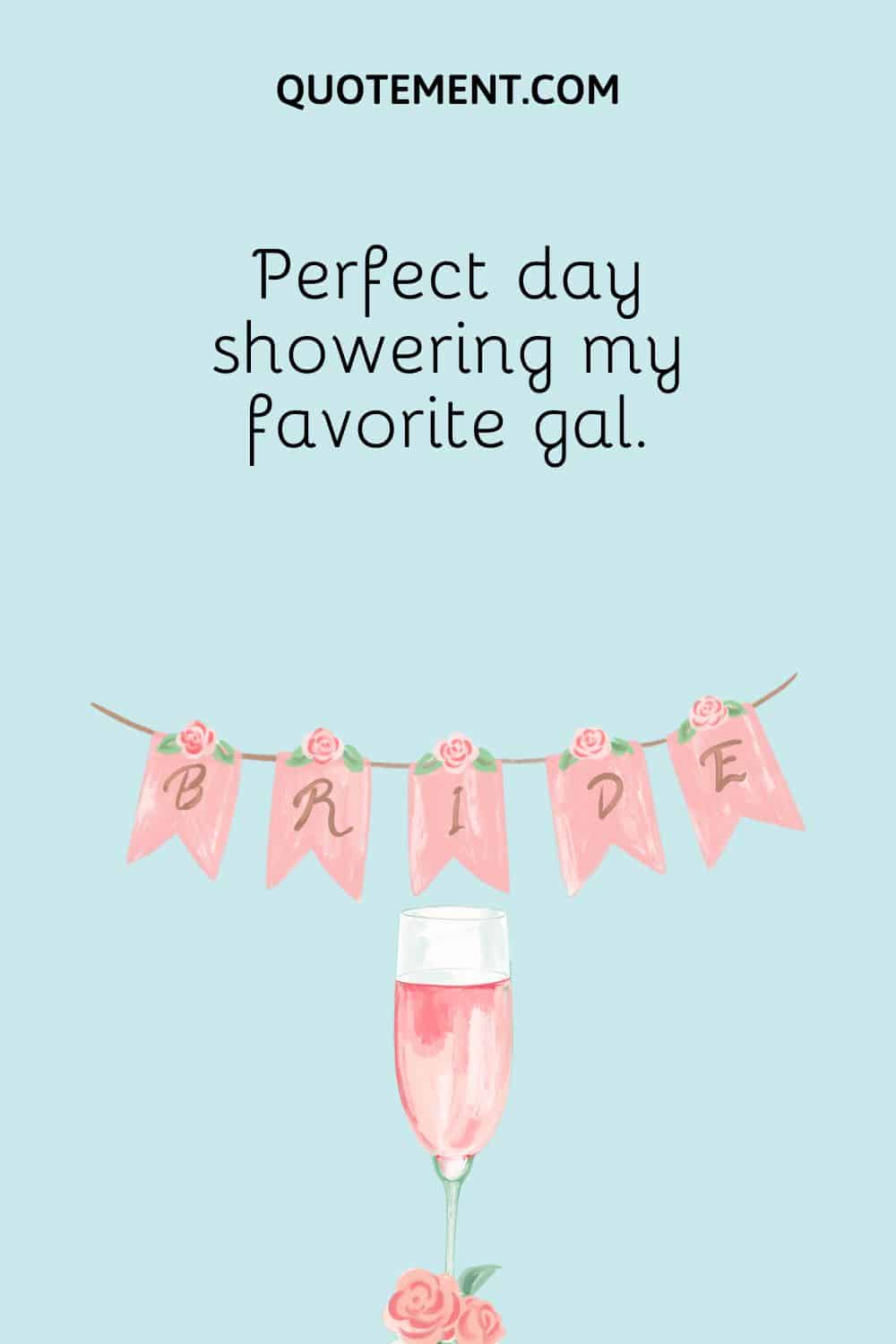 21. Thank you to everyone who came out and joined us on her special day.
22. Something borrowed, something blue, we party harder than you.
23. Bridesmaids for a day, best friends for life.
24. Bride tribe is ready to have the time of their lives… Let the party begin!
25. Look like a beauty, party like a beast.
26. What happens with your girlfriends stays with your girlfriends.
27. Before the wedding bells ring, let's go out for one last fling.
28. Watch out: Here comes the 'I do' crew.
29. Friends are like bras: close to your heart and there to support you.
30. She's not a regular bride, she's a cool bride.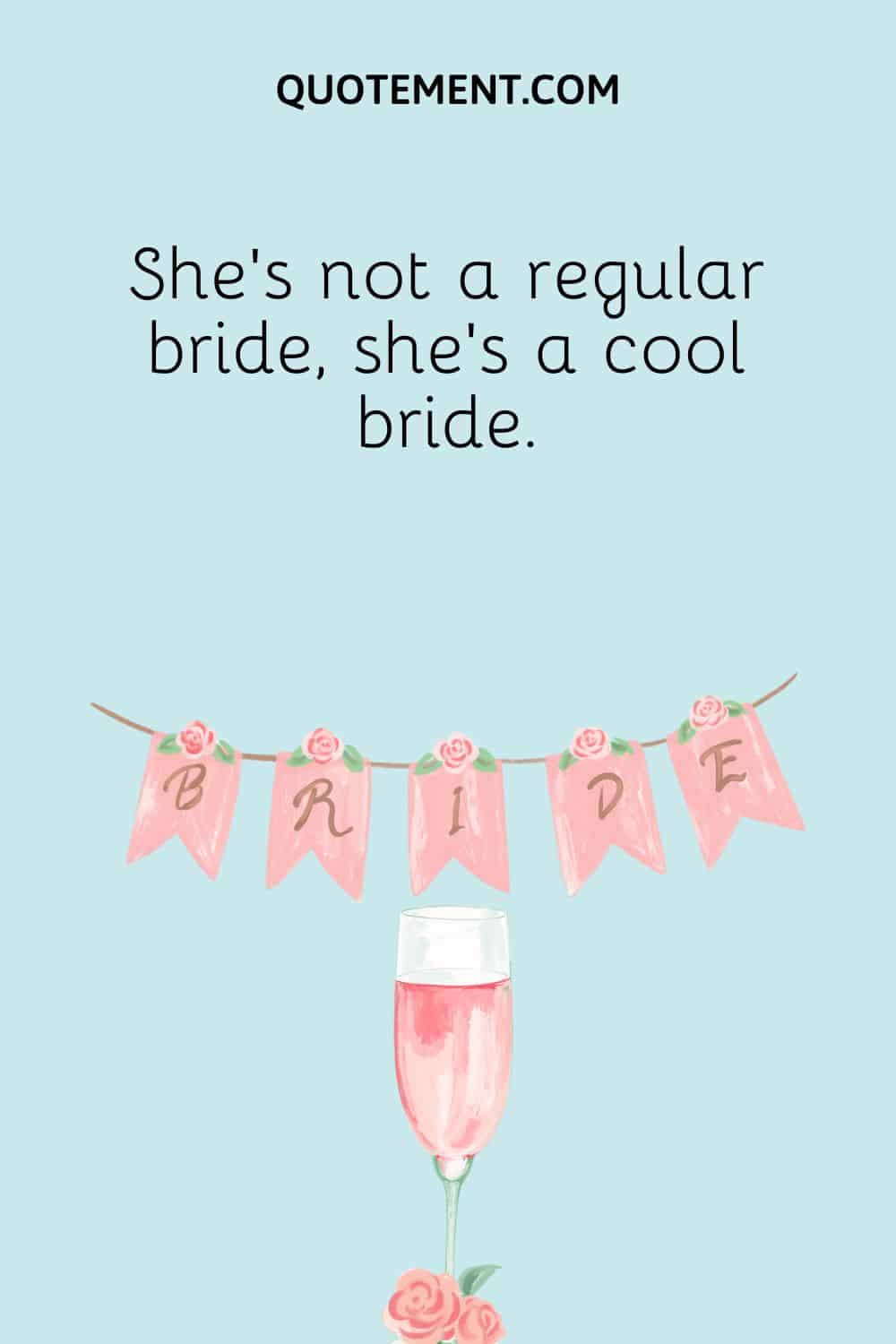 31. Showering our beautiful bride-to-be.
32. My bride is cuter than yours!
33. The "I do" crew! She's gonna make one helluva bride!
34. Ladies in waiting for the special day.
35. If this is a preview for the wedding day, we aren't ready.
36. Before she is his bride, let us spend one last time by her side!
37. Team bride.
38. Showering you with nothing but the best.
39. Bachelorette support crew.
40. The "I Do" crew representing the bridal shower.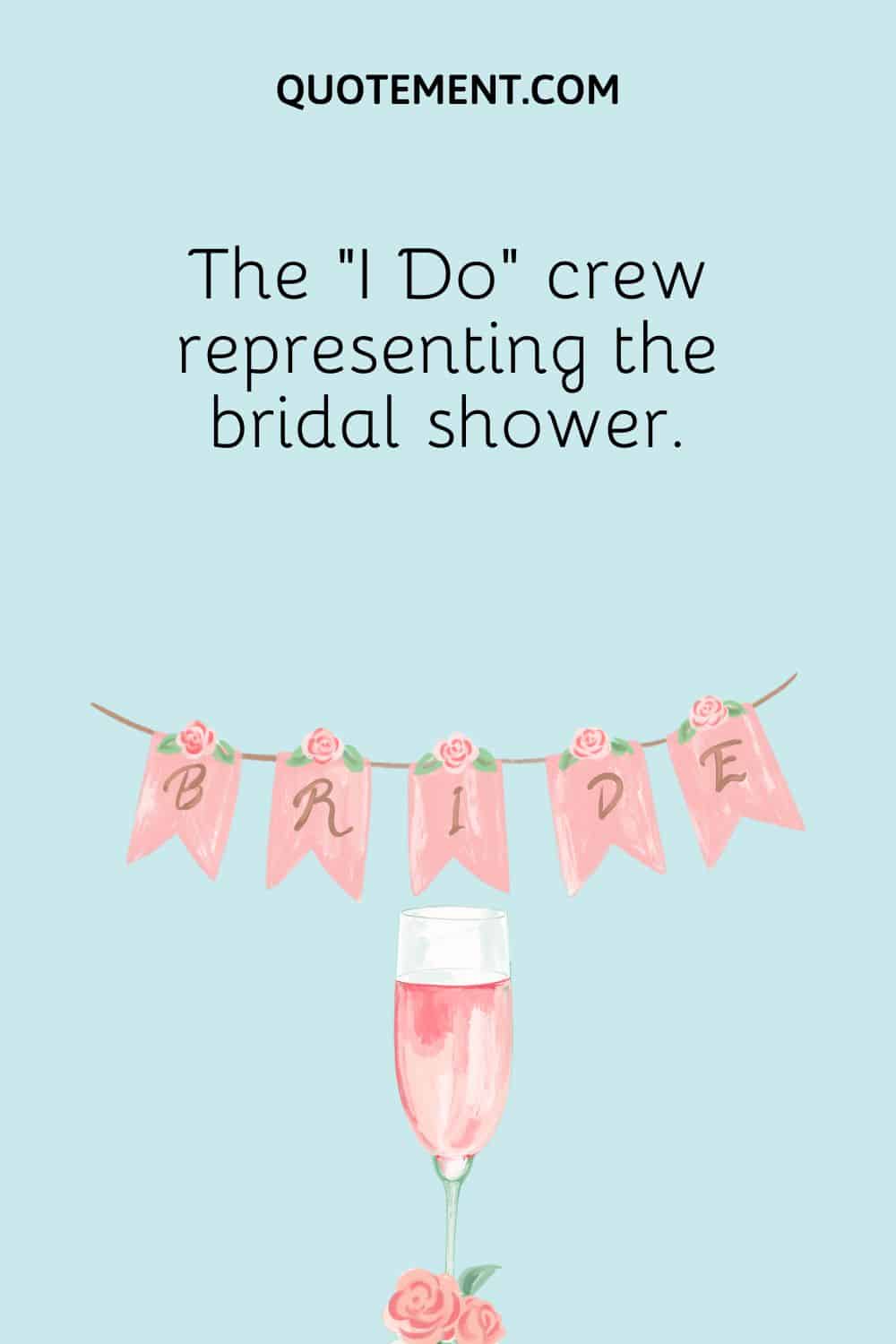 41. Fact: no one will ever be as entertained by us than us!
42. I still need my drunken nights at Rock 'n' Sushi, ok? (From the movie Bridesmaids)
Bridal Shower Captions From Family Members And Guests
1. Let's welcome (bride's name) to this crazy family. Buckle up!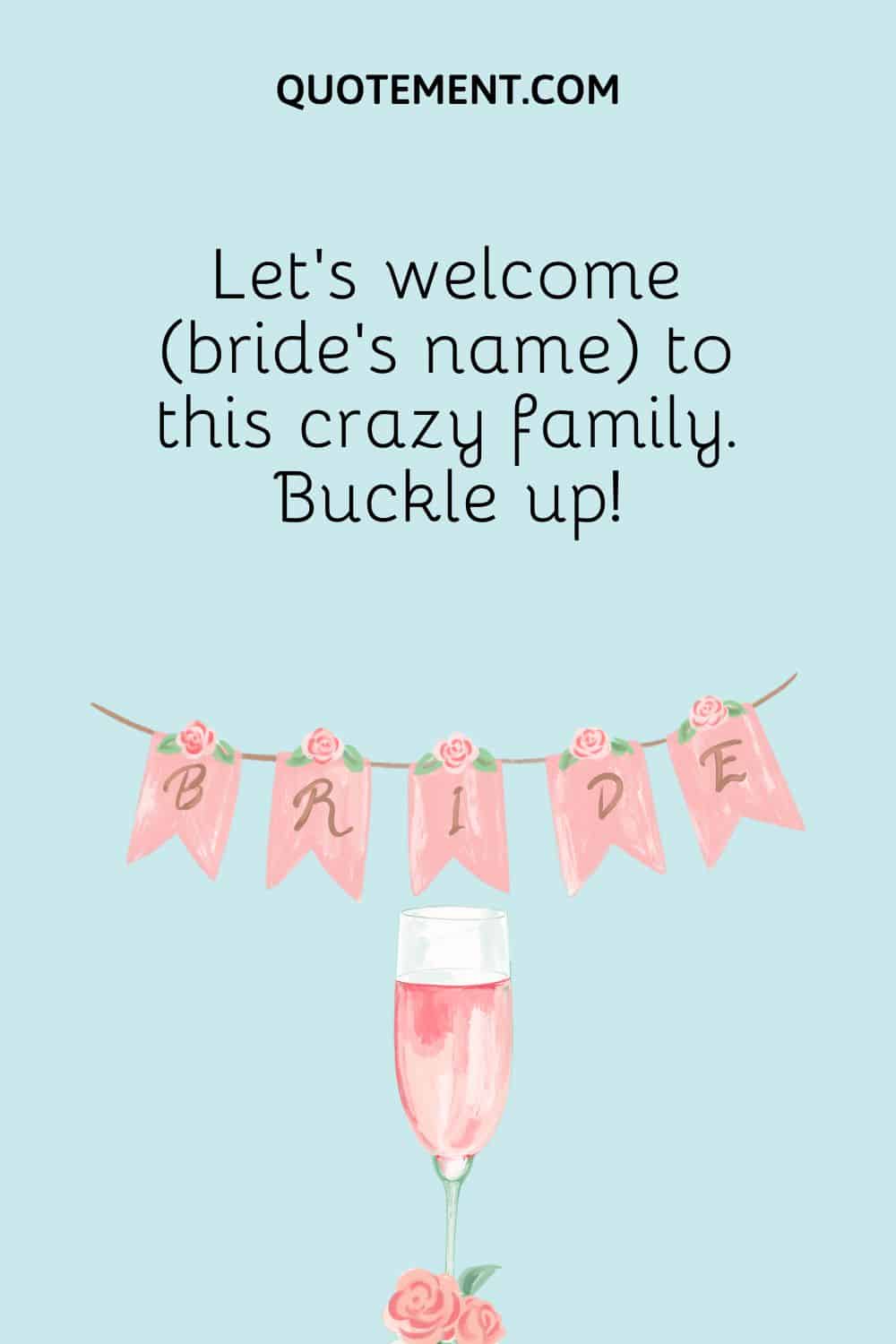 2. Happy bridal shower day to my amazing sister!
3. Congrats to my stepson and the beautiful future bride.
4. My sister loves to look on the bride side of life.
5. Showered my beautiful sis with love & sangria!
6. Choose to love each other, even in the moments when you are struggling to like each other.
7. Congrats to my little sister on her upcoming wedding.
8. Your shower is one party I wouldn't have missed for the world.
9. Thanks for having me. It was a lovely bridal shower.
10. Best wishes to you as you get ready to say 'I do!'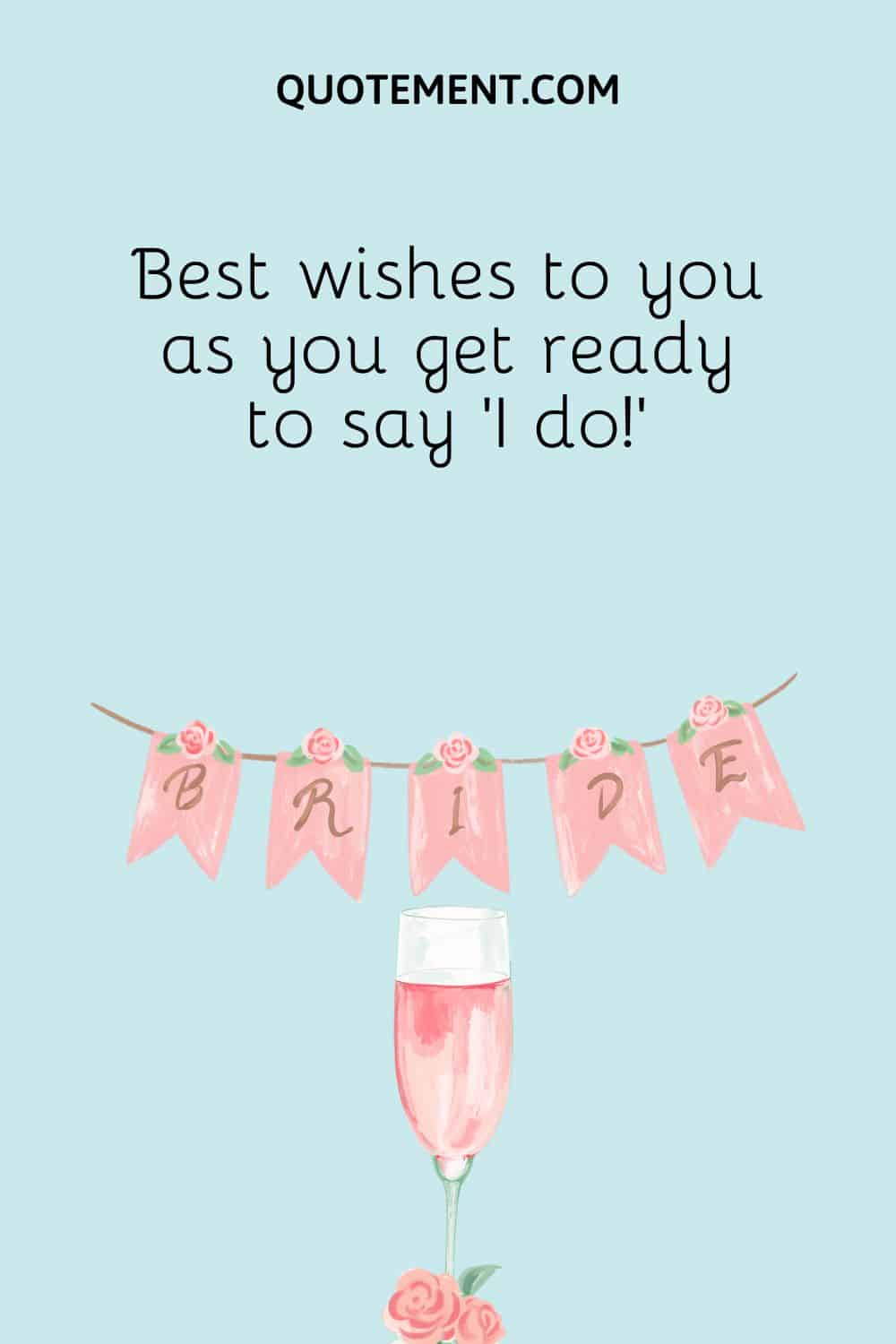 11. My niece had her first bridal shower this weekend! Her bridesmaids did a wonderful job hosting it!
12. A relationship is strongest with God at the center. Wishing you a strong, happy marriage!
13. Thank you for welcoming me into your circle with open arms! You're going to make the most beautiful bride!
14. I'm so happy I was able to celebrate the bride today. Such a beautiful person, both inside and out.
15. The perfect celebration for the couple that sees everything as a reason to fiesta.
16. Beautiful shower for the bride-to-be.
17. Had such fun showering the bride with love! While a lot's changed since high school, the best things have stayed the same.
18. I hope your life will be filled with happiness.
19. I couldn't be happier for this woman and the exciting journey that lies ahead.
20. May your love story be an inspiration. Congratulations!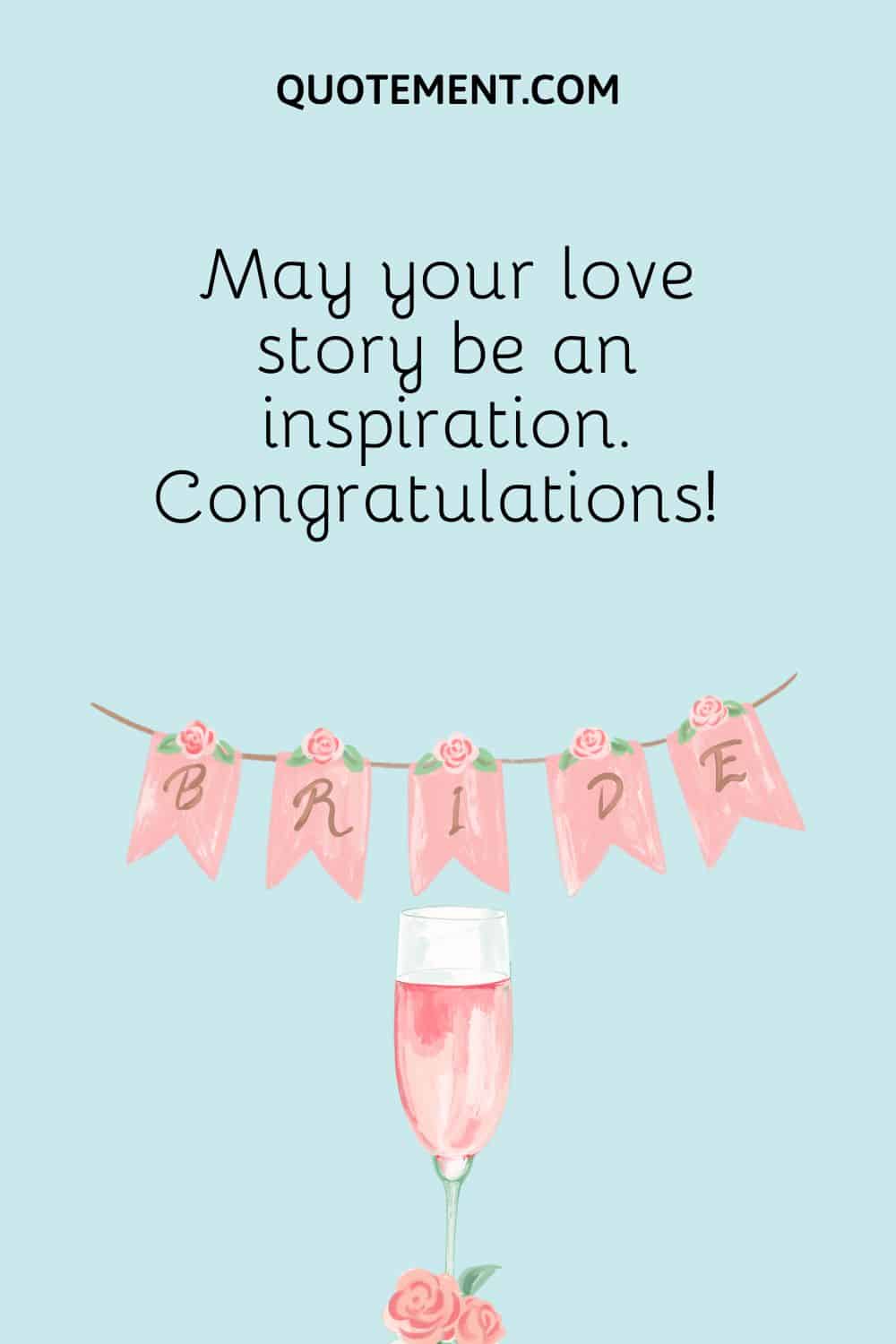 21. So filled with love and joy for this lady!
22. You have discovered the love of your life. Enjoy this tremendous moment together. We will be there to celebrate it with you.
23. Had a blast showering this beauty today!
24. Bride's wedding shower! I love this girl and am so happy for her happiness.
25. The best time showering our girl.
26. I'm surprised I'm not on your wedding registry because being related to me is the only gift you need.
27. Welcome to the family!
28. So happy to be celebrating you on this special day.
29. I can't wait for the big day! My amazing (cousin, sister, sister-in-law, etc.) will finally say, "I Do!".
30. From bachelorette parties to bridal showers to wedding parties: we'll always be there for you.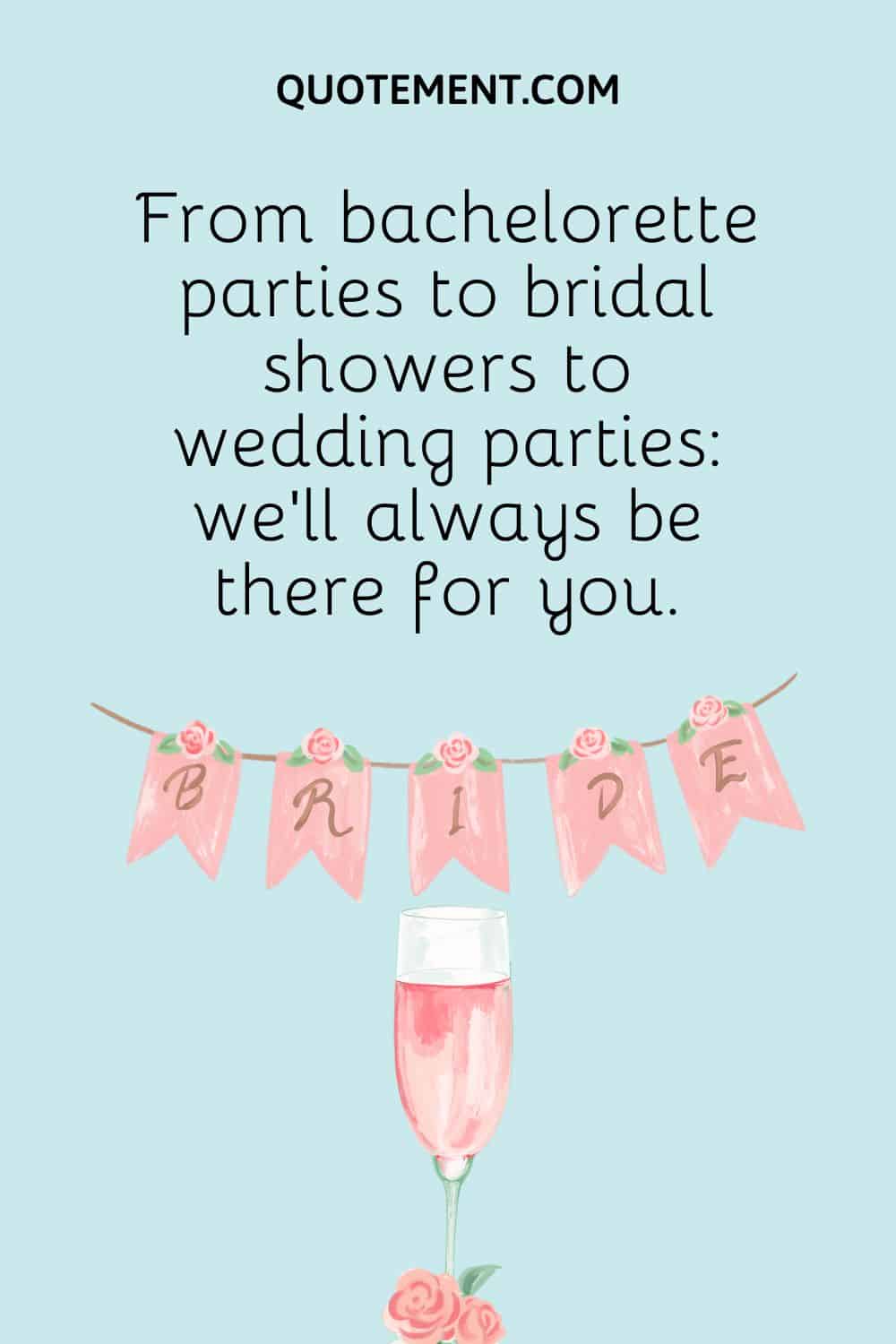 See also: 140 Cool Bachelorette Party Quotes + Instagram Captions
Wedding Captions For Wedding Shower Party
1. To two of the most outstanding people I know, cheers and love!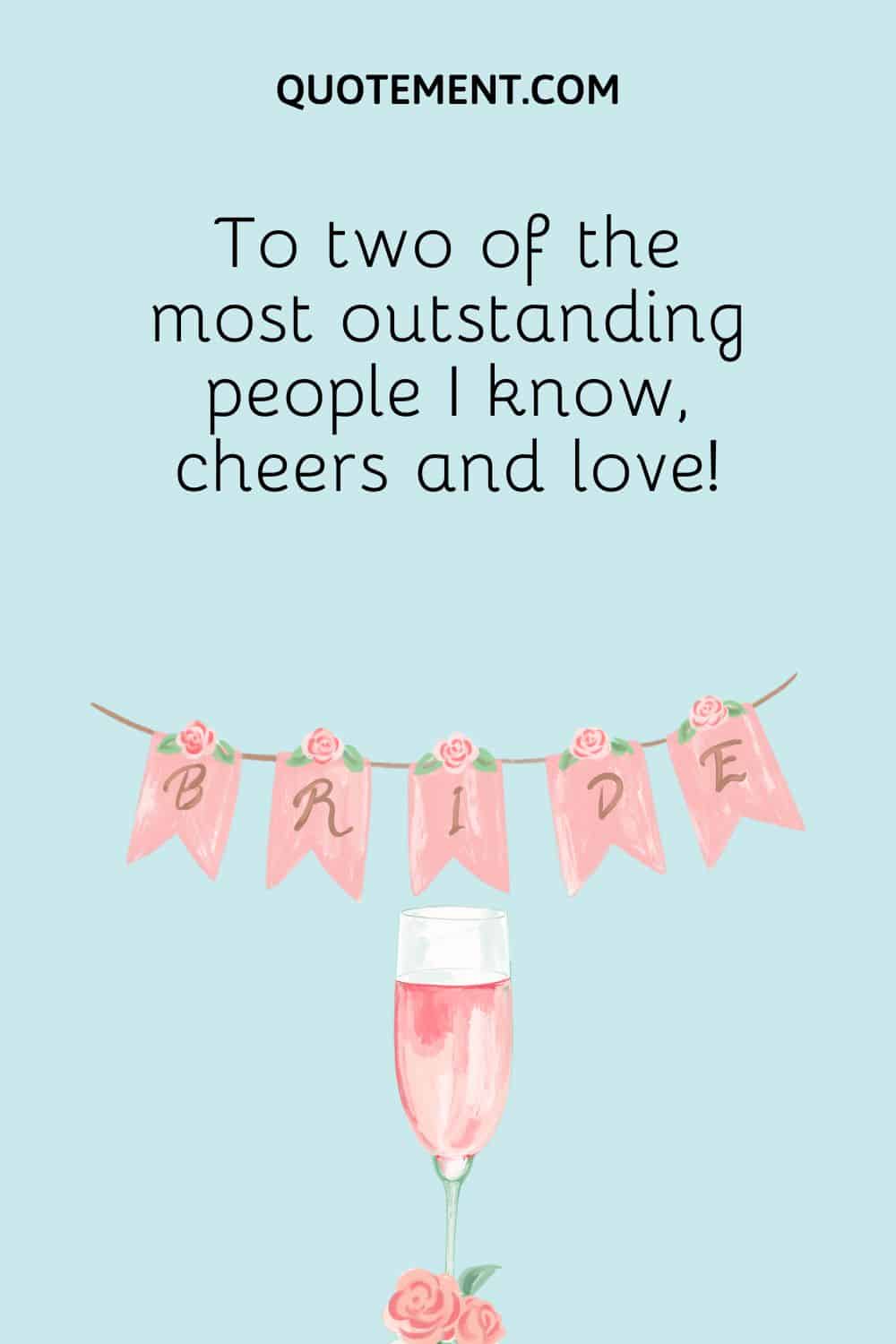 2. What a beautiful wedding shower! Love these two to the moon and back!
3. Here's to many happy days together.
4. Cheers to both of you! What else can I say to the bride and groom? Just beautiful!
5. 41 days until the big day! Love you both so much.
6. I can't wait for these two amazing people to tie the knot.
7. You both deserve all the finer things in life.
8. These two smiles can brighten up any room. We can't wait for the wedding!
9. We love you guys! Here's to the start of your beautiful journey together.
10. This room is all about love and laughter!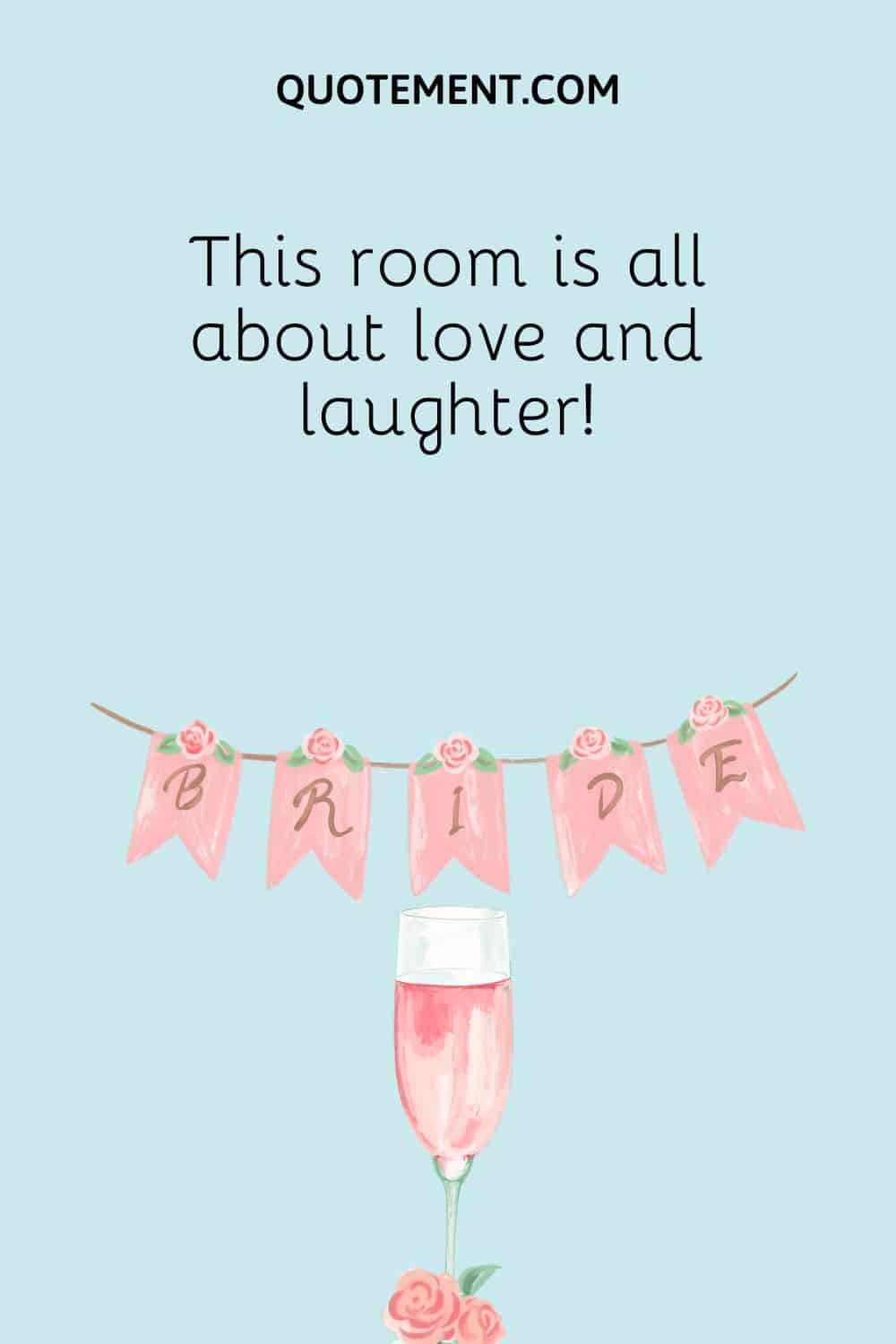 11. Congrats to the future bride and groom! So happy for you!
12. No more days of being single and ready to mingle. And that's reason enough to P-A-R-T-Y.
13. Wishing you two love birds nothing but joy and happiness.
14. Celebrating two beautiful people on their special wedding shower.
15. May your marriage be as filled with love and happiness as this special day was.
16. Celebrated two of our faves today at their wedding shower with friends, family, and loved ones.
17. Celebrating two amazing people at their beautiful wedding shower
18. Congratulations on finding the one person you want to annoy for the rest of your life!
19. Best wishes to the most amazing couple ever.
20. A match made in heaven!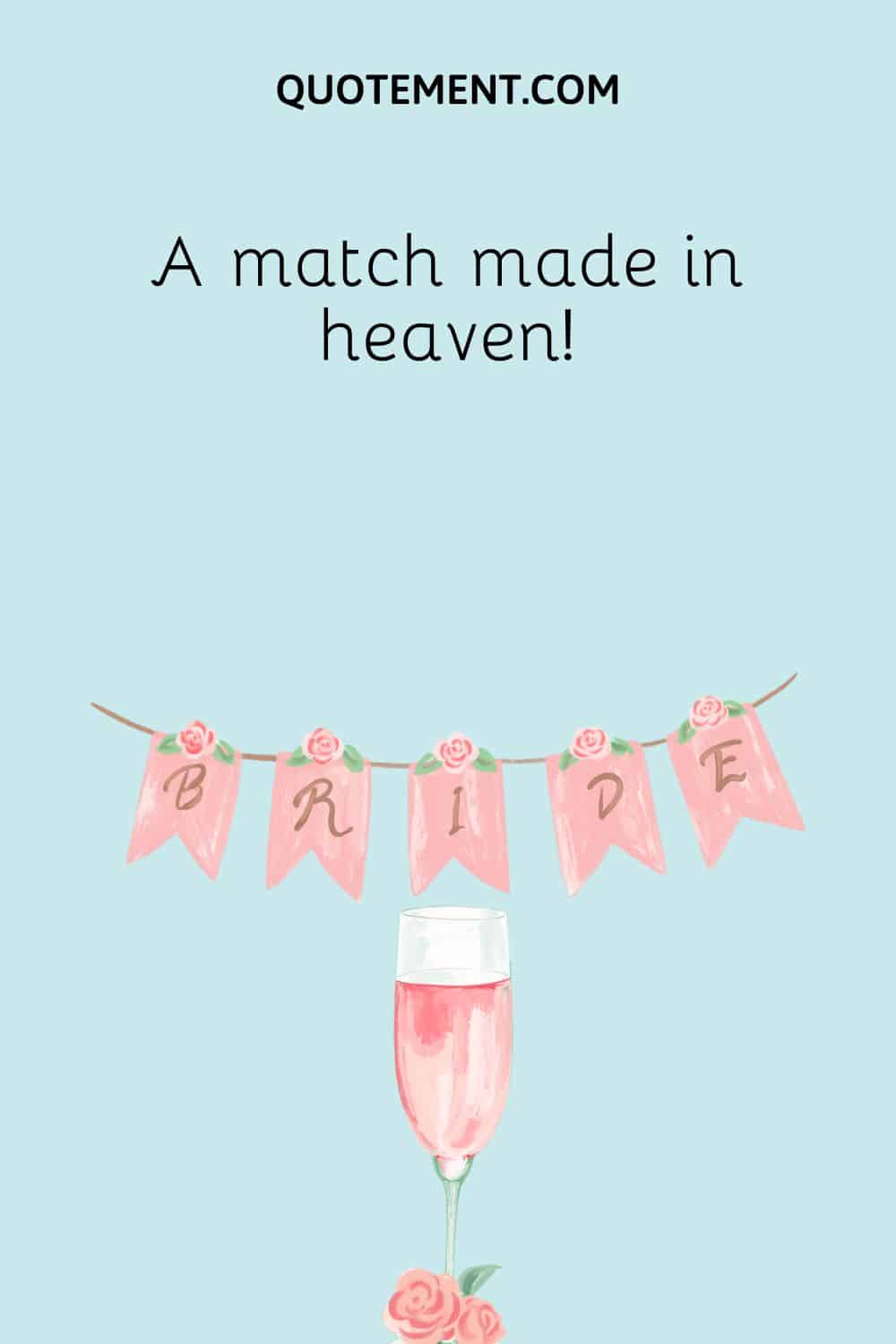 Bridal Shower Quotes That Can Be Used As Instagram Captions
1. "Love has nothing to do with what you are expecting to get, only with what you are expecting to give, which is everything." – Katharine Hepburn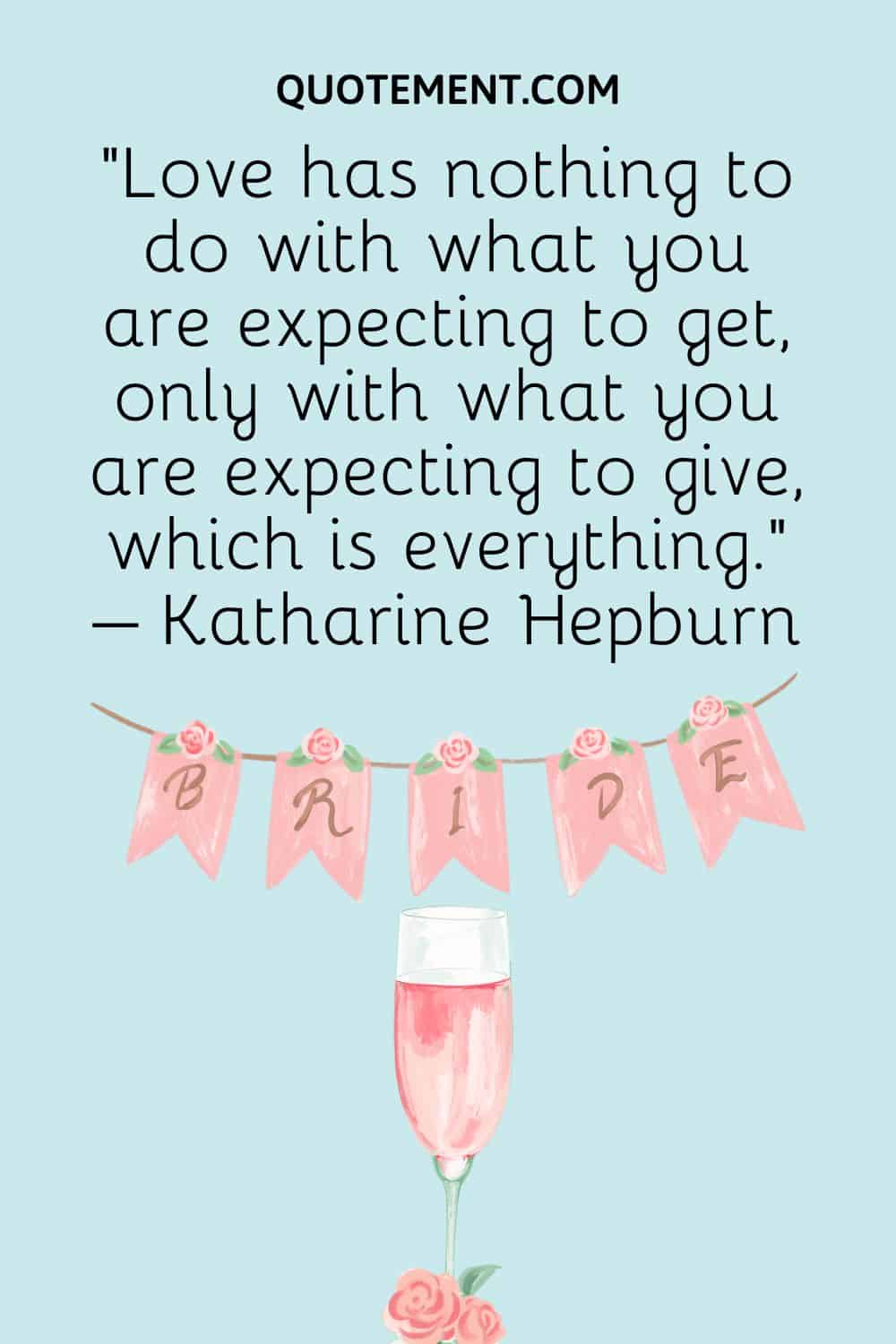 2. "Once in a while, right in the middle of an ordinary life, love gives us a fairy tale." – Unknown
3. "Every bride is beautiful. It's like newborn babies or puppies. They can't help it." – Emme Rollins
4. "For marriage to be a success, every woman and every man should have her and his own bathroom. The end." – Catherine Zeta-Jones
5. "It's not what we have in our life, but who we have in our life that counts." — J. M. Laurence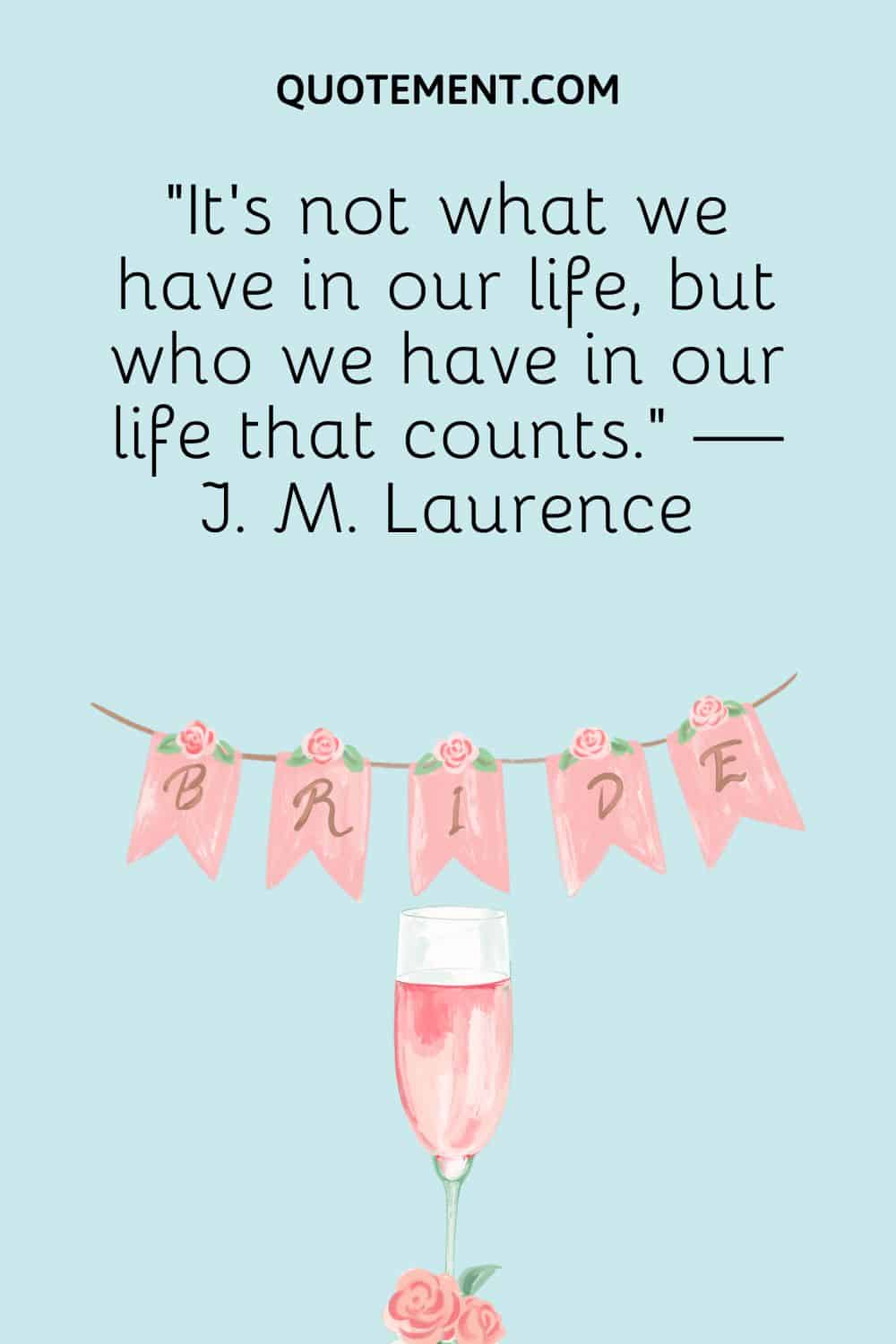 6. "You don't love someone for their looks, or their clothes or for their fancy car, but because they sing a song only you can hear." – Oscar Wilde
7. "Love is old, love is new, love is all, love is you." — The Beatles, "Because"
8. "Some moments are nice, some are nicer, some are even worth writing about." ― Charles Bukowski
9. "When love and skill work together, expect a masterpiece." – John Ruskin
10. "Real love stories never have endings." – Richard Bach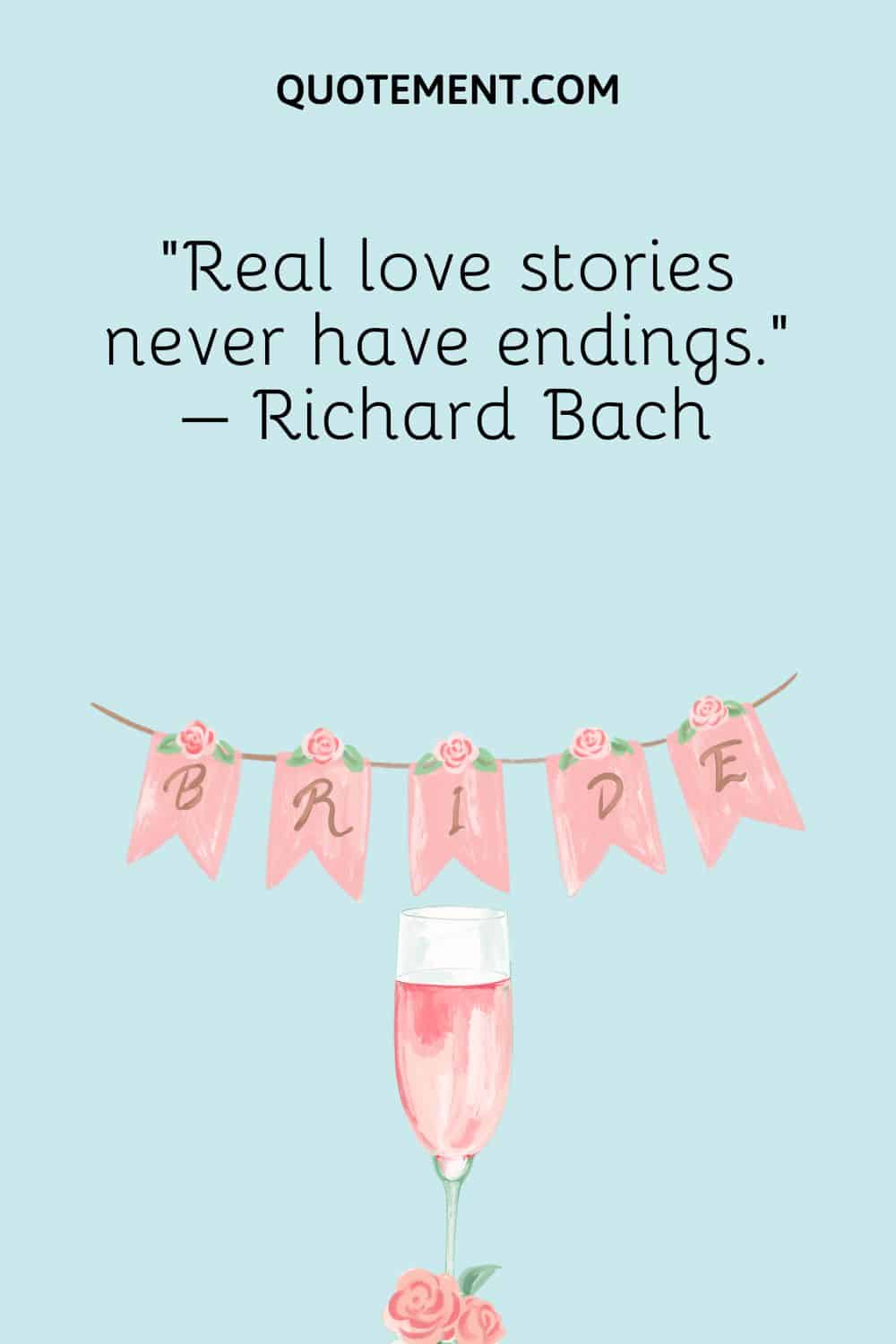 11. "We are all a little weird, and life's a little weird. And when we find someone whose weirdness is compatible with ours, we join up with them and fall in mutual weirdness and call it love." – Dr. Seuss
12. "Happiness and Confidence are the prettiest things you can wear on your wedding day." – Taylor Swift
Conclusion
I hope you enjoyed reading my collection of bridal shower captions and that you've found some fabulous Instagram captions to pair with your bridal shower pictures!
Be sure to check out some of the other interesting articles on our site.
Until next time!