If you need a perfect balloon caption to go with your fabulous Instagram photo, then you are in luck!
You have found the best source of balloon captions for Instagram pictures in the world!
Everybody loves balloons! It doesn't matter if you're a kid or an adult, we're all fascinated by them.
There's something magical and beautiful about balloons that simply mesmerizes us.
We can use them as a birthday decoration or to fly; balloons are a never-ending source of amusement.
To that end, I've collected more than 150 cute air balloon Instagram captions, hot air balloon caption ideas, and balloon quotes that you can use as a cool caption for your Instagram post.
Let's dive in and discover the magical world of balloons!
Top 30 Balloon Caption Ideas
I'll start off with the best balloon caption ideas to really make your social media stand out.
1. Somewhere over the rainbow.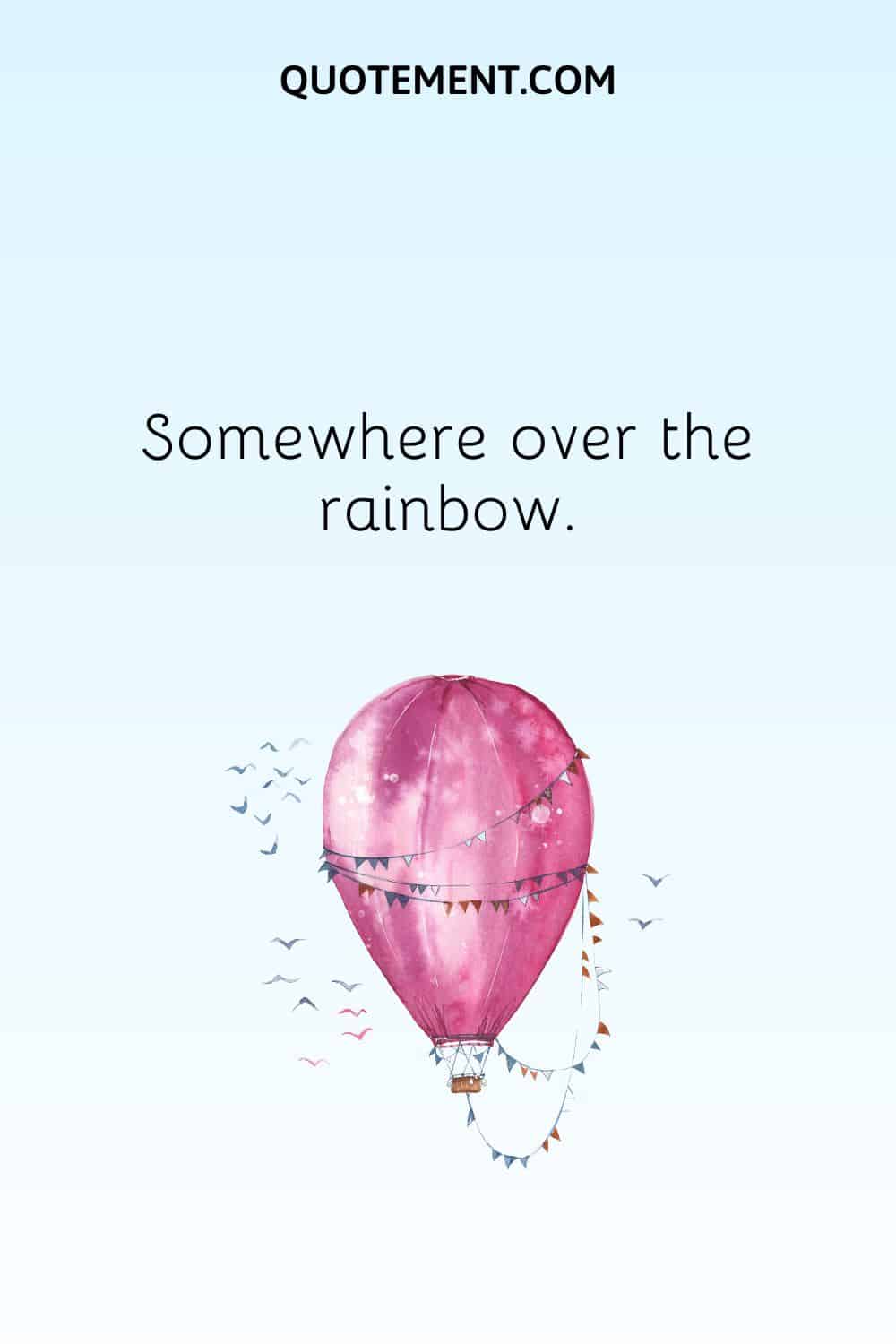 2. Adventure is out there.
3. "You don't need wings to fly." — Amy Harmon
4. Don't just fly, soar.
5. Find me in the clouds.
6. I am ready to enjoy the hot air only if it is giving the power to my balloon to fly.
7. I may not have gone where I intended to go, but I think I have ended up where I needed to be.
8. You don't need magic to disappear, all you need is beautiful destinations.
9. She was afraid of heights, but she was much more afraid of never flying.
10. "Nothing but blue skies and hot air balloons." — Marisa Casciano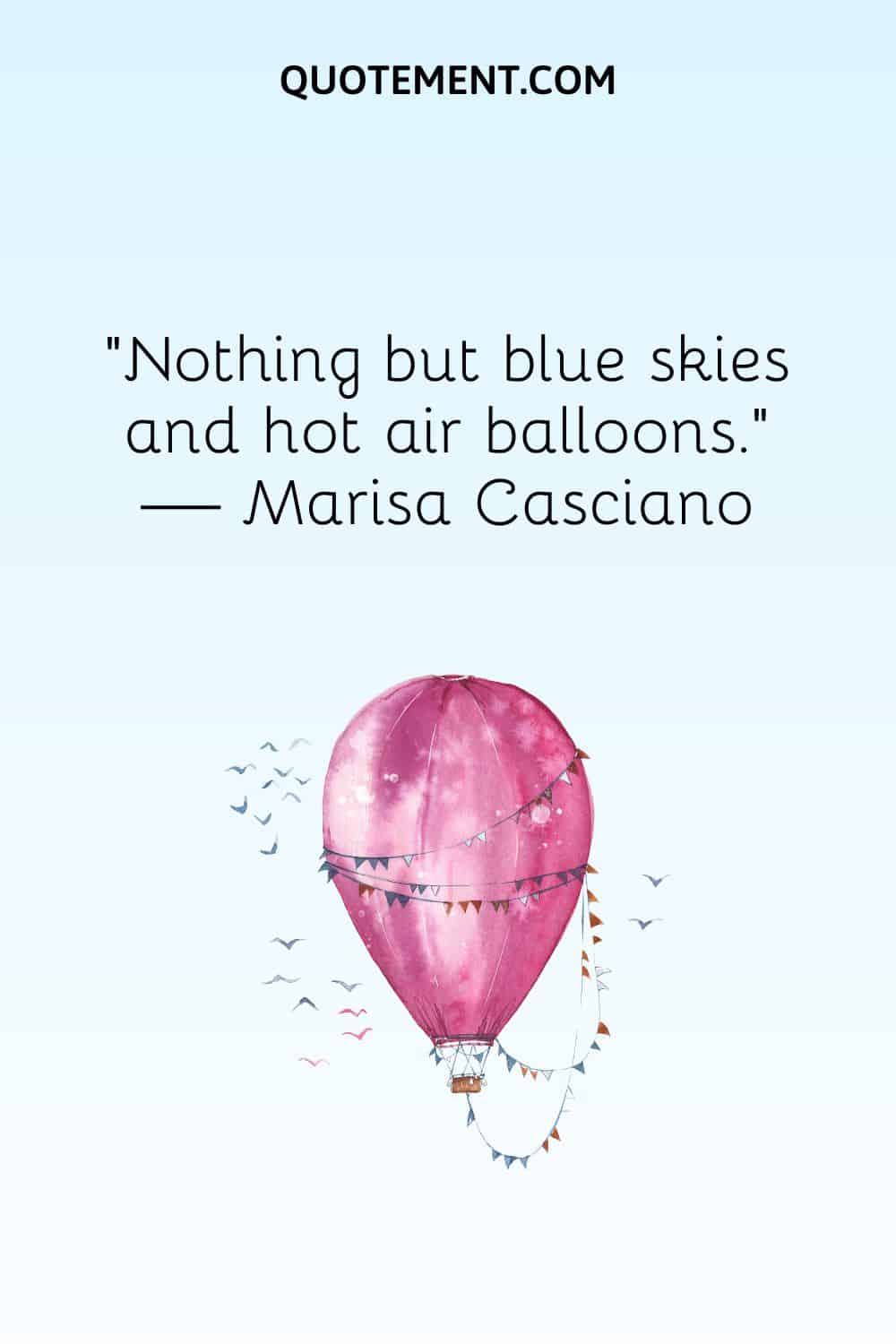 11. It's so graceful to be blown by the wind, to go where the wind takes you. Just drifting over beautiful rivers in a balloon is perfect.
12. Imagination is like a lofty building reared to meet the sky, whereas fancy is a balloon that soars at the wind's will.
13. It's time to blow away the problems of yesterday and look forward to the new challenges of tomorrow.
14. I've told my children that when I die, to release balloons in the sky to celebrate that I graduated. For me, death is a graduation.
15. There is nothing impossible in this world…. Not even flying despite being human.
16. The man who goes up in a balloon does not feel as though he were ascending; he only sees the earth sinking deeper below him.
17. Release a balloon to the sky without regrets.
18. They say you should hit the ground running, but I'd prefer to never put my feet down.
19. Find joy in the journey.
20. The sky's the limit.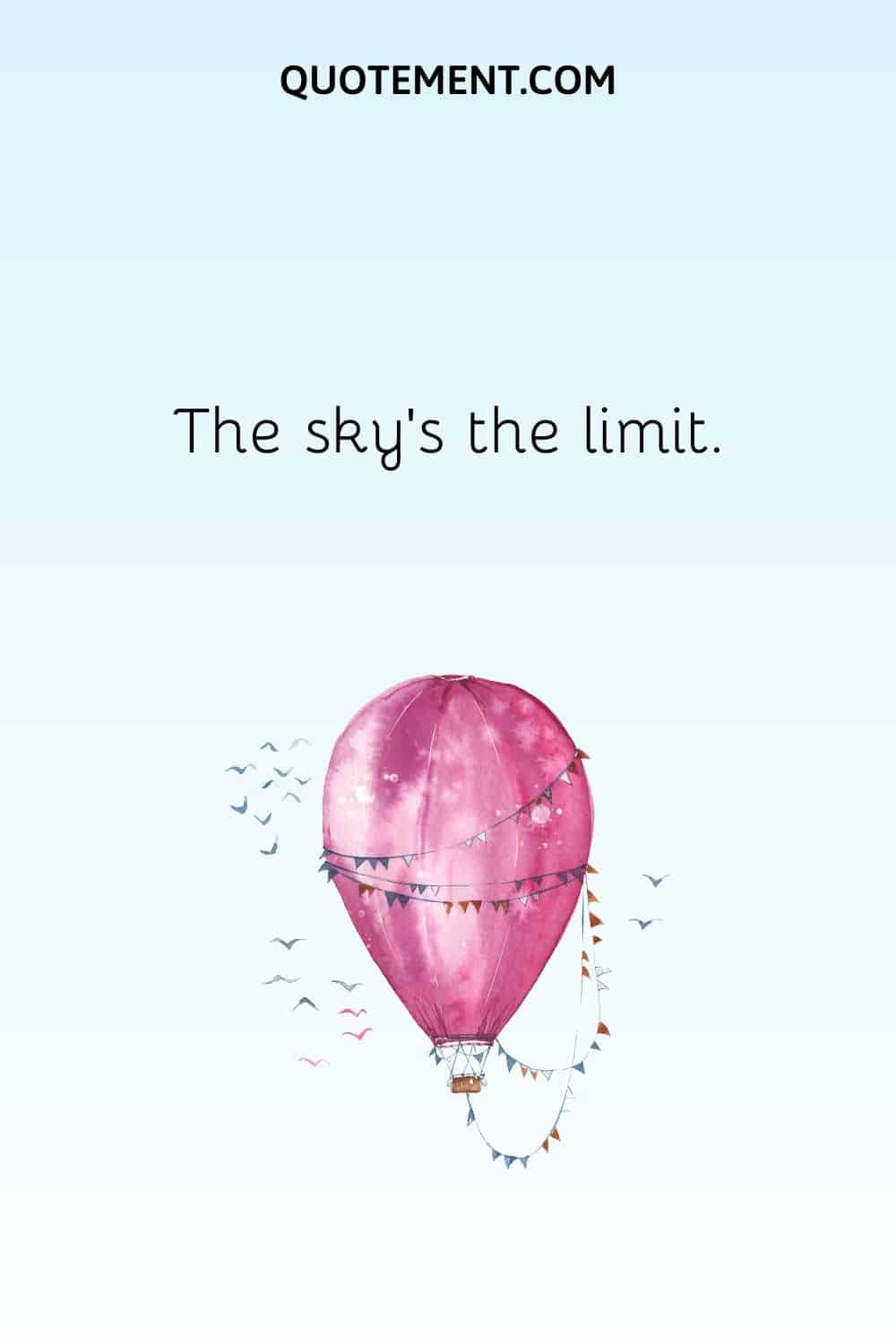 21. Imagination is to love what gas is to the balloon-that which raises it from the earth.
22. She dreamt she could fly.
23. It's just ballooned.
24. Aim high.
25. Paint the sky, make it yours.
26. Compliments are the helium that fills everyone's balloon; they elevate the person receiving them so he or she can fly over life's troubles and land safely on the other side.
27. Don't look down, look up! We're soaring to new heights already this Fall, and the sky's our limit.
28. "When they go low, we go high." — Michelle Obama
29. The jet stream is a very strong force, and pushing a balloon into it is like pushing up against a brick wall, but once we got into it, we found that, remarkably, the balloon went at whatever speed the wind went.
30. Find joy in the journey.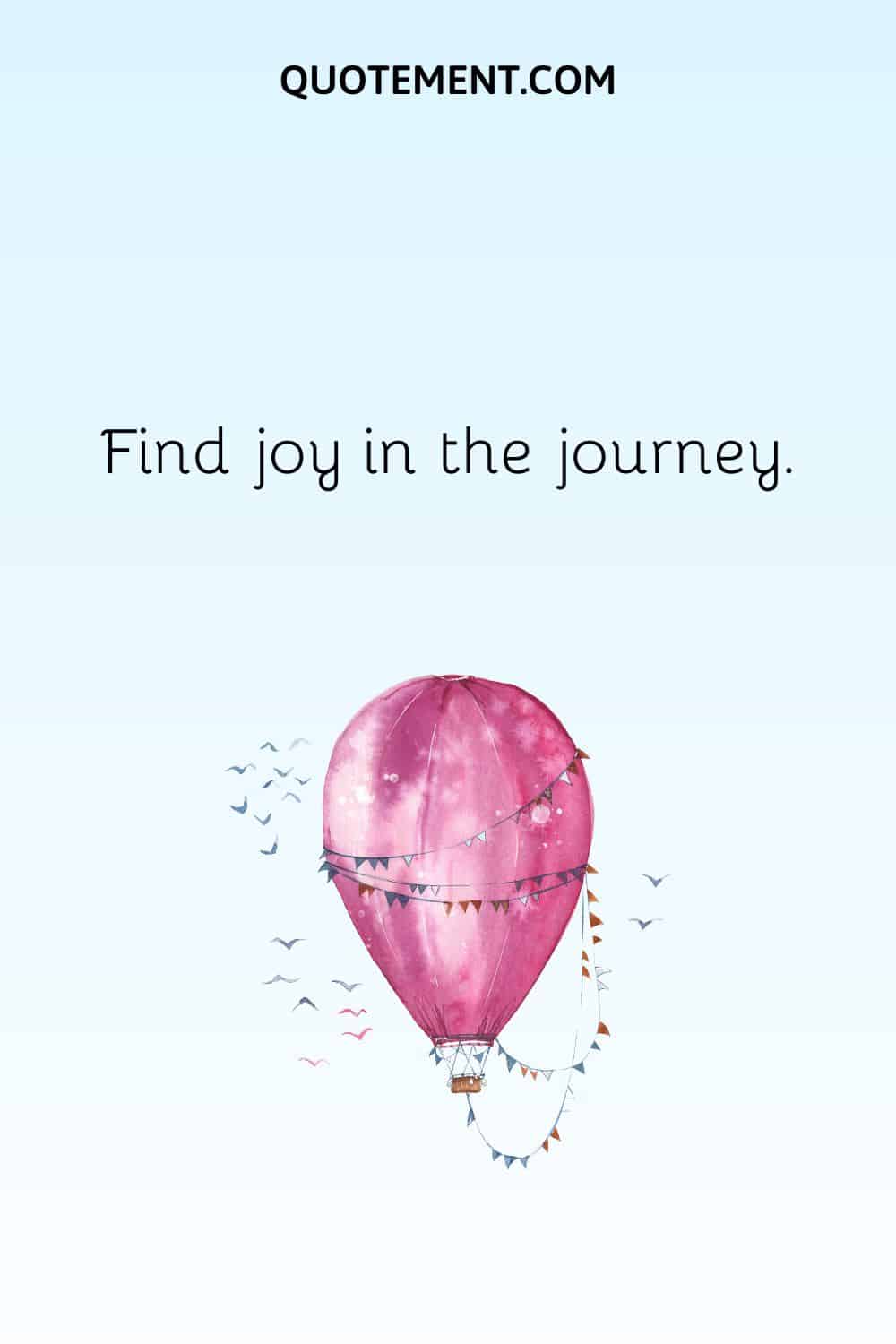 Hot Air Balloon Captions For Instagram
Here are the best hot air balloon captions to add a spark to your Instagram post.
1. For every problem you try to hide, let it go like a balloon in the sky.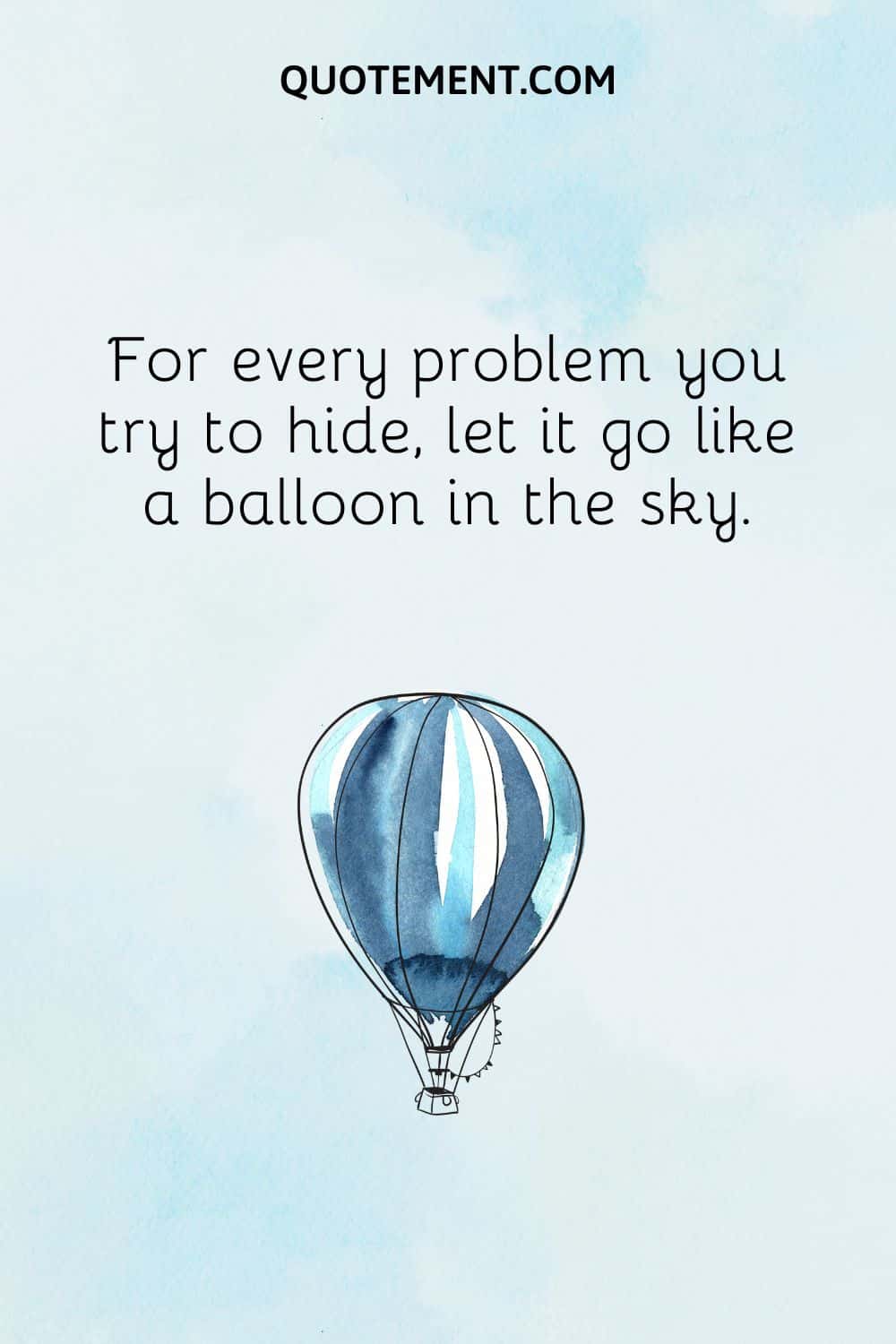 2. Up, up, and away.
3. Rise up with a hot air balloon ride.
4. I'm letting go, so I can be free!
5. Sweater weather and hot air balloon skies.
6. Money can definitely buy you happiness…. It can buy you a captivating ride on a hot air balloon.
7. If you have the dream of flying, then a hot air balloon should be your ride…. Fly like a bird in a hot air balloon.
8. Be the sunshine, and lift everyone up like a hot air balloon.
9. The balloon seems to stand still in the air while the earth flies past underneath.
10. Hot air balloons are a symbol of all that is possible. We create the spaces and moments to bring your dreams to life with imagination, wit, and wonder.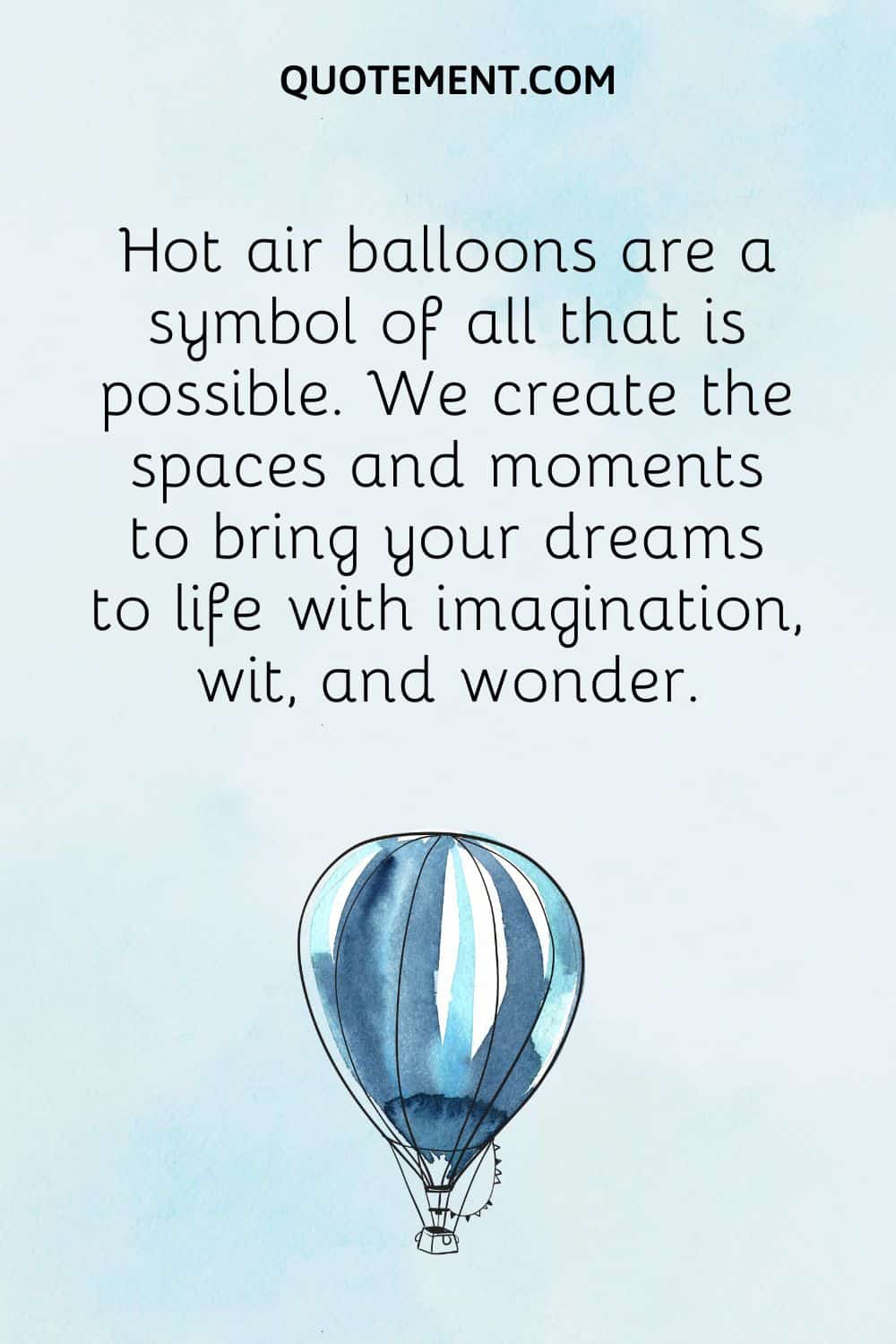 11. Let us celebrate the Hot Air Balloon festival by riding up high in the sky, slow and easy, to make it one memorable day of our lives.
12. The beauty of hot air balloon rides is that you fly slowly and steadily to absorb the fun of flying in the sky.
13. What a lovely day for a hot air balloon ride.
14. To those who love aviation, the sky is home.
15. Have a ride to remember….. have a ride on a hot air balloon.
16. So let's spend the afternoon in a cold hot air balloon.
17. Another term for a balloon is bad breath holder.
18. We should all have personal hot air balloons and drift serenely through the clouds.
19. You live only once, but thankfully you can enjoy as many hot air balloon rides as you want.
20. The man who goes up in a balloon does not feel as though he were ascending; he only sees the earth sinking deeper below him.
21. Luxury on a whole new level. Champagne brunch in our iconic hot air balloon.
22. There's something in a flying horse, There's something in a huge balloon.
23. Wishing you Happy Hot Air Balloon Day.
24. Always take the scenic route.
25. A hot air balloon ride will take your breath away, literally!
26. Everything's better with a hot air balloon.
27. We'd love to gas up and hit the skies with you. Join us on an epic hot air balloon adventure.
28. The balloons only have one life, and the only way of finding out whether they work is to attempt to fly around the world.
29. There is nothing more satisfying than flying in a hot air balloon and experiencing the world from a height….
30. Nothing is more delightful and captivating than watching hot air balloons dot the skies over a picturesque landscape.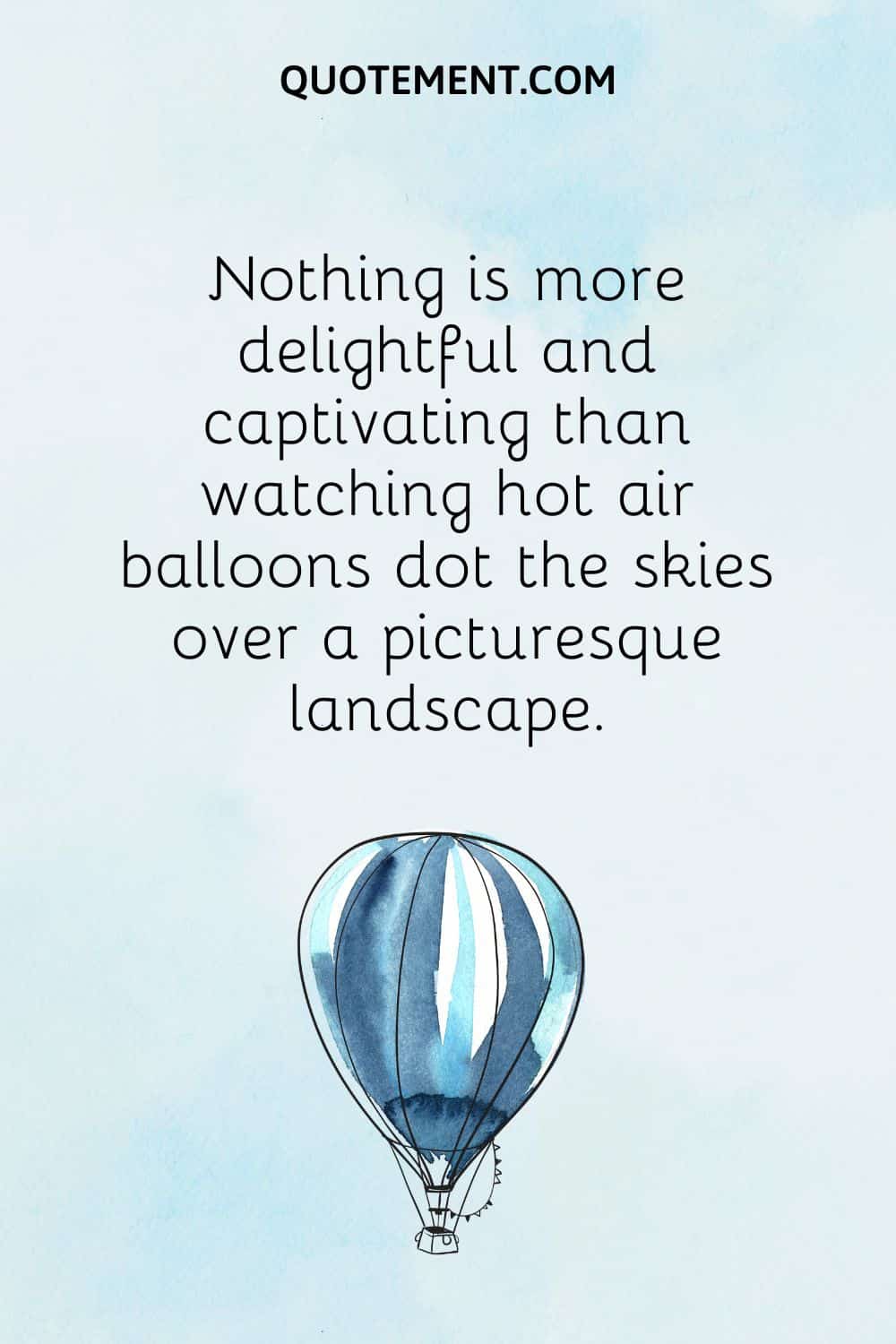 31. So, let's spend the evening in the hot air balloon.
32. If you want to see nature deeply and closely, just take the ticket on a ride in a hot air balloon and you will understand everything about nature.
33. You've pumped hundreds of feet of air into your balloon, and you're filled with anticipation. Curl your toes in your boots. You're ready to go up, up, and away!
34. Collect experience, not things.
35. The beauty of a hot air balloon ride is that you fly slow and steady to absorb the fun of flying in the sky.
36. Explore the world.
37. When fears are grounded, dreams take flight.
38. Blissfully hang time.
39. It's worth the wait for those early morning hot air balloon launches
40. It's time to fly.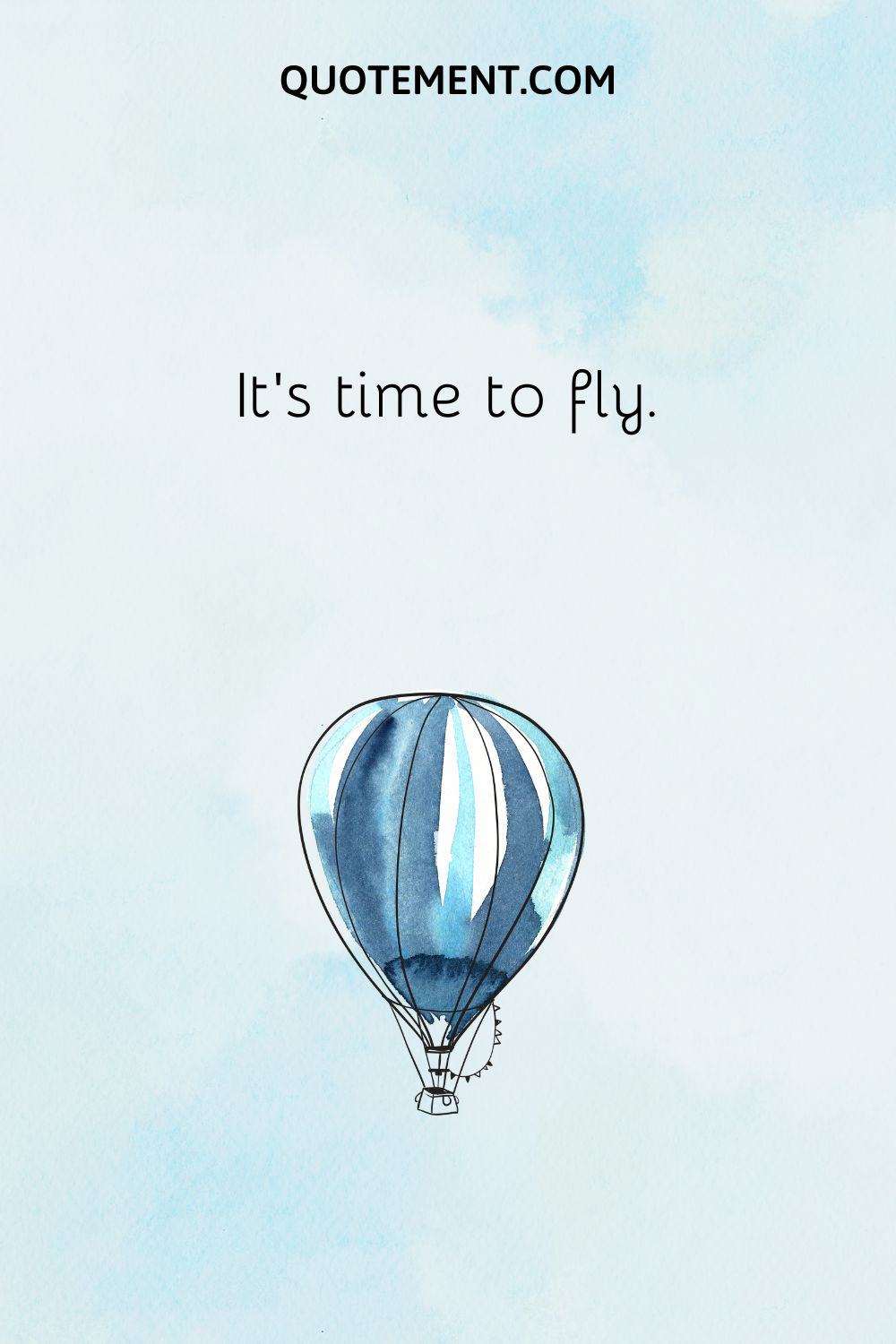 41. And now we will float on the clouds and enjoy them.
42. Enjoying my vibe in the sky with the ride of a beautiful hot air balloon.
43. I feel calm and so fresh whenever I feel myself in a hot air balloon touching the blue sky.
44. Whenever I am sad, I just want a ride in a hot air balloon and touch the blue sky. That's the only way that makes me feel better.
45. A flight to the sky can fix all your problems and makes you feel so blessed.
46. The beauty of a hot air balloon ride is that you fly slow and steady to absorb the fun of flying in the sky.
47. Seeing the world from the top is an enchanting experience to have.
48. The best part of fall? Family. The second best part? Hot air balloon rides.
49. If you think that only birds can fly, then you are wrong because we have hot air balloons to fly in the sky.
50. Balloons are always loved, but hot air balloons are loved more because they can take us anywhere we want.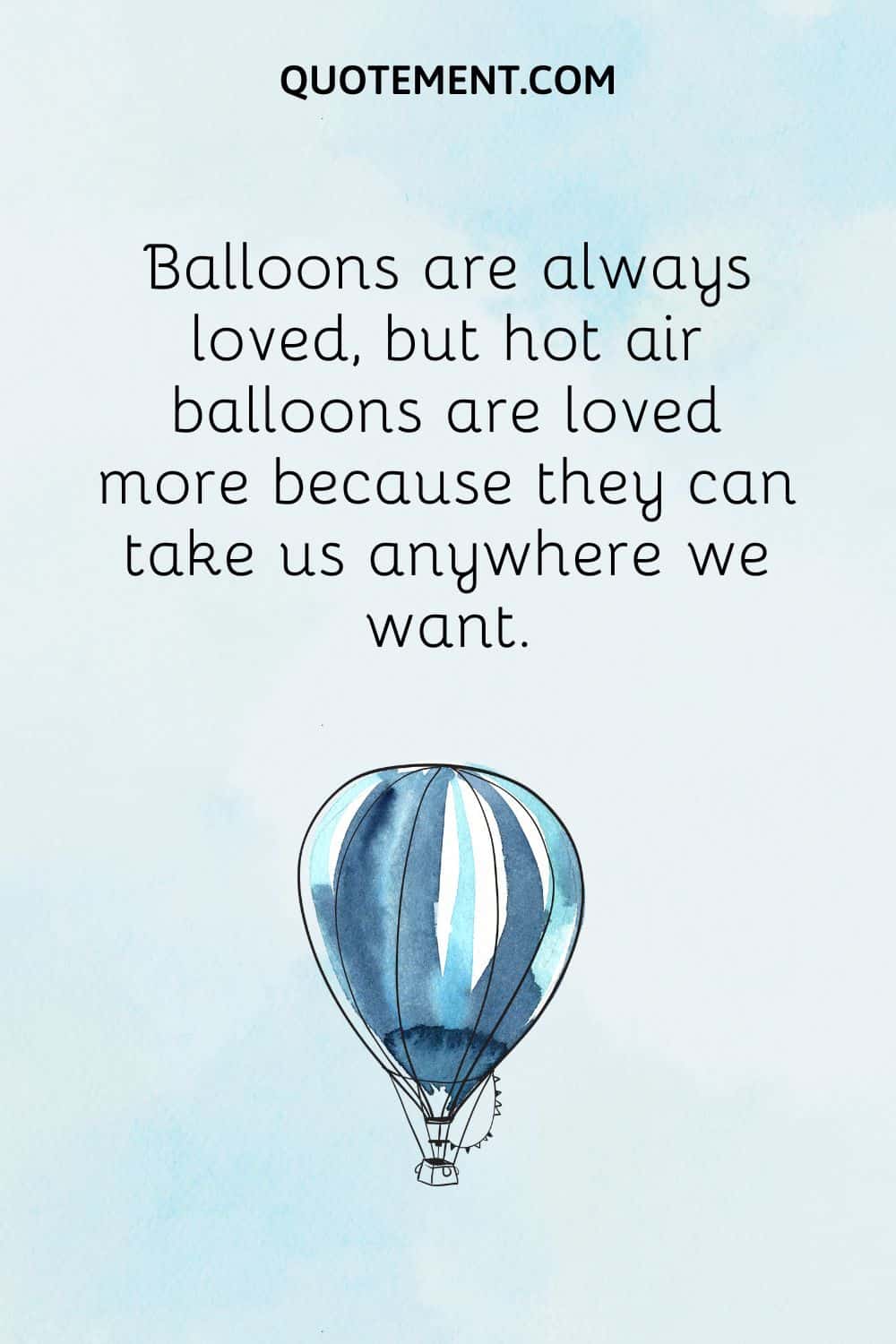 Cute Balloon Captions For Selfies
These balloon caption ideas will fit perfectly with your cute Instagram selfie.
1. Forever that girl who gets really excited when the sky is in pretty colors.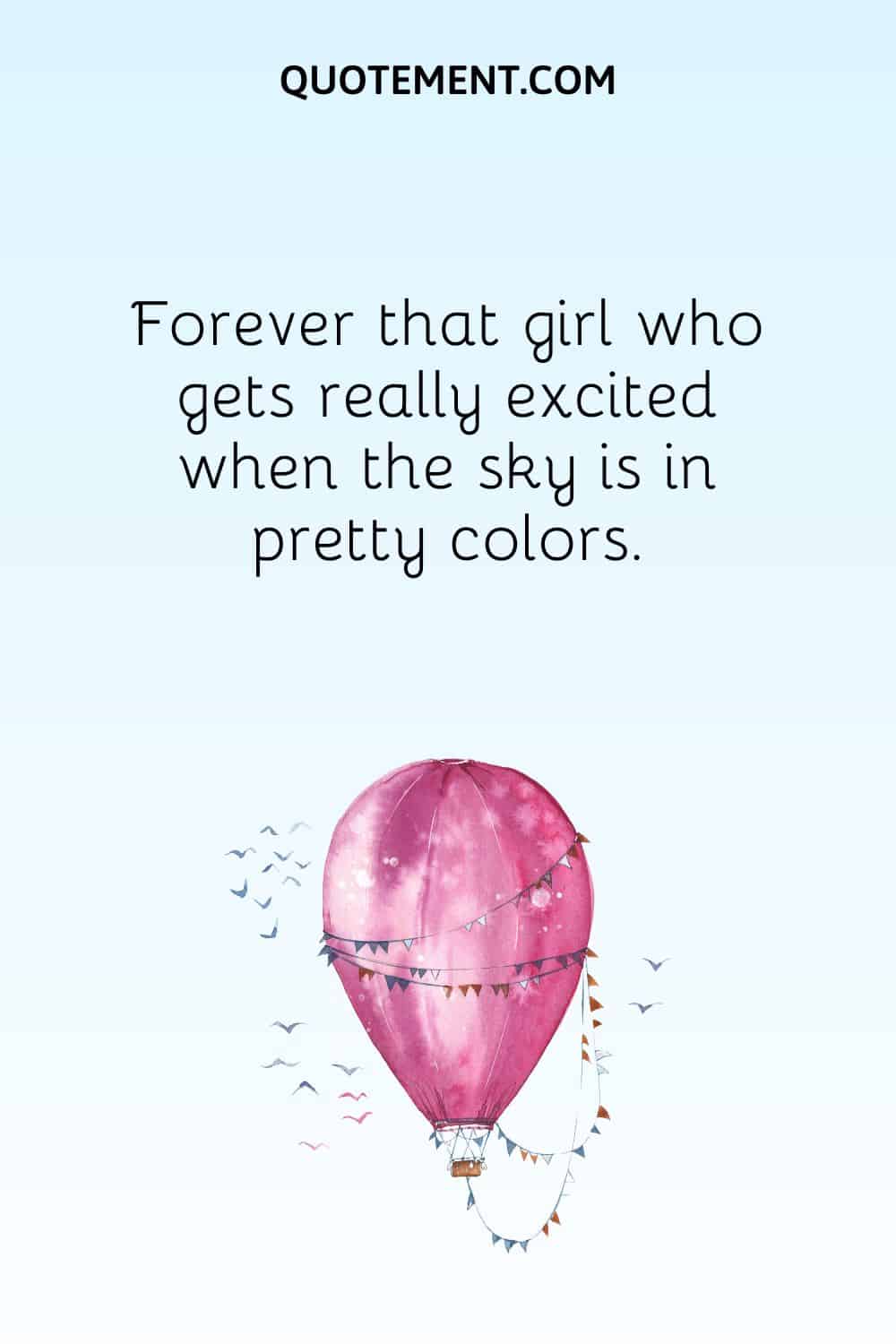 2. We rise by lifting others.
3. Lose yourself in the blue skies. Take in the crisp air as you soar above and around the clouds.
4. Nobody can be uncheered with a balloon.
5. I got my feet on the ground and my head in the cloud.
6. You lose your anonymity just like a helium balloon with a string. Therefore people are going to have their own opinion, and they're going to write in whatever clever manner they desire.
7. Live the life you've imagined.
8. Hot stuff.
9. Our soulmate is someone who shares our deepest longings and our sense of direction. When we're two balloons, and together our direction is up, chances are we've found the right person. Our soulmate is the one who makes life come to life.
10. Some girls want flowers. I want all the balloons!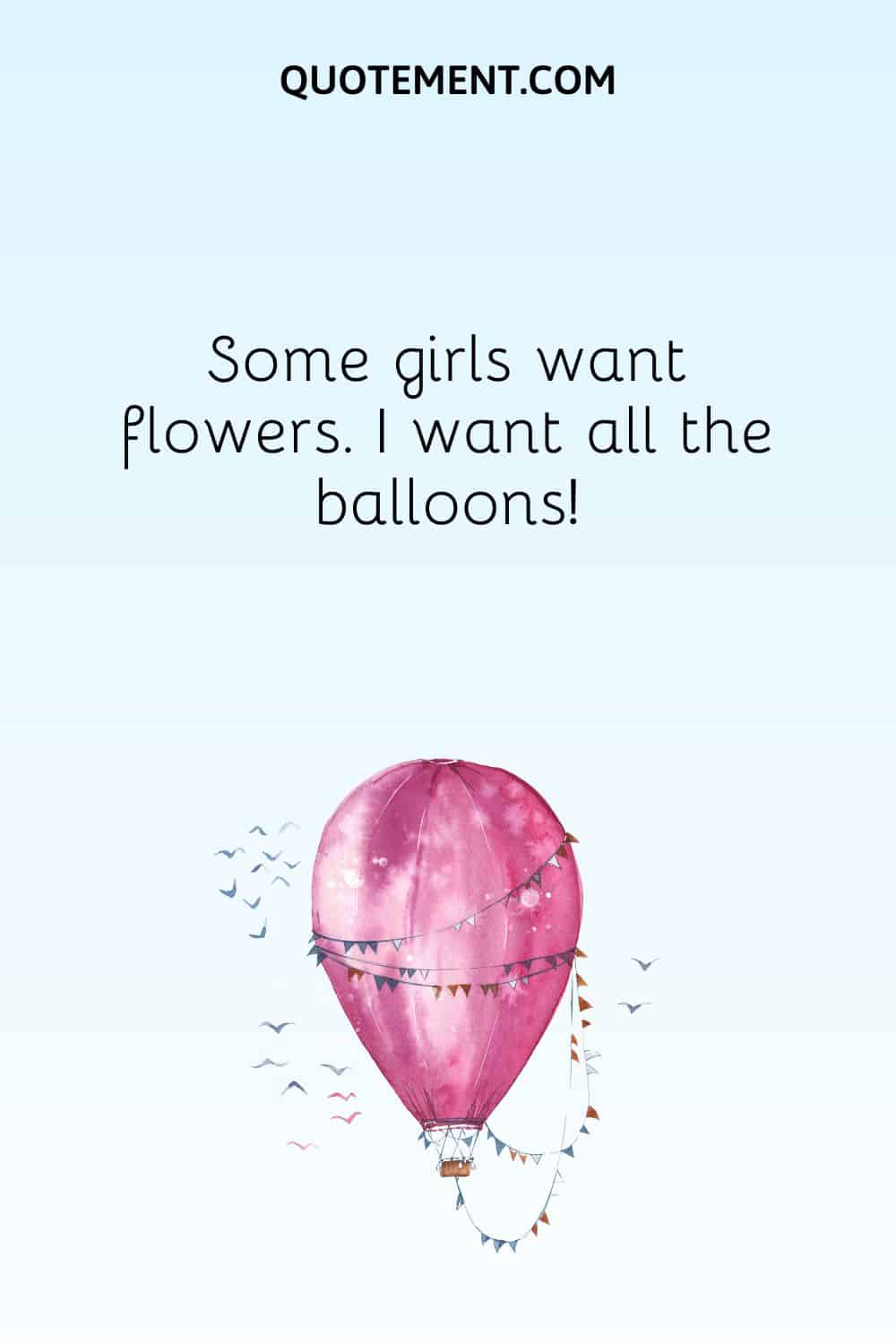 11. Sometimes, I feel like I'm seeing it all at once, and it's too much. My heart fills up like a balloon that's about to burst.
12. I knew when I met you that an adventure was going to happen.
13. I love the fresh air, it feels so real.
14. Nowhere to go but up.
15. Traveling has given me a different perspective on life. Flying high above the world in an open basket gives me a new outlook each time.
16. Let your dreams take flight.
17. Flying in the wonderland.
18. Come with me to touch the sky.
19. Adventure is on the other side of fear.
20. You've got to be brave in the face of change, even if you're scared—and even if it's scary—to fly.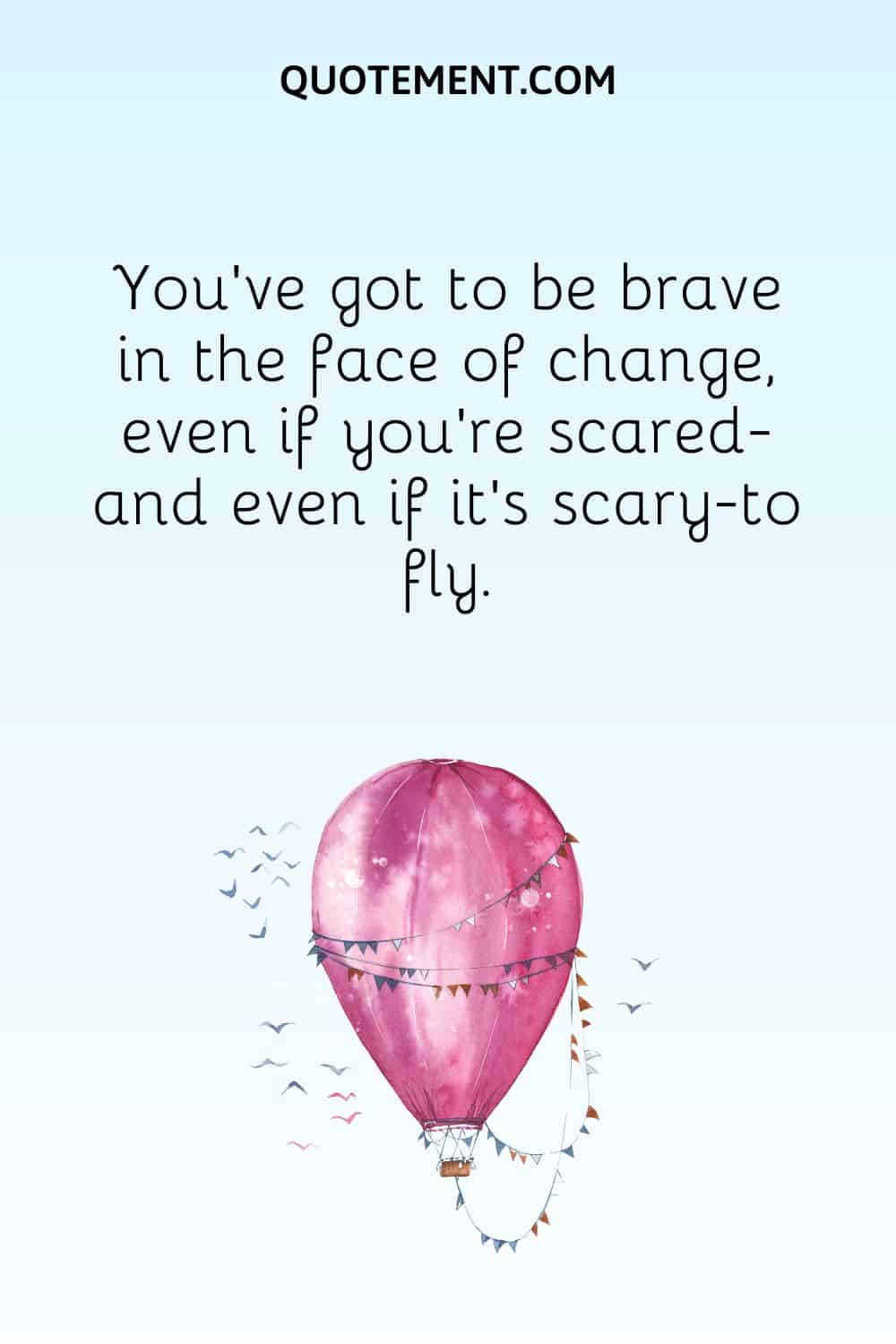 21. Escape the ordinary.
22. Sometimes, life's a circus, and I just want to be up with the balloons.
23. Look up, reach there, and get lost there.
24. Dreams and balloons have the same concept.
25. Life is like a balloon. If you never let yourself go, you'll never know how far you can rise.
Funny Balloon Instagram Captions
If you're looking for some funny balloon captions, look no further!
1. You don't need a license to fly a hot air balloon. Even if I do, who's going to stop me? Balloon cops?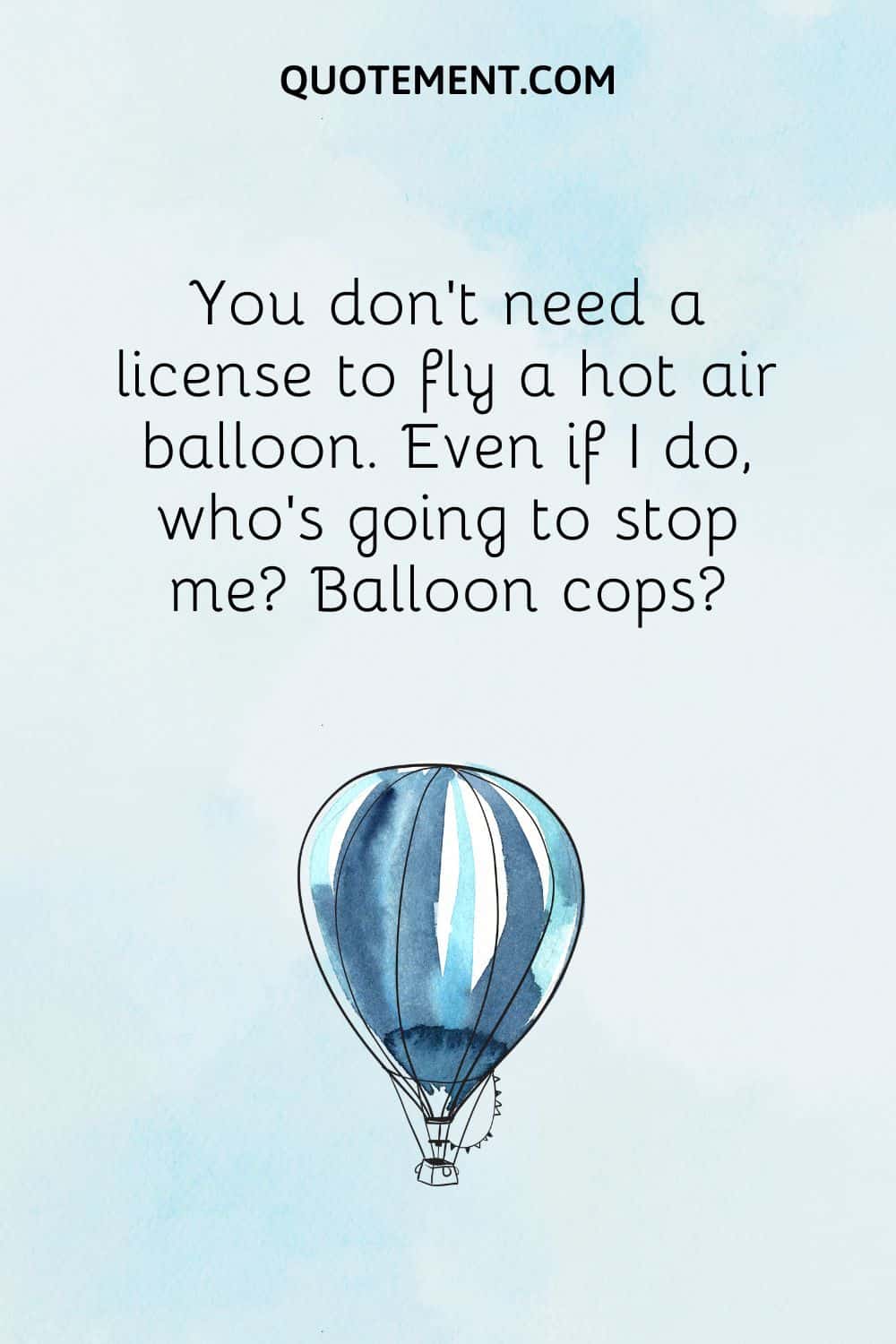 2. It's a bird! It's a plane! It's…a hot air balloon ride.
3. Can't make it to Paris this summer? Then how about taking a ride over the city in a hot air balloon?
4. Do you know why the cost of balloons is going up? Inflation.
5. Half the art of ballooning is to make your crashes so gentle that you can fool yourself into calling them landings.
6. A good mood is like a balloon. One little prick is all it takes to ruin it.
7. You are the string to my balloon.
8. Adjusting my altitude.
9. Please hold my hand, for every balloon needs a string to stay grounded.
10. What is success? It is a toy balloon among children armed with pins.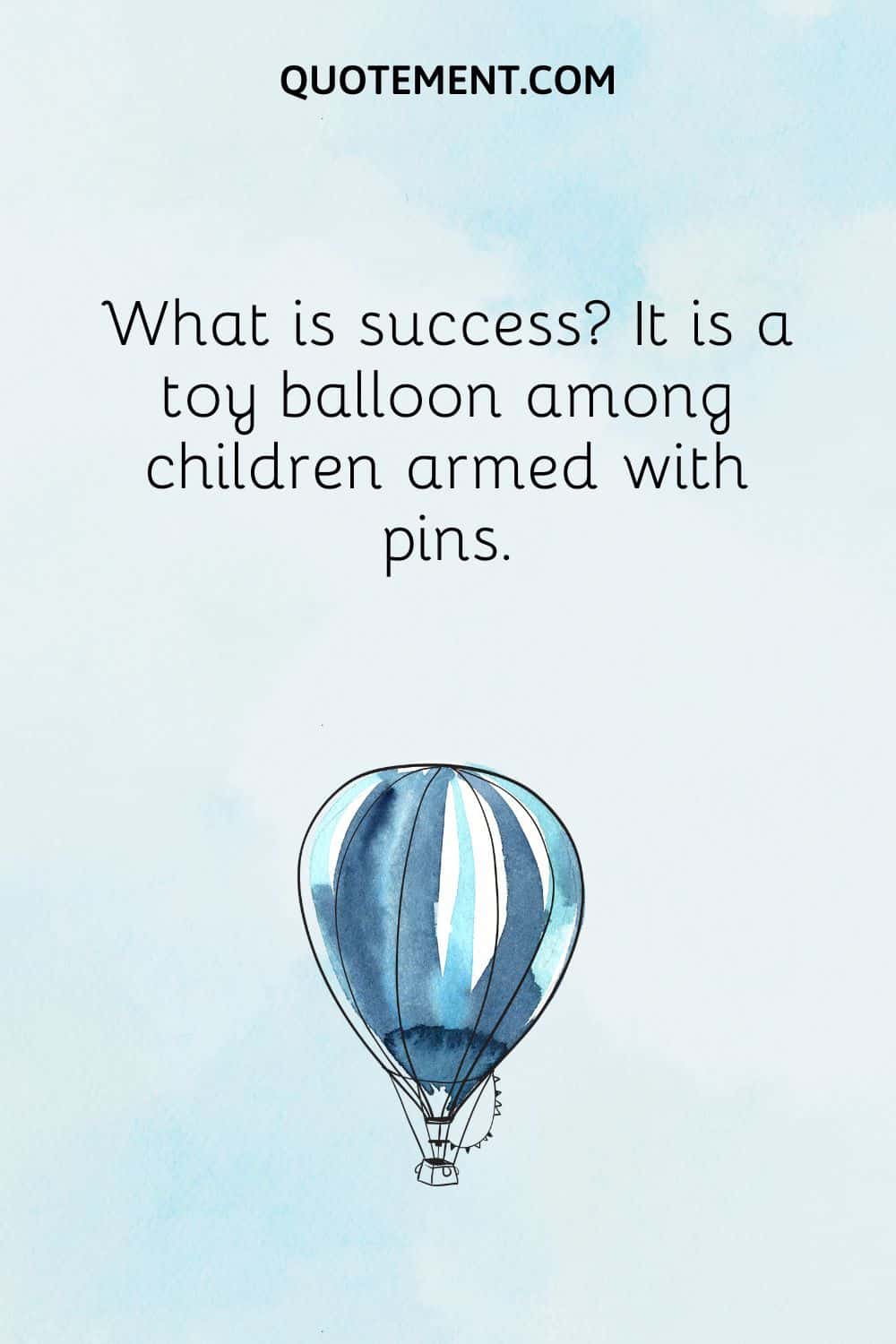 Balloon Captions For Photos
Even if your photo isn't about balloons, your caption can be! Try one of these awesome balloon caption ideas.
1. Let's get carried away.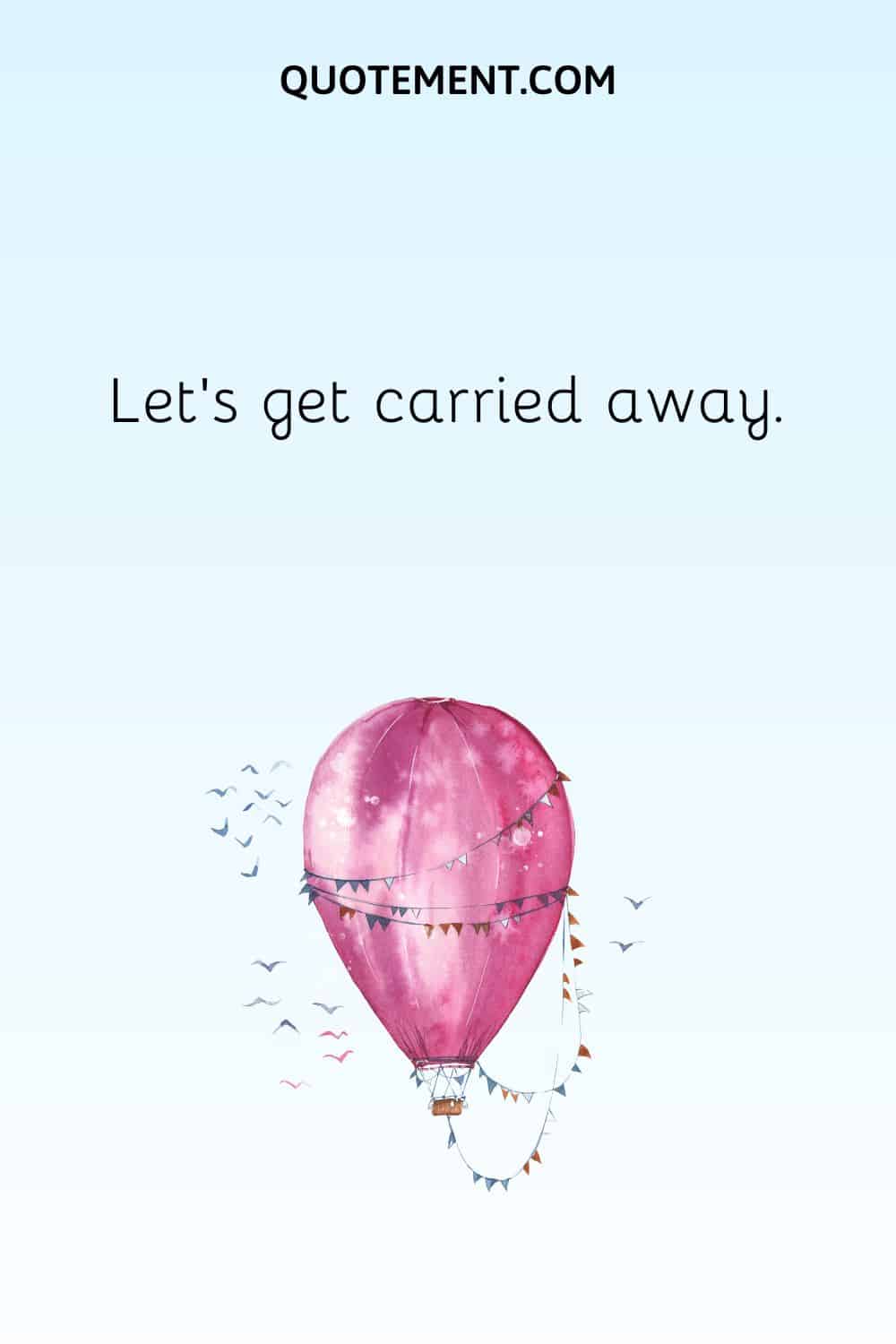 2. You'll find joy and adventure wherever you are if only you seek it. After all, the most beautiful things in life are free.
3. Love is in the air.
4. I tied my heart to a balloon and let it float away.
5. Never stop looking up.
6. And we'll all float on okay.
7. Come fly with us. We'll take it slow.
8. Let every troubled problem fly away.
9. Dream big.
10. Life is a beautiful ride.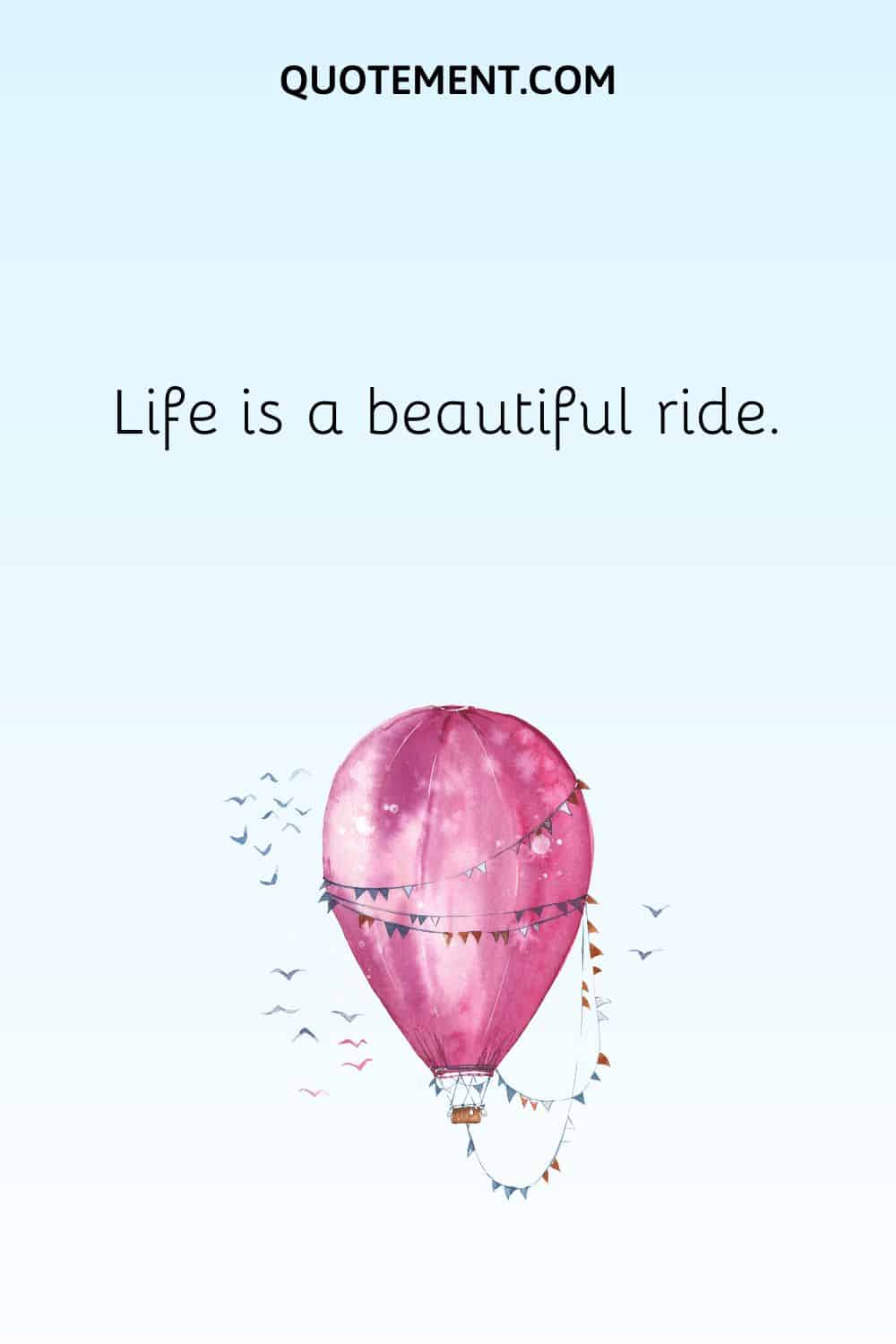 11. Sending good vibes, hopes, and dreams into the air.
12. This is where the fun stuff happens.
13. Float on. Happy Sunday.
14. There is a savor of life and immortality in the substantial fare. Like balloons, we are nothing till filled.
15. Colorful balloons are able to lighten up the mood.
16. Balloons help to escape from everyday routine.
17. Never stop dreaming.
18. The problem with my balloon collection is that people always think there's a party. Settle down. It's not a party. It's just ballooned.
19. The soul, light as a feather, fluid as water, innocent as a child, responds to every movement of grace like a floating balloon.
20. Something beautiful is on the horizont.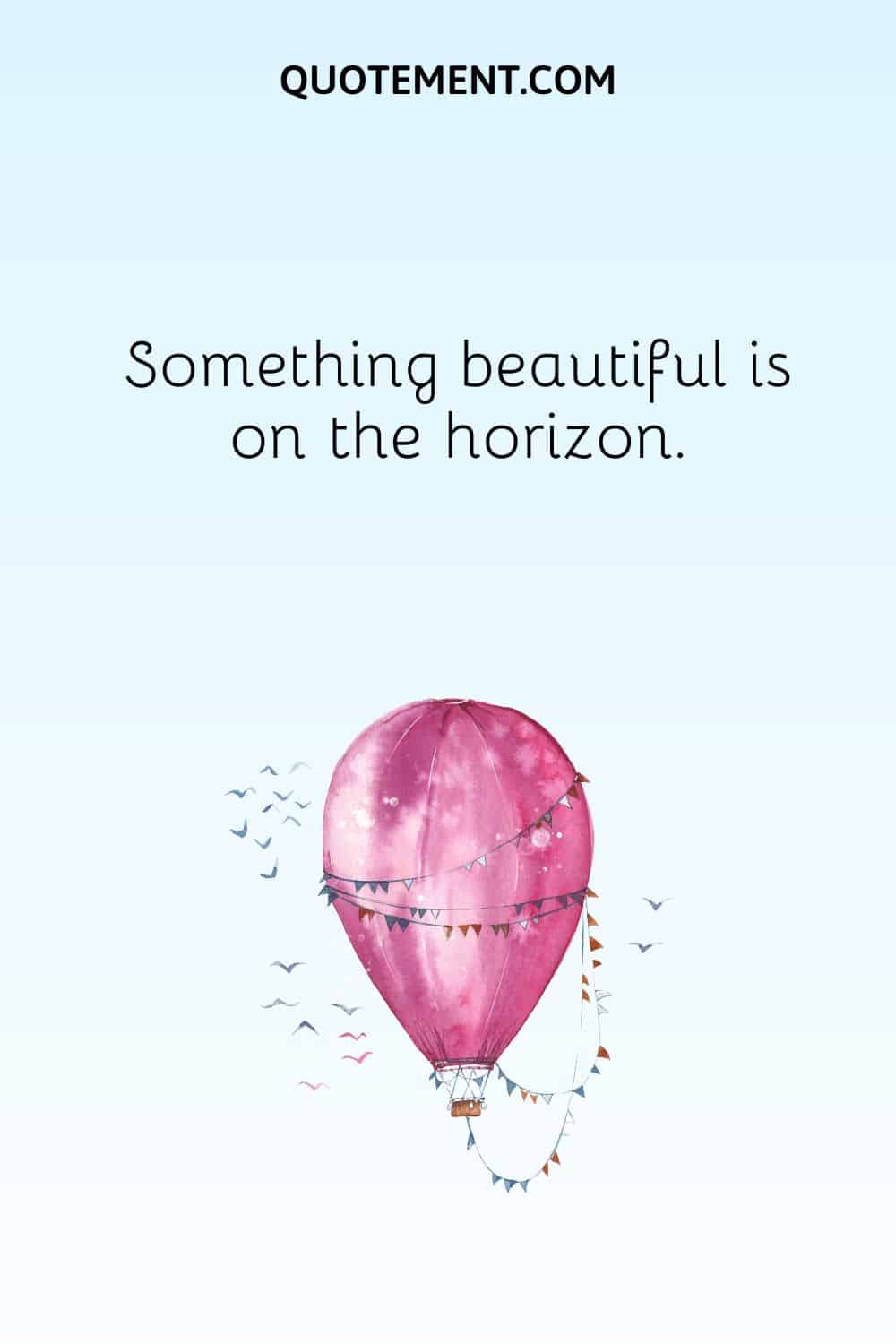 21. Together, we will touch the sky.
22. Watching the balloons is a therapy for the soul.
23. Let your dreams touch the pretty sky, it is made for them.
24. I'd be smiling and chatting, and my mind would be floating around somewhere else, like a balloon with a broken string.
25. Fly away your bad emotions, like flying balloons.
26. Make your friendship balloon full of air.
27. High in the sky or on your way to work – a two-hour flight is always on my mind.
28. Be the sunshine and lift everyone up like a hot air balloon.
29. To propel a dirigible balloon through the air is like pushing a candle through a brick wall.
30. I've just discovered a million ways to be happy in life.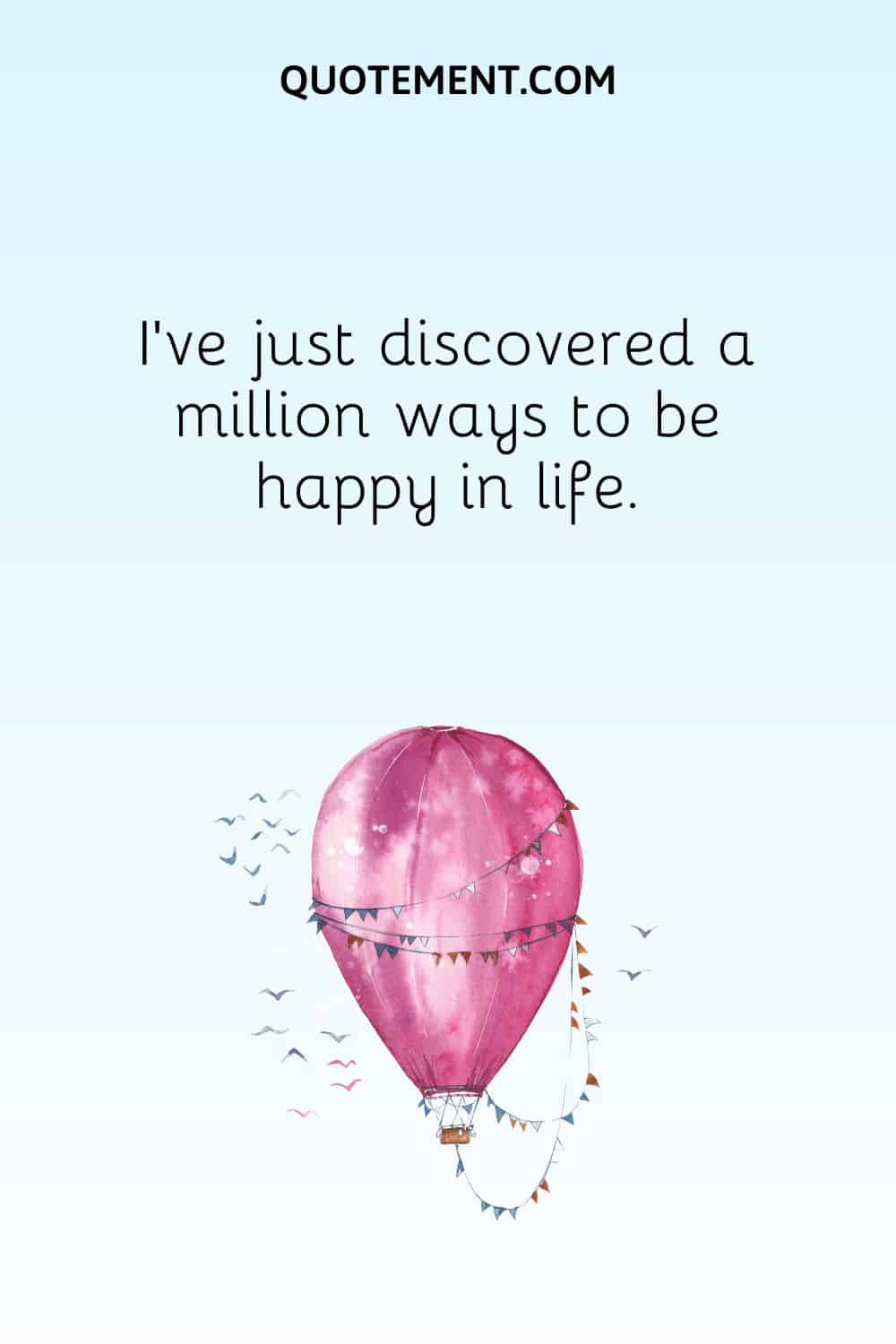 31. Living isn't always red bows and birthday balloons.
32. Balloons are bursting all around.
33. When you fly a balloon, you don't have a flight plan.
34. Being forgiven is like having all the worst bits of yourself stuffed into a balloon and then having that balloon set free.
35. I want to learn how to do balloon art and make dolphins.
Hot Air Balloon Quotes
Here is what some famous people have to say about balloons!
1. "Oh, but my darling, what if you fly?" — Erin Hanson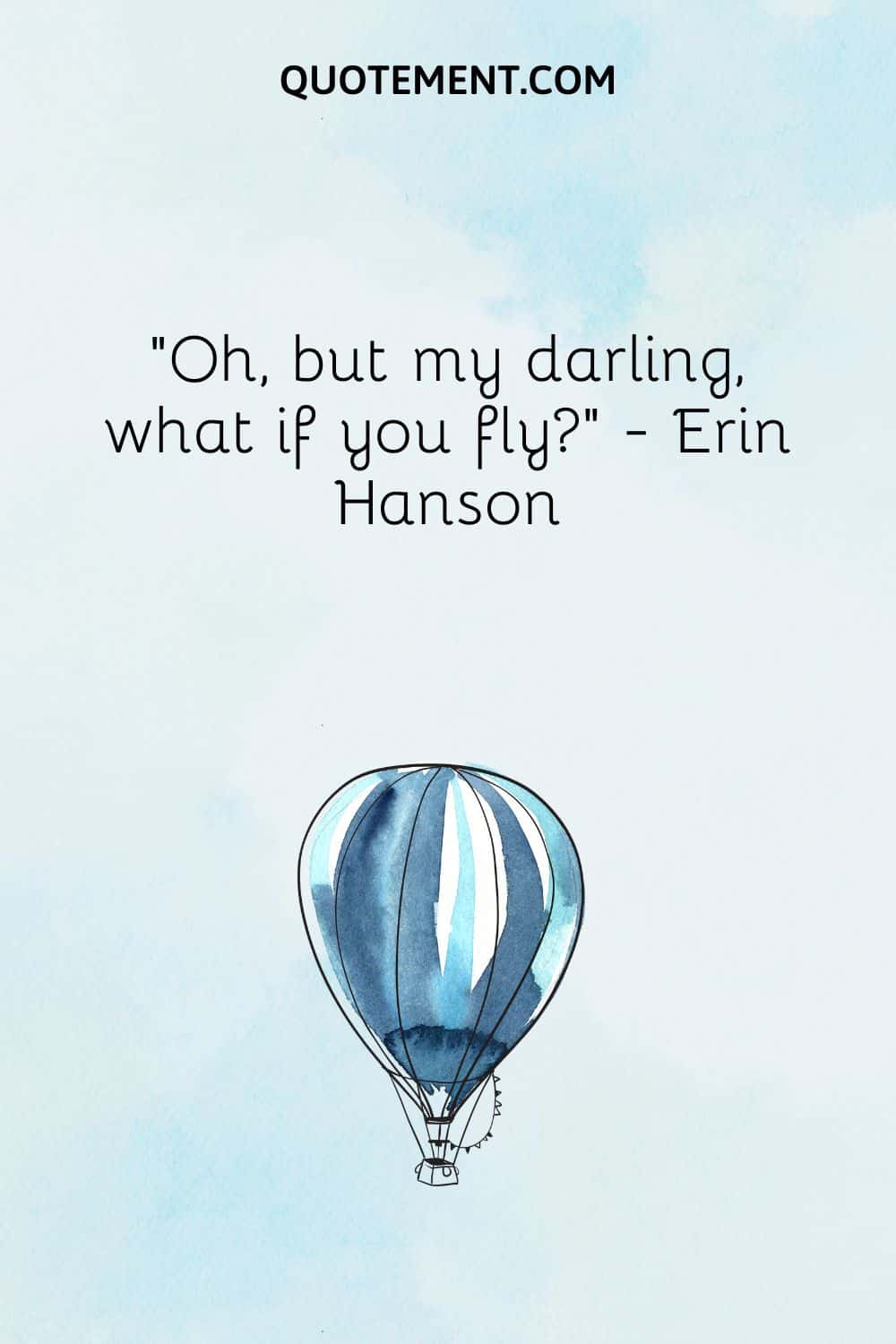 2. "Come fly with me" ― Frank Sinatra
3. "Just think of happy thoughts, and you'll fly." — Peter Pan
4. "Not all those who wander are lost." — J. R. R. Tolkien
5. "I may not have gone where I intended to go, but I think I have ended up where I needed to be!" —Douglas Adams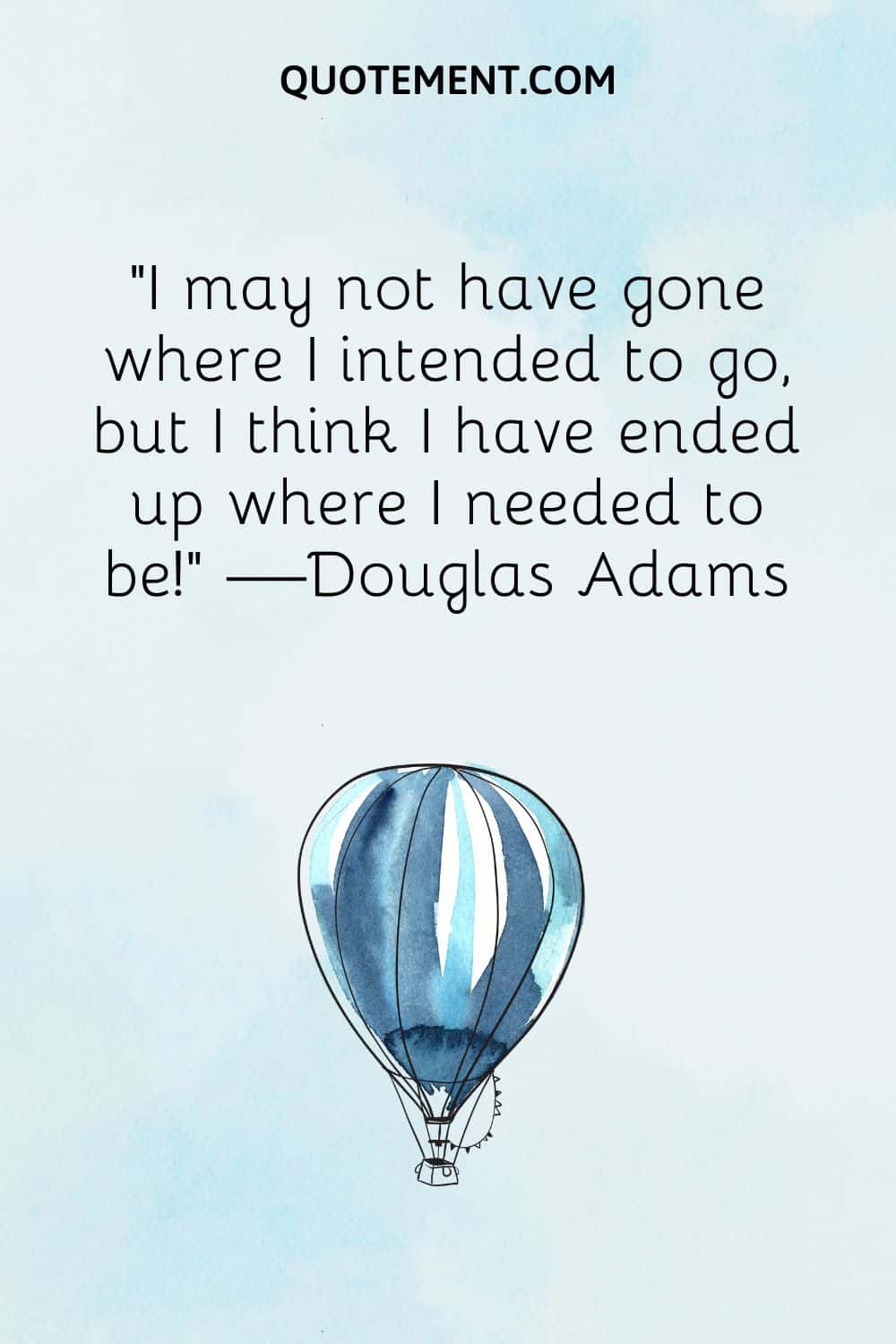 6. "I like how the balloon can turn from life-threatening to beautiful and peaceful. It shows how you can take a negative event and turn it into something positive, pretty amazing!" — Ashley Davis
7. "Be a rainbow in someone's cloud." — Maya Angelou
8. "Lean out and touch the treetops over town." — Owl City
9. "What I know for sure is that every sunrise is like a new page, a chance to right ourselves and receive each day in all its glory. Each day is a wonder." — Oprah Winfrey
10. "Oh, the places you'll go." — Dr. Seuss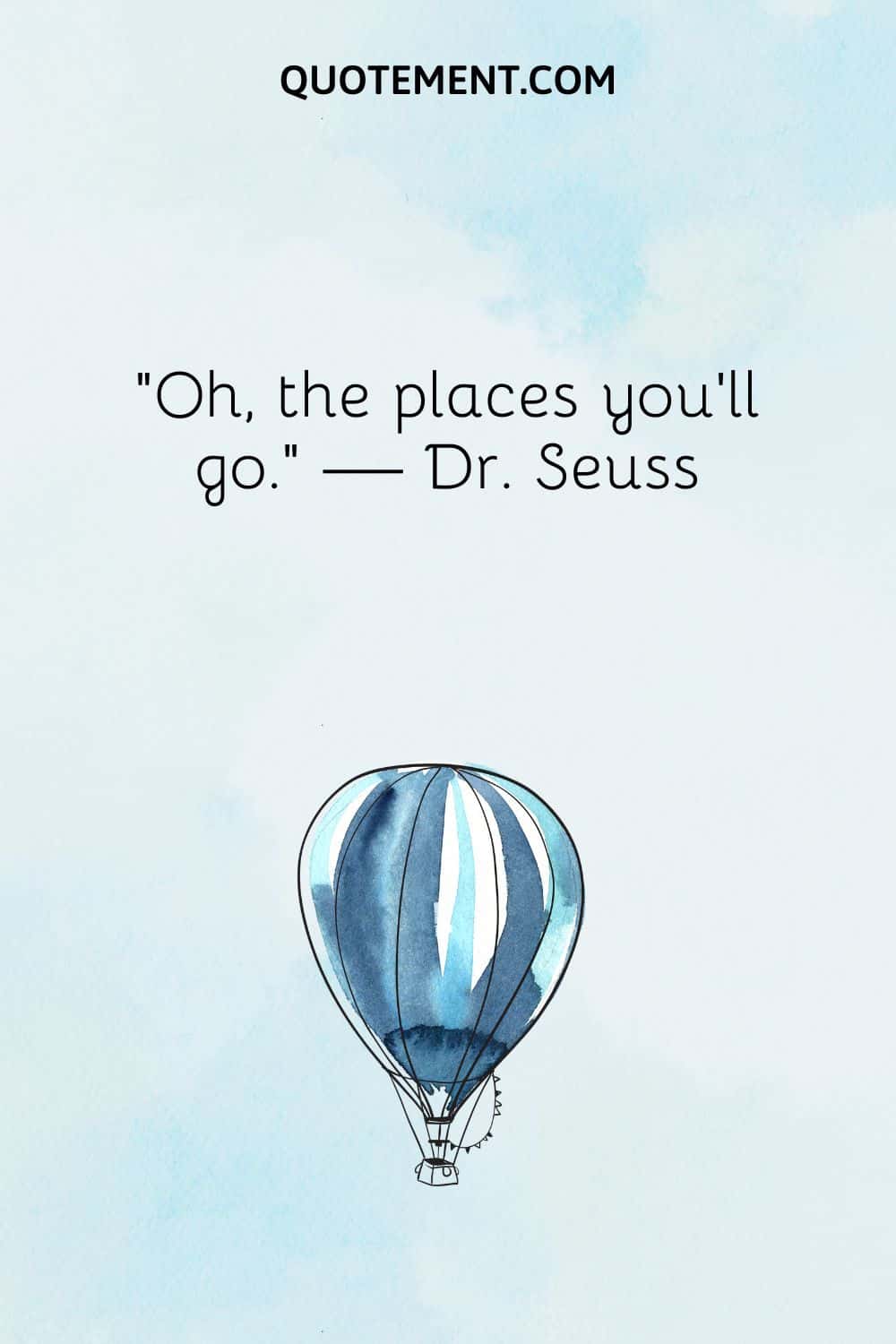 Final Thoughts
A balloon caption is always a good option!
You simply can't go wrong choosing a balloon caption.
Until next time!