Are you tired of using bad pick up lines and boring, over-used one liners that only bring you eye rolls? I got you!
Here are some hot pick up lines that are sure to work!
Music is something we all love, right?
So my guess is that there is no way your crush will resist a good Spotify pickup line.
Whether your opening line will be about your favorite Spotify playlist or podcast, or you're going to chat about music in general, these Spotify pick up lines will definitely hit all the right notes!
These pickup lines work for real-life interactions, but you can, of course, use them on Facebook, Instagram, Tinder, and anywhere you like.
My collection of Spotify pick up lines contains the best pick up lines I could find on the web.
Let's check them out!
Top 10 Spotify Pick Up Lines
1. Did my Spotify playlist glitch? Because you are the only song I hear.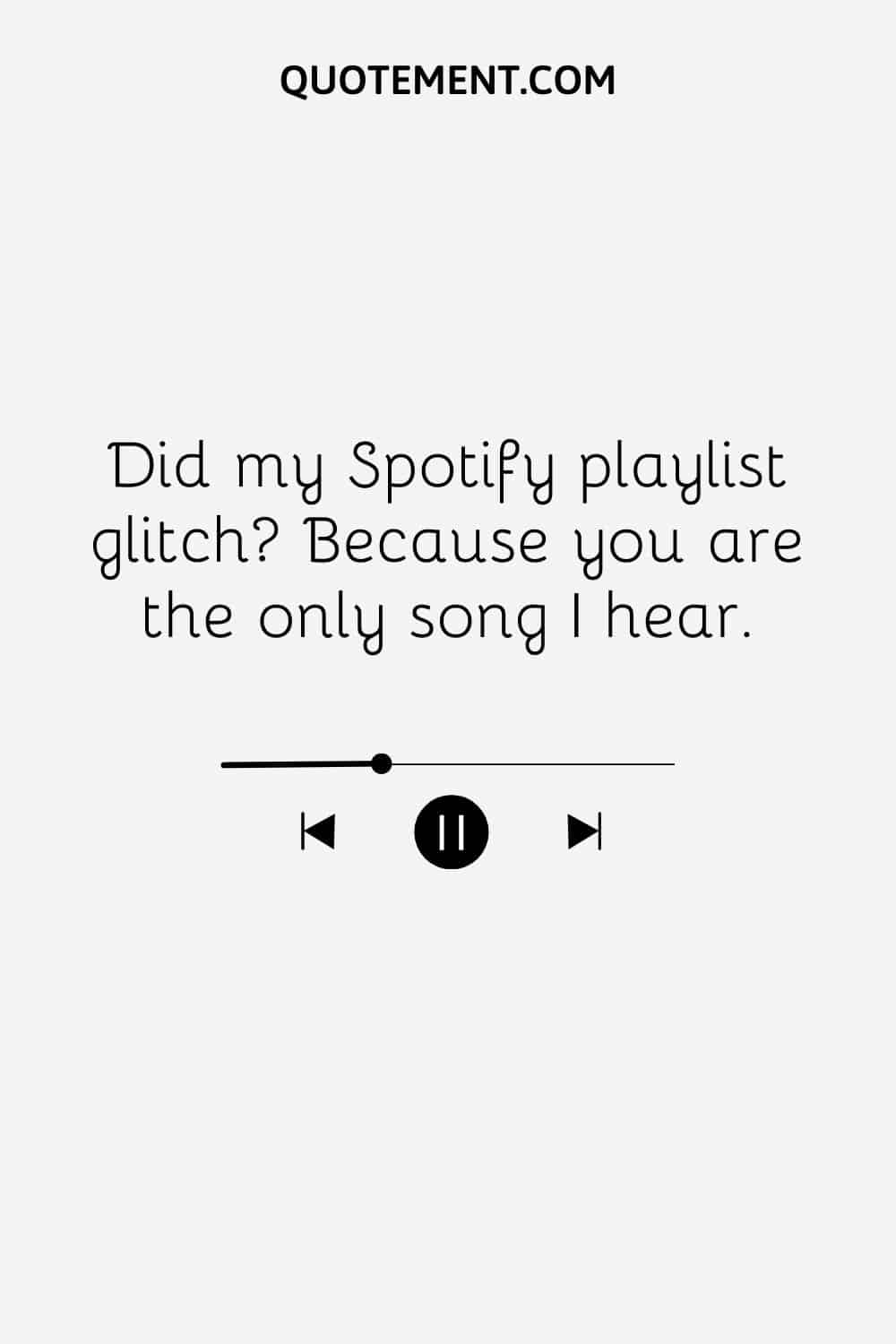 2. I'm gonna sue Spotify. For not including you in the hottest singles of the week list.
3. Is your Spotify working? Because I would love you to join my family plan.
4. I need to report Spotify cause I didn't see you in my hot singles list last week.
5. I'm so mad at Spotify. Since they didn't list you as the hottest single of the month.
6. Girl, you're like my favorite Spotify playlist…No matter how much I wander, I'd always come back to you.
7. Babe, are you Spotify? Coz I would pay a premium to spend uninterrupted time with you.
8. Babe, I just checked Spotify. It says you're this week's hottest new single.
9. You're the final two beats to my half-note. That's right, you complete me.
10. Has Spotify contacted you yet? Because you are the hottest single in this club.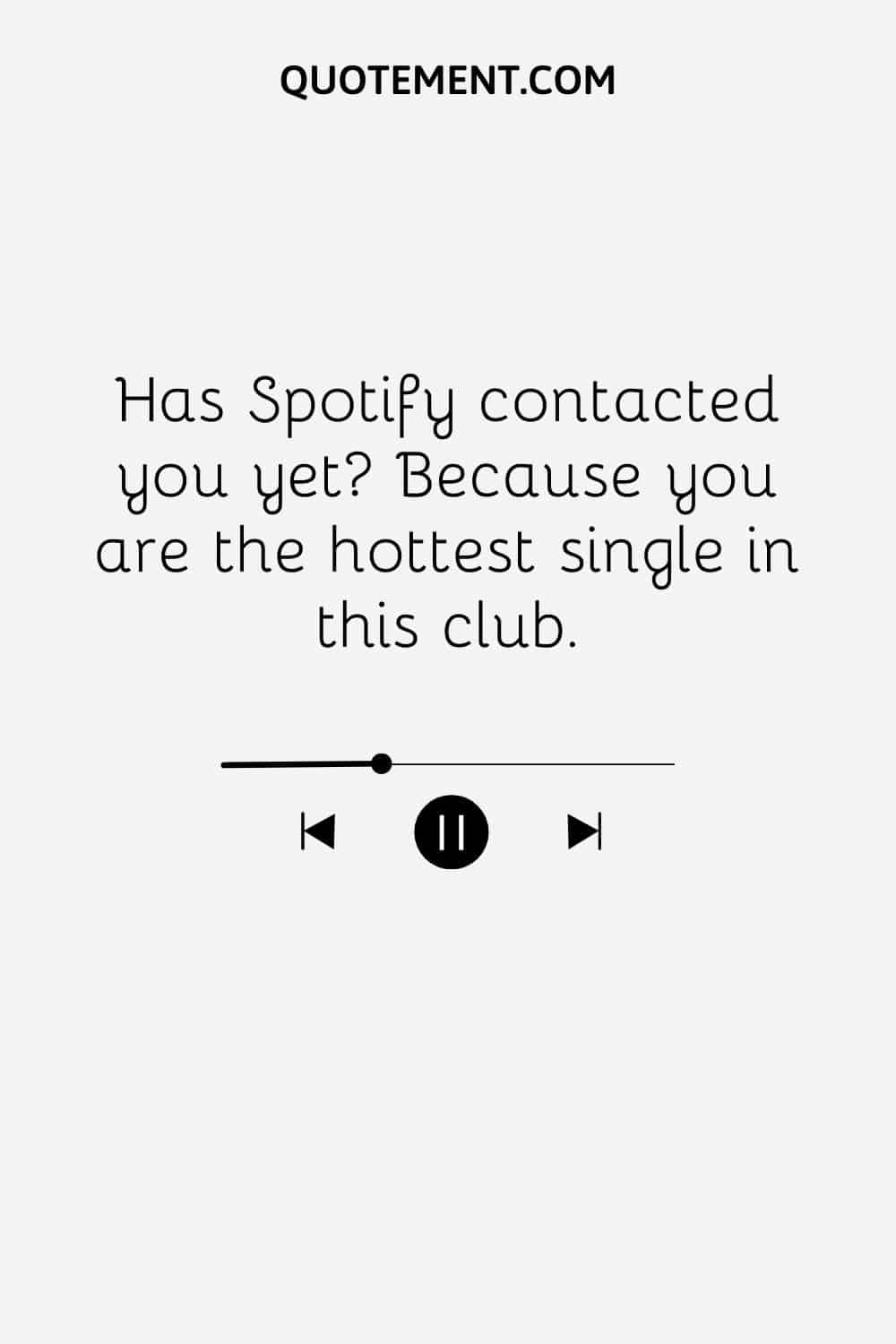 See also: 131 Absolutely Brilliant Pick Up Lines To Make Her Blush
Cheesy Pick Up Lines
1. You're telling me that you exist in the world, and Spotify didn't name you the hottest single of the week? Crazy.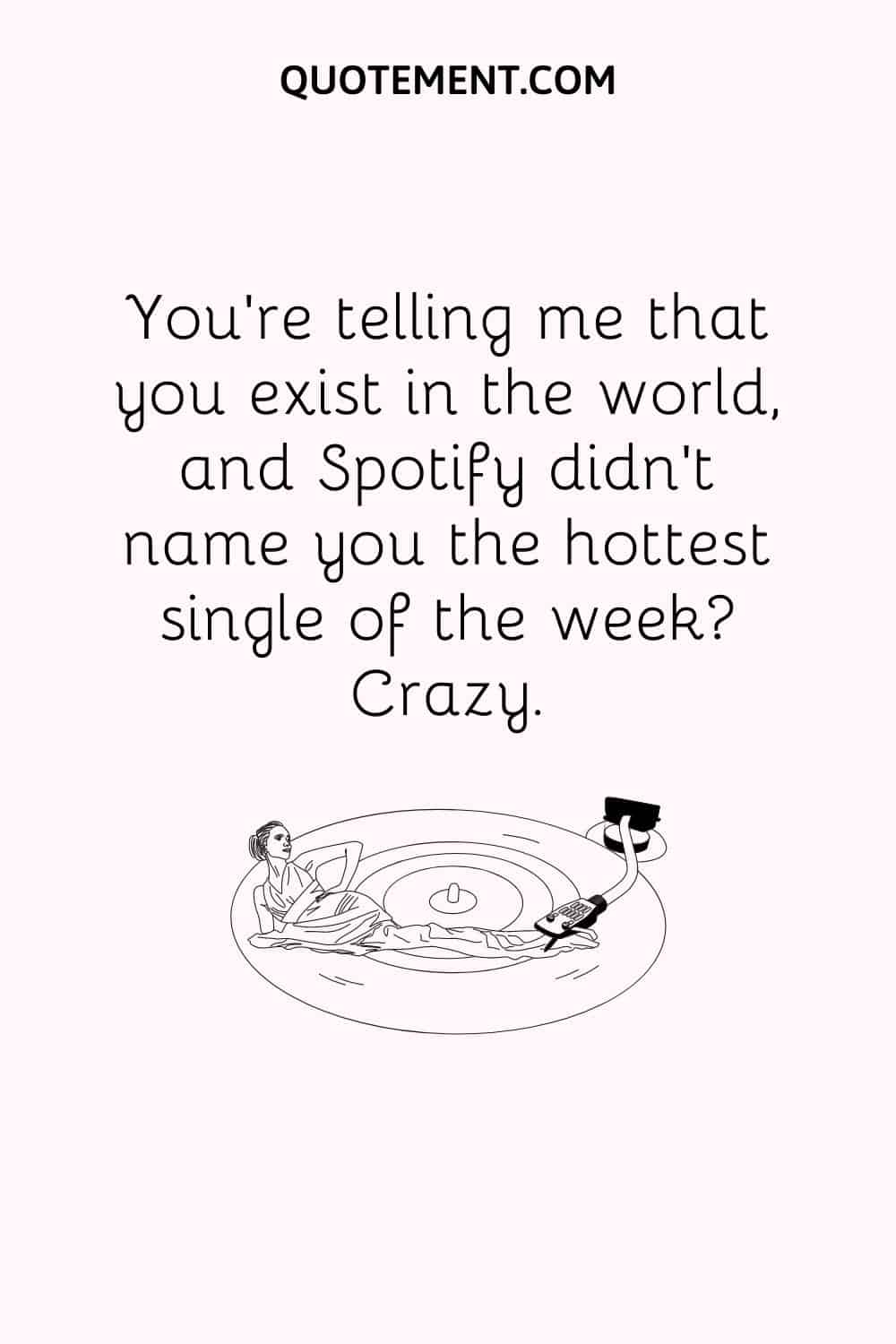 2. Girl, I might sue Spotify, because they can't put you in the top 10 because you are a solid 11.
3. If you were a song, you'd be the best track on the album.
4. Girl, are you my Spotify playlist? 'Cuz I wanna listen to you all day long.
5. Do you use Spotify free? You should join my Premium Duo for all the features.
Flirty Spotify Pick Up Lines
1. Can I just watch this Spotify ad? Cuz I'd love 30 mins of uninterrupted time with you.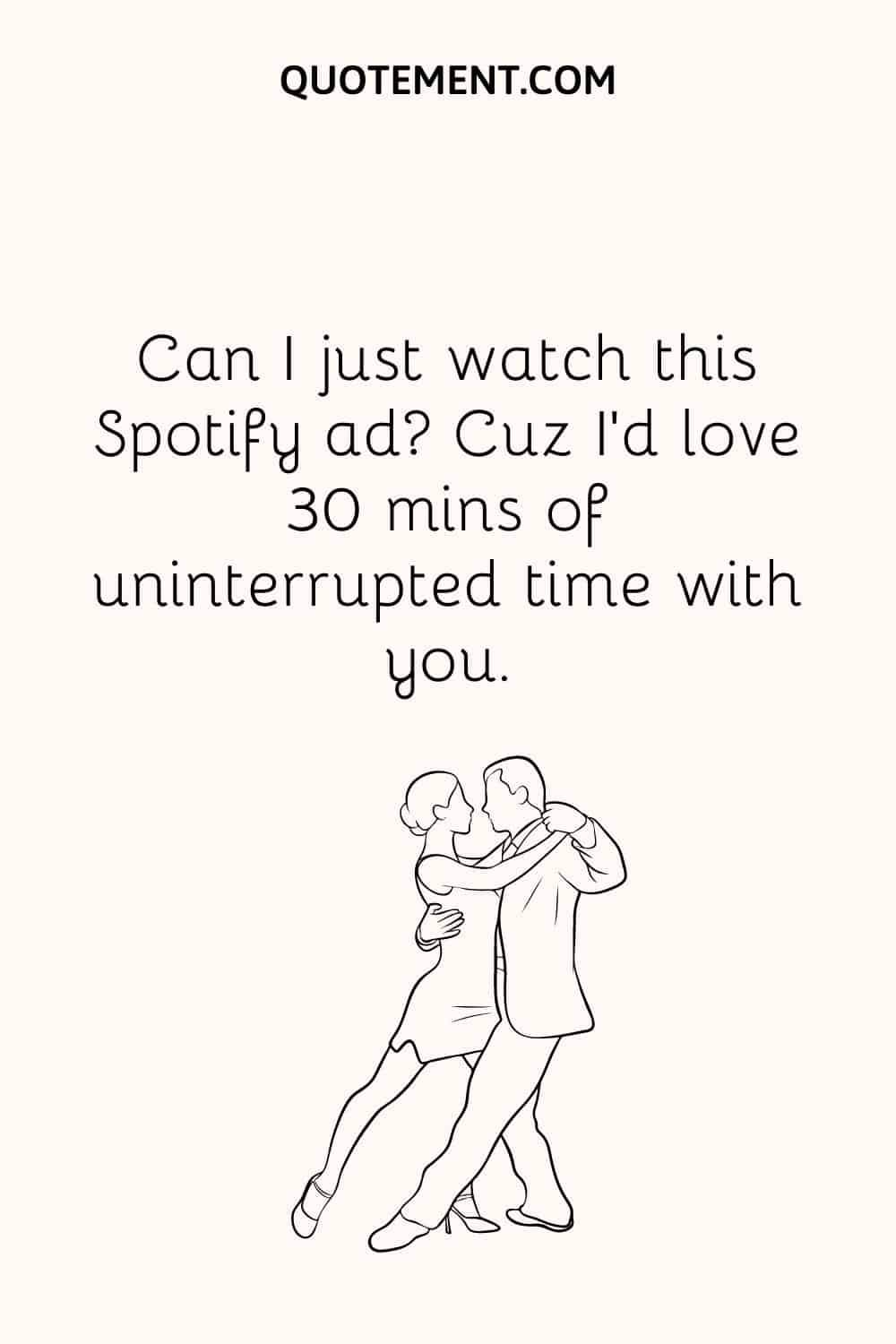 2. My Spotify must be broken because I don't see you on the top ten hottest singles list.
3. Apple Music or Spotify? Me: Oh, so you heard the glitch on it last week? Her: what glitch? Me: Well, they forgot to list you as the hottest single.
4. Spotify wrapped this, Spotify wrapped that, how about you spot if I wanna be wrapped in your arms?
5. My Spotify sucks. It showed me the hottest singles, and missed you out!
Dirty Pick Up Lines
1. Is Spotify down? Well, the music in my bedroom is now up. Wanna come by and listen to records?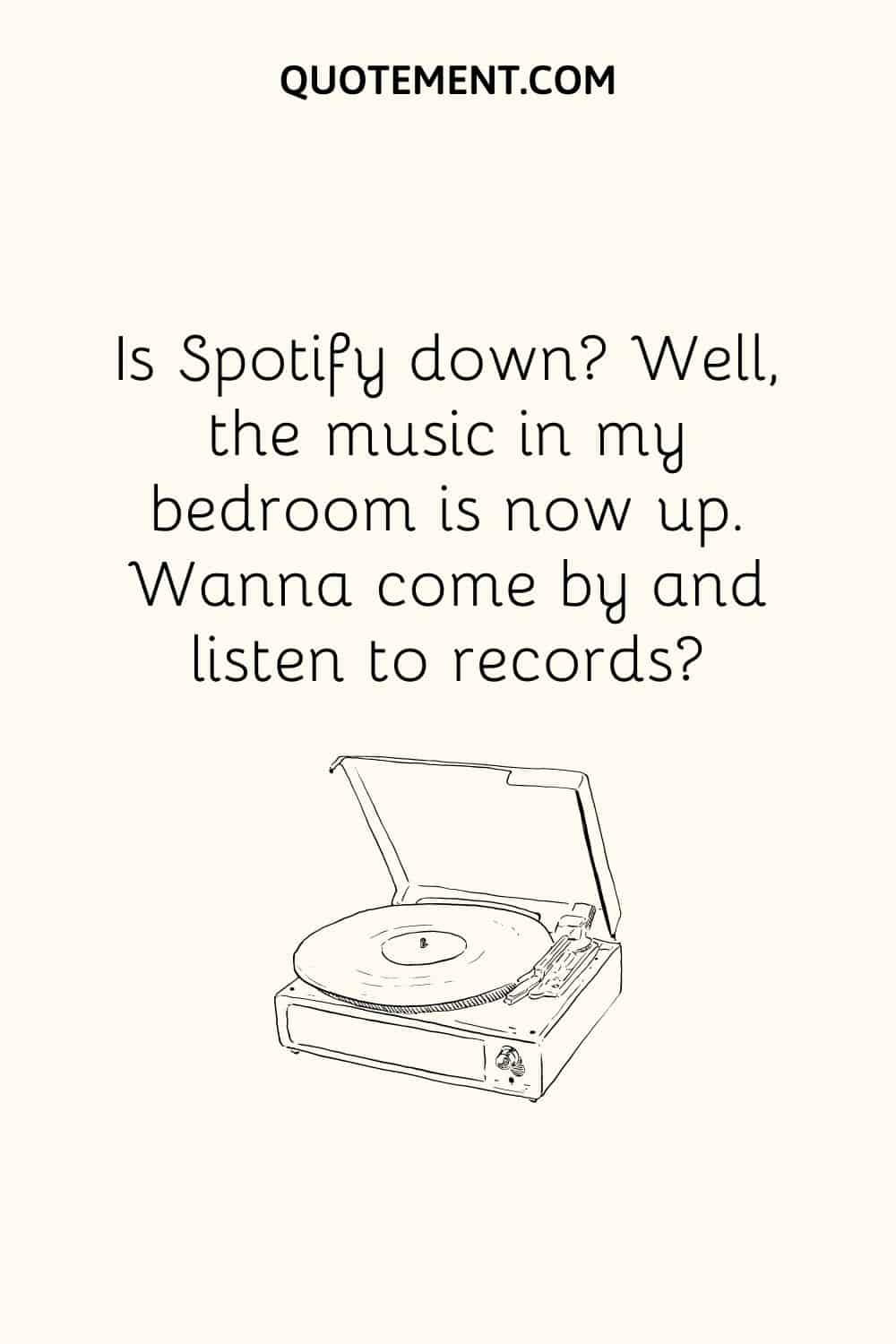 2. Did Spotify fix their mistakes? Because you will no longer be the hottest single after you spend time with me tonight.
3. Me and you are perfectly tuned together.
4. I'd like to memorize your body like I memorize my music.
5. Do you want to go out? I can put it down on my Spotify to-do list.
Funny Spotify Pick Up Lines
1. Babe, let's sync and see what happens.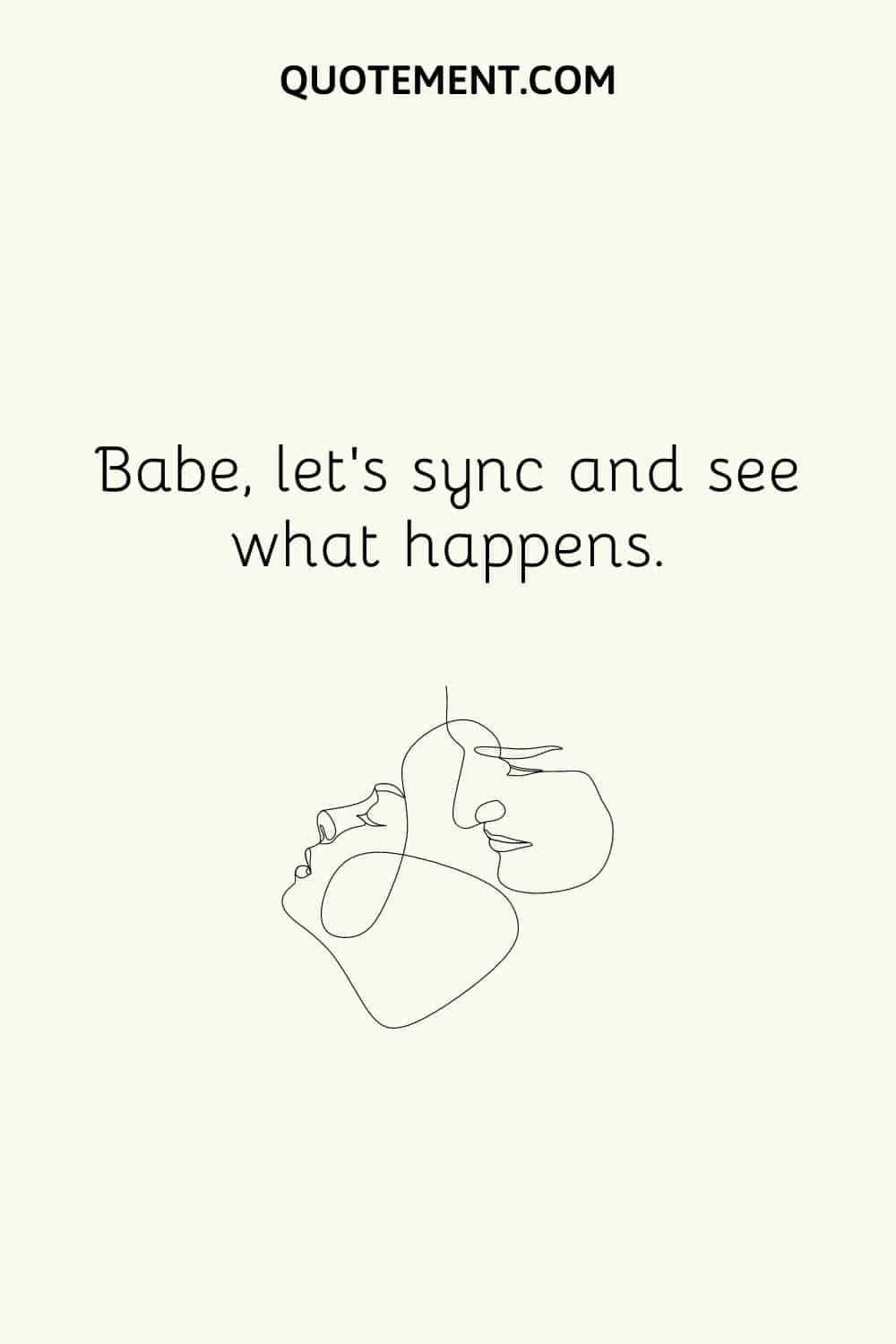 2. Would you like to borrow my tuner? You're looking pretty sharp to me.
3. Do you have Spotify? Because you better have premium so we could get some uninterrupted action tonight.
4. Know what's on my playlist? Me 'n' u.
5. I was feeling a little off today — but you've tuned me on again!
Wrapping It Up
Not bad, ha?
I believe these Spotify pick up lines will truly help you get your flirt on with that cute crush of yours.
What is sure, they will reveal your love for music, but also your playful personality, and who doesn't like that?
Read next: 200 Genius Music Pick Up Lines For All The Music Lovers