Sometimes we may have a special wish or some troubles and problems in our lives. At times like these, there is no one else to turn to but our Lord and Savior.
It is good to know a prayer for good luck so you can speak to the Creator when you really need a positive force to help you.
No one but God has unconditional love for you, and he will not forget about you even if you forget about him. He's your best friend in your time of need.
Even if you haven't been the best Christian, Jesus will hear your words. It is important that your prayers are sincere and come from the heart.
Prayers and affirmations can really do wonderful things for you.
Today, we bring you some beautiful prayers for good luck for the well-being of you and your family. You can use them when praying to God.
Let's take a look!
Best 20 Prayers For Good Luck And Success
1. "We thank the Lord for all of our successes and innovations, and may He be with you as you seek to add value to the world."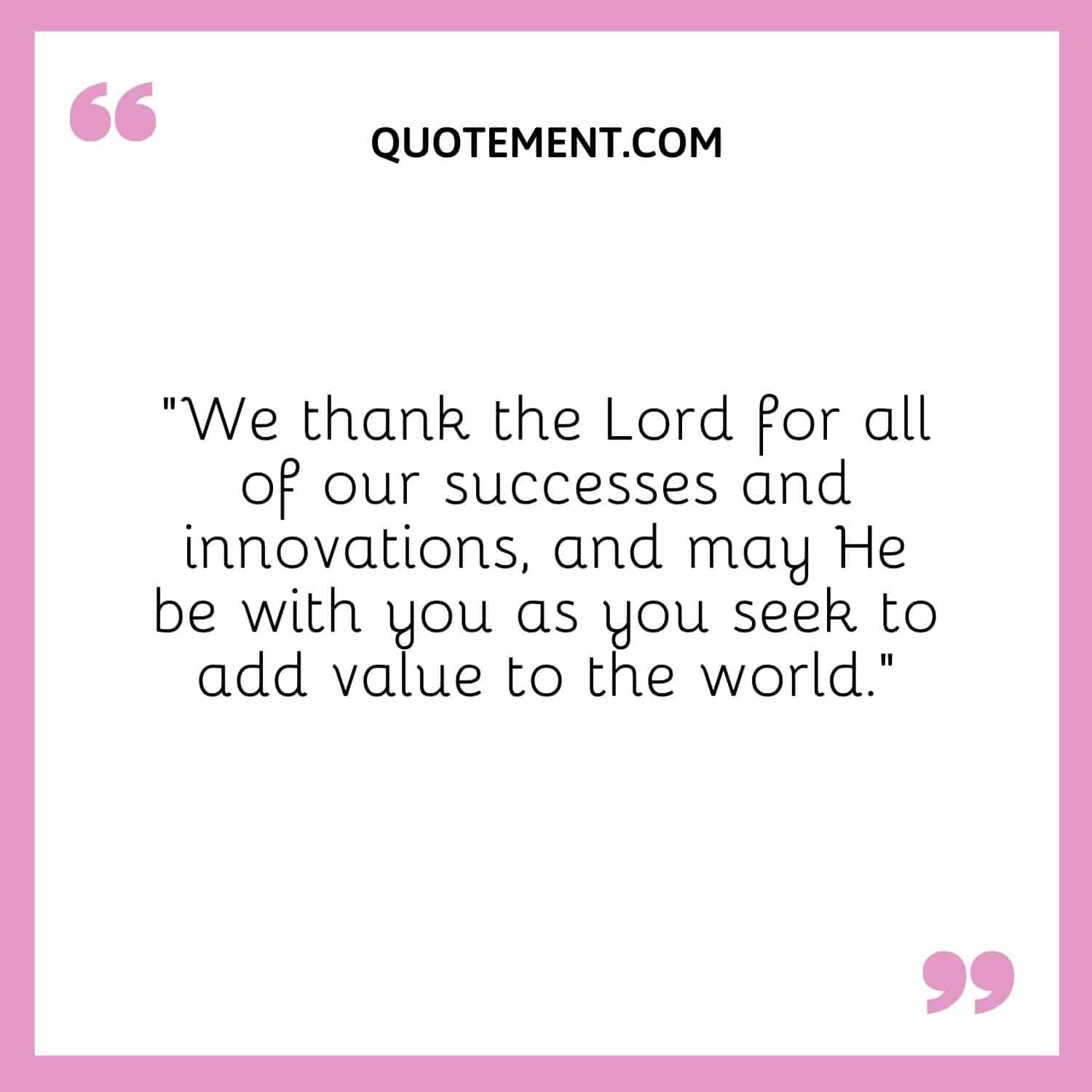 2. "I pray for your success and that Jesus will use your resultant wealth as a tool to help the less fortunate."
3. "Praying that Father will bless you to be a world-changer who positively influences his profession for generations to come!"
4. "Today, may the heavens bless you with the kind of success that just hearing the mention of your name inspires others to strive for greatness."
5. "I thank Jesus not only for your accomplishments of today but also for the glorious future He has prepared for you."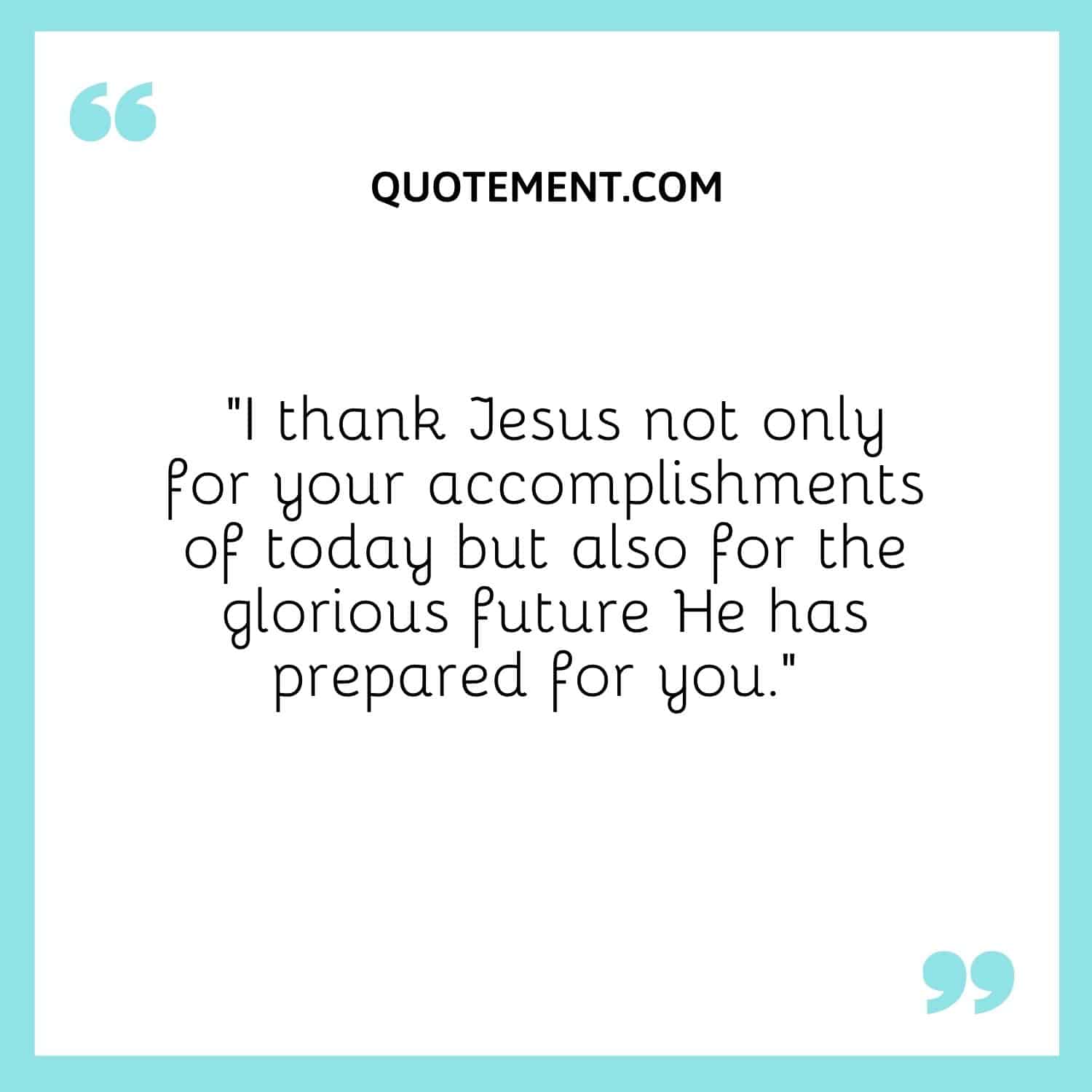 6. "May Lord blesses you and keep you safe from every evil. I'm praying for your good luck and protection."
7. "God, I'm praying for your favor and grace. Please help me overcome my financial difficulties. Just help me win the mega millions lotto."
8. "Oh, Benevolent! Grace me with a stroke of luck and grant me mercy for my sins!"
9. "May Jesus be with you in every step of your life and grace you with ravishing luck and prosperity."
10. "Dear Lord, bless me with strong will and patience and aid me with good fortune!"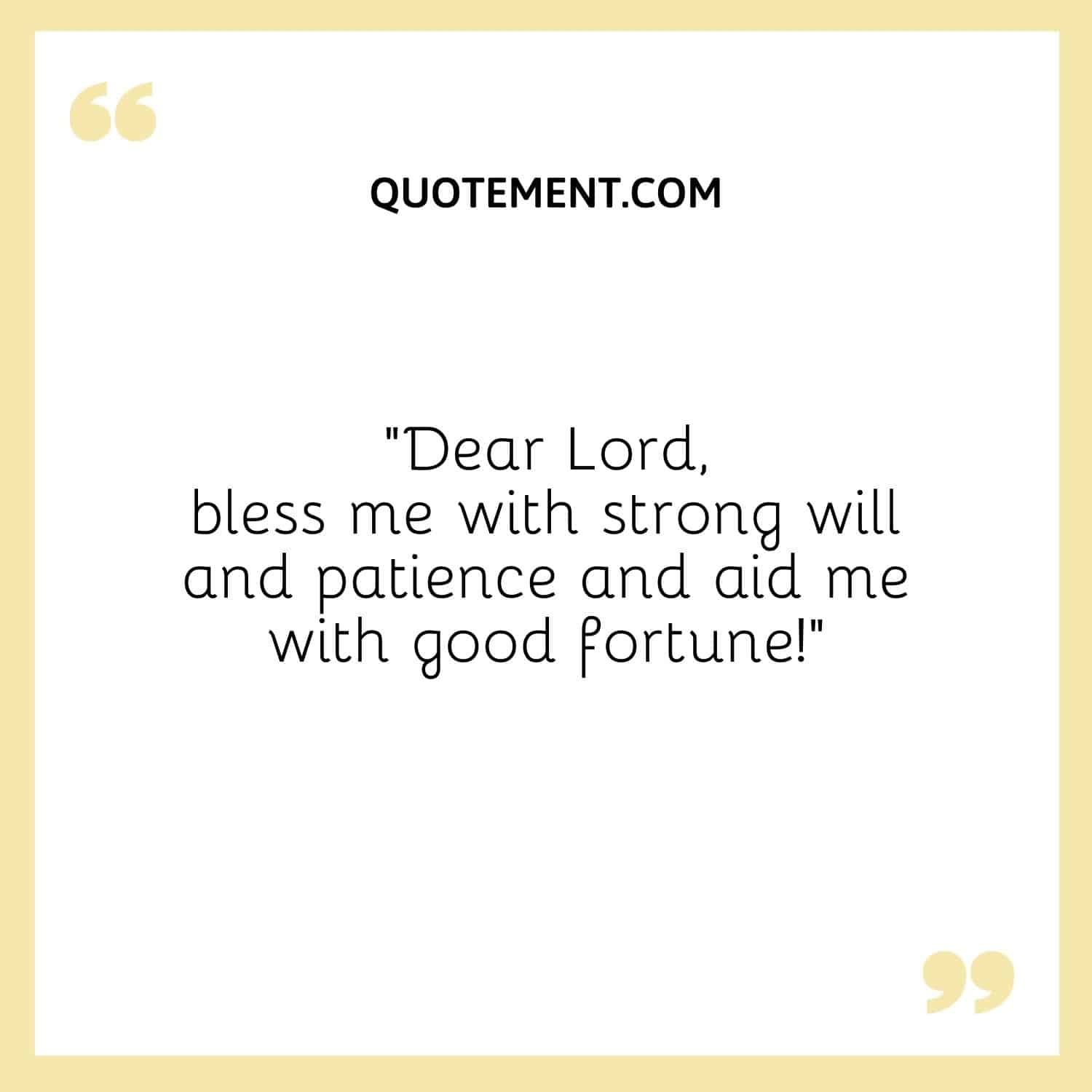 11. "My Father! My Father! I pray against satan, generational curses, and manipulative spirits bringing setbacks and bad luck in my life. Let them all be destroyed by fire in Jesus' name."
12. "Thank you Lord for your amazing power and work in our lives, thank you for your goodness and for your blessings over us."
13. "Dear Lord, you are my only God, please give me open doors to heaven."
14. "Dear Jesus, give me the wisdom and the foresight to avoid bad decisions, and place myself in a position to be more fortunate. God grant me this prayer. Amen."
15. We thank God for all of our successes and innovations, and may He be with you as you seek to add value to the world.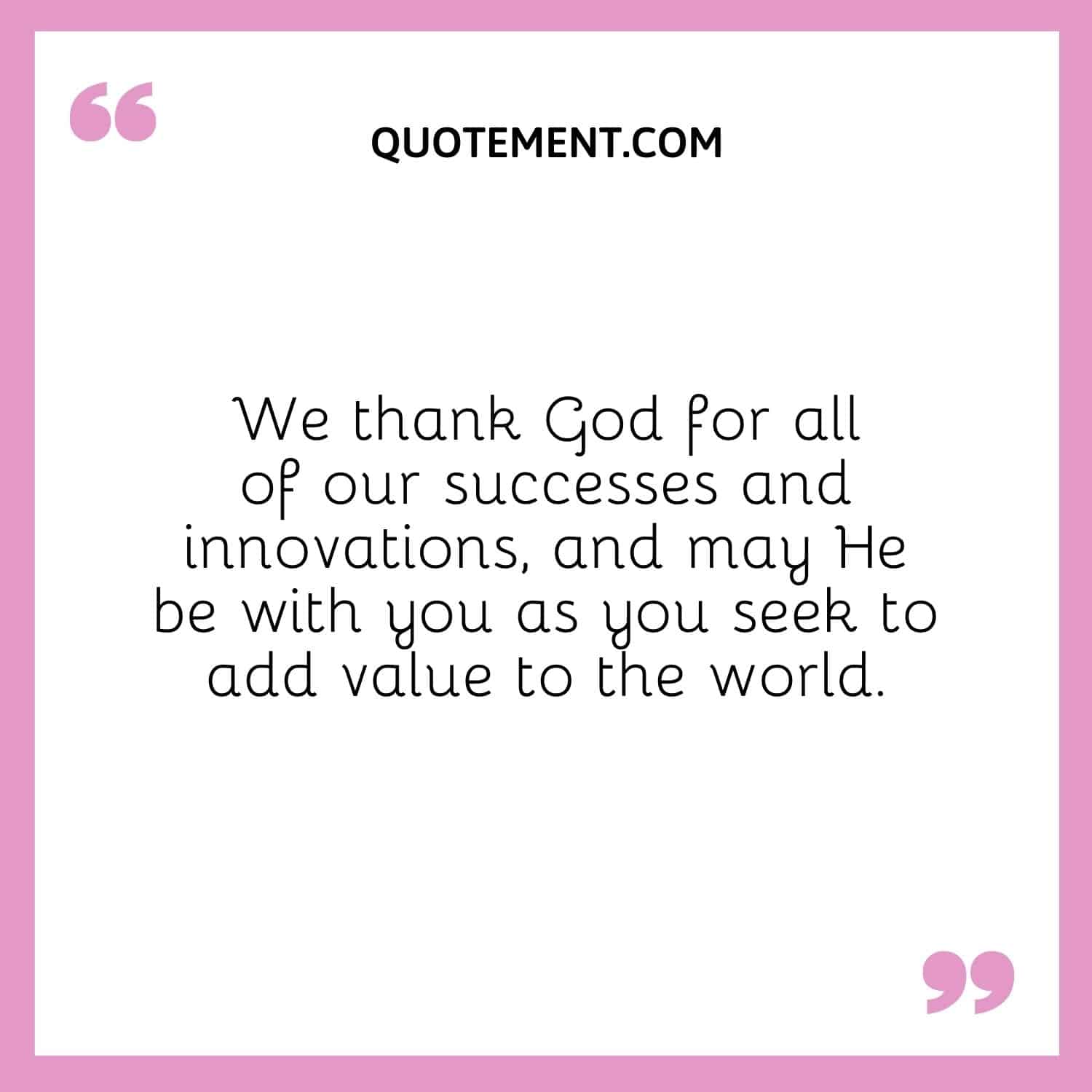 16. I pray for your success and that God will use your resultant wealth as a tool to help the less fortunate.
17. May God, in His amazing grace, give you the type of professional success that transcends time, space and economic conditions.
18. Praying that God will bless you to be a world changer who positively influences his profession for generations to come!
19. May God bless you to reach greater heights and become internationally renowned in your field. You truly deserve this.
20. May God bless you with the mind of a problem solver whose professional aspirations leave an impact on his generation.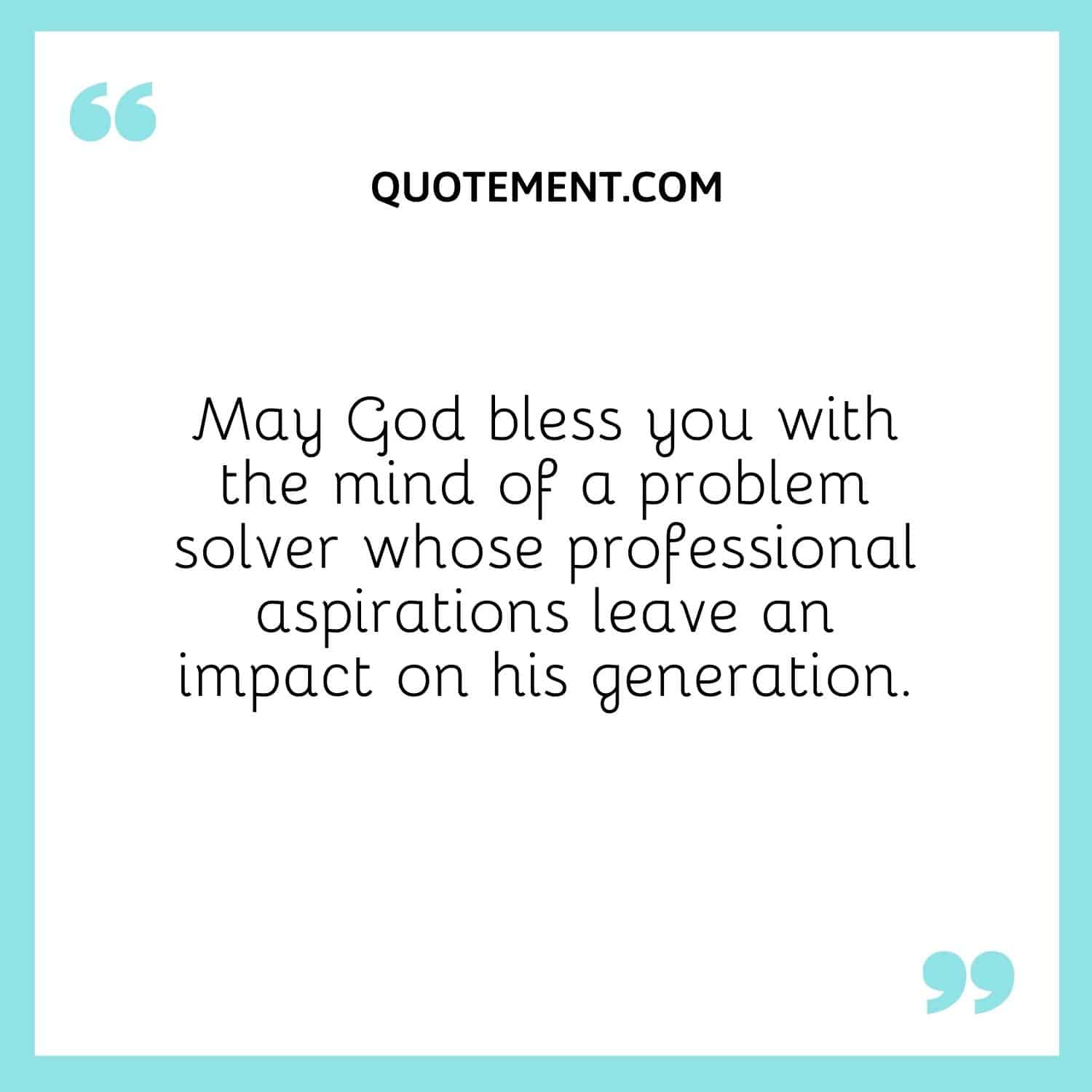 Prayers For Good Luck On Job Interview
A prayer for good luck can help you in that job interview you are about to have.
1. "Oh Almighty, I come to you with a pleading heart! Please bestow my heart with confidence and soothe my worries! Lord, grant me success in my upcoming job!"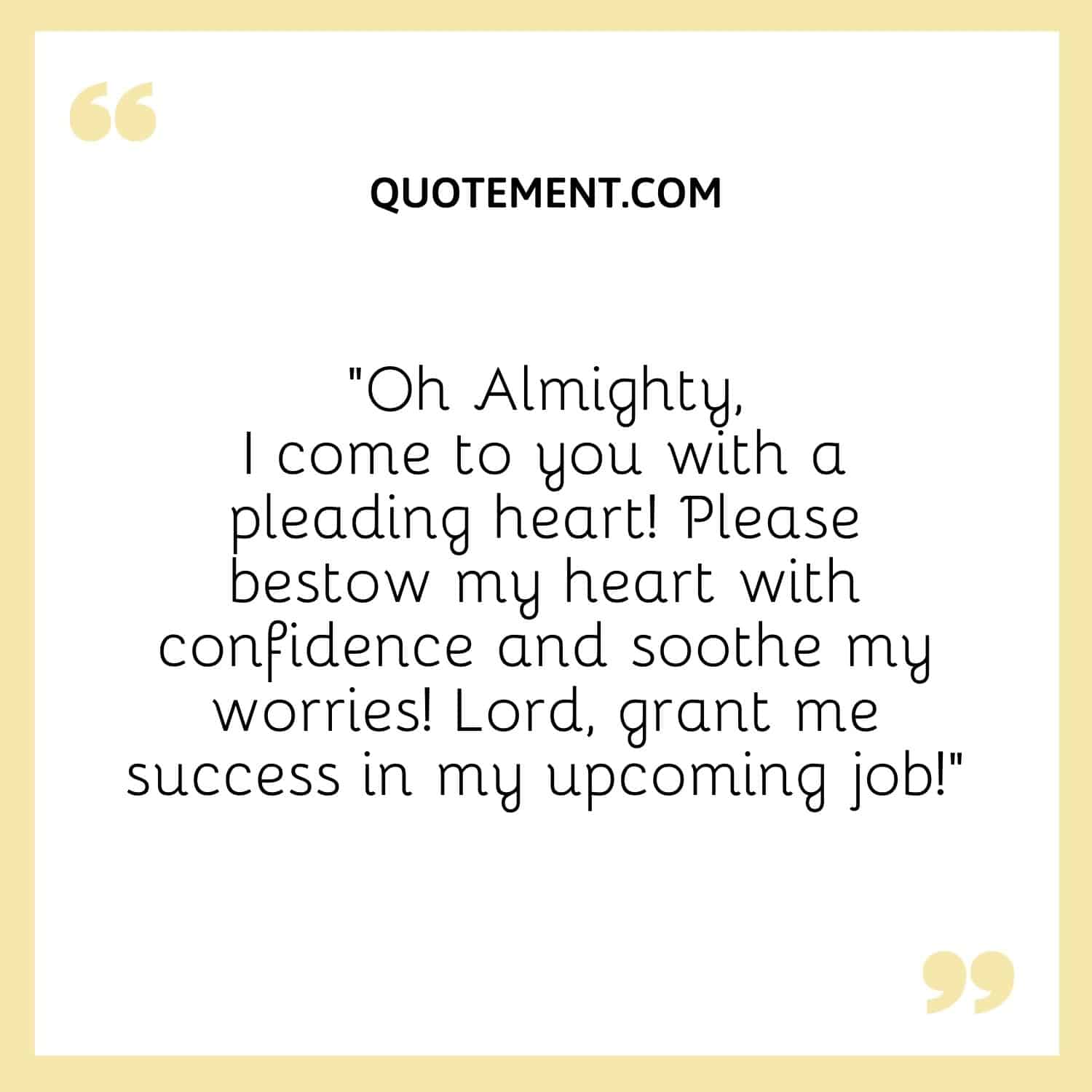 2. "Good luck for your test ahead! I pray to Lord that you achieve the deserving success!"
3. "God has separate plans for every individual, and I pray earnestly that God has a prosperous future for you in store! May you nail the interview ahead!
4. "Jesus, I turn to you with hope and worries! Please grant me success in the job interview!"
5. "Dear, may God's infinite grace be by your side and help you conquer the job interview!"
Prayers For Healing From Sickness
1. "Our fate is written by God Himself, and nothing happens without his will. So dear, have faith in God's decision. May He heal you from your ailment soon!"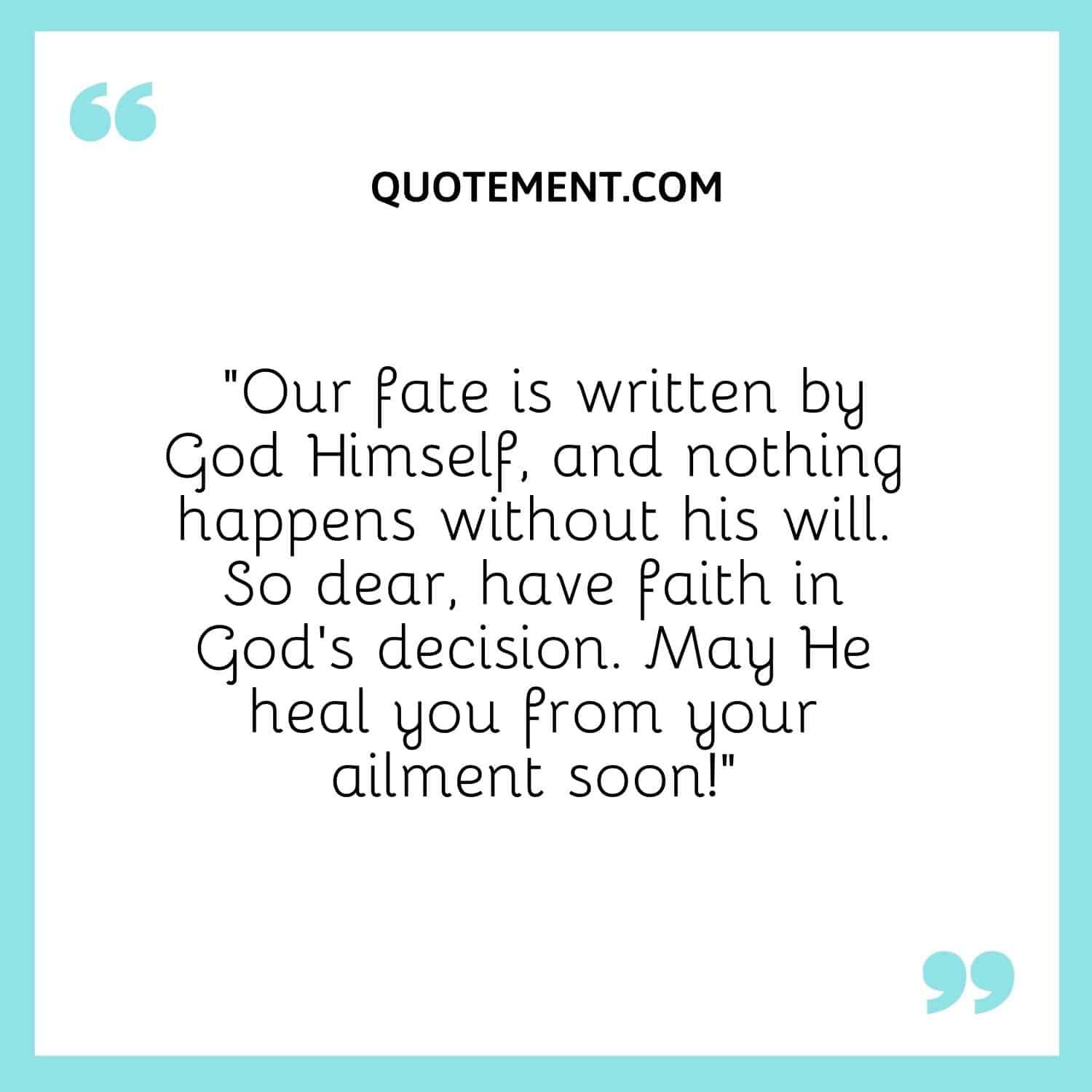 2. "Dear Jesus, I beg you to bestow my sick body with your healing aura and grant me peace!"
3. "With God's unconditional grace, may you recover from this painful condition soon!"
4. "Almighty, only You know the cure to every disease, so I sincerely pray for my recovery!"
5. "Thank you Jesus for gathering us here in faith and our belief in Your capacity and willingness to help our sick friend."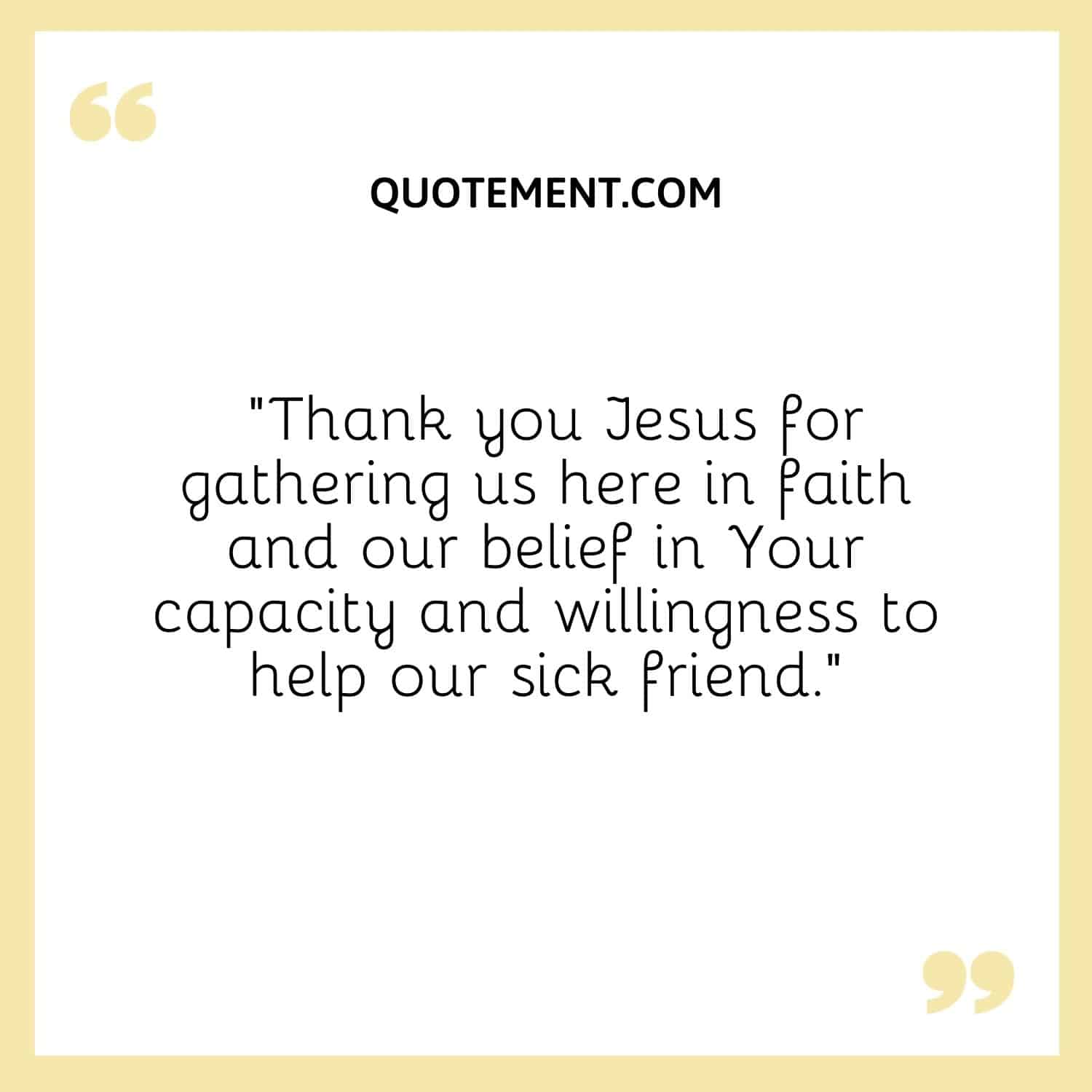 6. "We are thankful for all of the good God has done in our lives and thank Him in advance for restoring you to full health."
7. "I pray that the Lord will make your life happier, easier, and less stressful by removing the physical curses on your body. Amen."
8. "May you and God strike a contract where He gives you your health and you give Him your soul. Amen."
9. "Dear Lord, we are already grateful for all You have done for us and will praise Your name, even more, when You heal the sickness of our dear friend."
10. "It's my deepest prayer that today's incurable sickness serve as tomorrow's undeniable testimony of the grace and mercy of God."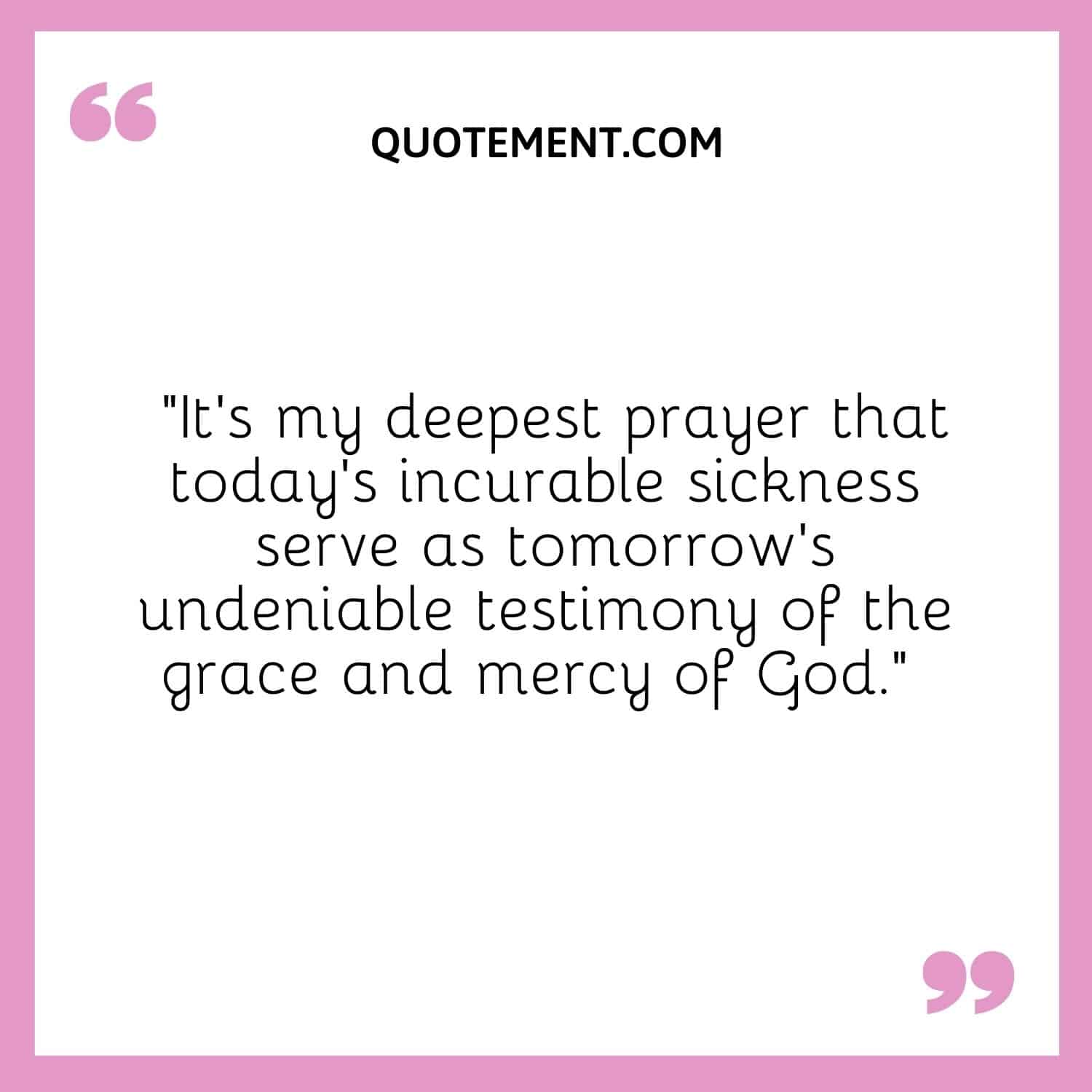 11. "May Jesus put someone in your path who is able to assist you in permanently overcoming your ailments."
12. "We all know that none of us can demand anything from God, but rather we humbly beg for His intervention in restoring you to good health and great strength."
13. "No situation is too bleak when God is on your side, and I am praying that He will personally lay his healing hands on you and eradicate your sickness."
14. "Dear Heavenly Father of our Lord Jesus Christ: Please give me strength as I continue to live through such challenging times. May your will be done on Earth as it is in heaven above."
15. "Dear Almighty God in the name of Jesus: I ask you to please be with my family and friends, especially during this time when the physical hurts of life are so present in our space."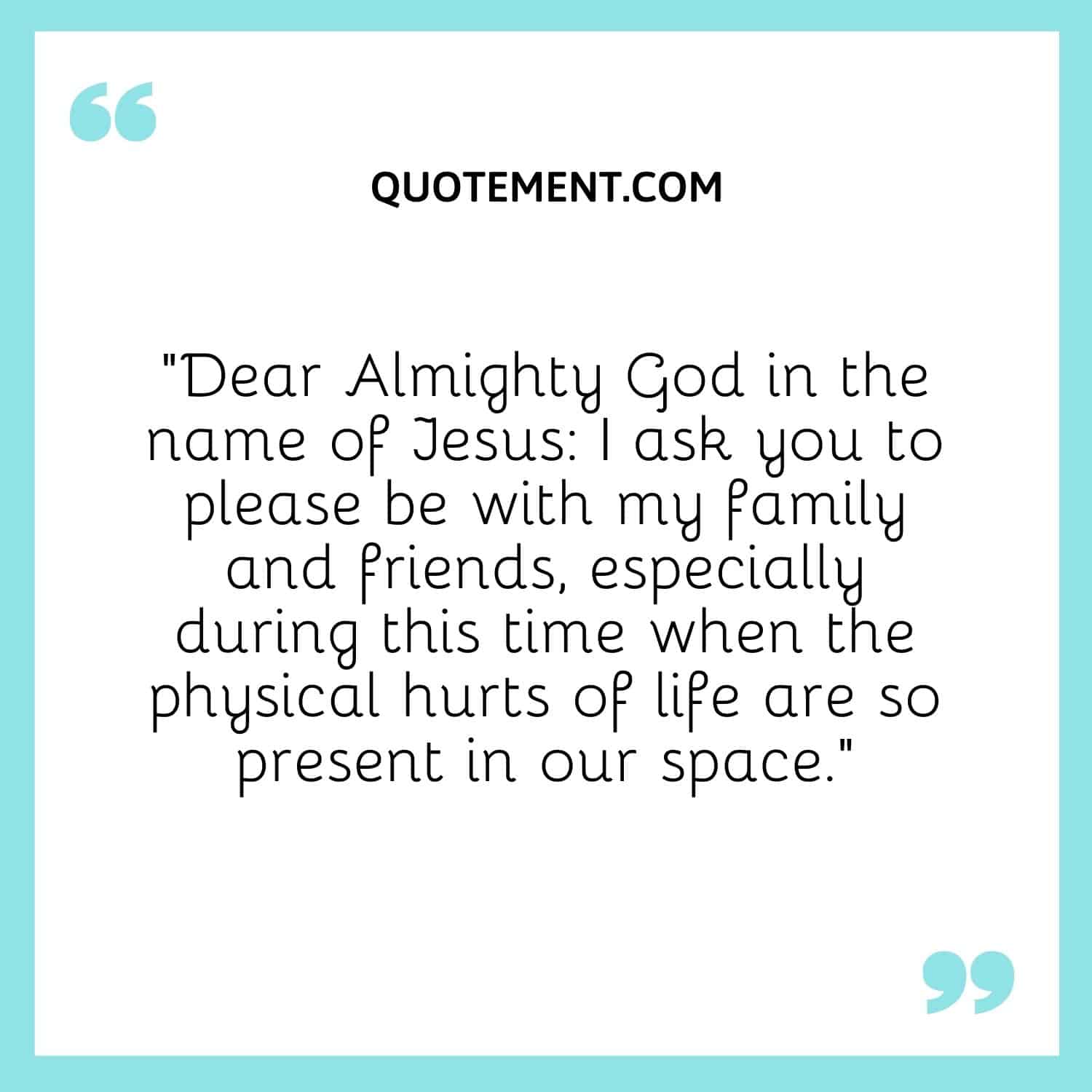 16. "Dear Lord God: Please send your healing down upon me during such troubling times when diseases reign supreme over many lands like a wildfire."
17. "Save my son Jesus my Lord! Please do not turn your back on him and forget him. He was once yours and he still belongs to you. He has just forgotten."
18. "Please help me find the strength to push through this difficult time, and give me hope for a better future."
19. "O Lord my Father, I entrust all my loved ones in your care and I pray you to protect and guide them daily."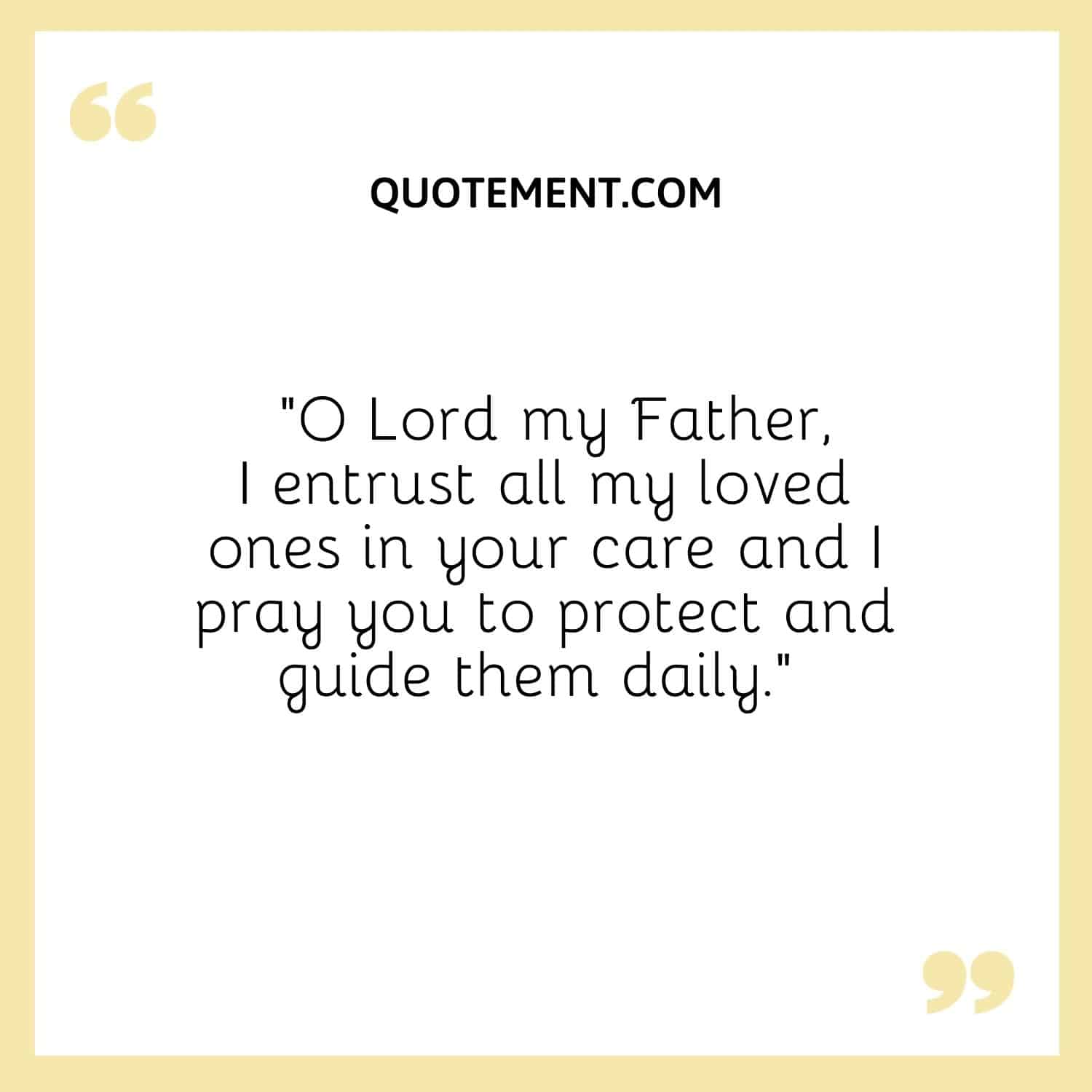 Good Luck Prayers For Birthday
1. "Oh Lord, I am grateful for all the wonderful gifts you have blessed my life with! On my birthday, I pray to you for good health, luck, and success ahead!"
2. "Happy Birthday to you, dear! May this special day bring nothing but an overwhelming joy to your life. Praying to Jesus for your happiness and prosperity!"
3. "Almighty, allow me to repent for my sins and grant me your Holy blessings on this day!"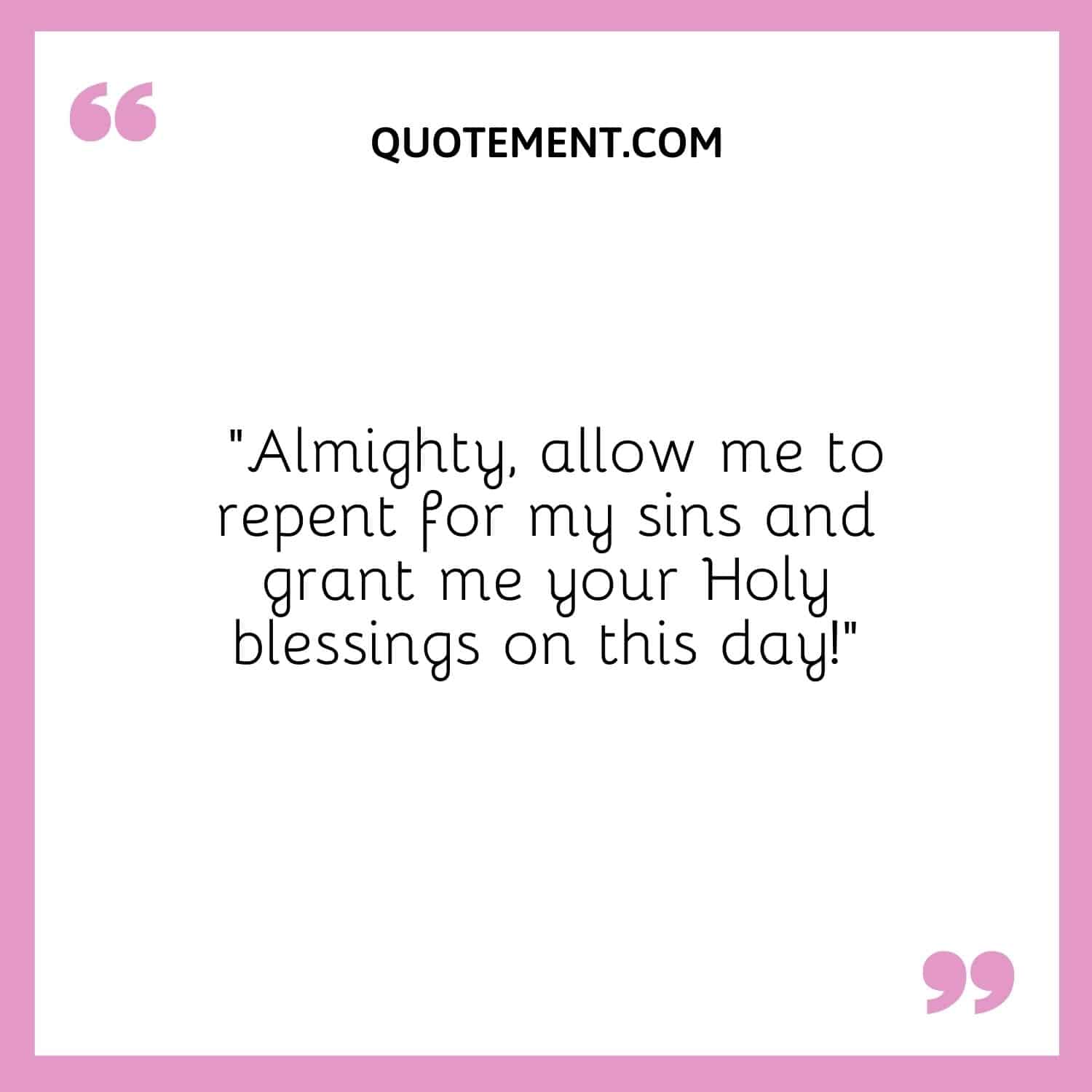 4. "Always praying for a healthy, peaceful, and pious lifestyle for you! Happy Birthday!"
5. "Happy Birthday! May your life get filled with divine blessings, wisdom, and progress!"
Prayers For Good Luck In Exam
1. "Lord, I beg for your mercy and blessings! Allow me the luck to achieve good results!"
2. "May you be able to triumph over your exams with Almighty's omnipotence by your side! Don't stress too much, rather have faith in God's grace!"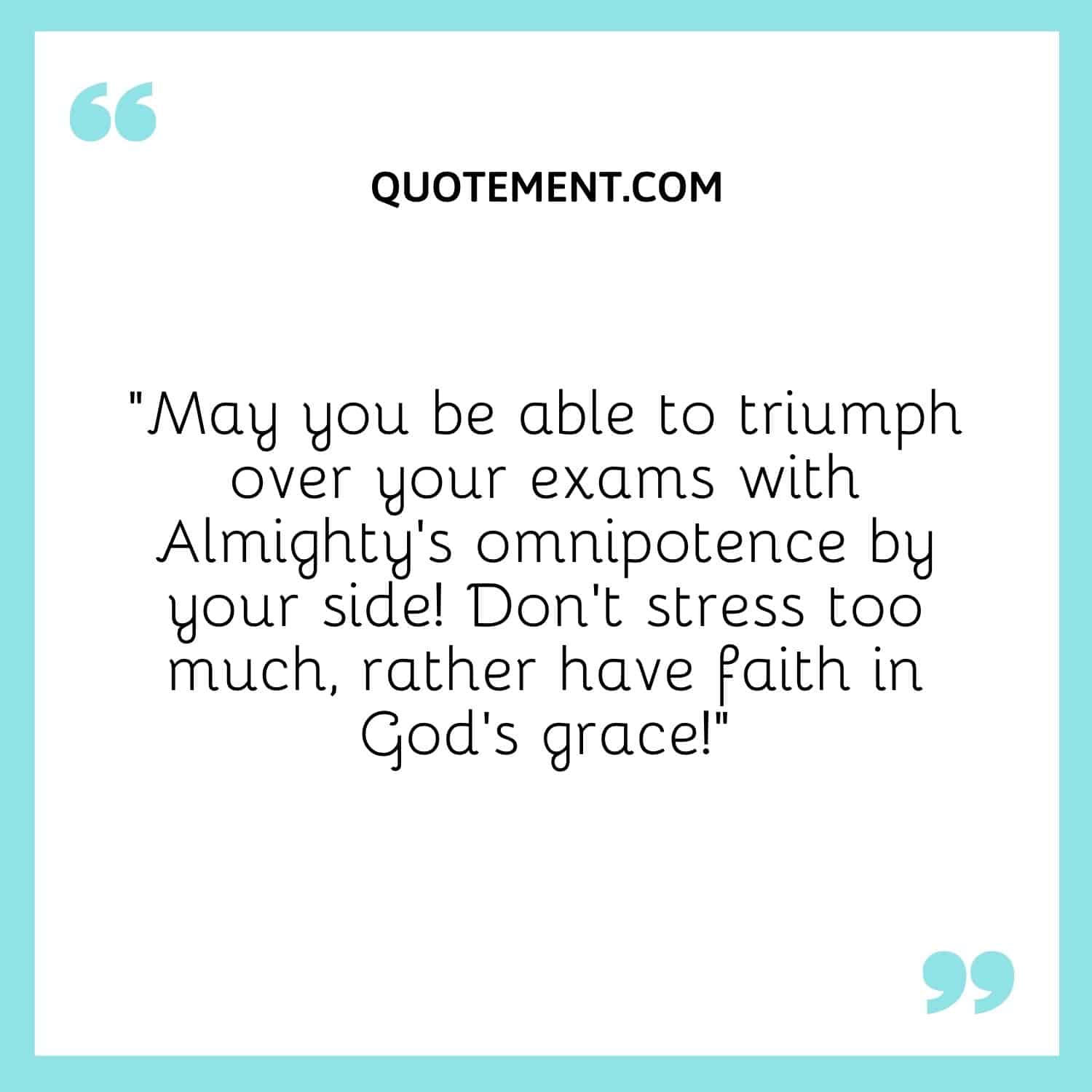 3. "Dear God, please grant me the luck to cross all the obstacles ahead with a fighting spirit!"
4. "Oh God! I plead for your grace and blessings! Please bestow me with your generosity and help me conquer good results for my upcoming exams!"
5. "I pray to God for excellent performance and graceful results for your exams ahead!"
6. "May God causes your success with this exam to be a testimony of His ability to bend all things to His will."
7. "We are just human and pray for Jesus to help you on your exam, though it is but a temporal and material aspiration."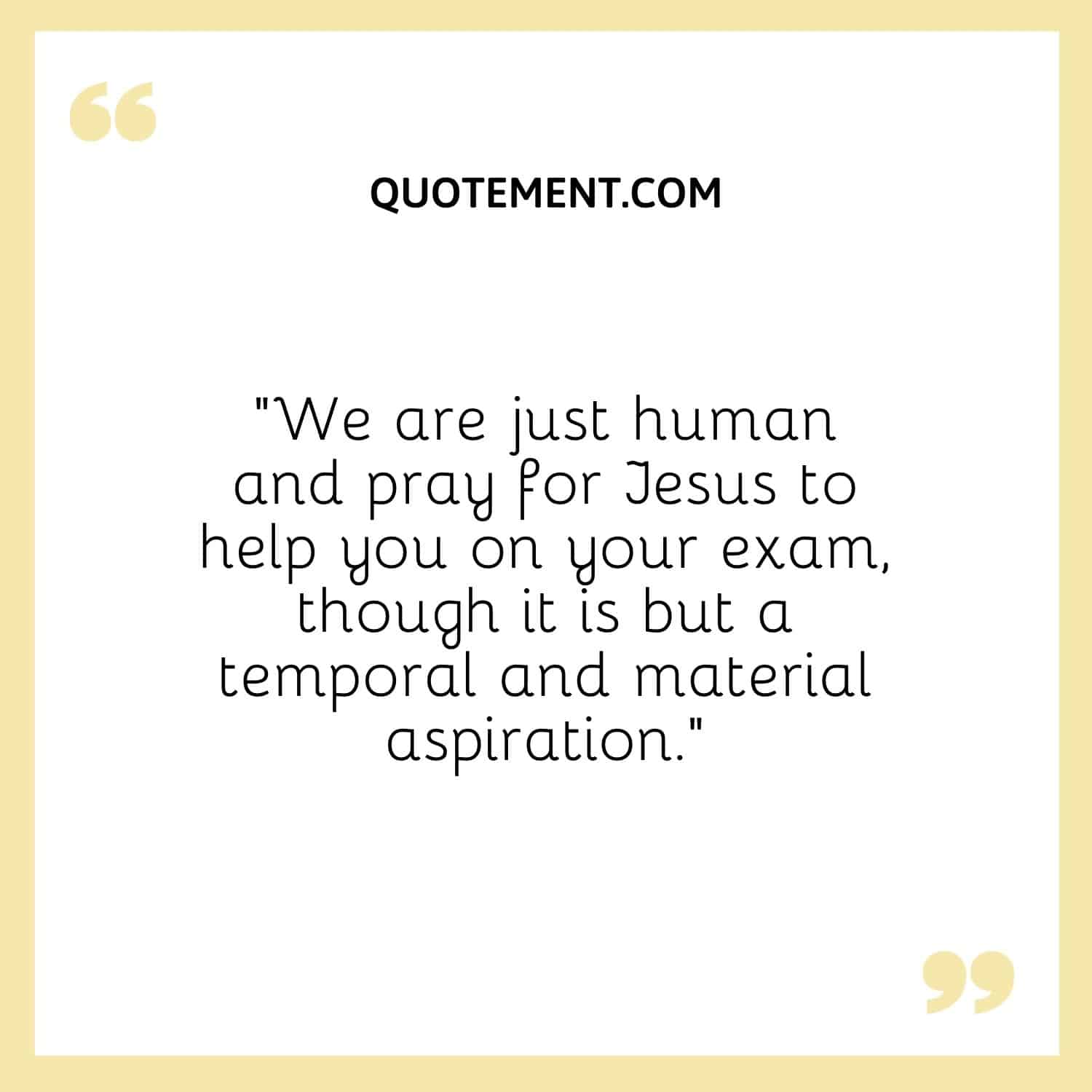 8. "I thank God in advance for hearing our petition and entreat Him to intervene on your behalf in successfully passing these exams."
Powerful Prayers For Good Fortune
And last, but not least, some of the most powerful prayer requests for good fortune:
1. "God almighty, I come before you confessing my sins. I pray that you may forgive me and renew within me a new light. I pray that you may bestow my life with good fortune.
Let financial breakthrough, good health, and a humble spirit come my way. I ask that you provide me with divine guidance so that I may be able to remain calm. Bring good fortune into my life so that I may be able to support my family. I know that you understand all my pains and shortcomings. Help me Lord so that I can be a better provider to my family. Above all God, help me remain righteous so I'm able to enter your kingdom. In the name of our Lord. Amen."
2. "Heavenly Father Almighty, Lord from Up Above. I pray for your forgiveness and understanding and for thy divine guidance, so that I may have peace, prosperity, goodwill, good health, and good spirits. It is through thy divine guidance that good fortune may be bestowed upon me. It is not that I am greedy, it is so that I may not be needy. Heavenly Father Almighty, I pray for these gifts in the name of Jesus Christ. Amen"
3. "Heavenly Father, I come before You at this time as Your humble servant. I know You hear my prayer and answer honestly. I want to thank You first for everything You have given me. It is not by my own strength or power, but by Your grace and Your mercies. Lord, I present to You my current financial situation. You know very well how I have tried to improve certain aspects of my life. I come to you because I know that nothing is impossible for you. I leave all my concerns to you and pray for good fortune. Find me a way. I'm not asking this question just for financial reasons. There are some things in my life that could be better. Bless me abundantly so that I can have this request. I pray that the Holy Spirit will guide me in all my endeavors so that I do not stray from the right path. Thanks for hearing my call. Amen."
Conclusion
I hope you found the prayer for good luck you needed. I am also really happy for you because you have decided to speak to God, which is a wonderful thing.
Remember, God will never forget about you, even if you forget about God.
Everything is in God's hands, and even if things aren't going according to your plans, take comfort in the knowledge that God has a plan for you.
Never lose your faith.
Stay tuned for more interesting content.
Until next time!
Read next: 100 Powerful Short Prayers To Speak From Your Heart