There are plenty of beautiful prayers to be found on the web — morning prayers, daily prayers, and good night prayers, as well as wonderful novenas, litanies, and rosaries.
This article will capture the best Catholic evening prayers I could find online to provide you with peace and rest before falling asleep.
So, if you want a pleasant sleep and a peaceful mind, scroll down to read my list of lovely Catholic evening prayers before bedtime.
Top 5 Catholic Evening Prayers
1. "Almighty God, we give You thanks for surrounding us, as daylight fades, with the brightness of the vesper light; and we implore You of Your great mercy that, as You enfold us with the radiance of this light, so You would shine into our hearts the brightness of Your Holy Spirit; through Jesus Christ our Lord. Amen."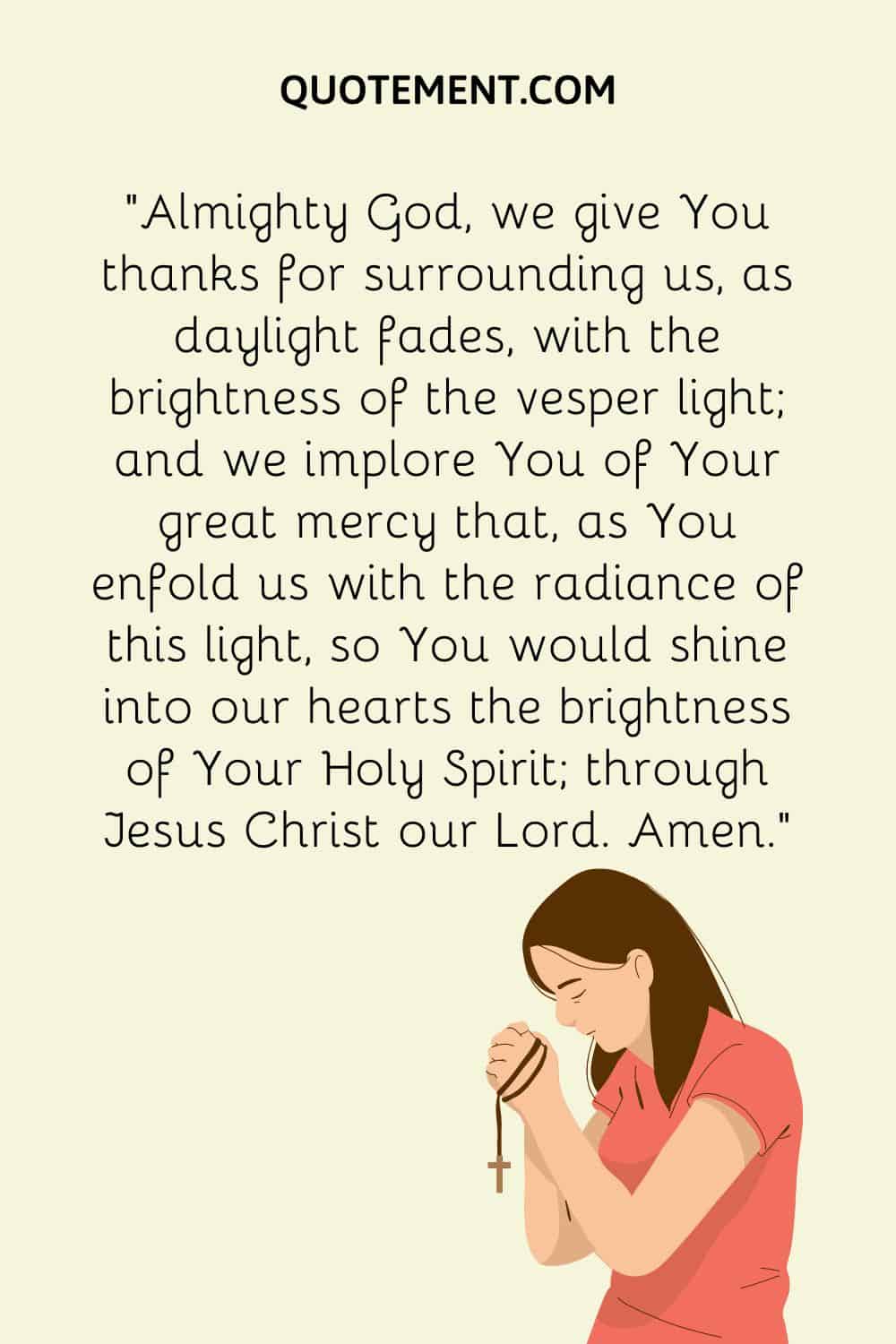 2. "O Lord God Almighty, as You have taught us to call the evening, the morning, and the noonday one day; and have made the sun to know it's going down: Dispel the darkness of our hearts, that by Your brightness we may know You to be the true God and eternal light, living and reigning forever and ever. Amen."
3. "St. Michael the Archangel, defend us in battle, be our protection against the wickedness and snares of the devil. May God rebuke him, we humbly pray, and do thou, O Prince of the Heavenly host, by the power of God, cast into hell Satan and all the evil spirits who prowl about the world seeking the ruin of souls. Amen."
4. "Grant us, Lord, the lamp of charity which never fails, that it may burn in us and shed its light on those around us, and that by its brightness we may have a vision of that holy City, where dwells the true and never-failing Light, Jesus Christ our Lord. Amen."
5. "O my God! I give You thanks, through Jesus Christ, for all the favors You have bestowed upon me, especially for creating me in Your own image and likeness, for redeeming me with Your Son's Precious Blood, for making me a Christian, and for preserving me this day. I beseech the Blessed Virgin and all the saints to give You thanks forever and ever. Amen."
Wonderful Night Prayers
1. "O Blessed Virgin Mary, Mother of mercy, pray for me that I may be preserved this night all evil, whether of body or soul. Dear St. Joseph, all the saints, and angels, and especially you, my guardian angel and my chosen patron, watch over me. I commend myself to your protection now and always. Amen."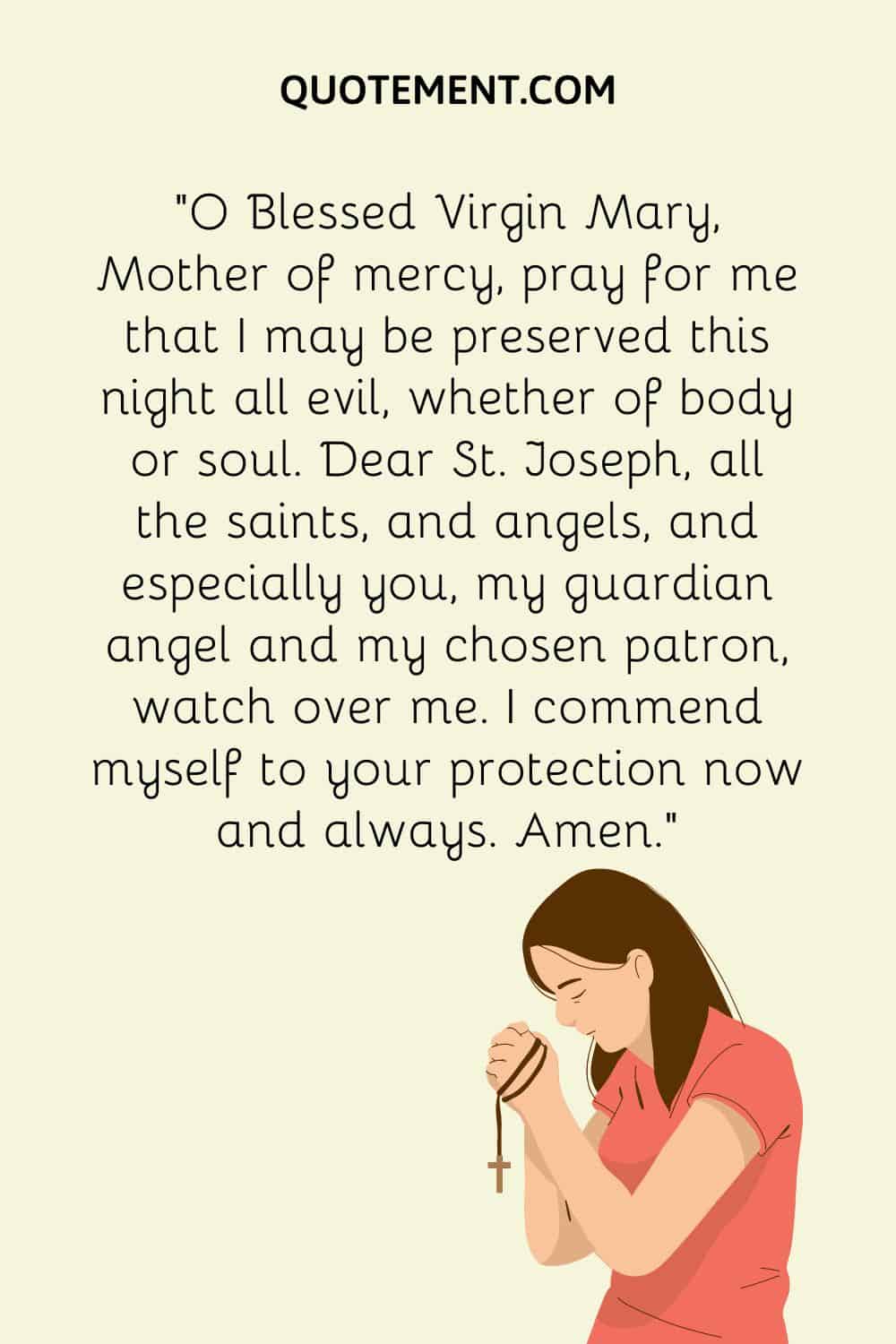 2. "As our evening prayer rises before you, O God, so may your mercy come down upon us to cleanse our hearts and set us free to sing your praise now and forever. Amen."
3. "Jesus Christ, my God, I adore You and thank you for all the graces You have given me this day. I offer You my sleep and all the moments of this night, and I beg of you to keep me without sin. Therefore, I put myself within Your sacred Side and under the mantle of Our lady, my Mother. Let Your holy angels stand about me and keep me in peace, and let your blessing be upon me."
4. "O God, come to our aid. O Lord, make haste to help us. Glory be to the Father and to the Son and to the Holy Spirit, as it was in the beginning, is now, and ever shall be, world without end. Amen. Alleluia."
5. "Our Father, who art in heaven. Hallowed be Thy name. Thy kingdom come. Thy will be done, on earth as it is in heaven. Give us this day our daily bread, and forgive us our trespasses, as we forgive those who trespassed against us, and lead us not into temptation, but deliver us from evil one. For Thine is the kingdom, the power, and the glory, now and forever. Amen."
6. "O radiant light, O sun divine of God the Father's deathless face, O image of the light sublime that fills the heav'nly dwelling place. Lord Jesus Christ, as daylight fades, as shine the lights of eventide, we praise the Father with the Son, the Spirit blest and with them one."
Lovely Bedtime Prayers
1. "O most chaste Virgin Mary, I beseech thee by that unspotted purity wherewith thou didst prepare for the Son of God a dwelling of delight in thy virginal womb, that by thine intercession I may be cleansed of every stain of sin. Mother of Divine Grace, pray for us!"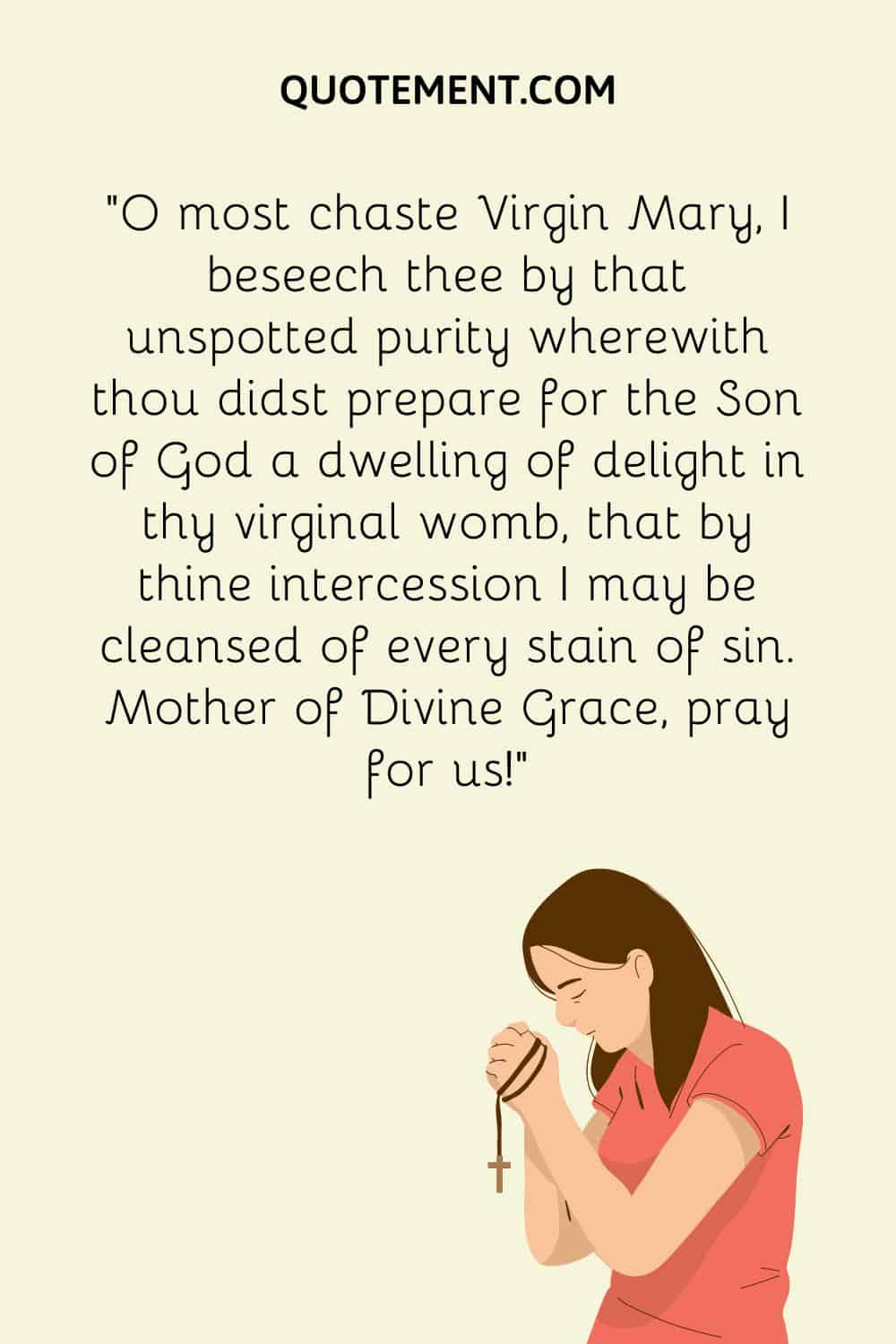 2. "Heavenly Father, thank You that Your word enlightens my eyes, purifies my soul, and preserves me for eternal life. As I reach the end of this day, I thank You for the many blessings You have bestowed on me. I ask for forgiveness for the sins I have committed today. I pray that, as I sleep, You will restore my strength and empower me for a new day tomorrow. Lord, bless me and keep me, make Your face shine upon me. Turn Your face towards me and give me peace. Amen."
3. "Canticle of Mary (Magnificat): My soul proclaims the greatness of the Lord, my spirit rejoices in God my Savior for he has looked with favor on his lowly servant. From this day, all generations will call me blessed: the Almighty has done great things for me, and holy is his Name. He has mercy on those who fear him in every generation. He has shown the strength of his arm, he has scattered the pride in their conceit. He has cast down the mighty from their thrones and has lifted up the lowly. He has filled the hungry with good things, and the rich he has sent away empty. He has come to the help of his servant Israel for he has remembered his promise of mercy, the promise he made to our fathers, to Abraham and his children forever."
4. "O SACRED HEART! I give and consecrate myself entirely to Thee: my heart, my memory, and my will, in order that everything I shall do and suffer be done for Thy honor and for love of Thee; that I may love Thee in all I see and hear; that all my words may be so many acts of adoration, love, and praise of Thy infinite Majesty; that every movement of my lips be an act of contrition for the sins which I have committed, and for the omissions of which I was guilty."
5. "May the Almighty God have mercy on me, forgive me my sins, and bring me to everlasting life. Amen."
6. "Eternal Father, I offer Thee the Sacred Heart of Jesus, with all its love, all its sufferings, and all its merits. First – to expiate all the sins I have committed this day and during all my life. Glory be… Second – to purify the good I have done poorly this day and during all my life. Glory be… Third – to supply for good I ought to have done and that I have neglected this day and all my life. Glory be… Amen."
Final Words
Praying before bed is a beautiful way to finish your day.
Now that you have these lovely Catholic evening prayers, you can make praying your evening routine.
Not only will it provide you with peaceful sleep, but it will also help you stay connected to God, enabling spiritual growth and strengthening your faith.
Until next time, stay blessed!